7 Ways to Create a Statement-Making Escort Card Display
Tips from style pros and planners for an escort card table that's totally you.
by The Knot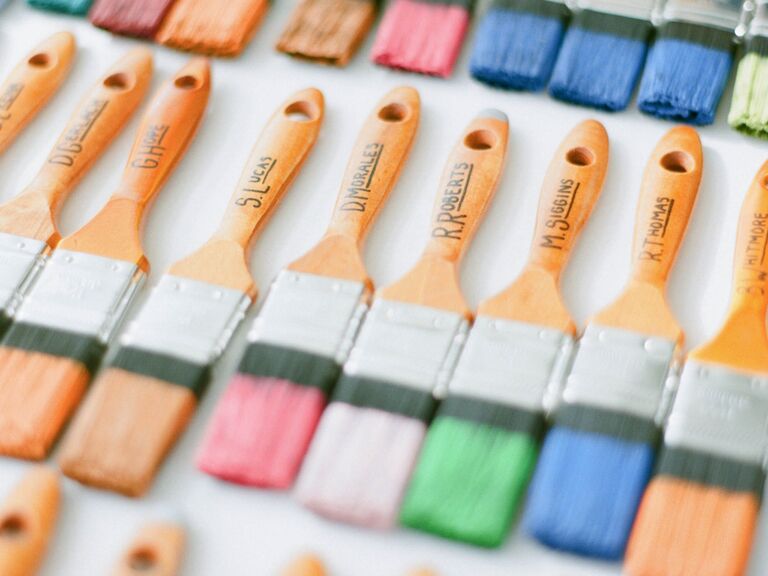 Your escort card display is the first thing guests see as they enter your reception, so it's the perfect opportunity to make an impression. With so many stunning styles and designs of paper goods to choose from, escort cards are a fun way to get creative with welcoming your guests. We turned to top wedding planners Ara Farnam, Annie Lee and Jove Meyer for tips and tricks on creating a wow-worthy display that showcases your style.
1. Think big when it comes to presentation.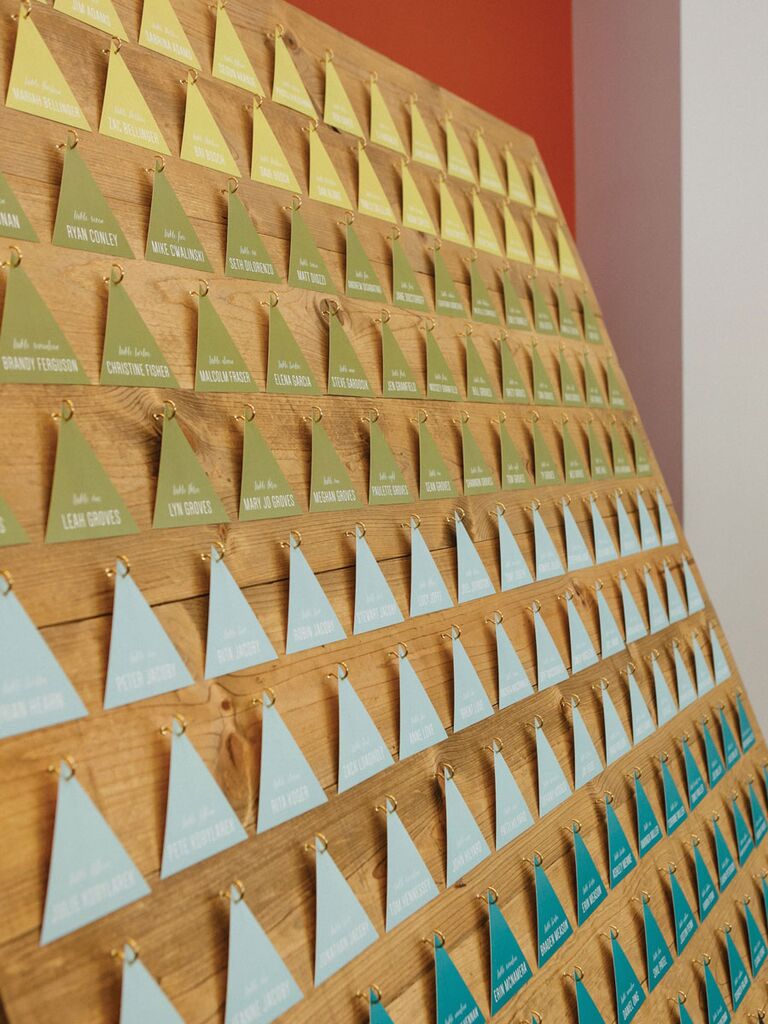 The key is to get creative with your overall presentation. Alternative displays, like a vintage mirror, chalkboard or even a strung clothesline (perfect for a rustic wedding), will serve as a unique focal point for guests to admire as they walk in. Keep in mind though, ornate displays can get pricey. Put your money into one central design element to eliminate some of the costs. Hanging installations are visually interesting and tend to be really fresh, says event stylist Ara Farnam, founder of Rock Paper Scissors Events.
2. Add additional table décor.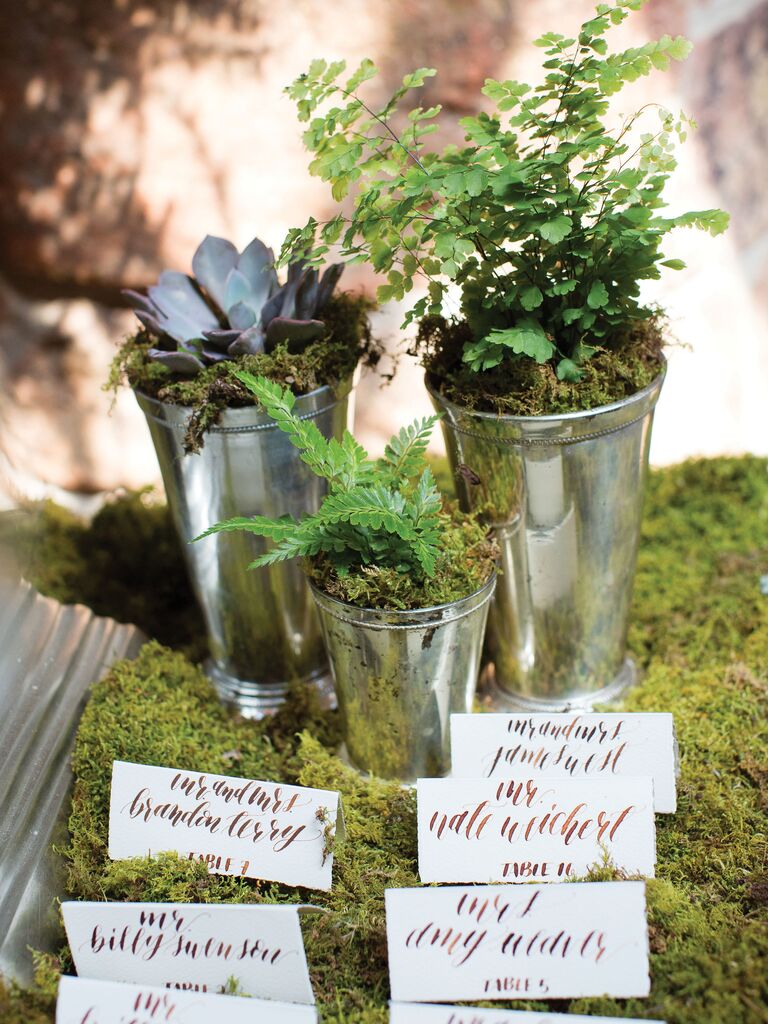 If you prefer to go simple with your escort card table, supplement it with stylish accents. Hurricane candles, single-stem flowers, vintage votives and a skinny table runner (with some sparkle) can take a basic table display and amp it up to make it stand out even more. Another option? Add a spotlight to your escort card arrangement. Lighting is a good option for carrying your wedding colors through your event, and it can make your display really pop, says event planner Annie Lee, founder of Daughter of Design.
3. Make escort cards more personalized.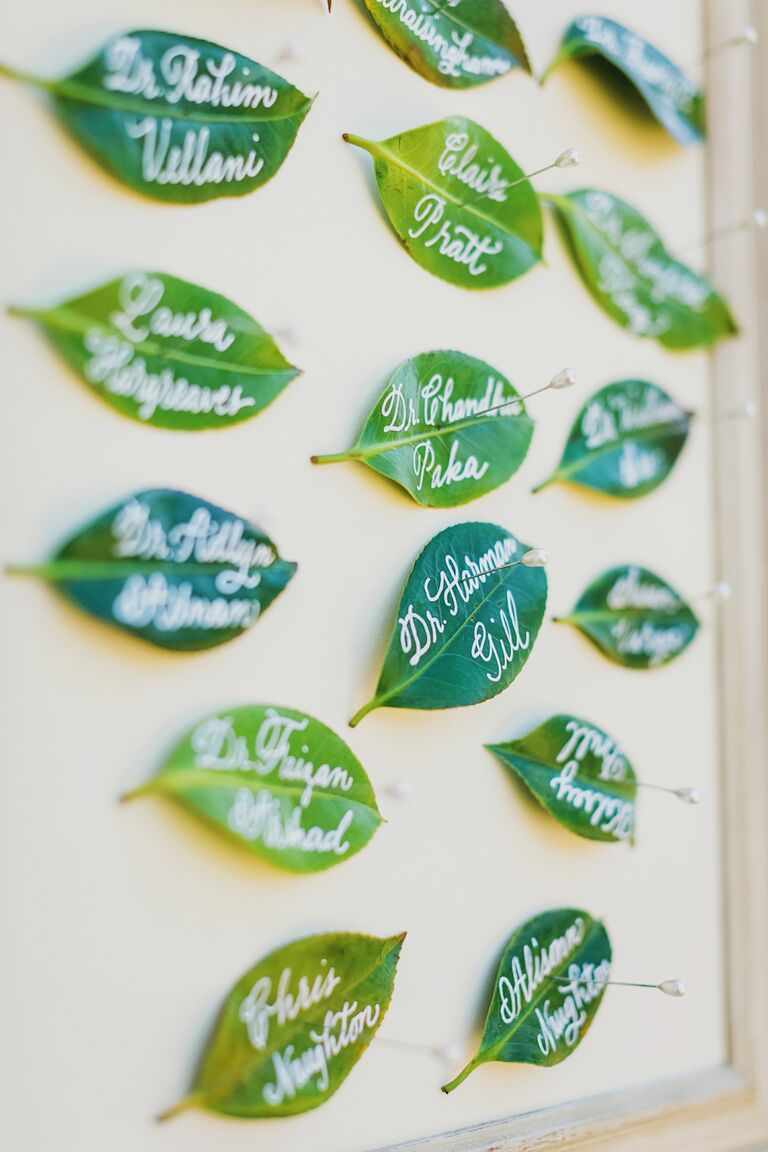 Calligraphy can get costly, so if you don't have the additional money in your budget, think about taking a class and buying a fine-point pen so you can make a one-of-a-kind impression. If you choose to go this route, pick a playful font or opt to handwrite them (but only if you're up to the challenge). Professional calligraphers require advance notice, which means you may need to send your escort cards to the calligrapher before you have your seating assignments worked out. Lee suggests using a traditional escort card envelope and have each guest's name calligraphed, then insert a card listing the table number once you've finalized the seating chart. You can even insert the cards on the day of if need be.
4. Choose legible over pretty.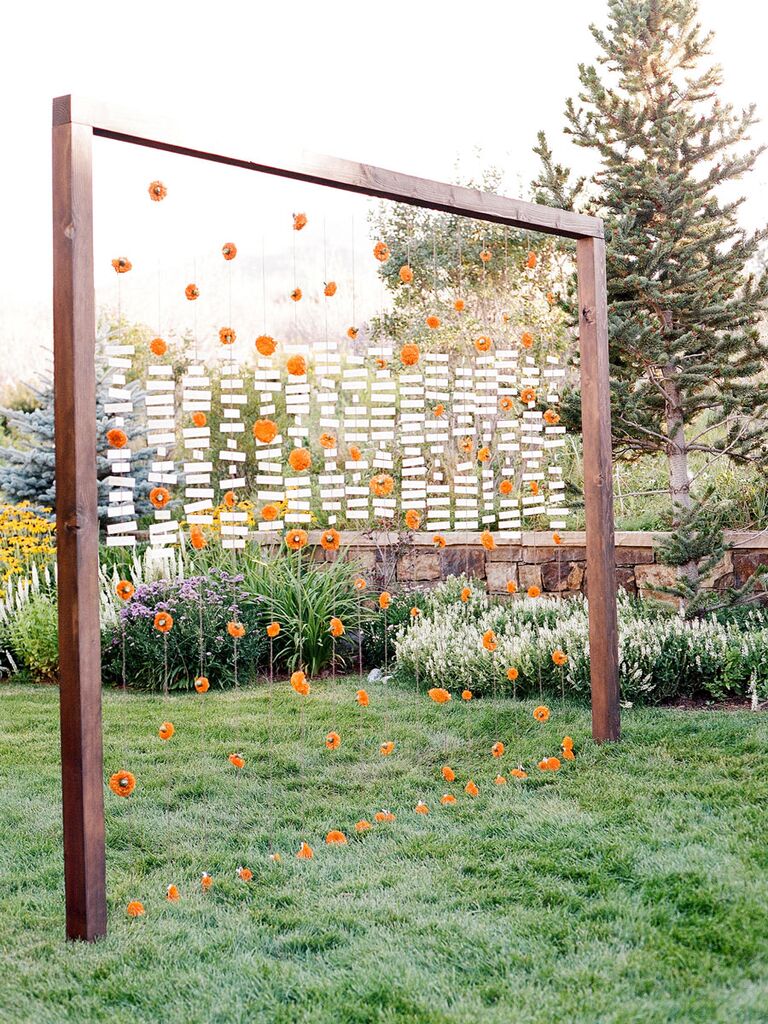 This may sound obvious, but don't pick a font that's either super-small or so overly embellished it's impossible to read. Not only will the person setting up your display have trouble reading the name on the card but your guests will have a hard time searching for their own name. It's also important to think about lighting when picking the location for your escort card table. Adding candles or a spotlight will help make your cards readable, especially in a space with dim lighting.
5. Consider nontraditional objects, or take a classic object and give it a unique touch.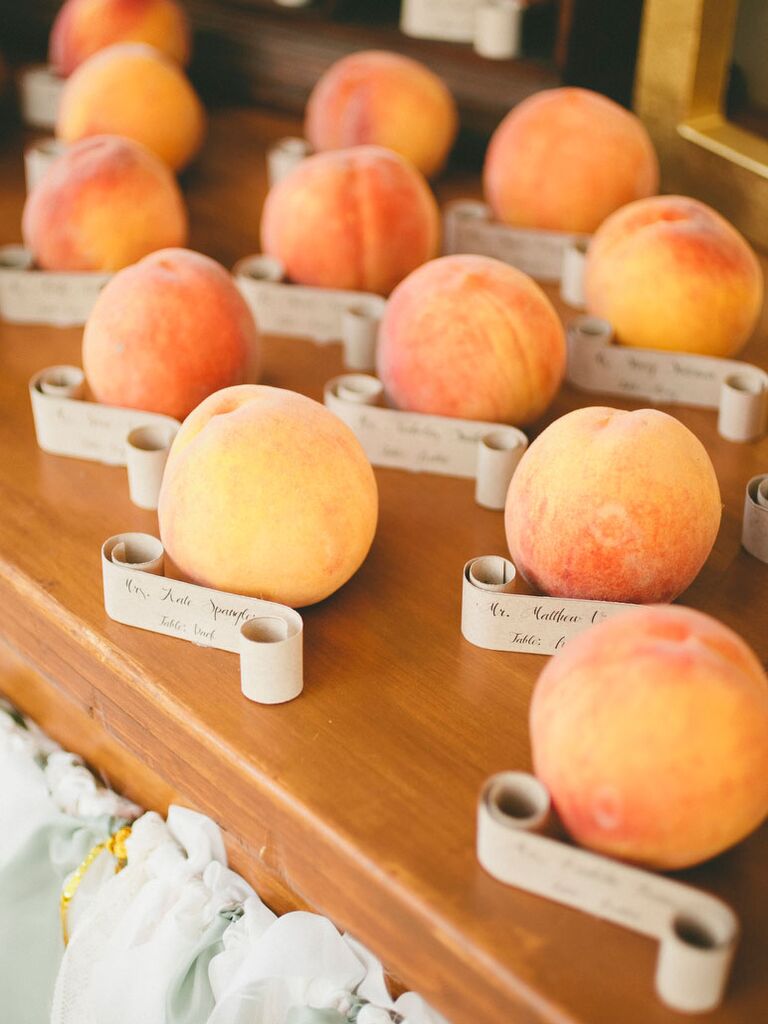 If you want to move beyond paper escort cards, think about using plants, candy, vintage keys, feathers, plastic animals or other unique objects, says Jove Meyer, owner and creative director of Jove Meyer Events. Just make sure they fit with the look and overall feel of the day. Even succulents doubling as both escort cards and favors exhibit originality if they're spray-painted or further personalized.
6. Take risks with your design decisions and find inspiration in your story.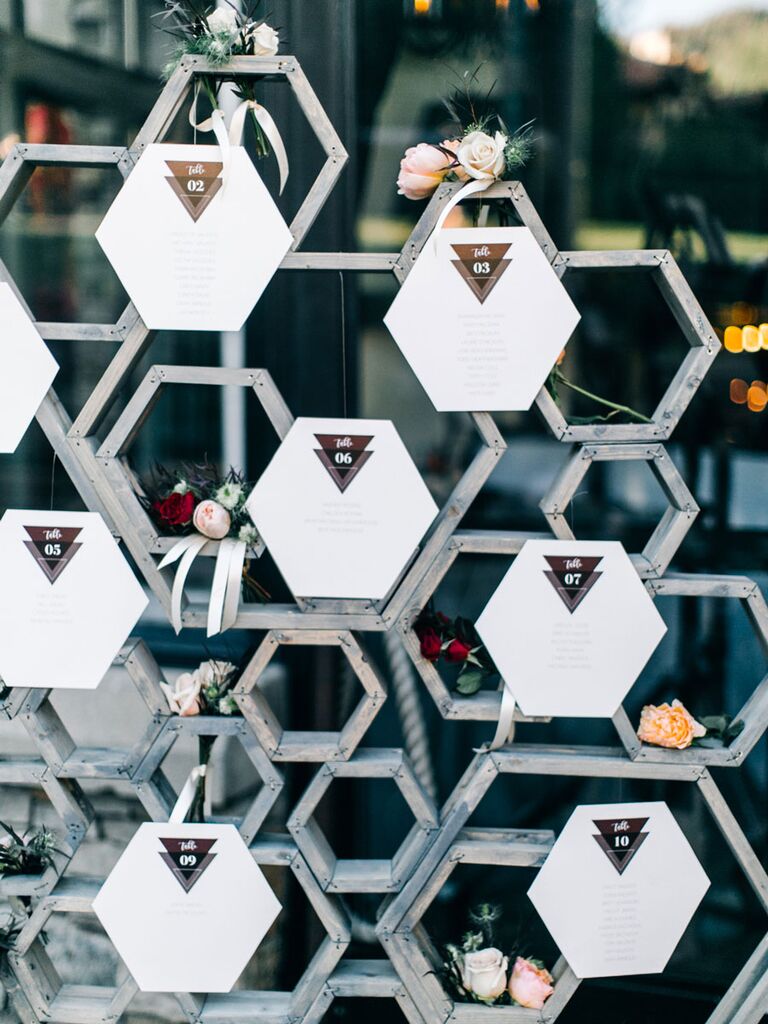 The most unique display Lee helped create was at an outdoor wedding where it was so windy her team was afraid the cards would blow away. Ushers pinned custom cards to the inside of their tuxedos and approached guests opening their jackets to display the cards. It's also a great icebreaker, Lee says.
Another creative display Lee made was for a couple who wanted to re-create their special trip to France, where they left a padlock on the famous Pont des Arts bridge. Lee brought in a freestanding mesh fence and added hundreds of locks to mimic the Love Locks with guests' names and table numbers engraved on each one. Incorporating elements of your love story is a great way to ensure your wedding is entirely yours, and it makes for a great story to share with guests at the reception.
7. Photograph or draw a visual of the overall layout.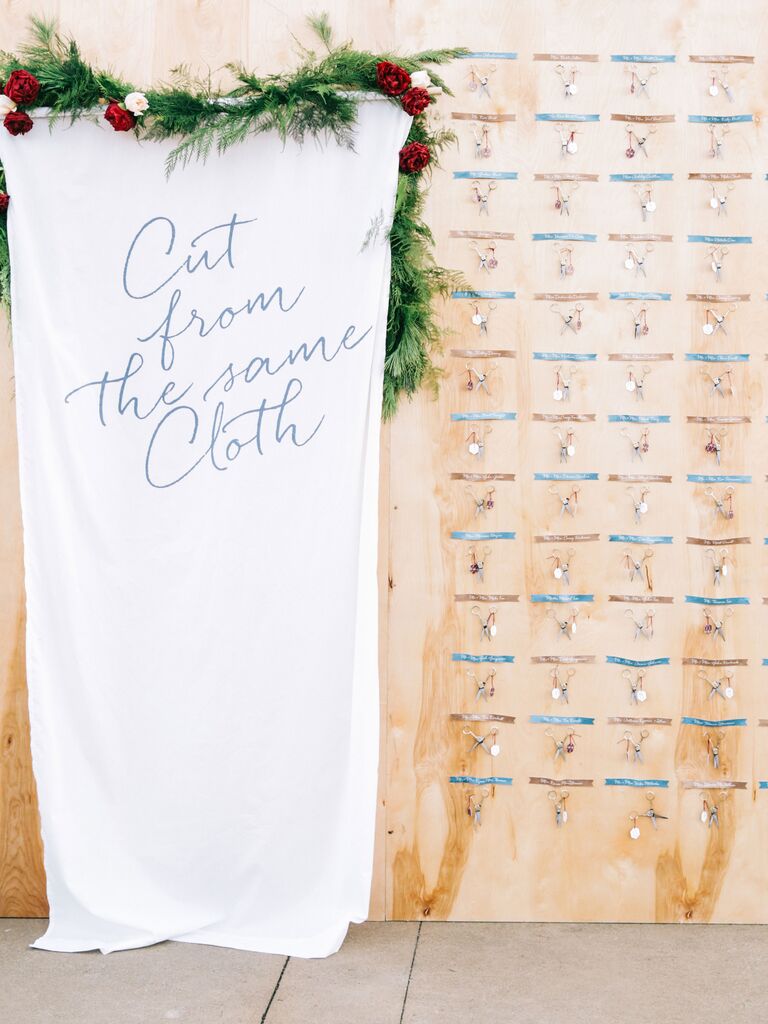 If your planner, caterer or even your maid of honor is expected to create your vision for your escort card table, give them as much of a blueprint as possible. If you can't find an image of your inspiration online, then set it up at home, photograph it or draw it, and give it to the person in charge of the display, Meyer suggests. When you hand it off, make sure you answer any questions in advance of setup.
See real wedding escort cards and card table ideas here.
Find professional calligraphers in your area here.