How to Choose the Right Cookware Set for Your Wedding Registry
We know your head is already spinning—you can stop your research here.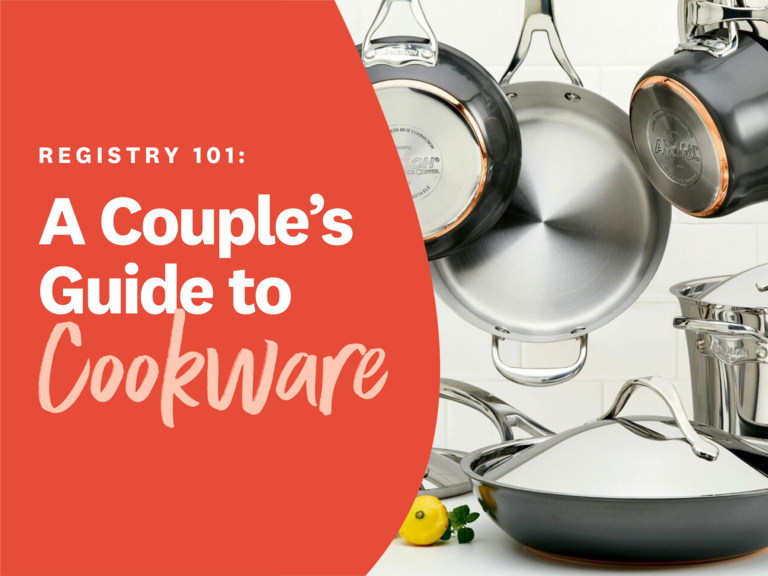 You start searching for cookware sets and you're immediately overwhelmed with options. On the one hand, having choices is great—we'll get to that in a second. On the other hand, the more choices you have, the easier it seems to make a wrong decision. When it comes to choosing the best cookware set for your wedding registry, we admit there are a few things to consider. But once you know what to look (and look out) for, picking quality pots and pans to add to your wedding registry becomes much, much simpler.
Different couples live and cook differently, which is why choice is a good thing. It's also why we've worked so hard to fill The Knot Registry Store with a range of products for every kind of couple and home. The best cookware set for your newlywed nest isn't the best set for everybody. It's all about finding the right fit for you, your partner and your kitchen.
With that in mind, we're walking you through how to sift through the options, decipher product descriptions and confidently select a cookware set for your specific lifestyle. To get started, you just need to know your eating, cooking and cleaning habits. From there, we'll match you with a pots and pans set you'll actually use (and enjoy). Once you've found your match, you can add it straight to your wish list—alongside all your other must-haves—using The Knot Wedding Registry.
In this guide: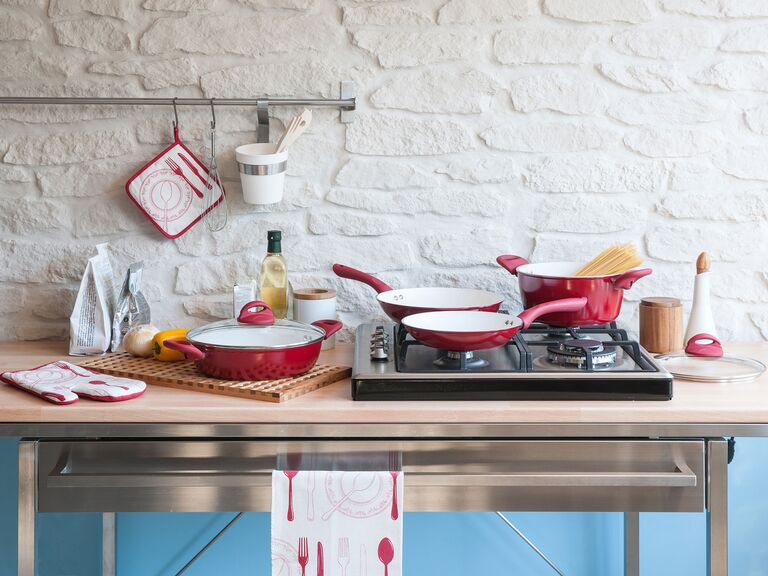 The Essential Pots and Pans You Need for What You Cook
First things first: What should your cookware set include? While there are lots of different types of pots and pans, a few key pieces consistently make their way into kitchen cookware sets. A basic understanding of how each one works—and more importantly, what each one cooks—is all you really need to figure out what to prioritize in a set of pots and pans. Here, discover which pots and pans you need based on your favorite home-cooked dishes. Spoiler alert: Almost everyone needs at least one skillet, saucepan and stockpot. They're what you use to make the simplest of meals (think: eggs, soup and pasta).
Use this knowledge to help you pick the right cookware set configuration for you. Pro tip: Even if you only cook a few times a week, it never hurts to have more than one skillet and saucepan. You don't want a dirty dish to stop you from cooking dinner.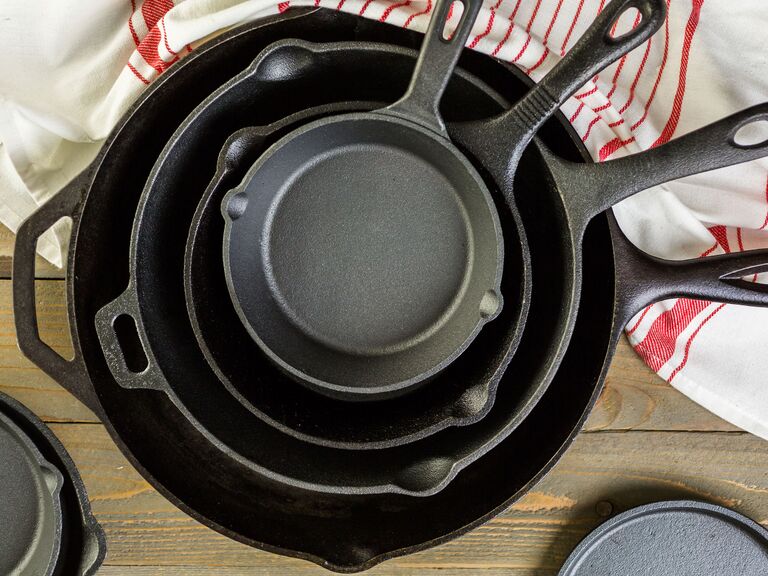 The Different Types of Cookware Set Materials, Demystified
As you search for the best pots and pans for your wedding registry, you'll quickly notice that they come in all sorts of fancy cookware materials. So what's the best type of cookware set? Again, it depends on what you cook, but now, it's also time to consider maintenance. Below, find out what each material excels at—and how it needs to be cared for.
Stainless steel: When you research stainless steel cookware sets, the same few adjectives pop up again and again: durable, versatile and low-maintenance. They're all accurate. Stainless steel resists scratching, doesn't react with any foods and is often dishwasher (and oven) safe. Stainless steel heats quickly and evenly, making it a popular choice for all sorts of chefs—home chefs and professional chefs alike. Just beware of burnt-on food, which can be a pain to scrub off. Otherwise, most couples find stainless steel to be very practical and versatile.
Nonstick: Nonstick pots and pans are pretty self-explanatory—they're covered in nonstick coating to prevent stuck-on food. Anyone who's battled a stubborn, sticky mess finds nonstick very appealing. It makes cleanup a breeze, especially if your set is also dishwasher safe. Plus, you can use less oil and butter in the dishes you make. But nonstick coating can chip off and deteriorate over time, so nonstick cookware sets don't last forever. In addition, nonstick coatings can release toxic fumes when they're overheated, so proper care is a must. And while nonstick cookware is great for delicate foods like scrambled eggs and flaky fish, it won't char or sear food.
Ceramic: Some people prefer ceramic cookware that has nonstick properties, but doesn't contain the chemicals found in other nonstick cookware. Like traditional nonstick cookware, ceramic nonstick cookware requires less fat to cook with. And of course, easy cleanup is a big part of the appeal. In addition, certain ceramic cookware sets come in aesthetically pleasing colors. The downside? Ceramic coating can scratch and chip, and generally speaking, ceramic-coated cookware has a shorter lifespan than other types of pots and pans.
Cast iron: There are two types of cast iron cookware: uncoated and enameled. Natural cast iron requires "seasoning" (a baked-on layer of oil), which gives it a stick-resistant finish but requires maintenance. Enameled cast iron comes in pretty colors and doesn't need seasoning, but it's more expensive and the enamel could chip. That said, cast iron itself is impressively durable. In fact, with some TLC, it's honestly heirloom-worthy. On top of that, it's a true multitasker that can brown on the stovetop or bake in the oven. A cast iron skillet makes a mean pork chop and a mean chocolate chip cookie!
Copper: Calling all super-serious chefs: Copper might be the best cookware set material for you. That's because copper reacts very quickly to temperature changes. This allows for skillful precision when cooking delicate sauces, proteins and more. If you're ready to take cooking to the next level, copper cookware certainly does that. But if you and your partner are beginners in the kitchen, it's probably more trouble than it's worth. While beautiful to look at, copper is expensive, it dents and it requires periodic polishing. Plus, it's usually lined with tin, which can require re-tinning.
Aluminum: Raw aluminum warps and negatively reacts with certain foods. But treated aluminum (most often coated and "anodized") can be an affordable alternative to other popular cookware materials. Aluminum heats up quickly and cooks food evenly. Anodized aluminum is also strong and durable. But maintenance depends on how the cookware's been processed. A lot of nonstick cookware is made from aluminum, and nonstick coatings gradually wear down.
For some, cooking is a pleasurable pastime. For others, it's a necessity—nothing more. Either way, the right cookware set is essential for the best experience possible. Set yourself up for success by choosing a material that makes sense for you to cook with, clean and care for. Overall, stainless steel is versatile and made to last, so if you can't decide, it's a pretty safe bet. Strong, hard-anodized aluminum is another popular choice. If you've already built a small collection of miscellaneous pots and pans, now might be a good time to fill in the blanks. Maybe you already own a few nonstick pans that need an upgrade. Or maybe you want to expand your collection to include a chef's favorite: cast iron.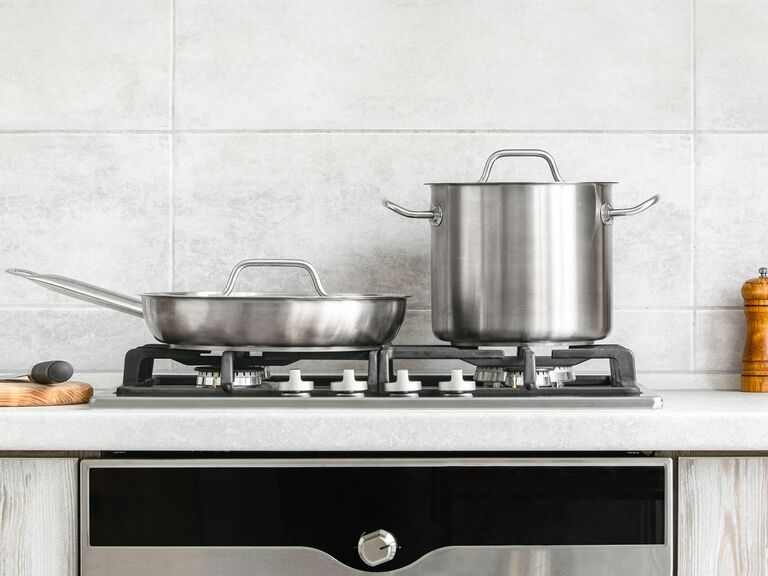 Everything Else You Need to Know About Cookware Sets
We know how important it is to pick a cookware set that's worth your guests' money. So, we've rounded up a few more tips to cover all the bases. Read these through to avoid any shocks or surprises down the road. But first, do a little stretch and take a sip of water—it's been a journey, but you're almost done!
Cost considerations: Copper and enameled cast iron tend to be the most expensive, while aluminum and untreated cast iron are typically the least expensive. But overall, a high-quality cookware set is usually a big-ticket item that lends itself to group gifting.
Stovetop compatibility: Before you settle on a cookware set for your wedding registry, make sure the pots and pans you've picked are compatible with your stove. Are you working with electric or gas? Coils or glass? If you have a smooth-top surface, you'll want flat-bottomed pans. If you have an induction cooktop, your cookware has to be magnetic.
Food reactivity: Some metals react with highly acidic and alkaline foods. Reactive metals can seep into your food and change the taste or color. Copper and aluminum are reactive, but modern copper and aluminum cookware is lined to prevent reactivity. Still, it's something to keep an eye out for. Cast iron is considered reactive, so skip it when you're cooking citrus or tomatoes (unless your pan is very well-seasoned).
Dishwasher safety: In a perfect world, we could throw every single pot and pan in the dishwasher. In reality, you can't assume that your cookware set is dishwasher safe. Even if a set is technically machine washable, do yourself a favor and read the fine print. Oftentimes, handwashing is still recommended to preserve the pots and pans for as long as possible.
Oven safety: "Oven safe" really means oven safe to a point (for example, up to 500° F). And just because it's oven safe doesn't mean it's broiler safe. (But FYI: Stainless steel is usually both.) The safest route is to read the fine print—it's worth it, we promise.
Recommended utensils: As you're registering, make sure you have the right kitchen utensils for your cookware set. Metal utensils scratch certain surfaces, including nonstick and enameled cast iron. If you're shopping for either of those cookware materials, add wooden or silicone utensils to your registry.
Special handles: If you've ever grabbed a piping-hot pan by the handle, you probably still shudder at the thought. Accidents happen, which is why some cookware sets come with rubber-covered handles to prevent burns. They aren't a must-have, but some home chefs like that extra peace of mind. Just remember that certain handle materials can't go in the oven.
Cookware lids: Lids trap heat and moisture, which comes in handy when you're cooking foods like rice or steamed vegetables. They also come in clutch if oil or sauce starts to splatter, protecting you and your stovetop from an unfortunate (and potentially painful) mess. Stockpots, saucepans and sauté pans usually come with lids. Glass lids make it easy to check up on your food. If your cabinet is overflowing (honestly, whose isn't?), you might want shatter-resistant lids, just in case it all comes tumbling down. No matter the type, your lids may require special care.
Piece count: You click on a 12-piece cookware set, but the photo only shows six pots and pans. What gives? Piece count refers to everything in a set, including lids and other accessories. Pay attention to what's actually included, then think about space and function. Do you have room for everything in the set? Do you need everything in the set?
Storage space: On the topic of space, the best cookware sets for newlyweds are easy to store. If you're really pressed for space, consider a stacking set of pots and pans. Regardless, it's a good idea to add organizational items to your wedding registry.
No matter which cookware set you choose, you should always read the manufacturer's instructions carefully to confirm proper use. It's the best way to keep you, your cookware and your kitchen safe.
Find the Best Pots and Pans for Your Wedding Registry
Now that you've done plenty of reading (and a little soul-searching), check out a few of our favorite cookware sets that we've added to The Knot Registry Store. We've handpicked each standout set for a different reason—because like we said, there's no one "best" cookware set—but rest assured that they're all sourced from some of the most trusted brands in the game. After all you've learned, what do you value most? Let your personality be your guide.
If You Never Want to Think About Shopping for Cookware Again
All-Clad D3 10-Piece Stainless Steel Cookware Set ($700)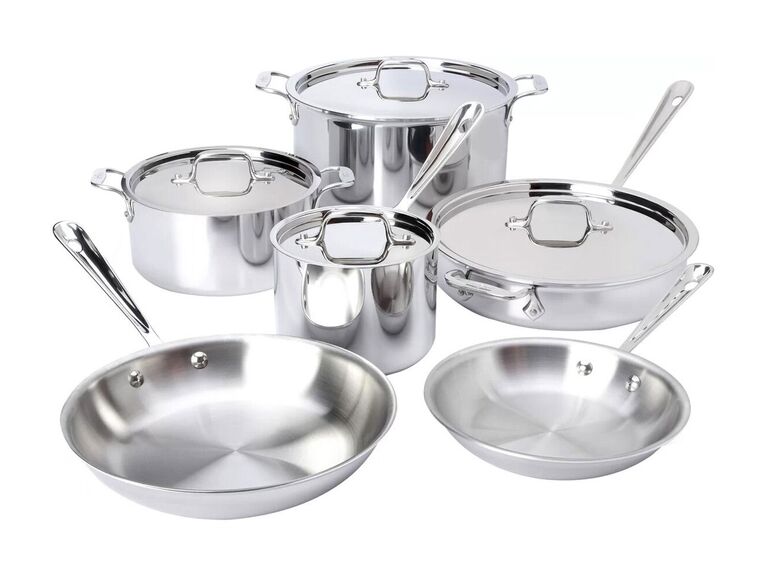 All-Clad kitchenware is the cream of the crop, and this particular set is an excellent choice for couples looking for longevity. These pots and pans have a hefty price tag, but unlike other types of cookware, they can truly last a lifetime. That's all thanks to the shiny, sturdy material, which will be there for you through all your milestone wedding anniversaries. The stainless steel set includes two fry pans, two saucepans, a sauté pan, a stockpot and four lids—everything newlyweds need for a marriage full of good food. The only thing you might be missing is a nonstick skillet, but that's an easy registry add-on.
If Your Top Priorities Are Healthy and Eco-Friendly
Cuisinart Green Gourmet 10-Piece Non-Stick Hard Anodized Cookware Set ($200)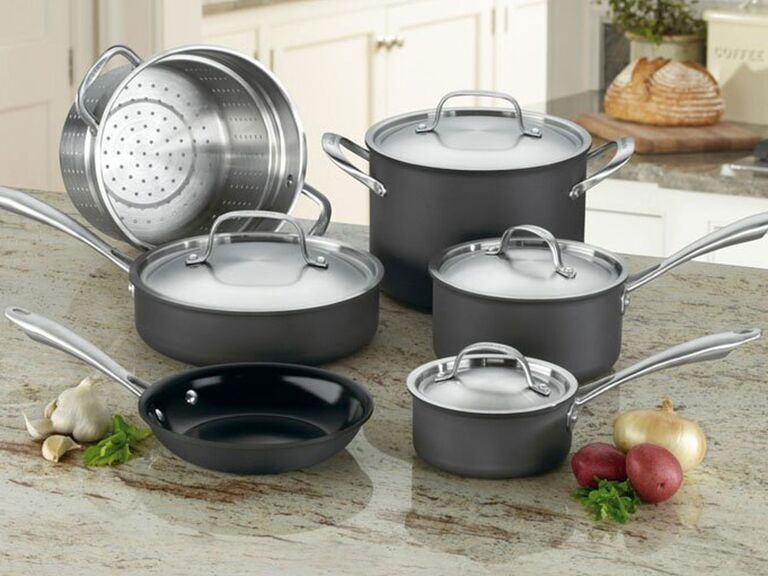 These aluminum pots and pans were made with sustainability in mind. On the inside, you'll find a ceramic-based cooking surface that's stick-resistant to help reduce the world's oil consumption. On the outside, you'll find handles made from 70% recycled stainless steel. The oven-safe set includes all the essentials: two saucepans with lids, a sauté pan and lid, a sauce pot and lid, plus a skillet. Oh, and there's a bonus pasta insert. Because there's nothing more romantic than sharing a bowl of spaghetti.
If You Think Copper Is Cool But Can't Fully Commit
Anolon Nouvelle Copper 11-Piece Non-Stick Stainless Steel Cookware Set ($430)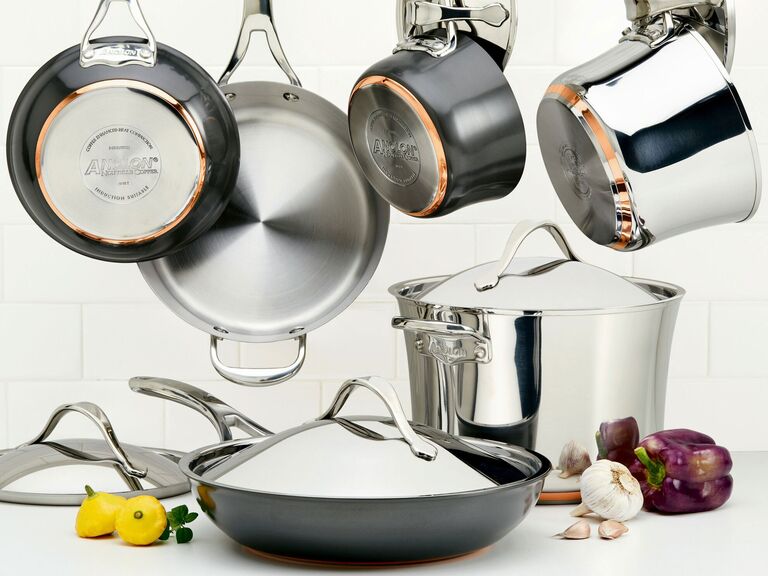 Oh, copper... it's really gorgeous, but also really... well... finicky. Good news: This innovative cookware lets you enjoy its beauty—and superior heating—without going all out. The set features durable stainless steel and nonstick hard-anodized aluminum, which are both complemented by chic and functional copper touches. You'll get a stockpot, saucepans and skillets that are compatible with all sorts of stovetops. For this set, consider a hanging storage solution—show off that cool design!
If You Want a Set That's Cute Enough to Leave Out on the Counter
Rachael Ray Cucina 12-Piece Non-Stick Cookware Set ($170)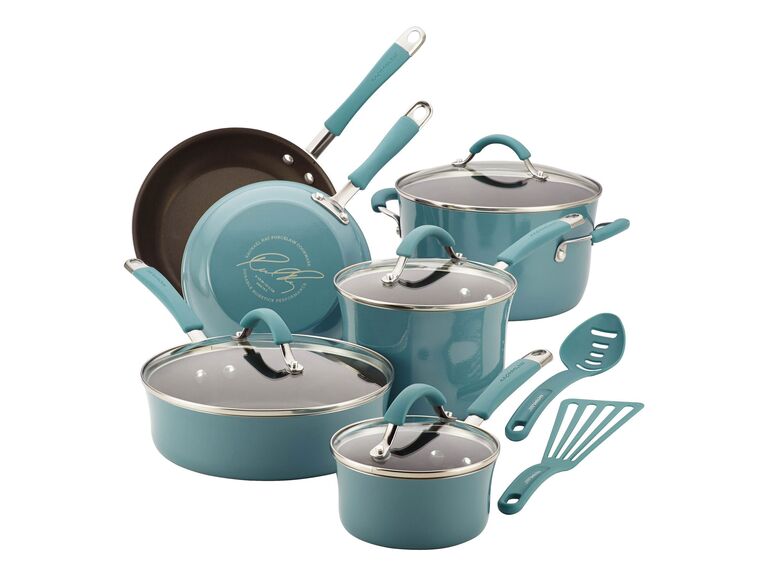 Speaking of chic, here's a stylish cookware set that seriously delivers for the price. This one includes two saucepans, two skillets, a sauté pan, a stockpot and a couple handy kitchen utensils—all of which come in the trendiest colors. You'll enjoy the nonstick aluminum as well as the comfy rubber handles and shatter-resistant lids. Affordable, practical and adorable? It's no wonder couples love it!
If You Don't Want Your Stovetop to Become a Permanent Storage Space
Calphalon Premier Space-Saving 10-Piece Non-Stick Hard Anodized Cookware Set ($470)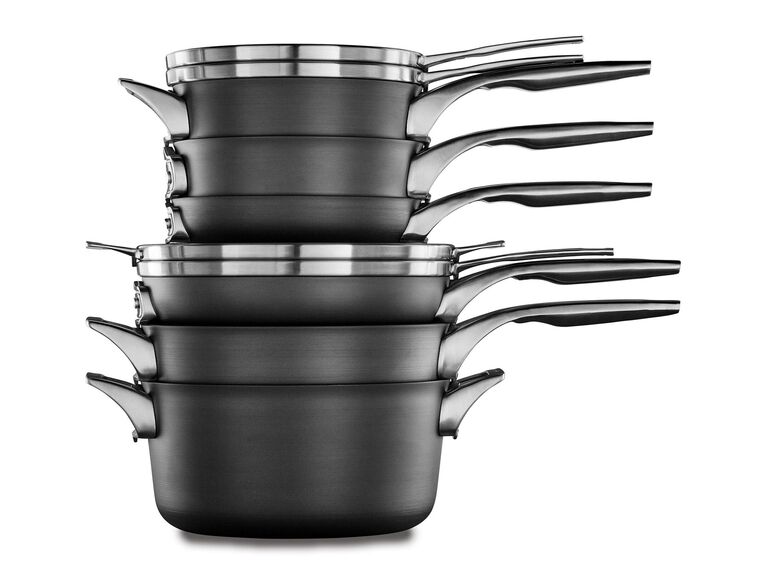 Some of us feel the most calm and confident when everything's super organized. If tidiness helps you keep your cool in the kitchen, this is the cookware set for you. These well-made nonstick pots and pans stack for a soothing storage experience. On top of that, they're dishwasher and oven safe for even more convenience. In total, there are two frying pans, two saucepans, a sauté pan, a stockpot and four lids. Yep, you can really fit all that into a neat stack.
If You Want to Feel Like a Seasoned Chef (Without Seasoning Your Pans)
Lodge 5-Piece Cast Iron Cookware Set ($97)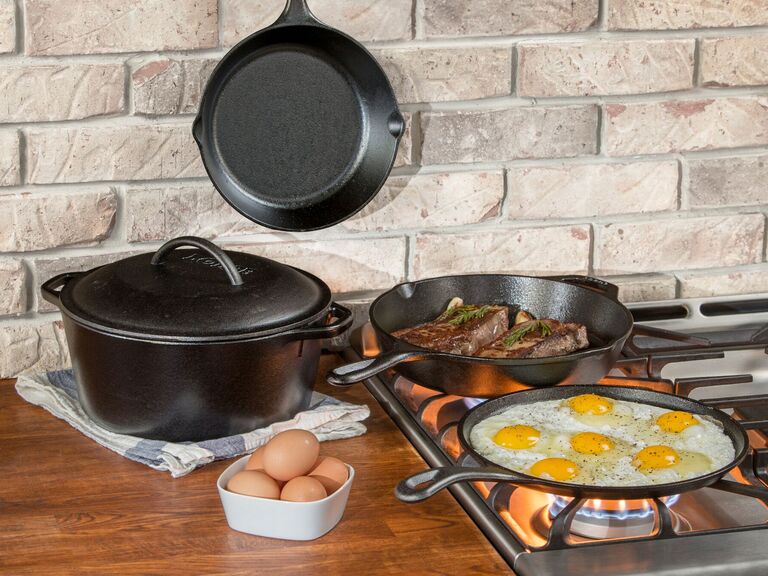 These humble pots and pans actually have a lot to brag about. They're made from heavy-duty cast iron that works wonders on the stove or in the oven. Lodge's cast iron also comes pre-seasoned, which takes some of the pressure off when you're just starting out. The set includes the most versatile pieces of cookware out there: a Dutch oven and two skillets. It also comes with a griddle to whip up a beautiful stack of flapjacks. You'll find yourself reaching for each and every item on the regular—which is great, because frequently cooking with oil is an easy way to help maintain the seasoning.