The Best Cookware To Add To Your Wedding Registry
The best cookware to add to your wedding registry, chosen by the pros at The Knot for our 2019 Registry Awards.
by Alyssa Longobucco
For many to-be-wed couples, the kitchen is the center of their home. So it makes sense that, when creating your wedding registry and envisioning your lives together (woahh!), you're probably going to want to wishlist a ton of the best cookware out there to make sure your kitchen is truly #ChefGoals. Well, good news friends—we've done the hard work for you, testing, shopping and hitting up our favorite brands to bring you a crazy-comprehensive list of the best cookware on the market. Newlywed life is about to get delicious.
Best Cookware Sets
Whether you're looking for a few do-it-all pans or a slew of high-tech pieces that would make Gordon Ramsey proud, we've found the best cookware sets for you. Maybe you're just starting your home together or maybe you're looking to upgrade from the starter set you got for your first place—either way, these picks will complete your kitchen and help you whip up everything from basic weeknight dinners to your first Thanksgiving meal with ease. Let's get cooking.

Editor's Pick: All-Clad d5 Brushed Stainless 14-pc Cookware set, $1,600, Williams-Sonoma.com
If you guys are seasoned cooks looking for cutting-edge heat technology and a chic brushed stainless steel exterior, then this is the best cookware set for you. All-Clad is well-known for all of their cookware pieces (you really can't go wrong), but this set won our editor's pick because it earns high marks on durability, performance and cleanup ease. The 14-piece set boasts everything you'd need for a well-stocked kitchen, including 8" and 10" fry pans, 2-qt and 4-qt saucepans with lids, a 3-qt saute pan with lid, 5.5-qt dutch oven with lid and 8-qt and 12-qt stockpots with lids. Translation: there's not a single dish in any of Ina Garten's cookbooks that these babies can't handle.
Couple's Pick: Anolon Advanced Umber 12-pc cookware set, $300, BedBathAndBeyond.com

Here at The Knot, we've got a ton of insight into everything related to weddings—and that includes the favorite registry items of real couples around the country. Their pick for the best cookware set? Anolon's 12-piece bundle. It's made using anodized aluminum, which is basically fancy cookware speak for aluminum that has been electrochemically treated so the surface is hard, scratch-resistant and food safe. For $300 you'll get all the essentials—from saucepans and stock pots to saute pans—all in a nonstick finish that will guarantee you're not spending your dinner parties scraping food off pans in the sink.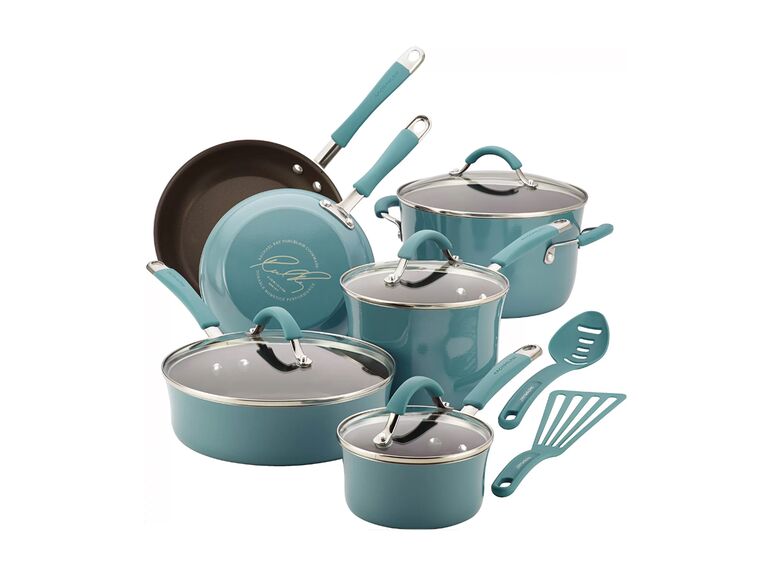 Best Colorful Cookware Set: Rachel Ray Cucina 12-pc Hard Enamel Cookware Set in Blue, $300, Wayfair.com

Let's be honest—cookware isn't always the prettiest thing to add to your home. Sure, it can be stylish (as our other best cookware picks prove!) but rarely is it colorful or playful in the way many couples like their home to be. Enter this cheery set from fan-favorite foodie Rachel Ray. Not only does this group cover all the essentials at a very reasonable price point, but the teal color ensures it will look just as good on your tabletop during dinner service as it does on your stove. You even have our permission to store it out in the open instead of banishing it to your cabinets—it's really just that pretty.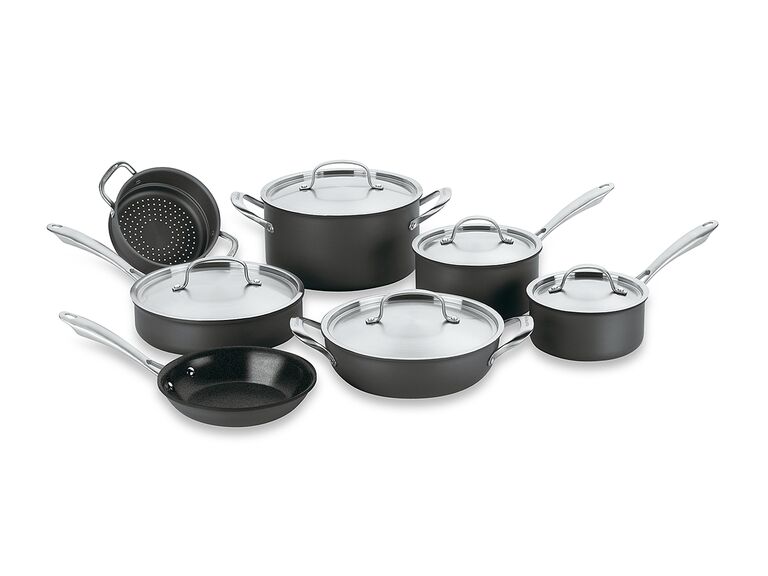 Best Environmentally Friendly Cookware Set: Cuisinart GreenGourmet Hard Anodized Cookware Set, $175, BedBathAndBeyond.com
Like most people, we're always looking for ways to do a little bit better by Mother Earth where we can, and this set from Cuisinart makes that mission easier—so much so that we just had to name it a best cookware set when it comes to going green. First, let's talk about its environmentally-friendly features; its stainless steel handles are made from 70 percent recycled material (bonus: they stay cool to the touch) and it uses exclusive ceramic technology for its non-stick surfaces (as opposed to petroleum-based), which helps to conserve the world's existing oil supplies. But it's not just a pretty (green) face—these pans actually work too, cooking food quickly and evenly and making post-dinner cleanup a breeze.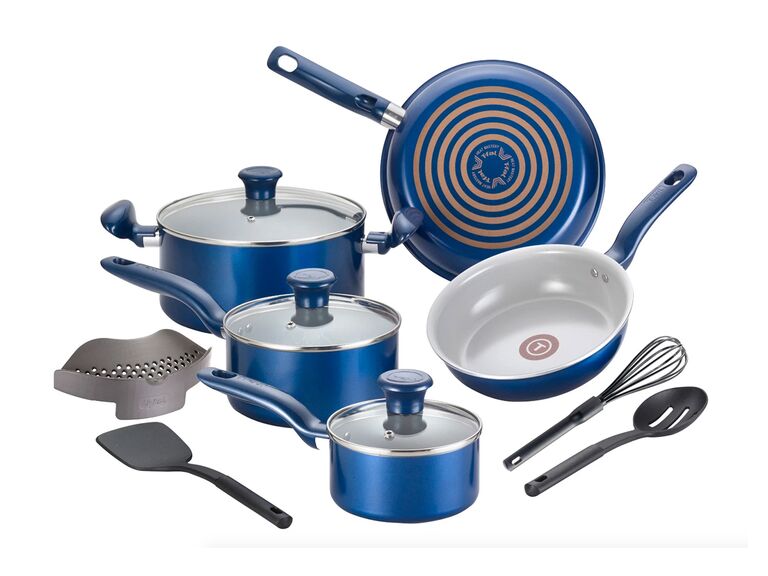 Best Ceramic Cookware Set: T-Fal Initiatives Ceramic 12-piece Cookware Set, $60, Target.com
Calling all novice cooks: these T-Fal pans are perfect for you. Ceramic pieces are typically one of the best cookware sets to start out with if you consider yourself a beginner in the kitchen (they distribute heat really evenly, meaning you're less likely to burn your meal), but these take it to the next level. Each one boasts a unique heat indicator in the center which will show you when the pan is perfectly preheated and ready to use (so genius, right?). On top of that, with this set you'll score dishwasher and oven-safe pieces that come with a Lifetime Limited Warranty and a price that can't be beat.
Best Roasting Pans and Ovenware
Any list dishing about best cookware for your registry simply wouldn't be complete without a few roasting pans and ovenware pieces. Think of these as your kitchen workhorses—they can pretty much come in handy for any recipe, whether you're craving a juicy roasted chicken, hearty tomato soup or baked mac and cheese (um, yes please!). Here are our can't-miss picks for best roasting pans and ovenware.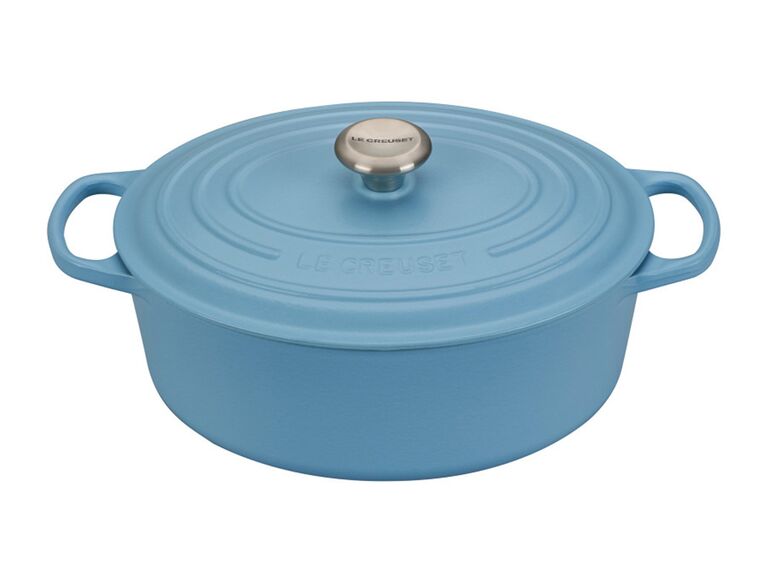 Editor's Pick: Le Creuset 6.75-qt Oval Dutch Oven, $375, LeCreuset.com
Pretty much the unofficial mascot of wedding registries everywhere, Le Creuset dutch ovens are on every cook's wishlist for a good reason. The French company has deep roots in the culinary industry—they produced their first cast iron cookware nearly a century ago—and while today's pieces are decidedly more modern, they do boast the same features (ahem, epic cast iron material and easy-to-clean enameled interior) that made them a classic to begin with. It's your wedding, so splurge on the 6.75 quart version, which will give you plenty of room to cook up a pot roast and veggies simultaneously, or a double-batch of chili big enough for your Superbowl crowd. The best part? With dozens of colors, there's one (or two!) to suit every home. Add this oven to your wishlist with our Universal Registry tool.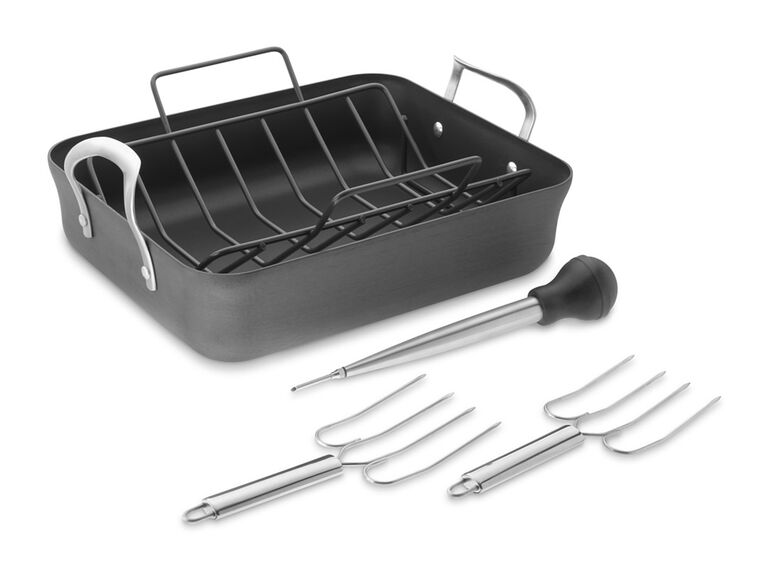 Couple's Pick: Calphalon Contemporary Nonstick 5-piece 16-inch Roaster and Rack set, $105, Williams-Sonoma.com
Cooking for a crowd? You're going to want this best roasting pan pick (it comes with an injection baster and two lifters), which also happens to be a couple's fave. Made from anodized aluminum and sporting a sleek nonstick surface, it's big enough to hold pretty much anything you want to cook up, including a 25-pound turkey. Guys, that's a lot of turkey. Meaning, you can tell your mother-in-law that no, she does not need to make her own turkey to bring over for Thanksgiving. It's also dishwasher safe, so you can get on with more important post-dinner activities, like dessert.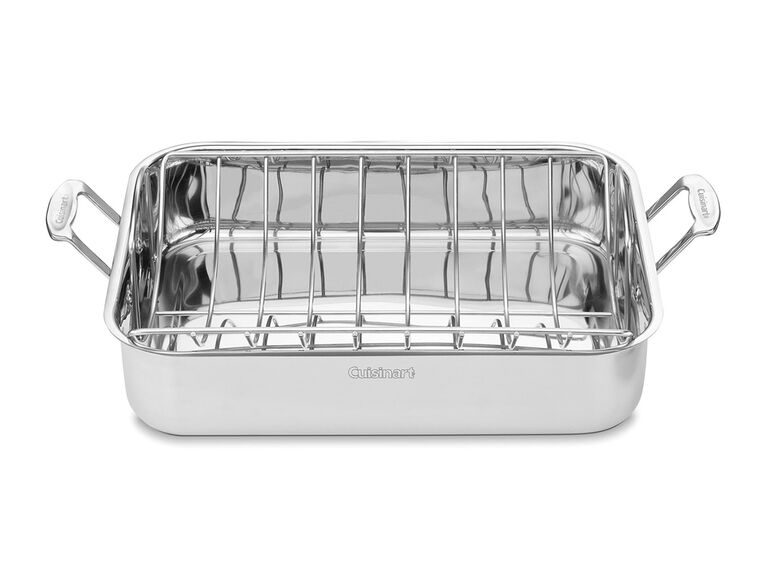 Best Stainless Steel Roasting Pan: Cuisinart Chef's Classic Stainless 16" Roasting Pan with Rack, $110, Wayfair.com
If the look and feel of stainless steel is more your speed, then wishlist this roasting pan ASAP. Its 16" of high-performance stainless steel will spread heat evenly and cook up meat or veggies quickly, making it the perfect pick for your next dinner party. Plus, it's backed by a lifetime warranty, so it'll still be kicking come your 25th anniversary.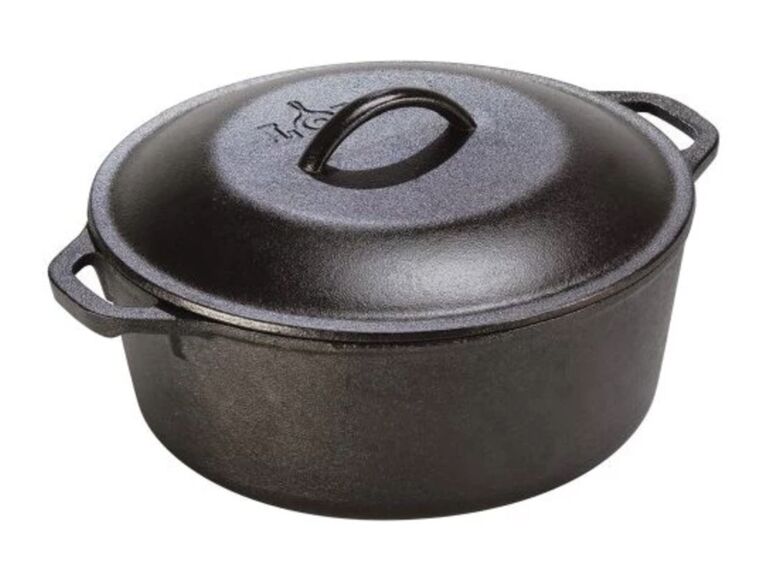 Best Cast Iron Dutch Oven: Lodge 7-qt Pre-Seasoned Cast Iron Dutch Oven, $55, Amazon.com
Cast iron can get a bad rep—after all, it does take some nurturing and tending-to (also known as "seasoning) in order for it to maintain its quality. But if you're willing to invest time and energy into your cast iron pieces, the pay-off is big—nothing else will give you crispy skin or the perfect sear quite them. This dutch oven takes everything we love about Lodge's cast iron skillet pieces (they've been produced in the United States since 1896 and come pre-seasoned with vegetable oil) and packs it into a dutch oven shape, which is perfect for transitioning between searing, braising and roasting. The result? Fall-off-the-bone meats that practically beg to be served at a BBQ.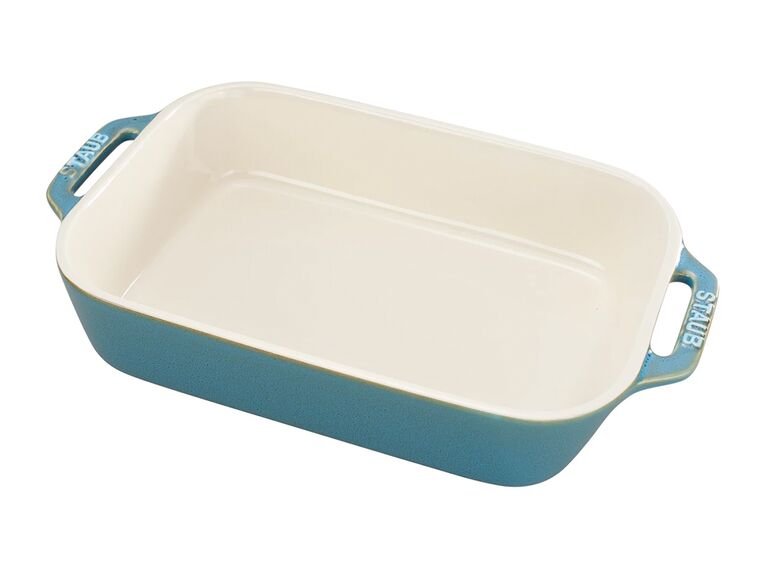 Best Ceramic Ovenware: Staub Ceramics 2.5-qt Rectangular Baking Dish, $70, SurLaTable.com
This Staub ceramic dish wins all the points for versatility. Made with durable ceramic (which cooks evenly and can withstand temps of up to 572-degrees fahrenheit) and featuring a glass porcelain "rustic" finish (we're looking at you, Joanna Gaines fans), it can go from freezer to oven to dishwasher all in the same day, which is key if you're a working duo that needs to meal prep ahead of time. We also love the pretty teal exterior, which adds a fun pop of color to any kitchen.
Best Grill Pans and Griddles
There are just so many things that taste better when cooked on a grill pan—burgers, hot dogs, chicken breast, even fish, just to name a few. The reason? Raised ridges help you achieve crispy skin, drain excess fat and score those covetable grill marks. Do we have you convinced? Good—now onto a few of our faves.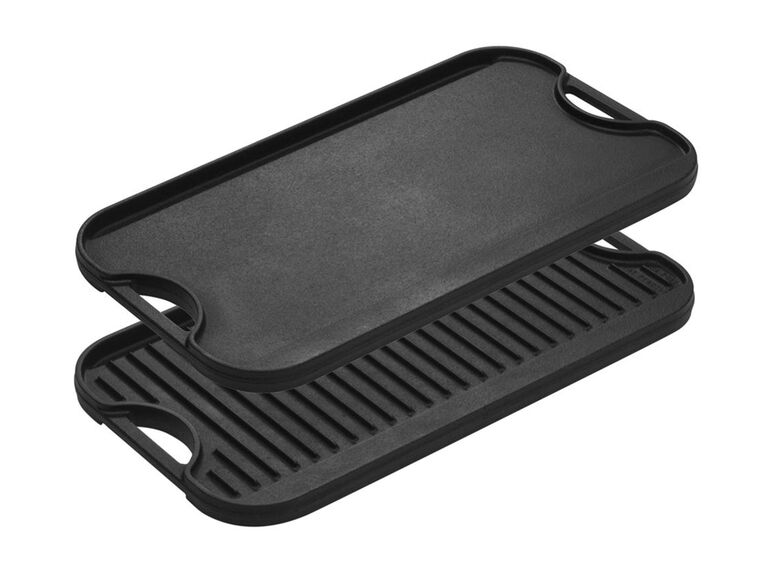 Editor's Pick: Lodge Large Cast Iron Reversible Grill/Griddle, $70, CrateandBarrel.com
It should come as no surprise that this Lodge classic took the blue ribbon for the best grill pan according to our editor. It basically bottles all the must-have features of an outdoor grill into a stovetop piece that's perfect for apartment dwellers and home owners alike. The oversized pan easily fits atop two burners, but can also be used on an outdoor grill or over a campfire if you prefer something a bit more rustic. The smooth side is perfect for frying up pancakes, eggs or even flatbread (why not?!), while the ridged one is great for steak or chicken. Both sides tout that classic Lodge pre-seasoning, plus grease traps around the edges to catch any excess fat or juice that runs off as you cook.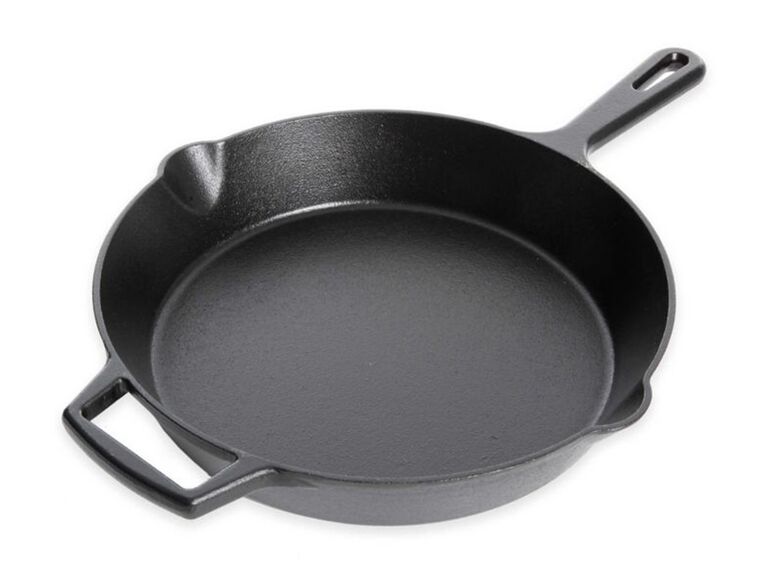 Couple's Pick: Artisanal Kitchen Supply 12" Pre-Seasoned Cast Iron Skillet, $25, BedBathAndBeyond.com
Great minds must think alike, because our couples are all about that cast iron life, too. Their pick for best grill pan is this cast iron skillet from Bed Bath and Beyond-exclusive brand Artisanal Kitchen Supply. Like with other cast iron pieces, it's ultra-durable and multi-functional, so feel free to use it on the stovetop, in the oven or on the grill. Plus, at a super-affordable price point, you can add more than one to your registry guilt-free.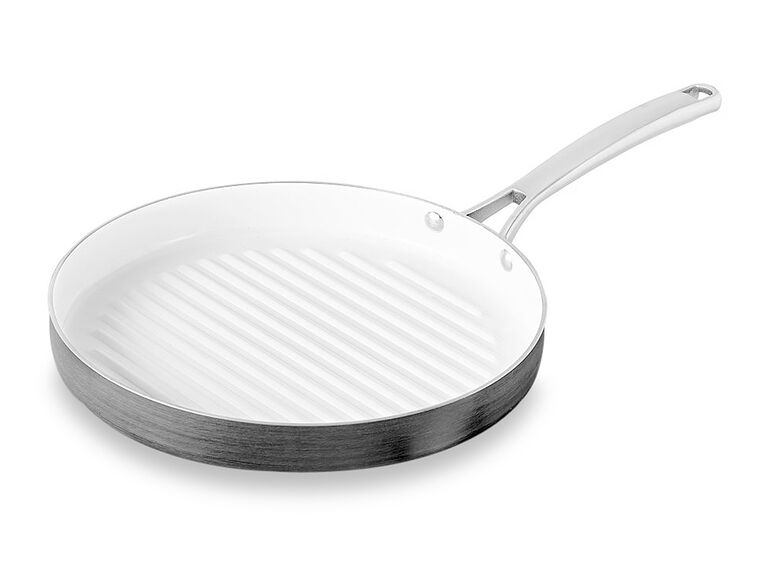 Best Ceramic Grill Pan: Calphalon Classic Ceramic Grill Pan, $50, BedBathAndBeyond.com
Consider yourself a bit, ahem, lazy when it comes to your cookware maintenance? Then you may want to skip the cast iron upkeep and opt for a ceramic grill pan instead. We love this round 12" pan from Calphalon, which is coated with an easy-clean PFOA-free ceramic interior (aka, no bad chemicals here, folks). Don't worry, it still has a ridged cooking surface so you'll score those authentic grill marks—plus it's oven safe, in case you need to keep dinner warm for a few.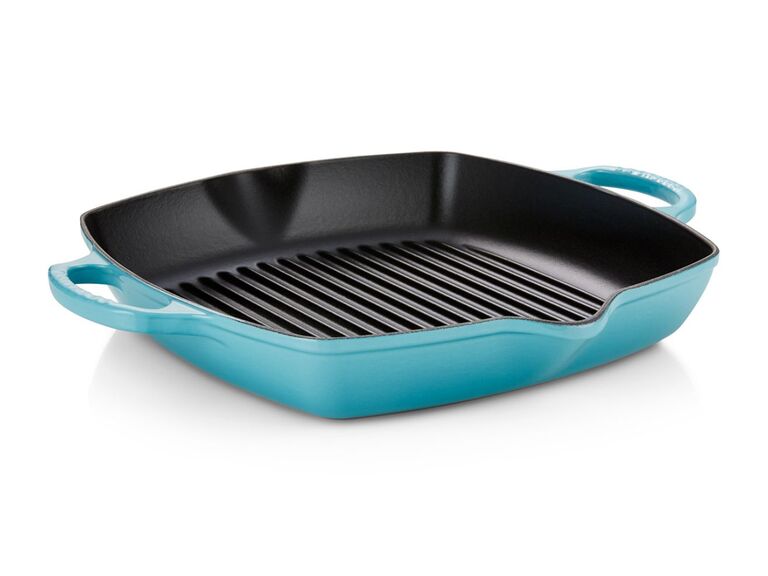 Best Enameled Grill Pan: Le Creuset Deep Square Grill Pan, $180, CrateAndBarrel.com
A roundup of the best grill pans wouldn't be complete without another Le Creuset classic. Consider this beauty the best of both worlds—you get the hot, even heat of cast iron, with the easy-release of other materials thanks to an enamel coating. It doesn't require seasoning or any major upkeep, and won't absorb odors or stains, meaning your steak won't come out tasting like the fish you cooked previously. And for that, we can all be thankful (because that would be...weird).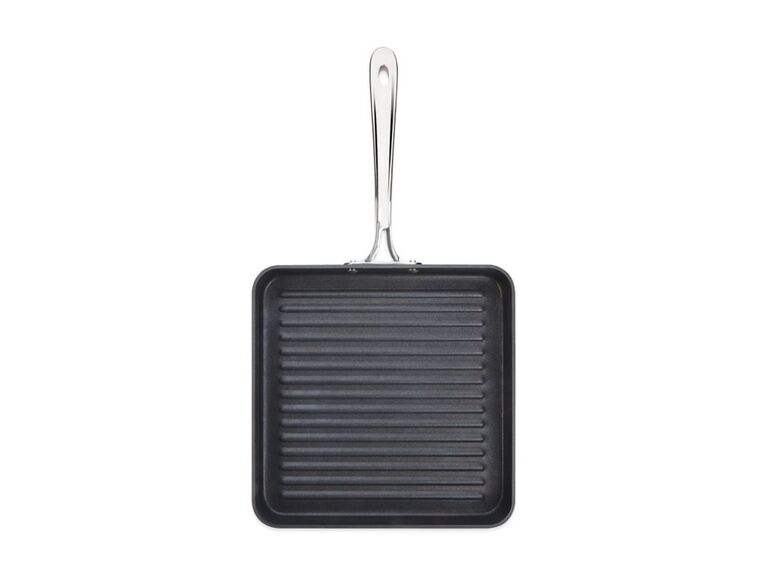 Best Nonstick Grill Pan: All-Clad B1 Hard Anodized Nonstick Square Grill Pan, $50, BedBathAndBeyond.com
If you're big seafood fans in your house, then this is the best grill pan for you. All-Clad's ultra nonstick surface makes it perfect for cooking up more delicate proteins like salmon, scallops and halibut. Translation: more of the flaky fish makes it onto your plate and less is left behind stuck on the grill pan. It's also dishwasher and oven safe, and comes with a lifetime warranty, so you know you're investing in something worthwhile.
Cooking Cash Fund Ideas
One of the best things about getting married in 2019 is the ability to register for anything (and we mean anything!) you want. Here at The Knot, we want to make that as easy for you as possible, which is why we offer Cash Funds. They're a simple way to add the things you really want to your registry and allow your guests to contribute any amount they desire towards your goals. Into cooking? Here are some of our favorite cash fund ideas to get you going:
Editor's Pick: A cooking class for two at Williams-Sonoma
Whether you guys consider yourselves total novices or complete pros in the kitchen, Williams-Sonoma has a class for you. They offer everything from how to man the grill and cook up the perfect steak, to global culinary classes on how to master the perfect Spanish paella. Your guests can contribute to one class as a fun date night alternative or a whole slew of courses to help you guys get your feet wet in the kitchen. Start your cooking class cash fund here.   
Couple's Pick: A kitchen renovation cash fund
Need some $$ to score the kitchen of your dreams? Now your guests can help you get there! Hundreds of our real couples created cash funds for exactly this purpose, using generous gifts from their friends and family to fund things like new cabinetry and appliances or the perfect granite countertops. Ready to get your Chip and Jo on? Start your kitchen renovation cash fund here.
The Knot Gives Back: St. Jude Children's Hospital
Give back on your big day! The Knot Gifts Back is a seamless way to support a charitable organization every time you receive a wedding gift—at no cost to you or your guests. Once you select your choice of 100+ participating organizations, The Knot will donate a percentage of the purchase price of every gift bought off your participating registry to that organization.
Did you know The Knot Gifts Back supports St. Jude Children's Hospital? In 2018, our couple's registries raised enough money for St. Jude's Children's Research Hospital to provide 2,032 new toys for hospital play areas or recreational areas at St. Jude housing facilities. St. Jude is changing the way the world understands, treats and defeats childhood cancer and other life-threatening diseases. Treatments invented at St. Jude have helped push the overall childhood cancer survival rate from 20% to more than 80% since it opened more than 50 years ago.