Wedding Registry on Pots & Pans 101
Wondering how to get started in the kitchen? Check out our guide to pots and pans.
by Tracy Guth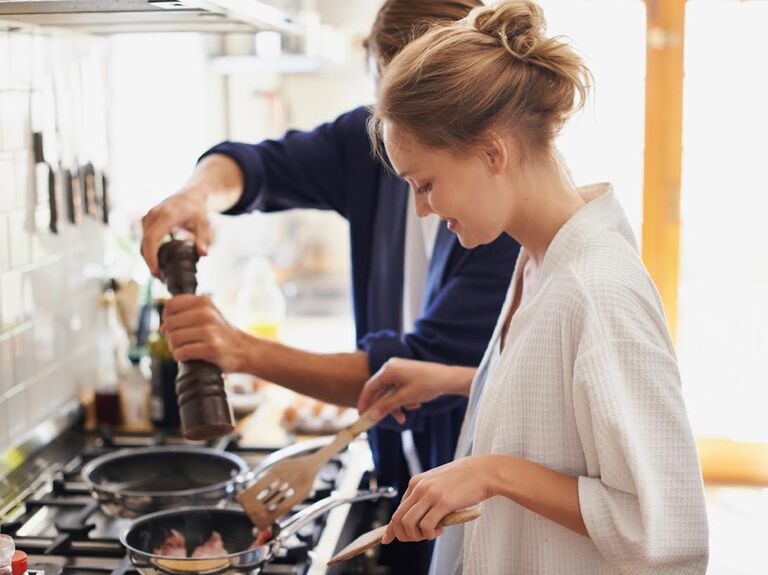 If you're registering for cookware, go for the good stuff. Remember that quality products last longer and save money in the long run. Whether you're a kitchen novice or a budding chef, great cookware will make cooking each meal a pleasure. Click here to start your registry!
Cookware Lingo
What should you demand of your pots and pans? They should conduct heat well, cook food evenly, and resist cracking and chipping. Look for stay-cool handles, non-slip grips on both pot handles and lids, tight-fitting lids, and non-stick surfaces (to make cleaning easier). Make sure pieces are dishwasher-safe, too. Here's a glossary of lingo you'll need to pick the perfect pots and pans:
Aluminum: A popular cookware material because it heats quickly and evenly. With a non-stick surface or stainless-steel lining, it's easy to clean.
Anodized Aluminum: This is a highly conductive aluminum that has been electrochemically treated so the surface is hard, scratch-resistant, and will not react with food acids. It's often available with a non-stick finish.
Copper: This is the oldest cookware metal. It heats and cools quickly for energy efficiency, it looks good, and it's a favorite of many professional chefs. The best copper cookware is lined with stainless steel; it's pretty pricey (and more laborious to clean), so you may choose just a few items to display in your kitchen.
Stainless Steel: A durable metal that won't tarnish or corrode, usually bonded to an aluminum or copper disc at the base of the pot or pan (for better heat distribution).
Cast Iron: This metal cookware absorbs heat quickly, distributes it evenly, and retains it for maximum fuel efficiency. It's great for frying, browning, and baking -- but it's pretty darn heavy.
Enamel Cookware: A colorful, often decorated, exterior protects a cast-iron interior from nicks and rust. It's good-looking enough to do double duty at the oven and the table.
Non-stick: A cookware surface that's extremely easy to clean and requires little or no cooking oil -- great for health-conscious cooks!
Which Pieces?
You can buy cookware and bakeware separately ("open stock") or as a set. Many 7- to 20-piece starter sets are available, which is a good idea if your cupboards are bare. Starting with six to ten pieces is sufficient, but registering for a full set -- plus any additional pieces you like -- is worth it (sets are favorite gift choices of parents and grandparents). Here are our suggestions for a complete kitchen:
4- or 5-inch skillet
10- or 12-inch skillet
2- or 3-quart saucepan with lid
Stock pot with pasta insert
Dutch oven (4- to 6-quarts)
Roasting pan
Steamer insert
Colander

Casserole dish
Baking sheets, cake pans, and muffin tins (2 each)
Nesting bowls
For more exotic fare:
one crepe pan
one souffle dish
one wok
one fondue pot View our Basic Registry Checklist for all your registering essentials.
Cleaning
Always follow the use and cleaning instructions that come with the product. Some quick tips:
Let pots and pans cool before washing.
Use hot, soapy water and a sponge when hand washing cookware.
Use wood, nylon, plastic, or rubber cleaning tools on non-stick cookware to prevent scratching.
Don't put wood-handled cookware in the dishwasher or oven; the wood could char, warp, or crack.
Avoid abrasive scouring pads or steel wool when cleaning cooking surfaces, unless recommended by the manufacturer.