6 Dos and Don'ts of Sharing Your Wedding on Social Media
Sometimes you need to stop yourself before hitting "post."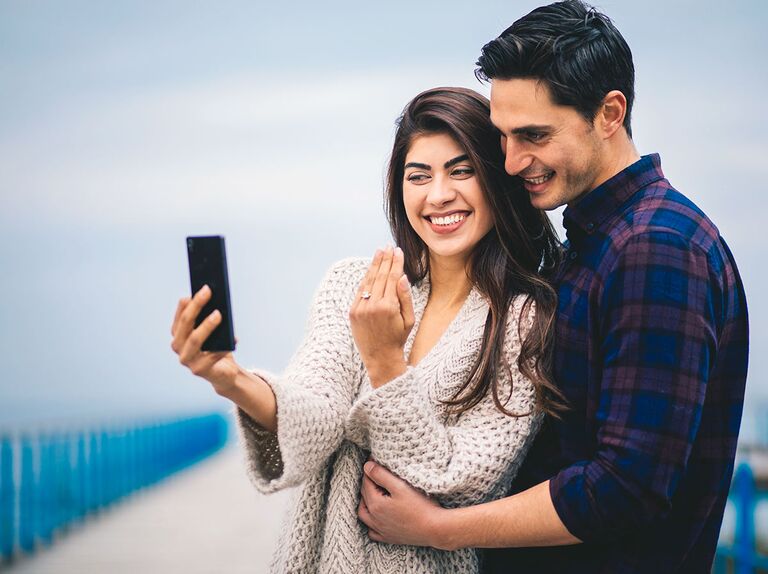 iStock
You're engaged! And now you're going to spend the next few months (or years) of your life wrapped up in wedding planning tasks. Your friends and family are so excited and can't wait to go through this journey with you—until you've shared the 20th photo of a dress store you're shopping at still searching for "the one." We know, we know—in this day and age, social media makes it so easy for you to share each and every step of the planning process with everyone, but that doesn't mean you should. Look out for these dos and don'ts of social media sharing as you're planning your "I dos."
1. Do: Post a #ringselfie after you say "yes."
Don't: Share the news on social media before telling close friends and family. And one amazing photo will do.
We're all for that first #ringselfie. You have a brand-new piece of hardware that sparkles like no other jewelry you've ever owned—show it off! But rule number one of announcing your engagement: Do not post it on social media before telling your parents, grandparents, siblings and other close relatives and friends. You know how you'd feel if your sis got engaged and you found out on Facebook. And you should make that #ringselfie a good one, because posting a photo of your perfectly manicured nails and your diamond should not be a regular occurrence.
2. Do: Post photos of you looking happy with your significant other.
Don't: Put your hand on your partner's chest in every. Single. Photo.
Being engaged doesn't mean you have to strategically position yourself every time you take a photo with your partner so your ring is front and center. Your smiling faces say enough.
3. Do: Update friends and family on milestone moments during your wedding planning.
Don't: Give every little intimate detail.
You've said "yes to the dress"? Great! Let everyone know with a cute photo of you and your shopping entourage in front of or in the dress salon. But if the photographer you really wanted is booked the weekend of your wedding, or the cake baker who has the designs you love doesn't have the flavors you'd like, or your bridesmaid is pregnant and you're not sure if you should choose new bridesmaid dresses? Spare yourself and others any potential drama and keep these things off social media—the internet is not your personal journal. Need to vent? Do it the old-fashioned way and call your mom or bestie and talk to them about the situation. Or you can ask us a question during our Wedding Wednesday Facebook Live, every Wednesday at 1 p.m. ET (that's what we're here for).
4. Do: Create a wedding hashtag.
Don't: Use it unnecessarily.
Coming up with a wedding hashtag is one of the fun parts of wedding planning. And it's a great way for friends and family to share photos on your special day. But that selfie of you "sweating for the wedding" at yoga on a random Saturday? You can probably leave that hashtag off.
5. Do: Count down to your wedding.
Don't: Count down from your wedding.
While posting a status every day before your wedding with how many days are left is a bit overkill, we think an update here and there is totally fine. But after you've said "I do," try waiting for those milestone anniversaries to share cute selfies of you and your new spouse. You may get a few unfollows or unfriends if you keep posting photos every month since you became official.
6. Do: Share photos of your wedding day as soon as you get them from your photographer.
Don't: Continue to share photos of your wedding months (or years) later, or to wish a friend happy birthday.
Once you get the go-ahead from your photographer, feel free to post an album or two to Facebook, or choose snaps to share on Instagram. (Double-check your photographer contract to make sure you're allowed to share photos on social media, and how many you can share and if they need watermarks.) Your friends and family will be thrilled to see them, and to look for themselves in the photos too. But still sharing additional photos six months after your wedding? Or even a year later? Don't do it. We know—you're still on a wedding high, and you're so excited to get more images, but trust us, your 1,000 or so friends on Facebook will most likely not feel the same way. And sharing a photo of you looking amazing in your wedding dress with a friend who was a guest at your wedding (and whose eyes are half shut in the picture) to wish them a happy birthday? Not a good idea.