COVID Has Disproportionately Affected Women in the Workforce—Here's How Your Wedding Can Help
Spend your money thoughtfully.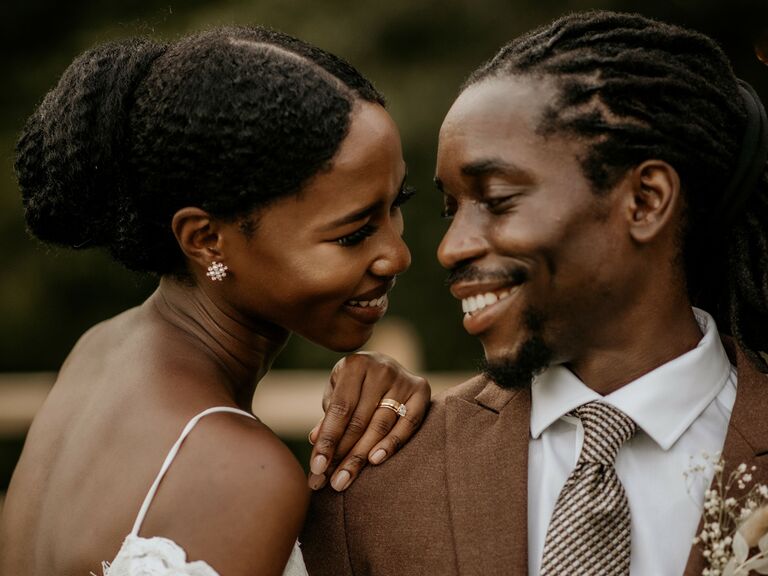 MONISA J. PHOTOGRAPHY
It's 5:30 a.m. The alarm clock goes off inside the home of Jennifer Price, owner of Event Shoppe Chicago. If she has the time (or the energy these days), she'll crank out a workout. Then, she'll sit down at her computer and get to work before her two boys (a first-grader and a third-grader) have to get up for Zoom school. Her husband is a teacher and doesn't have the flexibility to stay home, so she prepares to take on several jobs for the day: entrepreneur, event designer and planner, chef, recess supervisor, and math teacher, to name a few.
Price schedules her business meetings during her children's strongest subjects and moves her workstation near them during classes where they need more support. When she's on a call, her children know there's an "eight-or-higher" rule, meaning they're not to disturb her unless the situation ranks an eight-plus on a scale of one to 10. "It took me a while to get to that point, because my immediate instinct as a mom is to take care of them," she says.
When her husband gets home, Price moves up to a room where she can shut the door and focus on her work. But even with the door closed and her husband downstairs, she'll likely hear a soft knock and her son's voice asking where his favorite pencil is. "I've seen in our community and in other communities that moms become the de facto parent, and I think it's what we've been trained to do," she says. "My mother and grandmother were the de facto parent at all times, and as I watched them, I immediately thought that was the way it was supposed to be."
Price isn't alone in this experience. In September 2020, the Labor Department released job numbers that showed the pandemic is putting hundreds of thousands of women out of the workforce. As COVID continues, economists and experts are watching their fears play out in real time: This pandemic is setting women (and the professional progress they've fought so hard to make) back several years. Women in the wedding industry are especially impacted. As the majority of wedding vendors are self-employed or work for small businesses, they've had to balance their business, their families and their clients. Since many local vendors are self-employed and don't have corporate structure to fall back on, they're struggling in light of the pandemic. But your wedding can make a difference. By hiring women-owned businesses, you can help them through these unprecedented times.
Women Are Leaving the Workforce Because of COVID
One million-plus people ages 20 and over left the workforce between August and September 2020. Of those, 800,000 were women (324,000 were Latinas while 58,000 were Black), according to an analysis by the National Women's Law Center. Comparatively, 216,000 men left the job market during the same time span. The job losses among women can be attributed to the suspension of women-dominated industries, like hospitality and education—as well as events and weddings. Another important factor is the responsibility of education and childcare. Between May and August 2020, one in four women contemplated resigning or stepping back from their current role (either by going part time or leaving for a more flexible job), according to a report from Lean In and McKinsey & Company.
Experts have said the wage gap is a key part of what's happening right now. In 2019, the Census Current Population Survey found that women who were full-time, year-round employees made 82.3 cents for every dollar their male counterparts earned. As schools and childcare businesses closed down because of COVID, experts say the responsibility of childcare is more likely to fall on the person who earns less in a dual-income household. Which means, statistically speaking, it's more likely to fall onto women. But juggling full-time home education or childcare on top of a full-time job simply isn't sustainable, and women are leaving the workforce because of it.
Women Wedding Pros Are Performing More Emotional Labor Than Ever Before
If women aren't leaving the workforce, they're struggling to find a work-life balance. They're working full-time jobs in houses where children need constant care and attention. Desireé Dent, owner of Dejanae Events in Chicago, was forced to give up her office space amid the pandemic and relocated her workspace to a small nook beside her dining table. She runs her business with the sound of her daughter's instructors in the background. While her daughter is a self-sufficient freshman in college, motherhood still interrupts work.
"I'm still a mom. If she has questions or she just needs me, she's going to go ahead and ask and interrupt," Dent explains. "She's still a kid regardless of her age, and she's trying to navigate through this pandemic as well."
The emotional labor that women—in this case, women in the wedding industry—have to take on in light of COVID is overwhelming. They have to juggle the emotions of employees, children and clients in these unprecedented times. "I cried after calls with my couples who were on the phone crying. I can't cry with them because I have to be the strong professional," Dent says. "I cried with my daughter, but then I've also let her cry because I had to be the strong mom."
Dent's daughter had no real graduation, no true prom night and no proper send off to college. Instead, there were tearful questions of why this was happening and what lies ahead—and Dent had to give answers. The situation can feel isolating. It's difficult to share your own feelings while taking on those of so many others. "No one saw me cry when I packed up the things in my office and left," Dent says.
And like so many other women in this situation, there wasn't much time for Dent to feel that sadness. People were counting on her, so she had to pull herself out of her funk. "Just because the pandemic hit didn't mean I didn't have to pay college tuition or buy groceries or put gas in the car or cover the mortgage."
Women in the Wedding Industry Have to Make Sacrifices Professionally and Personally Because of COVID
Dent is right: While the pandemic put the weddings on pause, the world continued on. Women in the wedding industry had to find creative ways to bring in business, and many also had to become at-home educators or caretakers. Price, for example, had to completely overhaul her schedule.
And while she's found things to be grateful for (like playing kickball with her children at noon or overhearing a funny moment in their online classes), the constant prioritization is exhausting. "Every day, I have to say, 'OK, is this going to make us money? Is this going to make us better?' If not, I just can't do it right now," she says.
That means Price has had to pass on several online education opportunities offered by fellow wedding professionals. But she's also given up quality time with her family on the weekends to work uninterrupted. "I'm grateful, but I'm also frustrated, and I think both can be true at the same time."
The push and pull of work life versus home life is taking a toll on women everywhere, but women in weddings are facing a unique challenge. As the rules around weddings were vague, unclear and ever-changing over the course of 2020, supporting clients required a lot of emotional work. "The sadness comes in too with having to hear the emotions from your couples and your clients and not having any true feedback to give them," Dent says.
Price echoes Dent's sentiments. "All these people are looking to me for spaghetti dinner, for COVID advice, for everything, you know?" Price says. "There are so many plates in the air and I'm just trying to keep them from crashing."
But both Dent and Price adjusted accordingly. They've sacrificed time with family and time working. They've juggled the emotions of their children, their partners, their clients and their employees (not to mention their own). Somehow in the face of all this adversity, they've found a way to keep going—like so many other women in the wedding industry. "I can honestly say I'm just trying to figure it out every day," Dent says. "Women were already strong, but we're even stronger now."
How Your Wedding Can Help Women Right Now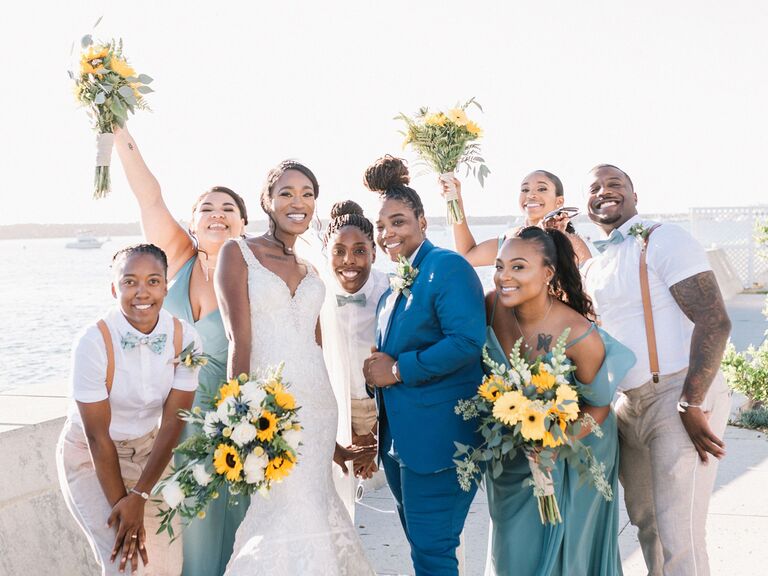 Here's the good news: Despite all the hardships women in the wedding space are facing right now, there's a concrete way you can help. If supporting women is important to you and your partner, consider building a team of women pros. Dent says this pandemic has shown the world just how capable, resourceful and tough women really are—key traits any couple would want in their wedding vendors. "I'm not saying that men aren't [strong], but [women] have gotten thrown so many things—especially within this pandemic, and we've handled it like champions," she says. "Even if [we were] crying at night, [we] got through it."
And if women can work at that level amid the worst of the pandemic, imagine what they'll do once things get better. "If you think about a wedding day, there's always some type of fire that happens," Dent says. "This has been the biggest fire ever, and we've adjusted. We're still here. We're still strong."
But it's important to remember supporting women means supporting all women. "You can't just pick a subset of women and be done," Price says. "Anybody who identifies as a woman deserves to be celebrated." Interested in uplifting women throughout the wedding planning process? Here are three ways you can make a difference.
Shop From Women-Owned Stores When Possible
With planning a wedding comes smaller, less-obvious costs. Think: wedding favors, bach party decor, wedding day beauty prep. While it may be more convenient to buy from big-box retailers, these expenses add up in a powerful way. With a little extra care, you can redirect those dollars to support women everywhere.
Your stationery, for example, is an opportunity to live out your feminism. Hire a woman stationer to design the suite of your dreams or head over to the Women's Artist Collective on The Knot Invitations. There, you'll find stunning designs created by talented designers that you can use for your wedding paper.
You can also read through our roundup of women-owned businesses to support while wedding planning. From beauty brands to fashion houses to home retailers, we included women-owned companies to buy from for every kind of pre-wedding need. Plus, we also curated a list of pro-women charities to register for using The Knot Gives Back or The Knot Cash Funds.
Hire Women Vendors for Your Event
Next to your venue, hiring your vendors is the biggest chunk of your wedding budget. Intentionally working with women-owned businesses is a powerful way to uplift women in your area. "When you thoughtfully decide to hire a woman-owned business, you're giving her a chance," Dent explains. "You're giving her the ability to showcase what she knows she can do—but now she gets to share it with the couple and their family and friends."
That means if your guests swooned over the floral arrangements or marveled at how seamlessly the timeline was executed, they'll know exactly who was responsible. And they might hire the business for other big events like a birthday or anniversary (or maybe even their own wedding).
The impact of hiring women-owned businesses extends far beyond just the couple and their guests, though. "When you invest in a woman-owned business, you're investing in the idea that someone will see themselves in that business," Price says. "It's so important for us to invest in our women because when our girls see women working, they know that they're just as important as their male counterparts."
You can build out your team of powerful women using the diversity filters on The Knot. With them, you can search specifically for underrepresented businesses like Black-owned businesses, LGBTQ+-owned businesses or veteran-owned businesses. If you're hoping to live out your femist values as a couple, use the woman-owned businesses filter to check out all of the amazing pros in your area.
Leave Positive Reviews For Other Couples to See
Your support doesn't have to end with the paycheck and a hard-earned tip. Uplift women in the industry after your wedding is over by leaving positive reviews on their websites, on The Knot or on social media. By doing this, you'll convince other to-be-weds to book with your all-star vendors. The more exposure they get, the better for their business.
Talk about how much you enjoyed working with your all-women wedding team with your friends and family too. Dent says this could help drive business for other events. "Once the wedding is over for me, I want to be a part of their family and be there for those milestones down the line, like baby showers or birthday parties or a promotion," she says. "Doing good work through the planning process and on implementation on the actual day only intensifies those opportunities for your business down the line."
Another creative idea is to include a thank you board, which lists out all the vendors who made your wedding possible. Place it anywhere in your reception venue so your guests can read it over during a dance break. This will allow your guests to take note of all the incredible women in the area and consider them for their own events.
By doing one or all of these extra steps, you're uplifting women in your area in a real way—and that impact cannot be understated (especially in light of the pandemic). "We really do a happy dance every single time we get a booking," Price says. "Everybody can change their Instagram profile to say they support something, but when you actually invest in women-owned businesses, you're investing in an economy that supports women." And now more than ever, women need your support.