These 28 Wedding Thank-You Cards Are the Prettiest Way to Thank Your Guests
Consider yourselves one step closer to crossing off this final to-do.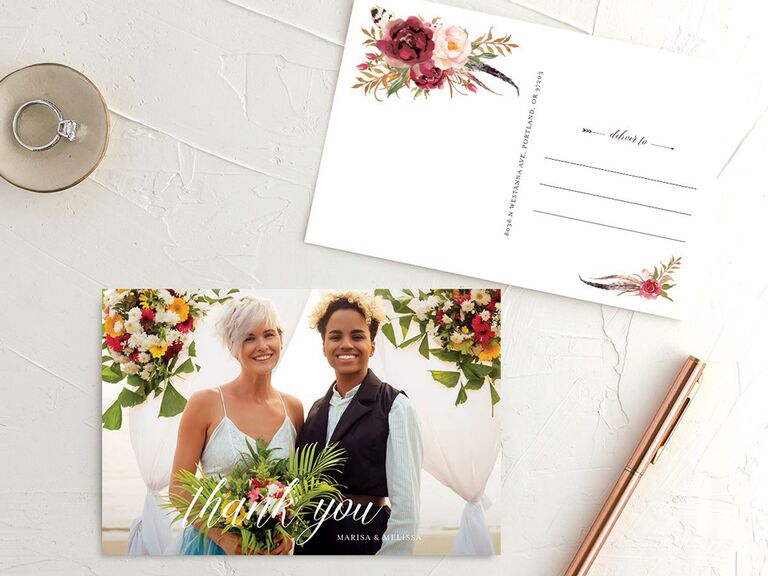 We have included third party products to help you navigate and enjoy life's biggest moments. Purchases made through links on this page may earn us a commission.
You picked the flowers, taste-tested the cake and—oh yeah—said your "I do"s. Congrats! But before you close this joyful chapter, you have one more item on your to-do list: sending your wedding thank-you cards.
Wondering where to order your wedding thank-you cards? Start your search for this final bit of big-day stationery at The Knot Invitations. There are tons of thank-you notes fit for every wedding style and aesthetic, plus the option to add personalized envelopes.
For more inspiration, keep reading. To save you the legwork and get you one step closer to checking off this to-do, we've found 28 of the best wedding thank-you notes in an array of memorable designs.
Scroll below to see all our favorite ways to tell your guests just how much you appreciated their presence on the wedding day.
The Knot Elegant Script Thank-You Cards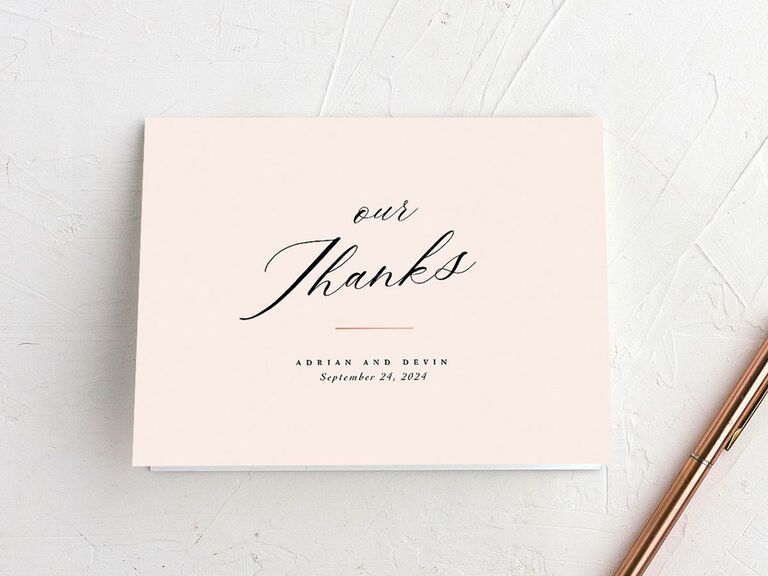 Available in both pale pink and clean white, these classy wedding thank-you cards feature sprawling script and a minimalist design. To complete this stunning stationery, customize the envelopes with recipient and return addresses.
The Knot Minimal Photograph Thank-You Cards
Show off one of your favorite snapshots with these wedding photo thank-you cards. Your selected portrait will be bordered in either white, tan, light pink or baby blue.
The Knot Vintage Palette Thank-You Cards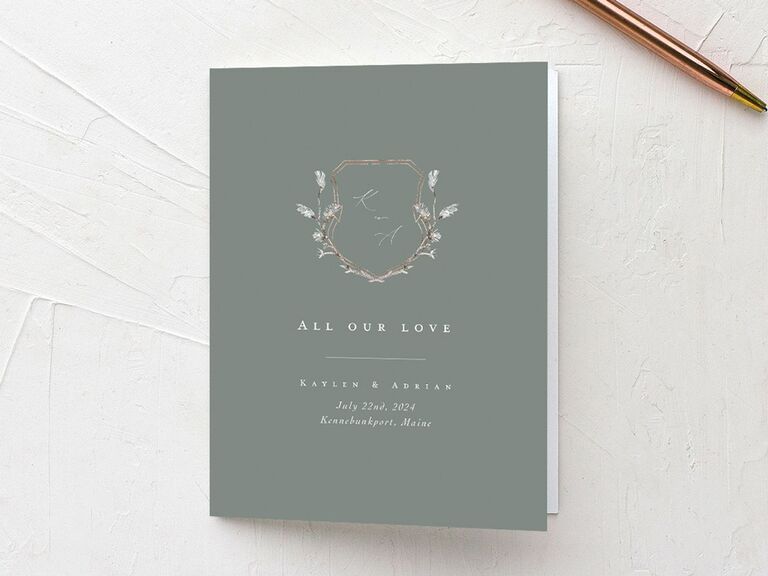 For a regal vibe, check out these crisp and classic thank-you cards. The crest can be customized with your own initials—you two are practically wedded royalty, after all! (William and Kate, who?)
The Knot Abstract Marble Thank-You Cards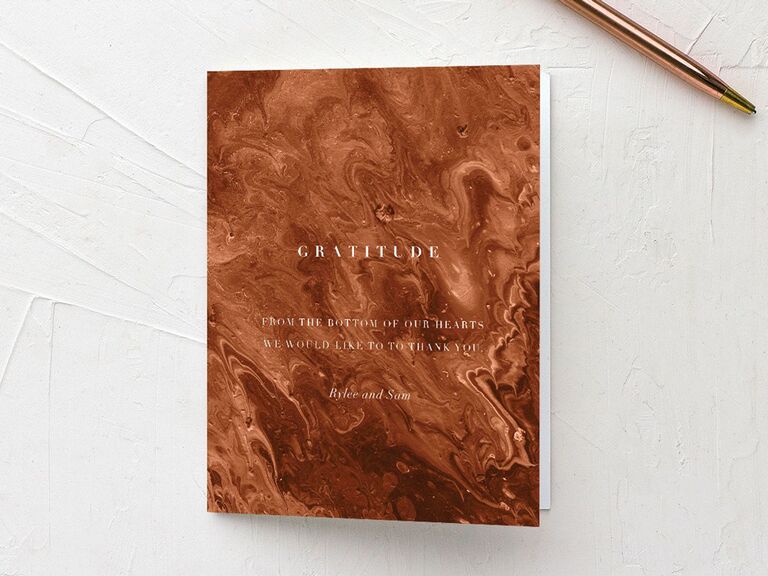 The moody wash of color and marble pattern make this stationery design really stand out. How could you not love the fashion-forward feel?
Kaydi Bishop Chiffon Wedding Thank-You Cards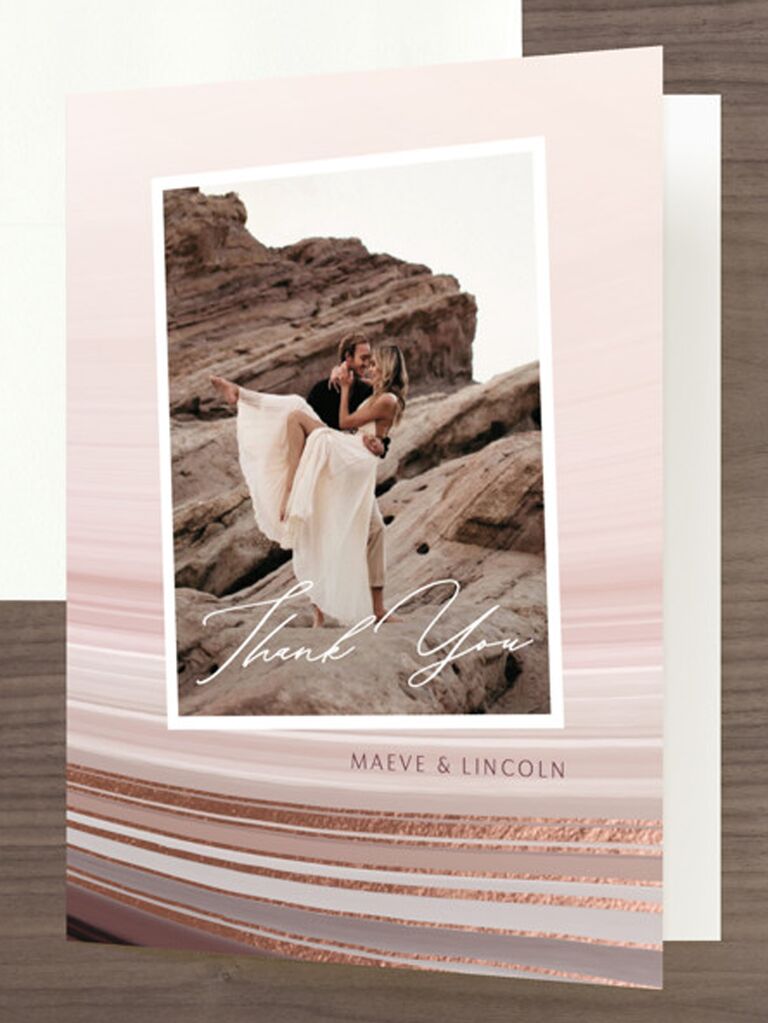 How pretty is that foil-pressed backdrop?! These folding wedding thank-you cards come blank inside so you can make each message as personal as possible.
The Knot Mod Composition Thank-You Cards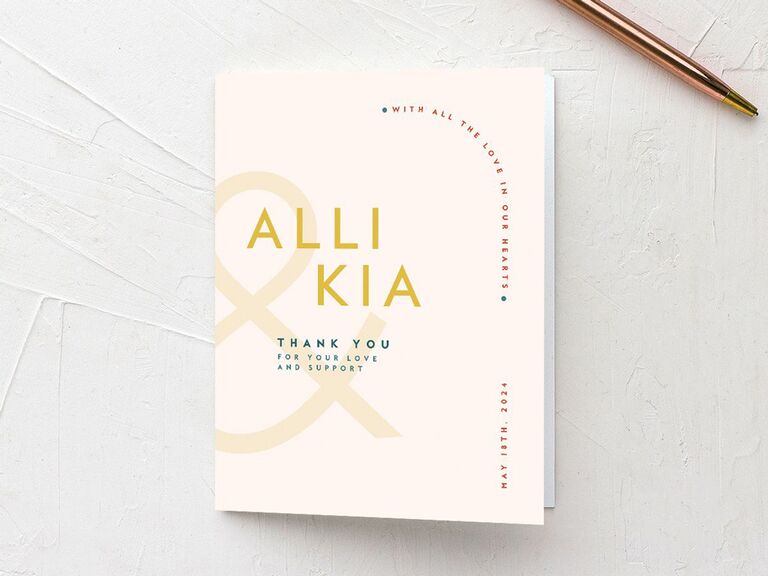 This cool and modern set of stationery features a graphic ampersand. Personalize each card with your names and wedding date in sans serif typeface.
The Knot Simply Together Thank-You Cards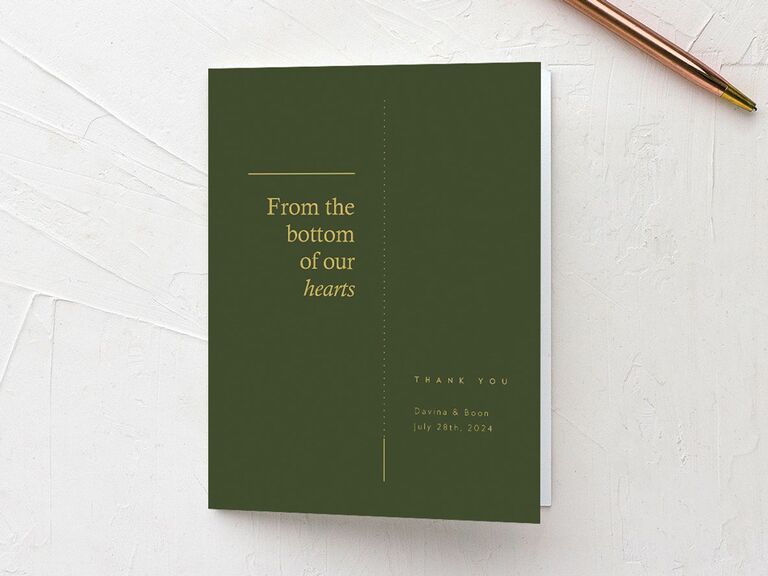 This cool graphic thank-you note combines a solid-colored background with bold typography. Plus, the sweet sentiment ("from the bottom of our hearts") is sure to make your guests smile.
Artifact Uprising Best Day Ever Thank-You Card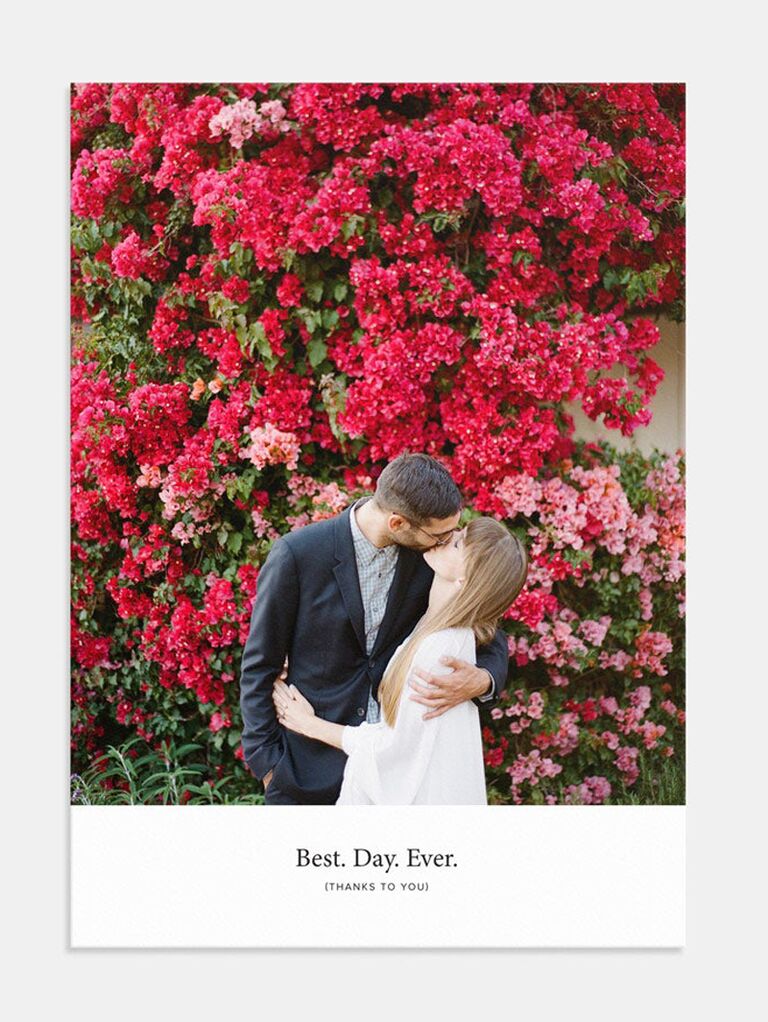 Thank your friends and family for being a part of your "Best. Day. Ever." with these wedding photo thank-you cards. Bonus: They're printed on 100% recycled paper.
The Knot Traverse Type Thank-You Cards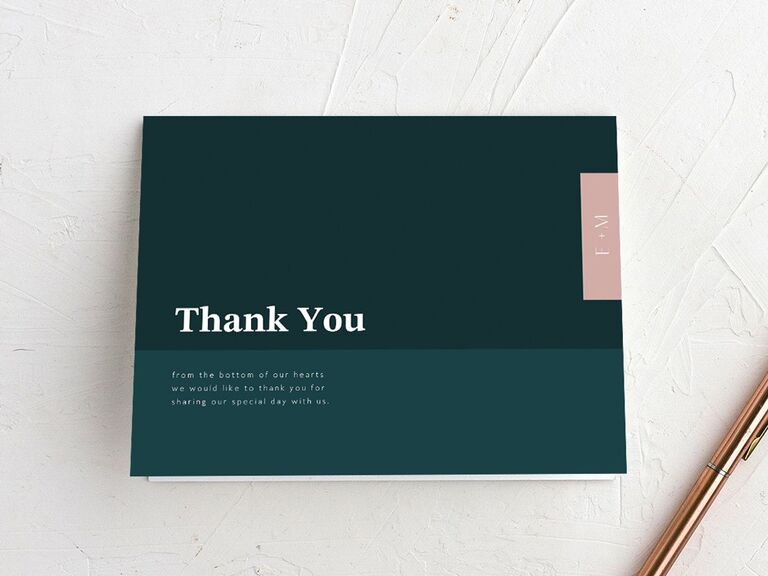 Those with a minimalist aesthetic will appreciate a clean, simple stationery design like this one. Available in a choice of two color palettes, the color blocking extends from the front to the back of the card for a cohesive look.
The Knot Earthy Organic Thank-You Cards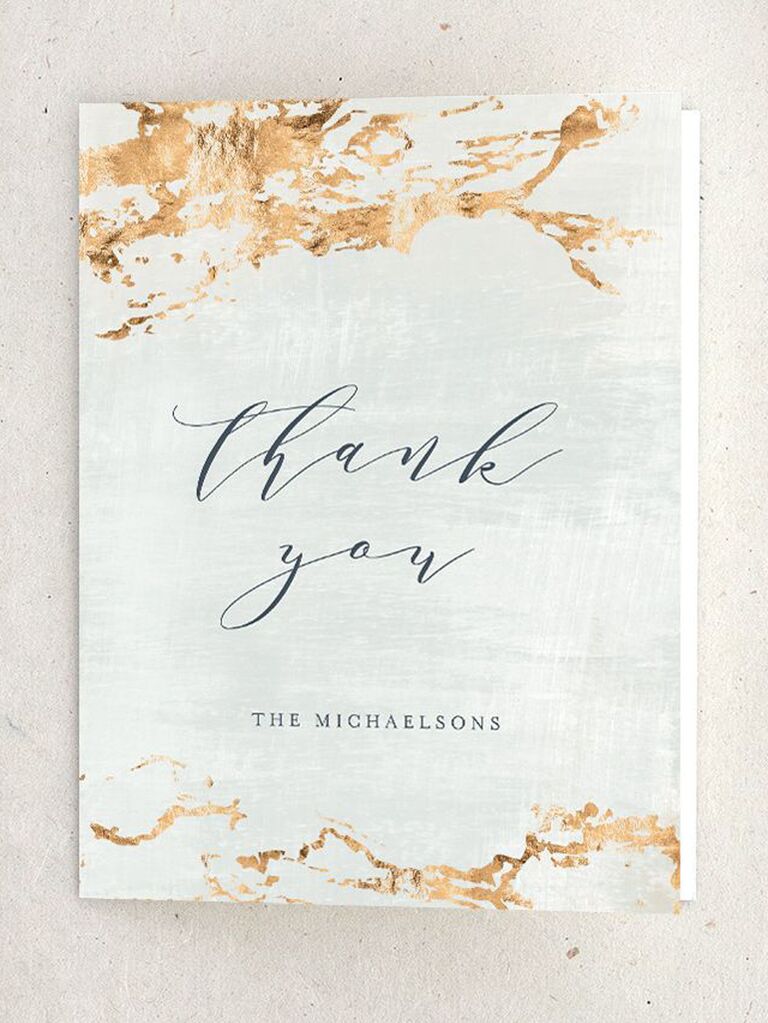 In soft blue and gold hues, the design on these wedding thank-you cards is free-flowing and abstract for an organic feel. You can personalize the front of the card with your names beneath the gratitude message, which is written in elegant script.
The Knot Modern Overlap Thank-You Cards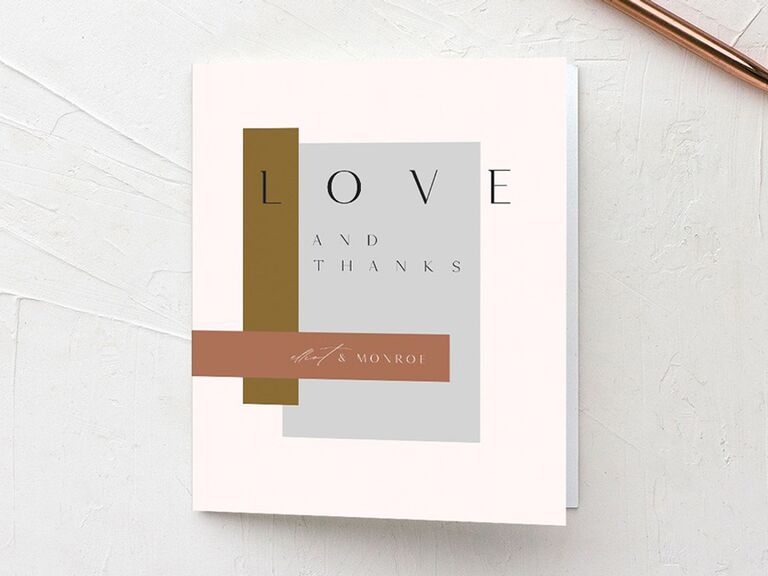 Overlapping color blocks modernize this set of wedding gift thank-you notes. A sweet message of "love and thanks" completes the contemporary design.
The Knot Bohemian Floral Thank-You Postcards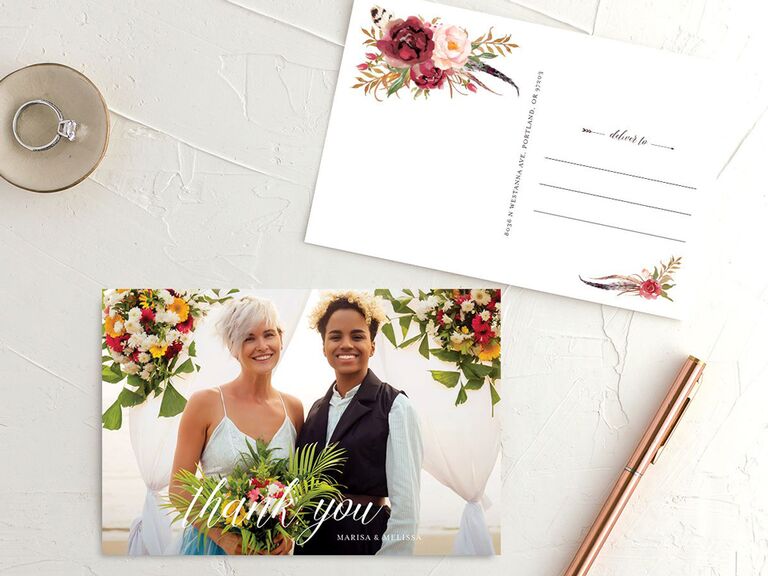 These wedding thank-you postcards boast a boho bouquet of blooms on the back and your wedding photo of choice on the front. The best part? They don't need envelopes!
The Knot Modern Type Thank-You Cards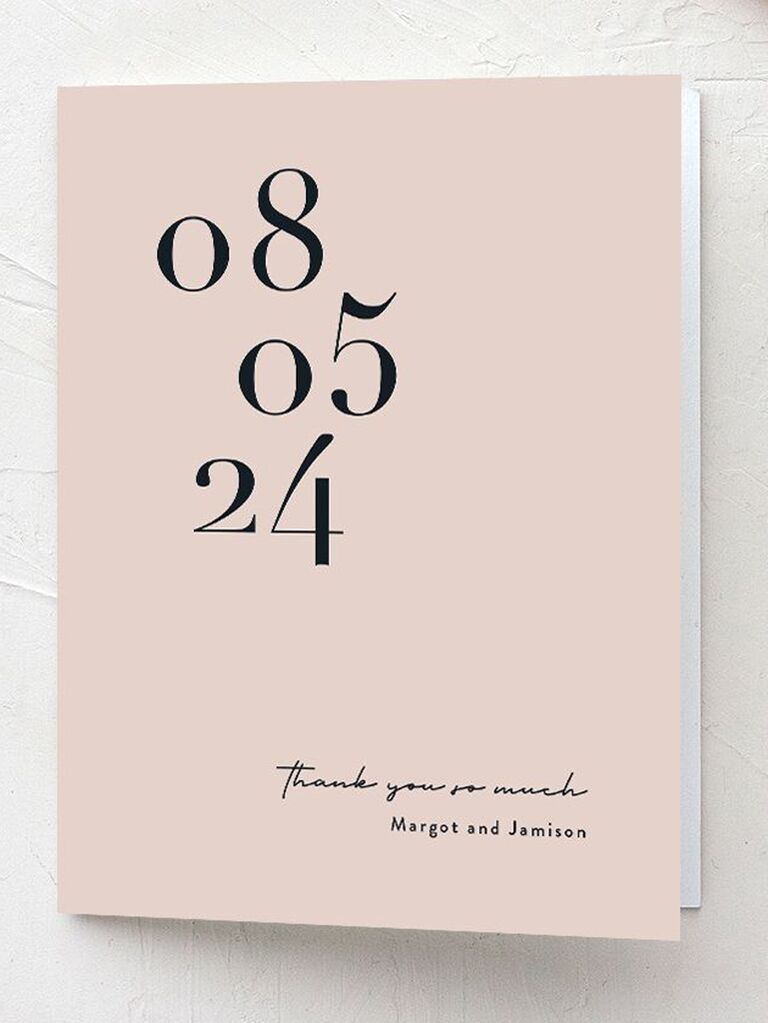 Memorialize the day of your "I do"s with this thank-you card. The date can be showcased on the front in a bold font, while the back totes a romantic floral design.
The Knot Romantic Frame Thank-You Cards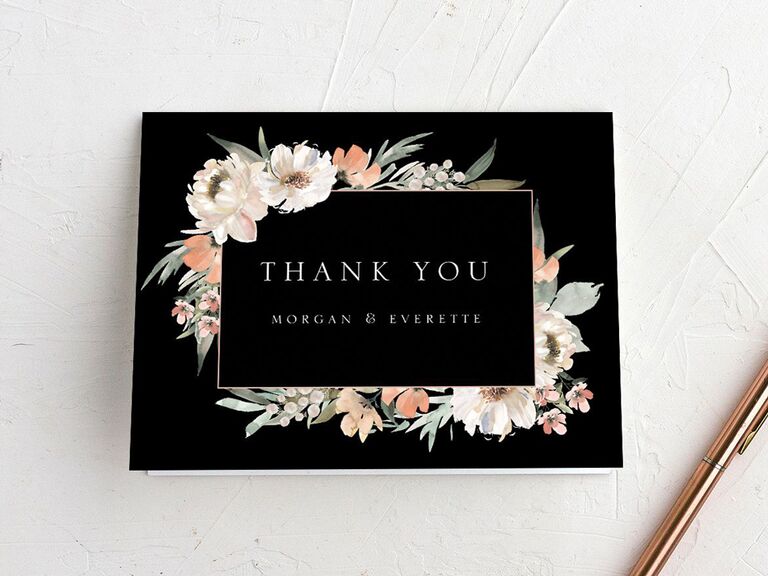 How romantic! Gorgeous florals will frame your names on this thank-you card, which comes in a selection of six stunning color stories.
The Knot Vintage Gothic Thank-You Cards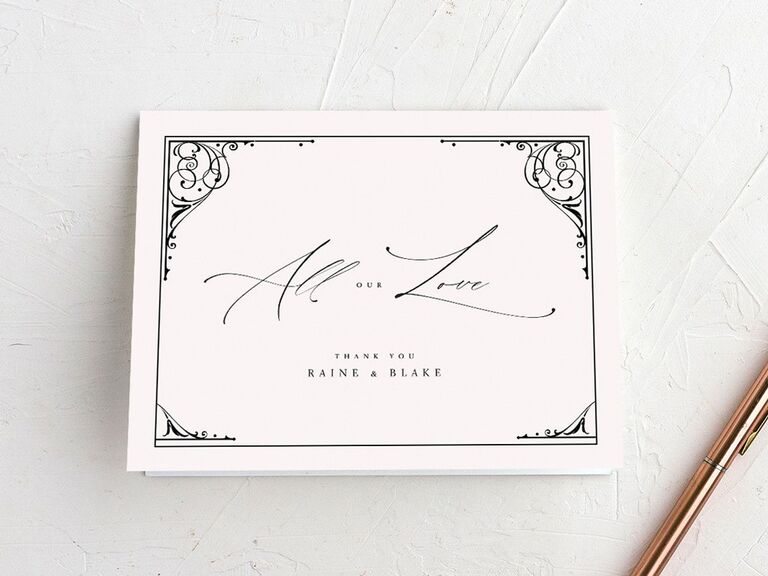 These cream-colored cards are adorned with an ornate design and classic script for a vintage-inspired look. These babies are going to make you wish you owned a quill pen to address those envelopes!
The Knot Formal Greenery Thank-You Cards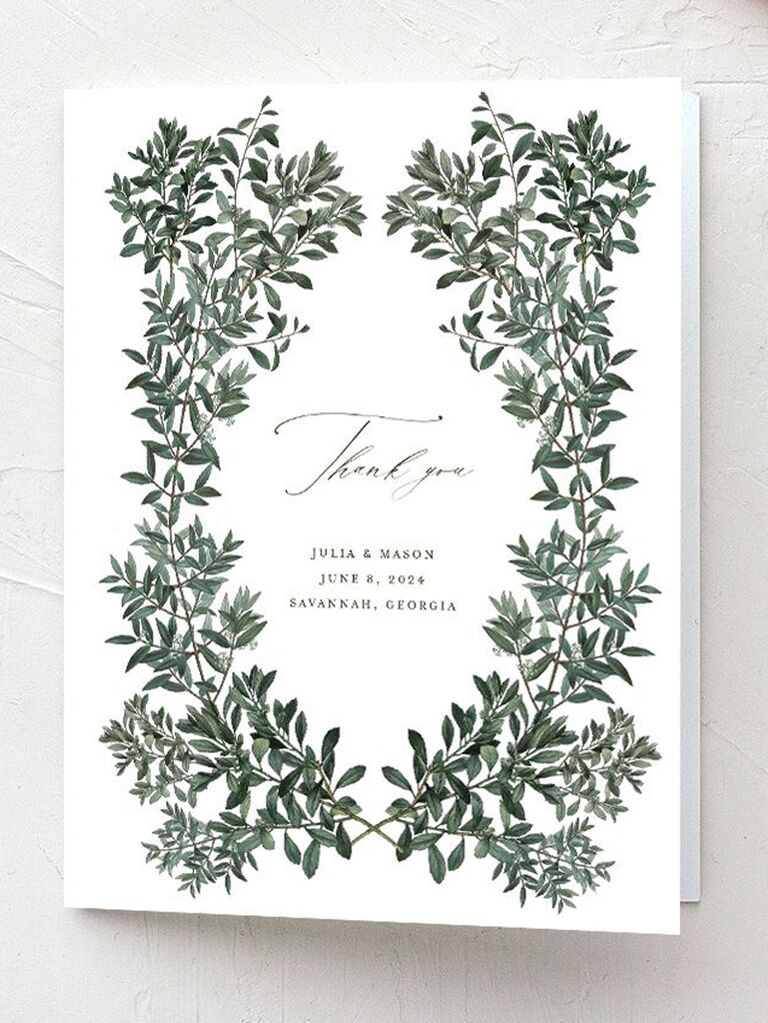 Prefer gorgeous greenery to bouquets of flowers? Then consider this beautiful stationery that showcases leafy branches on a background of white, black, navy or pale pink.
On Point Designs Many Thanks Tropical Palm Leaf Minimalist Thank-You Card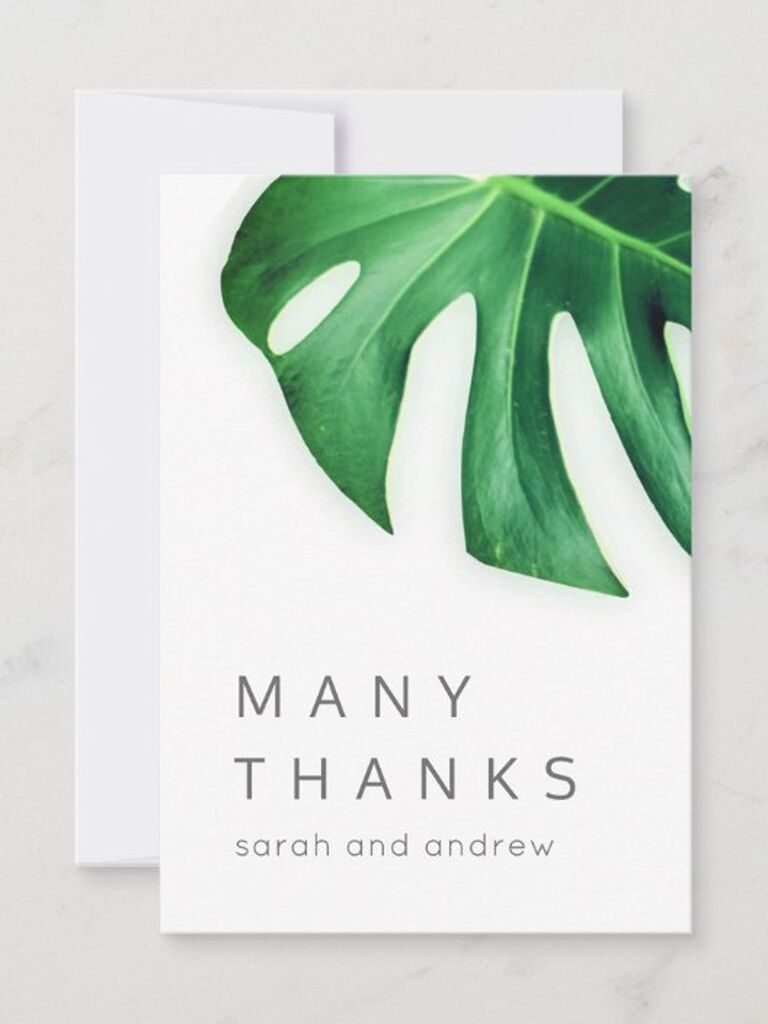 After a destination wedding or seaside ceremony, send your guests these on-theme thank-you notes depicting a lush monstera leaf to continue the tropical vibes.
The Knot Painted Beach Thank-You Cards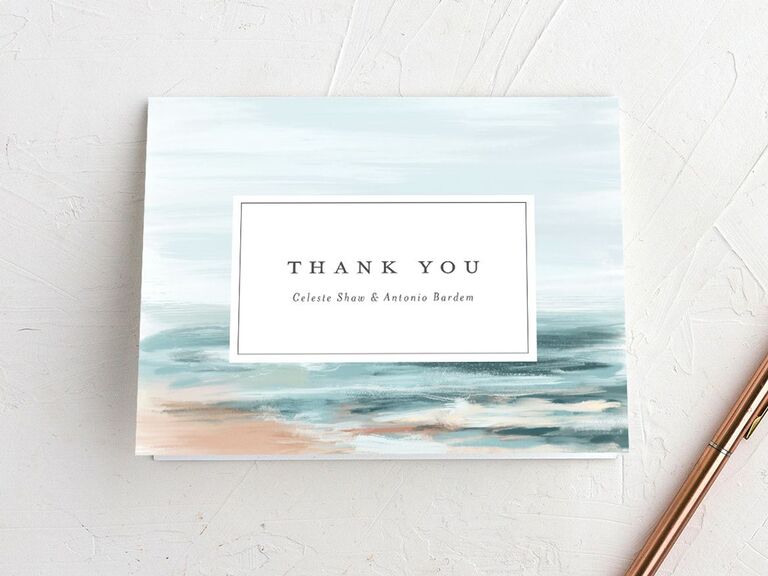 Another pick that's perfectly suited to a beach wedding, these cards include a soft, watercolor painting of an abstract beach. We can practically hear those ocean waves and smell the salty sea air...
The Knot Leafy Hoops Thank-You Cards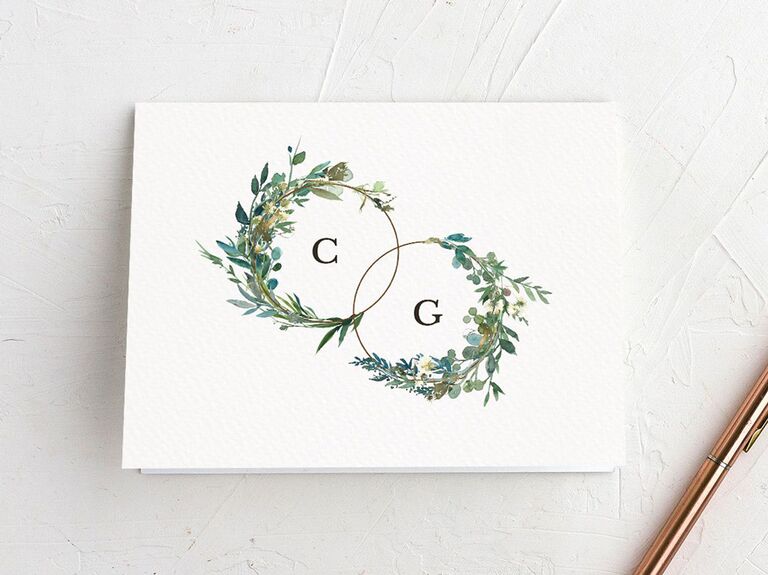 In addition to the monograms within the interlocking hoops, these custom wedding thank-you cards can be personalized with a photo. Plus, we're a little obsessed with that darling, delicate greenery!
The Knot Woodgrain Lace Thank-You Cards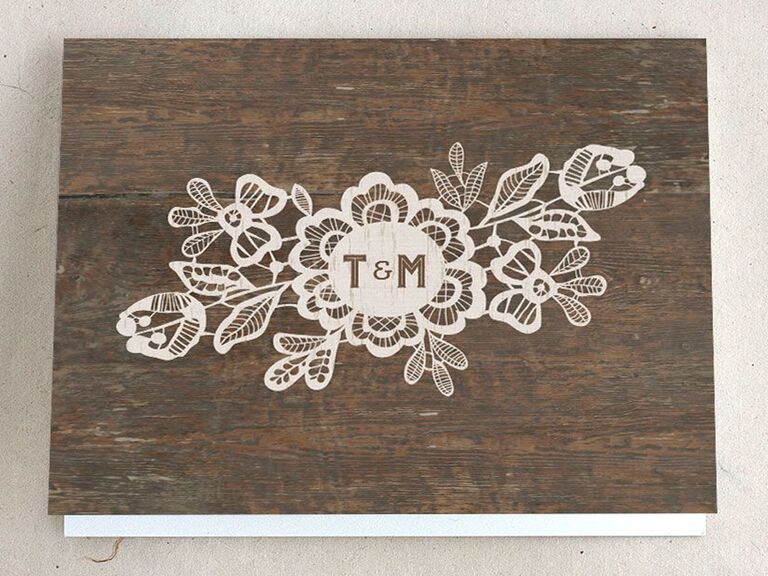 With a woodgrain background and printed lace detailing, these cute wedding thank-you cards are the perfect complement to rustic-style nuptials. The front features your and your partner's first initials, and the inside is left blank so you can fill in a personal message.
The Knot Graceful Botanical Thank-You Cards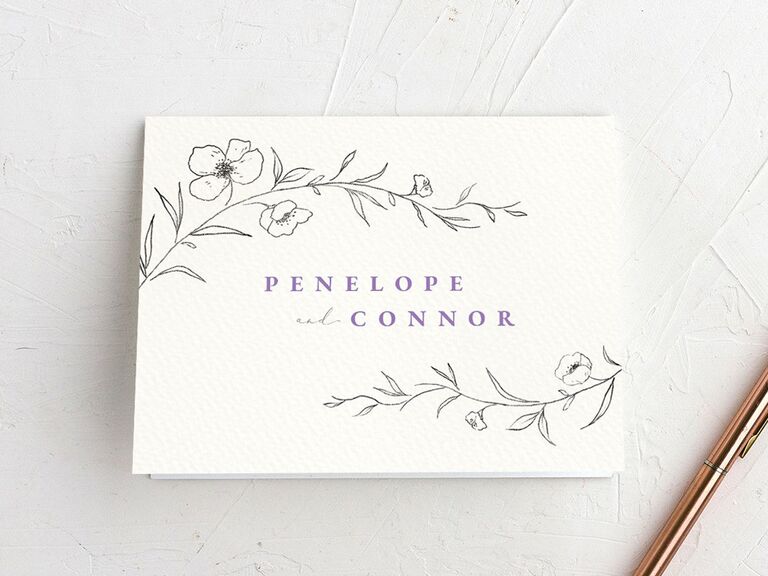 Thank your guests for their presence and wedding gifts with thank-you cards that feature your names front and center. Also decorating the front? Simple floral sketches for a decidedly romantic feel.
The Knot Retro Watercolor Thank-You Cards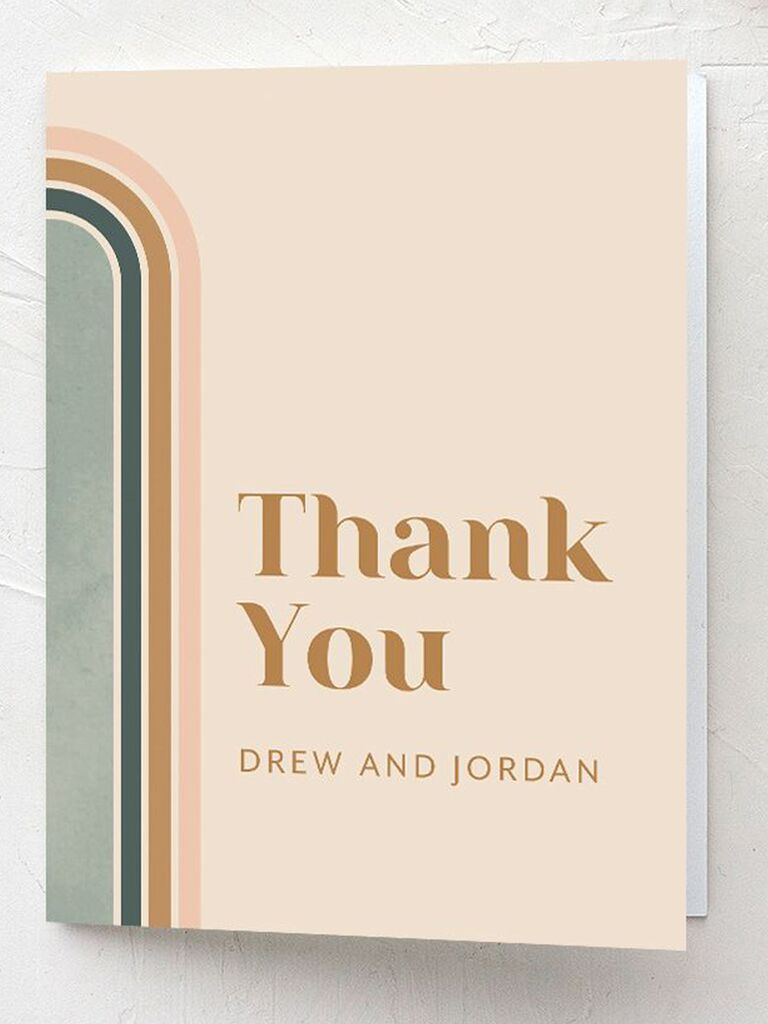 How groovy is this '70s-inspired design? Featuring your names and a retro graphic arch on the front, these wedding thank-you cards are blank inside, so you can write whatever message you wish to your guests.
Of The Earth Seed Paper Thank-You Cards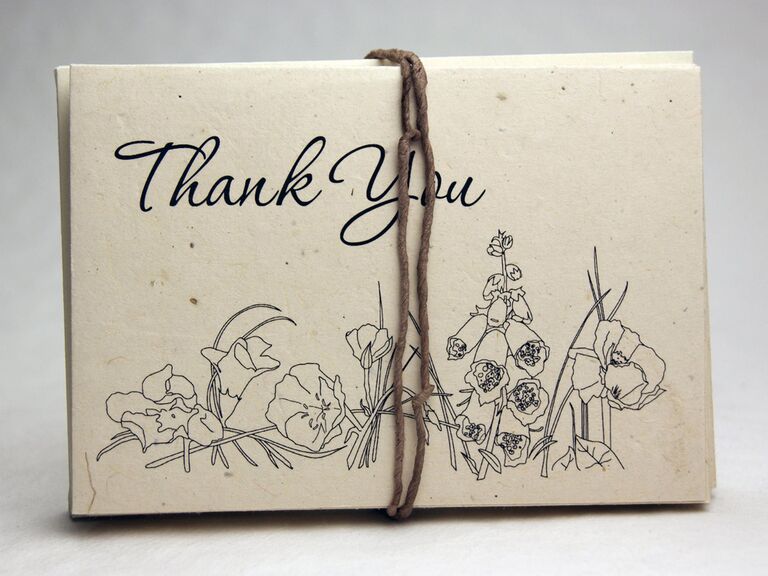 These creative wedding thank-you notes are actually printed on seed paper that your guests can plant. When the flowers bloom, your loved ones will be reminded of all the fun they had at your nuptials!
The Knot Modern Luxe Thank-You Postcards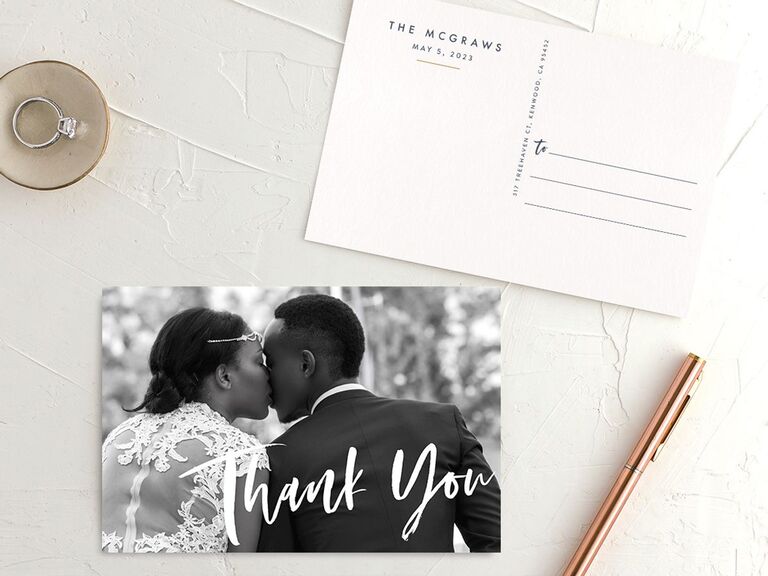 This budget-friendly postcard says "thank you" in bold, brushstroke text. It's an easy way to express your gratitude and show off a beautiful wedding photo.
The Knot Spanish Tile Thank-You Cards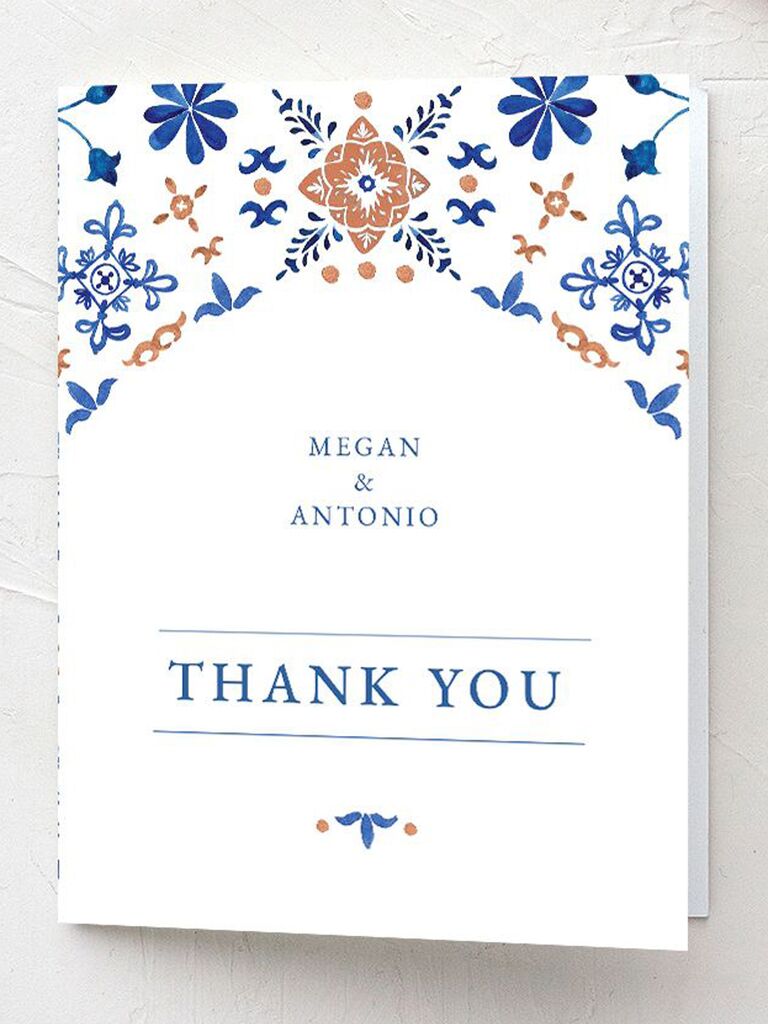 These wedding thank-you notes are adorned with a Spanish tile-inspired design in shades of blue and terracotta. Your names will be featured in a matching blue hue on the front of the card, and you can jot down your thanks inside.
The Knot Painted Mountains Wedding Thank-You Cards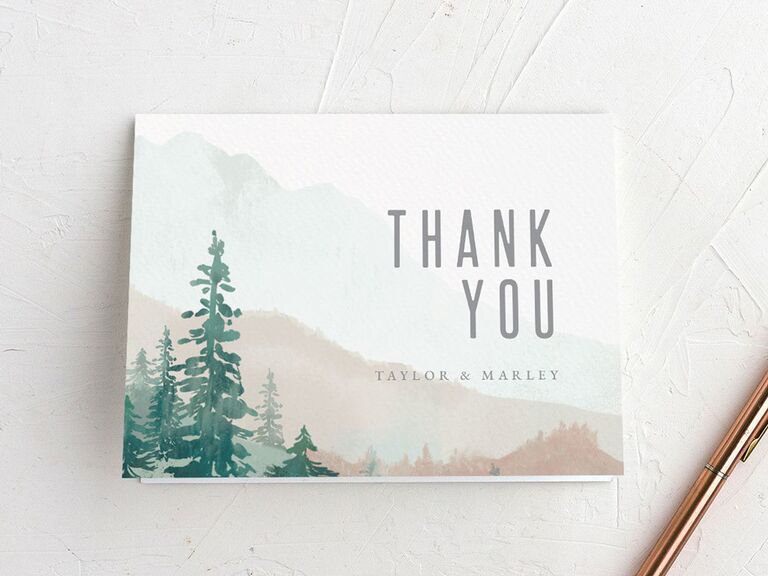 A lovely complement to a mountainside soirée, these cards bear a beautiful illustration of a rustic forest setting. You can customize the front with your monikers too.
The Knot Elegant Garden Thank-You Cards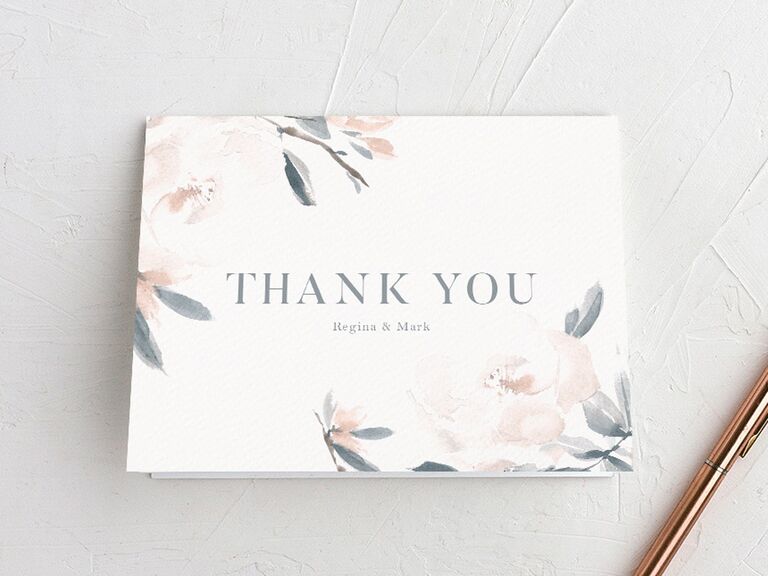 Dreamy and delicate, this stationery is especially suited to a springtime event, thanks to its floral watercolor design. With just a light wash of colors, it'll complement a variety of different wedding color palettes too.
Artifact Uprising Foil-Stamped Simple Serif Thank-You Card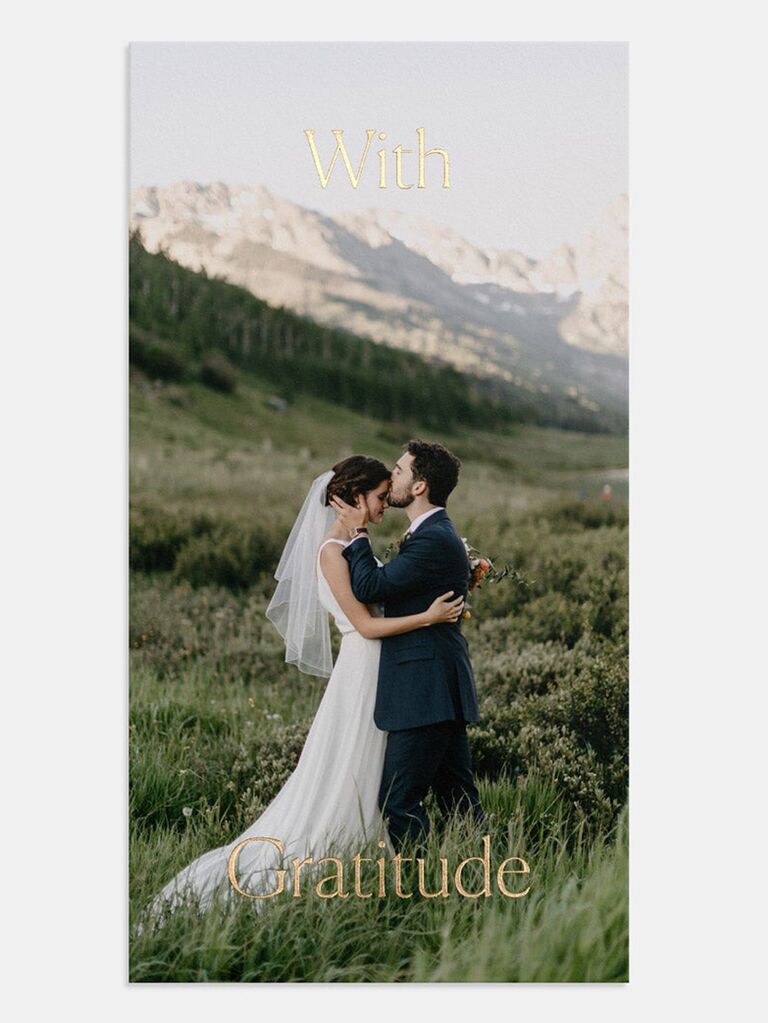 Complete your wedding stationery with thank-you cards that showcase your favorite photo from the big day. These foil-stamped thank-you notes boast a long, vertical shape that sets them apart from other stationery pieces.