What Couples Are Doing Within 24 Hours of Getting Engaged
Step one, shout it from the (social media) mountaintops.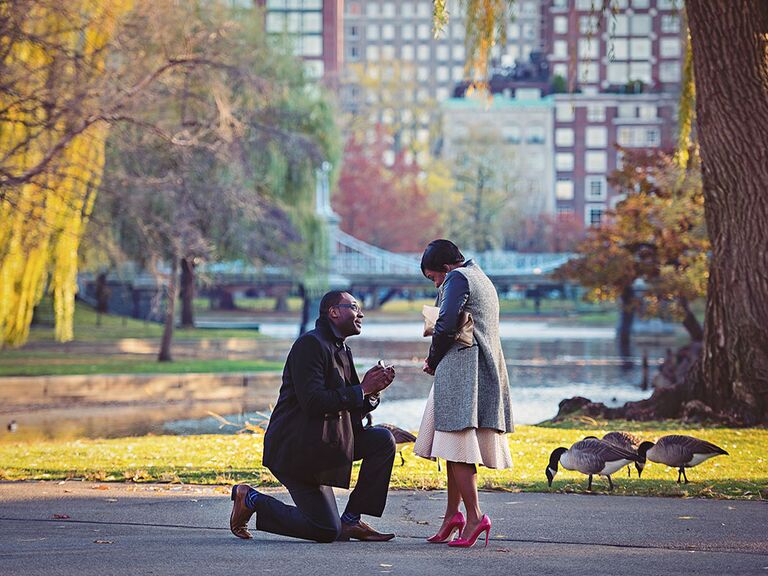 Makayla Jade Photography
Not only are couples hopping on their smartphones more often once they get engaged (as we learned from The Knot Real Weddings 2015 study), but they're also getting down to business on social media. According to The Knot Social Media Survey 2016, 62 percent of couples said they increase their social media use after the proposal. And the first thing they want to do? Share their good news with loved ones, of course—and fast.
Sixty percent of couples take to social sites to announce their engagement within 24 hours of saying "yes," and 26 percent share within the first week. Surprised? Neither are we. It's practically impossible not to post a gorgeous ring selfie or a sweet couple's pic ASAP to show off your new sparkler, love story and amazing news.
Once the word is out, it's all about crafting an epic wedding hashtag. That's right, witty couples' tags aren't going anywhere, with 82 percent of engaged couples making a unique hashtag within six months of getting engaged. That way every wedding moment—from the surprise proposal shots to the reception photo booth snaps—are aggregated in one place. In fact, hashtags are such an important mark of personalization that 64 percent of couples search social to make sure their first-choice tag is all theirs—and if it's not, 74 percent customize a second, alternate one.
Beyond sharing news and photos, 70 percent of engaged couples are actually using social media sites (Pinterest, Instagram and Facebook are the most popular) for style inspiration and finding and hiring wedding vendors. And get this—almost 80 percent said they implemented a cool wedding idea based on something they found on social media but hadn't seen anywhere else. Just when you thought social sites were a total distraction from getting any planning done, we're here to tell you: A, you're far from the only one who's all over social after getting engaged, and B, it can actually be an amazing tool for inspiration and planning. Who would've thought?
Finally, we'll leave you with the next big social media trend in weddings: customized Geotargeted Snapchat filters. We know it's going to be all the rage in no time, but for now it's still on the rise, with only 30 percent of couples saying they're aware of this cool Snapchat feature. So if you're all about staying ahead of the curve, take advantage of this high-tech amenity to make your wedding unique and unforgettable.