Exactly When to Send Your Save-the-Dates
Find out the right time to send save-the-dates for your wedding.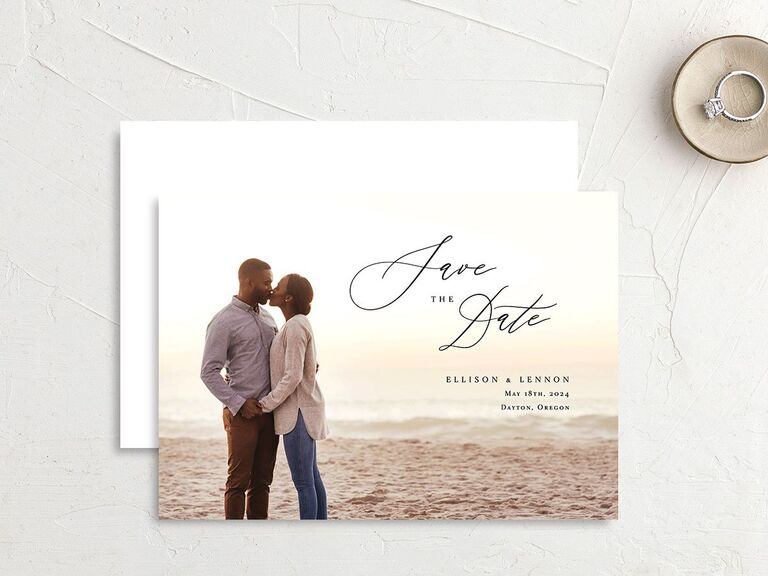 A fridge plastered with save-the-dates is always a fun reminder of all the wonderful celebrations we have to look forward to in the coming months. And, when you start the wedding planning process, figuring out when to send your save-the-dates is one of the first logistical questions that comes up. Receiving your save-the-date marks the official kickoff for your loved ones, so you want to make sure you get the timing down perfectly.
Here's what you need in place before you send your save-the-dates.
When you start the planning process, it's easy to get ahead of yourself and want to send out your wedding save-the-dates immediately. Perhaps you have engagement photos in hand and a vague idea of what your wedding day may look like, so you're thinking, "Let's get these out the door! I'm ready to celebrate!"
But hold on just one moment. There are a few details you'll need in place before you send save-the-dates to everyone on your guest list. First, you'll need a wedding date and a wedding venue. Ideally, you'll have the time of day ironed out as well in case some guests are making travel plans for the day of the wedding.
You'll also want to set up your wedding website so you'll have somewhere to direct guests with information about the location and hotel blocks (hint: creating a wedding website is super easy with The Knot's website templates!). While you shouldn't put your wedding registry information on your save-the-date, it's a good idea to have at least a minimal registry up on your wedding website. Some guests may want to knock out the present at the same time they book their hotel room, so make it easy for them.
Additionally, it's a good idea to have both your wedding party set as well as the guest list finalized before save-the-dates go out. The wedding party may have different obligations, like a bridal shower or a bridesmaid luncheon, and, because of these, their travel plans for the weekend may look different. And, both for those who are and aren't in the wedding, it's a good idea to let them know at this point whether they'll be invited with a plus one, as that can impact their travel bookings.
When to Send Save-the-Date Cards
Once all of those items are in place, timing save-the-dates is a fine balance. Send too early and guests may believe they have more than enough time to make plans—and instead find themselves forgetting to reserve their hotel rooms or flights. Send them too late and travel plans for guests could become more expensive or you may find they're already booked, particularly if your big day falls on a holiday weekend or during a popular wedding season.
Perfect timing comes down to is giving wedding guests exactly the heads up they need to start planning travel and accommodations for your nuptials and that will vary mostly depending on where it is.
For a Local Wedding...
If your wedding venue is in your hometown or local for most of your guests, then six to eight months should be ample time to get the date on their calendars. For guests who will be traveling, that allows them several months to make sure they've booked the hotel block and made transportation arrangements.
For a Destination Wedding...
Whether your destination wedding venue is a vineyard two hours outside of town or an island in the Caribbean, the minute you decide to celebrate your wedding day in a place where almost everyone will travel, you need to start planning the save-the-date cards. Your loved ones will appreciate all the heads up they can get to make travel plans, arrange babysitters if necessary, and submit their PTO requests. Eight months out is the minimum you should send your save-the-dates for a destination wedding date.
Emily Clemenson, events manager at Veritas Vineyard and Winery in Afton, Virginia, advises: "I always recommend sending save-the-date cards earlier if you are planning a destination wedding or full, three-day weekend of activities. This will give your guests plenty of time to make their travel arrangements."
Special Considerations for Save-the-Dates in 2021
Mary Guido, founder and owner of Mary Guido Atelier, a luxury wedding planning studio based in Washington, DC, shared with us that some traditional save-the-date etiquette looks different in light of the pandemic. She says, "Save-the-dates are traditionally sent six to eight months in advance for domestic weddings and 10 months in advance for destination weddings. But now with all of the rescheduling of both 2020 and 2021 weddings, I would recommend eight to 10 months for domestic and up to 12 months for a destination wedding. If it is important to you and your future spouse that all guests are vaccinated, be sure to include this language on the save-the-date so expectations are set from the start."
Additionally, Clemenson reminds couples that there are wedding etiquette sensitivities to consider as guest lists face uncertainty during pandemic restrictions. "Once you send out a save-the-date, that's it. You cannot take that invite back. If a couple is worried that their wedding might possibly be rescheduled or new restrictions are put in place, then I recommend sending save-the-dates to the guests that they absolutely have to have there. Such as immediate family and closest friends. Once the time comes for wedding invites to be sent out (eight to 10 weeks in advance), then the other guests could receive an invite without the save-the-date."
Is there different etiquette for electronic save-the-dates?
Electronic save-the-dates are becoming increasingly popular, but you may be wondering if they need to follow the same lead time and formality as a snail mail save-the-date. You will want to send them out with the same lead time—six months for a local wedding or eight for a destination wedding, but you don't have to worry about possible delays in the mail. Plus, you may be more likely to have many of your invitees' email addresses at the ready, so you'll save time on gathering mailing address.
An added bonus: if you do an electronic save-the-date, but still plan on sending a wedding invitation in the mail, you can use the opportunity to gather physical addresses. Direct guests from the save-the-date to your wedding website or The Knot's Guest List tool to collect addresses easily and while you already have their attention.
What to Do About Guests You Invite After the Save-the-Dates Go Out
Lastly, the question that comes up whenever you end up going to the B list. Is it okay to invite additional guests who didn't get a save-the-date? Particularly now, when so many couples are planning weddings without a firm idea of how many guests they can have, it's totally acceptable to invite more friends and family long after the save-the-dates have gone out.
Simply send them a formal invitation, make sure it includes the link to the wedding website so they can catch up on arrangements and accommodations, and wait for their RSVP card to come back! Save-the-dates are a nice to have, not a requirement, and these guests will still be delighted to celebrate on your big day.