The Royal Wedding Trends to Consider From Meghan Markle and Prince Harry's Nuptials
So many good ones.
On May 19, 2018, the world (24 million Americans, to be exact) watched Prince Harry marry California-raised actress and activist Meghan Markle in the wedding of the year. The spectacle, held at the Queen's part-time home of Windsor Castle, was a traditional British Royal Wedding powdered with hyper-sentimental elements related to the couple, bringing personalization to the forefront as the Duke and Duchess of Sussex made their union official.
Many have tuned into British royal weddings on a global scale before, including the nuptials of Harry's brother, William, to Kate Middleton in 2011. Thirty years prior, Harry and William's late mother, Diana, Princess of Wales, married their father, Prince Charles, in 1981. Similar to those royal weddings, Harry and Meghan's wedding was magnanimous in its scope, reach and impact on society.
The couple put significant thought and meticulous detail into each component of their wedding, from the décor to the musical selections, having the nuptials reflect their own personal love story. Since the wedding, numerous trends have sprouted and generated considerable interest in two years' time. You don't have to be royalty to celebrate like one, so here are royal wedding trends to consider adding to your special day.
Alternative Walks Down the Aisle
In a rather symbolic moment, Markle walked herself down the aisle halfway inside St. George's Chapel, leaving behind her former life—her social media accounts, her acting career and more—to be ushered into the royal family's arms, or in this case, with Prince Charles by her side. The sweet gesture, after a rather tumultuous week leading up to the wedding day itself, moved viewers to tears.
"It signified a rapprochement between Charles and his sons," wedding planner Marcy Blum said. "In fact, I had two brides [in one year alone] ask their future father-in-laws to walk them down the aisle all because their fathers had passed or they were estranged."
Sentimental Bouquets
Markle's simple bouquet had an abundance of sentimental value. The floral cocktail consisted of sweet peas, lily of the valley, jasmine, astrantia, astilbe and sprigs of myrtle, a royal tradition representative of luck in love. Perhaps the most sentimental portion of the bridal bouquet, crafted by London florist Philippa Craddock, was the addition of forget-me-nots—a favorite of the late Princess Diana, who was honored in numerous ways throughout the wedding day.

Whether it's dreamy scented jasmine that the mother of the bride recalls from her youth or tulip buds planted by a late grandparent, there's a significant story to tell through the bridal bouquet and many couples have since implemented this royal wedding trend into their nuptials.
Social Media and Online-Driven Vendor Discoveries
Markle discovered her photographer via social media, a method couples have increasingly leveraged to source potential vendors of their own. Not only that, but the future Duchess of Sussex also requested her makeup artist do her wedding makeup via text with the use of bride emojis.
With couples leveraging virtual planning options, The Knot Marketplace and other social platforms are wonderful planning resources to gather inspiration, to read through ratings, and to ultimately, select pros who can help you design your dream day.
Going for the Greenery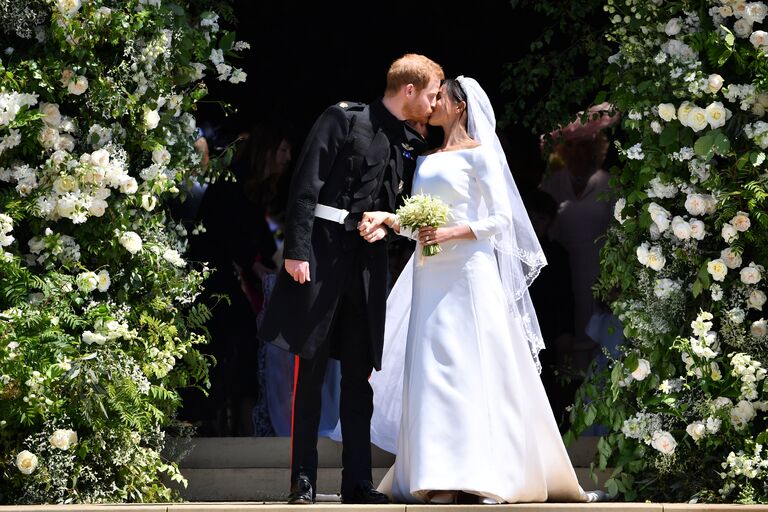 Tasked with designing Harry and Meghan's ceremony space is no simple feat, yet Philippa Craddock managed to bring freshness to the forefront, particularly with the magnificent installations framing the entrance of St. George's Chapel and its interior chambers. Craddock, fittingly dubbed the reigning queen of London-based florists, revealed that she used foliage for the base (stocks, nigela, astilbe, asparagus fern) topped by white garden roses and peonies—all sourced from Windsor Great Park.

Since then, more weddings have featured fresh and organic arrangements in line with what was seen at the Royal Wedding, but with unique design elements (think, urns and intricate vases).
In the Moment-Style Wedding Photography
Effortless-yet-borderline editorial is how we'd describe the royal couple's wedding day portraits. While Harry and Meghan went with a high fashion photographer, the candid image of the newlyweds laughing on the castle steps truly exudes the loving warmth that's come to define their relationship.
"It was just one of those magical moments when you're a photographer and everything falls into place," photographer Alexi Lubomirski subsequently said. "They were just laughing because they were joking about how they were exhausted and finally, it was over." More couples, since the royal wedding, have sought this quality of imagery combining authentic moments into their wedding photos--with an aspirational twist.
The Rise of Kid-Driven Bridal Parties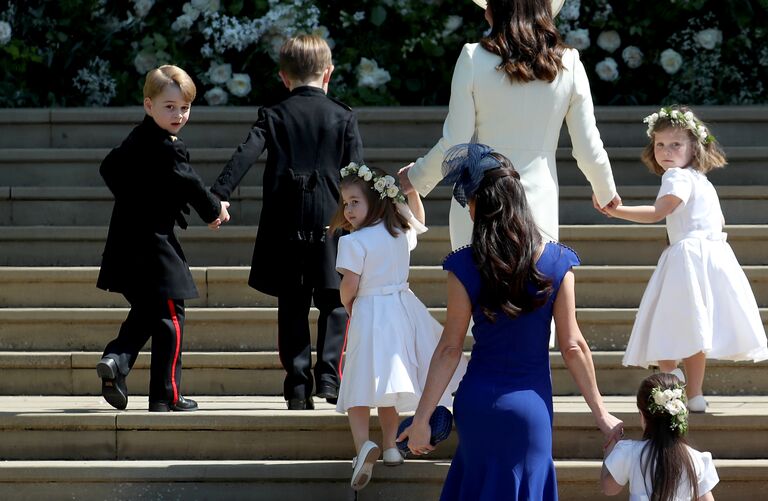 Markle maintained royal tradition by having an entire junior bridal party, though the bride—at age 36—still honored her inner circle in a lovely way. The former actress specifically asked all three children of her best friend, stylist Jessica Mulroney, to be in the bridal party. Since then, more junior wedding parties have become a trendy choice among the cool-girl bridal set.

Skincare-First Bridal Beauty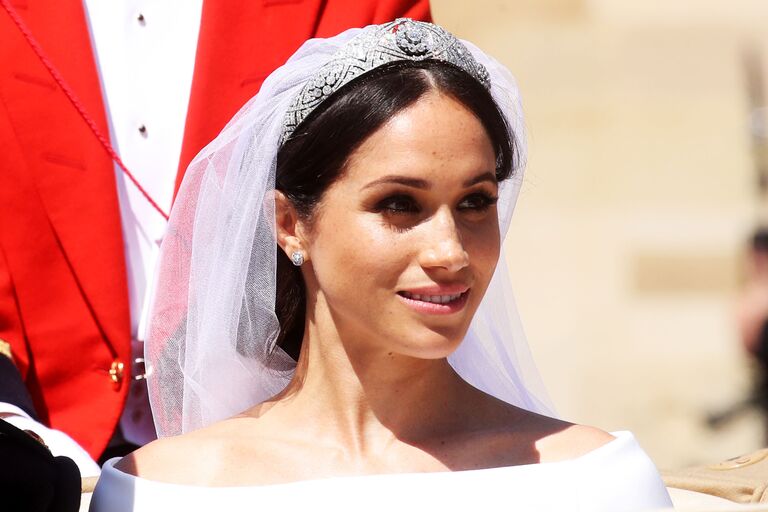 Markle opted for a dewy, barely-there makeup look on her wedding day, gloriously stepping out as… herself. The bride's makeup artist revealed that the former Suits star wanted the dress to be the focus as opposed to her face, so she went for an accessible bridal beauty look. She stepped out with a subtle smoky eye, tinted moisturizer that showcased her freckles, and a pop of pink lip color for a flawless and timeless finish.

The star's facialist Nichola Joss previously revealed that Markle has always considered facials to be essential to her beauty routine. The Duchess also cautiously follows an at-home routine comprised of natural beauty products for maintenance in-between facial sessions. Finally, Markle has previously expressed her love of coconut oil, which has become a staple in her beauty routine over the years.
Since the royal wedding, many couples have leaned into a complexion-first approach to their wedding day beauty looks.
More Gospel Choirs With a Contemporary Twist
The Duke and the Duchess of Sussex put great thought into their musical choices by including an award-winning cellist and a London-based gospel choir to deliver melodious sounds for their guests. For example, the Kingdom Choir's rendition of Ben E. King's "Stand By Me" moved the guests and viewers worldwide.
Couples have been extremely thoughtful about musical preferences and entertainment in the last few years, resulting in an uptick in guest-favored performances at weddings around the world.

Back-to-Basics Cakes With Upscale Flavors
Prince Harry and Meghan Markle certainly took a page out of The Knot's 2018 trend report, where we reported how inventive, mouthwatering flavors are on the upswing for food-adoring couples. The royal couple broke tradition by opting for a lemon elderflower confection that still honored the family: the elderflower syrup came from the Queen's estate in Sandringham, which again raises the point of the couple considering sustainability as they planned their nuptials.
Overall, food-adoring Markle likely wanted her guests to enjoy the wedding cake, which was simple in its presentation with a buttercream frosting and fresh flowers.
Simple Dress Silhouettes With Ornate Veils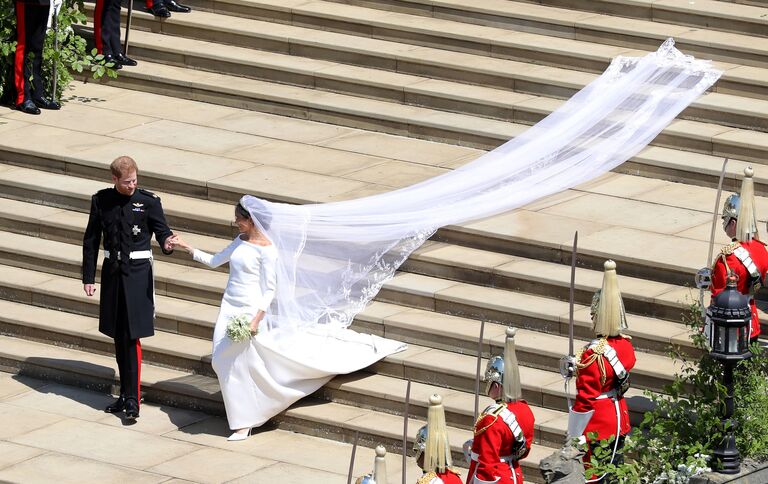 Markle stepped out in an understated-but-lovely custom gown by Givenchy artistic director Claire Waight Keller for her wedding day, a choice that will impact both brides and designers in years to come.

While her gown was more low-key than expected, Markle's cathedral-length veil was a truly regal option as it cascaded down the steps of St. George's Chapel. According to the palace, the former actress had all 53 countries in the Commonwealth represented and embroidered into her veil. After the royal wedding, there was an uptick in interest in simple dress silhouettes paired with standout, sentimental accessories and statement pieces. Even Markle's friend Priyanka Chopra chose an elaborate cathedral-length veil to bring her look together in her wedding to Nick Jonas.