What Your Zodiac Sign Says About Your Wedding Dress Look
Nail your style by your 'scope.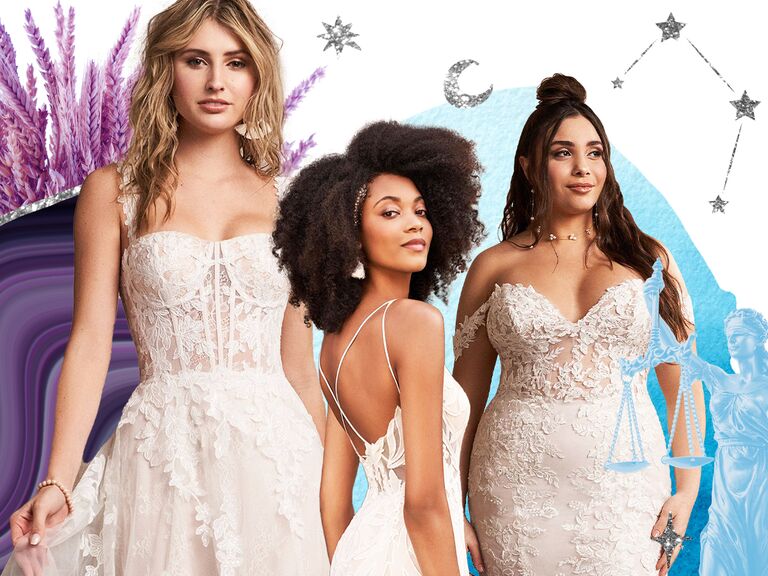 Searching for your wedding dress is one of the most exciting (and daunting) parts of wedding planning. After all, there are so many options to choose from and only one dress you can wear…unless you're one of those Geminis or Libras who can't make up their mind. Which is exactly why turning to your horoscope can help guide you toward the gown you were born for—because what else says so much about your personality? Below, we've got style suggestions for every sign, plus the Lillian West dress that's perfectly aligned. You're destined to find the one—after all, it's written in the stars.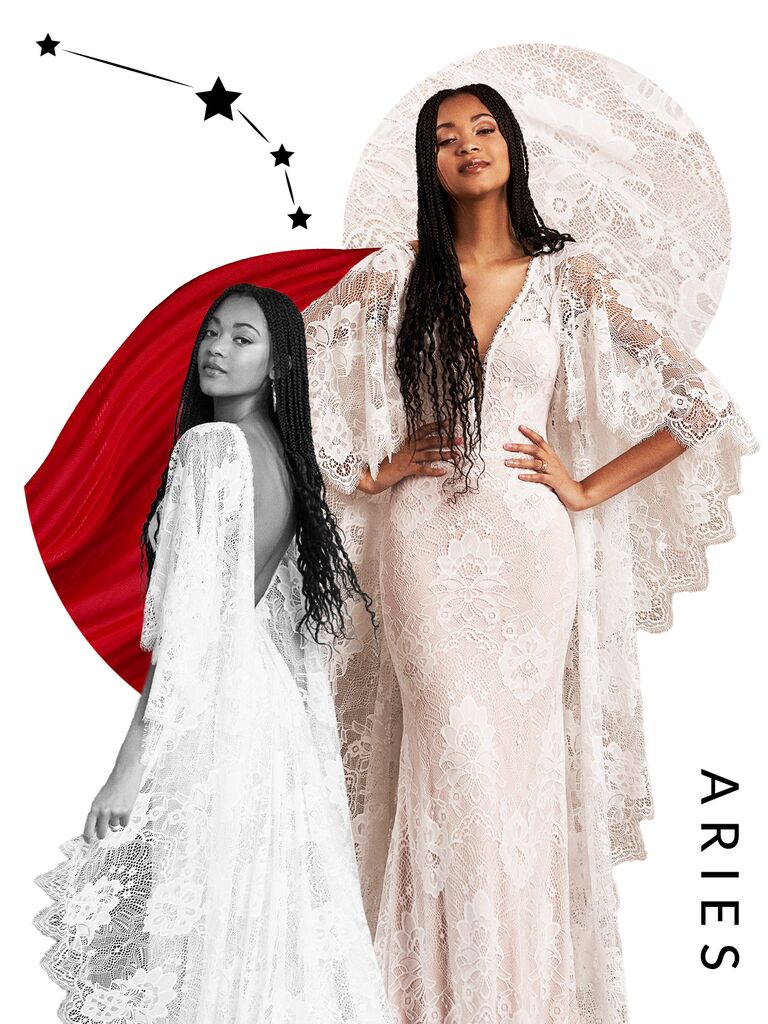 Aries
Style Detail: Cape-like Flutter Sleeves
You know how to walk into a room like you own it. You don't follow trends; you set them. So it goes without saying: Being bold is in your DNA. A fashion-forward flowing gown that's equal parts flutter sleeves and chapel-length cape will slay your wedding day.
Our Pick: Lillian West style: 66208 fit and flare gown with flutter sleeve detail
Taurus
Style Detail: Modern Lace
You know your Chantilly from your charmeuse and can spot sharp tailoring from an aisle away. While quality is what captures your eye (and your touch), your romantic side still makes you get swept up in the day. Subtle-yet-standout allover lace in a bold, modern pattern is the kind of detail not everyone may notice, but you will.
Our Pick: Lillian West style: 66187 plunging V-neck lace dress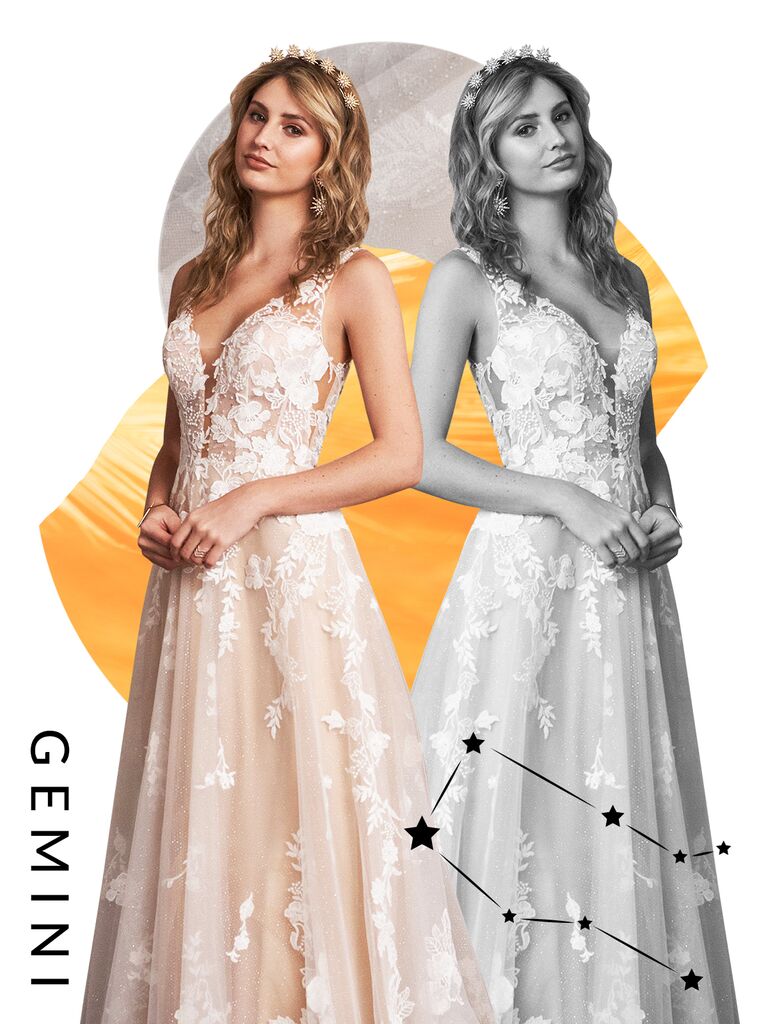 Gemini
Style Detail: Nude Color
While you might have trouble pulling the trigger—because you'll want to try on every dress within a hundred-mile radius (welcome to a Gemini's world!)—we're willing to bet you'll gravitate toward something a little unexpected, just like your personality. A nude-colored dress is the kind of twist that'll keep guests on their toes. And as the ultimate air sign, comfort is key, so a breezy glitter tulle skirt like this one lets you dance the night away with ease.
Our Pick: Lillian West style: 66222 glitter tulle A-line dress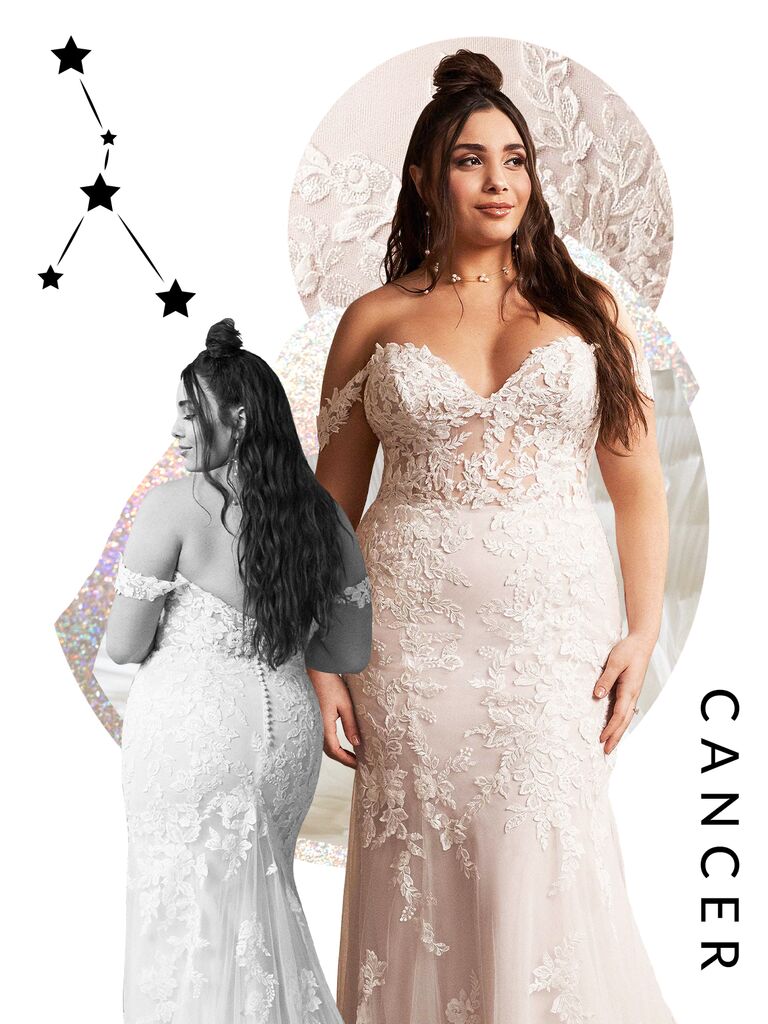 Cancer
Style Detail: Old Hollywood Glamour
If only your grandma's dress didn't look like, well…a grandma's dress. You're a sucker for nostalgia and tradition, and your sentimental side knows that only the most romantic dress could be a match for the most romantic day. An off-the-shoulder, Old Hollywood–inspired gown—with its feminine flow and figure-hugging silhouette—is the route to take.
Our Pick: Lillian West style: 66193PS floral lace dress with detachable off-the-shoulder straps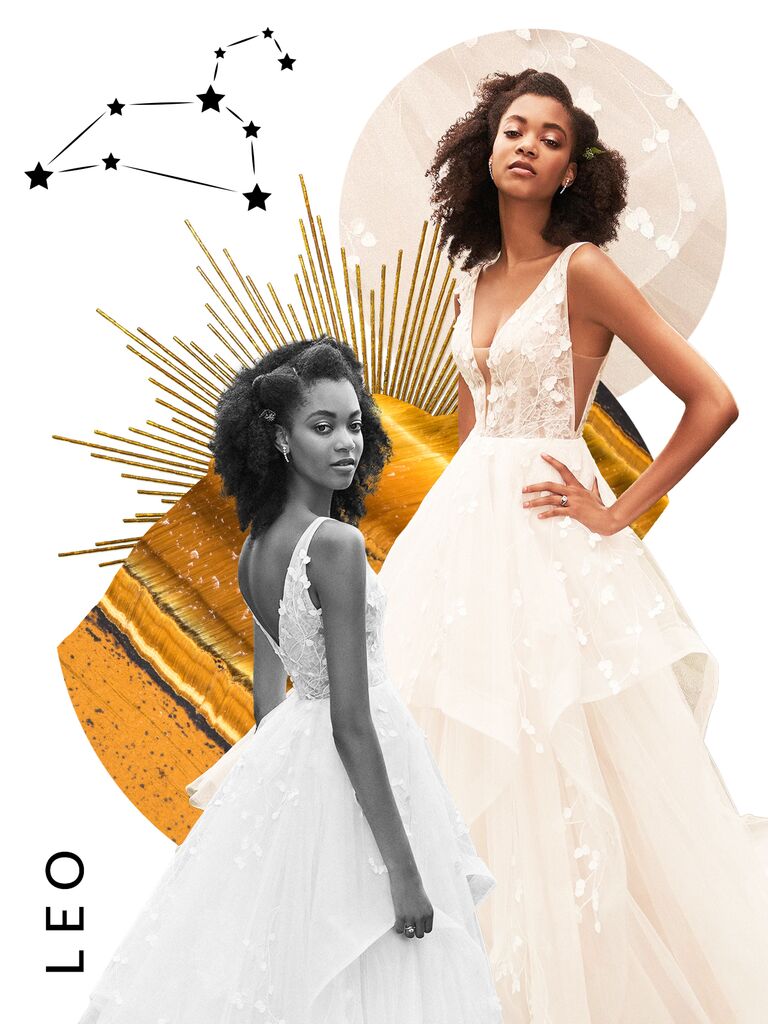 Leo
Style Detail: Layered Skirt
Your MO is "go big, or go home." You can't wait to make your grand entrance and need a look-at-me gown that will steal the show. A voluminous, layered tulle style delivers all the drama—and the attention—to you. Significant other, who? 😉
Our Pick: Lillian West style: 66201 ruffled skirt ball gown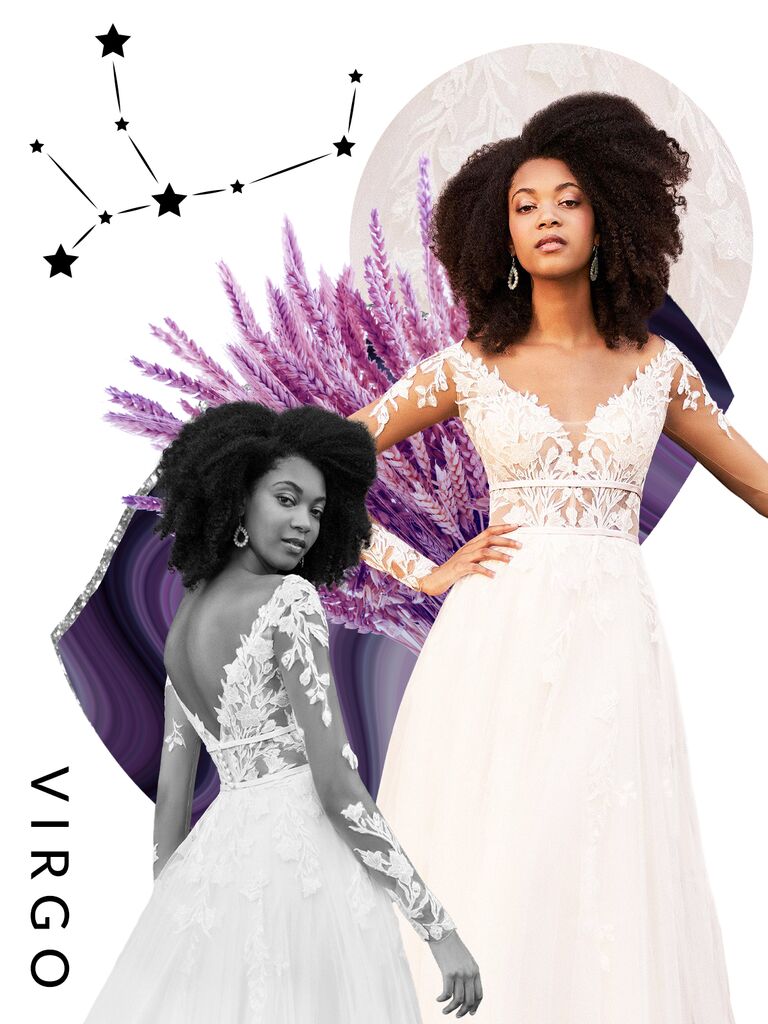 Virgo
Style Detail: Allover Appliqué
You put as much thought into the font for your invitations as you did the individual flowers in your bouquet and their particular placement. For you, design is in the details—so naturally, a dress with intricate, allover lace appliqué will satisfy your meticulous mind.
Our Pick: Lillian West style: 66192 long-sleeve A-line lace dress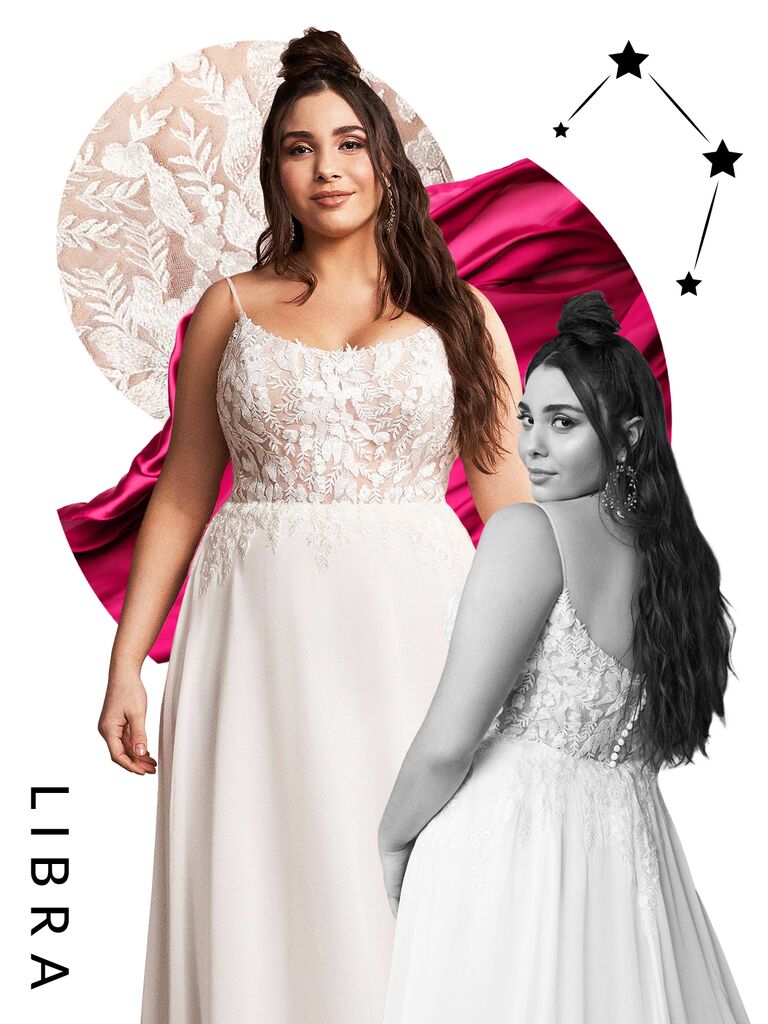 Libra
Style Detail: Spaghetti Straps
The style-setter in you loves to make a statement, but going all-out avant-garde won't exactly satisfy your crowd-pleasing side. Find balance (a must for any Libra) in tradition with a '90s-inspired twist like spaghetti straps and a scoop neckline. Paired with a classic allover lace dress, this unexpected detail is just the solution.
Our Pick: Lillian West style: 66200PS chiffon A-line gown with spaghetti straps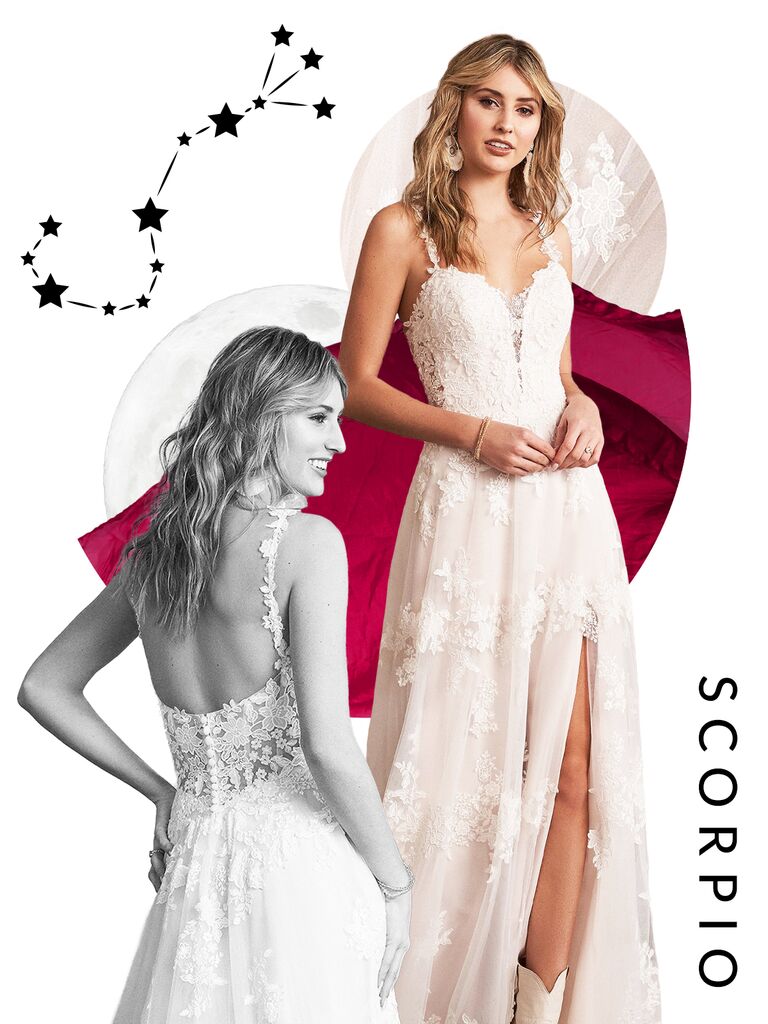 Scorpio
Style Detail: Front Slit
Let's be real: You're all about passion with a capital "P." You know you've got it and you're not afraid to flaunt it. For your dress, think sultry but make it sophisticated—like a flowing dress with a thigh-high slit.
Our Pick: Lillian West style: 66209 A-line dress with scoop back and slit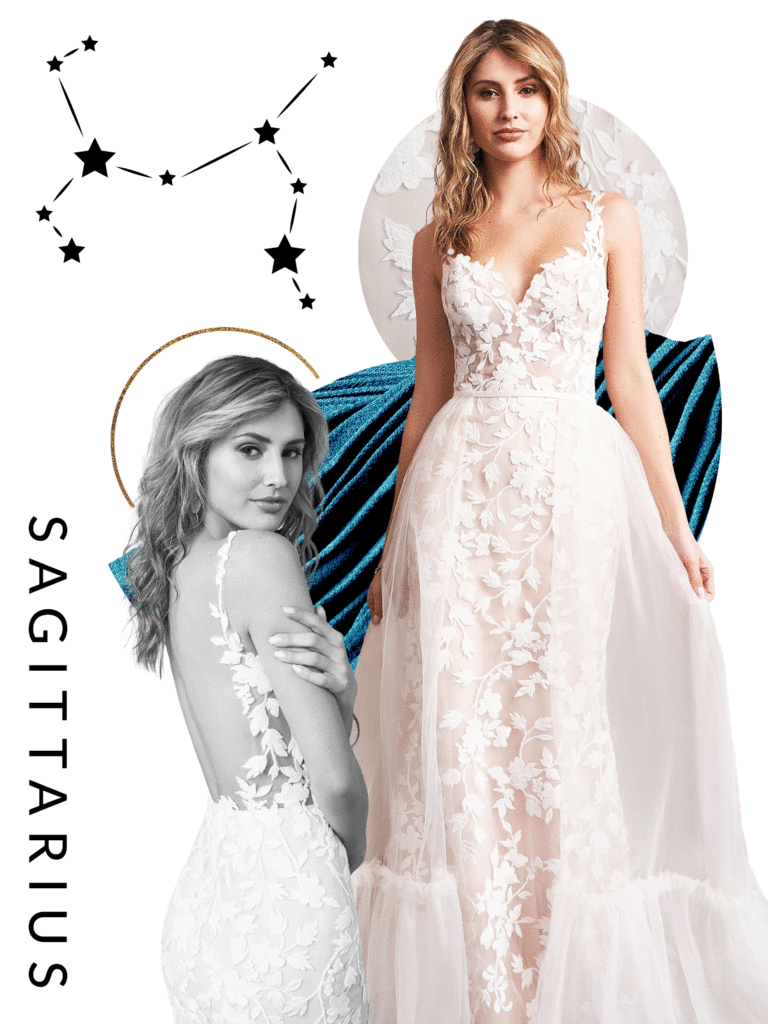 Sagittarius
Style Detail: Detachable Skirt
You're flirty and fun and can't wait to party your dress off. In fact, a two-in-one gown with a detachable skirt has just the silhouette to help you feel free to let loose once the ceremony is over.
Our Pick: Lillian West style: 66224 lace fit and flare gown with detachable skirt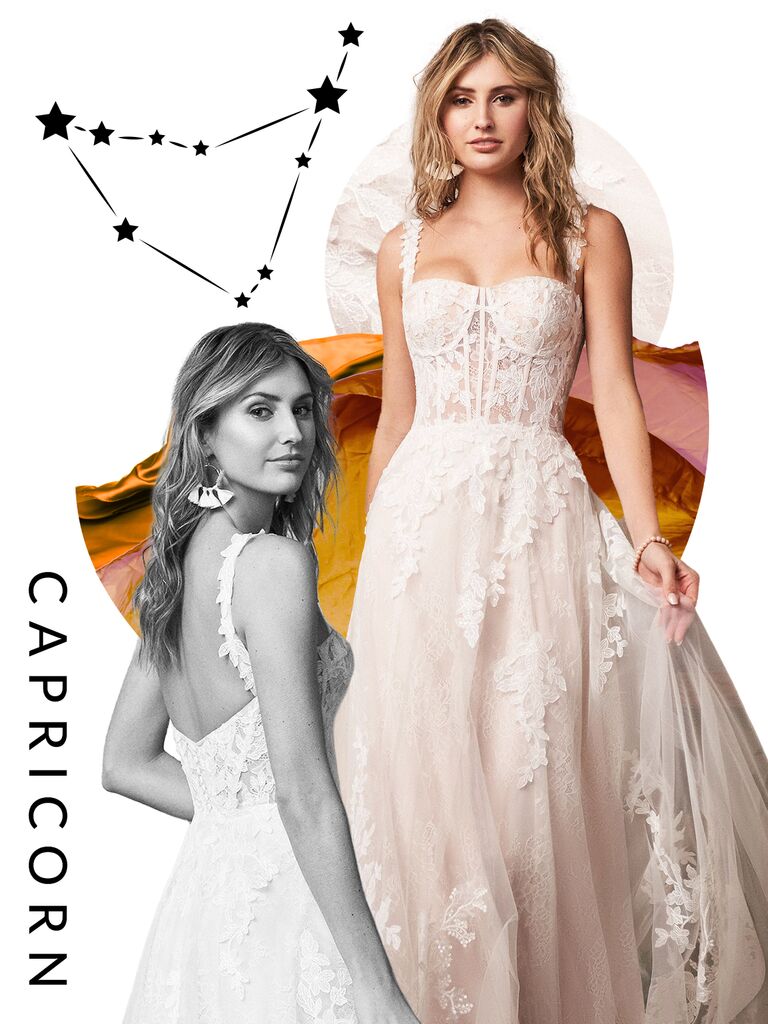 Capricorn
Style Detail: Exposed Boning
You booked the venue, the band and the photog all within a week of getting engaged. Heck, you've already started writing preemptive thank-you cards. Structure and efficiency are your driving force. A gown with noticeable structure, like exposed boning, will be as precise as your planning process.
Our Pick: Lillian West style: 66215 A-line dress with exposed boning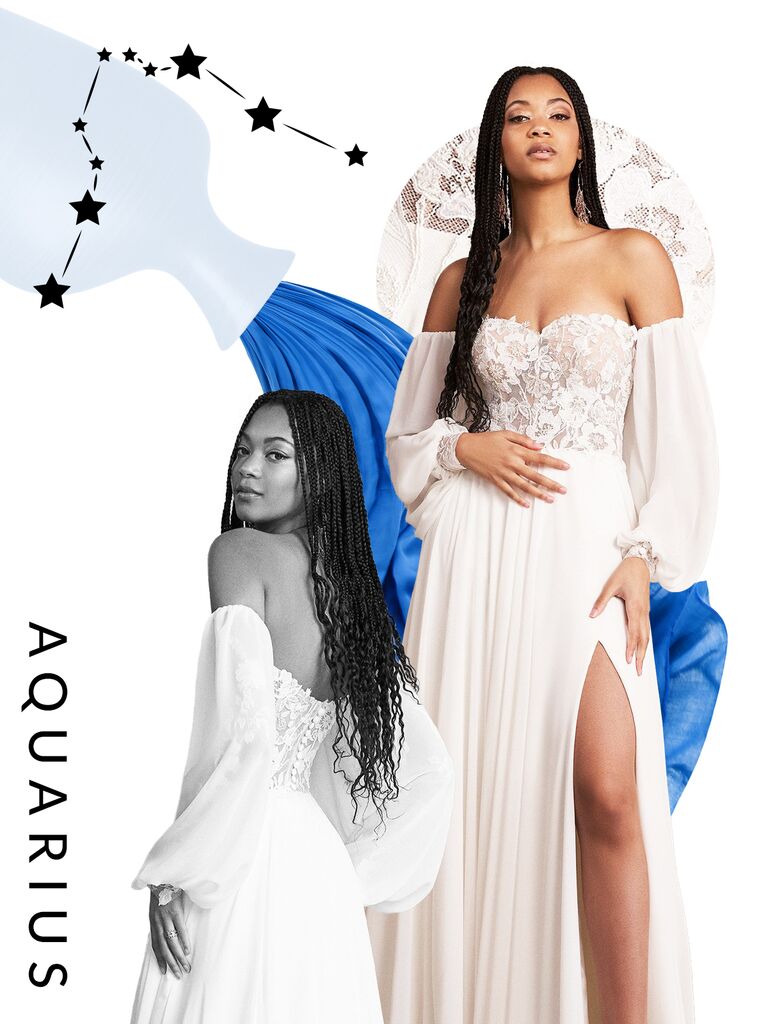 Aquarius
Style Detail: Blouson Sleeves
Your vision for your dress is anything but traditional (sorry, ball gowns). You strut to your own beat—which, on your wedding day could very well be in cool kicks like sneakers rather than stilettos. Your guests will expect the unexpected, so a dress with billowy sleeves won't disappoint.
Our Pick: Lillian West style: 66228 A-line dress with blouson sleeves and slit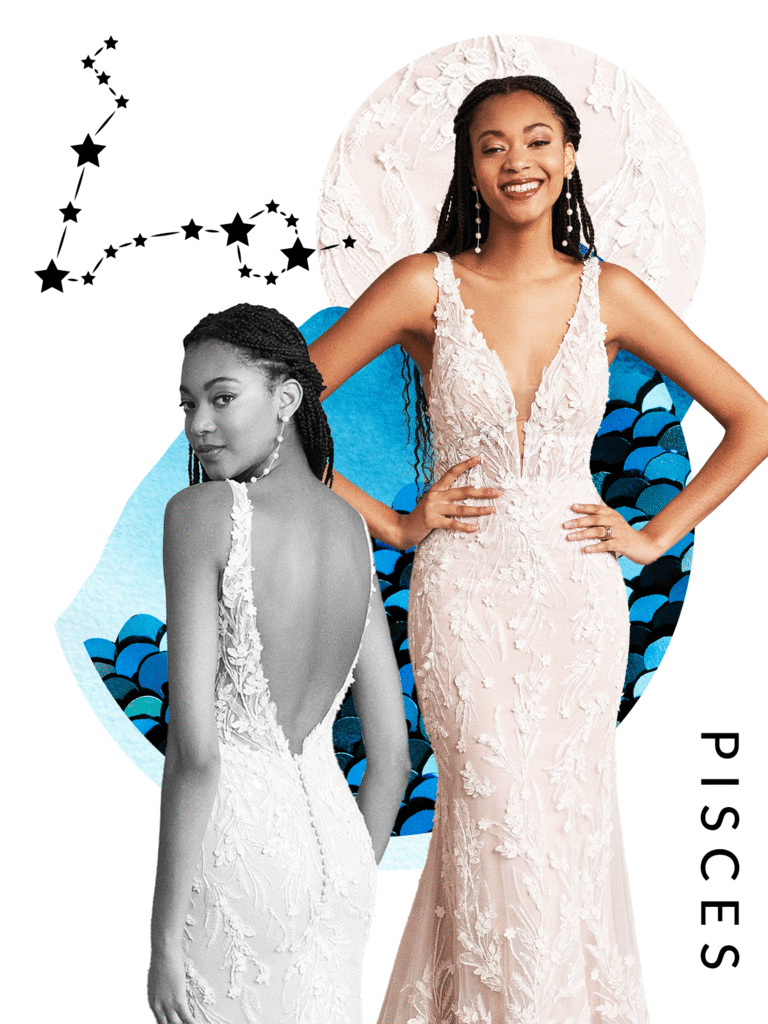 Pisces
Style Detail: Detachable Sleeve Bows
As dreamy as you are dainty, a flourish like detachable shoulder bows adds just the right feminine touch. Let's not forget you're also a water sign—this gown simply dripping in beads and sequins will sparkle like the waves on the ocean.
Our Pick: Lillian West style: 66212 beaded dress with detachable shoulder bows
Want to see more? Browse the newest Lillian West wedding dress styles.
Collage details: Shutterstock.com