10 Unexpected Father-Daughter Dance Song Ideas
Feel free to think outside the box for this special father-daughter moment.
by Charli Penn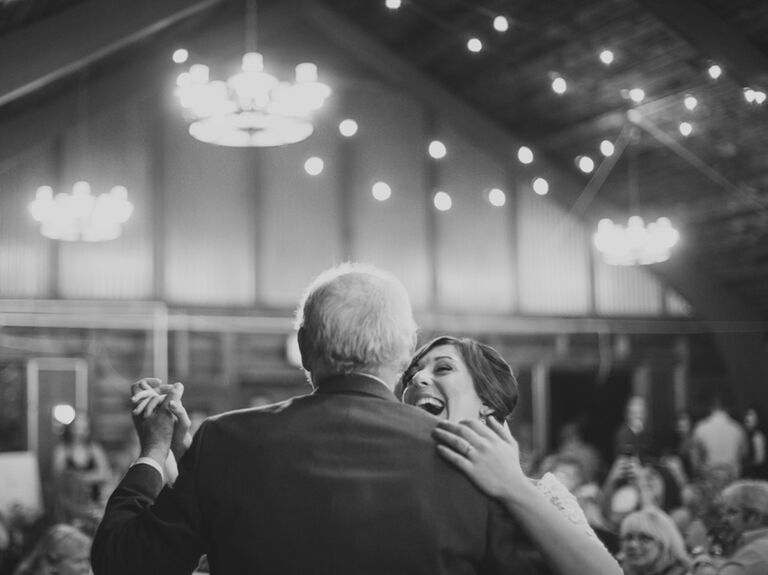 Christina Lilly Photography
If the father-daughter dance is done right, there won't be a dry eye in the house when it's over. When it's time to cut a rug with your dad, the song you pick is key—and the options are seemingly endless. Should you go with a classic favorite, like "Wind Beneath My Wings" by Bette Midler, "Isn't She Lovely" by Stevie Wonder or something a little unexpected? Want your DJ or band to play something soft and sweet or something that will have guests on their feet? To narrow things down, it's a good idea to focus on tunes with relatable lyrics, or songs you've both always enjoyed. Need a little inspiration? Here are 10 DJ-approved ideas that might help.
1. "Over the Rainbow/What a Wonderful World Medley" by Israel "Iz" Kaʻanoʻi Kamakawiwoʻole
Lyrics You'll Love:
"I hear babies cry, and I watch them grow
They'll learn much more
Than we'll know
And I think to myself
What a wonderful world."
Great Pick For: A tropical or beach wedding; the ukulele medley will fit right in.
2. "Father and Daughter" by Paul Simon
Lyrics You'll Love:
"I'm gonna watch you shine
Gonna watch you grow
Gonna paint a sign
So you'll always know
As long as one and one is two
There could never be a father
Who loved his daughter more than I love you."
Great Pick For: The sentimental pair looking for a more contemporary tune that gets straight to the point.
3. "While You Were Sleeping" by Elvis Perkins
Lyrics You'll Love: 
"I'll never catch up to you
Who sleeps so sound
My arms are useless
My heart beats too loud to go to sleep
My mind's too proud to bow out
While you were sleeping
The time changed
All your things were rearranged."
Great Pick For: A barn wedding or rustic reception setting—it's a sweet folk-rock tune that slowly picks up the pace.
4. "My Love Is" by Holly Golightly
Lyrics You'll Love: 
"My love is longer than forever
Endless as the march of time
99 years after never
In my heart, you'll still be mine."
Great Pick For: A vintage-inspired affair; the tune boasts a bluesy jazz snap.
5. "Lullabye (Goodnight My Angel)" by Billy Joel
Lyrics You'll Love:
"I promised I would never leave you
And you should always know
Wherever you may go
No matter where you are
I never will be far away."
Great Pick For: A late evening or sunset reception—for obvious reasons.
6. "Daddy Artist" by Beyonce
Lyrics You'll Love:
"I want my unborn son
To be like my daddy
I want my husband to be like my daddy
There is no one else like my daddy
And I thank you (thank you) for lovin' me."
Great Pick For: The inseparable pair! Beyonce fills this sweet, down-home tune with touching lyrics about the monumental childhood memories a father and daughter share (think: bike rides and first dates).
7. " Daughter" by Loudon Wainwright III
Lyrics You'll Love:
"That's my daughter in the water
Everything she owns I bought her
Everything she owns
That's my daughter in the water
Everything she knows I taught her
Everything she knows."
Great Pick For: The lighthearted father and daughter looking to laugh their way through this dance. The song is funny, honest and filled with heart.
8. "Kind and Generous" by Natalie Merchant
Lyrics You'll Love:
"You've been so kind and generous
I don't know how you keep on giving
For your kindness, I'm in debt to you
And I never could have come this far without you
So for everything you've done
You know I'm bound...
I'm bound to thank you for it."
Great Pick For: The bride looking to make this dance a total tribute to Dad -- and one possibly looking for an extra way to say "thanks" for footing the bill (wink, wink)!
9. "When the Stars Go Blue" by Tim McGraw
Lyrics to You'll Love:
"Dancin' when the stars go blue
Dancin' when the evening fell
Dancin' in your wooden shoes
In a wedding gown."
Great Pick For: Country music fans! It's melodic yet just upbeat enough to stray away from the usual two-step.
10. "Daughters" byJohn Mayer
Lyrics to You'll Love:
"So fathers, be good to your daughters
Daughters will love like you do
Girls become lovers who turn into mothers
So mothers be good to your daughters too."
Great Pick For: A daughter who, though honored to take the floor with Dad, wants to sneak in a little shout-out to Mom too.
Special thanks to wedding music gurus Alex Mazur of Alex Mazur Music and Michael Antonia of TheFlashDance.com.
Not sure where to begin with your wedding planning? Take our Style Quiz and we'll pull together a custom wedding vision and vendors to match, just for you. After that, create a free, personalized wedding website to keep your guests informed (and excited!) about your plans, and a time-saving Guest List Manager to organize your attendees. Even better? You can sync your Guest List Manager and wedding website to update everything at once.