7 Lace-Inspired DIY Wedding Projects
by Bridget Clegg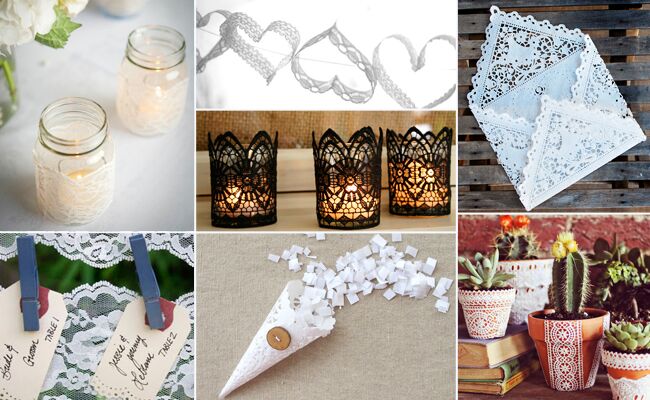 Lace is a bridal staple that's as relevant for weddings now as it's ever been. (Think: the modern lace "tattoo" details on the runways of Bridal Fashion Week or Kelly Clarkson's Temperley London gown.) Ribbons, doilies and fabric lacy details add femininity and texture to any wedding detail. See how to incorporate lace into your wedding day decor with these 6 pretty DIY wedding projects!
Lace & Clothespin Escort Card Display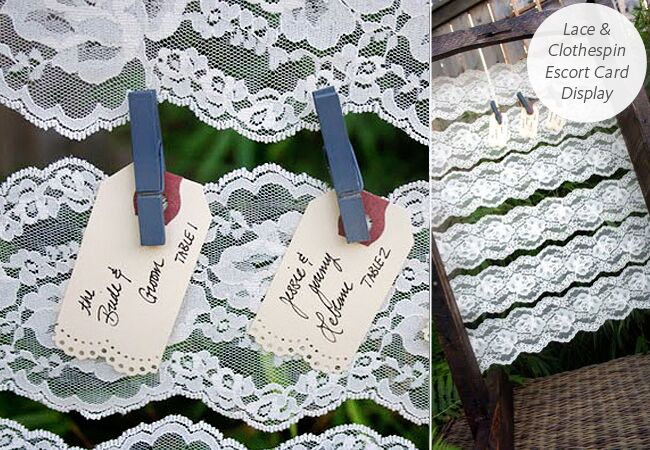 Strips of lace hang inside a wooden sandwich board to create a DIY escort card display. Follow the steps here to make it!
Lacy Mason Jar Votives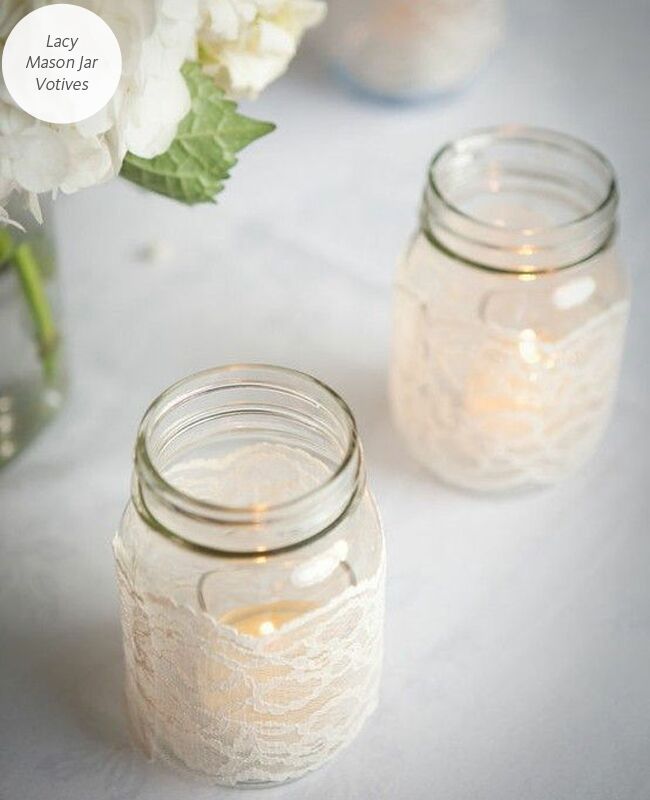 photo by
Photo: Chandra Fredrick
The simple addition of a strip of lace makes a mason jar votive so much more elegant! Here's the easy tutorial to DIY.
Doily Confetti Cones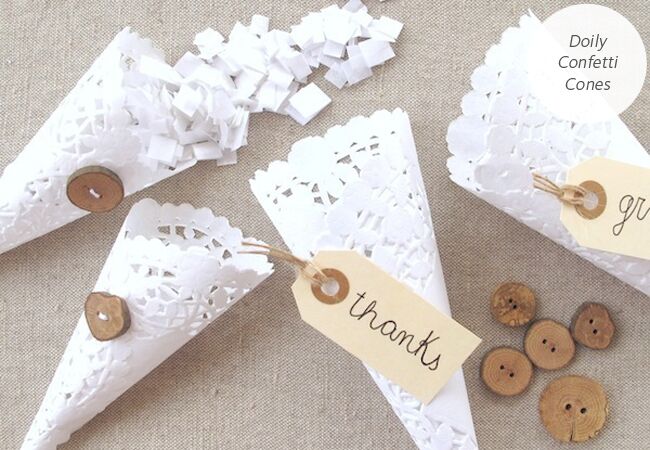 photo by
Photo: Mayi Carles
Roll up paper doilies and attach a thank you message to make confetti cones for your guests to use during your reception exit. Here's how to do it.
Doily DIY Envelopes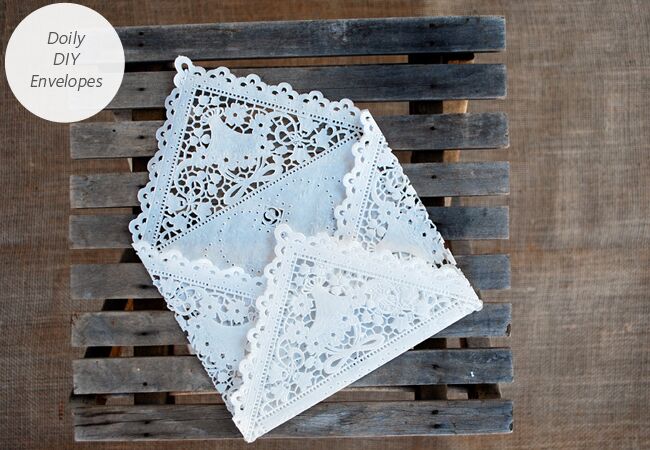 photo by
Photo: All Things Angela's
As a liner or the outer envelope, lace doilies are a pretty way to enclose your save the dates, invites or programs! Follow this step-by-step guide for making your own doily envelope.
Lacy Ribbon Heart Garland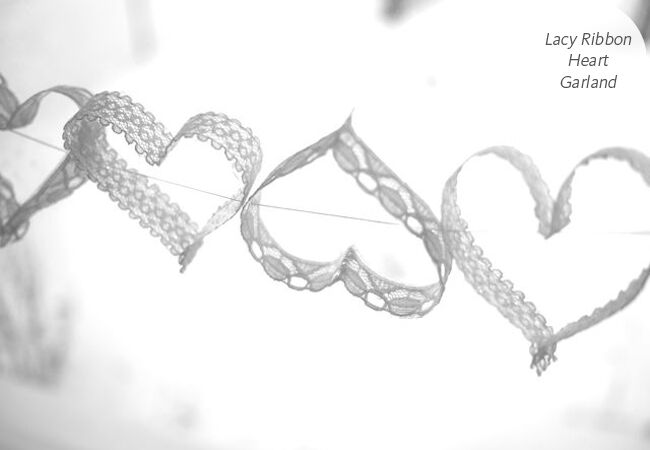 photo by
Photo: Michele Pacey
Wrap a cookie cutter in lace and fabric stiffener to create this delicate heart garland. This post will show you how!
Black Lace Votives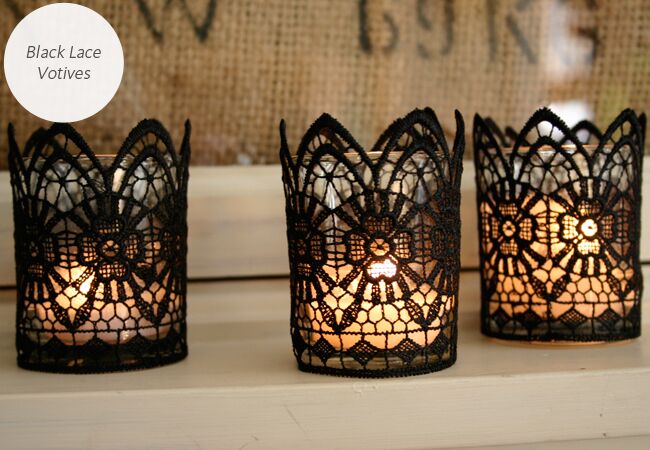 photo by
Photo: Camilla Fabbri
Think lace has to be white? Black lacy votives are a sexy alternative and make an easy DIY centerpiece for your reception tables. Learn how to make them here!
Lace Wrapped Terra Cotta Centerpieces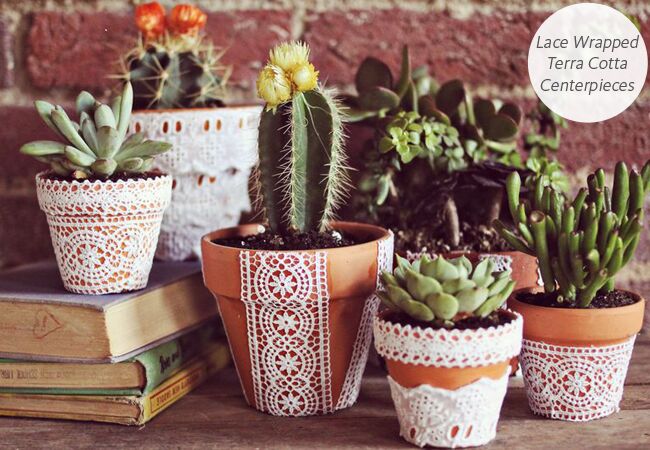 photo by
Photo: Elsie Larson
These embellished terra cot pots and succulents are perfect for favors or tabletop decor. All you need is lace scraps, glue and pots. Check out the how-to!
See more lacy wedding ideas!
> Photo Inspiration from The Knot Magazine: Lovely Lace
> Steal Kelly Clarkson's wedding gown style!
> Check out Sareh Nouri's playful necklines and lace details in her line of Spring 2014 gowns