Your Go-To Groom Wedding Checklist
Consider this your ultimate groom's guide to wedding planning.
The idea that grooms don't want anything to do with wedding planning is a totally outdated mentality. It's the 21st century and grooms are equal partners in putting together the big day, with duties that go far beyond just creating a Spotify playlist and tasting cake. But as anyone getting married knows, it can be difficult to know where to start and what exactly needs to be done. That's why we created this groom's wedding checklist—to help guide guys through the planning process and know exactly what to do and when. We've also created a printable version that you can keep handy.
In this article:
Printable Groom Wedding Checklist
This easy-to-follow wedding checklist for the groom will help you visualize all the planning tasks that you'll need to complete.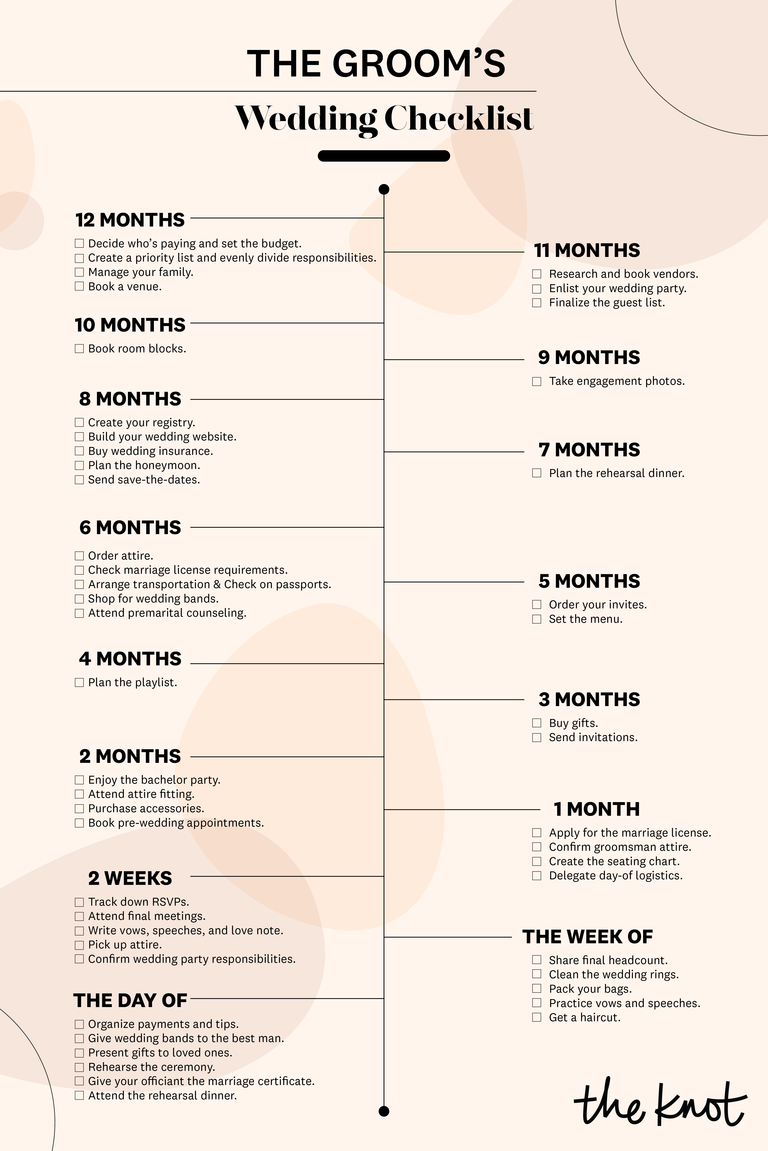 Ready to dive into planning? Here's a timeline of everything you'll need to accomplish before the big day (in order!).
12 Months Out From Wedding
While we're starting our groom's wedding checklist a year before the big day, we recommend starting to plan as soon as you're ready. According to The Knot Real Wedding Study, the average engagement length is 15 months, and you're certainly welcome to start planning earlier than that to ensure you have your pick of available dates and vendors.
Decide who's paying.
First things first—you'll need to meet with both sets of parents to figure out who's paying for what. Yes, you could go the traditional route, divvy things up differently or pay for the whole thing yourselves—but you need to decide that before setting your budget.
Set the budget.
Once you've decided who's paying, you'll need to create a budget—both a total number and a breakdown by vendor. Need help? The Knot's (free!) Budget Tool makes the whole process stress-free.
Create a priority list.
Writing a wedding mission statement and deciding which aspects of the big day are most important (Music? Food? Photography?) will help you throughout the planning process.
Evenly divide responsibilities.
Break out The Knot's wedding-planning checklist and figure out who will tackle which tasks. It's crucial that planning duties are divided as equally as possible. If you or your future spouse are unable to take on an equal share of responsibilities, it may be worth hiring a wedding planner to help out.
Manage your family.
A huge part of being a groom is to serve as a mediator between your future spouse and your side of the family and generally keep the peace. This means, if your mom adds her 15-person canasta group to your guest list at the last minute, you (and not your partner) will need to hash it out with her.
Book a venue.
In order to officially set the date for the big day, you have to book a wedding venue. Your venue sets the tone for your wedding, so make sure it's a space that you and your partner are happy with. And of course, make sure that your VIPs are available on your chosen date before signing any paperwork.
11 Months Out From Wedding
You've tackled a lot of important tasks in the first month of planning, but it's just the beginning. Now it's time to nail down the rest of your vendor team, as well as your wedding party.
Research and book vendors.
Booking a venue is just the first step of building your wedding vendor team. Now you'll have to find all the other pros who turn your vision into reality (hint: The Knot Marketplace is a great place to start).
Enlist your wedding party.
Having a group of pals stand by your side on the big day is pretty awesome. Figure out which friends and family members you'd like to include in the wedding party—and who would be comfortable taking on the (numerous) responsibilities. Don't limit yourself—folks of any gender can be on your side.
Finalize the guest list.
This doesn't just mean compiling a list of your pals. You'll have to work with your family to make sure they don't go overboard on the invite list, compile addresses and handle any disagreements about guests.
10 Months Out From Wedding
Once you've booked all of your wedding vendors, you can take a bit of a breather—though there are still some important tasks to handle.
Book room blocks.
If you're inviting a lot of out-of-towners, we highly recommend booking a block of rooms at a hotel near your venue. Your guests will appreciate not having to research accommodations, and the hotels often provide a discounted group rate to sweeten the deal.
9 Months Out From Wedding
As your big day approaches, take some time to strengthen your relationship with your soon-to-be spouse.
Take engagement photos.
Even if posing for pics isn't your idea of fun, think of your engagement photo session as quality time with your partner. And you'll get to know your wedding photographer a bit better, which will make your wedding day go that much smoother.
8 Months Out From Wedding
You're getting closer, and things are starting to get real. It's time to take on a few super-important pre-wedding groom responsibilities.
Create your registry.
Strange as it seems, people start buying you gifts immediately and registering may be the only way to keep your friends' and relatives' questionable tastes in check. Besides, you can now register for everything from practical household gifts to a new TV.
Build your wedding website.
Your guests will have a lot of questions—your wedding website is there to provide answers. And fortunately, The Knot's free wedding websites make the whole process a breeze.
Buy wedding insurance.
Unfortunately, emergencies happen—so while we hope you won't need wedding insurance, it's definitely worth buying coverage.
Plan the honeymoon.
One of the traditional groom's wedding responsibilities is planning the honeymoon—but this should be a shared responsibility between you and your spouse. You both should be happy with your trip of a lifetime, after all.
Send save-the-dates.
Time to let guests know about the big day. If you're having a destination wedding, you might want to send your save-the-dates a bit earlier.
7 Months Out From Wedding
Turns out the wedding isn't the only event you'll need to plan.
Plan the rehearsal dinner.
The groom's family traditionally plans and hosts the rehearsal dinner, and if this is the case for you, it's time to get started. Your family may be super on top of it, or they may need a little push to get started. Either way, make sure that you share your and your partner's desires for this night-before celebration.
6 Months Out From Wedding
As you move closer to the big day, it's time to kick the planning process into high gear.
Order your wedding attire.
When it comes to groom attire, you have lots of options—tux, suit, shirt and slacks, kilt or something completely different? Not sure what to wear? Let your wedding style and venue be your guide, along with what makes you feel your best. Next, decide if you'll rent or buy your attire.
Help groomsmen order attire.
You and your crew don't have to match, but their attire should complement yours. Work with your side of the wedding party to figure out what they should wear, and how they'll secure their outfits.
Check marriage license requirements.
Different states and jurisdictions have different marriage license requirements, so take the time to research yours.
Arrange transportation.
This is one of those wedding duties that's typically assigned to the groom—booking the wedding-day transportation, whether it's a limo, party bus, shuttle, etc., and arranging the logistics.
Check on passports.
If you're leaving the country for your wedding or honeymoon, make sure your passports are up to date and if not, renew them. Note that some countries require that your passport is valid for at least six months after the dates of your trip.
Shop for wedding bands.
You're going to wear your wedding band for the rest of your life, so take the time to find a ring that's comfortable and suits your style.
Attend premarital counseling.
Whether or not your officiant requires premarital counseling, it's a good idea to work on your relationship before tying the knot.
5 Months Out From Wedding
Just a few months left, and a few more important tasks to complete.
Order your invites.
And even before ordering your invitations, make sure you proofread them!
Set the menu.
No one wants hangry guests. Work with your caterer to pick a tasty menu for your reception.
4 Months Out From Wedding
At this point in the planning process, you'll likely regroup with some of your vendors to nail down those small, but important, details.
Plan the playlist.
Music lovers, it's your time to shine! You'll want to pick songs for important moments during the wedding day, like the first dance, and a few must-play favorites.
3 Months Out From Wedding
Time is flying by! Fortunately, you've handled most of the big planning tasks so it's smooth sailing from here.
Buy gifts.
While you'll be receiving lots of wedding gifts, you'll need to give some gifts as well. In particular, you'll need gifts for your wedding party, parents and your soon-to-be spouse.
Send invitations.
Pop those invites in the mail and let the RSVPs roll in. Use The Knot's Guest List to keep track of the responses.
2 Months Out From Wedding
Get ready to celebrate with your crew and get a few groom wedding planning tasks in order.
Enjoy the bachelor party.
Your groomsmen took the lead on planning your bach party, and now it's time to kick back and party with your pals.
Attend attire fitting.
Picking out and ordering your wedding-day outfit is only the first step—you also need to make sure it fits before the big day. Work with a tailor to make sure your ensemble is perfectly fitted.
Purchase accessories.
Ties, cufflinks, belts, shoes, socks—accessories are a great way to express your personality on the big day.
Book pre-wedding appointments.
If you're planning on getting a professional shave, haircut, manicure, facial, massage or other pre-wedding services, get those appointments on the books.
1 Month Out From Wedding
Only one month left—but you've got it totally under control.
Apply for the marriage license.
Follow your state's guidelines so you obtain your legal marriage documents with enough time (but not too much time!).
Confirm groomsman attire.
Your best man should be the point person on this, but it's never a bad idea to make sure your guys have their (hopefully well-fitting) wedding-day attire in hand and good to go.
Create the seating chart.
Not the most fun part of this groom's wedding checklist, but an important one—figuring out where everyone will sit during the reception. You're not only responsible for your and your partner's pals, but also making sure your family's guests are properly seated.
Delegate day-of logistics.
On the big day, you'll want to focus on celebrating—not picking up your Great-Aunt Mildred from the airport. Figure out what tasks need to be handled in the days leading up to your wedding, and assign them to responsible parties (aka your groomsmen).
2 Weeks Out From Wedding
It's almost go time. Lean on your partner and your wedding pros to ensure everything gets done.
Track down RSVPs.
Did your college buddy forget to send in his RSVP? Time to reach out to any stragglers on your side of the aisle.
Attend final meetings.
Although you've been working with your wedding pros throughout the past year, you'll likely have a couple of phone calls and meetings during the last few days to confirm all the details.
Write vows and speeches.
If you're writing your own vows and giving a thank-you speech during the reception, time to get cracking.
Write a love note.
Sending a love note to your soon-to-be spouse is a sweet gesture, but don't wait until the last second to write it.
Pick up attire.
And don't forget to open the garment bag before leaving the store to confirm it's the correct outfit and everything is included.
Confirm wedding party responsibilities.
Send an email to your wedding party to make sure everyone knows where to be and when.
The Week Of Wedding
Just a few days stand in between you and wedded bliss.
Share final headcount.
Once all the RSVPs are in, it's time to share the final guest count with your venue, caterer and other vendors.
Clean the wedding rings.
Make sure they're shiny and ready for their big debut.
Pack your bags.
You'll likely need to pack (at least!) three bags—one for the wedding day itself, one for the wedding night and one for the honeymoon.
Practice vows and speeches.
You might feel weird practicing in front of a mirror, but you'll be glad you did.
Get a haircut.
Even just a trim will make you feel fresh and clean for the big day.
The Day Before
It's the final countdown—you're getting married tomorrow!
Organize payments and tips.
Review your vendor's payment schedules to make sure everyone has been paid, and check out our tipping cheat sheet to find out who needs to receive gratuities and how much.
Give wedding bands to the best man.
He'll keep them safe until the ceremony.
Present gifts to loved ones.
You can give thank-you gifts to your VIPs the day before the wedding, at the rehearsal dinner or the morning of the big day.
Rehearse the ceremony.
A little practice goes a long way.
Give your officiant the marriage certificate.
Your officiant is responsible for making sure the certificate is signed and returned to the proper government office.
Attend the rehearsal dinner.
Have fun, but don't go overboard. You've got a big day ahead of you tomorrow!