8 Alternative Wedding Titles Besides "Bride" and "Groom"
Kirsten Ott Palladino, author of 'Equally Wed: The Ultimate Guide to Planning Your LGBTQ+ Wedding,' shares an excerpt from her book that details why it's okay to not use the terms "bride" and "groom" for your wedding.
by Ivy Jacobson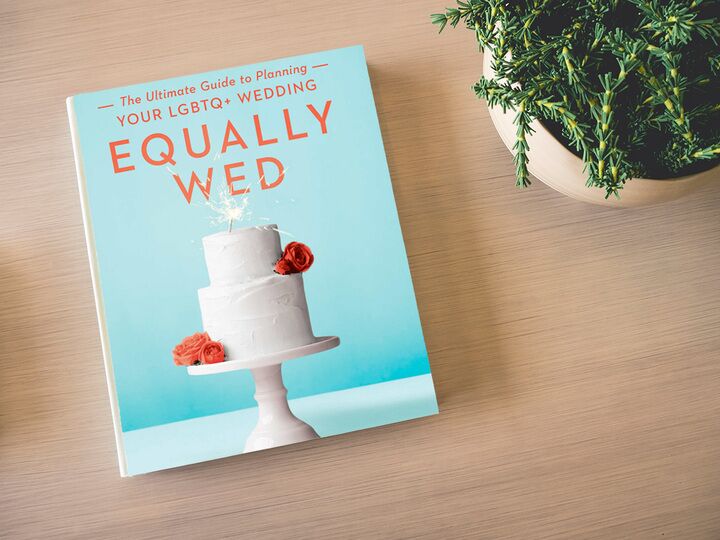 To celebrate Pride Month and the second anniversary of the legalization of same-sex marriage in the US, author and founder of Equally Wed Kirsten Ott Palladino shared an excerpt of her new book, Equally Wed: The Ultimate Guide to Planning Your LGBTQ+ Wedding (released on May 30) with The Knot. Check out eight alternative wedding titles you and your partner can use besides "bride" and "groom." 
Your Wedding, Your Way (Seriously)
Marriage is defined as two (or more) adults committing their lives to one another. Though marriage is about partnership and commitment, society has an extensive history of placing gender stereotypes on marriage and weddings. Some LGBTQ+ celebrants identify as brides and grooms. However, these heteronormative terms don't encompass all people getting married. You don't need to play along, unless you enjoy these terms. If you do, feel free to embrace them as your own while planning your wedding. If you feel strongly about using alternative language, share your preferred terms with your family, friends and vendors. No matter if you have a select few who are thrilled for you or an ample supply of cheerleaders in your corner—you're getting married! And that's incredibly special. From my heart to yours, congratulations. Let's get this party started.

Alternative Wedding Titles
Bridegroom: Traditionally defined as a man to be married, "bridegroom" can be redefined for feminine-leaning men, masculine-leaning women, gender queer, gender non-conforming, gender-fluid and nonbinary individuals.
Broom: "Broom" can either be a combination of "bride" or "groom" or a shortened version of "bridegroom."
Celebrant: A person engaged to be married.
Gride: A combination of "groom" and "bride."
Marrier: A person engaged to be married.
Nearlywed: A person engaged to be married.
Partner A and Partner B: For contracts with your vendors, the word "partner" demonstrates equality in every way.
Your own name: Simple, right? You don't belong in a box. 
Kirsten Ott Palladino is a seasoned veteran in the media industry. She's the author of Equally Wed: The Ultimate Guide to Planning Your LGBTQ+ Wedding, a wedding planning book for LGBTQ+ couples (Seal Press, May 2017). Palladino is also the founder and editor in chief of Equally Wed, the online magazine. An award-winning multipassionate entrepreneur, Palladino has served as editor at several newspapers and magazines, written thousands of articles, and provided writing, editing, consulting, social media and communication services to hundreds of clients for the past 15 years.