20 Anniversary Party Ideas & Themes to Celebrate Your Love
From intimate vow renewals to festive bashes, there's something for every couple.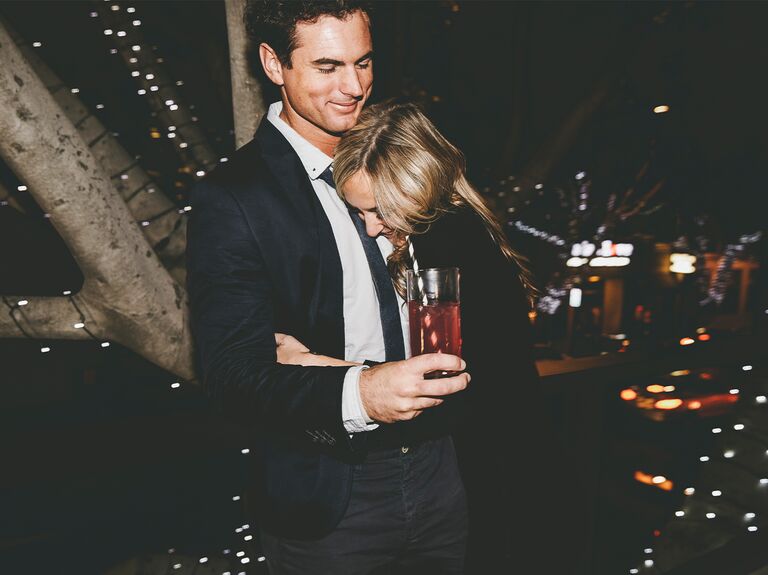 Photo: The Good Brigade | Getty Images
Reaching an anniversary milestone in a relationship is a really big deal. It signifies a commitment to one another and offers an opportunity to reflect, celebrate and look to the future. And what better way to begin celebrating than by brainstorming anniversary party ideas to find that one that perfectly fits the couple of the hour?
From ultra-romantic vow renewals that honor and showcase that special love; to festive and fun anniversary party themes; to intimate and small anniversary party ideas for more reserved couples, we've put together a versatile list of 20 worthwhile options to consider. So put on your party hat, start thinking about the guest list (and menu!) and get ready to plan an anniversary party for the ages.
1. Walk Down Memory Lane
A classic idea for an anniversary party is to celebrate the couple's milestones and memories from across the years. Create photo books featuring images old and new, and consider showing video footage from their big day. For anniversary activities, ask guests to write down or share their favorite moments with the couple throughout the years.
2. A Night in Paris
Is there a more romantic city than Paris, the city of lights? It's definitely a top contender, making this French destination the perfect party theme for an anniversary. Play Parisian cafe music, top cupcakes with petite-sized Eiffel towers and serve champagne in elegant flutes.
3. Cozy Vow Renewals
If you're planning an anniversary party for a happy couple that prefers to keep things quiet and intimate, opt for a small gathering where they do a simple vow renewal exchange. Keep the atmosphere cozy with soft lighting, twinkling candlelight and the couple's favorite food and drink items.
4. Garden Party
Transform the anniversary party venue into a dreamy, enchanted garden via twinkling fairy lights, fragrant floral arrangements and seasonal fruits. Ask attendees to dress for the occasion, and consider giving away vintage teacups filled with succulents as party favors (they can double as place settings or table decor, too.)
5. Studio 54 Disco Fever
Break out the sequins and big hair for this anniversary party idea! Keep things high glam by having guests dress to the "Studio 54" party theme, and make sure the playlist is full of bangers that'll keep people pointing their fingers all night long. Try to secure a legit disco ball, but if it isn't possible then replace it with some funky strobe lights.
6. New York, New York
The Big Apple is considered one of the most exciting cities in the world, buzzing with energy and American charm. It also requires a bit of grit—just like every enduring relationship! Put on some old school romantic jazz, break out some classic martinis and serve guests some delicious slices of New York-style cheesecake.
7. "Blast from the Past" Wedding Day Recreation
When celebrating a monumental anniversary year—like the 10th, 25th, 50th or beyond—hearken back to the couple's original wedding day. Gather images from their nuptials and pull key items that made their day particularly special. You could even have guests show up in attire from the decade they tied the knot.
8. Picnic in the Park
Secure a spot at a nearby scenic park and ask guests to bring blankets to sit on. Consider hiring some live music to set the scene and bring an assortment of weather-friendly finger foods and drinks for guests to enjoy. Some parks require permits for alcohol, and some also allow you to rent out a space in advance—so double check.
9. "Aged Like Fine Wine" Tasting
For a super classy anniversary party idea, sip on this: Throw an "aged like fine wine" tasting, complete with delectable charcuterie boards and an assortment of the couple's favorite bottles for all to try. Consider hiring a wine sommelier for an unforgettable evening.
10. "Whisked Away" Whiskey Tasting
If the celebrating couple is more of a whiskey duo than wine pair, consider a whiskey tasting event. You could lean into the "whisked away" theme (since the couple clearly swept the other off their feet!), or keep it more simple. Have a nice selection of whiskeys, along with whiskey tasting glasses, and start the evening with a hearty meal.
11. Rom-Com Outdoor Movie Night
Use a projector and screen (or white sheet) and set up cozy blankets and chairs in the backyard to show a classic romantic flick. Have guests arrive just before sunset for mingling, then push play once night falls. Make sure to have plenty of popcorn on hand! Also consider sharing a short sentimental video featuring the couple's wedding day and big moments throughout the years.
12. "Shell-o-Brate" Tropical Paradise
Channel tropical vibes to "shell-o-brate" the couple of the hour. Time the party for sunset or golden hour and ask party-goers to wear their best tropical print attire. Keep on theme with festive drinks, like Mai Tais, rum punch or daiquiris, and consider cute anniversary party favors like inflatable flamingo drink holders or gold-dipped seashells.
13. Rustic Cabin Theme
If it's possible, consider renting out a large cabin in the woods for the day (or a full weekend getaway), inviting your closest friends and family for the celebration. Decorate the space with wooden accents, plaid textiles and flickering lanterns, and set the mood with a flickering fireplace, acoustic music, and tasty comfort foods.
14. Camping Getaway
As an alternative to a cabin, consider hosting your anniversary party in the woods and encourage guests to hang back overnight for a legit camping experience. Provide enough fixings for dinner and s'mores, as well as breakfast for the next morning.
15. "Luck Be a Lady" Party
Whether you want to go with a true Las Vegas theme or keep it more general, a casino-inspired anniversary party theme is bound to spell F-U-N for everyone. Set up a few tables with various games, such as Blackjack, Poker and Craps. The signature drink of the night can be "Lucky in Love" or "Anniversary Ace," and make sure to raise a toast to the special couple.
16. Hollywood Regency
Go glamorous for your anniversary party by sticking to a Hollywood Regency theme. Deck out the venue from top to bottom in luxurious black and gold decor and encourage guests to dress in their chic-est "of the era" attire. You could even lay out a red carpet for the couple of the hour.
17. Around the World
If the couple you're celebrating have had some major global adventures over the year, center their anniversary party around their travels. Theme each table after a state or country they've been to, complete with images from their journey. For dinner, serve some of their favorite foods they've tried over the years in these locales.
18. Carnival Celebration
The free spirit of a summer fair or carnival is hard to beat. Bottle up that feeling and put it on display for an anniversary celebration. Serve classic food options—like cotton candy, elephant ears and hot dogs—and invite guests to play a range of carnival games like ring toss, duck pond or duckpin bowling. Set up one booth that's dedicated to the couple's memories across the years.
19. Celestial "Under the Stars" Celebration
Create a magical and romantic evening "under the stars" for the celebrating couple, via blue and silver celestial decor and twinkling lights. Serve some cosmic-colored cupcakes or cakes, drinks with edible shimmer and star-shaped fruits. If possible, consider renting some telescopes for legit stargazing. (You could even purchase and name a star in the couple's honor!)
20. Classic BBQ
If the couple's anniversary falls during spring or summer, you can't go wrong with a classic backyard BBQ. Really lean into the theme with checkered tablecloths, root beer or coke in glass bottles and some classic country tunes. Serve up some smoky hamburgers and hotdogs, potato salad and chips.