20 Wedding Albums for All Your Favorite Photos
Relive every amazing moment with a beautiful wedding photo book or frame.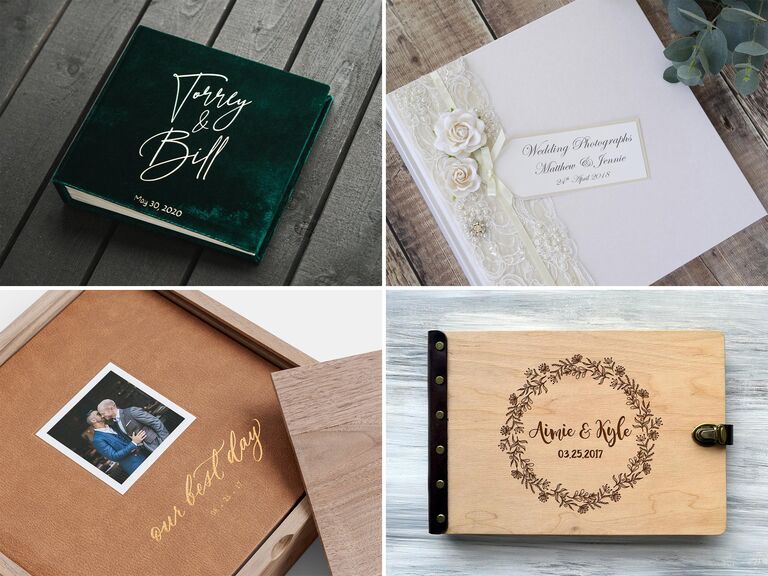 We have included third party products to help you navigate and enjoy life's biggest moments. Purchases made through links on this page may earn us a commission.
Ever wondered what to do with all those stunning wedding photos after the big day? Once your wedding photographer finishes editing your shots and sends them back to you—a process that typically takes a few weeks—don't forget to put them somewhere special, like a wedding album or photo book. After all, Instagram is great for sharing snaps with family and friends, but physical keepsakes will never get old. 
There are lots of different ways to display your favorite pics, from printed wedding photo albums to digital frames and scrapbooks. Not sure where to start? We're here to help! Below are some of the best wedding photo albums you can shop online that range in price, style and features. Find one you love, create a custom keepsake and cherish your best day-of moments for years to come. (Note: If you're not the DIY type, many photographers will produce and send a finished album back to you, instead of only returning the prints—just make sure there's a point in your contract about it.) 
1. Layflat Wedding Photo Album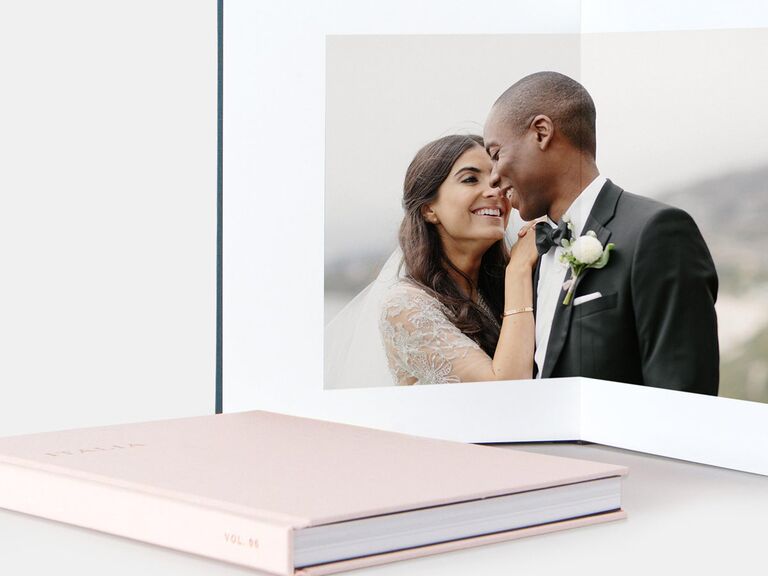 Layflat wedding albums are extra appealing when you've got panoramic shots to savor. That's why this best-selling option from Artifact Uprising is one of our favorite photo books.
Artifact Uprising layflat photo album, from $149, ArtifactUprising.com
2. Classic Wedding Photo Album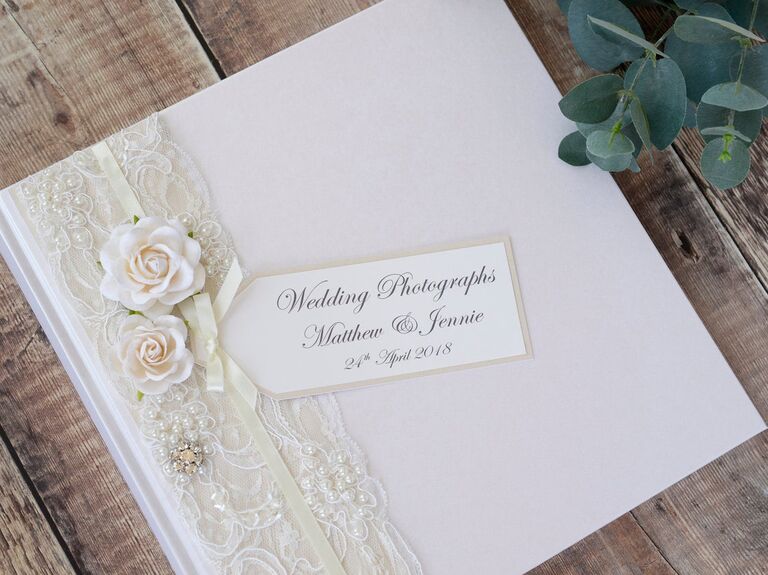 A white lace wedding album is beautifully classic. This scrapbook gives you the perfect blank slate to display your wedding photos however you please.
stori UK vintage pearl lace & roses personalized wedding photo album, $50, Etsy.com
3. Digital Wedding Photo Frame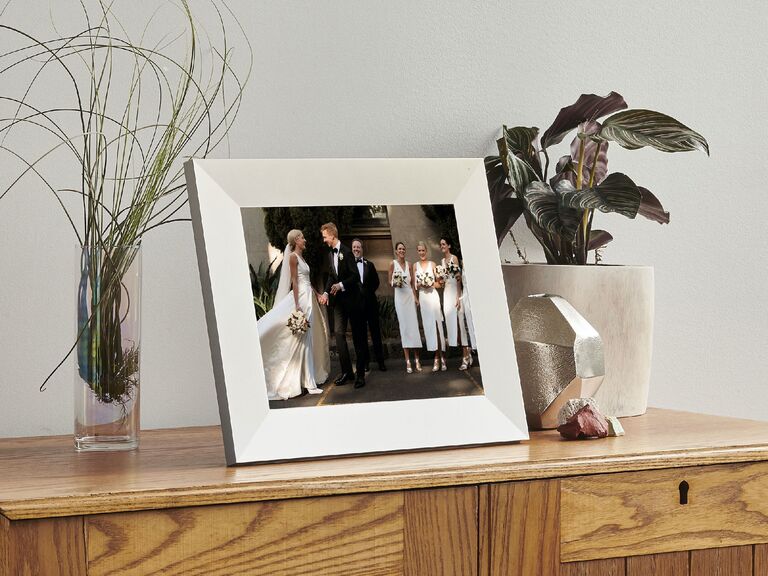 Save paper with a high-tech screen that stores all your favorite photos from the big day. You can easily manage your wedding photo album online with this satin-finish digital picture frame. 
Aura Frames Sawyer digital photo frame, $299, AuraFrames.com
4. Rustic Wedding Photo Album

Looking for something a little more unique? Try a wedding photo book made of wood and leather. Your custom engraving will make this wedding album even prettier.
Wood Present Studio rustic wedding photo album, from $63, Etsy.com
5. Personalized Wedding Photo Album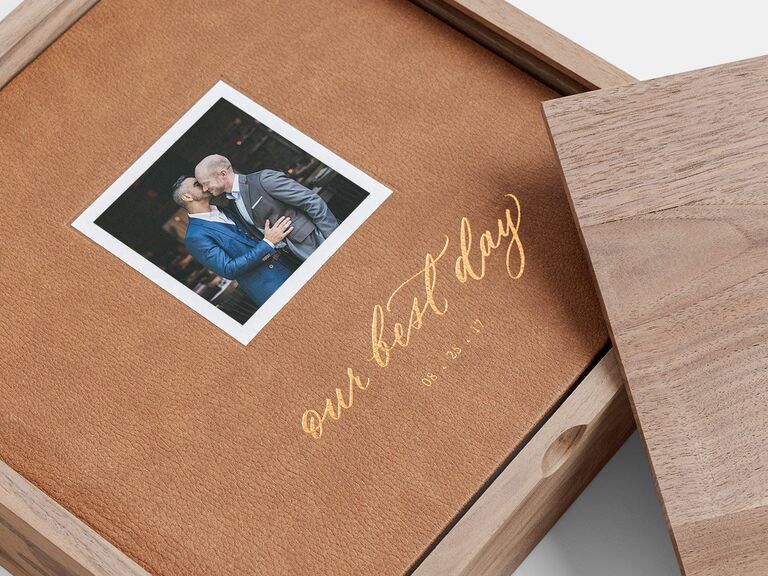 Why not make your wedding photo album as personal as your wedding? Try a photo book that lets you choose everything—from the paper to the cover fabric. Whether you prefer linen or leather wedding albums, you can't go wrong with this luxurious option, which is Artifact Uprising's newest, most premium layflat album.
Artifact Uprising Signature layflat photo album, from $289, ArtifactUprising.com
6. Set of Wedding Photo Frames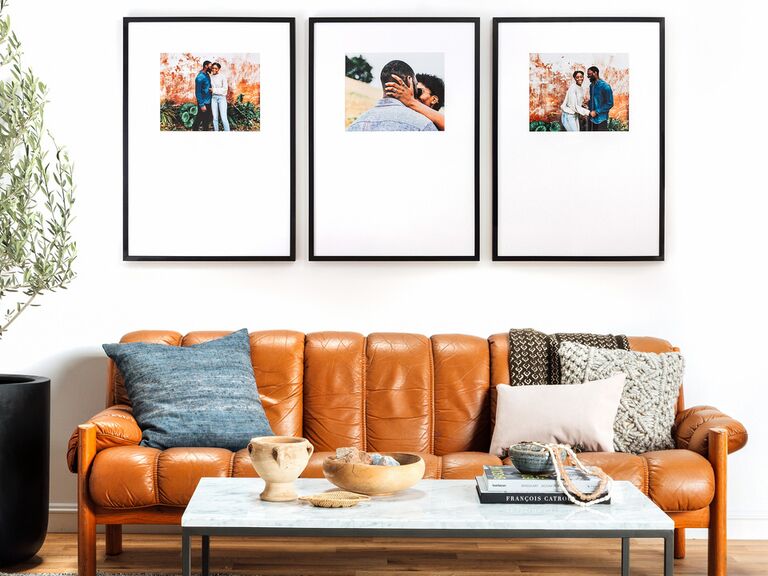 The best wedding albums are the ones that brighten up your home every day. Stray from the traditional and start a gallery wall with your most special snapshots: your wedding photos. This matching frame trio is simply elegant.
Framebridge The Triptych frames, from $400 for a set of 3, Framebridge.com
7. Velvet Wedding Photo Album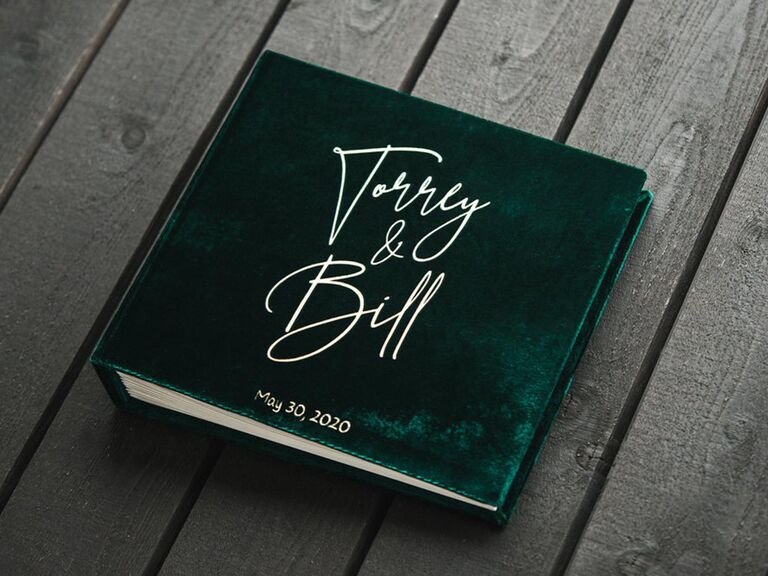 Your special day deserves a keepsake that's just as meaningful—that's where these gorgeous handmade wedding albums come in. Choose between deep shades of luxurious velvet personalized with your names and wedding date.
Studio Tenebris velvet photo book, from $59, Etsy.com
8. Elegant Wedding Photo Book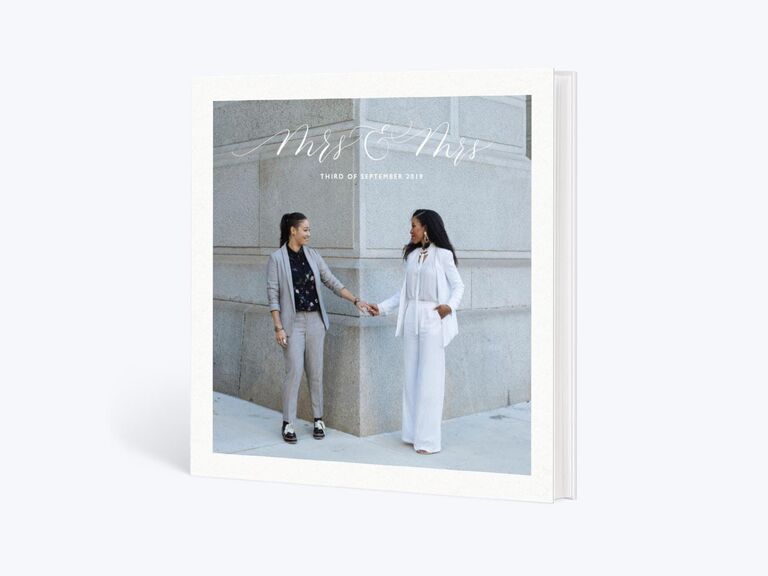 This stylish white photo book will make you and your S.O. into the cutest cover art. Bring your dream wedding album to life with customizable captions and layout options.
À L'aise Mrs & Mrs hardback photo book, from $49, Papier.com
9. Unbound Wedding Photo Album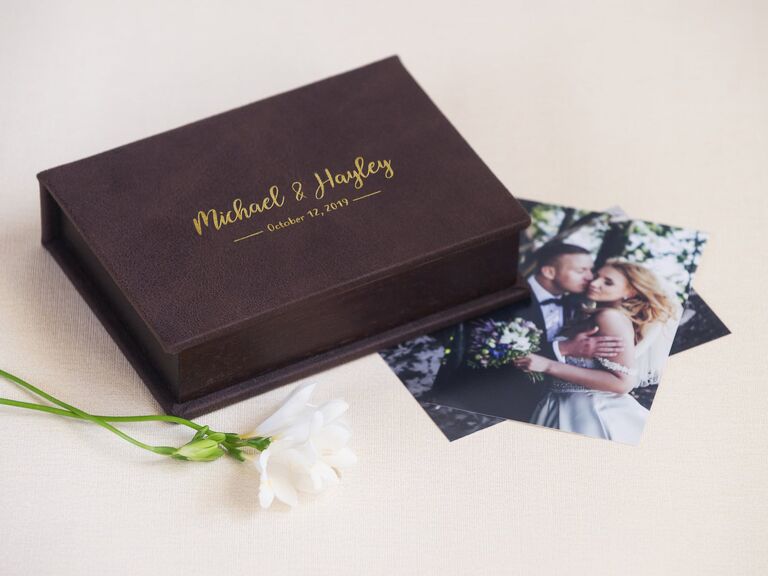 Maybe it's time to think inside the box. Have your wedding photos printed on stunning loose pages to keep in a personalized wooden photo box. Wedding albums just got a whole new look.
Acro Album custom wedding photo box, from $79, Etsy.com
10. Affordable Wedding Photo Book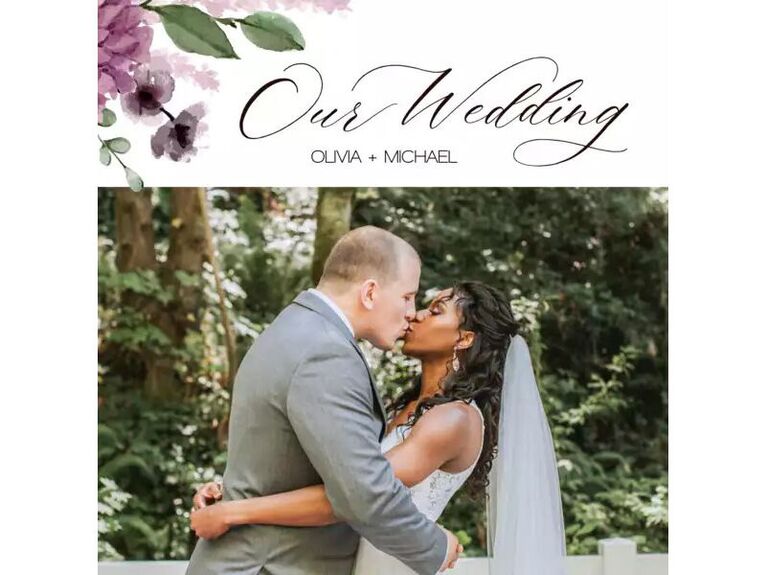 We like the bright, floral design of this romantic and affordable wedding album. Template pages make it easy to customize.

Mixbook Photo Co. Elegant Botanical Wedding customizable photo book, from $16, Mixbook.com
11. Handmade Wedding Photo Album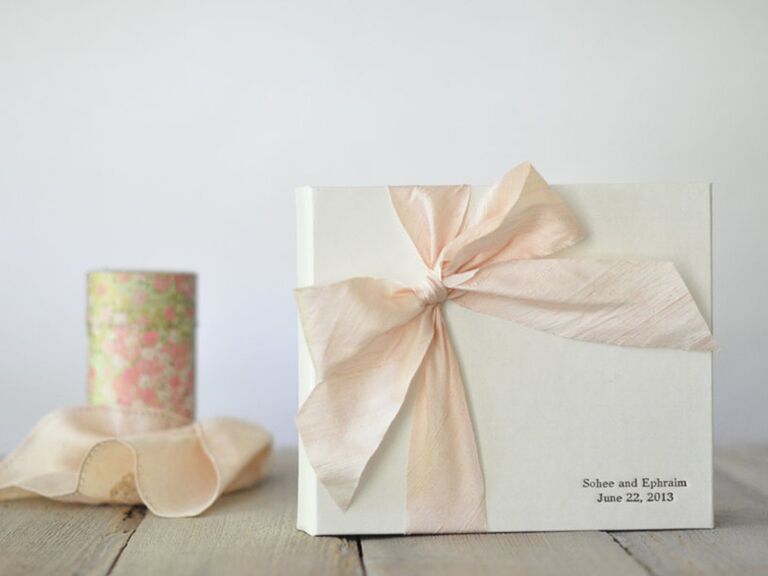 Place your wedding photos in this linen scrapbook album, which is finished off with a gorgeous raw silk bow. Bonus: You can pick from a number of gorgeous cover and ribbon colors to design the best wedding photo album for you.
Claire Magnolia personalized wedding photo album, from $70, Etsy.com
12. Fancy Wedding Photo Book
This stylish wedding album screams sophistication thanks to its high-quality cover and pages. You'd never guess that it's one of Artifact Uprising's more affordable offerings.
Artifact Uprising hardcover wedding photo book, from $69, ArtifactUprising.com
13. Large Wedding Photo Album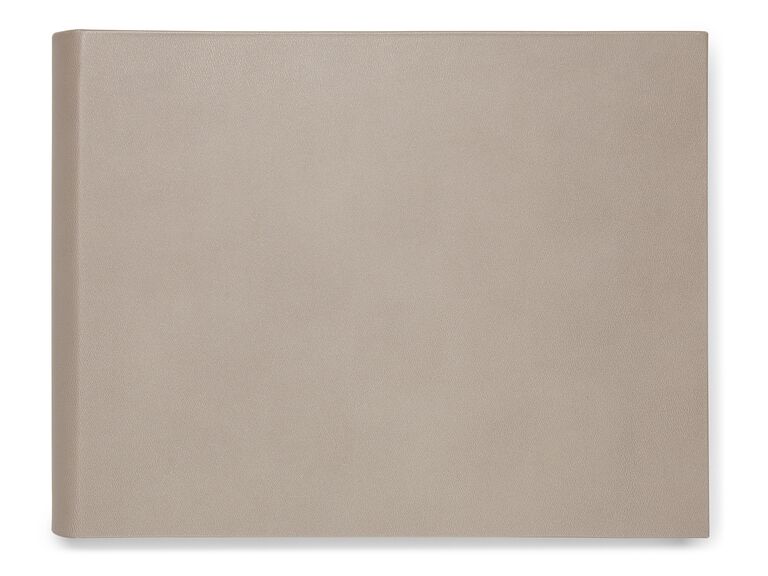 Go big with this large and luxurious leather wedding album. You can easily insert your precious images using photograph corners. If you've got an understated style, this one's for you.
Smythson The Grosvenor Collection large photo album, $735, Smythson.com
14. Collage Wedding Photo Frame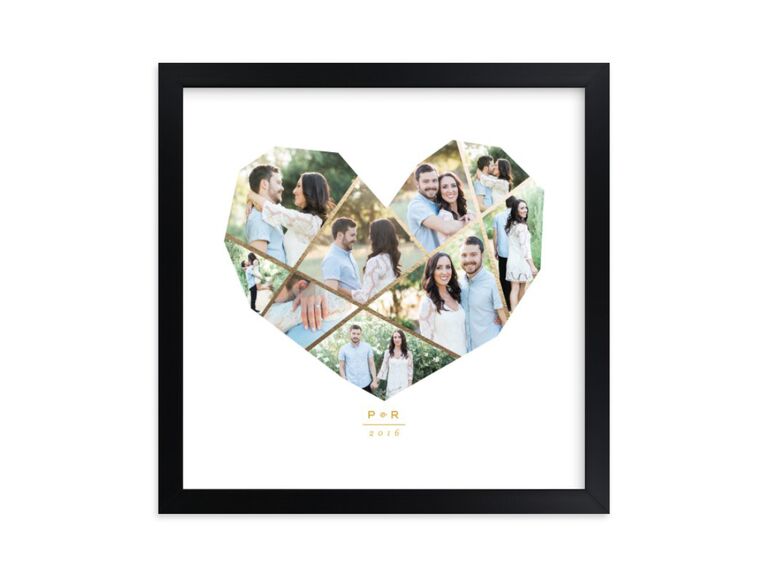 If traditional wedding photo albums and books aren't quite your style, choose your favorite images and spotlight them in a photo collage. Feel free to get creative (read: romantic) with the design.
Fatfatin Complete Love Foil custom photo art, from $57, Minted.com
15. Simple Wedding Photo Book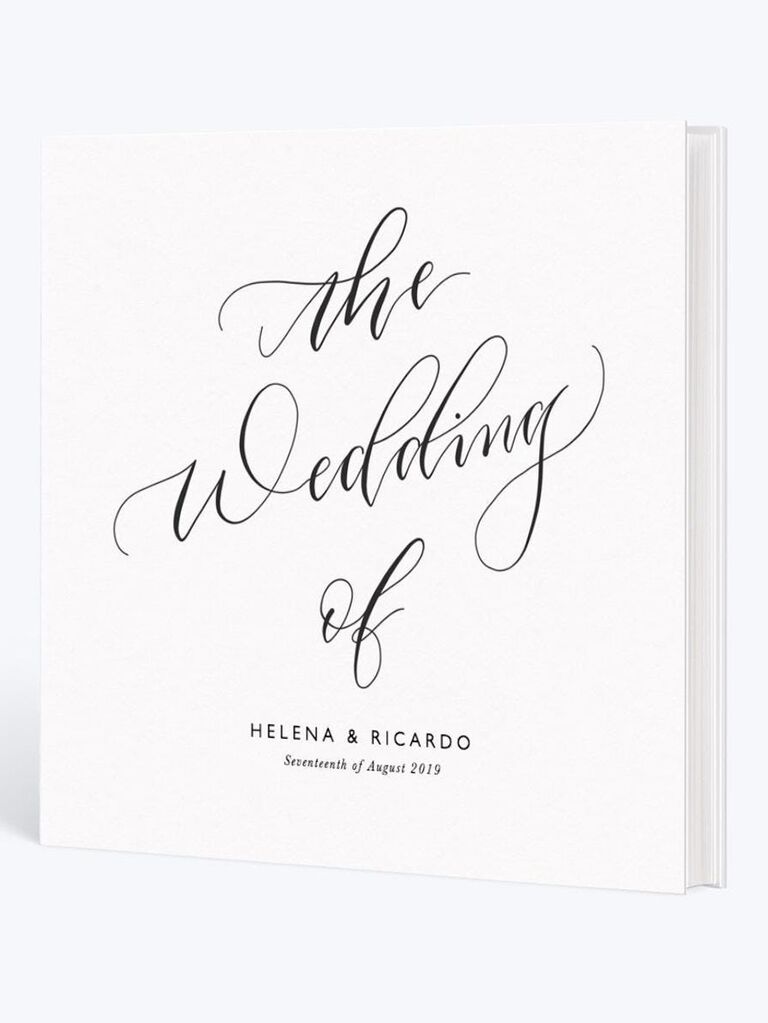 When in doubt, this personalized hardcover wedding album is a timeless choice you'll never get sick of.
À L'aise The Wedding Of hardback photo book, from $49, Papier.com
16. Durable Wedding Photo Album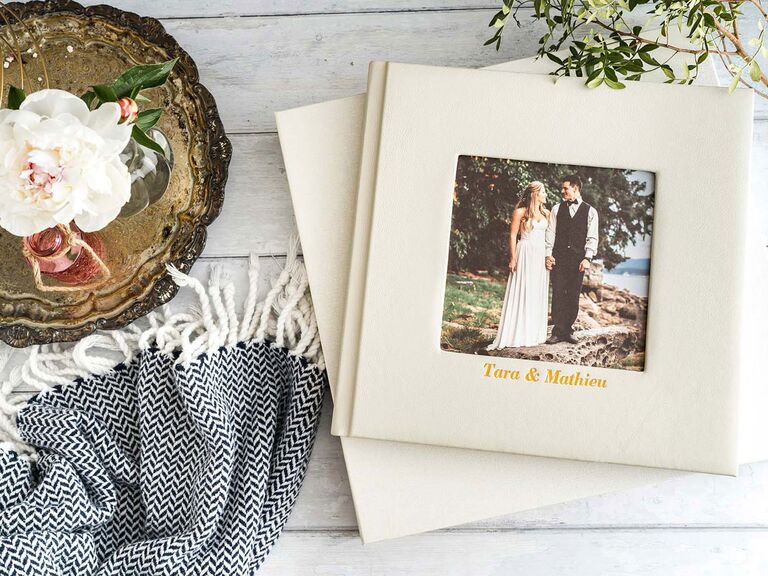 When you're buying a wedding photo album, look for something that'll last. Thick flush-mount pages maintain their shape no matter how often you flip through them. Your wedding album will be just as beautiful years down the line.

PikPerfect flush mount wedding album, from $199, PikPerfect.com
17. Cute Wedding Photo Album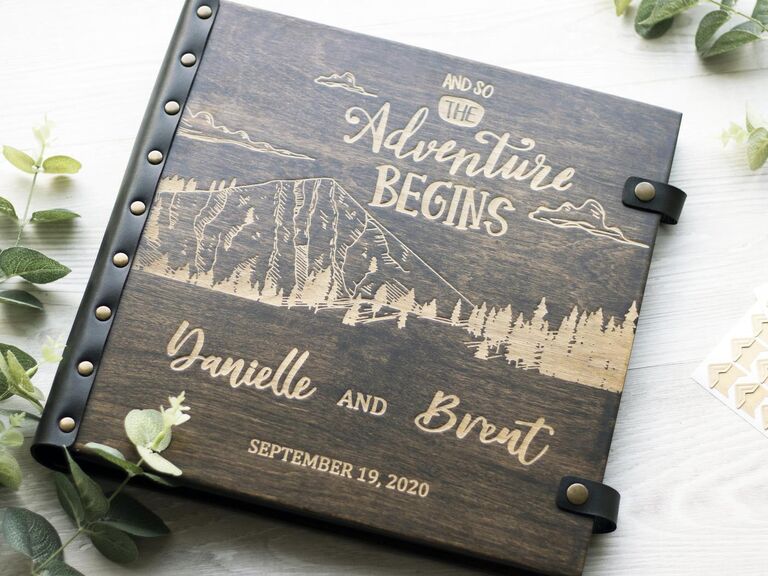 Mark the start of your wonderful next chapter with an adorable and romantic album cover quote. This wooden wedding album can be customized with your names and the date of your nuptials for an extra-special touch. Let the adventure begin!
Wooden Engraved Shop personalized scrapbook album, from $66, Etsy.com
18. Vintage Wedding Photo Book
Shutterfly's wedding album maker lets you upload snapshots in a breeze, whether they're on Instagram or your desktop. Choose from a wide range of book designs, including this vintage-chic style.

Shutterfly vintage wedding photo book, from $141, Shutterfly.com
19. Floral Wedding Photo Book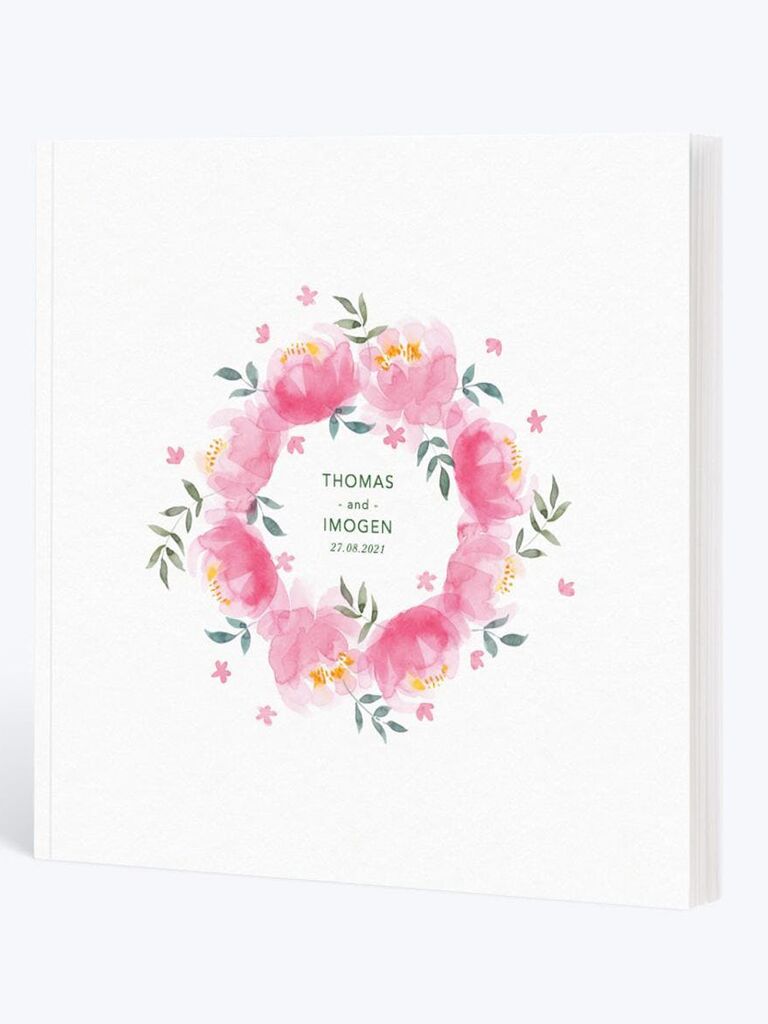 Carry your wedding theme through to your photo album by nodding to details like your color palette or flowers. The best wedding photo books are the ones that feel truly personal.
Emma Block Peonies hardcover photo book, from $49, Papier.com
20. Metallic Wedding Photo Book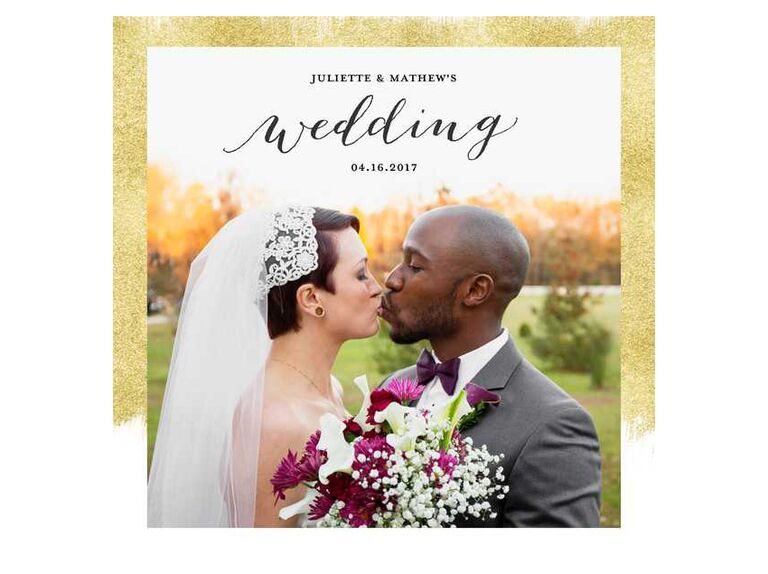 There's no shortage of gorgeous personalized wedding albums to choose from online. This metallic photo book is glamorous and modern, not to mention that it comes with excellent customization options.
Mixbook Photo Co. Painted Metallic Wedding customizable photo book, from $16, Mixbook.com