13 Beautiful Wedding Albums and Alternatives for All Your Favorite Photos
These photo books are the perfect way to relive precious memories.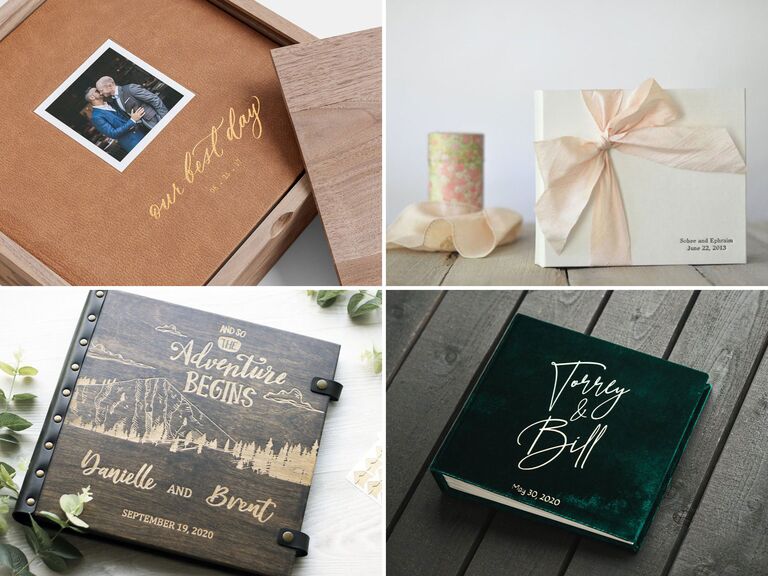 We have included third party products to help you navigate and enjoy life's biggest moments. Purchases made through links on this page may earn us a commission.
After all the excitement of your wedding and honeymoon, there's still one more thing to look forward to: getting your wedding photos back. And while that process usually takes a few weeks, it's never too soon to start thinking about how you want to display your priceless portraits. A wedding album or photo book is the most popular option, with many couples turning to online retailers like Artifact Uprising to design their very own wedding photo book. Other newlyweds prefer to frame their precious memories or store their prints in a keepsake box rather than an album—both totally valid options!
At the end of the day, it's up to you and your partner to decide exactly what you want to do with your wedding photos. One piece of advice before you do, though: Check in with your photographer to see if they offer a wedding album service or if there's anything they can do to help make designing your wedding album easier. We're sharing exactly what you need to talk to them about below, as well as how much a wedding album typically costs and our favorite (shoppable!) ways to display your photos.
What to Ask Your Photographer Before Designing Your Wedding Album
Before you start looking for a wedding album online, ask your wedding photographer if that's a service they can provide. Many photographers are happy to produce and send a professional wedding album back to you, instead of only returning the prints. If this sounds like something you're interested in, have a chat with your photographer (and make sure there's a point in your contract about it).
For those of you who'd rather design your own wedding photo album, your photographer may still be of some assistance. First of all, make sure that they're happy to send your wedding photos in digital form. Some fine art photographers specialize exclusively in physical photographs and artwork (although most wedding photographers are happy to send digital files). Once your photographer is on board, try to find out what type of file you need to create your wedding album (like JPEG, for example). Then, you can be a step ahead by requesting your images in that format.
If you plan on buying a photo album with sleeves or pockets rather than a printed photo book, ask your photographer if they can provide you with high-quality prints rather than trying to print them yourself from digital files. (Trust us, they'll look way better from a professional). You can also talk to them about sizing options if there's a certain dimension that works better for your chosen album or scrapbook.
How Much Does a Wedding Photo Album Cost?
The cost of a wedding album or photo book depends on a lot of different things, such as the size, type of paper, cover material and number of pages. The good news is that a lot of online wedding album makers offer plenty of customization options, meaning you can tweak a few things to make it suit your budget. There are also lots of different retailers out there to choose from, so you can shop around before settling on a design.
With all that in mind, expect to shell out around $150 to $300 on a traditional, high-quality wedding book that'll stand the test of time. If that number stresses you out a little, don't panic. There are more affordable options out there that are under the $150 mark (and some that are even under $20). Just keep in mind that a lower price generally means making some sacrifices, whether it's the size, number of pages or quality of materials.
The Best Wedding Albums You Can Buy Online
Not sure where to buy your wedding photo album? That's what we're here for. Keep reading for all the best wedding photo books, scrapbooks, frames and more you can conveniently shop online. We've got wedding photo book ideas for every style and budget, as well as options for creative couples who want something extra unique.
1. For the Minimalist Couple: Artifact Uprising Layflat Photo Album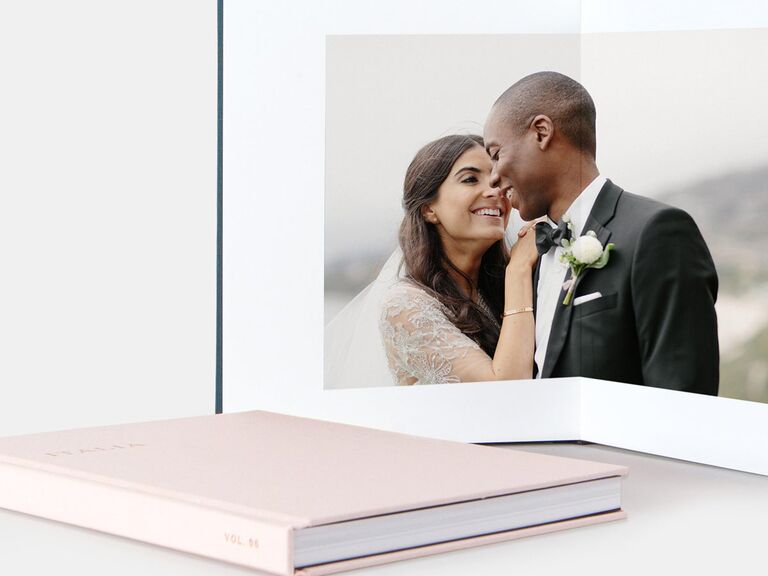 What you'll love about it: What better way to let your wedding photos shine than by placing them in a minimalist wedding album? The understated linen cover of this photo book definitely doesn't distract from the pictures inside. But high-quality paper and a classic linen cover aren't the only things you'll love about this wedding photo album. You can customize every detail, from the fabric and foil colors on the cover to the size, paper type (glossy or matte) and page count. Plus, a layflat wedding album is perfect for showcasing panoramic shots. That's why this best-selling option from Artifact Uprising is one of our favorite photo books.
2. For the Couple Who Scrapbooks Together: Studio Tenebris Velvet Wedding Album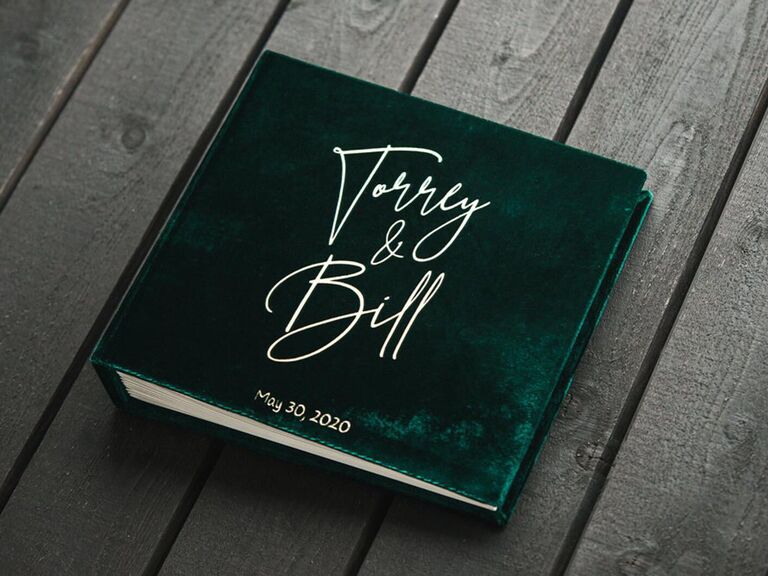 What you'll love about it: Your special day deserves a keepsake that's just as meaningful—that's where these gorgeous handmade wedding albums come in. Any couple who loves to DIY will have tons of fun adding their favorite wedding prints to this velvet scrapbook album. You can choose to include up to two pockets per page in three different sizes, and the paper inside comes in white or black. Choose between 14 deep shades of luxurious velvet personalized with your names and wedding date for a display-worthy finishing touch.
3. For the Tech-Obsessed Couple: Aura Digital Photo Frame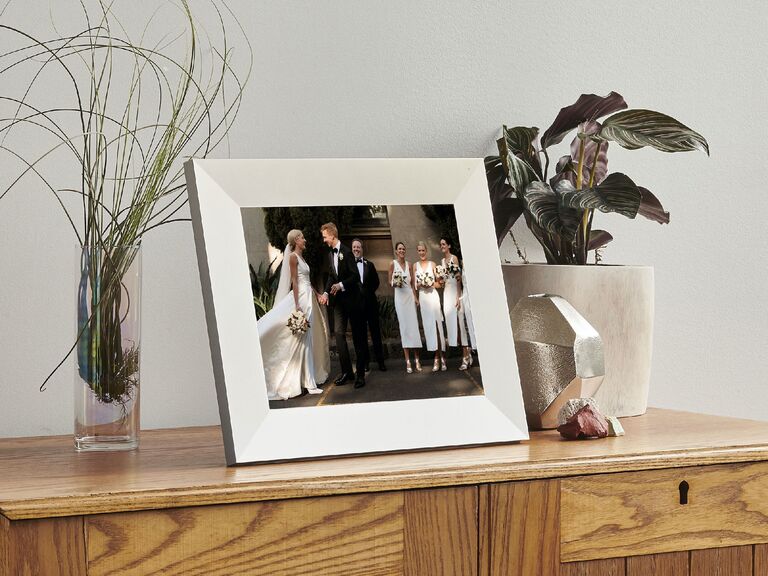 What you'll love about it: A wedding photo album or book isn't the only way to preserve your favorite pictures. Instead, save paper with a high-tech screen that stores all your snapshots from the big day. This satin-finish digital picture frame will flick through every photograph right on the shelf, so you don't have to lift a finger. Plus, you can easily manage your wedding photo album from your phone or computer.
4. For the Couple With a Sophisticated Style: Artifact Uprising Signature Layflat Photo Album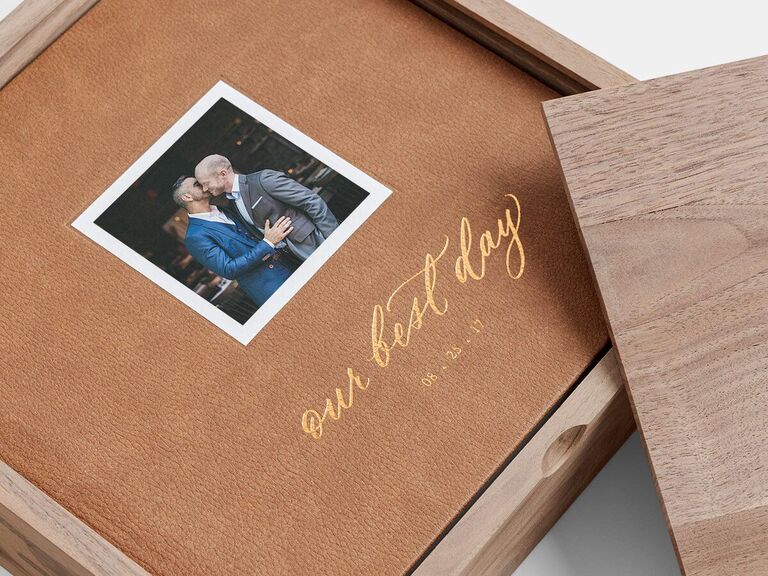 What you'll love about it: Here's another of our favorite picks from Artifact Uprising. This luxury wedding album is just as customizable, from the size and foil color to the type of paper and end-sheet color. You can also choose between two different cover options (leather or linen) and add extra pages from $6 per added page. Whether you prefer linen or leather wedding albums, you can't go wrong with this heirloom-worthy option. It's also worth adding the keepsake walnut box to your order for easy and safe storage (if you think you'll ever want to put it down, that is).
5. For the Couple Thinking of Their Coffee Table: PikPerfect Flush Mount Photo Book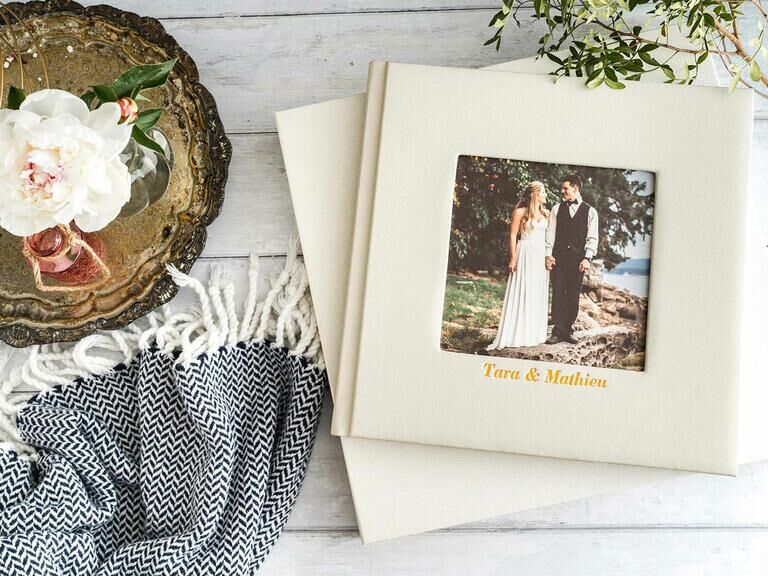 What you'll love about it: While pretty much any of the options on this list will look great on your coffee table, this flush-mount album is especially fitting. Thick flush-mount pages maintain their shape no matter how often you flip through them, meaning you (and anyone who visits your home) can enjoy special moments from your wedding day over and over again. Bonus: There are so many ways to make this custom wedding photo album your own. Choose a linen, leatherette or genuine leather cover. You can then add your favorite picture to the wedding album cover with an acrylic glass front or cameo window, or go with a full-bleed photo. Depending on your customizations, pricing varies from $199 to over $800.
6. For the Couple Who Wants Their Love Story on Display: Framebridge The Triptych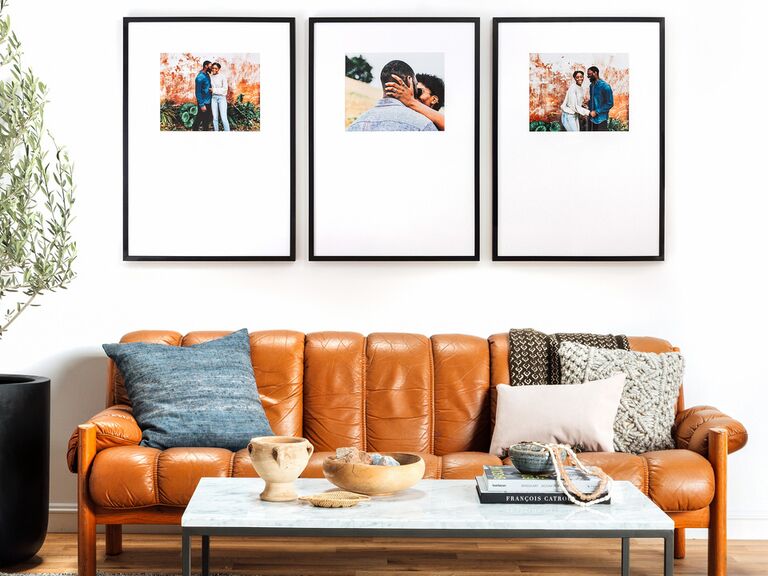 What you'll love about it: The best wedding albums are the ones that brighten up your home every day. If you're not the DIY-wedding-album type, stray from the traditional book and start a gallery wall with your most special snapshots: your wedding photos. This matching frame trio will instantly put your favorite wedding memories in the spotlight, and you never have to worry about them gathering dust on the shelf. The frames are also available in six different colorways and two sizes to suit your home. (And if you happen to be shopping for a couple, these frames are an excellent wedding gift.)
7. For the Couple Who Likes to DIY: Claire Magnolia Wedding Photo Album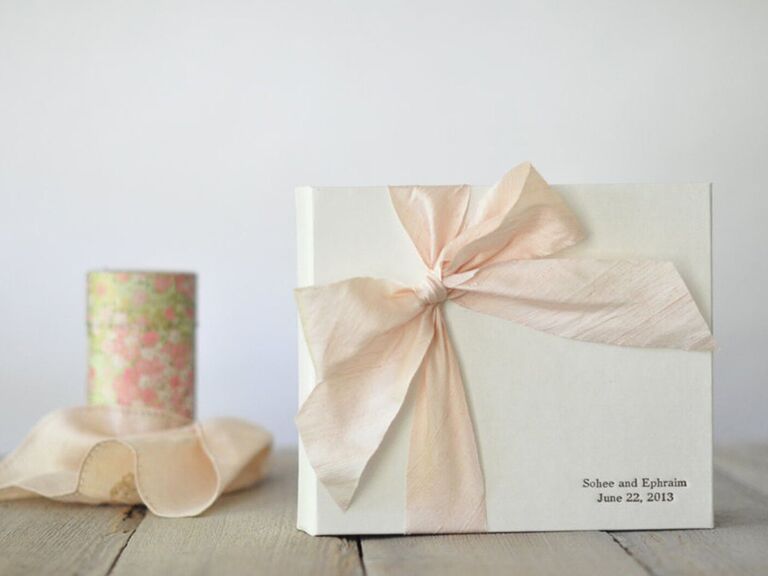 What you'll love about it: Dreaming of a vintage wedding album your photos will look utterly timeless in? Place your beloved pictures in this linen scrapbook album, which is finished off with a gorgeous raw silk bow. You can pick from a number of colors for both the cover and ribbon to design the best wedding photo album for you.
8. For the Couple Who Appreciates Durability: Printique Metal Cover Photo Album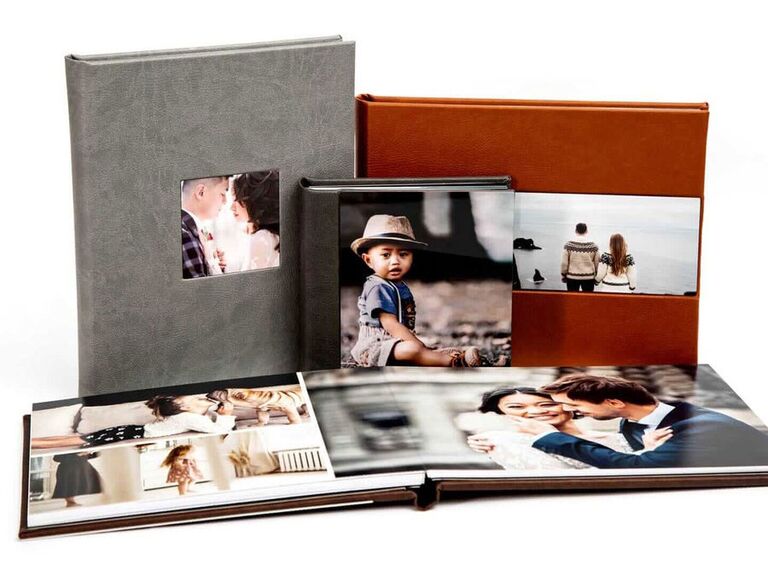 What you'll love about it: The best wedding photo albums are the ones that will stand the test of time—and with a durable metal cover, this one will do just that. Your cover photo is infused right into the metal, making it glossy, clear and resistant to heat and water. The hardcover photo book is also a layflat, so the details of your images won't get lost in the gutter (the binding crease down the center of the page). Still not convinced? Printique has pre-designed wedding album templates that'll make putting everything together a breeze. (And if you'd rather get creative, you're free to start from scratch too.) It's easily one of the best online wedding album makers.
9. For the Couple Who Prefers Prints: Arco Album Wedding Photo Box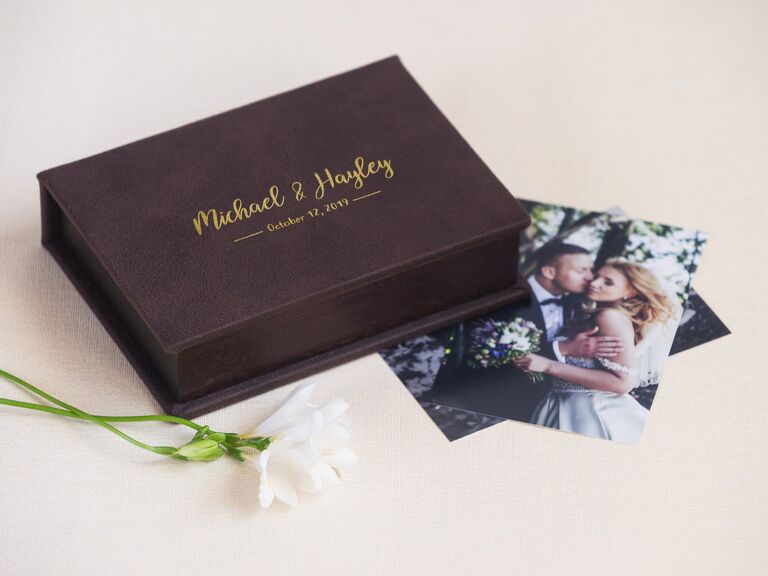 What you'll love about it: Maybe it's time to think inside the box. Instead of a personalized wedding photo album, have your wedding pics printed on stunning loose pages to keep in a personalized wooden photo box. The amount of images you can display in a photo book or album is limited, whereas a keepsake box will let you keep all (and we mean all) your favorite wedding photos safe. Plus, it's just as heirloom-worthy as a traditional album. There are six different sizes available with a linen or leatherette finish. You can also choose from a selection of colors for the box and the text.
10. For the Couple Looking for Luxury: Smythson Panama Large Photo Album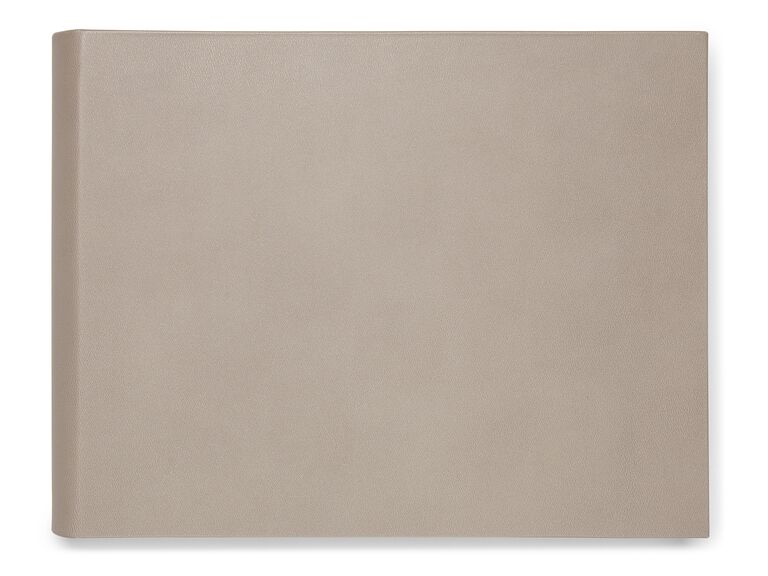 What you'll love about it: Anyone in the market for a luxury wedding album should see what Smythson has to offer. This high-end leather photo album is their largest option at 16-by-12 inches and boasts 50 gilt-edge pages for displaying your pictures. The icing on the cake? This crossgrain leather album is available in three colors: chalk, black and sandstone.
11. For the Couple Who Likes It Abstract: Fatfatin Complete Love Foil Photo Art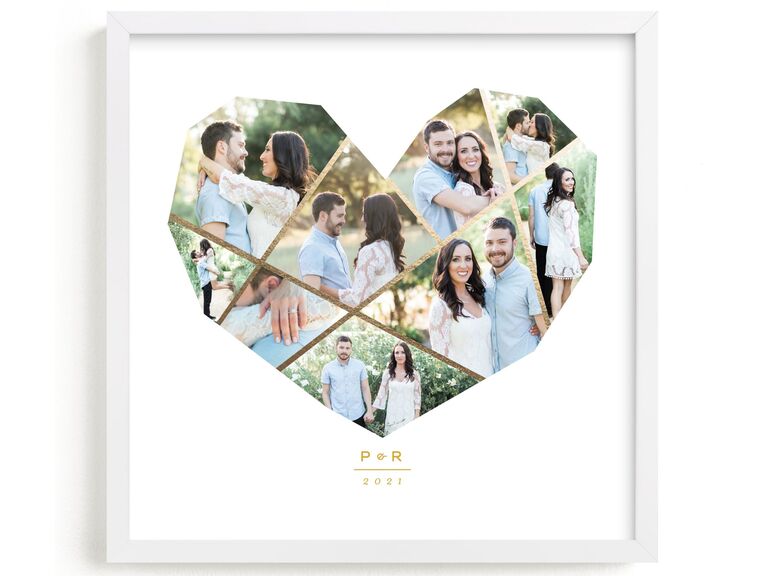 What you'll love about it: If you're looking for a creative way to showcase your wedding photos, this custom wall art is for you. Arrange your favorite wedding portraits in a heart-shaped collage complete with separating geometric lines in gold, silver or rose gold. You can also add your initials and the year underneath your masterpiece to further commemorate your special day. But the actual artwork isn't the only thing to love here—there's also a selection of gorgeous framing options that'll make it a truly personal piece of decor.
12. For the Couple Who Loves to Travel: Wooden Engraved Shop Our Adventure Book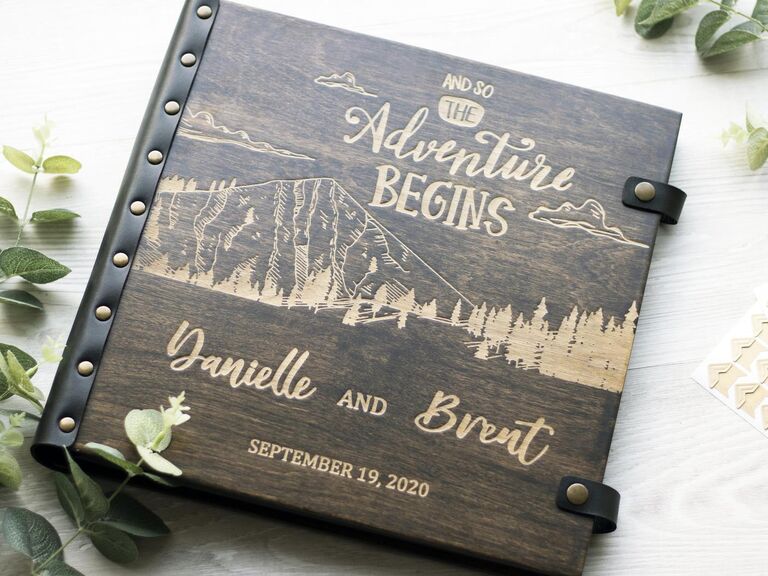 What you'll love about it: Etsy is full of beautiful and unique wedding photo album ideas. If you're a couple who loves to travel together (or even just loves the outdoors), it's only fitting to mark the start of your wonderful next chapter with this rustic wooden wedding album. The cover is engraved with the romantic phrase, "And so the adventure begins" and can be customized with your names and the date of your nuptials for an extra-special touch. One thing to keep in mind: This is a scrapbook-style wedding album so you'll have to get your DIY on.
13. For the Couple on a Budget: Mixbook Painted Metallic Wedding Photo Book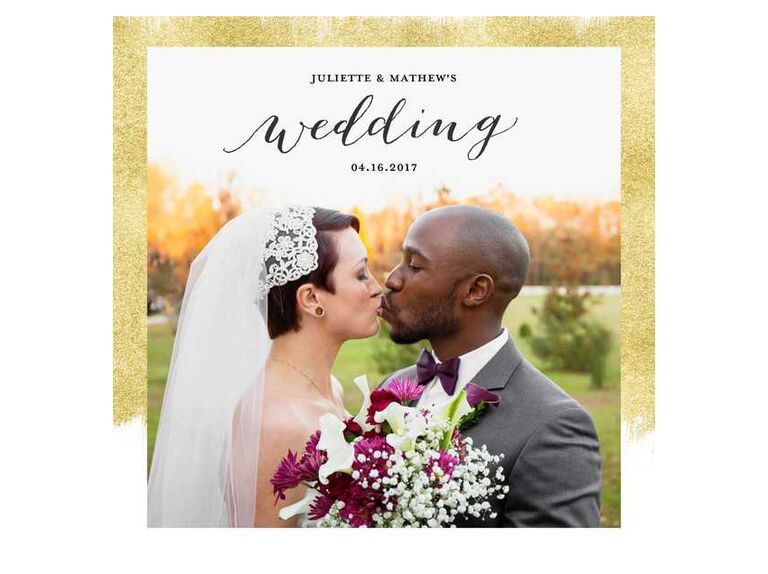 What you'll love about it: Mixbook is the best place to look for wedding picture books if you're shopping on a budget but don't want to spend hours messing around with prints and photo corners. The online wedding photo book maker allows you to upload your chosen pictures to the site so they can be printed directly onto the album pages. The site's album design services allow you to play around with different layouts, backgrounds and stickers. Plus, you can choose from four different album sizes, four paper options and five covers—now that's what we call customization!