20 Wedding Photo Albums for Your Favorite Day-of Snaps
These beautiful wedding photo books and frames let you relive every amazing moment from your wedding day.
by Maggie Seaver & Emily Platt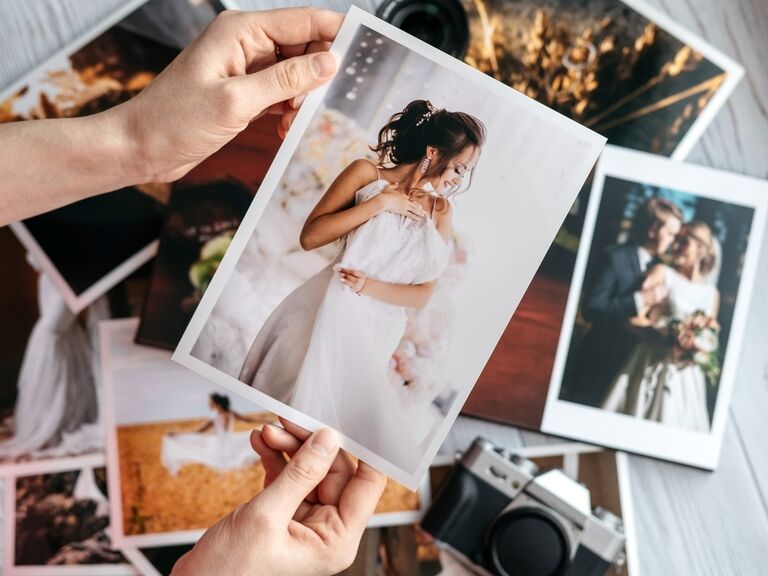 Ever wondered what to do with all those stunning wedding photos (besides posting a few favorites to Instagram, of course)? Once your wedding photographer finishes editing your shots and sends them back to you—a process that typically takes anywhere from one to four weeks—don't forget to put them somewhere special. Display your favorites in a physical wedding photo album that you have printed or compile scrapbook style. Or put them in a digital photo stream or a pretty set of frames on the wall. (Note: If you're not the DIY type, many photographers will produce and send a finished album back to you,instead of only returning the prints—just make sure there's a point in your contract about it.) Below are some of our favorite places to shop for wedding photo books that range in price, style and services. Find one you love to share and cherish your best day-of moments for years to come.
1. Classic Wedding Photo Album

2. Rustic Wedding Photo Album

3. Digital Wedding Photo Frame

4. Velvet Wedding Photo Album

5. Affordable Wedding Photo Book

6. Personalized Wedding Photo Album

7. Set of Wedding Photo Frames

8. Layflat Wedding Photo Album

9. Cute Wedding Photo Album

10. Fancy Wedding Photo Album

11. Custom Wedding Photo Book

12. Collage Wedding Photo Frame

13. Simple Wedding Photo Book

14. Sturdy Wedding Photo Album

15. DIY Wedding Photo Album

16. Large Wedding Photo Album

17. Unbound Wedding Photo Album

18. Floral Wedding Photo Book

19. Romantic Wedding Photo Album

20. Metallic Wedding Photo Book