Set the Table With These 37 Unique Wedding Place Setting Ideas
Welcome guests to dinner with an eye-catching place setting.
As the saying goes, we eat with our eyes first. When it comes to the guest experience at your wedding reception, curating a beautiful place setting for each wedding guest should be just as much of a priority as the catering tasting you're having to finalize your wedding menu. Plan to welcome guests to their seats with beautiful collection of dishware, flatware and glassware that complements the overall aesthetic of your wedding day.
Beyond aesthetics, there are a lot of practicalities to consider with table place settings for weddings—like what flatware with attendees need for the entrées you've selected and whether you going to pre-set a salad at everyone's place. To help inspire you and answer key questions related to wedding place setting ideas, we connected with planner and wedding expert Sarah Strausser of Embark Event Design and etiquette expert Heather Wiese Alexander of Bell'INVITO. As you dive head first into planning your wedding reception, keep the wedding place setting ideas we love and need-to-know top tips from below in mind.
In this story:
Top Tips on How to Set a Wedding Table
Wondering how to set a table for a wedding? Keep this important information in mind to ensure you create wedding place settings and dinner table designs you absolutely love.
Consider Traditional Etiquette
Wiese Alexander emphasizes the importance of balancing creativity with etiquette and intuitiveness. "Creativity is always welcome," the expert says. "Keep it in check by taking one final look at your idea and asking yourself, if I'm sitting down to eat, do I have everything I need, and is any placement confusing? Etiquette teaches us to use the outermost flatware and work in as courses are served. Knowing this, does your setup leave guests confident or confused? Once you're sure your guests are well-accommodated and comfortable—anything goes."
Keep Food Service in Mind
"Consult with your catering team on the logistics of your place setting," advises Strausser. "If your meal is being served plated, for example, you will need to have a charger present upon guest arrival as dinner and salad plates are typically in the catering kitchen being prepped and garnished for service. If your menu is being served family-style, you have the freedom to create a layered look as all elements within the place setting will remain on the table throughout the course of the meal."
Feel Free to Mix and Match
"I am loving the juxtaposition of stoneware and china," says Strausser. "Mixing in a matte stoneware option may have felt 'casual' in the past, but not anymore. Beautiful ceramic-inspired pieces paired with more formal china creates an elevated and chic yet approachable look and feel."
Embrace Personalization
"Get creative with your place setting," encourages Strausser. "Having a unique detail to indicate where guests are sitting is a fun way to add design elements with form and function. Consider incorporating a handwritten note to each guest, or a beautiful place card adorned on a bespoke token from the wedding location, or a glass of bubbly to kick off the wedding toasts."
Strausser goes on to add that to-be-weds shouldn't feel "afraid to consult your designer and bring ideas inspired by your personal aesthetic and taste. Your place setting is a moment within the wedding day that should feel totally you. As wedding guests approach their table, not only should they feel wowed by the design elements, they should feel your presence and aesthetic."
Be Mindful of Your Rental Budget
The more elements you add to your table settings, the more budget you'll need to allocate toward rentals. While over-the-top and ornate can be fun, so can pared-down and simple. Work in tandem with your wedding planner and event designer to settle on rentals that you love while staying within your wedding budget.
Elegant Wedding Place Setting Ideas
If elegant, romantic and ethereal describe your dream wedding theme or aesthetic then these wedding reception place setting ideas are the ones for you.
1. Place Setting With Square Bowl and Jordan Almonds
This couple placed their wedding favors, boxes of Jordan almonds, atop their place settings. They also set bowls at each guests' seat to better accommodate the wedding meal.
2. Place Setting With Lavender Napkin and Jewel-Tone Dahlias
We love how this couple wasn't afraid to play with color—from their lavender napkins to the vibrant dahlias blooms sprinkled onto guests' plates.
3. Place Setting With Gold Charger and Laser-Cut Acrylic Place Card
Instead of traditional paper wedding place cards, each place setting at these nuptials included a guest's name laser cut out of acrylic.
4. Place Setting With Gold Charger and Black Napkin
Elegant met glam with this design—a dark napkin complemented the jewel-tone centerpieces while also acting as a place card holder.
5. Emerald-and-Yellow Place Setting With Calligraphed Charger
A calligraphed note from the couple which read "So glad you're here!" greeted each guest as they sat down at their seat.
6. Art Deco Gold-and-Blue Place Setting
The best part about these place settings? The little boxes attached to the menu cards contained lights so they sparkled like the stars as the sun went down while guests ate in a clear top tent at this outdoor wedding.
7. Black-and-Gold Place Setting With Scalloped Charger
Instead of having one long table runner laying the length of the table, this couple put shorter table runners perpendicular to the table at each guests' spot.
8. Place Setting With White-and-Gold Scalloped Charger on Velvet Linen
The blue oval menu cards at these place settings complemented the table's blue velvet linens beautifully.
9. Elegant Wedding Place Setting With Patterned China
Ornately patterned china, paired with traditional silverware, wowed in these place settings.
Rustic Wedding Place Setting Ideas
In the midst of wedding planning for a celebration in the mountains or at a woodsy barn? As evidenced here, you don't need to include burlap in the design in order to have a beautiful rustic place setting. Save these wedding place setting ideas as tablescape inspiration for your own big day.
10. Place Setting With Blue Patterned Table Runner
We're loving all the blue seen here—from the mottled blue dishware to the Western-inspired patterned blue table linens and chambray napkins.
11. Place Setting With Hexagonal Clay Charger
Geometric terra cotta chargers anchored these table settings that were finished with colored glassware.
12. Place Setting With Dusty Blue Plaid Linen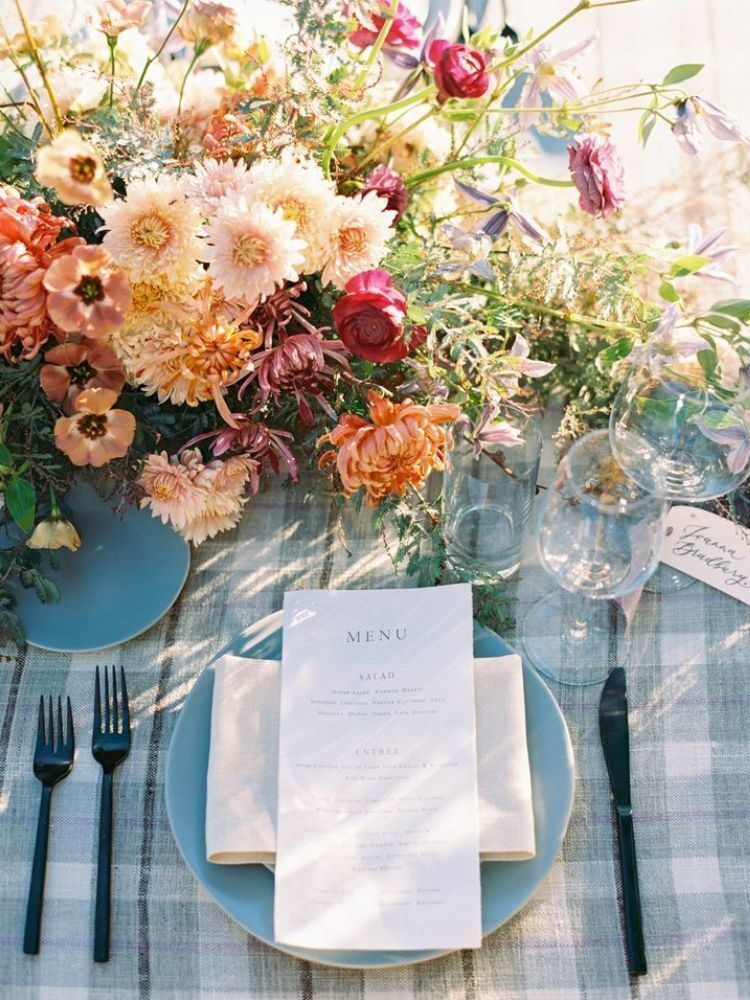 Wondering whether rustic can also be elevated and romantic? Here's all the proof you need that upscale rustic is a dreamy wedding style.
13. Wood Farm Table With Simple Dishware and Copper Flatware
To add a subtle glam dose to this otherwise rustic place setting the couple settled on metallic flatware.
14. Metallic Place Setting on Green Velvet Linen
Elegant silverware and metallic dishware beautifully popped on this table's green velvet linens.
15. Rustic Place Setting With Horse Table Number
Leather placemats, plaid napkins, wood chargers and horse figurine table numbers all worked together harmoniously to bring a rustic feel to this table design.
16. Rustic Orange Place Setting With Bird-Themed Dishware
To complement the bird feathers in the table centerpieces, this couple used avian-inspired china as dinner dishes.
17. Wood Charger With Custom Monogrammed Napkin
This couple wove a custom wedding crest throughout their entire celebration and even had their linen hemstitch napkins for dinner embroidered with the design.
18. Rustic Place Setting With Enamel Dishes
This wedding gave us major campfire vibes and we're here for it. Guests ate off of enamel plates and also departed the wedding with enamel mug wedding favors.
Modern Wedding Place Setting Ideas
Tying the knot at a contemporary art museum or urban penthouse? These sleek, modern, au courant wedding ideas deserve a spot on your reception tables.
19. Modern Place Setting With Wood Charger and Marble-Inspired Menu Card
An acacia wood charger topped with a round marble-patterned menu card brought a modern feel to this tablescape.
20. Black Place Setting With Brown Leather Napkin Ring
Caramel leather accents added a fun pop of color to this otherwise all-black wedding place setting.
21. Modern Black-and-Fuchsia Place Setting
Your place setting design is a great place to reinforce your wedding colors. Here, the couple wove their black-and-fuchsia color scheme into the tablescape.
22. Place Setting With Modern Horizontal Menu Card
A fun and modern stationery trend is to orient your paper from east to west, instead of north to south.
23. Place Setting With Modern Matte Black Dinner Plates and Flatware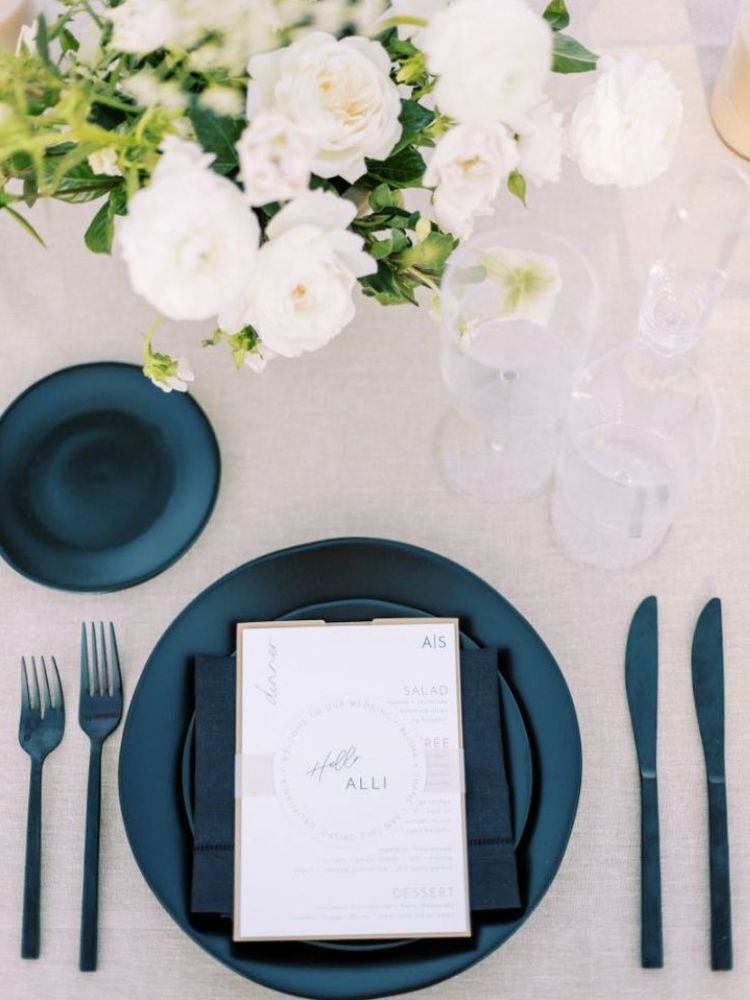 There's something so chic and timeless about an all-black design and we especially love the muted, matte approach this couple took.
Boho Wedding Place Setting Ideas
Let this boho wedding inspiration inform your modern wedding table decor. Whether you're planning a fall wedding, winter wedding, spring wedding or summer wedding, these bohemian-inspired wedding centerpieces and place settings will bring a wow factor to the big day.
24. Boho Place Setting With Rattan Charger and Leather Napkin Ring
Since so much of this design was monotone, the couple's event planner played around with textures and materials to add depth and intrigue to the setup.
25. Bohemian Place Setting With Rattan Charger and Orange Napkin
To complement the rattan chargers at every place setting, this couple selected textured pastel orange napkins.
26. Place Setting With Woven Fringe Charger
Fringe edging on this woven charger added whimsy while stoneware dishes brought a bit of crisp modernity to this look.
27. Boho Place Setting With Wood Napkin Ring
If you're looking to make your table settings feel bohemian, look to rattan, wood and leather as materials of choice to do the job seamlessly.
Simple Wedding Place Settings
If your wedding style is simple and refined, then these wedding table settings are just the inspiration you need. From cutlery and wine glasses to name cards and tablecloths, each element of these place setting ideas are sure to get your creative juices flowing.
28. Simple Place Setting With Pastel Peach Napkin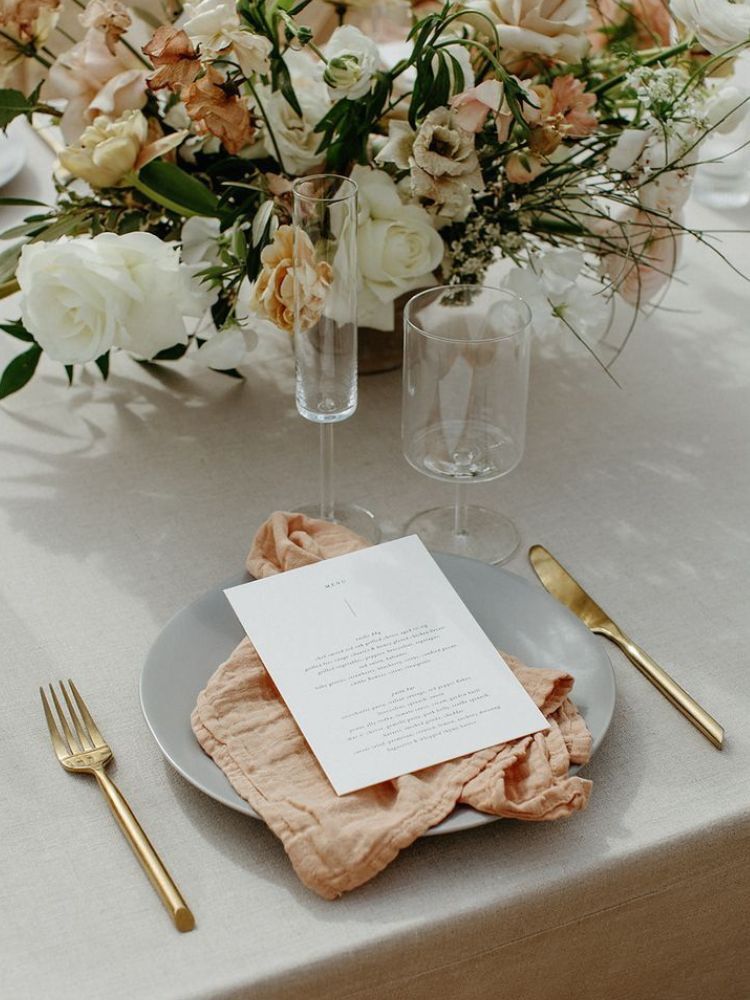 ​​This place setting with gold flatware is a great reminder that less is often more when it comes to design.
29. Simple Place Setting With Gray Stoneware Dinner Plates
Soft, simple colors ensured this design was utterly dreamy.
30. Place Setting With Gold-Rimmed Charger and Velvet Ribbon Accent
To complement the gray taper candles on the table, this couple had their menu cards wrapped in gray velvet ribbon.
31. Simple Place Setting With Gold Details
A gold-rimmed charger mirrored the gold-rimmed style of stemware and votive holders selected for this reception table design.
32. Classic Place Setting With Greenery Garland
We love the simplicity of the painted-rock place cards and lush greenery garland set atop this wedding table.
33. Minimalist Place Setting With Fern Sprig
Greenery, like fern or eucalyptus sprigs, can be a nice way to add freshness to your place settings.
Beach Wedding Place Settings
If you're heading to the coast to say "I do," these wedding place setting ideas are worth taking a peek at. Make sure to save your favorite ideas to share with your wedding vendor team.
34. Beach Place Setting With Sand-Colored Table Runner
Gauzy fabric is a great option for waterfront nuptials as it feels effortless and closely resembles driftwood.
35. Beach Place Setting With Black Monstera Leaf Menu
Just because you're tying the knot at the beach, doesn't mean you can't have some fun with a dark-and-moody color palette. Instead of typical soft pastels, this couple leaned into a glam color palette and even had their leaf-shaped menu cards made in black instead of green.
36. Tropical Place Setting With Patterned Napkin
At this outdoor wedding, a patterned linen, held in place by acrylic place cards and chopsticks, added a dose of personality to the place setting.
37. Place Setting With Tropical Leaf Charger
Since monstera leaves are so large they are a fun option for a placemat or charger atop your wedding reception tables.