Everything You Need to Know About Getting Married in Arizona
Look to The Knot for everything you need to know about weddings in Arizona, from local traditions and getting your marriage license to choosing the perfect venue.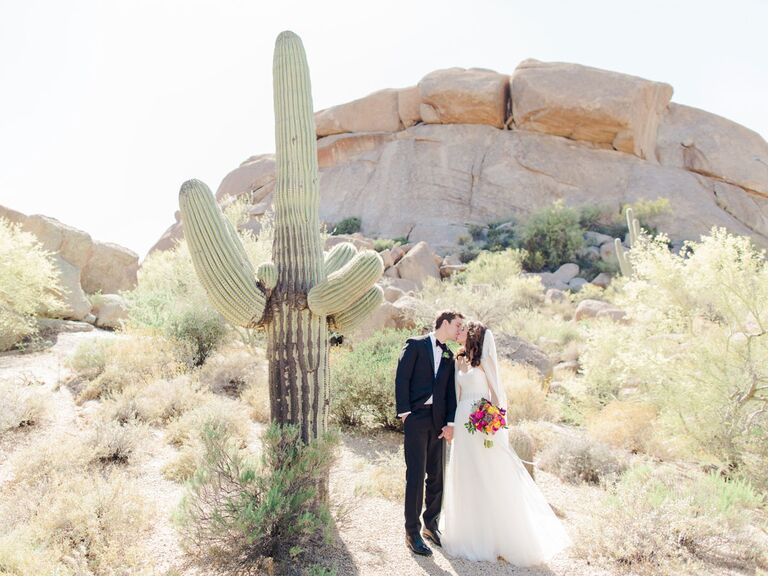 Elyse Hall Photography

Ultimate Guide to Getting Married in Arizona
With deserts, cactuses and tons of sunshine, Arizona is the epitome of the Wild West. But this southwestern state also boasts snow capped mountains and luscious green parks. These varying landscapes mean the "the Grand Canyon State" has a lot to offer in terms of beautiful backdrops for your wedding day.
Arizona is equal parts country and city. If you desire an urban wedding setting, explore Phoenix wedding venues; the state capital is one of the largest cities in the US and has many unique locales for your day. Barn weddings in Arizona are quite common in the rural areas, if you are looking for more of a western motif with bolo ties, cowboy hats and boots.
No matter your wedding style, you'll find everything you need to plan your wedding in Arizona in this comprehensive guide, including inspirational ideas based on the state's top wedding trends as well practical information like how to obtain a marriage license.
Top Wedding Trends in Arizona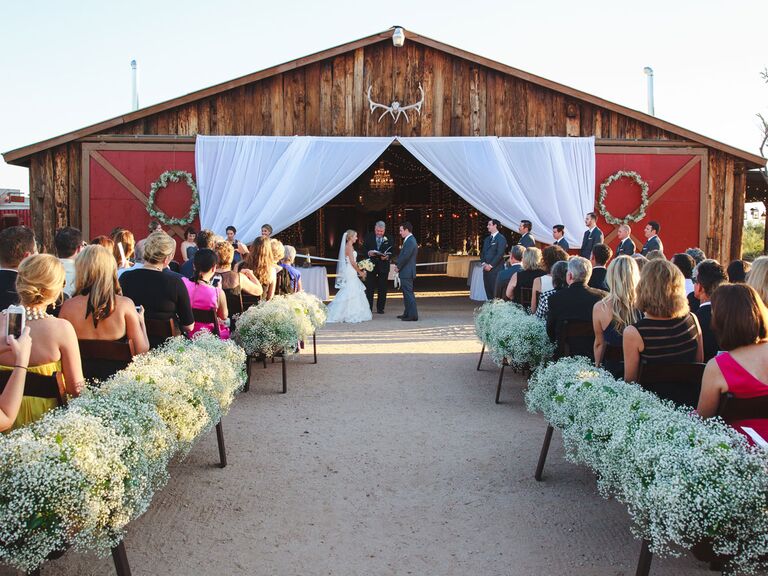 One of the biggest trends for weddings in Arizona is the number of couples who opt to have their weddings outdoors. Nationwide couples are evenly split between choosing indoor and outdoor weddings, but an overwhelmingly large number choose outdoor wedding venues in Arizona. According to The Knot 2015 Real Wedding Study, 76 percent of couples in Phoenix and 67 percent of couples in Tucson choose outdoor wedding venues.
According to our survey, between 78 percent and 85 percent of couples in Arizona go for semiformal or formal weddings, ensuring that their guests dress to the nines for the occasion. Green weddings, or eco-friendly weddings, have become quite popular in the state. From organic fabrics for the clothing to organic, local foods for the reception, Arizona couples are finding distinct ways to reduce their carbon footprint and lower their impact on the environment when planning their weddings.
Two of the state's most abundant resources—silver and turquoise—find their way into many weddings as a theme or part of the décor.
Arizona Marriage Rates and Wedding Costs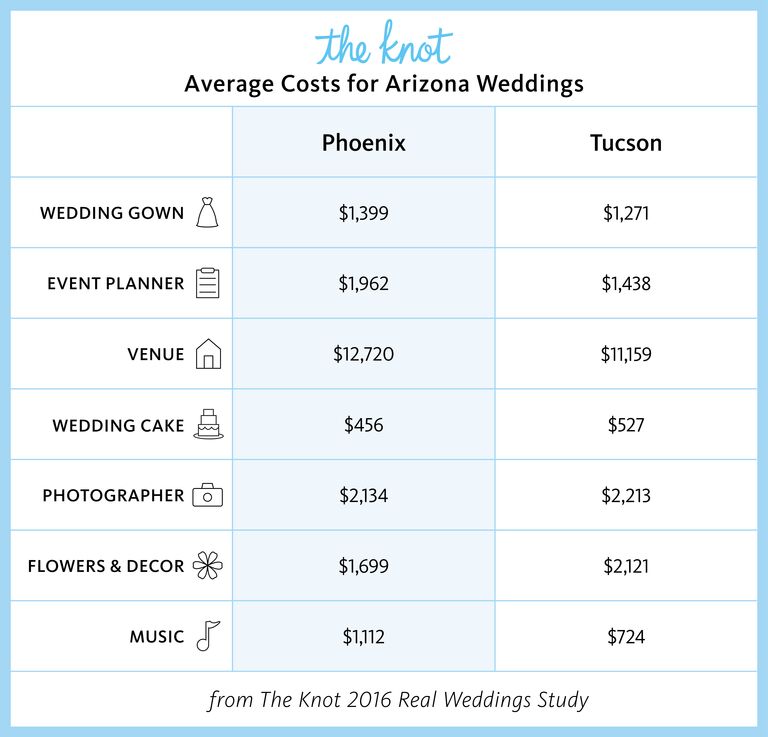 When planning a wedding, it's important to create a budget so that you can be sure you have enough money to cover all your expenses. Our budget tool will help you put together the ceremony and reception of your dreams. Costs vary from state to state, so examine the above statistics and average costs to estimate how much your wedding in Arizona will cost.
Arizona Marriage Statistics
Are a lot of people getting married in Arizona? No more than in the rest of the country. The marriage rate in Arizona is right on par with the national average at 6.8 per 1,000 people. According to The Knot 2015 Real Wedding Study, couples are spending between $219 and $265 per guest on their weddings, which is also on par with the $237 national average.
Total costs of weddings in Arizona vary considerably depending on the location. In Phoenix, couples spend $25,591 on average. In Tucson, couples spend $18,868 on average. If you're planning an intimate ceremony at a wedding chapel in Arizona, then you'll definitely spend less than on a large wedding with everyone you know invited.
Wedding Vendor Cost Breakdown
Knowing how much various items and vendors cost will make it easier to plan and budget for your wedding in Arizona. Prices vary from city to city, so understanding the different costs can help you negotiate better prices with your vendors to ensure that the total cost of your wedding stays within your budget.

Top Cities in Arizona to Tie the Knot
There are so many beautiful and unique wedding venues in Arizona. From the mountains and rolling hills in the north to the desert in the south, there are so many special places to wed. However, these two cities have the best that the state has to offer, making them the most popular destinations for getting hitched.
Make It Legal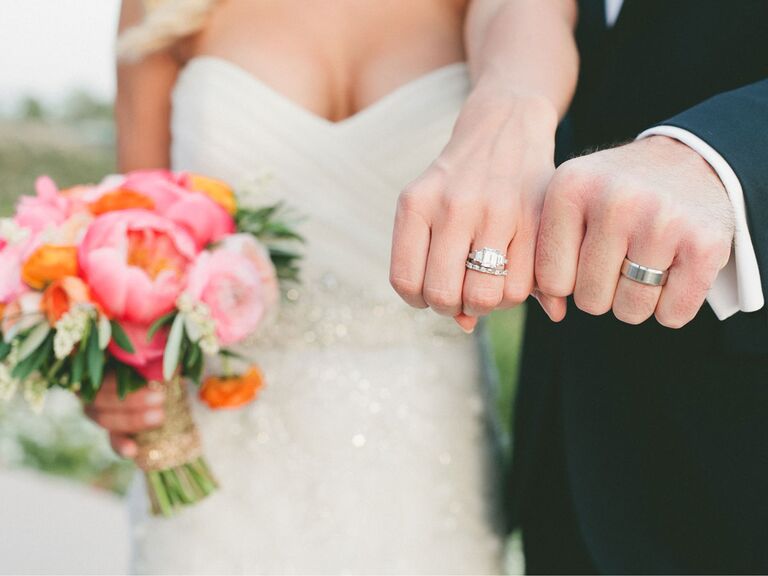 Picking out your wedding dress and tasting all kinds of delicious cakes are just two of the activities that make wedding planning fun and exciting. However, there are several other details that are not nearly as enjoyable. Getting married requires more than just meeting your fiancé at the altar to exchange vows. There's quite a bit of paperwork to complete in the weeks and months leading up to "I do." You'll need to obtain a marriage license, file for permits depending on your wedding venue, and change your name after it's all said and done. Don't know where to begin? Follow our wedding checklist to make sure you don't miss a thing.
Obtaining Your Arizona Marriage License
Getting a marriage license in Arizona is fairly easy compared with other states. There is no waiting period and blood tests aren't required. You can get married the same day that you apply for your marriage license as long as you provide all of the appropriate documentation.
To apply for a marriage license, you need:
Both parties present
Valid government-issued photo IDs for both parties to show proof of age
$76 payable in cash or by money order, bank guarantee card or credit card
The license must be returned within 30 days of the ceremony in order for it to remain valid. The ceremony must take place within a year of the license issue date. If you would like a certified copy of the marriage certificate, which is required for changing your name(s), you'll need to submit an additional $34.50 at the time of application.
Permits Required for Wedding Venues in Arizona
The good news is that all of the state and national parks in Arizona allow weddings. However, this does not mean that you can just show up on the day of your wedding and carry out the festivities. Anytime a wedding takes place in a public space, you must file for a Special Use Permit. This is required for all state and national parks. Permits are not usually needed in private Arizona wedding venues, but you will have to check with the owner of the facility to make sure that you complete all necessary paperwork.

State and national parks, like Grand Canyon National Park and Tonto Natural Bridge State Park, require reservations for weddings. These are all taken on a first-come, first-served basis. You are required to pay a non-refundable reservation fee and apply for the Special Use Permit at that time. Your reservation is not complete until you pay the deposit.
Arizona State Parks are beautiful places for hosting your wedding. Three of the state parks—Lake Havasu, Slide Rock and Tonto—have tables and chairs available for you to rent so that you can limit the number of vendors you have to work with.
How to Change Your Name in Arizona
You've said your vows, wrapped up the ceremony and returned from the honeymoon. The last step in the process before starting the next phase in your life is changing your name. The procedure is fairly simple.
In Arizona, the documents you need to change your name are:
Government-issued ID
Certified copy of your marriage certificate
Start by changing your name with the Social Security Administration. From there, go to the DMV with the above documents. Arizona law requires you to update the name on your license within 10 days of changing your name. After making the switch on your government institutions, you can change bank accounts, notify utilities and other companies with your new name.
If you want to take the hassle out of the process or simply want to avoid waiting in line at the DMV or Social Security office, then let us help. With HitchSwitch, we'll do all the work and you can complete the process in just a matter of minutes.
It's All About the Timing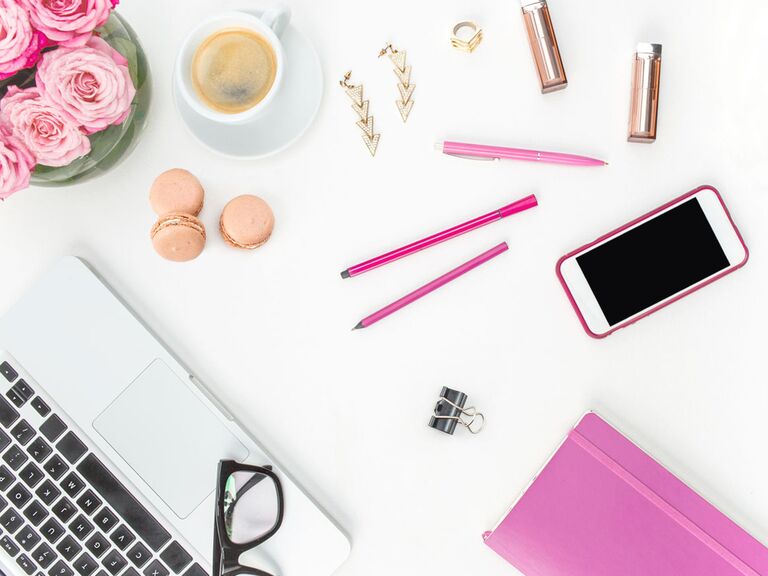 Fall and spring are the most popular seasons for getting married in Arizona, according to The Knot 2015 Real Wedding Study. The survey shows that 51 percent of couples in Phoenix and 43 percent of couples in Tucson choose dates between the months of September and November for exchanging vows. Likewise, 29 percent of couples in Phoenix and 35 percent of couples in Tucson opt for spring weddings between March and May. On the other end of the spectrum, only 7 percent of couples in Phoenix choose to have summer weddings. This is likely due to the extreme temperature conditions prevalent in the state's desert climates.
The Four Seasons in Arizona
Most people envision Arizona as being hot and dry all year long. While this is true for some areas, that is not the case for the entire state. Weather is actually quite varied and the state even sees some snowfall—typically in the northern part of the state.
Summers are by far the hottest part of the year. Temperatures average over 100 degrees Fahrenheit during June, July, August and even the first part of September, which is why only a small percentage of couples opt to get married this time of year. Temperatures start to cool down to a comfortable range—in the 70s and 80s—by fall. This is delightful weather if you opt for an outdoor wedding venue in Arizona.
Winters in Arizona are generally mild. While snowfall is common in the northern part of the state, particularly in the mountainous regions, temperatures generally stay in the 60s and 70s throughout winter. Rain is also heavier, though couples likely won't have to worry about rain on their wedding day no matter which season they choose to hold the event. Average rainfall each month is only around 1 inch, and it is even lower in late spring.
You can expect sunshine and beautiful weather in Arizona all year long. Although the summer months can get quite toasty, the rest of the year is comfortable no matter if you are in the mountains or the desert.
Dates to Avoid Getting Married in Arizona
Because Arizona has some of the largest cities in the country, it hosts some major events throughout the year. These events draw thousands of people to the area, limiting the resources available for your wedding.
The Tucson Gem, Mineral & Fossil Showcase is the largest of its kind, drawing people from all over the world to Tucson. It's an annual two-week long convention that has been held since 1955. In 2017, the showcase will return from January 28 to February 12.
Those who follow college football flock to the University of Phoenix Stadium to watch the Fiesta Bowl, where, every three years a semifinal game takes place. This event draws huge crowds during the last week of December or first week of January.
Check out our comprehensive guide of dates to avoid and take a look at some major events in Arizona to consider when planning your wedding:
El Tour de Tucson, Tucson (mid-November)
Tucson Folk Festival, Tucson (early May)
Parada del Sol Parade & Trail End's Festival, Scottsdale (early February)
Arizona Renaissance Festival, Gold Canyon (February through early-April)
Scottsdale Culinary Festival, Scottsdale (early-April)
World's Oldest Rodeo, Prescott (late June to early July)
Great Guest Experiences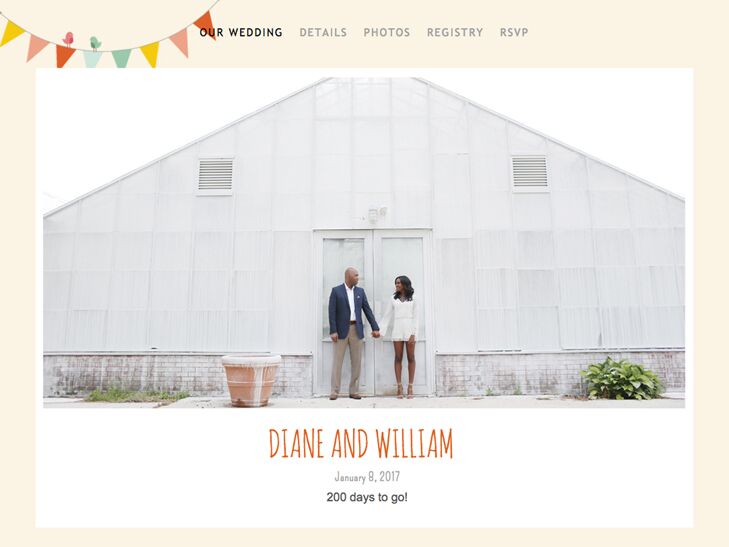 Bringing all of your friends and family together to celebrate your marriage is a lot of fun, yet at the same time, a lot of work. Managing a large number of guests while planning your wedding takes a great deal of time. You want to make sure that your guests are comfortable and entertained during their stay in Arizona. Make sure that they know all of the wonderful things to see in the state and can find their way around town. Create your own wedding website on The Knot so that all of your guests can stay up to date on the latest happenings regarding your celebratory plans.
Around Town: What to Do and See in Arizona
Whether you enjoy hiking through beautiful natural landscapes or spending your time taking in the culture in the comfort of air conditioning, there are several places to check out while in Arizona. After you've tied the knot, your family and other guests can spend their time taking in some of the culture and heritage that Arizona has to offer.
Here are some of Arizona's top tourist attractions:
Grand Canyon (one of the Seven Natural Wonders of the World)
Hoover Dam
Havasu Falls
Petrified Forest National Park
Mount Lemmon Ski Valley
Desert Botanical Garden
Heard Museum of Native Cultures and Art
Phoenix Art Museum
Finding Your Way: Arizona Travel Info
Getting to and from Arizona as well as traveling around the cities is easy. Arizona has two major airports that both offer domestic and international flights: Phoenix Sky Harbor International and Tucson International. Because the state is moving toward eco-friendly transportation, you'll find a number of public transportation options. While city buses are among the most prominent, there is also the Valley Metro Rail, which is a light rail system that travels through Phoenix, Tempe and Mesa. It has 35 stations, making it easy to get around in the large city.
If you're traveling by car, then finding your way around Arizona is also simple. Many of the state parks and other attractions are located just off the major interstates. For example, the Petrified Forest is right along I-40 while the Montezuma Castle National Monument is located just off of I-17. Other major interstates include I-10, I-8 and I-19.
Go Local: Food and Favors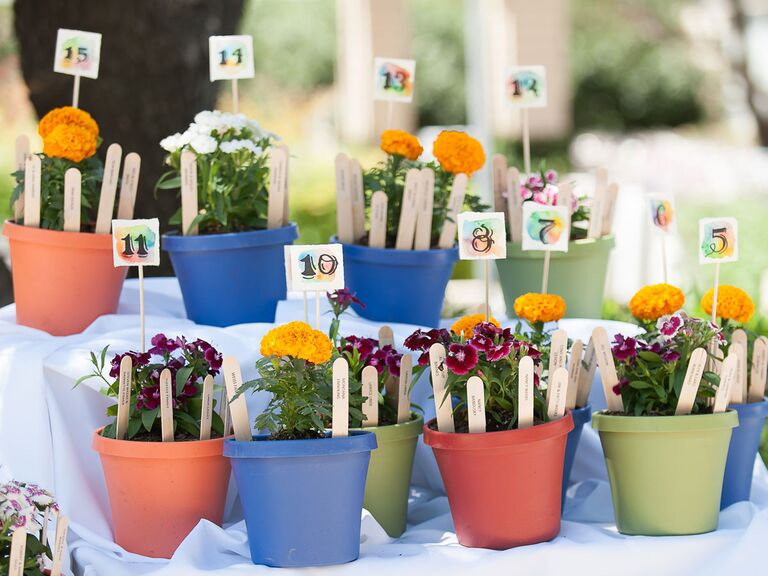 Whether you've lived in Arizona your entire life or have just recently moved here, you can get the most out of the state's natural beauty by incorporating a bit of local flair into the reception and the ceremony. Consider adding a few of these Arizona treats into your wedding to make the day extra special. Check out The Knot Shop for other personalized favors.
Local and Regional Arizona Cuisine
Arizona's local and regional cuisine is centered on foods that can be grown, farmed and cultivated in the hot desert climate. Corn, squash and wild mushrooms are traditional foods that are still worked into new and exciting recipes prominent in the region.
The sharp needles on the cacti are often a signal that we should stay away from the plant. However, in Arizona these make for good eating. The saguaro cactus is sweet and often used to make syrup. The Turquoise Room in Winslow is a restaurant known for its decadent saguaro syrup. The prickly pear cactus is another popular treat in Arizona. You can eat both the pads and the flowers. Use it to make jelly and salsa, or have a bit more fun with it and use it to make locally inspired margaritas for your wedding reception.
If you want to try some of the locally raised meats, then be sure to check out dishes made from Navajo-Churro sheep. It's tender, flavorful and unlike any other meat you've ever tried. If you're not ready to get too experimental, then be sure to check out some of the local favorite restaurants like Rusconi's American Kitchen and Pomo Pizzeria Napoletana in Phoenix.

Do Your Guests a Favor: Arizona Wedding Favors
There are so many personalized gifts that you can give to your wedding guests so that they will remember your wedding. The beauty and freedom of Arizona can be reflected in the items you choose to include in your guest welcome bags or as favors at the reception. Check out some of these items to get inspired:
Give them a touch of Arizona flavor with a jar of prickly pear cactus jelly or saguara syrup.
Wrap up desert-inspired cookies in the shape of cacti, chili peppers or other Arizona symbols.
Jordan almonds are a classic wedding favor. Put an Arizona twist on the gift by choosing turquoise colored candies to represent the state gemstone.
Potted plants with cacti, succulents or flowers are great for your escort table and can then be taken home as guest favors.
Arizona City Guides
While unique wedding venues in Arizona can be found throughout the state, The Knot 2015 Real Wedding Study identified these two cities as the top locations to get married. Because they are the two largest cities in the state, they have more options for venues and vendors. Once you've selected your location, use our vendor marketplace to find all of the essentials for your wedding day.
Phoenix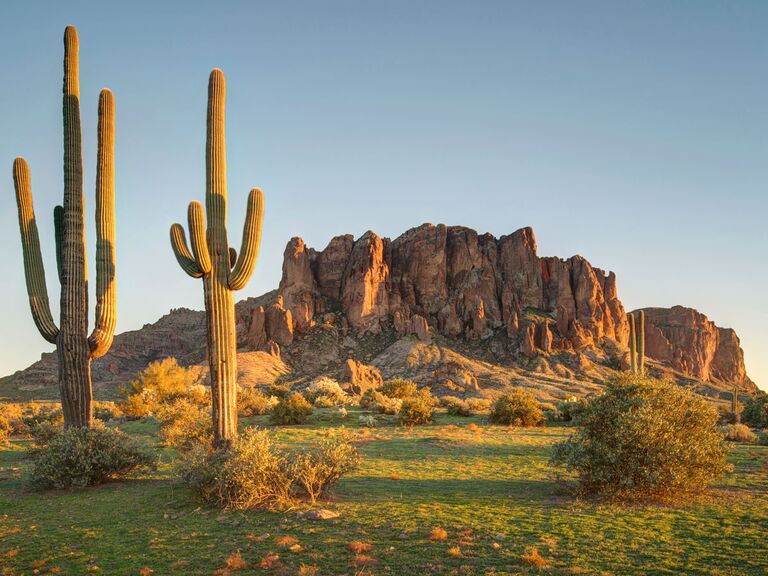 Phoenix is not only the largest city in Arizona, but it is also one of the largest cities in the country. As such, you'll find a number of beautiful venues and vendors to put together the wedding of your dreams. Despite being in the middle of the desert, Phoenix is surrounded by beautiful natural landscapes. Mountains, forests, rivers and lakes all provide a picturesque backdrop for your Phoenix wedding.
To add a bit of cultural flair to your wedding, travel south to the Gila River Indian Community. You'll find beautiful Phoenix wedding venues, handmade and unique artifacts and delicious foods to include in your ceremony and reception.
The stunning architecture and thriving arts community in the area also add to the beauty and diversity of the wedding venues in Phoenix. The Desert Botanical Gardens, Japanese Friendship Garden, Wrigley Mansion and Heritage Square are just a few of the gems in the thriving city of Phoenix.
For local Phoenix vendors, check out:
Tucson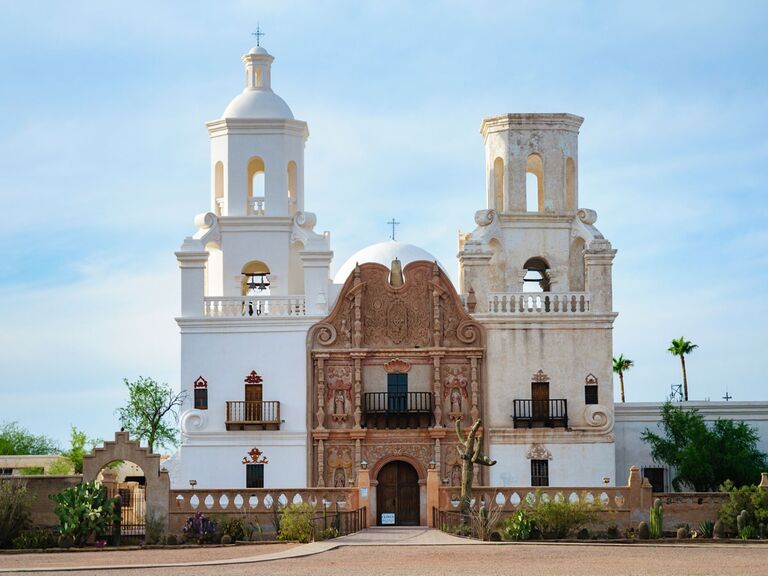 Tucson is the second largest city in Arizona based on population. With Saguaro National Park to the west and east and the Catalina foothills to the north, Tucson is surrounded by natural beauty. Wedding venues in Tucson are as diverse as the people living there.
For indoor weddings, there are a large number of country clubs and resorts with the finest facilities in the area, often overlooking luscious green golf courses. Outdoor wedding venues include Kingan Gardens and Stillwell House and Garden, which both have beautiful botanical backdrops for your wedding day.
For local Tucson vendors, check out:
Check out more Arizona wedding inspiration here.

Don't forget to download The Knot Wedding Planner app—it's a must-have for on-the-go planning.
Download for iOS: Wedding Planner App by The Knot

Download for Android: The Knot Wedding Planner