What to Know About Using Artificial Wedding Flowers for Your Big Day
Here's why some couples are opting for fake wedding flowers instead.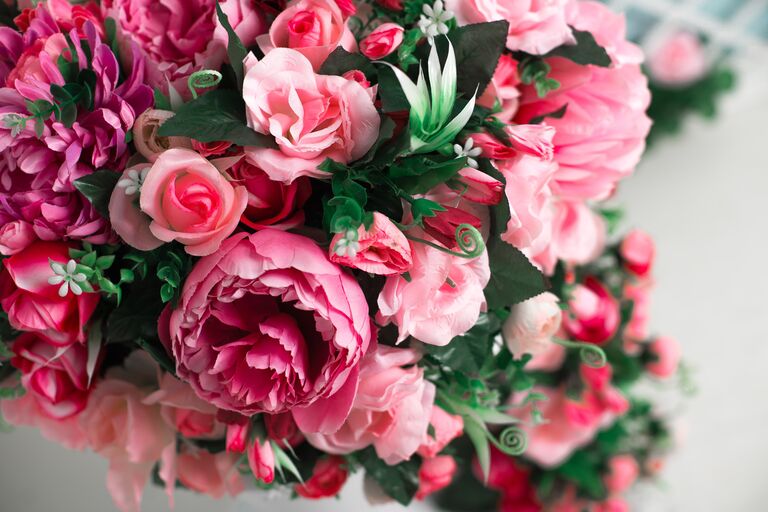 Philipp Gurov/Shutterstock
One thing many couples and guests love about a wedding is the floral accents. Brides and grooms-to-be alike are getting more involved in their own wedding planning, and flowers make such a statement on a wedding day. Many couples are even opting for artificial wedding flowers to craft their own bouquets and centerpieces to fit their unique vision. Here's what you should know about using artificial flowers for your wedding, and how they may save you time, money, and energy that can go towards your celebration instead.
What Are Artificial Wedding Flowers?
Simply put, artificial wedding flowers are human-made. They can be made out of fabric or other materials to look similar to real flowers, but they are not grown from the earth, ready to be picked. They're a viable alternative for couples looking to save on their special day, while also having an arrangement they can enjoy for years to come. Read ahead to see how realistic fake flowers may be the right choice for your wedding.
Pros of Artificial Wedding Flowers
While you may miss the feel of real flowers, there are some key advantages to using artificial flowers instead for your wedding. Here are some of the benefits of using fake wedding flowers to enhance your big day.
Available Year-Round
No matter the season, you can count on artificial flowers to have the shapes and colors you desire. If you're looking for a bouquet with a variety of flowers, you don't have to wait for them to be in season. Summer wedding flowers can appear in winter, and vice versa. This option is also great for playing around with wedding flowers ahead of time for bouquets, boutonnieres, and tabletop displays.
DIY-Friendly
If you've got some great DIY ideas for your wedding, using artificial flowers is a great choice. You can even play around with different styles of fake flowers, such as silk, foam, or paper for a unique look. These wedding flowers are the perfect option for couples who want better control of their aesthetic.
Lower Cost
Real flowers unfortunately cost much more than fake flowers. Since florists may have to ship in flowers for bouquets, this can run up quite a hefty bill. With artificial flowers, they're more accessible and you don't always have to rely on a florist for them. According to Something Borrowed Blooms, couples can save over 70% of the traditional cost of fresh flowers when they choose artificial ones, like premium silk wedding flowers.
Long-Lasting
Since artificial wedding flowers are durable, they're also reusable. You can display them in your home for years after the wedding if you choose, which you can't do with real flowers unless you preserve them. Or if you want another couple to use it on their wedding day, you can easily loan it or sell it.
Cons of Artificial Wedding Flowers
While fake wedding flowers have many advantages, there are a few downsides to consider. Here are some disadvantages of using artificial flowers over real ones.
Pay More for Realistic-Looking Flowers
Artificial flowers can be bought most anywhere, from dollar stores to craft stores. However, you will have to pay a higher price for fake wedding flowers that look more realistic. Silk wedding flowers, for example, will cost more than cheaper fabrics, so double-check your budget to allot enough for your floral arrangements.
Color May Fade
When choosing your wedding colors, you want to make sure all aspects of your decor pop. While real flowers may wither and not last very long, you also have to be cautious to not order your artificial wedding flowers too early and risk their colors fading. A certain amount of upkeep and cleaning is required to keep your fake flowers their "freshest" so consider buying them a month or two before the wedding.
No Floral Scent
For some, this may be a deterrent to using artificial flowers. However, people who have allergies or sensitivities to smell may appreciate the lack of real flowers. And if the floral scent is something you truly want, you can always spritz your fake wedding flowers with floral-scented perfume on the big day.
Types of Artificial Wedding Flowers
According to an internal study, couples, on average, spend $2,300 on wedding flowers. Let's take a look at some of the best alternatives for wedding flowers and how much they can potentially save you.
Silk Wedding Flowers
Silk wedding flowers are more often than not made from another type of fabric, such as polyester. This is a popular choice since they're easy to mix and match with real blooms. A silk wedding bouquet may cost between $20 to $100.
Polymer Wedding Flowers
Also called real touch flowers, polymer wedding flowers are the closest to genuine petals in look and feel. However, out of all fake wedding flowers, this one will cost the most because of its quality. Generally, one of these bouquets can cost more than $300.
Foam Wedding Flowers
Foam wedding flowers are dyed, thin foam petals glued around a styrofoam center, and they're one of the more versatile and cost-effective options. These typically range anywhere from $10 to $50 for packs of individual flowers.
Paper Wedding Flowers
Paper wedding flowers use paper materials that are cut and shaped like blooms. Since these flowers require a certain skill set, they may cost you more if you aren't doing them yourselves. Prices typically range from $20 all the way up to $200 and beyond for more elaborate displays.
Wax-Coated Wedding Flowers
For a flower that's high in quality and still artificial, wax-coated wedding flowers are another realistic-appearing alternative. These are the most expensive, however, often costing upwards of $100 or more, depending on the seller.
Best Ways to Incorporate Artificial Wedding Flowers
Incorporating artificial flowers into your wedding is a fun and creative idea that saves time and money. How should you add these fake wedding flowers to your decor? Here are some tips.
Combine Real and Artificial
Mix your artificial wedding flowers with real ones for a beautiful display. This is especially helpful if you want some flowers that aren't in season or difficult to get for your big day's date.
Create a Floral Backdrop
Artificial flowers are perfect as backdrops, photo spots, ceremony arches or even hanging accents. You can create a floral statement piece that your guests will be in awe over. Plus, using fake wedding flowers for this decor allows you plenty of time to construct it yourself.
Add Them to Other Decor
Wedding decor doesn't strictly have to be flowers. Many couples are opting for balloons, lights and other unique fixtures to elevate their aesthetic, and adding artificial flowers to these accents is a smart choice since it incorporates your colors and florals throughout the venue.
Make it a Theme
If your wedding day has a special theme, such as fairytales or comic books, incorporating paper flowers in your centerpieces or boutonnieres is a clever way to add personality. You can even make paper flowers out of sheet music that holds a special meaning for you and your spouse-to-be. The possibilities are endless.