The Ultimate Guide to In-Season Summer Wedding Flowers
Celebrate summertime nuptials with seasonal blooms.
There's so much to love about summer weddings, especially the wide variety of seasonal options for summer wedding flowers. Summer's warm temperatures mean that many flowers naturally blooms from late May through June and July and into August. As such, you're sure to be able to find some great summer flowers that will fit your wedding theme and color palette beautifully. Whether you're having a boho beach wedding, a DIY rustic wedding by the lake or a whimsical vineyard affair, flowers are a major decor moment and a great resource for reinforcing your dream wedding aesthetic.
In this story:
What To Consider When Sourcing Summer Wedding Flowers
Once you book a florist and get to work sifting through all your wedding ideas, there are a few things you'll need to consider while wedding planning. Beyond settling on an ideal color palette and theme, it's important to be strategic about what varieties of flowers you use. Chances are your florist is able to procure a wide variety of seasonal flowers, but that doesn't necessarily mean that all of those varieties are the best fit for you and your wedding.
Harsh Temperatures Can Cause Premature Wilting
Some delicate flowers, like hydrangea, may be procurable during summertime, yet not necessarily the best bet for your wedding day needs. The long duration of weddings, paired with the heat of summer, means that durable wedding flowers are a must if you want to ensure your floral designs look just as good at the end of the night as they did at the beginning of the wedding ceremony. You don't necessarily need to avoid delicate flowers altogether, but make sure to speak with your floral designer and find a way to use them sparingly and thoughtfully.
Have Fun With Color and Texture
Summertime weddings are practically begging to be filled with vibrant wedding colors. So many summer wedding flowers are naturally prismatic–from eye-catching coral charm peonies to orange and yellow Gerbera daisies—so don't be afraid to have some fun by playing around with bright colors in your summer wedding bouquets, boutonnieres and wedding centerpieces.
Wedding Flowers That Are in Season During the Summer
Sourcing in-season flowers is a great idea for many reasons. Firstly, you ensure that the blooms used on your wedding day are as fresh and vibrant as possible. Additionally, seasonal flowers are generally a more budget-friendly option than having to ship in out-of-season flowers from elsewhere. And summer to-be-weds are in luck, there are some great seasonal options that couples tying the knot with a winter wedding, fall wedding or even spring wedding may not have at their fingertips.
Peony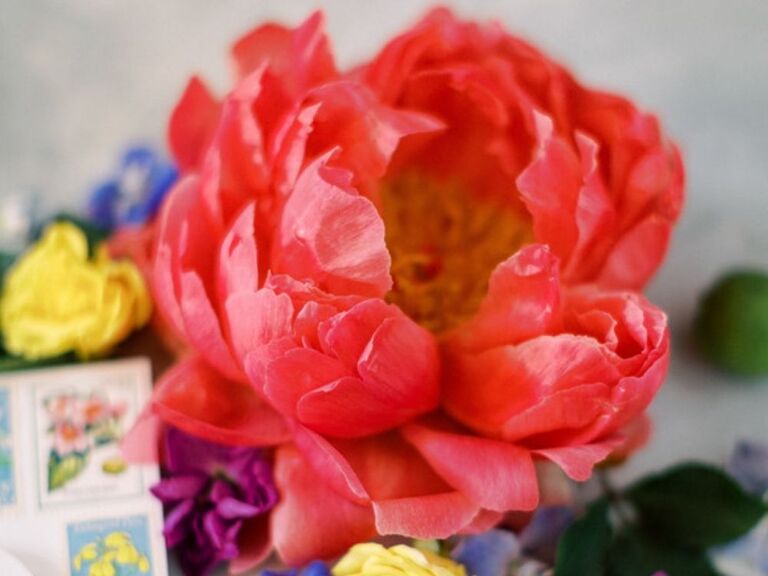 Peonies have a fairly limited growing season that begins in the spring and ends midway through the summer, generally in late June. And while the plant is only available for a short time every year, its lush petal structure is a dreamy option for bouquets.
Cornflower
Often when to-be-weds say they want wildflowers in their arrangements, cornflowers are a go-to variety to add to the mix. The blue blooms also adds a fun pop of contrast to greenery-centric designs.
Tweedia
Tweedia is another fun blue summer flower. The flower, which starts blooming during the summer and continues to bloom into the fall, is relatively small which makes it a great boutonniere option.
Dahlia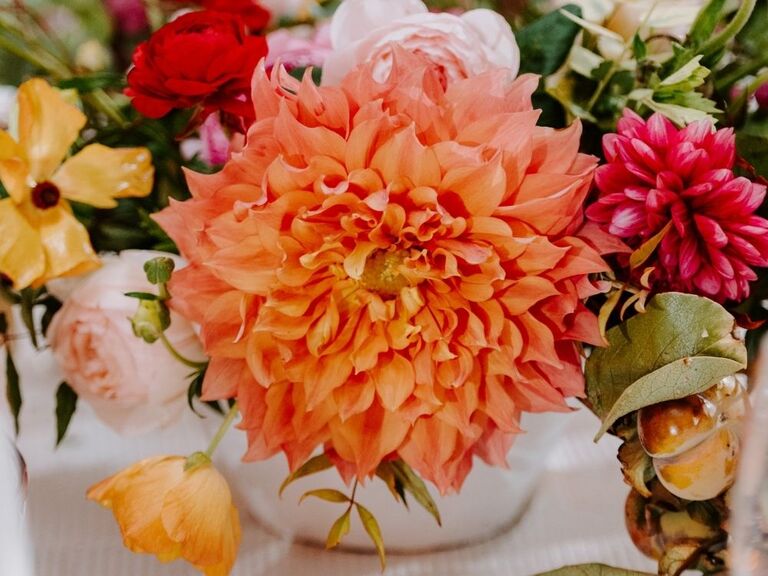 Like peonies, dahlias are a show-stopping flower that can sometimes be hard to come by. The flower generally blooms from May through October so it's a solid summer choice, especially for May and June couples as those two months are generally considered peak dahlia season.
Hydrangea
Hydrangea can be a great option for large-scale installations, like wedding arches, but should be used strategically since they're fairly delicate. If possible, work with your florist to plan out ways to use them where they won't be in direct sun for too long.
Iris
Fans of purple, irises are the way to go. The plant has a unique petal structure that almost resembles an orchid, thanks to its Rorschach-like appearance.
Protea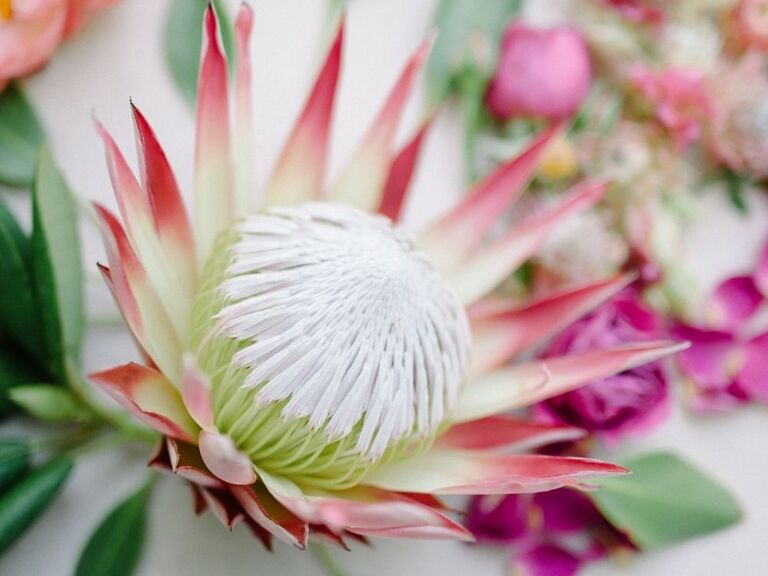 Not only are proteas super trendy and eye-catching, but the plant is also hearty which makes it a smart choice for hot summer weddings. The plant, which comes in a few varieties such as pincushion and king, has a fairly long growing season making them a reliable choice for summer couples.
Cosmo
Cosmos are often mistaken for daisies since they share an uncanny resemblance with the iconic flower. Cosmos come in a wide variety of colors, from hot pink to dark burgundy.
Freesia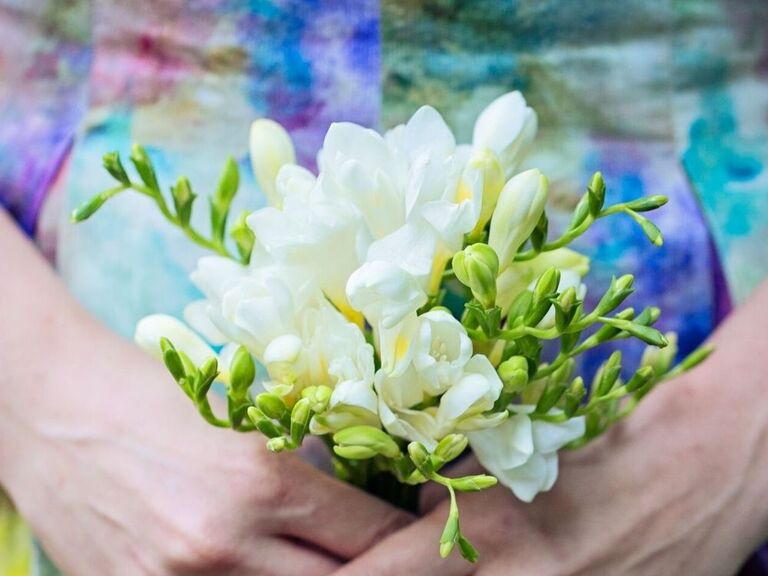 Although Miranda Priestly iconically insulted freesias in the film The Devil Wears Prada, these white flowers are actually a great option for weddings. As Meryl Streep's quote "Do I smell freesias?" suggests, the blooms are rather fragrant and, as such, may be best when used sparsely.
Sunflower
Sunflowers are an iconic summer wedding flower and look especially great at rustic and whimsical weddings.
Poppy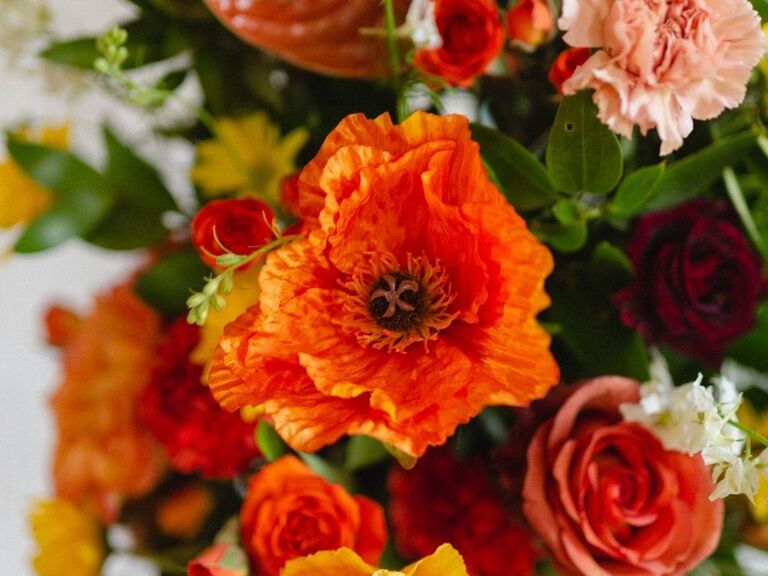 Poppies are predominantly a spring wedding flower, but their blooming season generally extends through May and many early summer couples should be able to source these brightly colored flowers without much trouble.
Zinnia
Another solid option for to-be-weds who like the wildflower look, zinnias come in a wide variety of colors from yellow and orange to darker reds.
Stock
Stock flowers bloom from spring and into summer. The long stems and white blooms of stock makes the plant a great filler option for arrangements, especially if you have a mostly white wedding color palette.
Snapdragon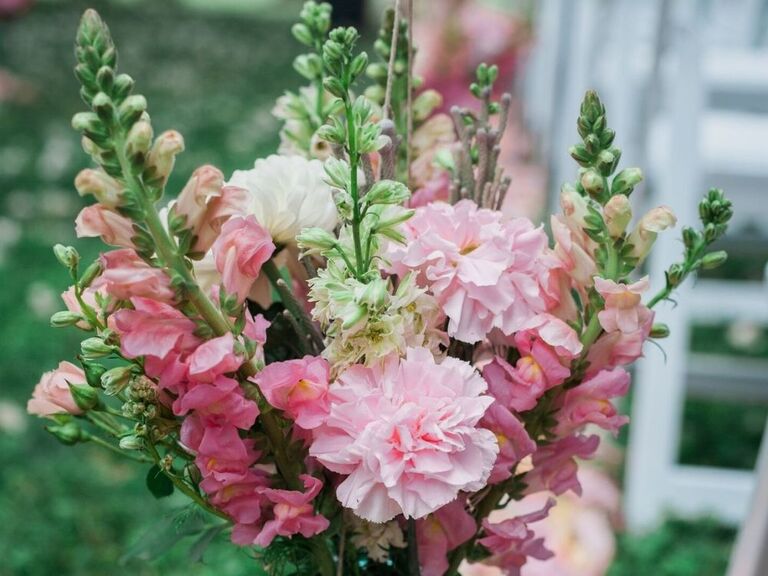 Snapdragons bloom from spring until the first frost of fall, but should be used thoughtfully during the summer since intense heat can cause the flower to rapidly wilt.
Queen Anne's Lace
Queen Anne's lace is similar to baby's breath and works well as a filler for arrangements.
Bougainvillea
Especially popular in California, this vibrant fuchsia flowering vine is a nice addition to arrangements looking for a pop of color.
Year-Round Flowers to Consider for a Summer Wedding
Many popular flowers, especially much-beloved garden roses, are available all year long. So as you're deciding on the ideal varieties to use in your summer wedding, don't limit yourself only to summer seasonal flowers, consider year-round options that may lend themselves to your aesthetic as well.
Rose
Roses are the most popular wedding flower and it's not hard to see why so many couples love the bloom. Since roses are so commonly used in wedding arrangements, they're relatively easy to procure and are definitely worth considering for your wedding designs.
Lisianthus
Lisianthus blooms can easily be mistaken for roses since they have a similar look. However, a lisianthus bloom is generally a bit smaller than a rose, which makes it a great option for boutonnieres in particular.
Carnation
If you're looking to save some money on your floral budget, carnations are a solid filler flower option to consider. Since their ruffled texture is similar to peonies, you could consider having peonies in your bouquet while asking the florist to swap in carnations for bridesmaid bouquets as a budget-conscious option.
Daisy
Daisies are a fun and whimsical option to incorporate in your designs. If you're looking for a burst of color, Gerbera daisies are the way to go since they come in a myriad of colors.
Delphinium
Also referred to as larkspur, delphinium is a tall plant that resembles stock or snapdragon. Delphinium comes in a variety of colorways, from pink to blue, making it a great choice for a wide variety of couples.
Anthurium
A great choice for tropical and beach weddings, anthurium is identifiable by its heart-shaped leaf bloom that has a prominent stamen. Anthurium is a hearty bloom that can be cultivated year-round, but its tropical vibe makes it an especially great fit for summer celebrations.
Chrysanthemum
Crystalanthemums, especially spider mums, add nice texture to any arrangement they're included in.
Gorgeous Summer Wedding Flower Arrangement Ideas
Now that you have a solid grasp on what flowers are available on your wedding date, it's time to dream up beautiful bouquet and centerpiece ideas to fill the celebration. Let these eye-catching summer flower arrangements inform your own design decisions. And don't forget to save your favorite options to share with your florist!
Yellow Craspedia and Rose Bouquet
Yellow is a great color for summer bouquets. From craspedia to yarrow and daisies, your options for yellow blooms are vast.
Sunflower, Thistle and Craspedia Bouquet
Sunflowers were the star of the show in this cascading summer bouquet.
Cascading Bouquet With Clover and Cornflower
Colorful clover and cornflower blooms added a burst of color to this cascading bouquet.
Orange Zinnia Centerpiece
Orange zinnias were the focal point of this wildflower-inspired centerpiece.
Succulent and Rose Bouquet
To complement the desert venue of this wedding, the bridal bouquet included eye-catching succulents.
Colorful Wildflower-Inspired Bouquet
Cascading vines added a perfectly undone feel to this bouquet which included yellow ranunculus, pink roses and blue cornflower.
Peach-Hued Anthurium and Rose Bouquet
Peachy roses, dahlias and ranunculus complemented the single anthurium bloom which was this arrangement's focal point.
Colorful Rose and Delphinium Chuppah
Flowers in a rainbow of colors decorated this chuppah at a mountain wedding in Colorado.
Orange-and-White Ranunculus, Rose and Sweet Pea Bouquet
Orange roses and white butterfly ranunculus blooms worked harmoniously in this bouquet for a summer desert wedding.
Pampas Grass, Peony and Rose Wedding Arch
The circular arch at this waterfront wedding was decked out with pampas grass, pink peonies and blush roses.
Pastel-Hued Peony and Delphinium Bouquet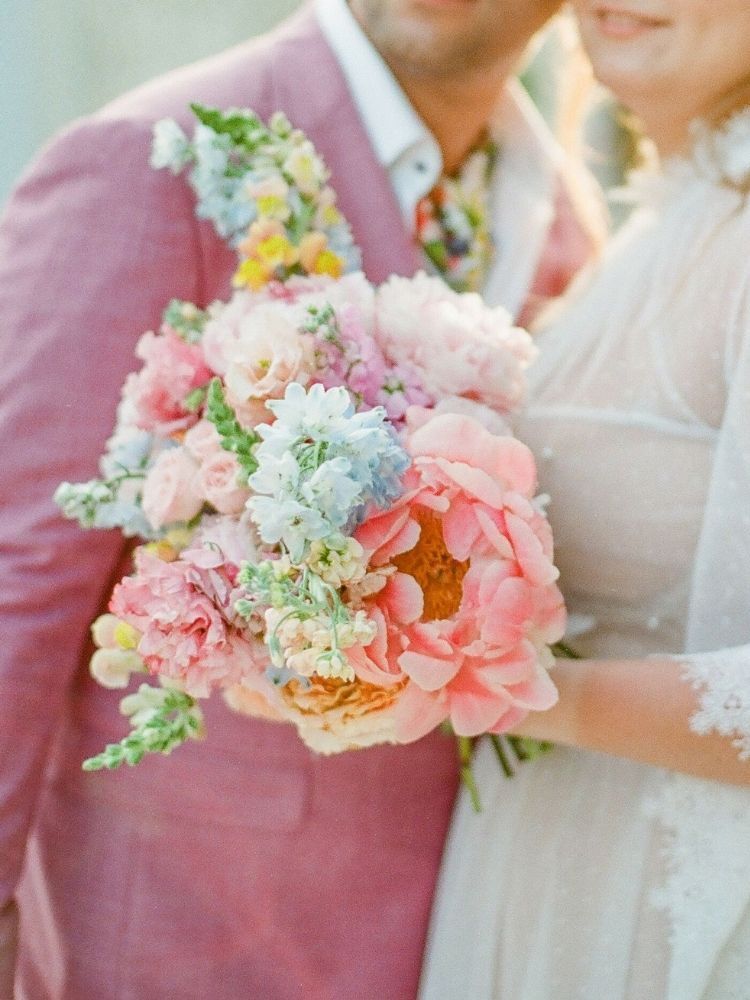 Coral charm peonies, identifiable by their pink petals and yellow center, are a popular option that's sure to wow in wedding arrangements.