The 70 Best Wedding Bouquet Ideas of All Time
Go ahead and swoon, these are the very best wedding bouquet ideas ever.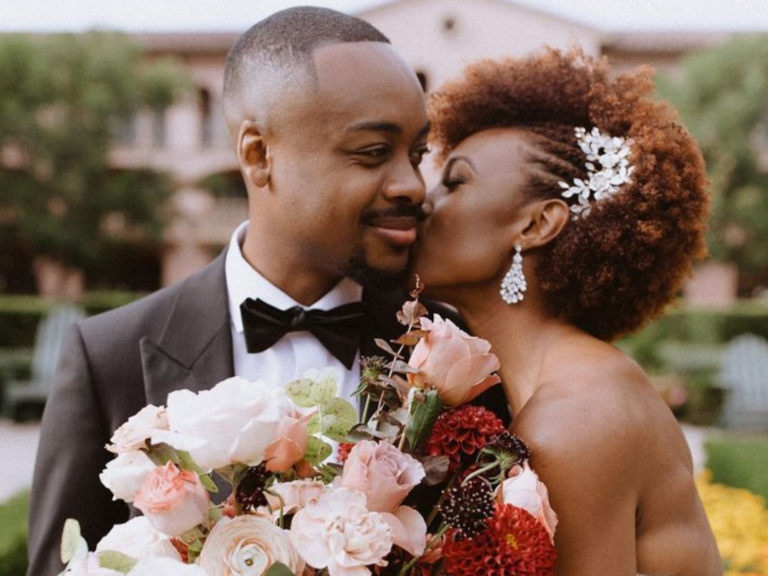 Gathering floral design inspiration is one of the most fun wedding tasks out there. It's hard to peel yourself away from scrolling through bouquet after bouquet packed with lush garden roses and peonies or eclectic bunches of pampas grass and protea. We're not here to judge if you find yourself peeking at dreamy wedding bouquet inspiration at lunch, while walking down the street and even as you're waiting for the elevator. In fact, we're here to say "go for it!" We've rounded up the very best of the best wedding bouquet ideas so that all the flower inspiration you could need is in one convenient place: right here. Go ahead: Drool over these awe-inspiring wedding bouquets.
In this article:
Wedding Bouquet Top Tips
Decide on Your Overall Wedding Vision First
Alyssa Abshier and Victoria Nadler, co-founders of Amber Sol Collective, encourage to-be-weds to "figure out what the overall style of your wedding is before you discuss your flowers. With so many varying styles of flowers and flower arranging, the aesthetic of your blooms can and will help dictate the style of your whole day. If you're the chic and minimal type of to-be-wed, you may be looking for tighter arrangements with more traditional colors. Whereas if you're the whimsical and free-spirited to-be-wed, you may be looking for wispier, more organic types of flowers."
Keep Scale in Mind
Bron Hansboro, the owner of The Flower Guy Bron, stresses the importance of "considering your height if you're opting for a cascading bouquet with an overgrown look. The arrangement should be a statement piece, not something you're hiding behind!"
Complement the Wedding-Day Attire
CeCe Todd, the owner of CeCe Designs, says that the first thing she does with clients is to inquire about their fashion. "If you have a ton of beadwork or a very elaborate bodice, I want to try to make you a simpler bouquet. On the other hand, if you have a very simple dress, I want to try to make your bouquet a little bit more extravagant to stand out against it."
Soft-and-Romantic Wedding Bouquets
There's something so calming about looking at a pastel- or neutral-hued arrangement of lush roses, lisianthus and ranunculus. Soft-and-romantic wedding bouquets are both totally of-the-moment, yet equally timeless, meaning you can't go wrong with a dreamy, elegant flower arrangement for your big day.
1. Coral Charm Peony Bouquet
Trailing vines of spirea added fullness to this bouquet of vibrant pink Coral Charm peonies.
2. Petite White Anemone Bouquet
The eye-catching black centers of these anemone blooms added dramatic contrast to this gorgeous bouquet.
3. Peony and Cosmo Bouquet
This romantic bouquet would be perfect for a spring wedding.
4. Anemone, Peony and Rose Bouquet
Dried silver brunia berries added a fun wintry touch to this bouquet, perfect for a winter wedding.
5. Snowflake Flower, Garden Rose and Butterfly Ranunculus Bouquet
The peach hues of this gorgeous bouquet popped again the bride's white wedding dress.
6. White Wedding Bouquet With Olive Leaves
While eucalyptus is commonly used as filler foliage, this floral designer went a unique route and chose stunning olive branches to complement the white roses in the arrangement.
7. Pink-and-White Rose Bouquet
An assortment of wildflower-inspired filler accented the soft roses in this romantic wedding bouquet for a summer wedding.
8. Ranunculus, Rose and Scabiosa Bouquet
Dried ferns and olive leaves added a boho feel to this otherwise romantic bouquet, which fit the couple's desert wedding locale perfectly.
9. Peach-Hued Orchid and Rose Bouquet
Peachy dendrobium orchids were the star of this bridal bouquet.
10. Hyacinth, Ranunculus, Rose and Sweet Pea Bouquet
For this fall wedding bouquet, the floral designer used an assortment of flowers in a tawny colorway.
11. Fringe Tulip, Peony and Rose Bouquet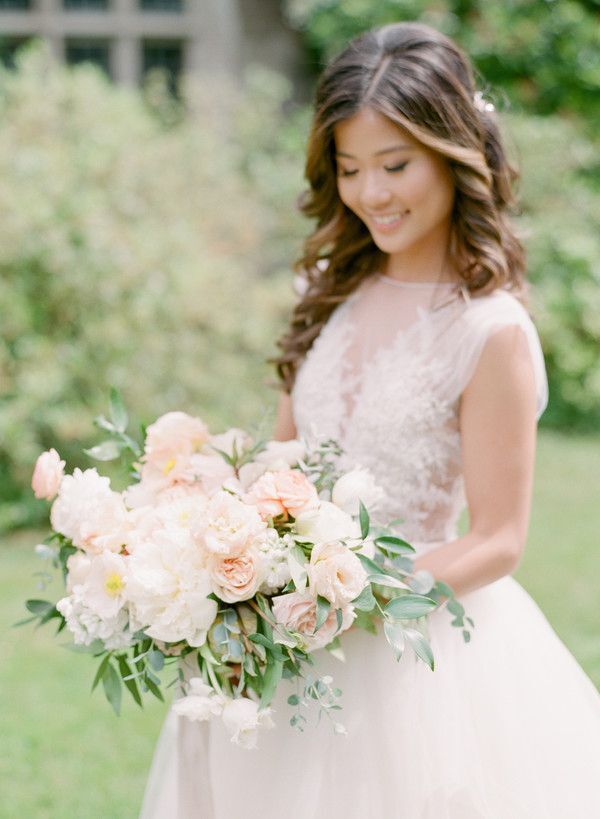 Ruscus and eucalyptus completed this soft bouquet filled for a spring wedding.
12. White Bouquet With Lisianthus and Rose
Pro tip: If you're having a hard time differentiating lisianthus from rose, look at the stamen. Lisianthus blooms have tell-tale green middles.
13. Purple Bouquet With Lilac and Sweet Pea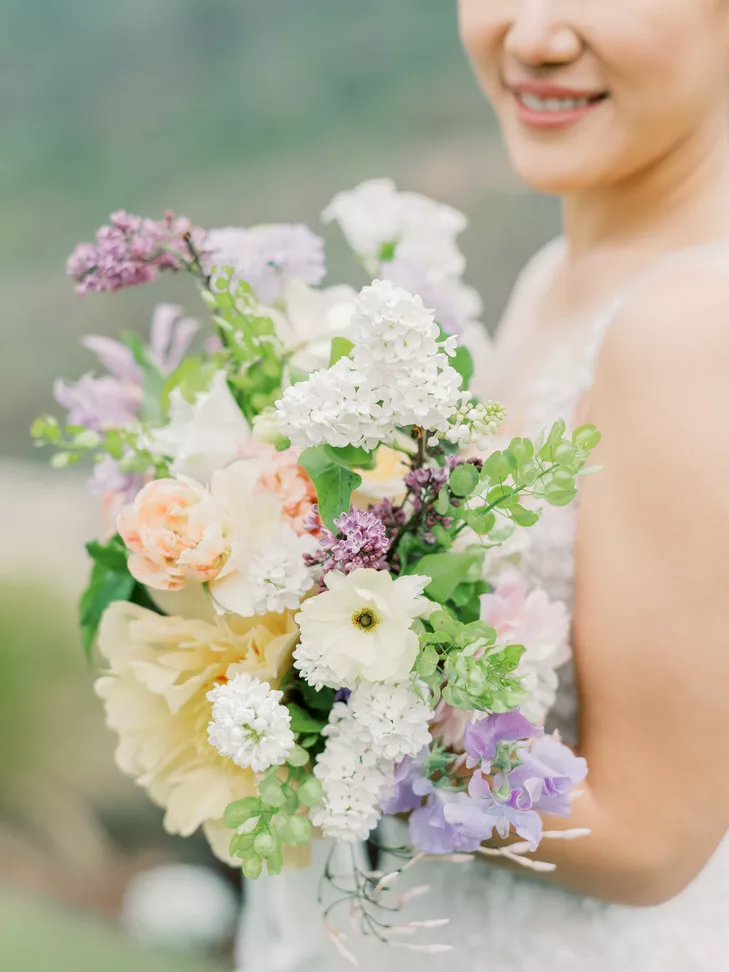 To complement the purple flowers in this gorgeous wedding bouquet, the floral designer added in a few stems of ranunculus and rose.
Dark-and-Moody Wedding Bouquets
From the rise in popularity of Dark-Academia-themed weddings to the continued prominence of dramatic wedding photography that features heavy post-production filtering, it's clear that to-be-weds are only growing in their obsession with dark-and-moody wedding trends. To bring a dramatic wedding aesthetic into your flower bouquet, consider including amaranthus, cosmos or scabiosa in the design.
14. Burgundy Bouquet With Amaranthus, Astilbe, Peony and Scabiosa
Trailing tendrils of burgundy amaranthus added eye-catching texture to this fall wedding bouquet.
15. Berry Bouquet With Fringe Tulip, Scabiosa and Sweet Pea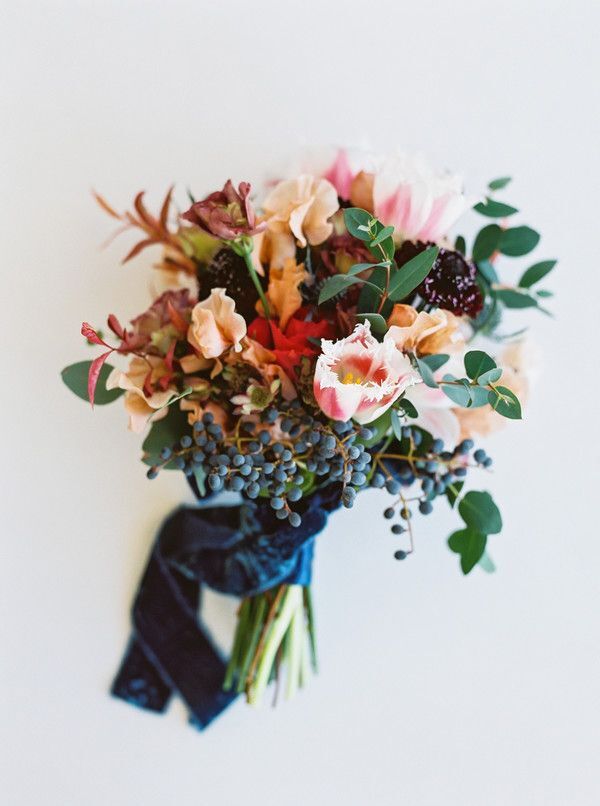 Fringe tulips, named for the textured edge their petals bear, are a fun way to upgrade the classic plant.
16. Bouquet With Amaranthus, Peony, Protea and Thistle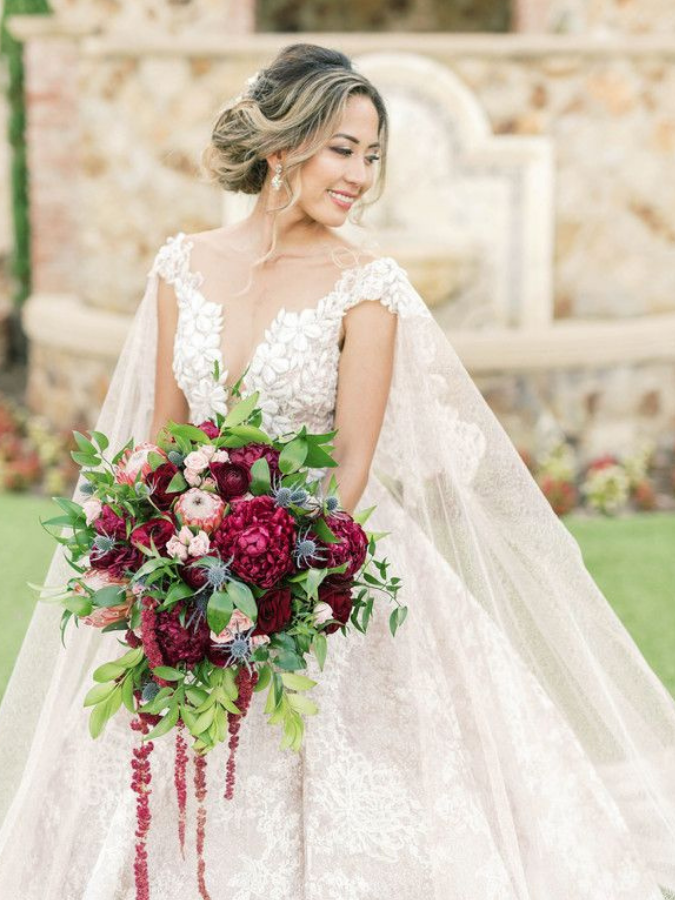 Blue thistles complemented the wine-hued peony blooms and strands of amaranthus in this large arrangement.
17. Dramatic Bouquet With Burgundy Peony and Protea
This monochromatic burgundy bouquet is all about drama, and we're here for it.
Find all the vendors you need
Discover top-rated pros for any budget, background and style.
18. Burgundy Bouquet With Eucalyptus Accents
The movement that springs of eucalyptus created in this bouquet filled with burgundy peonies would've looked beautiful as a reception table centerpiece as well. Pro tip: Talk with your florist about ways to potentially repurpose your bouquet or even bridesmaid bouquets as centerpieces at the reception to help stretch your floral budget.
Modern-and-Eclectic Wedding Bouquets
Tying the knot at a retro resort in Palm Springs or atop an urban rooftop overlooking the Manhattan skyline? Then a modern and eclectic look will complement your sleek wedding theme perfectly. Not only does flower variety matter with modern bouquets, though we suggest you look into anthurium, Icelandic poppies and protea, shape is über important here too. Think outside the box and have your florist create an angular clutch instead of a classic round arrangement. For the really bold to-be-wed, think about carrying a hoop bouquet, garland bouquet or even a potted plant.
19. Chrysanthemum, Dahlia and Rose Bouquet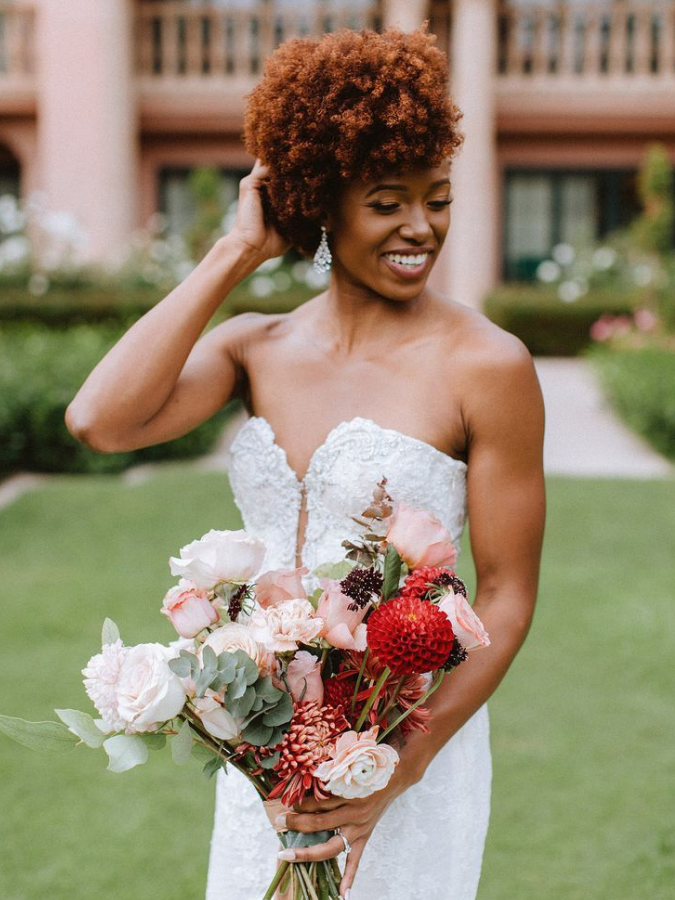 Talk about stunning. We can't imagine any to-be-wed that wouldn't want a clutch like this at their own wedding.
20. Bouquet With Peony, Protea, Ranunculus and Zinnia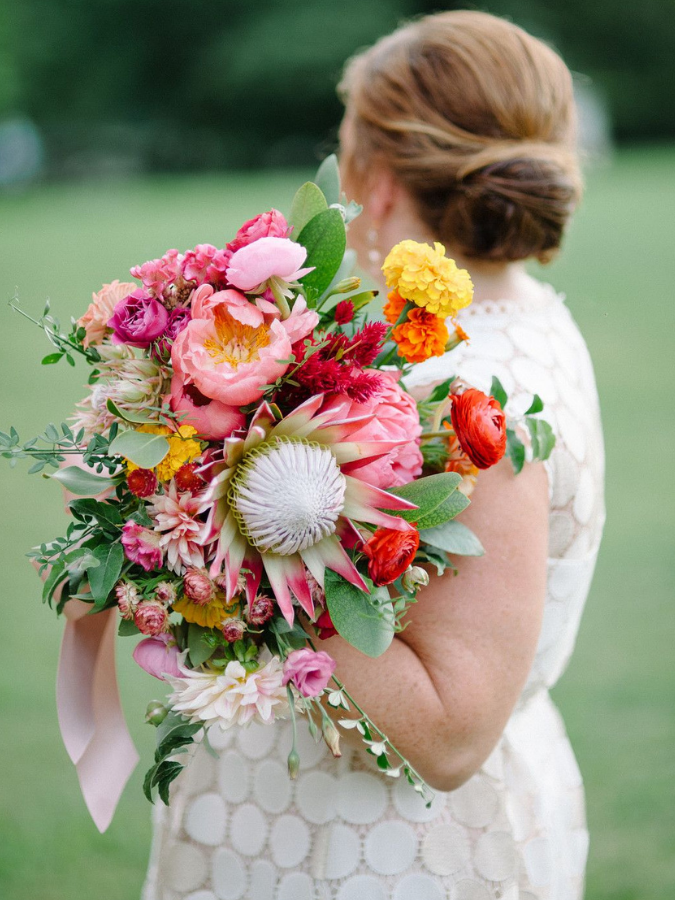 The vibrancy of this bouquet would be perfect for a tropical summer wedding.
21. Anthurium and Veronica Bouquet With Blue Rose Accents
To add a modern feel to this design, the bride (who was also the floral designer) included dyed blue roses.
22. Orange Bouquet With Blue Fern Accents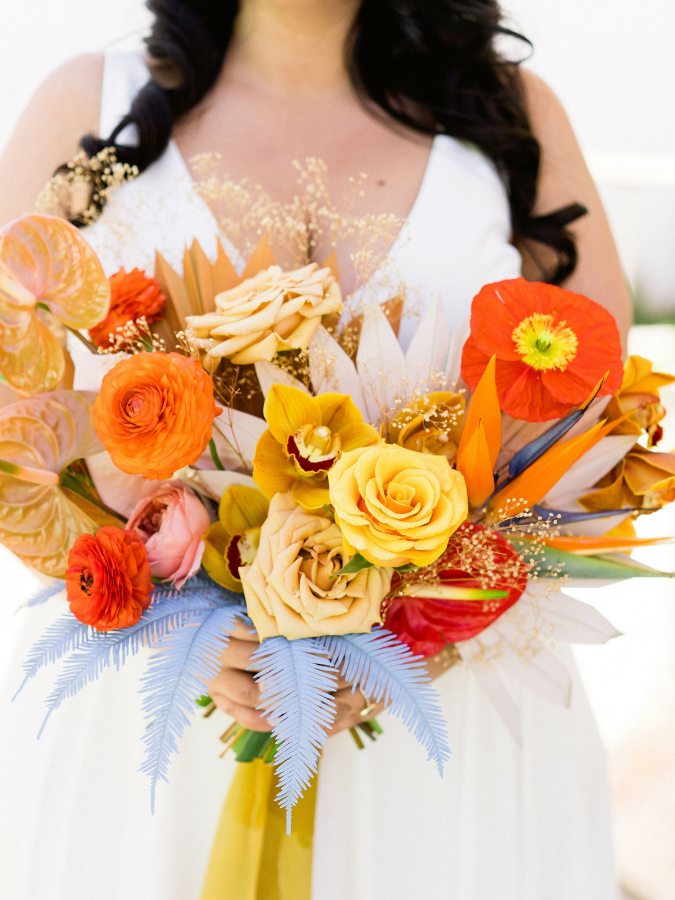 Dyed blue ferns added contrast to this otherwise monochromatic orange design which included anthurium, Birds of Paradise, Icelandic poppy, ranunculus and rose.
23. Hoop Bouquet With Larkspur
Instead of traditional bouquets, this to-be-wed had her floral designer craft hoop arrangements as bridesmaid bouquets.
Colorful Wedding Bouquets
Color lovers are in luck, there's no shortage of eye-catching hues when it comes to the world of wedding flowers. Before settling on varieties to use in your floral arrangements, make sure you've honed in on a wedding color palette that will guide the design of your wedding. From there, you can start to research flower varieties that will work with your of-the-moment color scheme. If you're drawn to oranges and yellows, consider utilizing craspedia, goldenrod, Icelandic poppies, ranunculus and zinnias. For those that gravitate toward reds and pinks, ask your floral designer to include varieties like anemones, astilbe, bougainvillea, carnations, Coral Charm peonies, cosmos and garden roses. And if you're a to-be-wed that absolutely loves blues and purples, think about including some of the following fresh flowers: astilbe, clematis, delphinium, hyacinth, hydrangea, lilac, lupine, muscari, larkspur, tweedia and veronica.
24. Fall Wedding Bouquet With Rose and Sweet Pea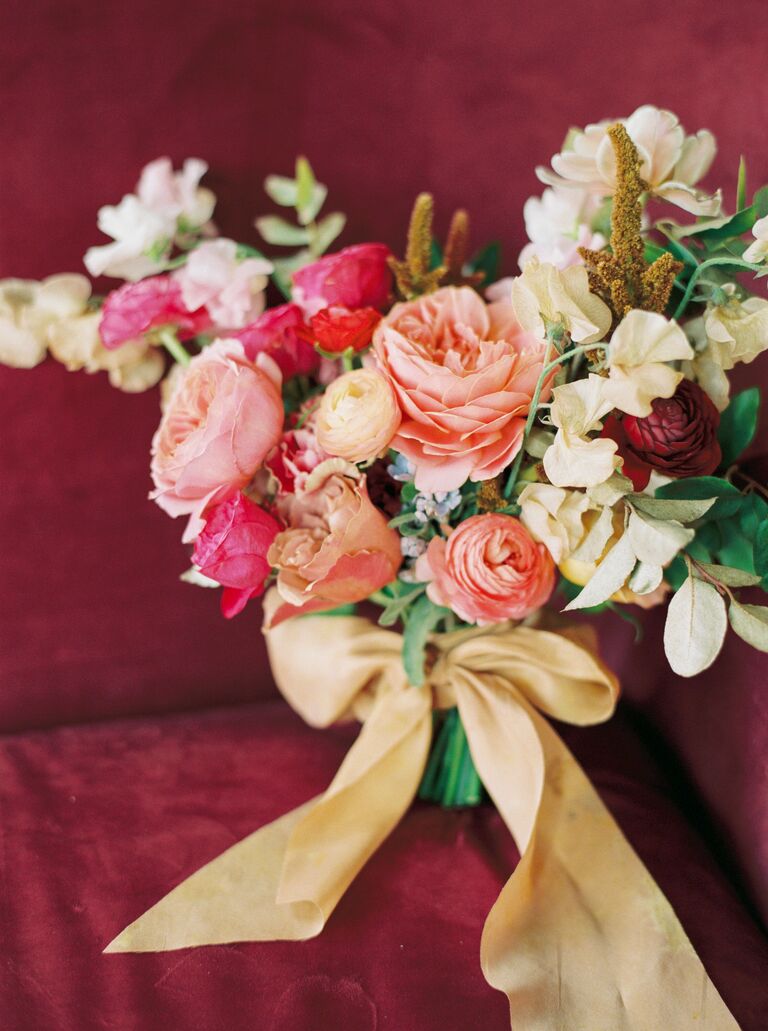 Keeping seasonality in mind when selecting colorways for your bouquet is a great way to ensure the design feels connected to your celebration instead of looking out of place.
25. Purple Dahlia-Centric Bouquet
Dahlias were the star of the show here, but clematis and larkspur added to the stunning design.
26. Pink Rose and Zinnia Bouquet
For couples planning a DIY wedding, zinnias are a great flower since the wildflower is hearty and grows prolifically almost anywhere.
27. Red-and-White Bouquet With Rose and Scabiosa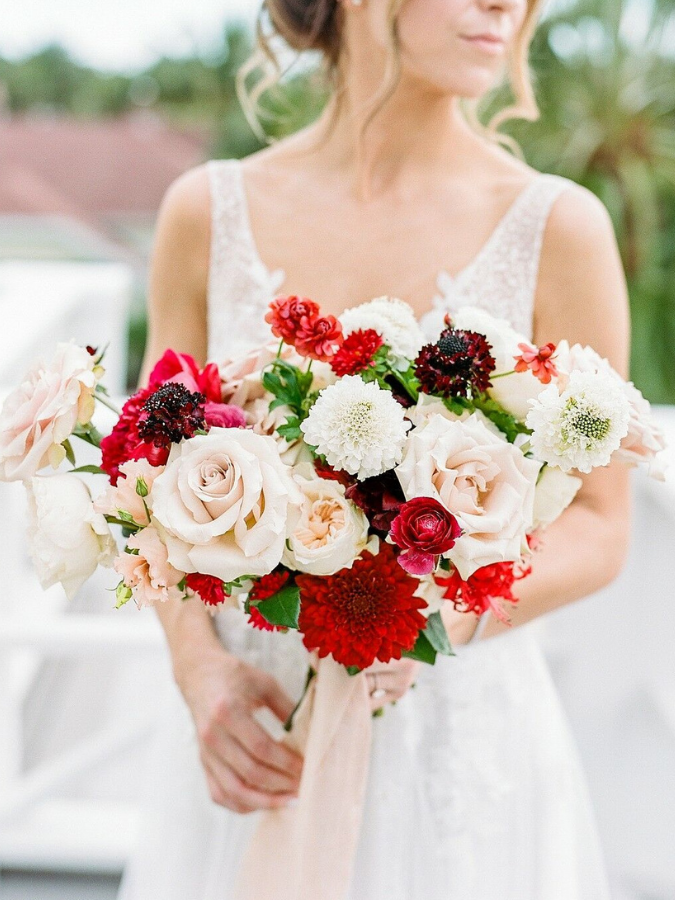 This clutch included both white and burgundy varieties of scabiosa.
28. Orange Bouquet With Peony and Ranunculus
This peachy-hued arrangement is perfect for a lakeside summer wedding.
29. Bougainvillea, Nerine and Protea Bouquet
We're simply swooning over all the texture and color in this vibrant pink bouquet.
30. Red Bridal Bouquet Duo
While these two dahlia clutches weren't exact replicas, the mostly-red designs paired beautifully together.
31. Colorful Lilac, Peony and Rose Bouquet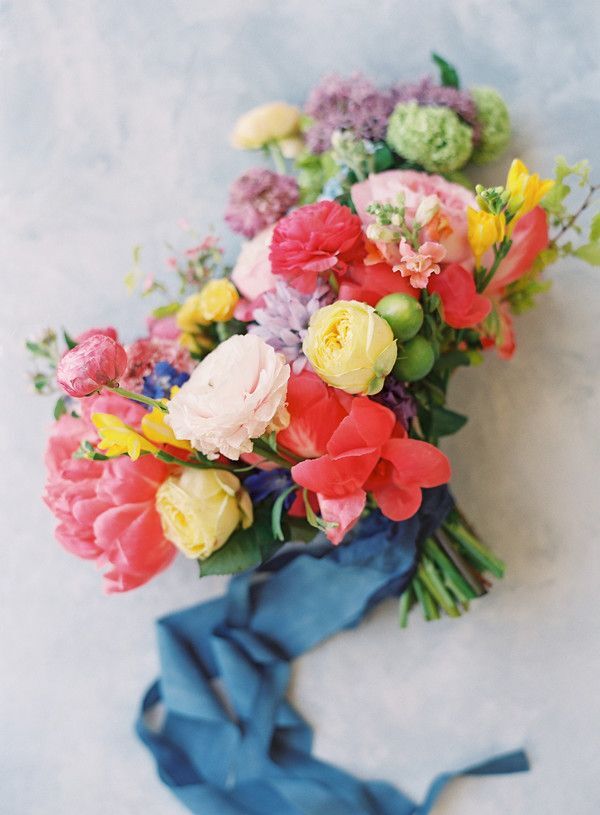 If you're drawn to multiple colors then don't limit yourself to just one colorway. Have some fun with a prismatic design like this one.
32. Colorful Bouquet With Oranges and Vines
Bouquets don't have to be totally floral, this design included petite oranges.
33. Bouquet With Varied Shades of Pink
While this entire bouquet was pink, the floral designer had some fun playing with various shades when selecting the floral varieties, which included cosmo, ranunculus, rose and scabiosa.
34. Pink Bouquet Packed With Garden Roses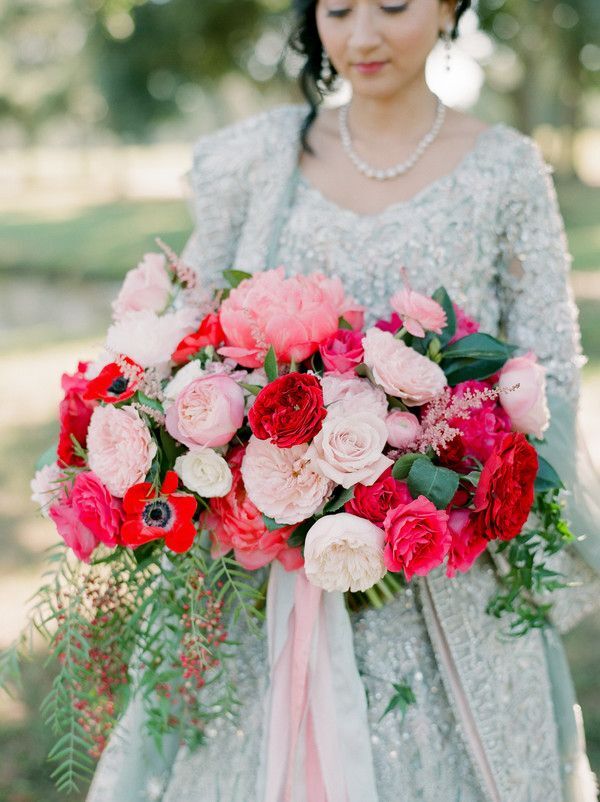 A few anemone and peony blooms snuck into this design, however, the main botanical was rose.
35. Purple Anemone, Dahlia and Orchid Bouquet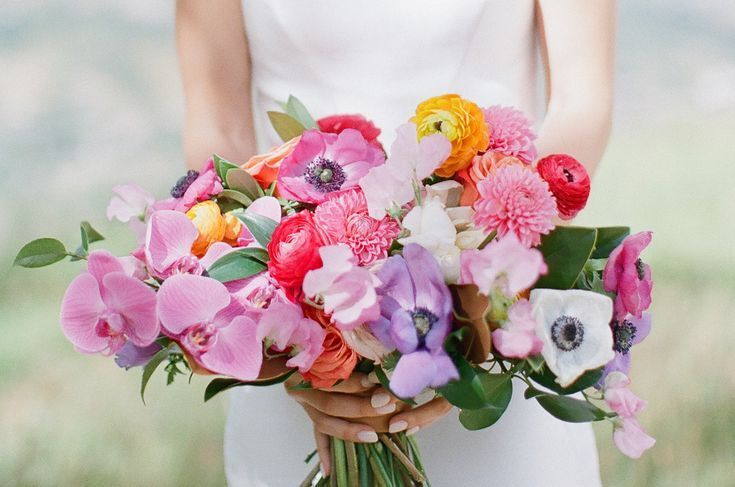 Anemones are a great bouquet flower because they come in multiple colorways, such as white and purple which are both seen here.
Boho Wedding Bouquets
Bohemian weddings are all about texture. In terms of wedding decor that can look like leather, macrame and rattan. But, when it comes to boho wedding flower ideas, foliage–especially pampas grass and dried palm leaves or ferns—are your friend. Layer in wildflower-like blooms such as baby's breath, hellebore, tweedia and waxflower for a fresh-from-the-field vibe.
36. Clematis, Dahlia, and Thistle Bouquet
There's so much to love about this lush, jewel-tone bouquet, we can't decide what element is out favorite.
37. Rust-and-White Rose Bouquet
For a rustic fall wedding, consider selecting blooms in shades of burnt orange or rust.
38. Dahlia, Pampas Grass and Protea Bouquet
Pampas grass added a bohemian feel to this bouquet filled with orange dahlia blooms.
39. Rose Bouquet With Fall Leaves
Both green and brown leaves added depth to this rose arrangement.
40. White Rose Bouquet With Brown Foliage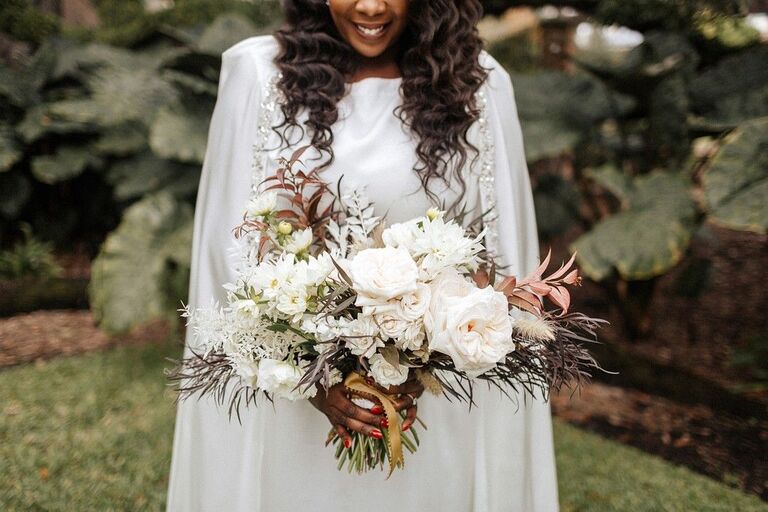 To soften the starkness of white roses for this fall wedding, the floral designer layered in foliage in a warm chocolate hue.
41. Boho Anthurium, Orchid and Pampas Grass Bouquet
Since orchid and anthurium blooms are fairly small, pampas grass added great movement to this look.
42. All-White Bouquet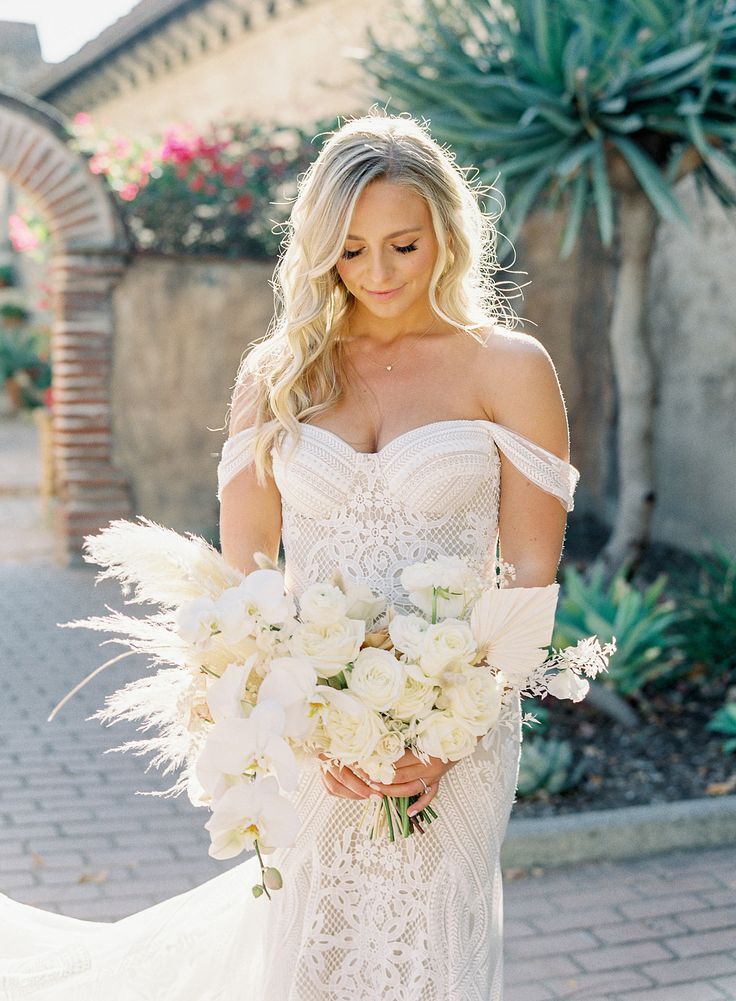 White orchid, pampas grass, ranunculus and rose were all included in this monochromatic wedding bouquet.
Rustic Wedding Bouquets
Rustic weddings center around bucolic locations (think a mountain ranch) and woodsy, country-inspired wedding decorations. For your floral arrangements, blend fresh-cut flowers with ample greenery (think: dusty Miller and succulents) and wildflowers like thistle or Queen Anne's lace. While not a must, many couples planning rustic-themed weddings will layer in twine and wood to the decor to add warmth.
43. Tightly Packed Pink Bouquet
While loose and flowy bouquets are rising in popularity, we'll always have a soft spot for more tightly packed bouquets.
44. Bouquet With Yellow Ranunculus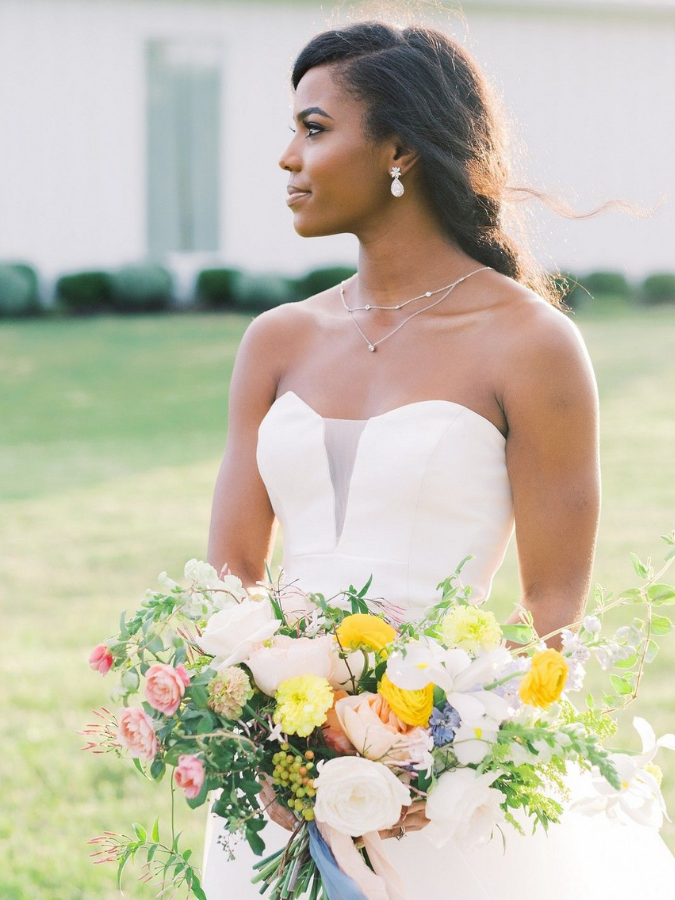 This rustic arrangement had a just-picked-from-the-field vibe.
45. Dahlia Bouquet With Rustic Maple Leaves
Normally foliage takes a back seat to fresh-cut flowers in a bouquet, but not in this design. We love how stunning and prominent the maple leaves are.
46. White Bouquet With Stock
Stock added height to this classic ranunculus and rose wedding bouquet.
47. Peach-Hued Wildflower Bouquet
White butterfly ranunculus blooms and sprigs of dried ruscus were among the ingredients in this design.
48. Fall Wedding Bouquet With White Ranunculus
The contrast between crisp white and deep burgundy seen in this clutch is stunning.
49. Rustic Wedding Bouquet With Astrantia and Bunny's Tail
For rustic weddings, bunny's tail, the plump white grass that resembles a rabbit's tail, is a great addition to the floral design plans.
50. Cascading Bouquet With Autumnal Color Palette
Reds, browns and purples worked together seamlessly in this design for a mountaintop wedding in Colorado.
51. Brown Bouquet With Touches of Delphinium
While this clutch predominantly featured brown flowers (rose and protea are both seen here), subtle hints of blue delphinium added softness and contrast.
Classic Wedding Bouquets
There's a reason certain wedding color palettes and flower combinations are classics—these timeless, tried-and-true looks feel refined and simply never go out of style. Three flower varieties that top the list for classic blooms: roses, peonies and dahlias. You can't go wrong with a clutch made of white roses and soft pink peonies accented by eucalyptus. Ultimately, both white-and-green and white-and-pink bouquets aren't going to go out of style anytime soon. Other classic fresh-cut flowers include: anemone, freesia (though Miranda Priestly may beg to differ), gardenia, lisianthus and ranunculus.
52. White-and-Green Bouquet With Rose and Sweet Pea
The combination of green and white is an absolute classic that will never go out of style.
53. Rustic All-White Bouquet
If you're looking for a white flower but want to achieve a wildflower-like vibe, consider spirea, heath rice flower or waxflower.
54. Coral Charm Peony and Fringe Tulip Bouquet
We're obsessed with the subtle texture that fringe tulips bring to an arrangement.
55. Eucalyptus and Garden Rose Bouquet
What's not to love about garden roses? Their ample petal structure is simply divine.
56. Classic Bouquet With Chamomile
Not only does chamomile make great tea, but the plant's delicate yellow-centered blooms also add a whimsical touch to bouquets.
Cascading Wedding Bouquets
Cascading bouquets are not only super elegant, but they also have the added benefit of hiding the stems of the bouquet so the flowers can take center stage. There are certain botanicals that lend themselves well to cascading bouquets: Calla lilies, Dendrobium orchid, delphinium, muscari, sweet pea and tulips, for example. Foliage and vines are another key consideration with cascading bouquets as they can help add shape to the arrangement.
57. Cosmo, Rose and Poppy Bouquet
The white cosmo bloom seen here that looks almost like its petals have fan folds is called a "Cupcakes White" cosmo bipinnatus.
58. Muscari, Peony, Scabiosa and Sweet Pea Bouquet
The petite bell-shaped blooms of muscari make it a great candidate for lush cascading bouquets.
59. Anemone and Fern Bouquet
Ferns and other pieces of trailing greenery gave this bouquet its cascading look.
60. Rose and Sweet Pea Bouquet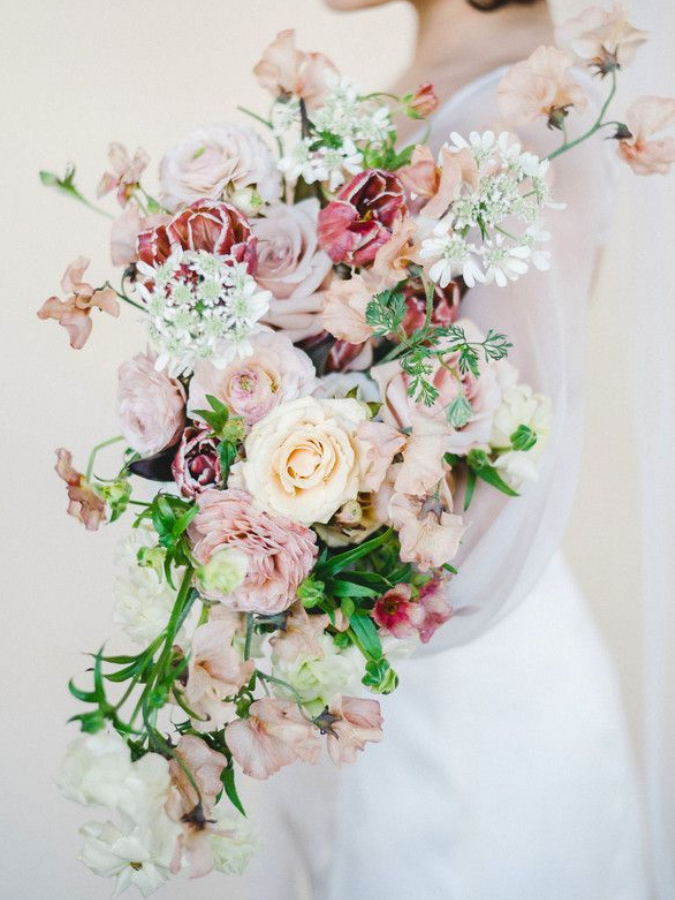 Apricot-hued sweet peas took this bouquet from beautiful to absolutely stunning.
61. Tropical Orchid Bouquet
Because of the long stems that orchids have, they're a great candidate for inclusion in cascading bouquets.
62. Rustic Bouquet With Larkspur
Blue larkspur and green vines worked harmoniously in this design.
63. Cascading Orchid and Rose Bouquet
This bouquet didn't include a single piece of greenery and we're not mad about that decision, the glam look is breathtaking.
Bouquets With Lots of Greenery
As beautiful as all-floral bouquets are, the reality is that fresh-cut flowers are pricey. Adding in ample greenery to your designs is a great way to stretch the budget without sacrificing style. Consider adding in dusty miller, eucalyptus, Ruscus or smilax.
64. Dahlia Bouquet With Silver Dollar Eucalyptus
When it comes to eucalyptus, there are a lot of varieties to be aware of. While silver dollar eucalyptus was used here, baby blue, seeded and willow are also popular varieties.
65. Dahlia and Rose Bouquet With Various Greenery
Seeded eucalyptus, silver dollar eucalyptus and smilax were all used here.
66. Lisianthus and Rose Bouquet With Greenery
Trailing loose greenery brought a garden-inspired feel to this romantic clutch.
67. Boho Bouquet With Olive Branch and Smilax
In addition to sprigs of olive and smilax, astilbe and baby's breath were used here as filler to add to the design's bohemian aesthetic.
68. Peach Garden Rose Bouquet With Seeded Eucalyptus
Seeded eucalyptus completed this arrangement which predominantly included peach-hued garden roses.
69. Ranunculus Bouquet With Baby Blue Eucalyptus
The strong stem structure of baby blue eucalyptus is a great way to add volume to a wedding bouquet.
70. Garden Rose and Peony Bouquet With Smilax
The waxy look of smilax leaves gives them a vibrant green color that makes any arrangement feel fresh.