The 15 Most Popular Wedding Flowers of All Time
Plus, an A-Z visual glossary of other common blooms and foliage options.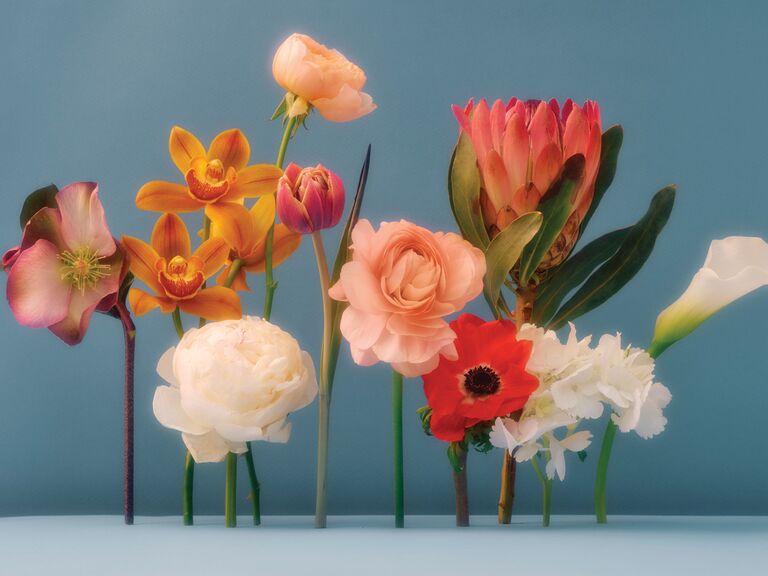 Photography: Jamie Chung, Styling: Sarah Smart, Art Direction: Sarah Evans
It's easy to spend hours upon hours scrolling through beautiful images of wedding bouquets for wedding flower inspiration. And while roses are clearly the all-time most popular choice of flower for weddings, other popular wedding flowers can sometimes be harder for to-be-weds to readily identify. In addition to bringing inspiration images to your wedding florist for a consultation, it's a great idea to have an idea of the types of wedding flowers you'd love to see incorporated into your arrangements. To help decide on the best wedding flowers for your big day, we've gathered a list of the most popular wedding flowers, plus a look at popular wedding greenery varieties. As you scroll through the wedding flower below inspiration, make sure to note which botanicals pique your interest and could complement the wedding aesthetic you have in mind.
While this list of flowers for weddings is proof that there are plenty of beautiful flower varieties you could utilize on the big day, it's important to consult an expert wedding florist early in the planning process about what types of flowers will be in season on your wedding day. Some wedding flower types may be readily accessible for a spring wedding but are harder to procure for a winter wedding.
In addition to keeping seasonality in mind, your wedding theme and color palette are other factors that will affect which wedding flower varieties make sense for your big day. For example, if you're planning a rustic summer wedding or fall wedding in the mountains, garden roses or wildflowers may be a better choice than calla lilies for the wedding day floral arrangements. Moreover, some flowers for weddings come in a variety of colors, making them incredibly versatile, while others only grow in limited colorways. If you want your wedding bouquet flowers and wedding centerpiece flowers to be auspicious, you could even consider incorporating wedding flower meanings into your arrangements.
Ultimately, the florist you hire for your wedding will be able to take the inspiration you share and help you settle on ideal flower varieties that will bring your dreams to life. Peruse our glossary of popular wedding flowers below to help your research and plan what type of wedding flowers are best for you. And if you're still on the search for more wedding flower inspiration, pick up a copy of The Knot Magazine which is filled with eye-catching flower ideas you're sure to love.
In this story:
Most Popular Wedding Flowers
These 15 types of wedding flowers are the all-time most popular wedding flowers, according to The Knot research. Roses take the top spot, but any of these top 15 blooms would look beautiful in your big-day arrangements, whether you're searching for flowers for wedding bouquets, boutonnieres or reception centerpieces. There's a reason these 15 flowers are the most commonly used varieties—they're all absolutely stunning. These beloved wedding flower types shouldn't be overlooked. Here are the best wedding flowers you need to know.
1. Rose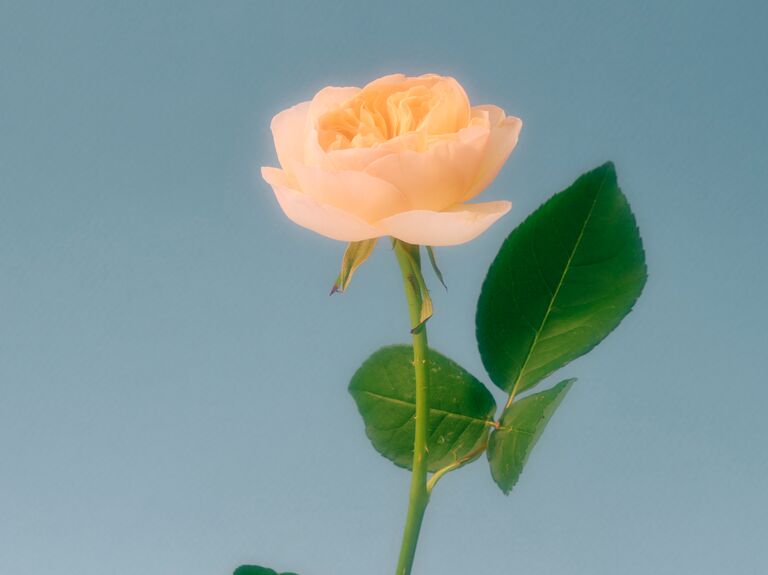 Roses are beautiful, fragrant and versatile, which contributes to their status as the most popular wedding flower of all time. From their use as flowers for bridal bouquets to dramatic ceremony arches, there's room for roses in just about every part of a wedding, no matter the style. Worried they won't fit your color palette? The flower comes in a myriad of hues including orange, pink, purple, red, white, and yellow.
2. Ranunculus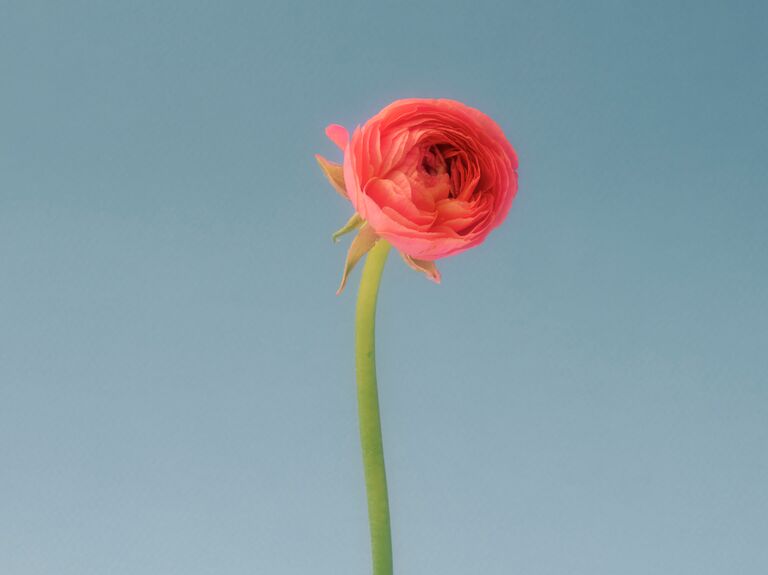 Ranunculus is beloved as a wedding flower because of how lush the botanical's petal structure is. A standard ranunculus is seen here, but butterfly ranunculus, which has a more open petal structure, is another popular variety. Beyond coming in a few different shape varieties, ranunculus comes in a range of colors including burgundy, peach, pink, red, white and yellow.
3. Peony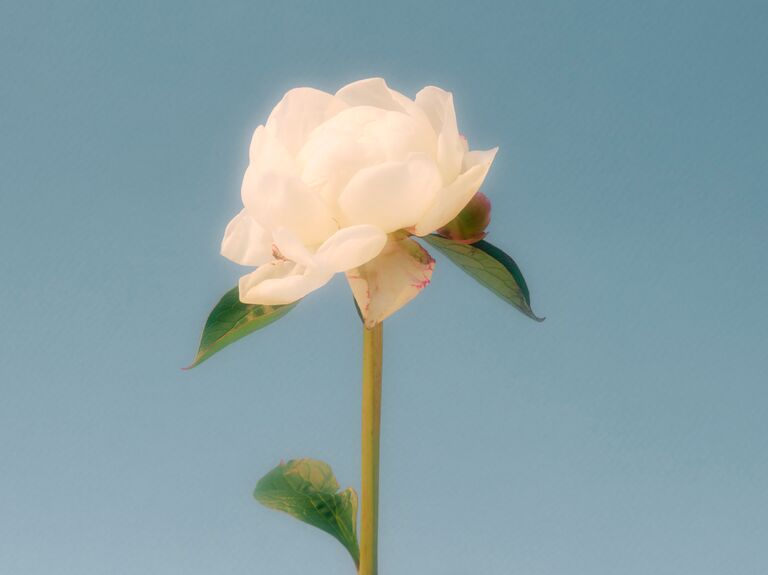 If you want a voluminous, lush flower with cloud-like petals then the peony is your ideal type of wedding flower. Although the flower can be pricey and hard to procure because it has a limited growing season, it isn't hard to see why so many couples believe it is one of the best wedding flowers. An especially popular variety of peonies is the coral charm peony, identifiable by the bloom's yellow center. Peonies work well as flowers for wedding bouquets, but we also love to see them used in low reception centerpieces.
4. Hydrangea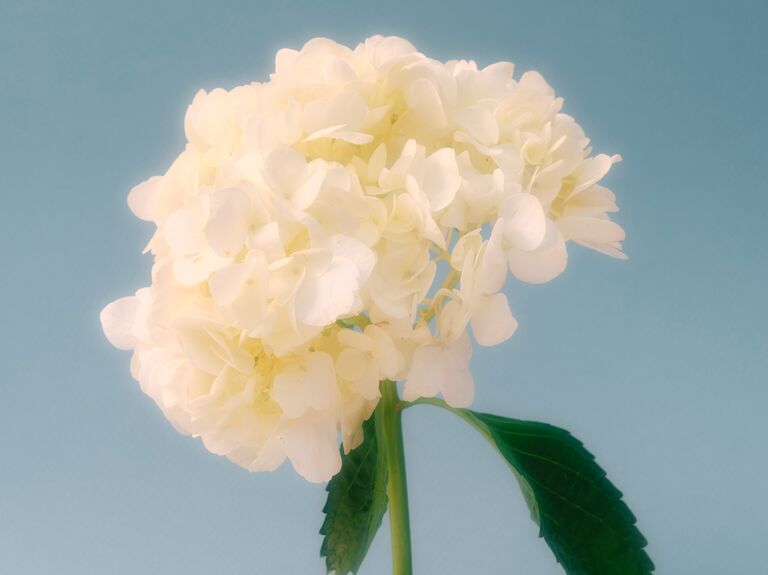 Hydrangea is another popular wedding flower if you want something full and pillowy. White hydrangeas are often used as flowers for bridal bouquets, but the botanical comes in blue and green as well which look stunning in flower installations, like arches and flower wall backdrops.
5. Dahlia
It's not hard to see why dahlias are a popular wedding flower. Their lush petal structure is stunning and the amazing wedding flower type comes in a variety of colors and varieties to fit any couple and any wedding style. Cactus and pompon dahlias are two especially popular types of wedding flowers.
6. Calla Lily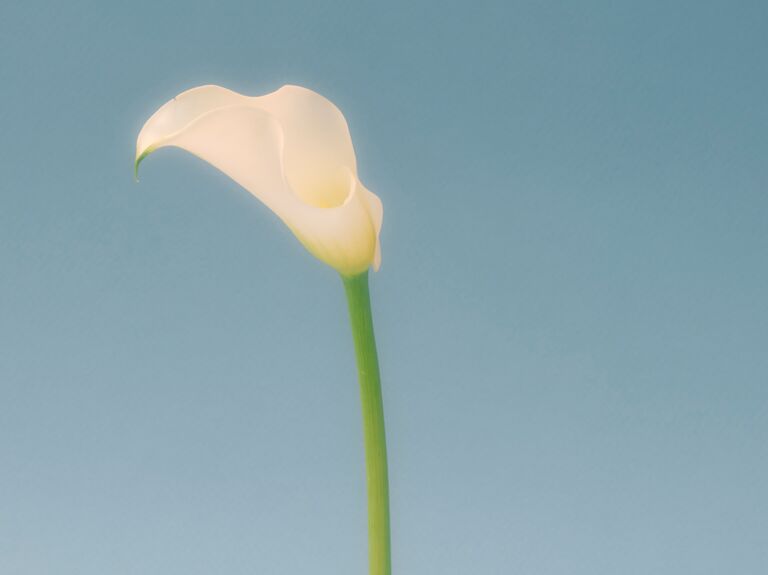 Known for their trumpet-like shape, calla lilies are an iconic option for glam couples. They work especially well in bouquets for to-be-weds who want a long-stemmed option. And they come in an array of colors from maroon to pink, white and yellow.
7. Gardenia
Gardenias are a great choice for personal arrangements, like boutonnieres and corsages, because they smell divine. But if you have guests or loved ones who are sensitive to smell these flowers should be used sparingly.
8. Orchid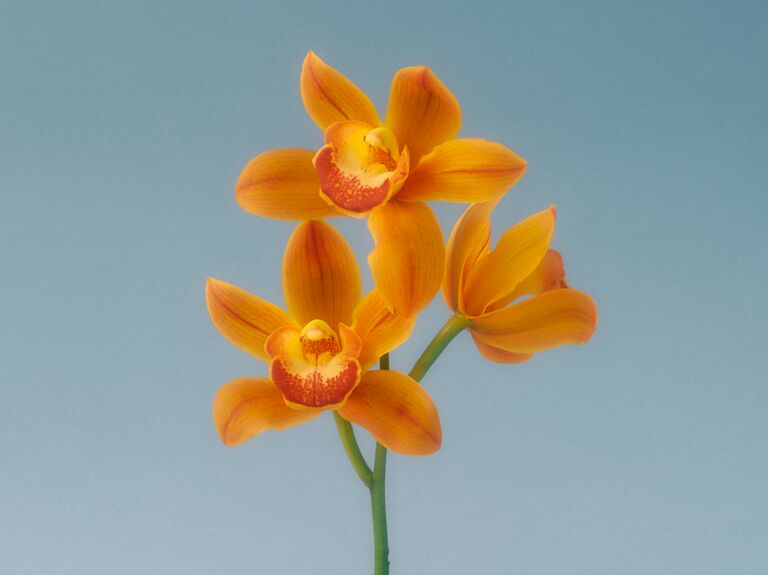 There are many varieties of orchids, all of which are beautiful and could be considered as flowers for wedding bouquets and arrangements. Dendrobium orchids are one of the most popular varieties of this eye-catching bloom. If your color palette includes purple, white or yellow, then consider orchids as wedding flowers.
9. Protea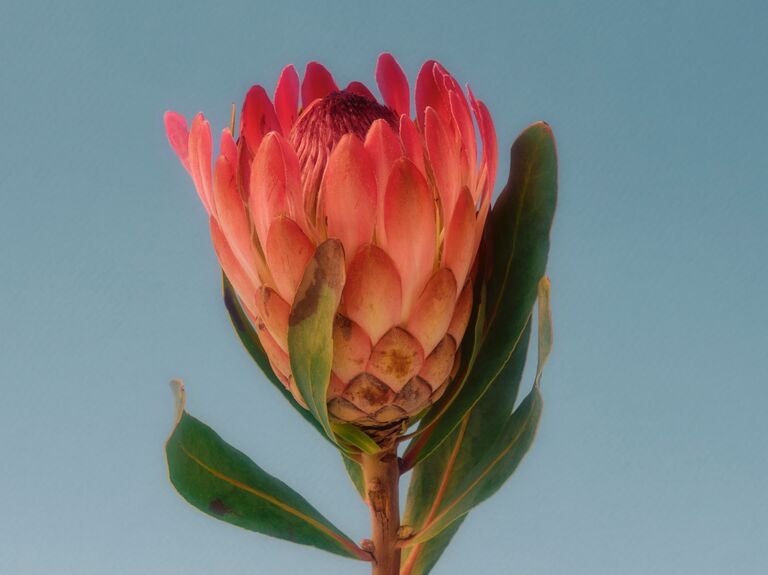 Protea are a fun and dramatic wedding flower that's gained popularity over the last few years. A king protea is seen here, but pincushion proteas are another popular variety of wedding flowers. Protea is a good type of wedding flower if you have a bold color palette filled with shades of orange, pink or red.
10. Lilac
Similar in appearance to hydrangeas, lilac is a great option for purple-loving couples. Lilac is a great type of wedding flower because it adds height and structure to wedding flower arrangements. Additionally, lilac is a fragrant wedding flower and a nice option is you want to scentscape the wedding day.
11. Lily of the Valley
Also known as andromeda, this petite bloom is the preferred choice of British royals. While not technically a member of the lily family, lily of the valley is a popular wedding flower type nonetheless. In addition to being a good flower for wedding bouquets, the small blooms look great in boutonnieres as well.
12. Anemone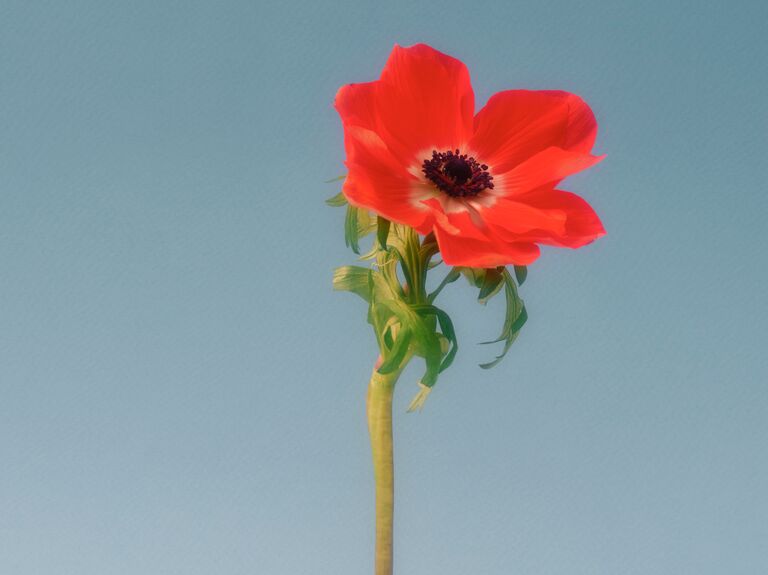 Anemones are a delicate flower that comes in a variety of colorways and is easily identifiable by its black center. Many to-be-weds chose anemones as wedding flowers because of the dramatic and eye-catching center they have, which looks great at modern weddings. You're probably most familiar with white anemones that have a black center, but anemones also come in berry, purple and red.
Find your kind of venue
From barns to ballrooms, discover reception venues that feel like you.
13. Tulip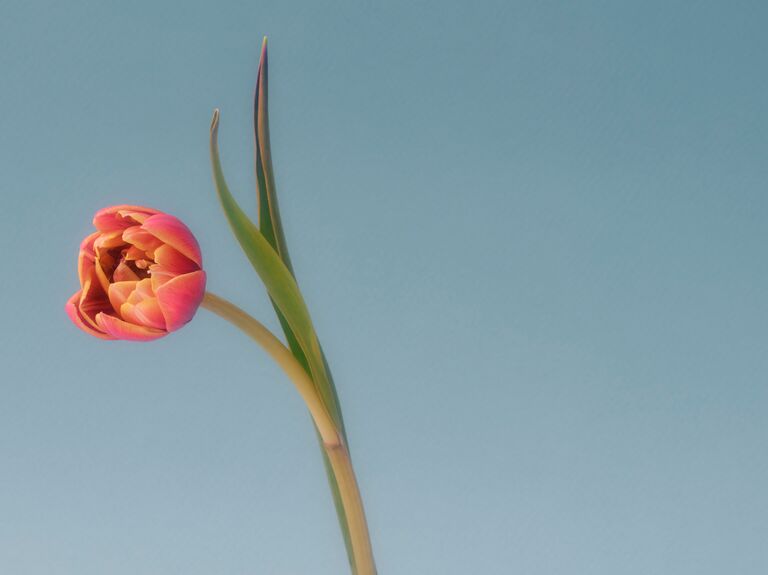 Spring couples, tulips are a popular wedding flower you should consider. If you want to get creative, fringe tulips, which feature fringed edges as their name suggests, are a fun and unique variety of the iconic bloom. Tulips are versatile and come in the following colors: black, blue, orange, pink, purple, red, white and yellow.
14. Baby's Breath
Baby's breath was long used as simply a filler, but in recent years more and more florists have taken to using the fluffy white flower to create dramatic installations. Although the popular wedding flower is naturally white, many floral designers will spray paint the botanical to use it with a unique color palette.
15. Carnation
Carnations are a budget-friendly option that is hearty enough to be used in a variety of ways. Similar in appearance to marigolds, carnations are often included in Indian wedding decorations.
Additional Types of Wedding Flowers
While the flowers above are the most popular wedding flowers of all time, they aren't the only beloved types of wedding flowers couples can consider. We're taking a look at even more trendy and popular wedding flower types. Keep these types of wedding flowers in mind while you're planning.
Alstroemeria
Also commonly called the Peruvian lily or lily of the Incas, alstroemeria is a popular wedding flower that's identifiable by the speckle marks on its petals. The most popular shades of alstroemeria, which is native to South America, are purple and red.
Amaranthus
If you've always dreamed about a cascading wedding bouquet, then consider this popular wedding flower. Amaranthus is made up of dense clusters of magenta-colored flowers on weeping vine-like stems.
Amaryllis
Amaryllis is a great flower for couples planning a Christmas wedding. The popular wedding flower type grows from a bulb and is native to the Western Cape region of South Africa. White, red and orange are popular colors for this wedding flower.
Anthurium
Want a unique and bold type of wedding flower? Anthurium is just the botanical you should consider. This popular wedding flower has a distinct look consisting of a waxy heart-shaped petal and prominent stamen. The flower is great for tropical and beach weddings.
Astilbe
Astilbe is a great filler flower. While it is similar in color to amaranthus, its shape is the complete opposite of amaranthus. Astilbe, also referred to as false goat's beard and false spirea, has a strong stem with bright plume-like flowers.
Astrantia
Astrantia, also known as masterworts, is a pincushion-like flower. It closely resembles scabiosa, and comes in a variety of shades ranging from white and blush to dark pink.
Birds of Paradise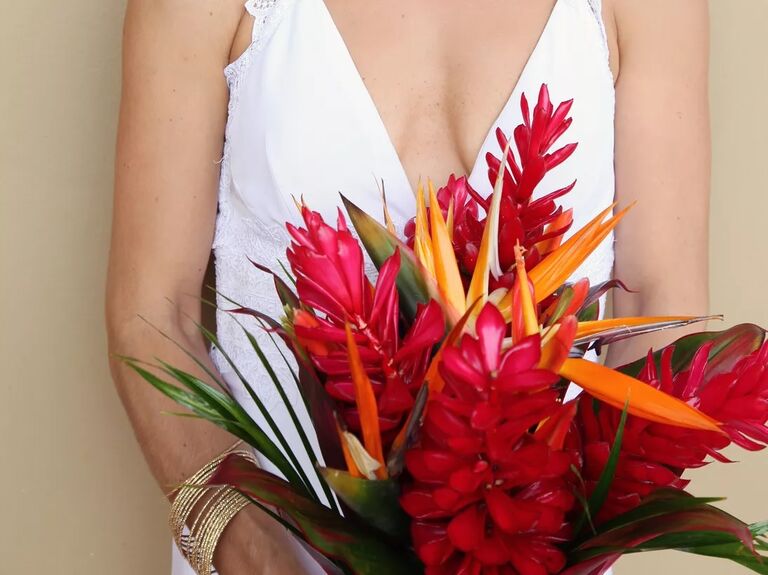 Why does this popular wedding flower bear an avian moniker? Because it almost looks like a bird with its beak-like structure. If you're planning a modern tropical wedding and looking for an edgy wedding flower, this is the bloom for you.
Black-Eyed Susan
If you're a to-be-wed dreaming of a wildflower wedding bouquet then consider asking your florist to include this bloom in your selection of wedding bouquet flowers. Scientifically known as rudbeckia hirta, black-eyed Susan is a flower native to North America and recognizable by its vibrant yellow leaves and black center (which resembles an eye).
Bougainvillea
Especially common in wedding designs on the West Coast, bougainvillea is a hot pink flowering vine that is native to South America. We love seeing couples use the popular wedding flower in bouquets as well as in larger installations, like aisle arrangements and ceremony arches.
Camellia
Camellia almost looks like a cross between a rose and a gardenia. The flower, which comes in both pink and white, is actually related to the tea plant. Camellias work great as boutonniere and corsage wedding flowers.
Celosia (Cockscomb)
Similar to astilbe, celosia is known for its vibrant and perky flowering stems. It is part of the amaranth family, and closely related to amaranthus. Celosia, or cockscomb, comes in red, pink, orange and yellow.
Cherry Blossom
Wondering about the best wedding flowers for a pink spring wedding? If you're getting married in the spring then consider including flowering branches of cherry blossom in your wedding decor plans. Cherry blossoms are an amazing option for inclusion in tall wedding reception centerpieces.
Chamomile
Chamomile is a petite wildflower that we love for boho and rustic weddings. If you are a minimalist to-be-wed in search of a less-is-most flower then this popular wedding flower with white petals and a yellow center is for you.
Chrysanthemum
Chrysanthemums are similar to dahlias with their abundance of petals. But chrysanthemums differ in that they're easier to procure and more affordable than dahlias. Pink, yellow and orange are popular shades for this type of wedding flower.
Clematis
Clematis is a fairly fragile wedding flower so it's best used in stationary arrangements, like centerpieces. The popular wedding flower is identifiable by its single layer of pointed purple petals.
Cornflower
Yet another great wildflower wedding bouquet bloom, cornflower is a bright blue flowering plant native to Europe. Not many flowers come in blue so cornflower is a good wedding flower option if you're looking to infuse blue into your color palette and decor.
Cosmo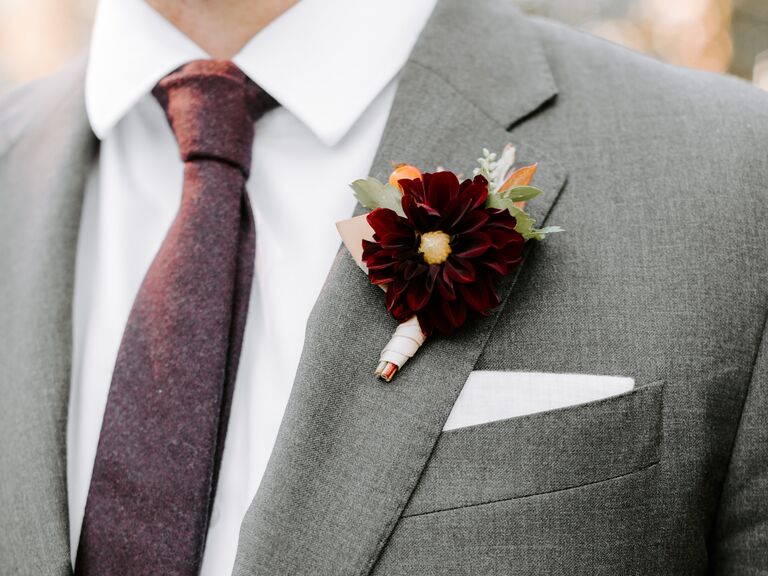 Cosmos look like pink daisies. The flowering plant, which is related to sunflowers, is a nice option if you're planning a casual wedding and want rustic, simple flowers.
Craspedia (Billy Ball)
Want an out-of-the-box wedding flower? Craspedia is a unique orb-shaped yellow flower also known as billy ball. The popular wedding flower adds personality, dimension and intrigue to any design it is included in.
Daffodil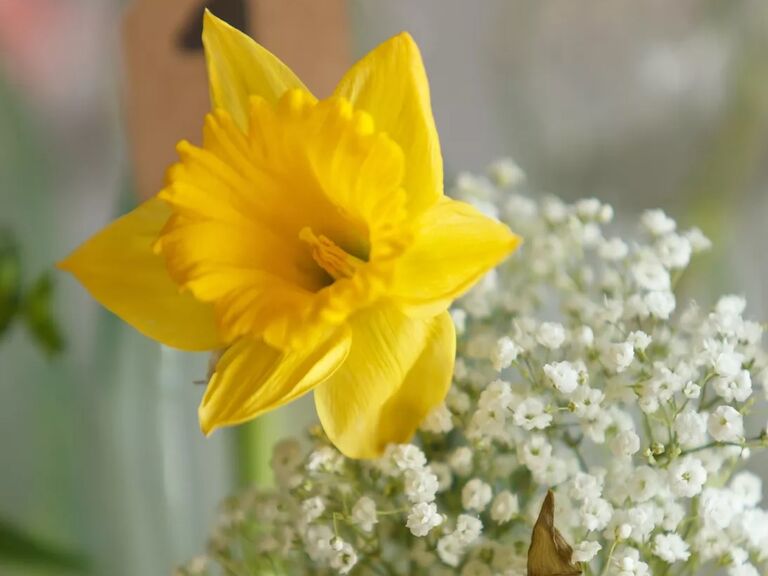 Like tulips, daffodils are a wonderful option for spring couples. With their vertical petals and trumpet-like center, this popular wedding flower is hard to miss.
Daisy
Even if you aren't a flower aficionado, you likely know what a daisy looks like. Daisies are not only popular wedding flowers, but they're commonly used in everyday arrangements as well because they're affordable and beautiful, which is a winning combo.
Delphinium (Larkspur)
Delphinium, or larkspur, is a good wedding flower to use in aisle arrangements because it has strong, tall stems that add structure to any arrangement. The most common color for delphinium is blue, but it can also be procured in pink, white and purple. Despite being a popular wedding flower, delphinium is poisonous to humans and animals so it should be avoided if you have lots of your children or dogs attending the big day.
Dogwood
A classic bloom for Southern weddings, dogwood blossoms are readily recognizable by their green centers and four white petals with notches at the edges. Because dogwood blooms grow on branches, this popular wedding flower words well in installations.
Flannel Flower
Flannel flower is a simple white wedding flower with slender petals. It is native to Australia and works well in wildflower-inspired designs.
Forsythia
If you're in need of a bright yellow wedding flower, go with forsythia. Forsythia is a flowering bush with long branches covered in yellow blooms.
Foxglove
Foxglove is a wedding flower that grows on tall stalks and has clusters of trumpet- or bell-like blooms. Foxglove comes in white, pink and purple.
Freesia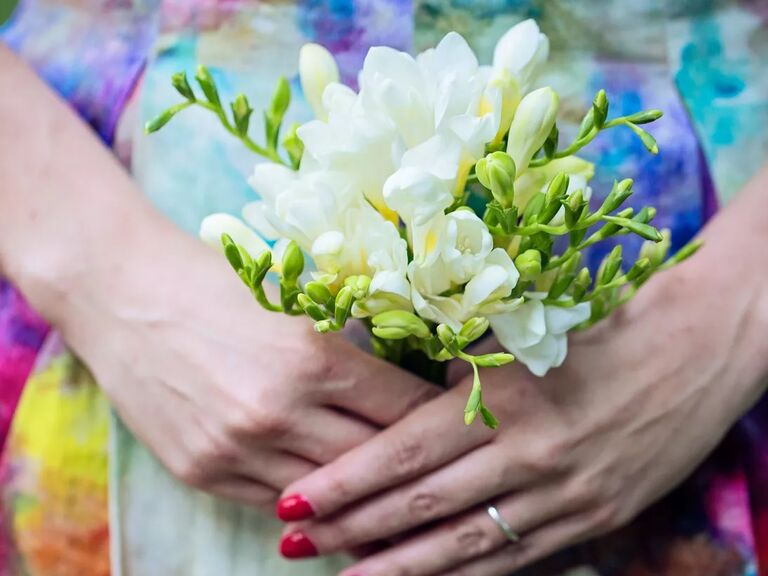 Although Miranda Priestly famously hated on freesia in the movie "The Devil Wears Prada," this flower is actually very popular with weddings. Freesia blooms grow in a unique curved manner along the plant's stalk.
Goldenrod
Goldenrod is a great filler flower to add texture and color to a wedding bouquet. This wedding flower's scientific name is solidago and it can often be found growing wild in meadows.
Hellebore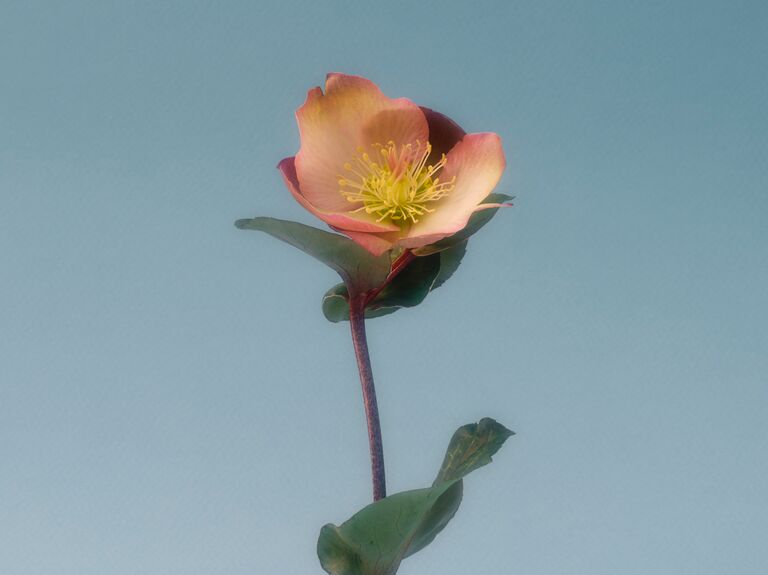 Hellebore is a great winter wedding flower if you want something moodier, rather than typical pink or red wedding flowers. Hellebore comes in black, green and purple. It looks great in corsages and boutonnieres.
Hyacinth
Similar in appearance to lilac, hyacinth is a small plant with bulbous clusters of colorful blooms. Hyacinth comes in blush, pink and purple. Surprisingly, hyacinth is closely related to asparagus.
Jasmine
We love seeing couples include jasmine in their wedding plans because the popular wedding flower is marked by a beautiful, subtle scent. Many couples use jasmine buds to toss during the ceremony recessional as they're soft enough not to cause any harm but fragrant enough to enhance the scene.
Iris
Iris look similar to orchids and have a very unique petal shape. If you're looking for a good purple wedding flower, consider iris.
Lavender
Like jasmine, lavender is fragrant and a great option to use for a grand exit petal toss. Since lavender buds are so small, consider scooping lavender into cones for guests to easily hold before tossing for a grand exit.
Lily
Lilies are a popular wedding bouquet flower because they come in many varieties and colors, so there's almost surely an option that will match your aesthetic. Stargazer and tiger lilies are two especially popular types of this wedding flower.
Lisianthus
Lisianthus is a great flower for bridal bouquets. Lisianthus is easily mistaken for roses, but it is a different flower altogether. Because of its rose-like appearance, it is often paired with rose flowers for wedding bouquets.
Marigold
Yellow and orange marigold flowers are popular at Indian weddings. The flowers are affordable and durable, making them a good choice for garlands and installations.
Muscari
Muscari is like a miniature version of lilac. Muscari is a petite blue flower made up of a small vertical cluster of bell-shaped blooms.
Narcissus Paperwhite
Related to daffodils, narcissus paperwhites are smaller and, you guessed it, white in color. If you like the shape of daffodils but don't want yellow flowers then this popular wedding flower is a solid alternative.
Nasturtium
Unlike delphinium which is poisonous, nasturtium is one of the few popular wedding flowers you can eat. Because of this, nasturtium is often used to decorate wedding cakes.
Passionflower
Passionflower looks like it belongs in a sci-fi movie. Passionflower blooms have purple petals, squiggly purple needle-like tendrils and point green middles. Few popular wedding flowers are as unique as passionflower in appearance.
Plumeria
Plumeria is often seen at tropical weddings. The wedding flower, also known as frangipani, is especially popular for leis at Hawaiian weddings.
Poinsettia
Like amaryllis, poinsettia is a great flower for Christmas weddings. Poinsettias are poisonous to animals so the plant should be avoided if you're including a dog on the big day. Poinsettias are commonly red, but they also come in white and pink.
Poppy
Although they're beautiful, poppies are fragile so you should work with your professional wedding florist to discuss the best way to include them in the wedding. Icelandic poppies are especially popular with weddings because of their dainty parchment-like petals that come in colors ranging from orange to pink, white and yellow.
Pansy
Like nasturtiums, pansies are an edible wedding flower, making them a great wedding cake flower option. Pansies are identifiable by the face-like appearance of their petals.
Queen Anne's Lace
Sometimes mistaken for baby's breath, Queen Anne's lace is a fluffy white filler flower. The popular wedding flower, which is technically an invasive weed, gets its name because it resembles delicate lace.
Scabiosa
Sometimes called pincushions, scabiosa is a wedding flower that's gained popularity in recent years. The versatile flower comes in shades ranging from light purple to dark burgundy, making it a solid option for couples with dark, moody color palettes.
Snapdragon
Snapdragons can sometimes be confused with foxgloves because of the verticality of the plant. However, foxglove blooms are bell-shaped while snapdragon blooms have a more ruffled appearance. Snapdragon wedding flowers are available in pink, orange and yellow.
Stephanotis
Stephanotis is a very small bloom that is sometimes called Madagascar jasmine, but it is not actually related to common jasmine (which is part of the olive family). Because of its miniature nature, stephanotis works great in boutonnieres.
Stock
Stock flowers closely resemble snapdragons and work well to add volume to wedding flower arrangements. White stock is most commonly used in weddings, but stock also comes in pink and purple.
Sunflower
Looking for the best wedding flower for a rustic wedding? Enter: sunflowers. Sunflowers are a popular wedding flower because they're very sturdy and can withstand the wear and tear of a long, hot wedding day.
Sweet Pea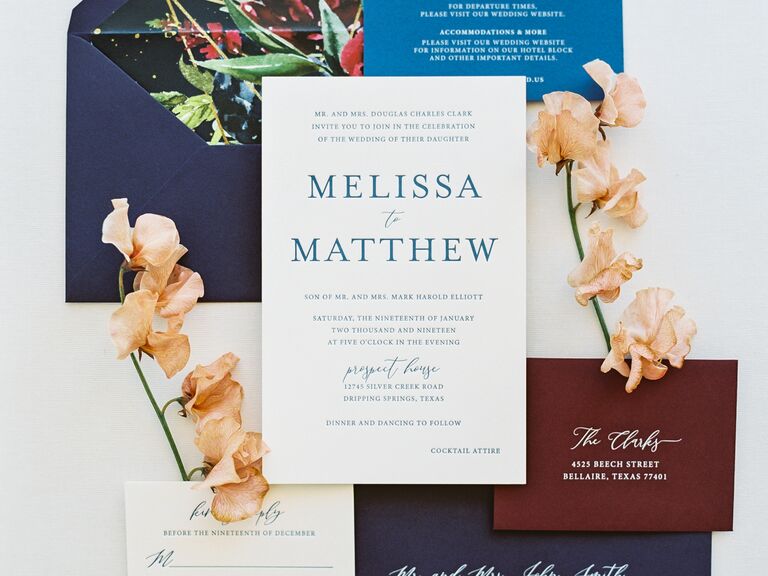 Sweet pea is an incredibly popular wedding bouquet flower, but because it is fragile it needs to be treated with care. If you're considering this flower for your wedding bouquet, talk with your florist about how you can include it and ensure the arrangement is durable.
Thistle
Although thistle is technically a weed, it has a unique and eye-catching appearance that makes it a popular type of wedding flower. To-be-weds often include it as a wedding bouquet flower to add some texture and personality to a bouquet.
Tweedia
Tweedia is a petite blue wedding flower. The blue wedding flower is native to South America and often included in wildflower wedding bouquets.
Veronica
Veronica closely resembles celosia with its finger-like flowering spikes. The plant is also known as speedwells and comes in a few colorways, but purple is the most popular for weddings.
Viburnum
Viburnum closely resembles hydrangea and is often used alongside hydrangea in wedding arrangements. The way to tell the difference between the two flowering plants is to look closely at the petals. Hydrangea plants have flat petals while viburnum petals are slightly more textured.
Wax Flower
As the name suggests, a wax flower is a waxy wedding flower. The flower is petite, pink and durable. Because of its durability it is incredibly versatile in wedding flower arrangements.
Yarrow
Yarrow almost looks like the yellow cousin of Queen Anne's lace. It is a sturdy yellow flower with a flat bloom structure.
Zinnia
If you like marigolds and camellias then you'll surely also like zinnias. Zinnias are a petal-rich flower that comes in a variety of bright hues ranging from pink and red to orange and yellow.
Popular Wedding Greenery and Foliage
Now that you have a thorough understanding of the best flowers for weddings, let's look at popular wedding greenery. It's fairly uncommon to have flower arrangements made completely of flowers—there will often be wedding greenery included in the designs. The common varieties below are some of the most popular wedding greenery options used by couples.
Air Plant
Air plants paradoxically don't need dirt to thrive in the way that most popular wedding greenery varieties do. This greenery works best in centerpieces as opposed to wedding bouquets.
Bunny's Tail
Bunny's tail is one of the few wedding foliage options that isn't green in color. This grass is identifiable by its fluffy white ends that look like rabbit tails.
Cactus
If you're planning a wedding in a hot, arid climate, like the American Southwest, then consider including cactus in your wedding decor. There are many varieties of cactus that you can consider—you could even get creative and decorate with prickly pear cactus and also serve prickly pear cactus margaritas as a signature cocktail.
Dusty Miller
Dusty miller is a popular greenery for weddings. This popular wedding greenery is also known as silver ragwort and is made of soft leaves with textured edges.
Eucalyptus
Eucalyptus is the most popular greenery for wedding bouquets. There are many varieties of the popular wedding greenery to consider, such as silver dollar eucalyptus, seeded eucalyptus, willow eucalyptus and true blue eucalyptus.
Fern
Ferns are a great greenery option for rustic or woodland weddings. Because of the greenery's large, feather-like leaves, it works well as a filler, especially if you're planning on a greenery-only foliage wedding bouquet.
Hops
Beer lovers, this one's for you. If you're planning to host your wedding at a brewery, why not consider decorating with dried hops to complement the space?
Hypericum
Hypericum berries are a unique way to add texture to a flower arrangement. We often see to-be-weds include these hardy berries in boutonnieres.
Ivy
If you're planning an English garden-inspired wedding then ivy may be the perfect wedding greenery option for you. Ask your florist to drape ivy vines around banisters and ceiling beams to make your venue feel like a secret garden.
Lamb's Ear
Lamb's ear is similar in appearance to dusty miller but has rounded edges instead of textured ones. As the name suggests, the leaves are soft like a lamb.
Lunaria
Lunaria is a unique plant whose dried seed pod branches are commonly included as wedding foliage in arrangements. The round seed pods have a translucent parchment-like appearance when dried that gives an ethereal feel to any arrangement that includes them.
Magnolia
Magnolia leaves are hardy and large—two great qualifications for wedding garlands and installations. Magnolia leaf wreaths and garlands are especially popular with weddings in the South.
Monstera Leaves
You're probably familiar with these Swiss cheese-like leaves, even if you didn't know they were known as monstera leaves. Monstera leaves are large tropical leaves that are popular at beach weddings.
Olive Leaves
Olive leaves are a nice option for romantic vineyard weddings because of their soft, muted green appearance. They act as a greenery filler without being visually overbearing.
Palm Leaves
Dried palm leaves are especially popular with boho weddings these days. Dried greenery is a good option if you want something that will last a long time.
Pampas Grass
Looking for a trendy wedding foliage option? Pampas grass is having its moment in the spotlight and it's not hard to see why so many couples love this wedding foliage. The grass adds soft texture to any design and is durable since it is used dried, as opposed to fresh.
Rosemary
Most wedding greenery options aren't fragrant, but if you want something to scent your big day then consider rosemary. We see many couples place a sprig of rosemary at guest place settings' the savory smell complements dinner smells while fragrant flowers would compete with entrée scents.
Ruscus
Ruscus is similar to smilax and is often used as a greenery filler in arrangements. Ruscus is beloved as wedding greenery because it is simple and reliable.
Smilax
Smilax is one of the most popular wedding greenery varieties you've likely never heard of. When florists need a durable, generic greenery to serve as the base for a large-scale design they often use smilax.
Succulent
Succulents are a mainstay in DIY and rustic weddings because they're durable and affordable. Even if you don't use succulents in your main arrangements, many couples choose to give succulents to guests as favors.