55 Wedding Centerpiece Ideas to Love for Every Style & Theme
Adorn your tables accordingly.
When it's time to finalize the vision for your flowers and decor, consider these wedding centerpiece ideas your first order of business. Centerpieces are essential in order to transform your tablescapes, but there are so many different ways to style them. Our list of wedding centerpieces includes dozens of options, whether you're leaning toward simple wedding centerpieces that feel timeless and elegant or unique centerpiece ideas that break the mold. Check them out organized by category below—and if you haven't already hired a florist, head to The Knot Marketplace to scout vendors by location, budget and style.
In this article:
Simple Wedding Centerpiece Ideas
Other than the centerpieces, there are a lot of elements that go into your tablescapes—place settings, table numbers, dishes, to name a few. Keep the overall look minimalist and streamlined with these simple wedding centerpieces.
1. Low Centerpiece in Stone Vessel
White roses and green go together like you and your partner—they're a perfect match. Plus they work with any color palette or style.
2. Blue and White Hydrangea Centerpieces
We love hydrangeas because they're stunning and they smell amazing. The combination of white and blue is fresh and fun—particularly perfect for an outdoor summer wedding.
3. Simple and Classic Centerpieces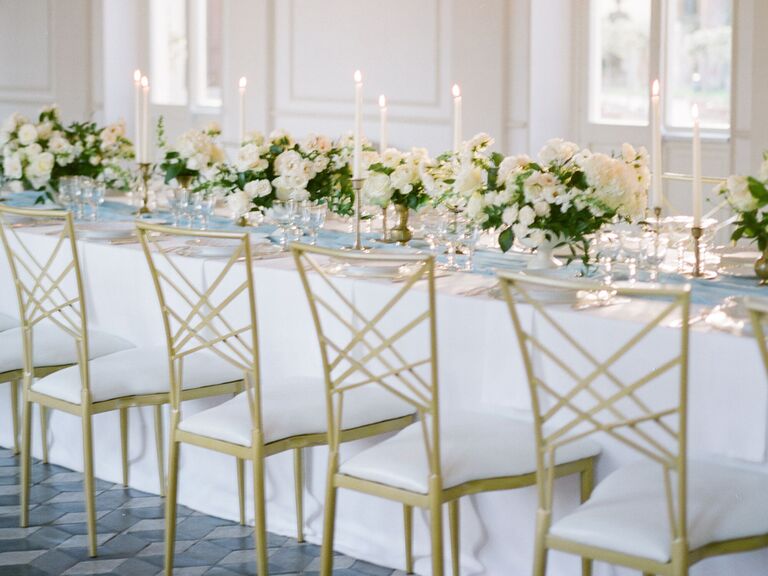 Mix small white blooms with your favorite greenery for a simple and pretty centerpiece idea. Intersperse candles in between for a sophisticated touch.
4. White Peony Centerpiece
This petite arrangement only requires a few flowers. Pair hydrangeas with peonies and add in greenery of your choice (the fluffy green trick dianthus shown here is always a fun choice). It's a simple wedding centerpiece that still looks thought-out and intentional.
5. Driftwood Table Runner Centerpiece
An easy way to amp up your simple florals? Add a driftwood accent to the bottom of low centerpieces.
6. Asymmetric Centerpiece
Let your dahlias (or flower of choice) shine by pairing them with delicate, tiny blossoms. We love the idea of incorporating darker hues to make the centerpiece a little more edgy.
7. Muted Color Palette Centerpiece
Keep your wedding centerpieces simple but interesting by playing with textures. Mix something soft (like chrysanthemums) with something edgy (like proteas) and something simple (like eucalyptus).
8. Pampas Grass Centerpiece
This arrangement, with greenery and pampas grass, makes for the ultimate boho wedding centerpiece.
9. Simple Greenery Branch Centerpiece
You don't have to have a ton of florals in your centerpieces. Check out this simple tablescape design, which consists of assorted greenery and baby's breath.
10. Eucalyptus and Baby's Breath Centerpiece
Calling all minimalists. Place eucalyptus in glass jars for an effortlessly gorgeous centerpiece.
11. Single Flower Centerpiece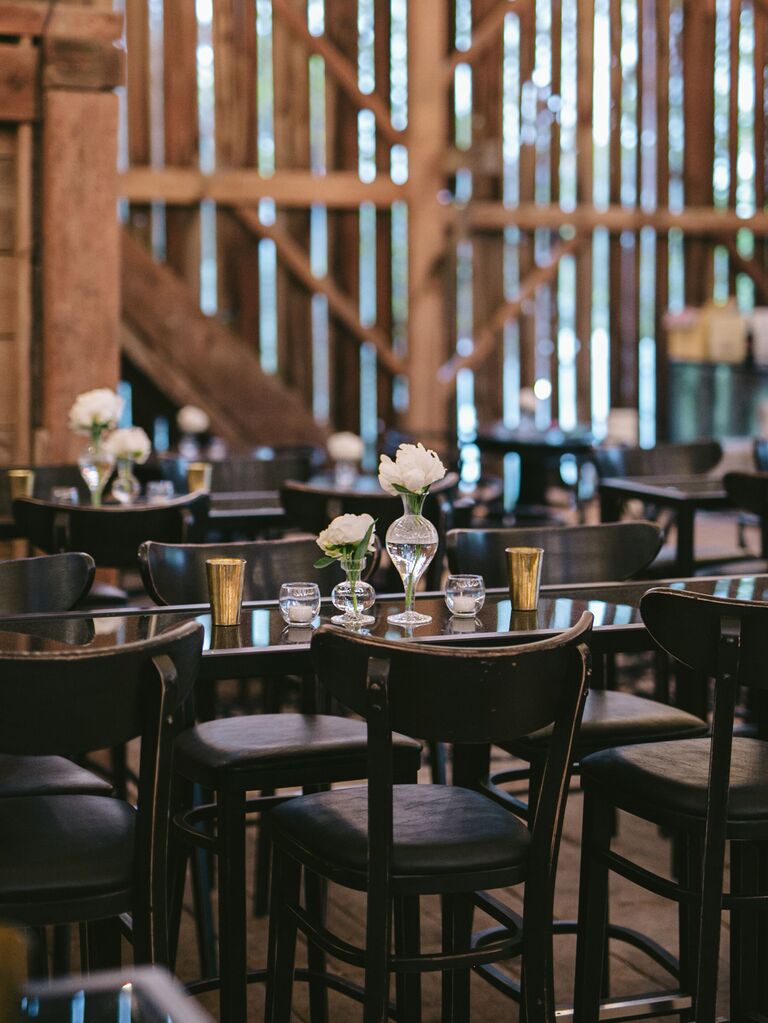 Your wedding centerpiece doesn't have to be a full-on bouquet. Place one or two flowers in glass vases for understated and gorgeous table decor.
12. Bud Vase Centerpiece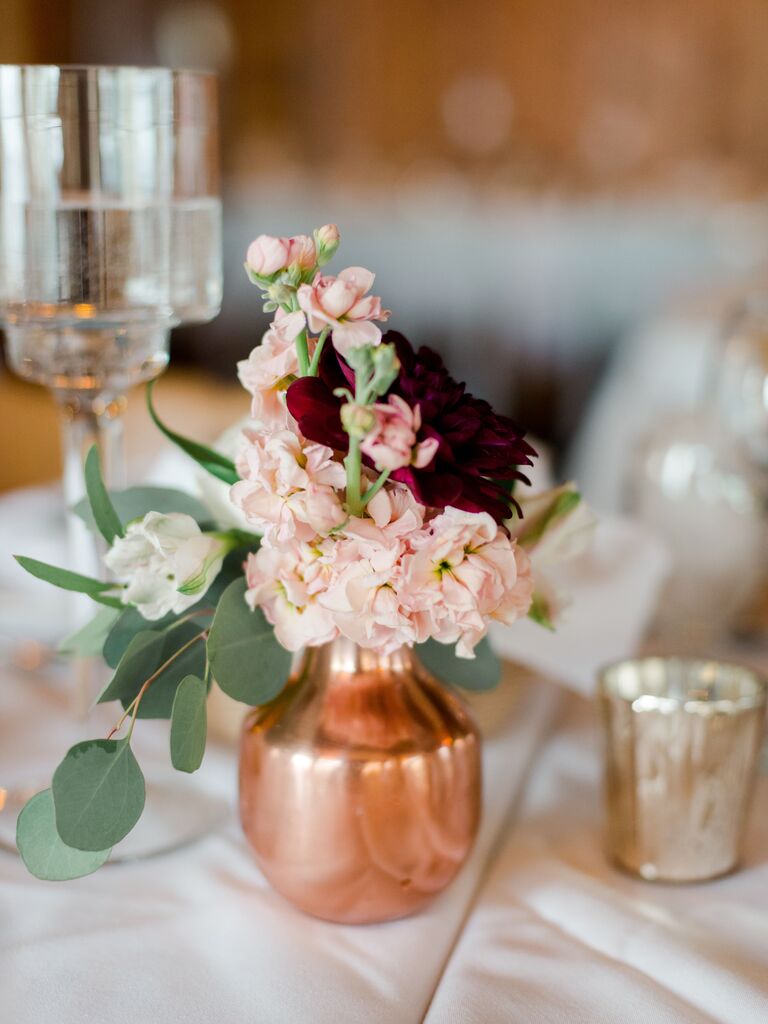 Create a mini bouquet by using just one or two stems of each flower. Place in a colorful vase (like this rose gold one) for a perfectly petite display of posies.
13. Greenery Centerpiece with Moss
Searching for a simple rustic wedding centerpiece? Consider this combination of moss, eucalyptus and neutral-colored blooms.
14. Tulip Centerpiece
Keep things simple by using one kind of bloom for a monofloral centerpiece. We love this adorably chic trough of tulips.
15. Minimalist Tropical Centerpiece
Exchanging vows somewhere tropical? Consider using palm leaves for a beach wedding centerpiece. It's a creative way to personalize your wedding, and they'll capture the laid-back vibe you're after.
Find your kind of venue
From barns to ballrooms, discover reception venues that feel like you.
16. Terrarium Centerpiece
Amp up simple greens by placing them inside pretty terrariums.
17. Flowering Branches Centerpiece
Create a showstopping tall wedding centerpiece using flowering branches. These pink buds are spot-on for a transitional wedding between winter and spring.
18. Tall Greenery Centerpiece
Another great beach wedding centerpiece idea: Tall palm leaves. It creates the effect of mini palm trees—how cute is that?
19. Small Protea Centerpiece
You can make a simple wedding centerpiece look complex by incorporating a bold color. We love the idea of mixing white and red together.
Elegant Wedding Centerpiece Ideas
Style your tables with these elegant wedding centerpieces for a sophisticated, timeless result. Add classic details like taper candles, bronze vases and crystal drinkware to complete the understated look.
20. Elegant Summer Centerpiece
Put your centerpieces on display with pedestal vases. They're perfect for arrangements with low-hanging elements like jasmine vine or seeded eucalyptus. If you're hosting a black-tie affair, opt for pedestals in silver or gold to elevate the blooms.
21. Centerpiece with Pears and Grapes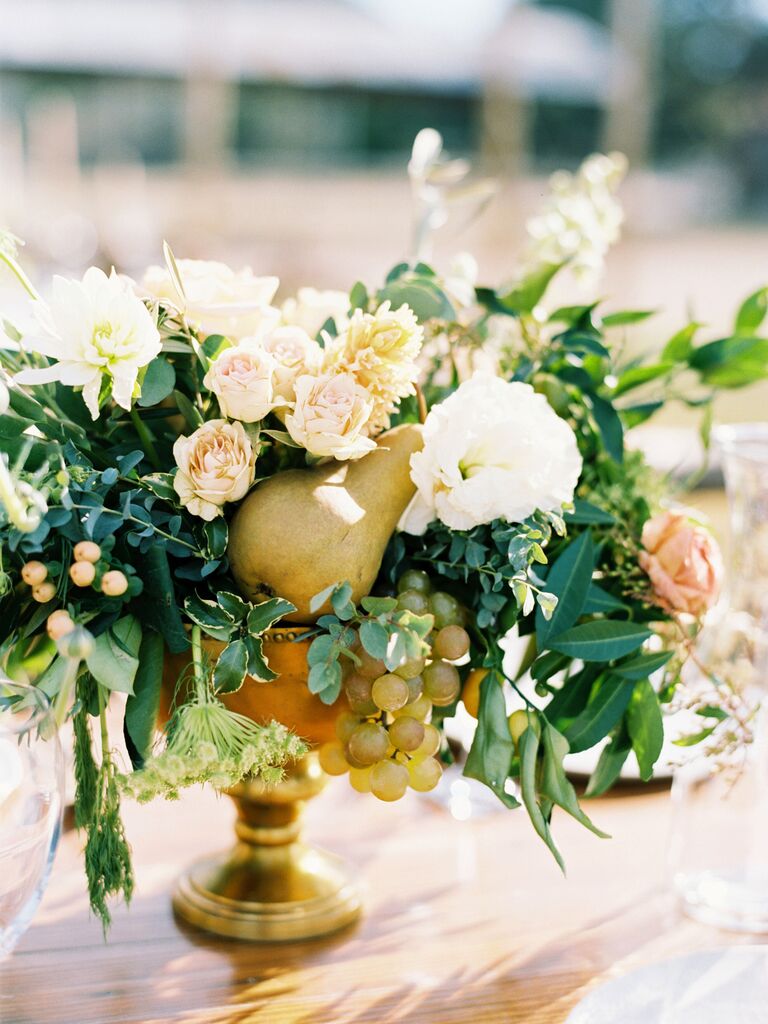 Here's a creative idea: use fresh fruit in your centerpieces. If your wedding location is known for its apples, pears or grapes, it's a cute way to pay homage to the place you exchanged vows.
22. Boho Elegant Centerpiece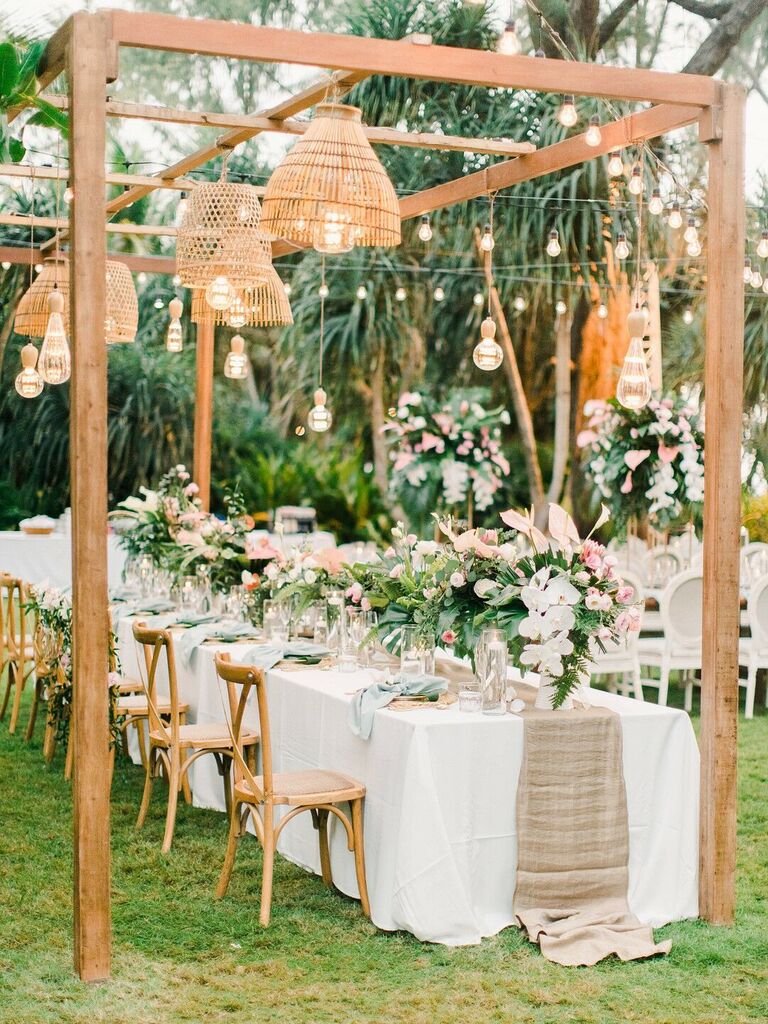 Nothing says elegance like white phalaenopsis orchids. Combine them with tropical greens for the ultimate tropical, boho chic setup.
23. Classic Fall Centerpiece
Combine different shades of roses for a pretty gradient effect. Complement with greens of your choice.
24. Blush Taper Candle Centerpiece
Elegant, but never boring. Match your candles to the colors of your flowers for a sophisticated-yet-chic effect.
25. Autumn Foliage Centerpiece
Mix wildflowers, leaves and greenery together in a pretty vase for an elegant fall wedding centerpiece idea.
26. Moody Centerpiece
Let your dark and moody color palette shine by incorporating lots of greenery and a few bright blooms.
27. Dahlia and Garden Rose Centerpiece
Pair romantic pink dahlias and garden roses together for an undeniably gorgeous tablescape.
28. Greenery Table Runner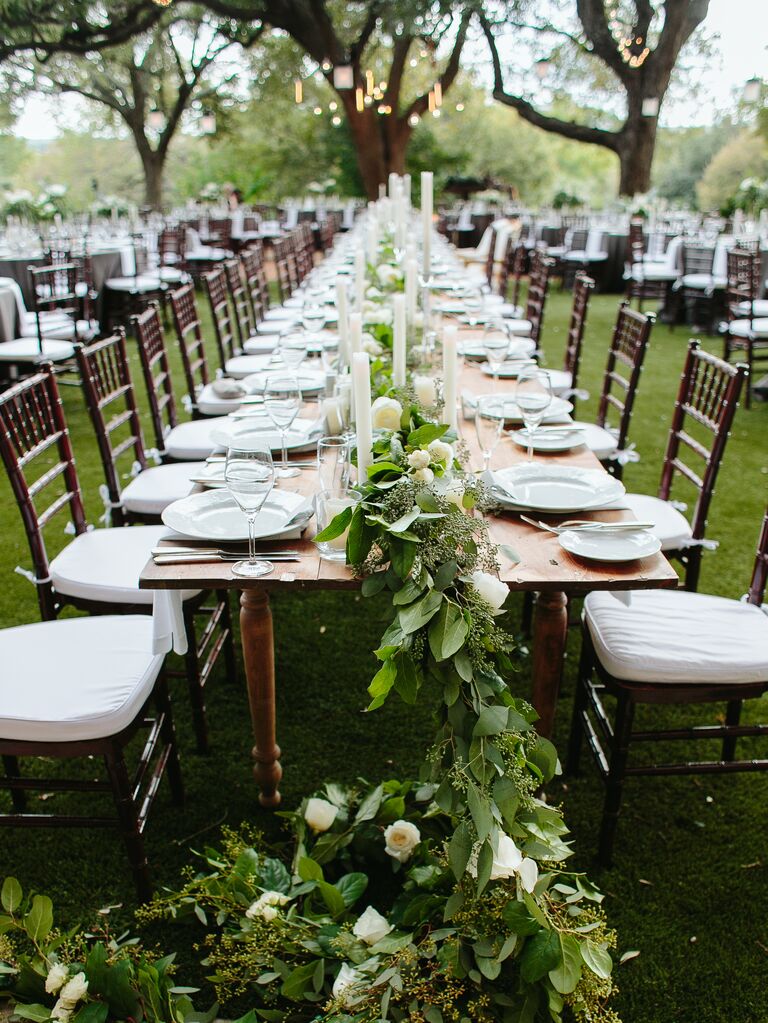 There's something so timeless about an all-white reception with natural greenery. Add some ambience to a formal table with long, elegant taper candles. Pair the candlesticks with lush, but low, centerpieces to create a real wow factor.
29. Tall Orchid Centerpieces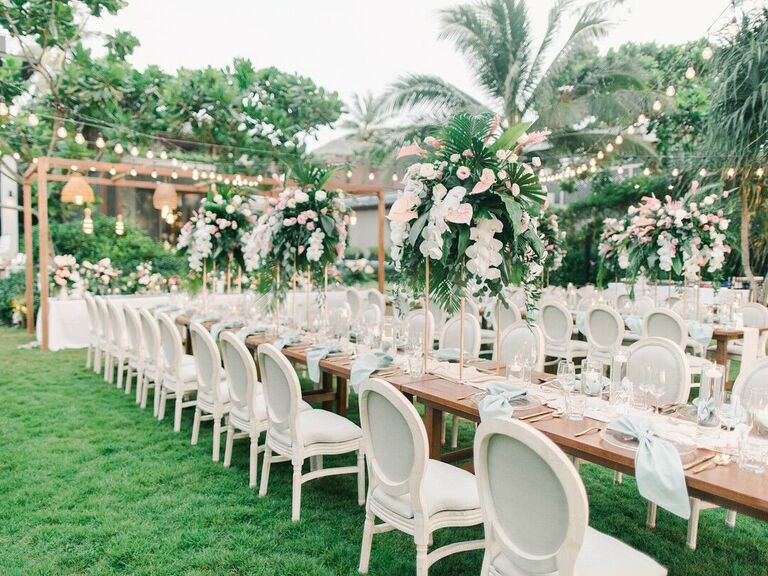 Orchids look best when they're cascading down from above, which is why they're a popular flower choice for tall arrangements. Lift them up and combine them with tropical greens and colorful blooms for a picturesque wedding table.
30. White and Green Centerpiece
Elevated white and green florals are the perfect mix of simple and glam.
31. Cherry Blossom Centerpiece
If blush is one of your spring wedding colors, consider a statement arrangement filled with cherry blossoms.
32. Floating Candle Centerpiece
How can hanging flowers not wow you? Draw your guests eyes' upward with floral installations. Suspended hydrangeas mimic the table arrangements, while hanging candles add a romantic ambience.
33. Chinoiserie Vase Centerpiece
An easy way to achieve an unexpectedly elegant tablescape is by pairing decorative vases together. Choose items in the same color palette for a chic mix-and-match look.
Unique Wedding Centerpiece Ideas
Maybe the average wedding flowers aren't for you. Good news: these unique wedding centerpieces will bring some unexpected flair to your tablescapes. From archery arrows to fresh veggies, these ideas are just as memorable as you and your partner.
34. Wes Anderson-Inspired Centerpiece
You'd better not be pretending your wedding is a Wes Anderson movie again. But really—we love this creative summer camp-themed centerpiece featuring archery arrows, colorful flowers and eclectic knick-knacks.
35. Rainbow Ombré Centerpiece
Pile on the color with a rainbow-inspired wedding centerpiece. Arrange the blooms in an ombré pattern for a whimsical-but-chic effect.
36. Fall Harvest Centerpiece
Here's a unique centerpiece idea for fall weddings. Use seasonal fruit—pomegranates, grapes and figs—alongside greenery for a tabletop smorgasboard.
37. Pincushion Protea Centerpiece
Go bold by using statement flowers like these orange pincushion proteas for an edgy-yet-pretty wedding centerpiece.
38. Gourd Centerpiece
If you're incorporating seasonal or local produce, let it have the spotlight. Accent it with simple and sparse arrangement in a glass bottle.
39. Succulent Centerpiece
Succulents add texture to an all-flower arrangement. Pair them with classic blooms, like roses, dahlias and seeded eucalyptus, to keep the arrangement from veering too desert chic. Low, boxed centerpieces allow for easy conversation among guests.
40. Vintage Book Centerpiece
Add an antique touch to your florals by stacking vintage books in the center of your tables. Pair with brass candleholders and simple tapers for a classic style. Bonus: When you add accessories to the table, you can pare down on your blooms.
41. Wheatgrass Centerpiece
Give your arrangement a just-picked look by adding florals to a base of wheatgrass. You can use fewer stems while still creating a lush centerpiece. We love this style for a garden wedding or even a backyard bridal shower.
42. Ornamental Kale Centerpiece
Edible arrangements are having a moment. We love the addition of ornamental kale and berries to this rustic centerpiece. Play with in-season vegetables and fruits or even give a nod to your dinner menu with your edible additions.
43. Curly Willow Centerpiece
Drape your centerpieces with curly willow branches, greenery, hanging candles and deep pink flowers for a woodland fairytale vibe.
44. Anthurium Centerpiece
Architectural flowers, like anthuriums and dried palm leaves, will add a hint of edge to a soft arrangement filled with roses, carnations and decorative grass.
45. Modern Beach Centerpiece
Rustic Wedding Centerpiece Ideas
Featuring details like tree branches, wooden vases and colorful wildflowers, these rustic wedding centerpieces are inspired by the great outdoors.
46. Greenery Vines Centerpiece
Tall centerpieces are usually considered to be more formal and dramatic, but with an abundance of draped jasmine vines and greenery, these arrangements feel beautifully rustic.
47. Birch Branch Centerpieces
Display your flowers atop birch branches instead of the traditional vases or centerpiece stands.
48. White and Red Peony Centerpiece
For a simple, bohemian wedding centerpiece, sprinkle in wildflowers alongside bigger blooms, like peonies.
49. Wooden Trough Centerpieces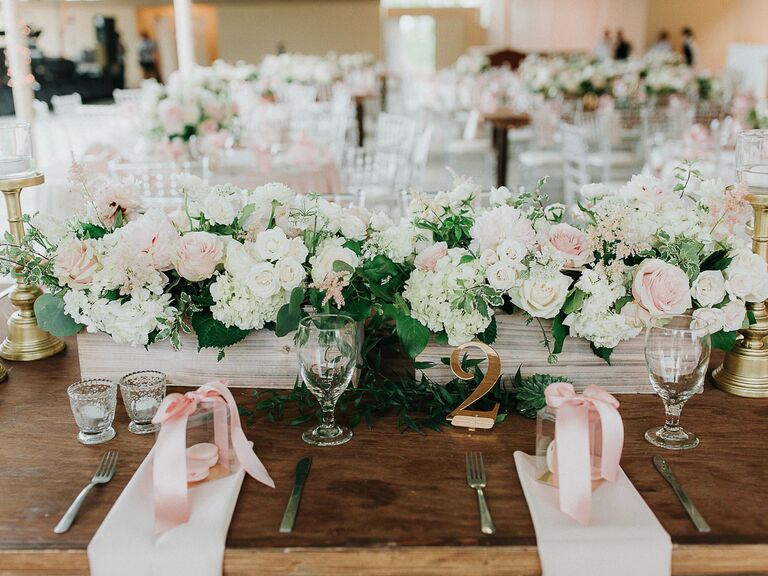 Capture rustic elegance by placing pastel-colored blooms in a wooden box.
50. Yellow, Blue and Orange Centerpiece
Aiming for a vintage vibe? Collect colorful glasses and bottles, then repurpose them for your rustic centerpieces (we love this idea for a backyard wedding).
51. Camping Lantern Centerpiece
If you're aiming for a super-rustic vibe but don't want to lose sophistication, accent bare wooden tables with lanterns and soft greenery.
52. Sunflower Centerpiece
Cheerful yellow sunflowers are a rustic floral favorite. Pair them with daisies and greenery for an outdoor summer wedding reception.
53. Table Runner with Wildflowers
Sunny, bright hues like yellow and orange will stand out even more against a backdrop of greenery.
54. Rustic Table Number Centerpiece
Incorporate an earthy vibe into your centerpieces by adding wooden table numbers to bring balance to pastel flowers and greenery.
55. Painted Antlers Centerpiece
Gold-tipped antlers are undeniably rustic. Use them sparingly alongside your floral centerpieces and candles for an easy, outdoorsy-style tablescape.