We Planned Your Australia Honeymoon for You
Relax on the beach, rough it in the Outback and spot a kangaroo.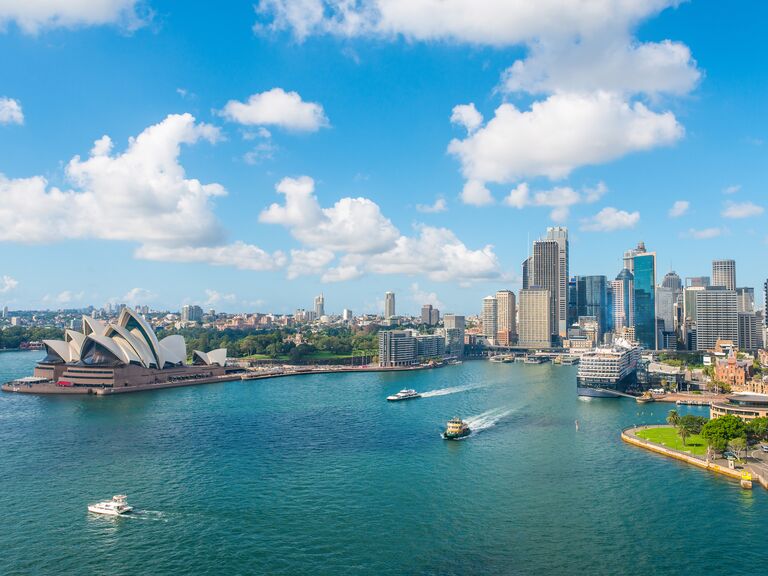 Siwawut/Shutterstock
We have included third party products to help you navigate and enjoy life's biggest moments. Purchases made through links on this page may earn us a commission.
After you say, "I do" and dance the night away, all there's left (aside from enjoying years of happiness) is enjoying the perfect honeymoon. When it comes to romantic getaways, the Land Down Under over-delivers. Australia is one of the best honeymoon destinations for couples who want it all: beaches, culture, sightseeing and adventure throughout.
An Australia honeymoon features scenic coastal activities (have you seen Bondi Beach?) and iconic cultural and architectural sights like the Harbour Bridge and Sydney Opera House. There are plenty of art galleries, which juxtapose perfectly against Mother Nature's splendor, whether it's the Outback or the Great Barrier Reef.
An Australia honeymoon isn't for everyone, though. From the US, it's a long and often pricey flight. However, if you're looking for adventure and a more on-the-go format of a honeymoon, you can't beat this Pacific destination.
Is Australia Good for a Honeymoon?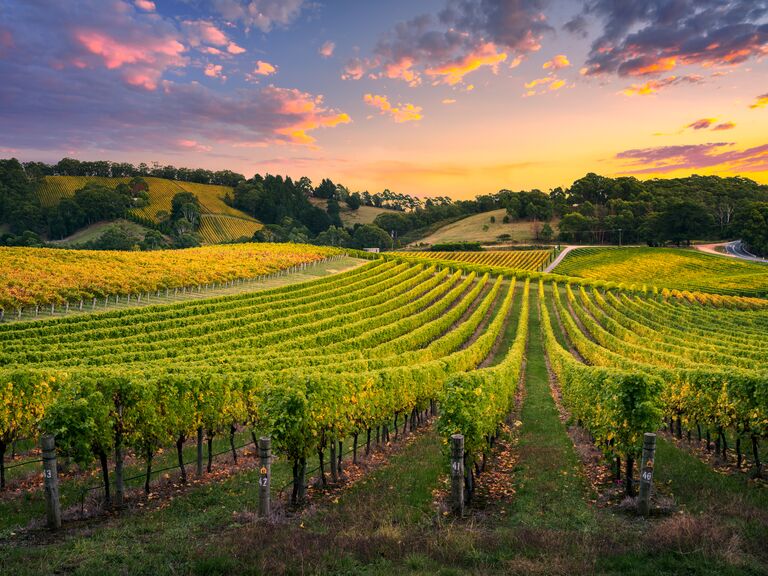 The Pros of an Australian Honeymoon
Australia has something for every couple. "We are so diverse in landscape," says Dianne Hall, the director of GoWalkabout Travel Ltd. It may not be an all-inclusive resort (though the country does offer luxe accommodations), but honeymooners could spend their entire time relaxing beachside. Of course, they likely won't want to, with the gorgeous scenery and unique experiences the country offers. There are several locations for wine-tasting, snorkeling and experiencing the arts. And after wedding planning, you'll likely want to be treated well by the locals. You're in luck: visitors are quick to note Aussies' friendliness and charm.
The Cons of an Australian Honeymoon
The biggest drawback of a honeymoon in Australia is the long flight. Hall says there's truly no way around it. It could be up to a 36-hour ordeal from the U.S. If you just want to go from your post-wedding brunch to an all-inclusive beach, you may want to save this bucket list trip for another day.
Many honeymooners may ask for a layover on the way back home. "It could be a combination of Australia and Fiji or Australia and Tahiti," Hall says. "Many do Australia and New Zealand as a combination or Australia and the gorgeous Cook Islands. I think the stopovers on the way home are better, so you wind down at the end of your trip."
Check with your travel agent. Currently, Australia is under COVID-19 travel restrictions, so this honeymoon may be one you need to take in the more far-off future.
The Best Time of Year to Go on an Australian Honeymoon for Good Weather
The weather is constantly changing Down Under, so it's tough to pinpoint the best time for your great escape to Australia. Keep in mind: Australia's seasons are opposite of the US Northern Hemisphere, so November and December are warmer months. Typically, July will be a little cooler. Generally, it's recommended couples travel October through early December, when the weather is mild and before the winter vacationers cause larger crowds.
Things to do on an Australian Honeymoon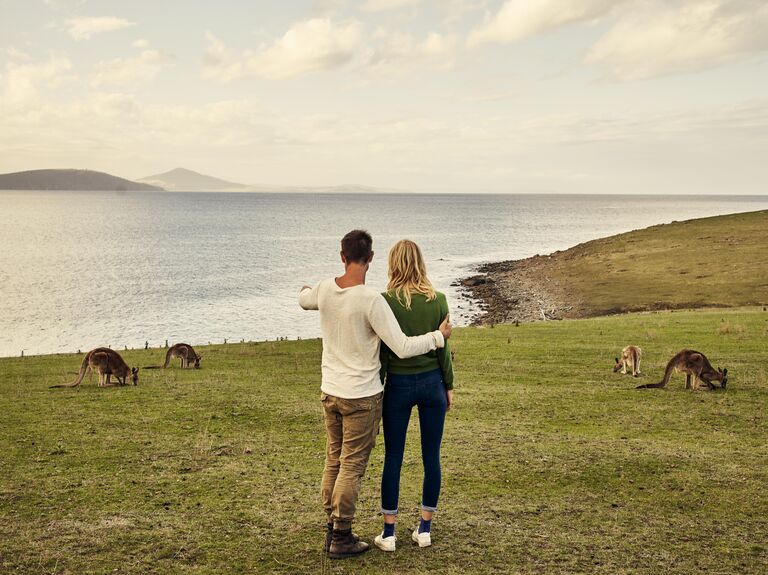 Experience Culture in Sydney
Sydney seamlessly blends a cosmopolitan lifestyle with relaxation. You won't want to miss out on the iconic cultural experiences (and obligatory Instagram snaps) like the Sydney Harbour Bridge Climb. Take in a show and experience a romantic dinner nearby the Sydney Opera House.
Take the Ghan Train
Considered one of the world's best passenger trains, The Ghan runs from Adelaide to Melbourne. With stops along the way, you could spend more than 53 hours on this mode of transportation. Honeymooners likely don't want to go the distance—and you can fly to different areas of Australia—but it's worth traveling by land to at least one location. Destinations include Darwin, Alice Springs & Uluru, Sydney, Perth and Melbourne.
Spot Wildlife on Kangaroo Island
Experts like Hall flag this as a must-do for couples. "This is where you see koalas in the wild and marine life, and it is a beautiful area," she says. An expert tour guide can help you spot kangaroos, though the koala could be a miss. If you don't spot all your favorite marsupials on Kangaroo Island, Hall suggests wildlife spotting in Queensland. Also, pay attention to the local laws—not every spot allows you to hold a koala for a photo, nor is it recommended.
Have a Beach Day (or Several)
Relaxed beach vibes are a hallmark of Aussie living and there are plenty of spots to enjoy water views. "Whitehaven Beach is usually a day sailing trip from the Whitsunday Islands," Hall says. The gorgeous, 4.3-mile stretch of white sand and shoreline is accessible by boat, seaplane or helicopter from Airlie Beach and Hamilton Island.
Sydney's Bondi Beach is another popular (albeit crowded) option, and Cable Beach near Broome is a white-sand oasis in Western Australia. On the opposite end of the country, you'll find a surfer's paradise in Byron Bay. Even if riding the waves isn't your thing, it's worth going for sunrise hikes, exploring shops with bohemian pieces, and enjoying organic food to write home about.
Hall's clients have also raved about the beaches in the Gold Coast and Noosa areas, which are north and south of Brisbane. Regardless of where you're headed, she recommends only swimming and wading where there is a lifeguard and following any instructions to leave the water. "We have incredible rips, so choose your beaches wisely," she says.
Explore Tasmania
Hall says there's much for newlyweds to love about this island state, known to locals as "Tassie" and a truly unknown destination. "If you adore hiking, cute little stores and beautiful beaches and river areas, then Tasmania is a must," she says.
She often designs Australia honeymoon packages to include a self-driving tour of the area. The capital, Hobart, is home to Victoria-era architecture and the expansive Royal Tasmanian Botanical Gardens. Freycinet National Park and Cradle Mountain National Park are also must-sees, particularly for those who love natural beauty. Freycinet National Park, for instance, offers stunning views of Wineglass Bay.
Discover the Great Barrier Reef
Go beneath the Coral Sea off and explore the world's largest barrier reef system. The Great Barrier Reef is a wonder to behold, spanning nearly 1,500 miles. It helps to support a diverse ecosystem, including humpback whales, sea turtles and corals. Honeymooners can snorkel or scuba dive along the reef and see the diverse marine life up close in an unforgettable, unique experience in a World Heritage-listed site. Hall suggests doing this activity in the Port Douglas/Cairns area. "I like to base my clients in this region as it is the gateway to the Outer Barrier Reef," she says.
If one person in a couple is a little worried about taking this adventure, but the other is ready to dive in, there's no need to make this your first fight. Tours often allow people to stay on a boat while the rest of the crew goes underwater.
Take In Uluṟu-Kata Tjuṯa National Park
Located in the heart of the Australian Outback, visiting Uluru is something of a mystical experience. No one quite knows how the large, red sandstone formation, once known as Ayers Rock, came to be, but a tour guide can give you all the theories as you stand in awe of it. It's hallowed ground for the Aboriginal people and surrounded by hot springs and rock caves.
Go Wine Tasting
Australia is home to multiple areas with notable vino. Yarra Valley, which is located just outside of Melbourne, boasts buzz-worthy Pinot Noirs and Chardonnays. Hunter Valley's Chardonnays, Shirazes, and Cabernet Sauvignons are legendary, as is the World Heritage Site Blue Mountains located within close proximity.
Both Barossa Valley and nearby Adelaide can be done on back-to-back days (if you dare, says Hall). Both areas are known in part for their Shiraz, scenic views, and easy access to other tourist activities like the Ghan Train. If you're short on time, Hall suggests exploring Barossa Valley with an expert guide, as it's the better known option of the two.
Best Hotels in Australia for a Honeymoon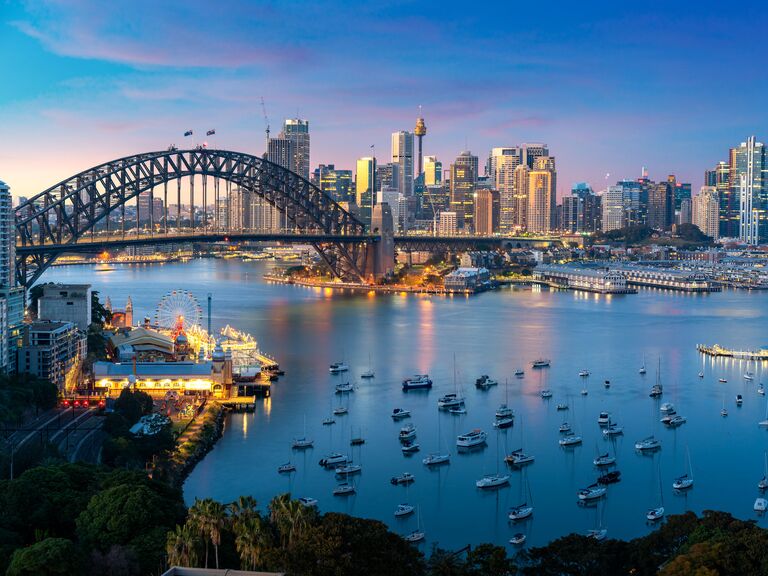 Longitude 131
For a modern but still-rugged Outback experience, consider Longitude 131. "It is the most luxurious of accommodation in the Uluru (Ayers Rock) area," Hall says. "It is something truly special waking up and seeing the Rock in the distance but also the amazing Milky Way [and] night on a clear night."
Whitsunday Apartments Hamilton Island
Hamilton Island offers a convenient home base for travelers looking to explore the Great Barrier Reef and Whitehaven Beach. And these apartment hotels are more than just a spot to rest your head. The balconies give way to unbeatable views of Catseye Beach and the bay, and there's a pool.
Sydney Harbour Marriott Hotel at Circular Quay
This hotel overlooking Sydney Harbour offers easy access to the city's famous landmarks and lively dining scene. The Sydney Opera House and Harbour Bridge are 15-minute walks. It's a three-minute stroll from the Circular Quay, a transportation hub with access to rail, ferries and bus stations when you're ready to head to your next destination.
Qualia
For a five-star island resort, look to the northernmost tip of Australia. Not only does Qualia offer luxe and plush accommodations, in addition to gorgeous oceanfront views, but it also has unique experiences for guests. You can book trips to the Great Barrier Reef, along with other boating excursions, golf outings and even spa treatments.
Melbourne Mariott Hotel
It's easy to explore the city on foot when staying in the Melbourne Mariott Hotel. Favorite shops are less than 10 minutes walking distance, and you can get to Melbourne Museum in fewer than 15 minutes. You can wind down in the on-site hot tub or sauna and rest weary legs on the plush pillows and mattresses.
Elements of Byron: Byron Bay Resort
Stay in a peaceful eucalyptus forest at this luxurious Byron Bay resort. You can choose between a studio that comes complete with a mini-bar or one or two-bedroom villas, some of which have balconies with bay views. Guests have access to complementary rainforest walks and beachside yoga.
What to Pack for an Australian Honeymoon
Your packing list will depend somewhat on what you're doing, where you're going and when you're going on your Australian honeymoon. But generally, Hall recommends men bring nice slacks and button-down shirts, while women pack a smart-casual pants-and-shirt/skirt combo. You'll want to dress up for swanky dinners in the city or art gallery trips.
Bathing suits and sunscreen are must pack items if you're headed to the beach, and absolutely pack bug spray to keep pesky critters at bay. A good hat will also provide sun protection.
Prepare for rain or shine with a raincoat and sunglasses, Hall recommends. You'll also want a universal adapter to charge mobile devices. If you're going during cooler months, bring items to layer on, like sweaters, scarves and heavier jackets. Hall says it can be particularly chilly in Sydney and Melbourne in July and August.