Take An Adventurous and Romantic New Zealand Honeymoon
Start your journey as a married couple in the adventure capital of the world.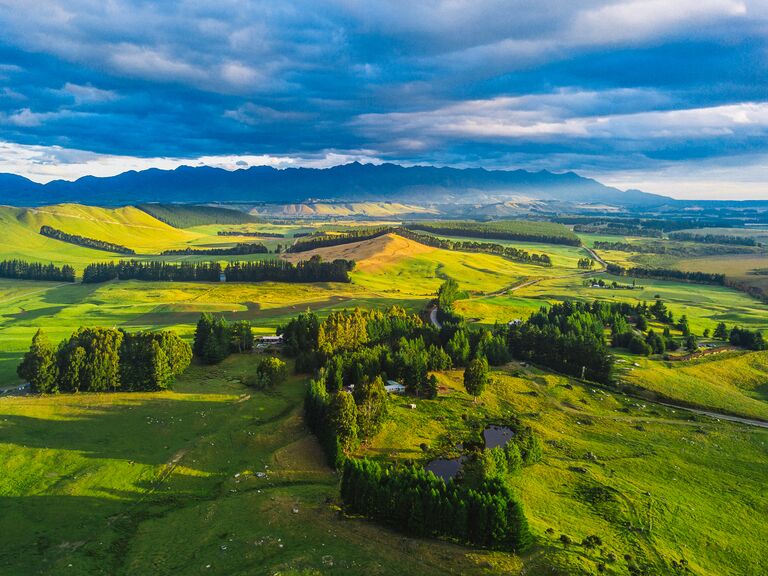 Cavan Images/Getty Images
We have included third party products to help you navigate and enjoy life's biggest moments. Purchases made through links on this page may earn us a commission.
Someone may have said during your engagement: "Marriage is an adventure." If you're looking to start your new life together by embracing this cliché, look no further than venturing off to New Zealand for your honeymoon.
For starters, New Zealand is the adventure capital of the world. Located in the southwestern Pacific Ocean, the country (and its capital of Wellington) boasts impressive waterfront views, otherworldly scenery, plenty of places to hike and a movie-set experience.
The biggest drawback is the flight. From the US, it requires an entire day of travel there and back. If, however, you consider the trek as part of the adventure, New Zealand is a romantic getaway full of excitement and stunning views from check-in to check-out. Planning a wedding is stressful—allow us to help you with your New Zealand honeymoon.
Is New Zealand Good for a Honeymoon?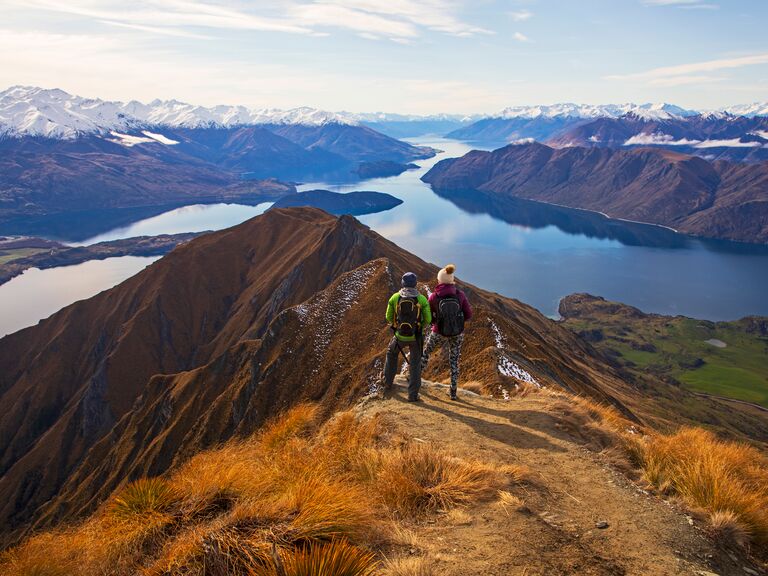 Pros of a New Zealand Honeymoon
New Zealand is one of those honeymoon destinations with something for every type of couple. The country boasts beaches, adrenaline-inducing activities, a chance for Lord of the Rings fans to journey to Middle Earth and the Hobbiton movie set. There are also flocks of sheep and equally kind locals (affectionately referred to as Kiwis) who are more than ready to welcome honeymooners with open arms.
"This country is truly magnificent," says Dianne Hall, the director of GoWalkabout Travel Ltd. "[It has] a population of approximately 4.9 million people and approximately 26 million sheep. The New Zealanders, [known as] Kiwis, are some of the friendliest people on earth. They are down to earth and just truly special."
Unlike Australia, Hall says a New Zealand honeymoon requires more of a road trip upon landing. This perk allows travelers to take in the country from the ground, and it prevents couples from having to book multiple flights after already traveling the distance.
Cons of a New Zealand Honeymoon
If you're looking to go from sweetheart table to beach chair, New Zealand likely is not the place for you. There's a long flight, which isn't the most comforting after partying and planning a wedding. Though New Zealand is more of a road trip, the roads are often single-lane and winding. Patience is required. You'll also be driving on the left side of the road, which US couples say involves an adjustment period.
Hall also cautions honeymooners about the weather. "The usual weather can be very sporadic in different regions, so people just need to be open that they may pass through several seasons [in one trip]," she says. "The West Coast of the South Island can get quite wet, but it is beautiful. New Zealand often gets the remnants of some of the bad weather from Australia as well."
New Zealand is also currently under COVID-19 restrictions, so this is a trip you may need to take in the more distant future.
The Best Times of Year to Go on a New Zealand Honeymoon for Good Weather
Keep in mind, New Zealand's seasons are opposite of the United States. So, summer months are January and February, while winter is considered July and August Though the weather isn't predictable during any season, Hall says it's most consistent in March and April.
"If you visit after the winter, in September or October, the weather really could be anything," she says. She adds attraction and travel prices are often highest, crowds are the largest and traffic is the heaviest during New Zealand's summers in January and February.
Things to Do During a New Zealand Honeymoon
See Dolphins Near the Bay of Islands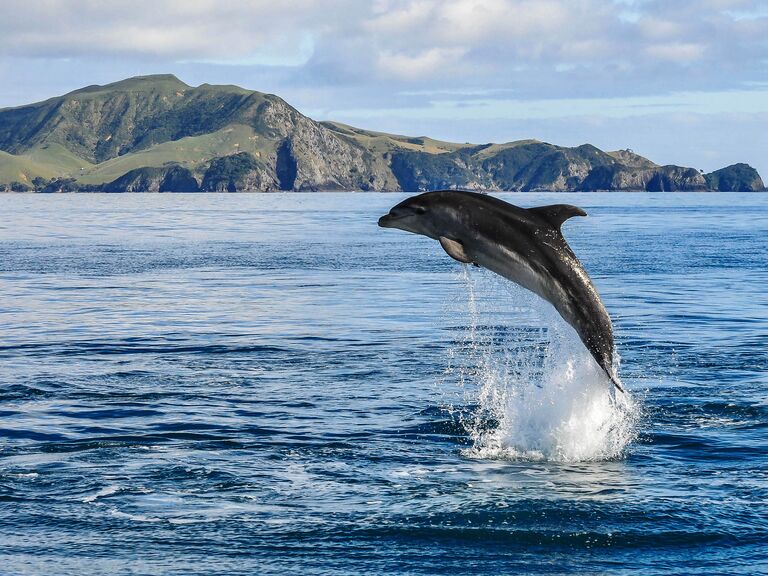 The Bay of Islands surrounds 144 islands. It's noted for its underdeveloped beaches and loved by fishers and sailors alike. You can still catch a glimpse of dolphins while cruising on a catamaran. Afternoon jaunts also allow honeymooners to spot penguins and other marine life. (Those who want to see more marine life will want to put Kaikoura on the South Island on their itinerary—it's a haven for sperm whales and penguins.) The Bay of Islands is a three-hour drive or 35-minute flight from Auckland.
Adventure in Queenstown
Habitually daring couples or those putting the "YOLO" attitude in their carry-ons will get a jolt of adrenaline in Queenstown, rivaled only by the effects of Costa Rican coffee. The South Island tourist hotspot is ideal for travelers looking to go bungee jumping and skydiving. It's also home to cliff jumping and the Shotover Canyon Swing. Couples whose version of "risk-taking" involves staying out past midnight can still enjoy low-key experiences in Queenstown, like bathing in the pristine waters of Lake Wakatipu.
And Queenstown is not only full of adventure, but it's also within close proximity to other destinations for unique experiences worthy of a day trip while staying in the area. Hall suggests the Shotover River just outside of Queenstown for rafting and jet boating (If you're spending much of your honeymoon on the North Island, Hall recommends trying Lake Taupo for jet boating.) Lake Wanaka is a favorite kayaking spot for Hall's clients.
Seek a Hobbit-Like Experience
Movie buffs, particularly Lord of the Rings fans, will make a memory at the Hobbiton movie set. Located on the North Island, Hall says it's easy to get to on your trip towards Rotorua.
"You only need a few hours, and you can break the journey in your self-drive," Hall says. She does say most of the sets have been broken down, but she tells couples it's worth the trip when putting together their honeymoon packages, as the natural scenery is more out-of-this-world in person than it was on the big screen. A tour guide can make the experience all the more entertaining.
Visit Rotorua
Rotorua is a popular town among tourists—so expect some crowds, particularly if you're going during the peak travel season. But it's worth maneuvering as the town has a little bit of everything. Couples looking for relaxation can bathe in hot springs, while those who didn't get enough heart-pumping experiences in Queenstown can go skydiving once again here. Better yet, go rafting down (yes, down) Tutea Falls Waterfall. Explore geothermal activity with a self-guided or guided tour at Waimangu Volcanic Valley. Afterward, take a soothing soak in a hot pool.
Hike Glaciers on South Island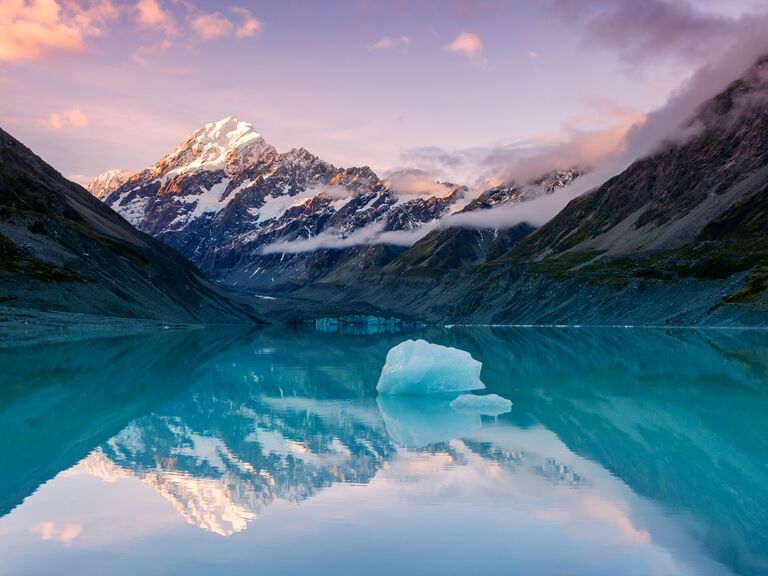 Get an up-close look at a glacier by taking a thrilling hike along the West Coast of South Island. Fox Glacier Guides offer ice climbing adventures for intrepid travelers and guided walks through abundant rainforests for those who would prefer a gorgeous stroll. Franz Josef glaciers tend to be steeper and more dramatic than Fox Glaciers, though both are stunning. Franz Josef Glacier Guides can take honeymooners on ice climbs. While in the area, stop by Snake Bite Brewery to toast to your new beginnings and the adventure ahead with a local craft beer.
Tour Tongariro
Situated on the North Island, Tongariro is home to what some hail as the country's best spot to hike: Tongariro Alpine Crossing. The World Heritage-listed site is an ideal spot for hikers of all experience levels. The mostly flat 90-minute trek from Mangatepopo Road End to Soda Springs is perfect for beginners, while more advanced hikers will relish in the stunning views and challenges posed in the climb from Blue Lake To Ketetahi Shelter, which takes about one hour.
Sip Wine in Hawke's Bay
Hall calls New Zealand a haven for wine lovers. Known for its red blends and Chardonnays, Hawke's Bay is one of the nation's most famous regions. Mission Estate, established in 1851, is the oldest surviving winery and is considered the "birthplace of New Zealand wine." Te Mata Estate has also been in business for more than 100 years. Couples split between wine and brews can get the best of both worlds by taking a half-day tour with an optional (but completely recommended) beer tasting.
If you prefer Pinot Noir, opt for the South Island's Central Otago instead. Sauvignon Blanc enthusiasts, meanwhile, will love Marlborough.
Get Up-Close With Glowworms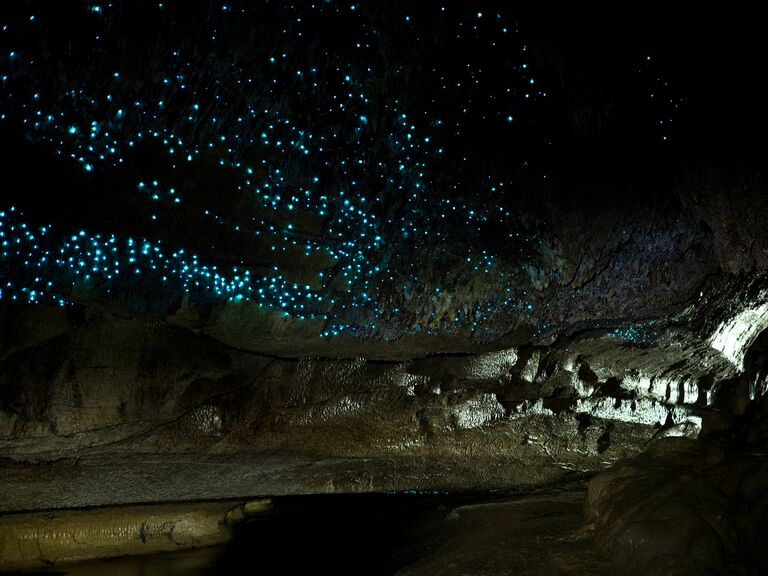 Glowworms are so beautiful—you'd probably never think they were actually mosquito-like insects called fungus gnats. One of Hall's favorite places to send clients to is the glowworm caves in Waitomo. "They are unique and pretty to look at and about the size of a matchstick," Hall says. "A lot of people have never been down into a cave, so this is a worthwhile experience."
Though it's a fun experience for many, Hall warns the caves can be cramped quarters, something to keep in mind for the claustrophobic.
Adventure Through Auckland
This city is home to postcard-worthy landmarks like the soaring Sky Tower, one of the world's tallest towers, and Harbour Bridge. Honeymooners can climb to the top of the Sky Tower and take in views of superyachts below in the Viaduct Harbour. There are plenty of bars and restaurants in the bustling downtown, and nearby Mission Bay Beach offers an unpretentious beachside ambiance. The city is also home to Auckland Domain, a park where visitors can find the historic and gorgeous Wintergardens.
Auckland also offers an easy way to escape the city as part of a romantic getaway-style day trip. Couples can travel on the Coromandel Auckland ferry. From there, relax at Hot Water Beach on the Coromandel Peninsula and walk through Cathedral Cove, where The Chronicles of Narnia: Prince Caspian was filmed.
Enjoy the Arts in Christchurch
Christchurch, the largest city on the South Island, is a hub of arts and culture. Take in a show at The Court Theatre, New Zealand's oldest theatre company. The Canterbury Theatre, situated at the entrance to the Botanic Garden, houses the world's most extensive collection of Moa bones and Antarctica memorabilia and photos. And don't underestimate The Arts Centre. There are boutique shops, food courts with delicious grub and galleries to explore.
Discover a National Park (or Two)
New Zealand is home to several national parks, and it's worth working a trip to a couple of them into your itinerary for natural beauty and other once-in-a-lifetime experiences.
Milford Sound National Park in Fiordland is highlighted by a sprawling landscape full of cascading waterfalls and Maori legends a tour guide can reveal. You can explore it by land or sea (kayak or guided cruise, like a full-day experience from Queenstown).
Located in Nelson at the north end of New Zealand's South Island, Abel Tasman National Park is perhaps most famous for its coast track. The long, winding trail takes hikers over beaches and allows them to spot wildlife like penguins and fur seals. It's also ideal for sky diving and kayaking.
Hiking enthusiasts will want to take in Aoraki Mount Cook National Park, where 23 peaks seemingly kiss the sky. Mount Cook, part of the Southern Alps, is the highest of them all at 12,218 feet.
Best Hotels and Resorts in New Zealand for a Honeymoon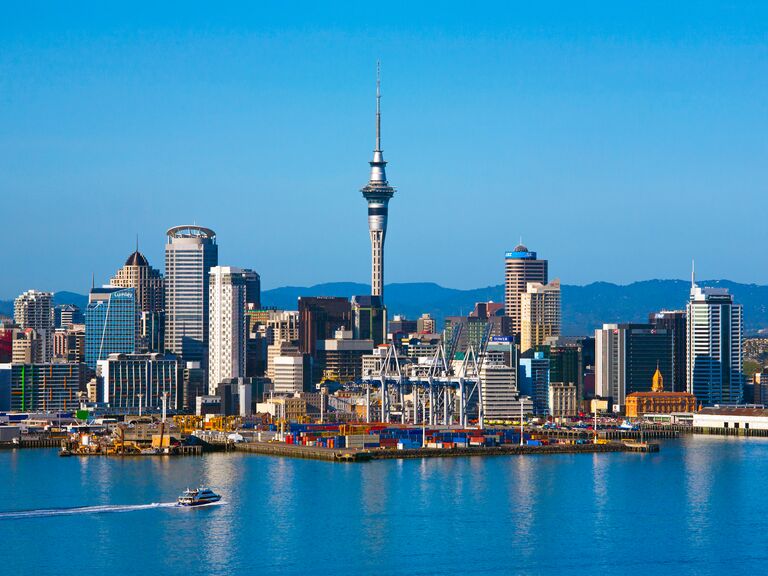 Chateau Tongariro
The turn-of-last-century hotel's stately interior, complete with long drapes and jeweled chandeliers, is rivaled only by the views outside. Chateau Tongariro calls Whakapapa skifield and Tongariro Alpine Crossing its backyards. It's an ideal spot to rest weary legs when heading to favorite Nelson spots like Abel Tasman National Park. Keep in mind that as comfortable as it is, there's no air conditioning.
Wai Ora Lakeside Spa Resort
Wai Ora Lakeside Spa Resort is a laidback spot is situated on the shores of Lake Rotorua. It offers onsite dining and spa treatments, making it ideal for couples who need a little TLC after so many adventures. Take in views of Redwoods Treewalk with your morning cup of Joe, and golfers might enjoy hitting the driving range at the nearby course.
The Lodge at Kauri Cliffs
The Lodge at Kauri Cliffs sits on 6,000 acres of land and offers breathtaking views of the Pacific Ocean. Guests can also take in the pristine golf course from the main lodge. The lodge has 22 rooms and is ideal for couples exploring the Bay of Islands.
Blanket Bay
This boutique hotel perfectly melds luxe and cozy. Blanket Bay's rooms have fireplaces and sofas, and the elegant dining room exudes upscale Old-World vibes. Pre-dinner cocktails are on the house. Blanket Bay is located 45 minutes from Queenstown and overlooks Lake Wakatipu.
Four Points by Sheraton Auckland
A Mariott Hotel, Four Points by Sheraton Auckland is a contemporary spot with a mere 10-minute walk to Sky Tower. The high-rise building offers stunning views of the city below. Amenities include a rooftop bar and an onsite restaurant. It's temporarily closed.
Kamana Lakehouse
Located right in Queenstown, Kamana Lakehouse boasts Lake Wakatipu views. Private hot tubs offer guests the opportunity to take in the stunning views while soaking weary legs. The dining room, complete with a wooden interior, exposed wooden beams and floor-to-ceiling windows, is the epitome of rustic elegance.
What to Pack for a New Zealand Honeymoon
Your packing list will depend on your itinerary. But generally, Hall suggests packing a "smart-casual" outfit, such as a collared shirt and trousers or dress, for a romantic dinner.
Since the weather is sporadic, prepare for anything by bringing sunscreen, sunglasses, an umbrella and a light raincoat. If you're going during a transitional period in the spring or fall, bring clothes to layer on and take off as needed, such as cardigans and scarves. Hats will help shield skin from the sun. Should you plan to ice climb, winter gear is essential.
If you're headed to Hot Water Beach or plan to soak in a hot tub, bring a swimsuit as well.