10 Essentials for a Road Trip Honeymoon
What better way to celebrate your new marriage than a road trip getaway?
by Trish Przystup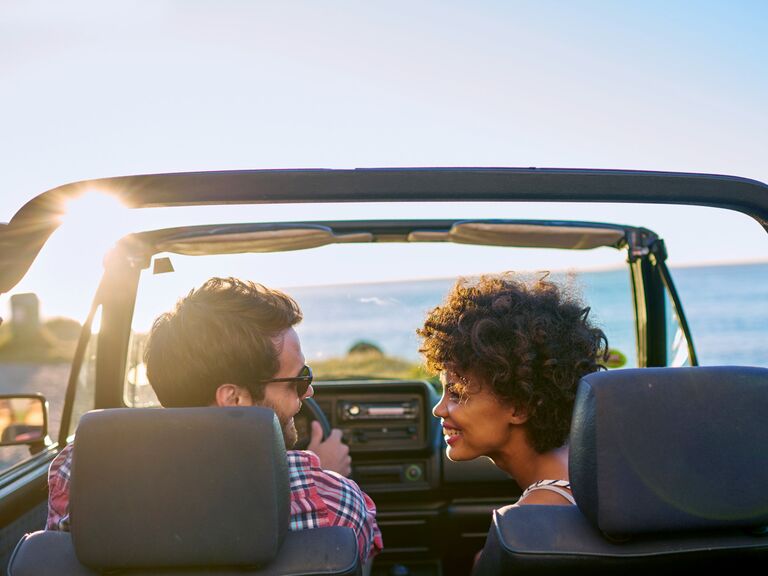 Whether you're taking a minimoon, honeymoon or any kind of moon, a road trip is the perfect opportunity to soak in your "just married" status with your SO. Get ready to pack your bags and hit the road for your romantic getaway—just don't forget these must-have items.
1. GPS
A GPS will help you stay on track and is (most of the time) a reliable source for directions throughout your road trip honeymoon.  
2. Map
For those times when a GPS isn't reliable (lost signal, lots of traffic or maybe you just want to take the backroads), grab a map to plan out your route and play navigator.
3. Phone Charger
Having your phone fully charged is a must—for both emergencies and to keep the tunes popping. Pack a car charger or portable charger for those days when you won't be close to an outlet.
4. Notebook and Pen
These will come in handy—not only for writing about your honeymoon, but also writing down directions.
5. Playlists and Podcasts
Create a few playlists to have in your listening lineup. Go for a variety of genres—and don't forget classic sing-along songs and some fun throwbacks. Make them together, or you could each create a surprise playlist for one another. Want to mix it up? Listen to a podcast. Tune into one episode or binge a whole series.
6. Guidebooks
Grab some guidebooks to help you find some hidden gems along your route. Big foodies? Check out books like Diners, Drive-Ins and Dives and Great American Eating Experiences. And for some inspiration on where to go, pick up The Road Trip Book: 1001 Drives of a Lifetime.
7. Travel Games 
You can't go wrong with the classics, like 20 questions or the license plate game. You can also create your own scavenger hunt for your partner to partake in while you're driving and vice versa. And if the radio is up your alley, you can play radio roulette: Click the search button and stay on the station that it lands on for 10 minutes—then change it. Revel in the music that the radio is playing, no matter how terrible or silly it might be.
8. Snacks
If you're looking to stay healthy, pack goodies like single-serving popcorn bags, protein bars, nut butter with bananas and apples, trail mix, applesauce, jerky and dried fruit. But let's be real—it's a road trip, and there are definitely going to be some snacks you can't help but grabbing at the gas station. So treat yourself and indulge in your favorite guilty pleasures. One bag (or four) of Cheetos and Sour Patch Kids please!
9. Blanket
Pack a blanket in your car if you know your partner will have the AC blasting. It can also come in handy if you plan on camping at any point throughout your trip or having a picnic at a rest stop or park.
10. Camera 
We know you're glued to your phone (guilty!), so why not get a lens to attach to your phone's camera? (We love this one from Moment.) With many breathtaking places to visit across the country, you never know what beautiful sights you'll see. Or if you're really into photography, register for a GoPro or DSLR camera that you can take on your road trip honeymoon. (Psst, we make it easy to register for anything, anywhere with our Universal Registry tool.)
Wondering what else to pack? Check out our list of essentials for any type of honeymoon here.