What to Wear to a Bachelorette Party as the Bride or a Guest
Plus, our favorite places to shop for bach-worthy outfits.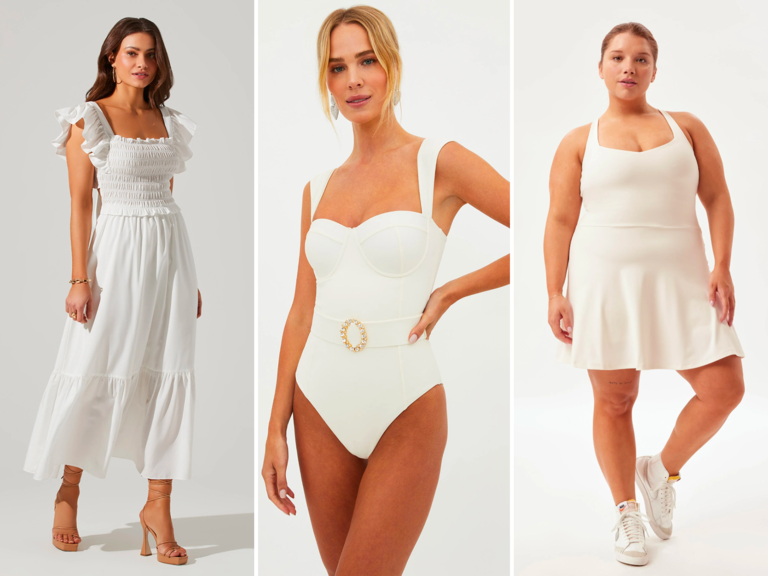 Photos, From Left to Right: ASTR The Label, Beach Riot, Girlfriend Collective
We have included third party products to help you navigate and enjoy life's biggest moments. Purchases made through links on this page may earn us a commission.
Picture this: You're standing in front of your closet the night before a bachelorette party, and you have no idea what to wear. If you've been in this situation before, you're not alone—but finding an outfit doesn't have to be a problem anymore. Whether you're the bride or a guest, choosing what to wear to a bachelorette party isn't always easy, especially because your outfits largely depend on what you're doing and where you're going. (What you pack for a long weekend in Tulum will be quite different from what you bring to a wellness excursion in Maine, for example.) Plus, along with the rise of bachelorette party dress codes that include themed outfit nights and color-coordination requests, finding what to wear can be downright stressful.
Not to worry, though: As your go-to wedding fashion source, we're breaking down exactly what to wear to a bachelorette party as the bride or a guest. Below, we explain important style rules to keep in mind as you pack your suitcase. And, when you're ready to shop for new outfits, we're sharing the best retailers to find bach-worthy looks. Consider all of your bachelorette party outfit questions answered, right here.
In this article…
What To Wear to a Bachelorette Party As The Bride
If you're the guest of honor, you make the rules when it comes to attire. Still, there are a few things to keep in mind while packing. Read up on what to wear to a bachelorette party as the bride below.
Opt for a Little White Dress
As the bride-to-be, you have a pass to wear as much white as you want to in the months leading up to your big day. And, while your wedding dress is the most important piece of clothing you'll wear during this season, we recommend stocking up on plenty of white outfits for all of your pre-wedding events too. From rompers to mini dresses and trendy swimsuits, we recommend adding a few monochrome numbers to your packing list.
If white isn't your thing, we have outfit ideas for you too—like an all-black look instead. (This will look especially chic if you ask bach party guests to wear contrasting all-white outfits next to your black attire.) Get started by shopping our favorite LBDs for bach parties here.
Dress for the Location & Activities
Before you fill your suitcase, touch base with the host to learn about the location and what kind of activities will be planned. While you might prefer to wear a Hill House nap dress to a wine tasting in Napa Valley, a trendy ASOS sarong would be better suited for a poolside party in Miami, and you'd definitely need athleisure for a mountainside yoga session in the Catskills. Plus, keep in mind that different bach party cities have distinct fashion profiles. (Think: cowgirl boots and fringe denim jackets for Nashville; sequin bodycon little black dresses for Las Vegas; midi dresses and jumpsuits for the Hamptons.) Even if the full bachelorette party itinerary is a surprise, the host will be able to fill you in on a few key details to make sure you're properly dressed for the locale.
Prioritize Comfort
Take it from us: Your bachelorette party is not the place to break in a towering pair of strappy heels or a restrictive dress with dangerous cutouts. The goal of this prewedding event is to have fun with your bridal party and closest friends—the last thing you want to deal with is a pair of shoes that give you blisters or a crop top that keeps riding up on the dance floor. If you're not sure what to wear to a bachelorette party, shop for outfits that align with your tried and true favorite styles. And, if you're not sure where to shop for bachelorette party outfits that are stylish and comfy, keep scrolling to see our favorite retailers.
Consider How it Photographs
Plenty of photos will be taken throughout your bachelorette party weekend (and when you're ready to post them, we've got 45 caption ideas right here). Since you'll be the focus of everyone's Instagram pictures and boomerangs, it's important to choose outfits that make you feel your best. The way an outfit photographs is a key consideration to keep in mind, so we recommend packing looks that make you feel as confident as ever—after all, that's the best accessory you can wear.
What to Wear to a Bachelorette Party as a Guest
Whether you're a bridesmaid or a close friend of the bride-to-be, your bachelorette party outfits are just as important. Below, read up on the three major style rules to keep in mind as you plan your fashion repertoire.
Avoid White Unless Instructed
Wearing white to a wedding event when you're not the couple is a fashion faux pas to avoid, unless you're explicitly directed by the host. There might be a day that all guests are encouraged to wear white while the bride-to-be wears a standout color—in this case, go all out with your monochrome look. But unless it's clearly requested, we recommend skipping an all-white ensemble.
Match Your Fellow Guests...If Requested
Matching bachelorette party t-shirts, anyone? Not only are custom tops a cute bachelorette party idea, they serve as special favors too. If the host has provided you with a shirt ahead of time, double-check that it's included in your suitcase. The last thing you want to do is be the only guest without your merch.
Follow the Dress Code
Today, more hosts are coordinating bachelorette party dress codes as a fun way to personalize the experience. In addition to providing matching t-shirts or one-piece swimsuits, they may also plan days for guests to wear an all-neon outfit, a themed costume, or color-coordinated cocktail dresses—the sky's the limit when it comes to the bachelorette party attire. Cross-reference the invitation before you start packing to confirm that your selected outfits are dress code-appropriate.
Every Bachelorette Weekend Outfit You Need
Ready to start shopping? Here's a few of our favorite shoppable styles to inspire your bach party fits.
For Lounging Around the Hotel: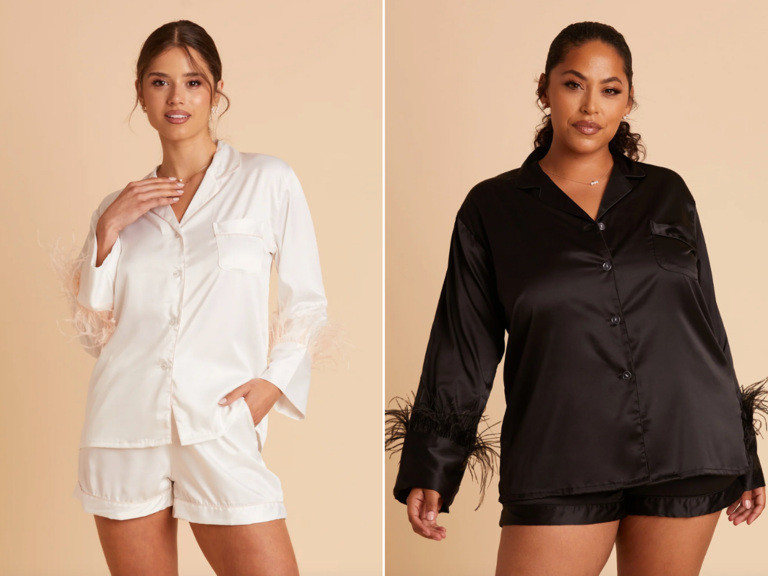 Packing your bags for an overnight trip? Don't forget your PJ's! Your squad will love going from wake up to makeup in these festive feather-trimmed pajamas. P.S.: They can double as getting-ready outfits on the morning of the wedding.
For a Morning Hike or Yoga: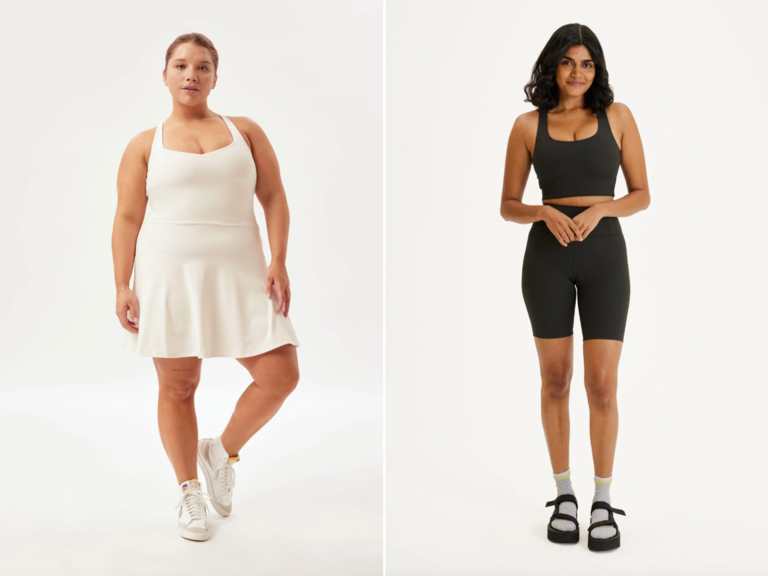 Whether you're exploring the great outdoors, or having a pre-party meditation, the good news is you can look good while doing it. A tennis dress or a matching set will have you looking cute (while feeling comfortable).
For Going to Brunch: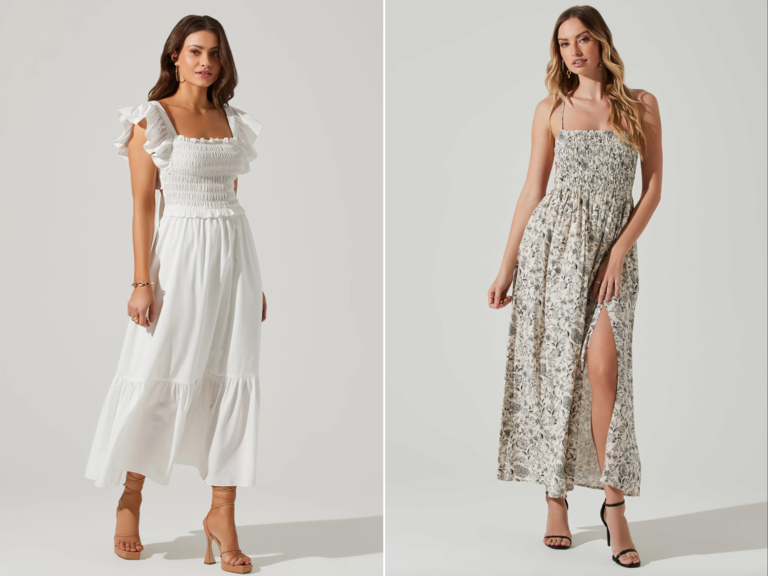 Get ready to pop the bubbly—these stylish sundresses offer plenty of reason to celebrate. Complete your look with a pair of woven wedges and a rattan bag for an elegant brunch ensemble.
For Exploring the City: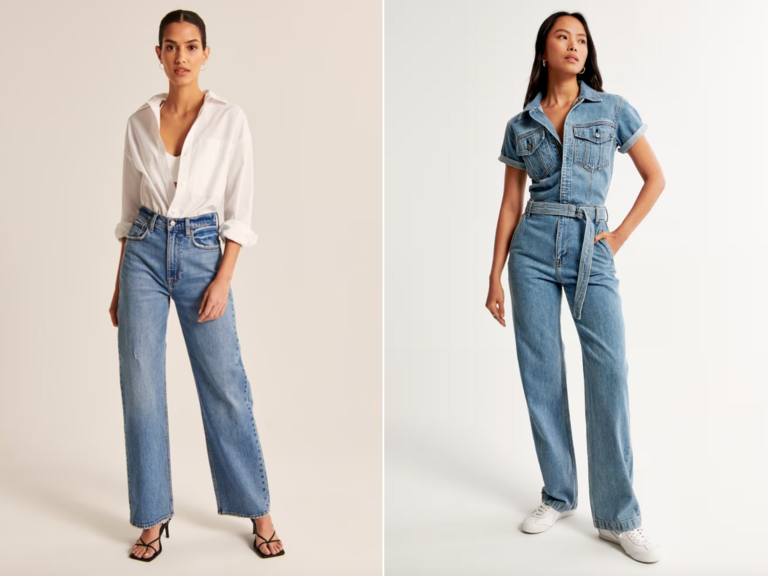 Get ready to hit the town in one of these classic denim fits. They'll have you and your crew looking polished throughout every photo-op. The best part? You'll get plenty of use out of them after the festivities as well.
For a Dip in the Pool: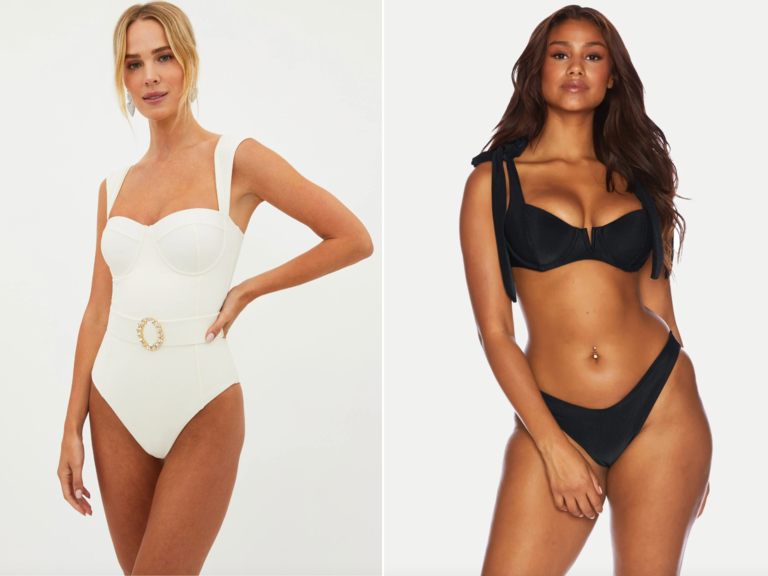 There's always that one person who forgets to pack a swimsuit for the hotel pool. This time around, don't let it be you. Avoid a fashion faux pas on your bach trip by adding one of these sexy swimmies to your packing list.
For Going Out to Dinner: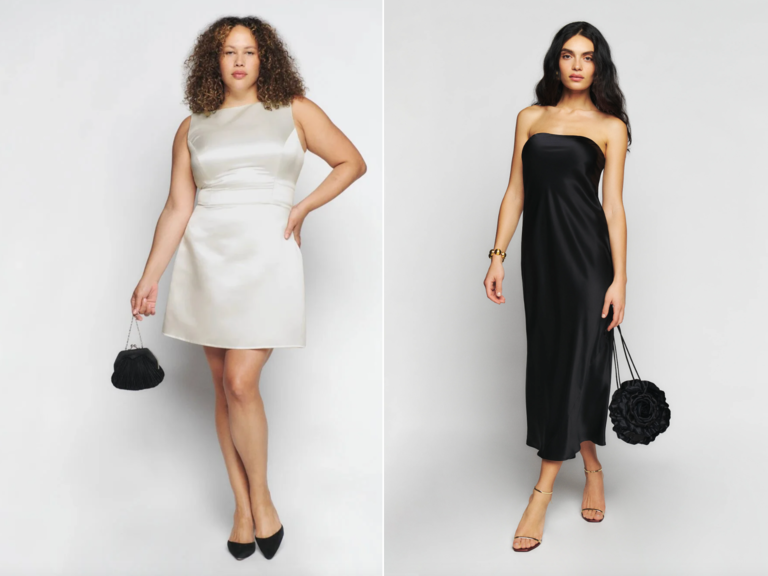 How about one of these stylish silk dresses to get wined and dined in? Their understated silhouettes are practically begging to be accessorized with a festive bachelorette sash.
For Bar Hopping: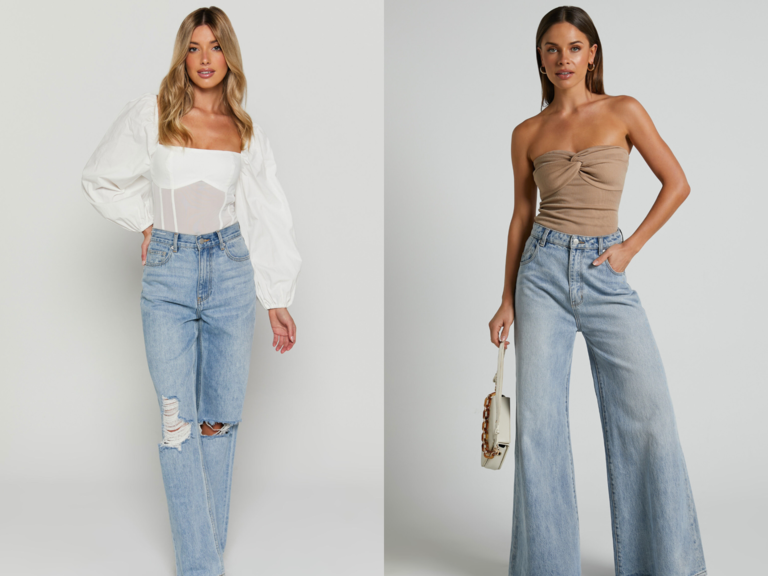 Jeans + a cute top = our go-to outfit for a night out. With several classic color options to choose from, we can bet you'll have these chic blouses on repeat throughout the bachelorette trip and beyond.
For Hitting the Club: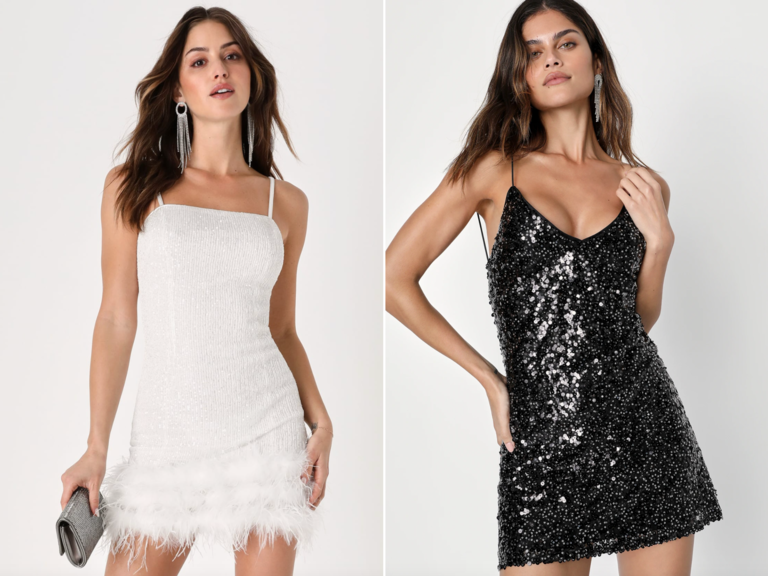 You don't need a disco ball to get the party started on your bachelorette trip. These shimmery sequined dresses are sure to do the trick. Finish off your look with a comfortable pair of block heels and you'll be set to dance the night away.
Where to Buy Bachelorette Attire
Now you know what to wear to a bachelorette party—but where should you shop for outfits? Fear not! Below, we've rounded up our six favorite retailers that have exactly what you need when it comes to outfits to wear for a bachelorette party as the bride or a guest.
Abercrombie & Fitch
In case you missed it, Abercrombie is back and better than ever. While this popular retailer was probably one of your favorites in your middle school days, its current selection is perfect for wedding events. If you're looking for upscale dresses and matching sets you'll be able to repurpose for other events, like a bridal shower brunch or the rehearsal dinner, look no further.
Lulus
On the hunt for trendy bachelorette party outfits that won't bust your budget? You can't go wrong with Lulus. This popular brand has plenty of affordable going-out looks, along with tons of cute swim and cover-up styles for any tropical excursions on your radar. And with frequent sales, you'll be able to stock up on outfits for all of your party needs.
ELOQUII
ELOQUII is a premier destination for size-inclusive fashion. With a variety of styles ranging from formal cocktail dresses to casual athleisure (like leggings and cozy matching sets), and even swimwear, it will serve as your one-stop-shop for all your bachelorette fashion needs.
Showpo
A bachelorette party is a great opportunity to show off your fun sense of fashion with bold prints, bright colors and fashion-forward styles. If you're looking for outfits that'll highlight your impeccable taste, you'll love the options at Showpo. From printed rompers to chic activewear and dresses of all styles and silhouettes, here you'll find outfits for every kind of party—from laidback wellness weekends to wild bar-hopping excursions.
ASTR The Label
ASTR The Label is one of our favorite places to shop for wedding guest attire, but this trendy brand also has plenty of outfit inspiration for bach parties too. Whether you need a seasonal wrap dress for vineyard hopping or a chic playsuit for a cruise on the water, ASTR The Label has plenty of picture-perfect selections.
Nuuly
Shopping for multiple formal outfits can add up over time, especially if you have a busy wedding season full of events. Instead of investing in multiple outfits, consider renting a few going-out looks from Nuuly. Not only is renting a sustainable alternative to constantly buying new clothes, it's also a budget-friendly way to stay on top of the trends without breaking the bank. Use code THEKNOT20 to get 20% off your first order with Nuuly.