Why Being "Consciously Single" Now Can Lead to Relationship Success Later in Life
Consider it the 2022 version of "conscious uncoupling."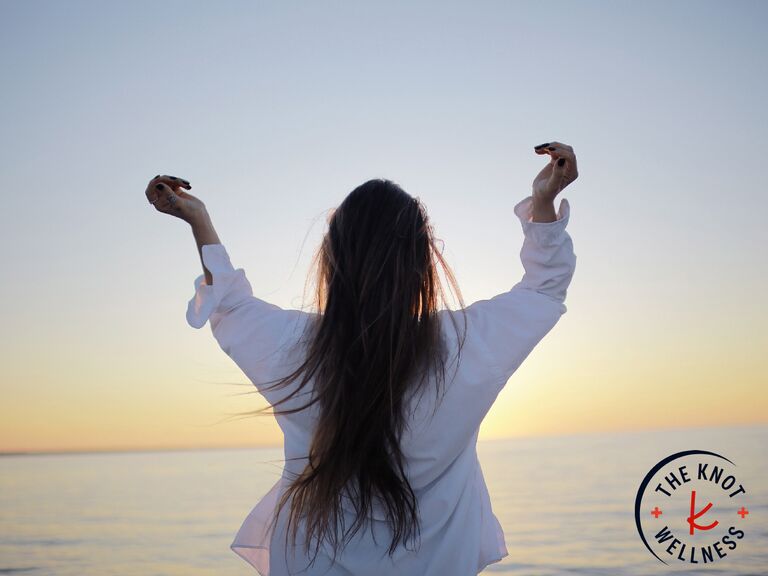 Kichigin/Shutterstock.com
Here at The Knot, we know a thing or two about weddings—but we also know that marriage is more than just the wedding day itself. While you might daydream about wedding dress shopping or the moment you lock eyes with your partner as you walk down the aisle, it's important to remember that the foundation of a strong relationship is key for any successful marriage. And, if you're currently single, you might find yourself yearning for the moment that you, too, get to experience all of the wonderful benefits that come from finding your life partner.
In this digital age, it's hard not to compare your life timeline to others. Seeing engagement after engagement on Instagram or cute couple challenges on TikTok may leave you feeling lonely, or like you're behind when it comes to relationship experience. In reality, though, experts say there are benefits to being single. In fact, one of the top dating trends of 2022 is all about being "consciously single." (Yes, like the modern version of Chris Martin and Gwyneth Paltrow's "conscious uncoupling.") According to a recent survey done by Bumble, insights indicated that over half of their users (53%, to be exact) said they're okay with being alone for a while. They also found that 54% of users are more mindful in how, and when, they date.
This shift to embracing solitude is a bold move, especially in the digital dating era when it's easier than ever to connect with potential romantic interests—simply download one of the many dating apps online and start swiping until you find a match. But with this opportunity comes the realization that dating someone just because you can isn't always the right move for you. As a result, experts say that being intentionally single can actually lead to relationship success later in life. So, how does that work? Read on to learn about the top benefits of being single, and why it may ultimately set you up to find the right match.
Is Being Single Bad?
You're not alone if you've ever thought, "Is being single bad?" It's a valid concern to have, especially when it feels like all of your friends, acquaintances, and social media followers are in happy relationships. Any choice you make in honor of your personal growth and wellbeing isn't bad—so, by this logic, being intentionally single isn't either.
That said, your perception of being single may skew negative, particularly if you value romantic connections in your life. "The benefits of being single can really depend on how we feel about being single," says Maya Maria Brown, therapist and relationship expert for couple's app Coupleness. "Someone for whom being single is a choice they're making for their own well-being will probably have an easier time benefiting from the experience compared to someone who doesn't really want to be single."
If you tell yourself you're going to be "consciously single" while secretly hating the fact that you're single, the experiment may not leave you with lasting benefits. That's why it's crucial to reflect on why this may or not be worthwhile for you. "I suggest that someone begins their consciously single life with an examination of why they are making this choice, and how they feel about it," Brown adds.
Scientific evidence is one place to start. Over the years, studies have linked alone time to higher levels of creativity and intimacy, along with an increased sense of freedom. And, in a 2016 presentation to the American Psychological Association, Bella DePaulo, a psychologist at the University of California Santa Barbara, shared evidence that people who were single had a tendency to present stronger feelings of self-determination and were more likely to undergo psychological growth and development than married counterparts. When considering the top qualities needed for a healthy relationship, emotional maturity is one that both therapists and real couples agree is non-negotiable—thus indicating that taking time to be consciously single can lead to relationship success later.
The Top Benefits of Being Single
In addition to fostering deep emotional maturity, there are plenty of benefits to being single in your 20s, 30s and beyond. From improving your overall wellness to avoiding dating fatigue, we share even more pros that may come from being consciously single, along with how they can lay the groundwork for marital success.
It Offers Time to Grow into The Best Version of You
Although it seems cliche to say you become wiser with age, the sentiment remains true. Who you are at 18 years old will likely be different than the person you are at age 28, or 38. Life experiences and maturity (along with self-acceptance) go hand-in-hand, and taking time to grow into the best version of yourself can help you be a better partner to a future S.O. "We have long heard notions that 'you have to love yourself before you can love someone else,'" explains Brown. "Being consciously single supports that narrative, giving people a chance to grow as an individual and cultivate self-love before they try to intertwine their life with someone else's."
Of course, as Brown notes, that's not to say you should aim to be a complete person before you meet your soulmate. Self-love is an endless journey, as you'll always be evolving as a person—and one of the most beautiful aspects of being in a relationship is experiencing that growth together. But being intentional about putting in work to become the happiest and healthiest version of yourself while single means that your future partner will experience you in your very best form. "The notion of being consciously single and choosing to not enter into a relationship for the sake of it and focusing on your relationship with yourself can absolutely set you up for healthy and meaningful relationships in the future," she adds.
It Helps You Date Intentionally
The concept of "intentional dating" certainly isn't new. It gained momentum around the start of the pandemic, and it remains one of the top dating trends this year. Intentional dating looks different for every person; it could be interpreted as being more selective with who you swipe right on, or being transparent about your intentions from the start.
But for some, intentional dating may look like not dating for a period of time in an effort to focus on personal growth—a move that Bumble, for instance, has coined as "reincardating." Shan Boodram, a relationship expert and rep for the dating app, tells us this move allows people to reenter the dating field better equipped to find stronger and more fulfilling matches. "Reincardating is a term for people who've taken a break from dating and are coming into 2022 with their full, new fresh self," she explains. "They're coming back into the space with renewed energy optimism because they've let go of past experiences in order to invite something new and exciting into their life "
Taking time to be purposely single before "reincardating" gives you the space to internally align on what you want from a long-term partner, which you might not have time to do while actively dating. "When we are single, we can pay attention to things like what we value in a friend, or what a colleague can say that triggers our anger," Brown adds. "In doing so, we are learning about how we will navigate a future relationship with a partner."
It Allows You to Prioritize Your Wellness
Believe it or not, there may be health benefits to being single. That's not to say you can't prioritize your health and wellness while in a relationship, because you most certainly can. But taking time to improve your wellbeing—and foster a true, deep understanding of yourself— alone during your formative years will give you a strong foundation that can withstand the requirements of being with a partner. "Investing time and energy into self-development and inner growth helps us know ourselves better," Brown explains. "We can communicate more clearly and are more equipped for difficult conversations. It also supports us with things like accountability, responsibility and influence, which experts like Dr. Brené Brown show are crucial in a strong relationship."
When choosing to be consciously single, carve out space in your life to establish a wellness routine that works independently for you. Perhaps you'll learn that you're more grounded after 30 minutes of mindful movement in the morning, or that your mental health improves with daily, uninterrupted time for meditation. Being intentional about paving the daily groundwork for yourself—and eventually, others, will prepare you to become a stronger partner to someone in the future.
It Helps You Develop Confidence in Your Needs
Being up-front about what you want from a partner isn't always easy. (If you've ever found yourself in a cycle of stagnant situationships, for example, you know just how challenging it can feel to advocate for your needs.) But much like the pandemic shed new light on the importance of dating intentionally, it also gave people the confidence to pursue partners that can fulfill their physical and emotional needs—a necessity for a long-lasting, successful relationship. "Seventy percent of Bumble users said the pandemic gave them an abundance of time to self-reflect and to work with and on themselves," Boodram shares. "Through that, they now have more confidence to say what is right for them."
She adds that younger daters—especially members of Gen Z—are redefining what it means to date today, most notably by vocalizing their expectations more than ever before. "This generation is definitely leading this charge as younger daters are extremely open about what they're looking for in a partner."
While you might think that you can only learn about your relationship needs by being in a relationship, Brown argues that's not necessarily the case. "We don't have to be in a relationship to learn about what we want and need in a partner, because we learn from all of the relationships we have in daily life," she explains, noting that taking time with yourself can facilitate these breakthroughs. "When we are single, we can pay attention to things like what we value in a friend, or what a colleague can say that triggers our anger. In doing so, we are learning about how we will navigate a future relationship with a partner."
It May Prevent Dating Fatigue
Let's face it: Dating is hard work. Consistently opening yourself up to potential new matches can take an emotional toll, especially if you feel like your connections fizzle out or rarely result in an actual relationship. Even when you want to take a break, the presence of the apps makes it easier to date all the time. Why stop swiping when your next match could be the one, right?
This mindset has created the "dating fatigue" phenomenon, an ever-so-common side effect of dating in 2022. You might not want to stop dating because it's easy not to. But, as it turns out, taking time away from consistent dating will help you reconnect with yourself—a move that can help set you up for a better, more fulfilling relationship once you rejoin the dating game. "When we are marathon dating, we might not make time to do things we enjoy or that connect us with ourselves," Brown reflects. "Doing some self-reflection, like understanding what brings us joy or considering how we want to feel in a relationship, can help us date more intentionally and carefully choose the people we date."
So, what's the best way to avoid dating fatigue? It may come as no shock that being consciously single is the number one tip. Brown suggests spending time doing things you love that have nothing to do with dating, like taking yourself to an art class or going on a hike. Investing time into yourself, rather than others, will fuel your soul in a way that marathon dating can't. As a result, you'll slowly (but surely) create a foundation of health and happiness that's strong enough to withstand the effects of dating when you're ready to reenter the pool.
It Provides Freedom to Build a Life You Genuinely Love
One constant in life is the relationship you have with yourself, which remains whether you're single or married. While you certainly won't lose the ability to connect deeply with yourself in a relationship, mastering the ability to thrive in solitude will impact your life in so many positive ways, giving you a foundation of happiness that's not tied to a partner. That way, when the right one does come along, your joy will only grow thanks to the foundation you've already created yourself.
"Our relationship with ourselves is the only relationship we are guaranteed to remain in throughout our lives," Brown reflects. "Investing in that relationship—learning about what we like and don't like, what turns us on and what hurts us, what we want and what we need and everything in between—is a worthy use of our time and energy."