See Berta Wedding Dresses From Bridal Fashion Week
Here's the designer's latest collection to hit the bridal runways.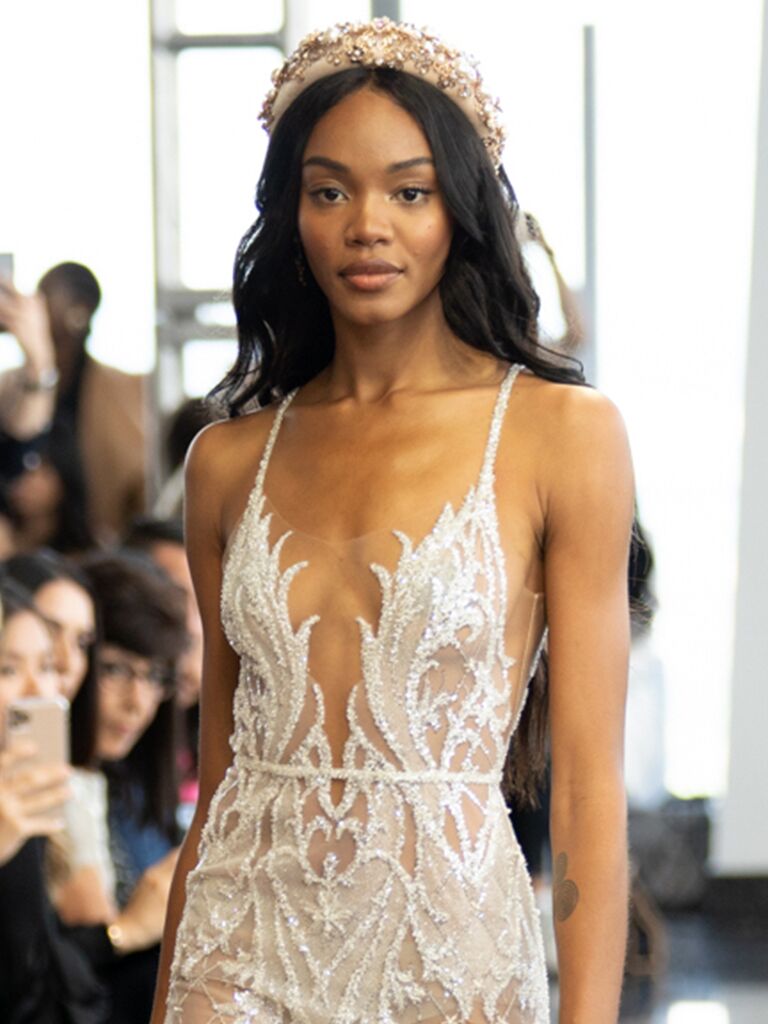 Mike Colón
Berta Bridal is an Israeli-based fashion house known for luxury bridal fashion and evening wear. Berta is quickly becoming a powerhouse in the international fashion world, as well as a household brand-name, by creating a couture level looks with more accessible retail prices. Berta wedding dresses are so unique that they have become one of the most sought-after brands in the bridal industry. With over 150 retailers from all over the world, Berta is also stocked by Saks 5th Avenue and Nordstrom, and has recently opened a New York store, located in SoHo, Manhattan. Berta was recognized recently by The New York Times as one of the main bridal designers causing the bridal fashion world to shift towards sexier, bolder dresses.
Berta's Fall 2020 Wedding Dresses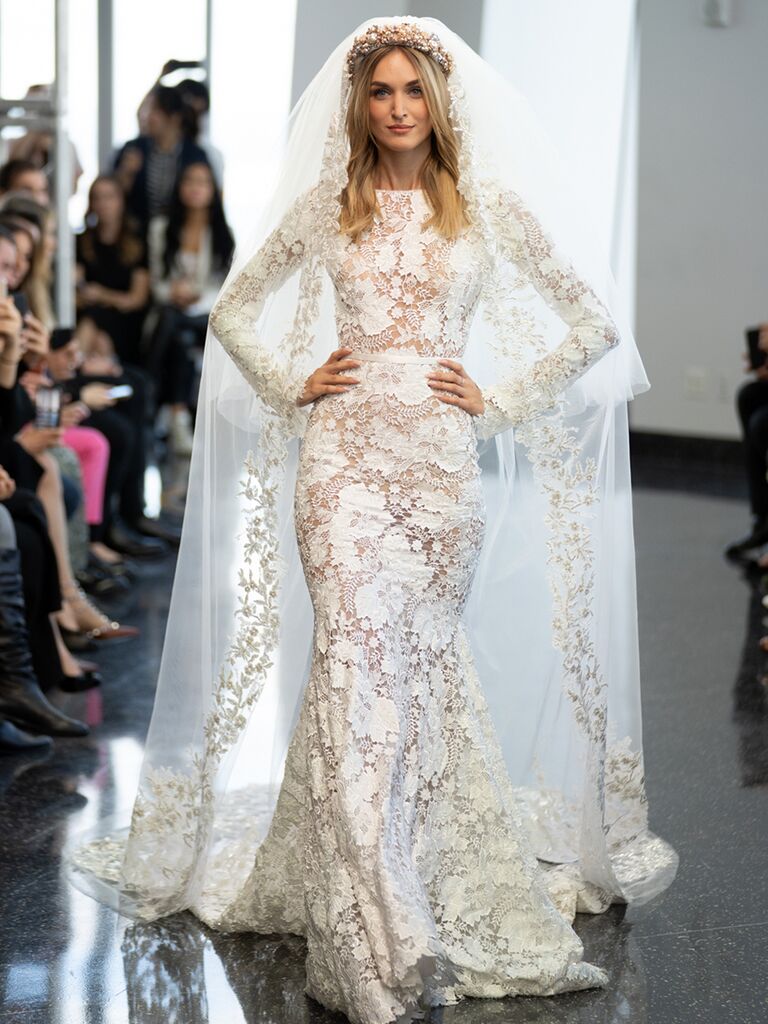 1. Style 20-110
Long-sleeve, handcrafted lace gown featuring a trumpet skirt. Berta Bridal is known for body-hugging, figure-flattering designs – this dress embodies that signature style.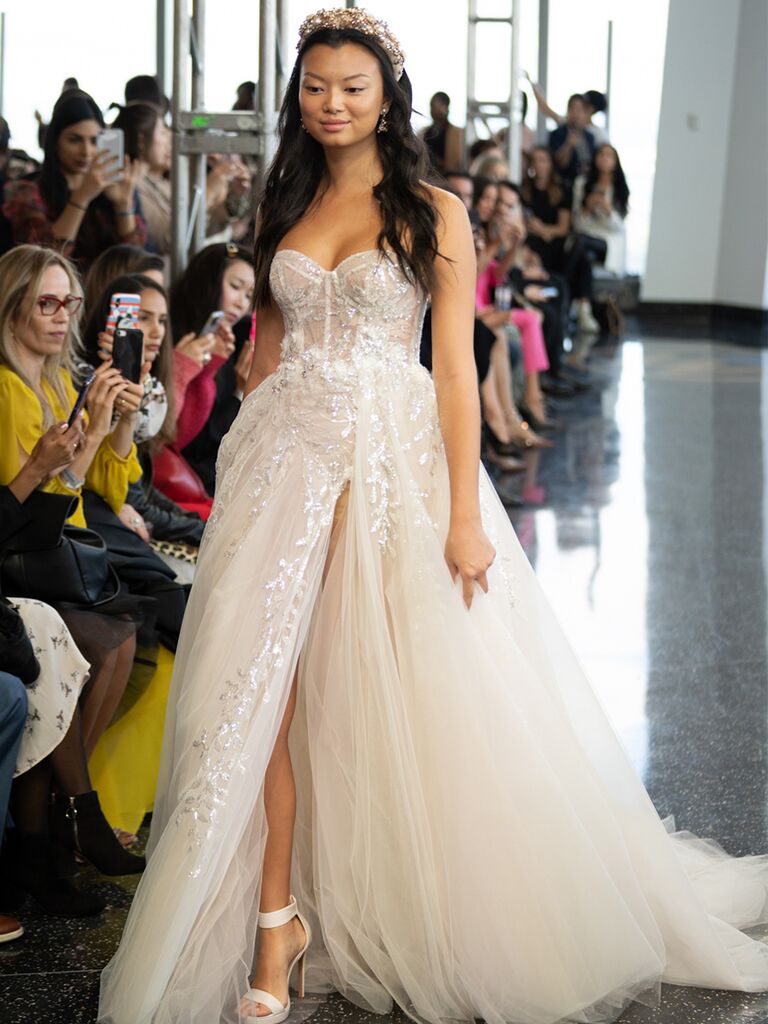 2. Style 20-113
Strapless corset-style top on a layered tulle skirt featuring a thigh-high slit. Metallic florals add a bit of eye-catching sparkle.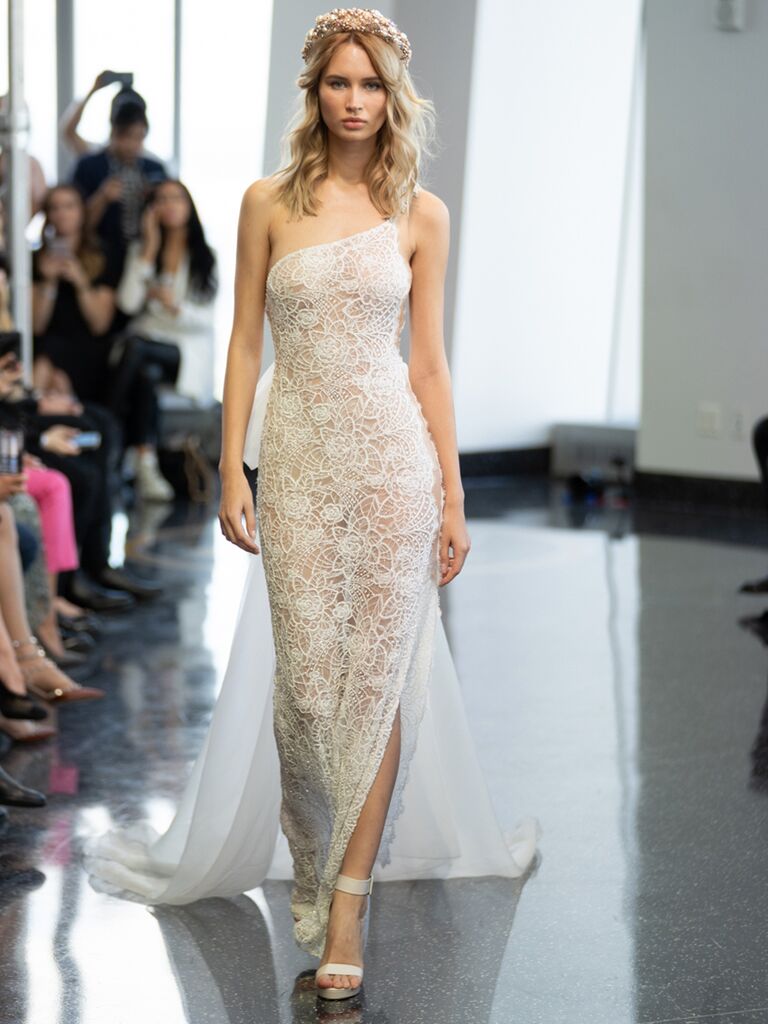 3. Style 20-122
One-shoulder lace gown with a crystal strap and a dramatic white bow cascading into a long train. It's not hard to see why sheer Berta designs have become so popular.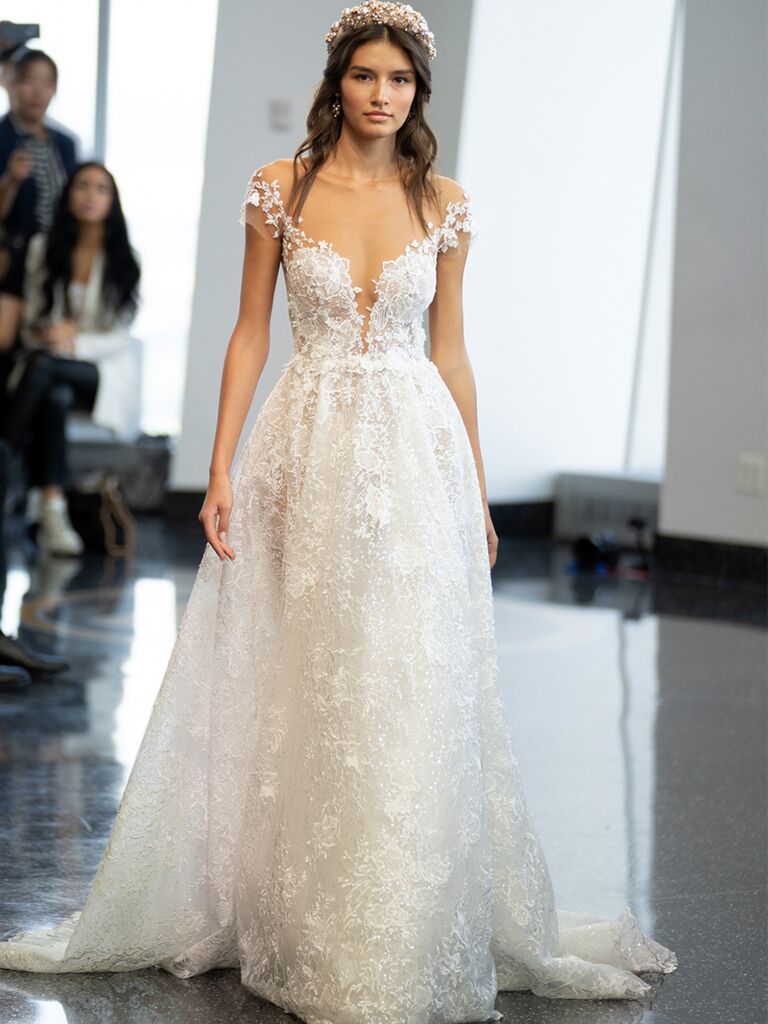 4. Style 20-108
Deep V-neck gown with beading and a tulle overskirt. A modern take on a classic bridal silhouette, this Berta dress strikes a delicate balance between sweet and sexy.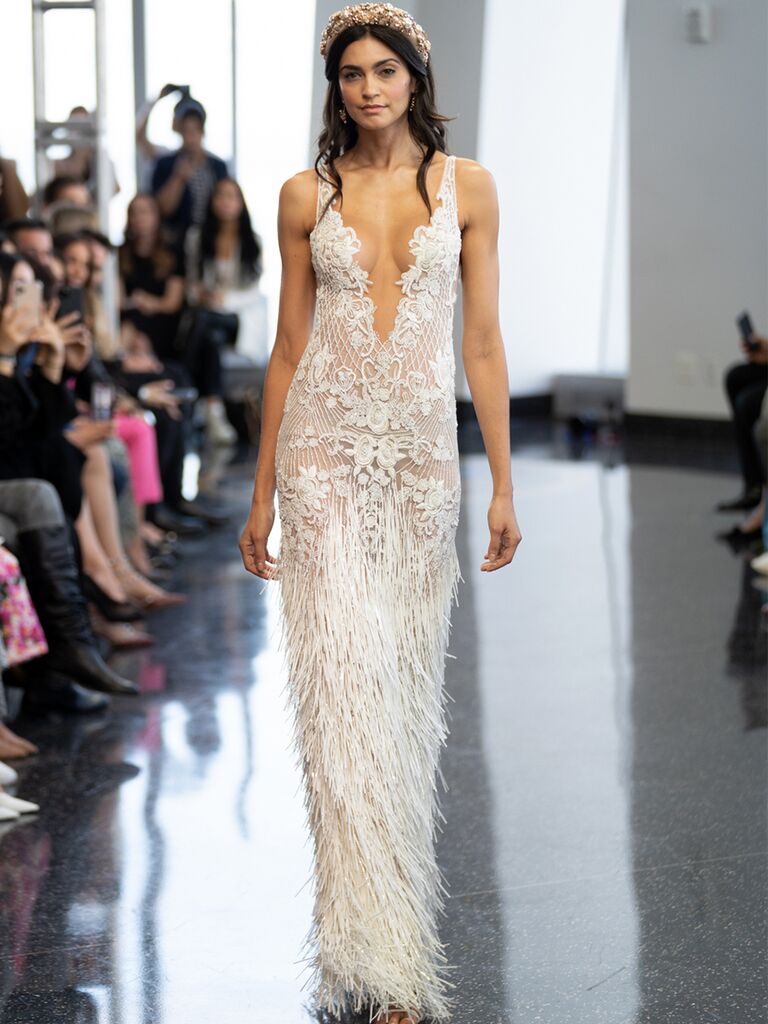 5. Style 20-118
Form-fitting gown with a plunging neckline and feather detailing on column skirt. The dress evokes 1920's flapper style, making it perfect for dancing the night away. Form-fitting gown with a plunging neckline and feather detailing on column skirt.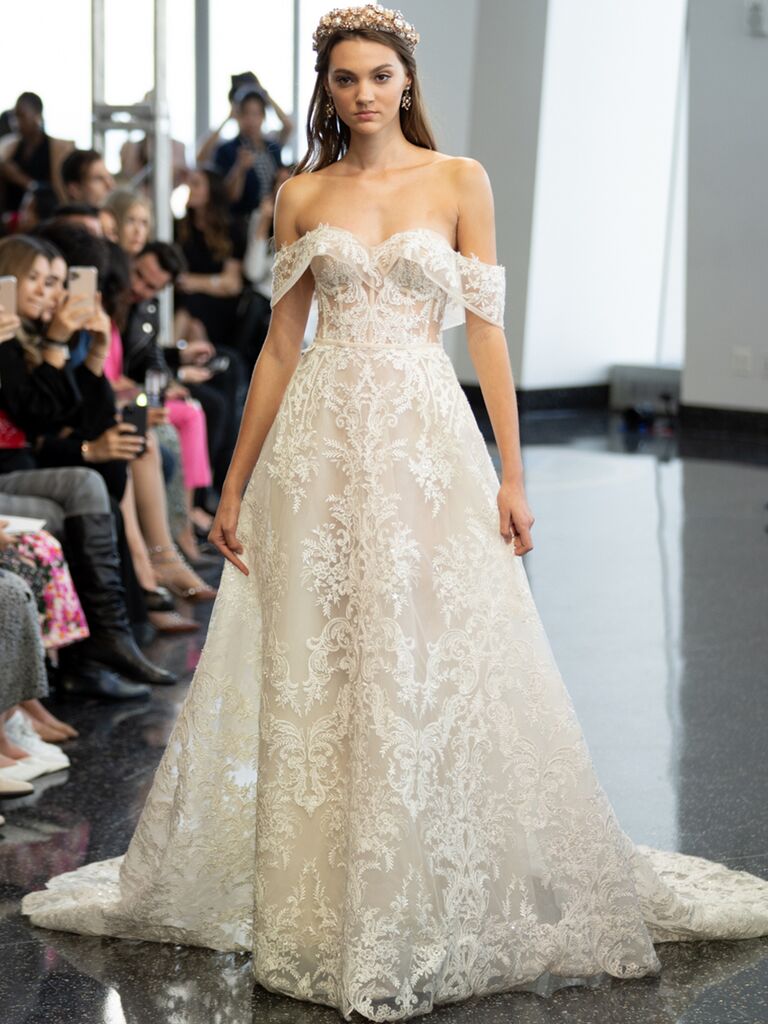 6. Style 20-104
Corset-style top with off-the-shoulder straps on a princess-style, ball gown skirt. Berta wedding dresses always have a regal vibe, but this one takes the crown. Corset-style top with off-the-shoulder straps on a princess-style, ball gown skirt.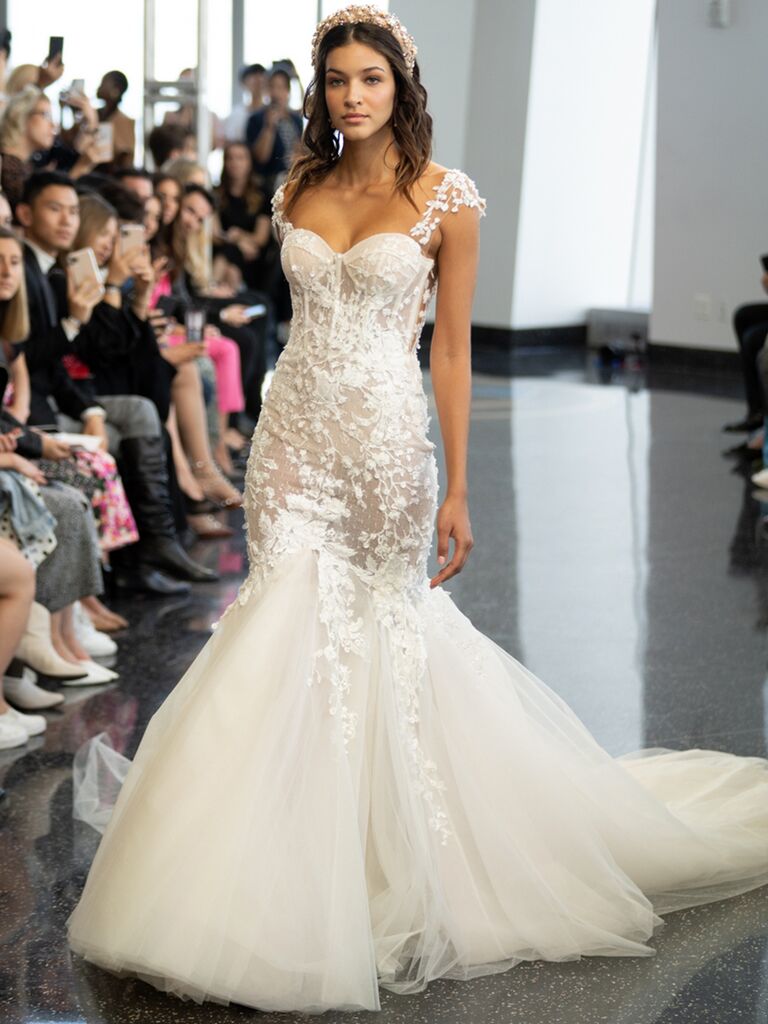 7. Style 20-103
Handmade and embroidered form-fitting silhouette above a trumpet skirt with hints of tulle peeking through. There's no better example of the way Berta Bridal transforms traditional gowns with striking, contemporary style. Handmade and embroidered form-fitting silhouette above a trumpet skirt with hints of tulle peeking through.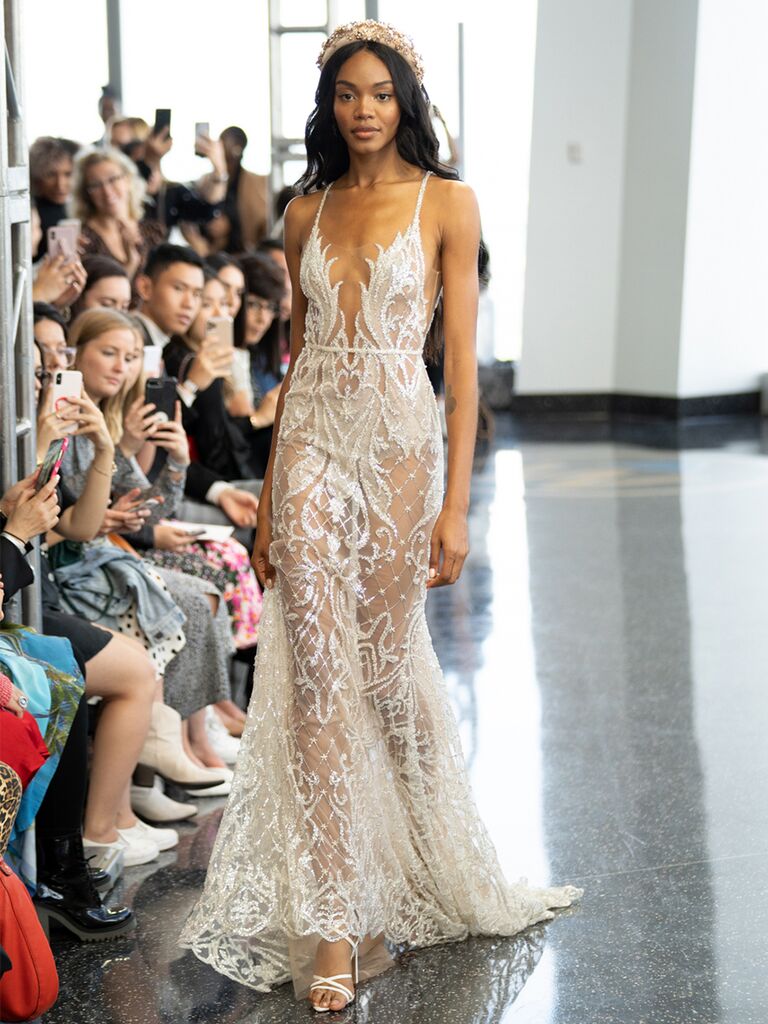 8. Style 20-106
Daring, full-on beaded, illusion gown featuring crystal detailing and a plunging neckline. Mirror the flames of your love with fire-inspired embroidery.
9. Style 20-125
Silver sequin mini dress featuring a silver crystal neckline and matching embellished straps. This Berta bridal design would make for a jaw-dropping reception dress.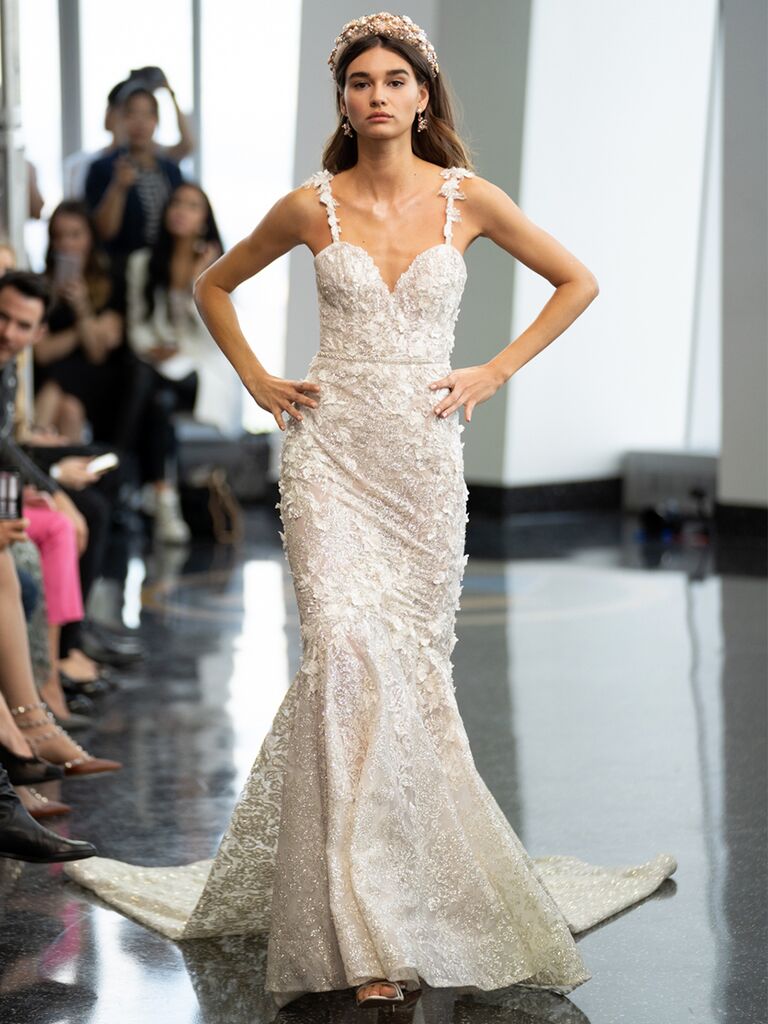 10. Style 20-106
Form-fitting and hand beaded, sparkly fabric gown. Delicate straps draw focus to the shoulders and back without feeling too sexy.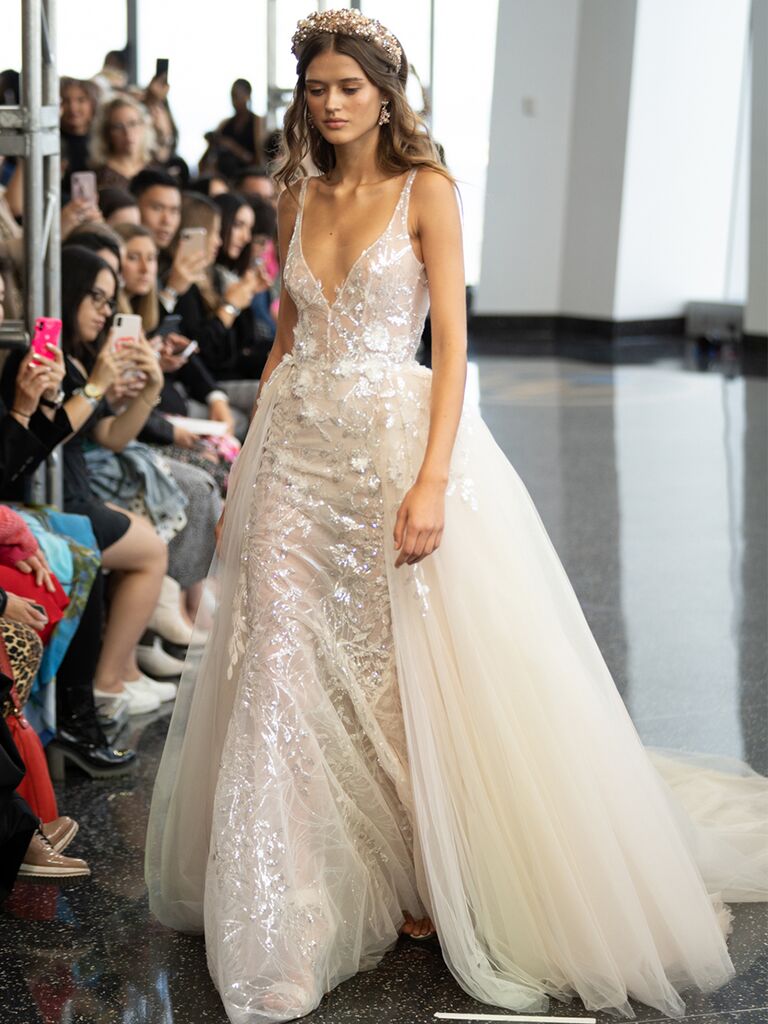 11. Style 20-109
Form-fitting gown with a detachable overskirt featuring a plunging neckline. The skirt is comprised of two-tone tulle with sparkles sprinkled throughout the fabric.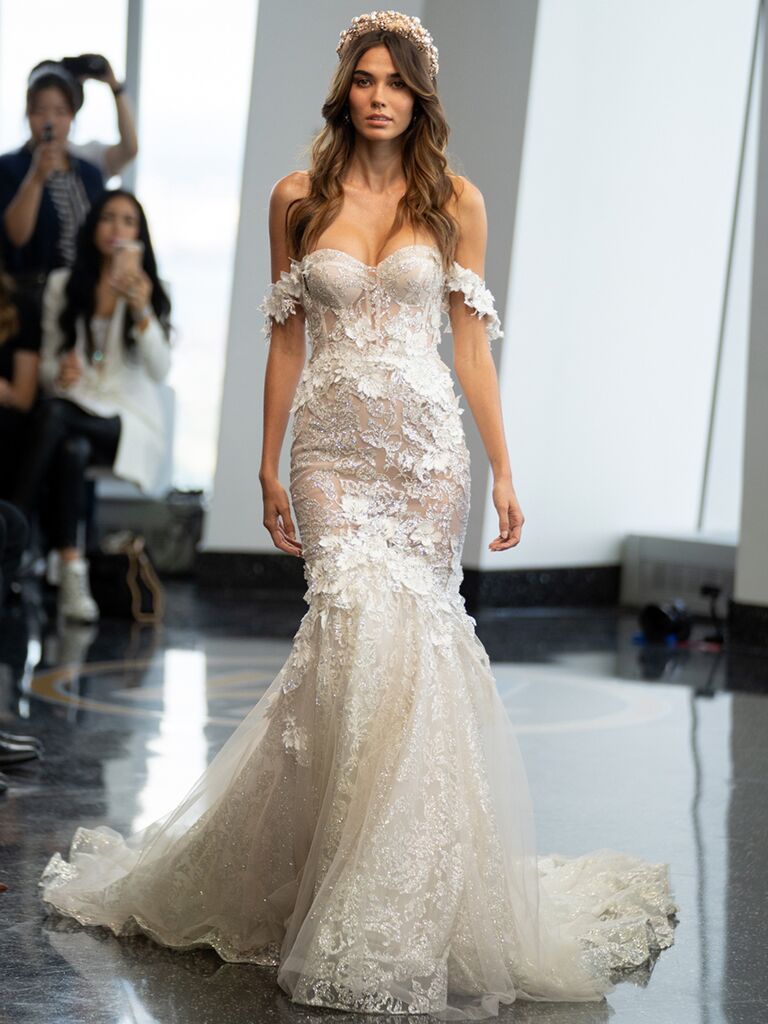 12. Style 20-101
Strapless corset-style top with a mermaid-style skirt. Floral applique with embroidery all over.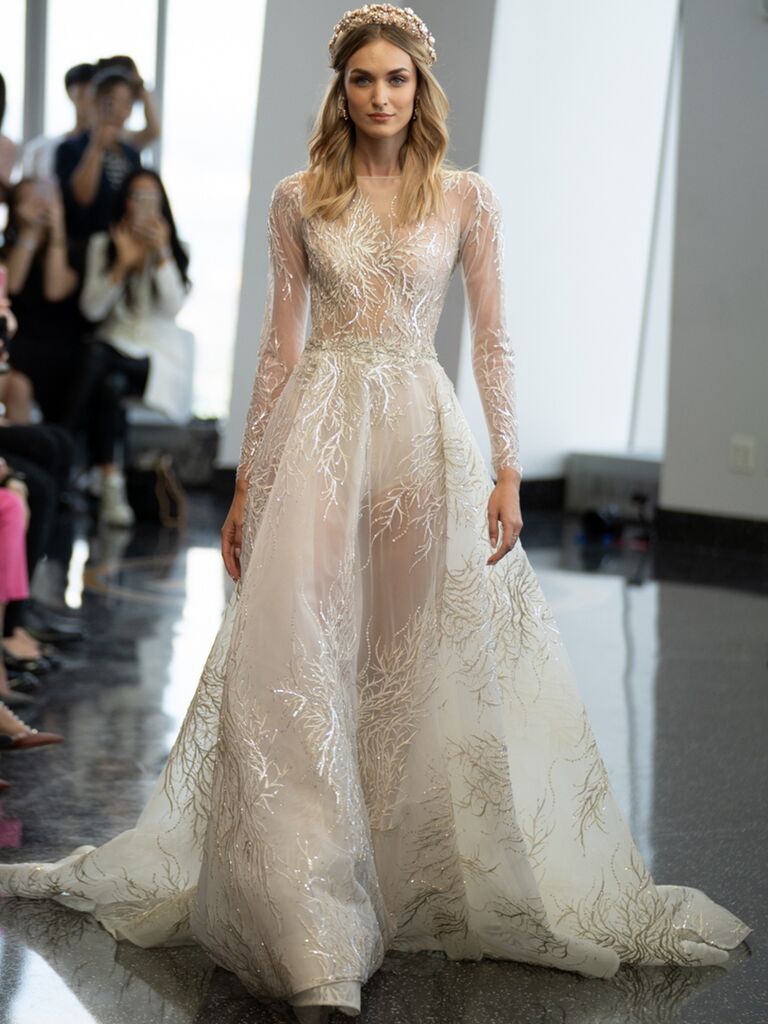 13. Style 20-114
Long-sleeve, scoop neck gown featuring a full skirt comprised of delicate and sparkly fabric. Icy metallics make this dress ideal for a mid-winter ceremony.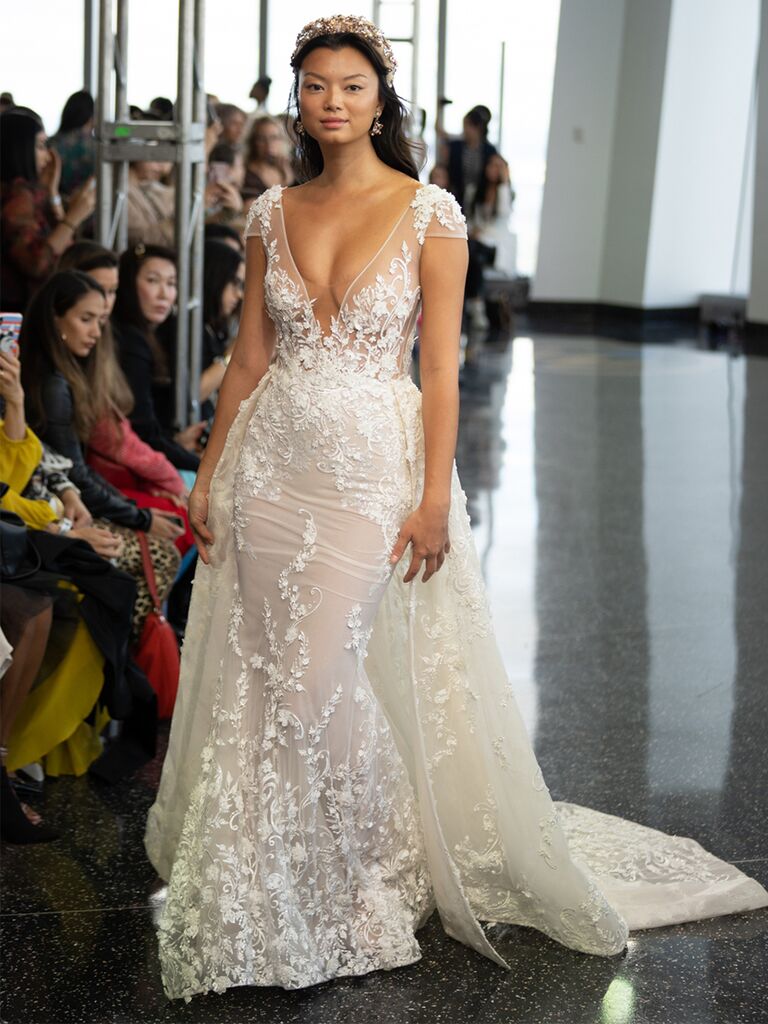 14. Style 20-105
Cap-sleeve, soft tulle gown featuring a deep V-neck and beaded detailing all throughout the fabric. It comes with a detachable train.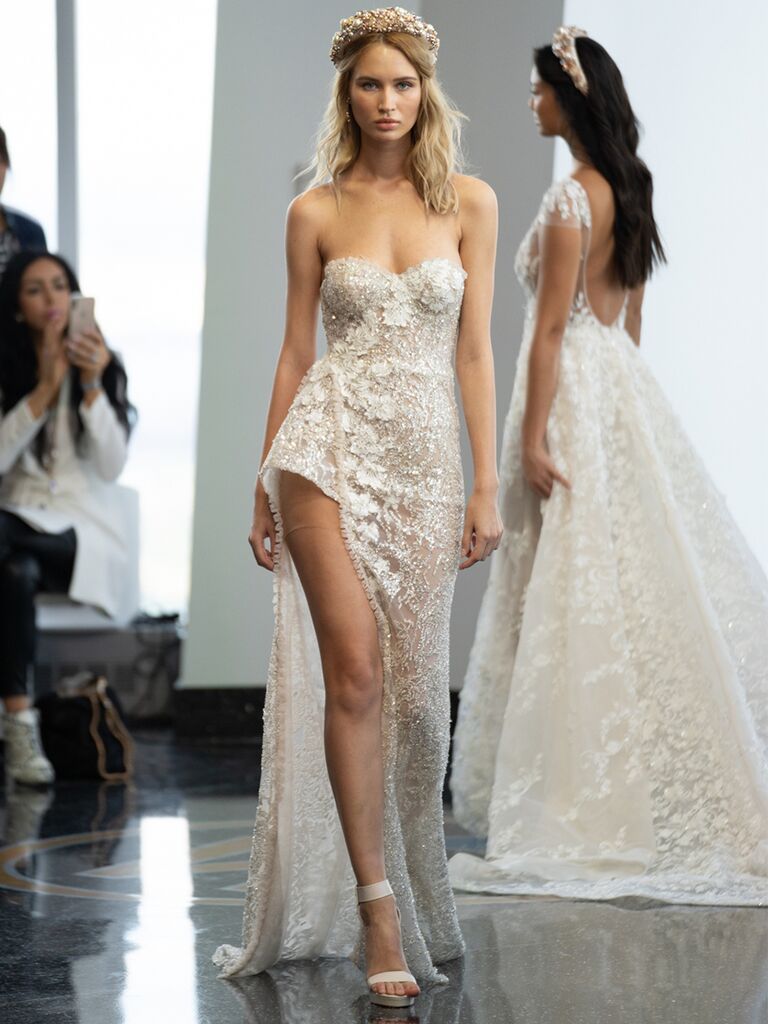 15. Style 20-120
Strapless full-on beaded gown with a thigh-high slit and 3D floral appliques sprinkled throughout. It's easy to make a splash with this Berta design.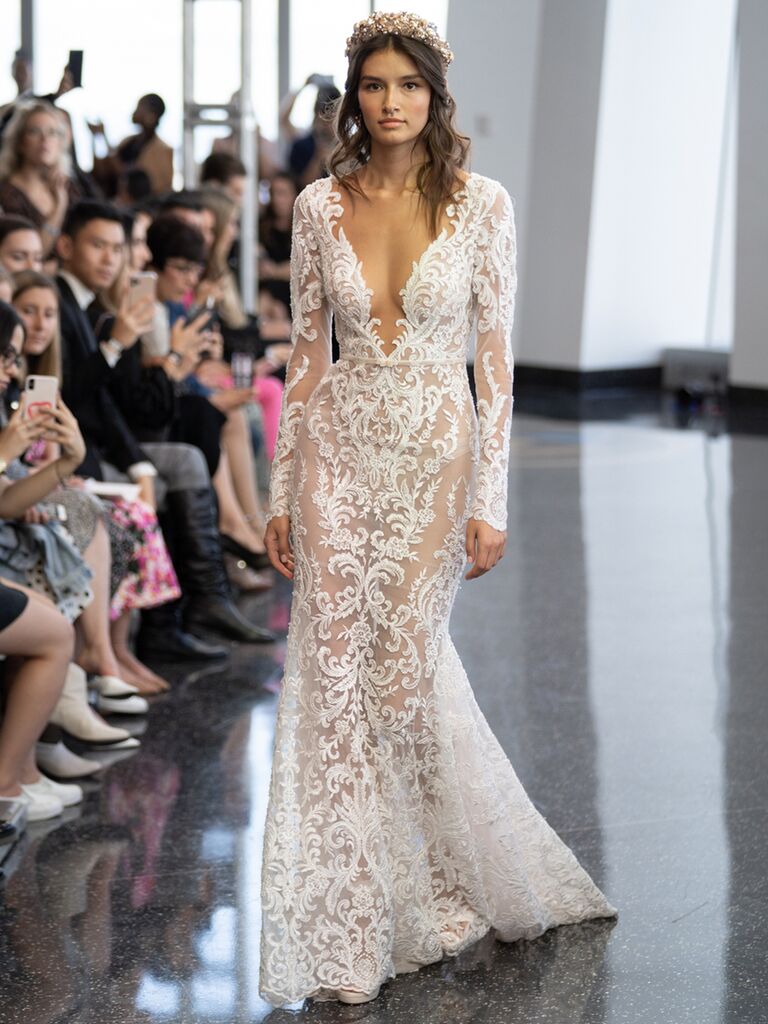 16. Style 20-117
Long-sleeve gown comprised of illusion fabric featuring a plunging neckline and beading throughout the skirt. While sheer, Berta wedding dresses push the envelope on wedding day sexy in chic ways.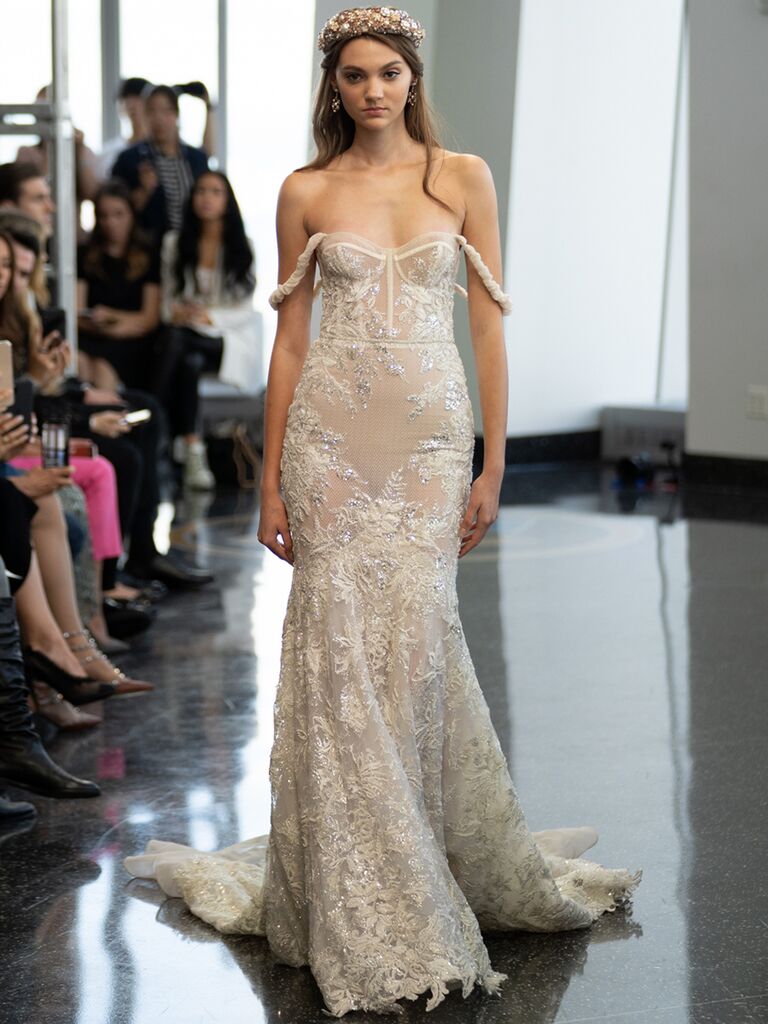 17. Style 20-102
Long-sleeve, off-the-shoulder gown with ball gown skirt and floral detailing throughout the fabric. A nude hue makes the design feel ultra-modern.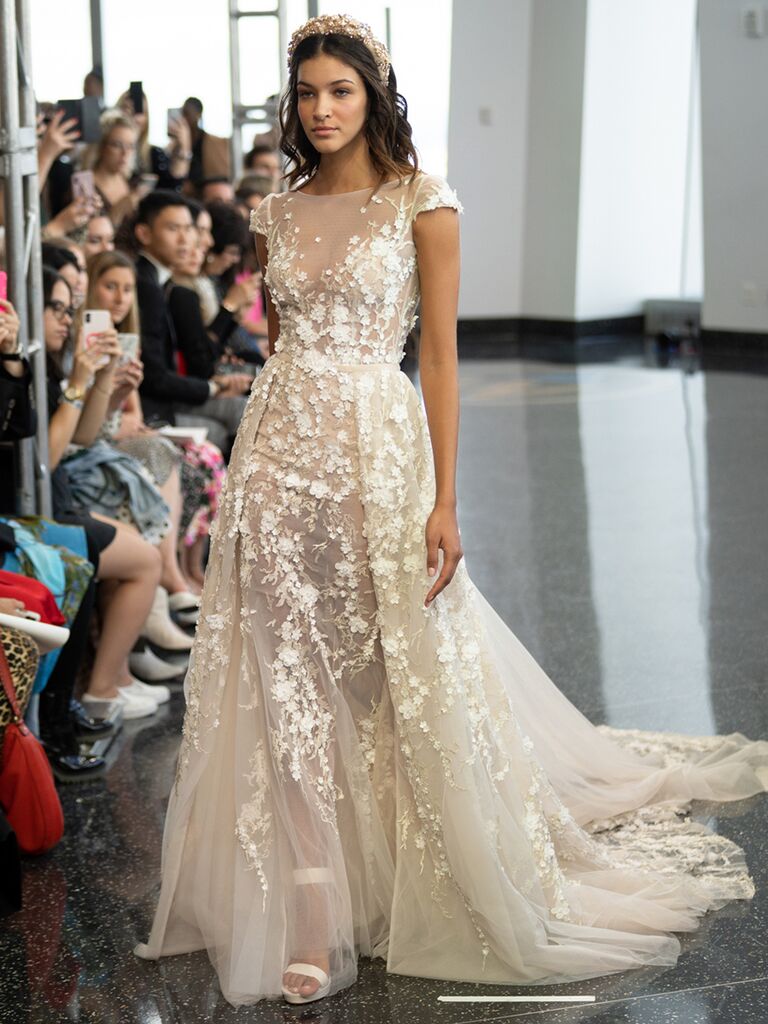 18. Style 20-112
Short-sleeve illusion gown with a tulle overskirt and floral appliqués, featuring a detachable train. Ideal for spring, the Berta design feels lush and romantic.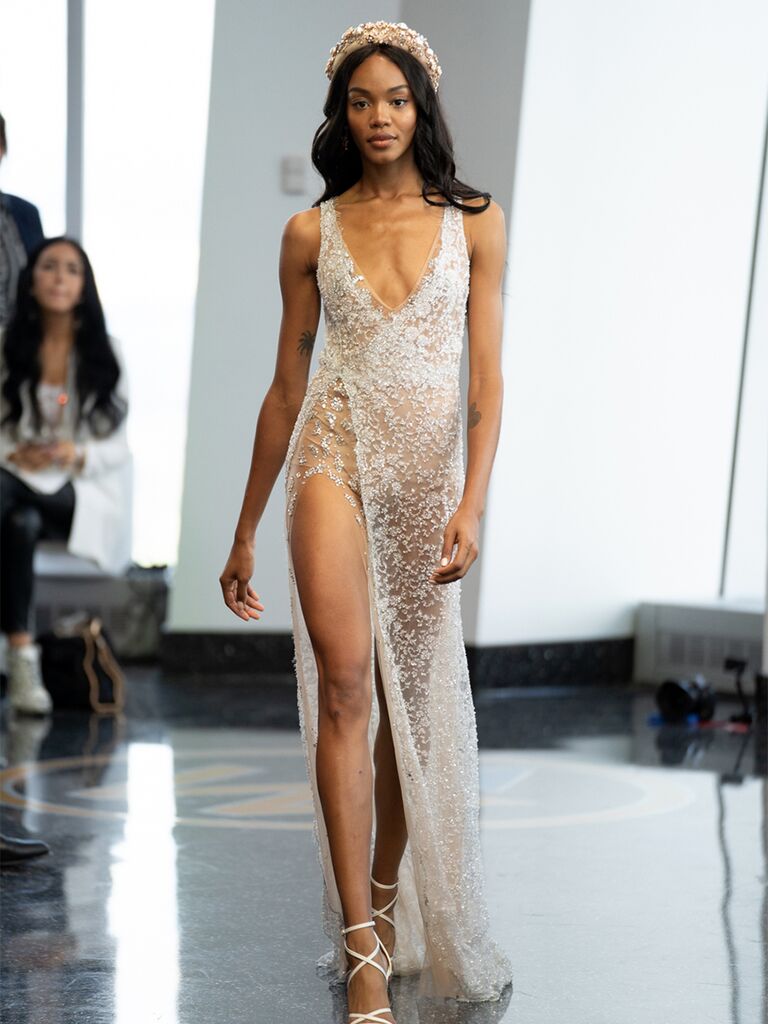 19. Style 20-123
Glamorous gown comprised of handmade crystal. It features a thigh-high slit.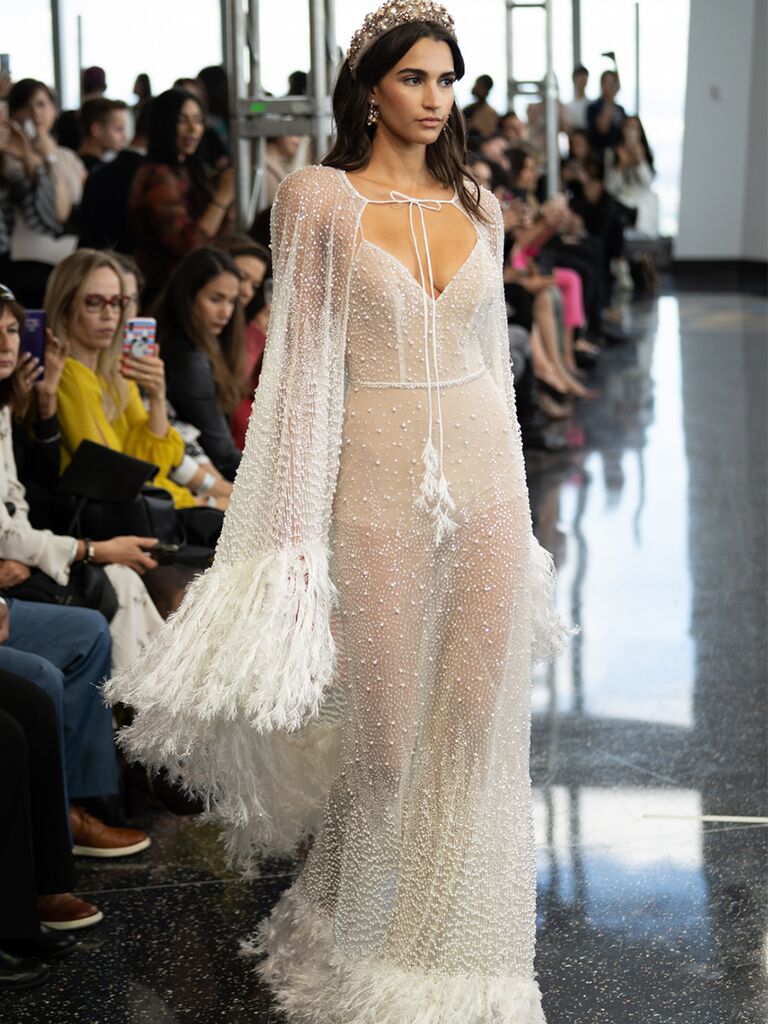 20. Style 20-119
Crystal beaded dress with feather detailing along the hemline of the skirt. Dramatic cape with crystal and feather detailing on top.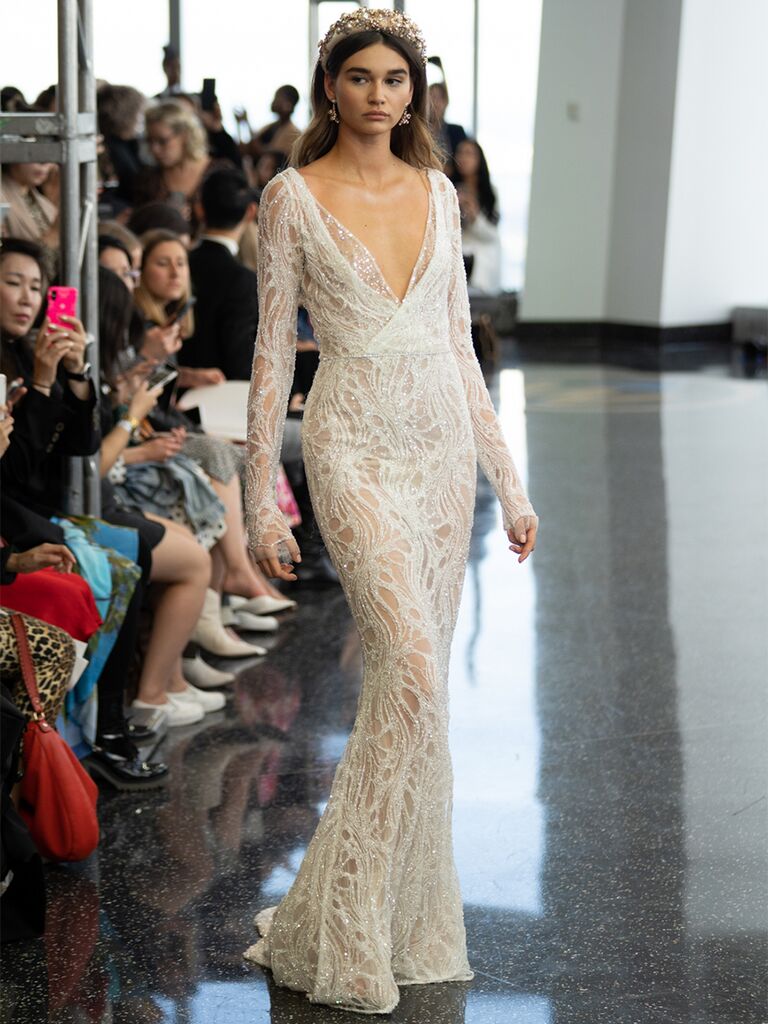 21. Style 20-121
Long-sleeve gown featuring a plunging V-neck with illusion beaded fabric underneath. Hints of lace peeking through fabric.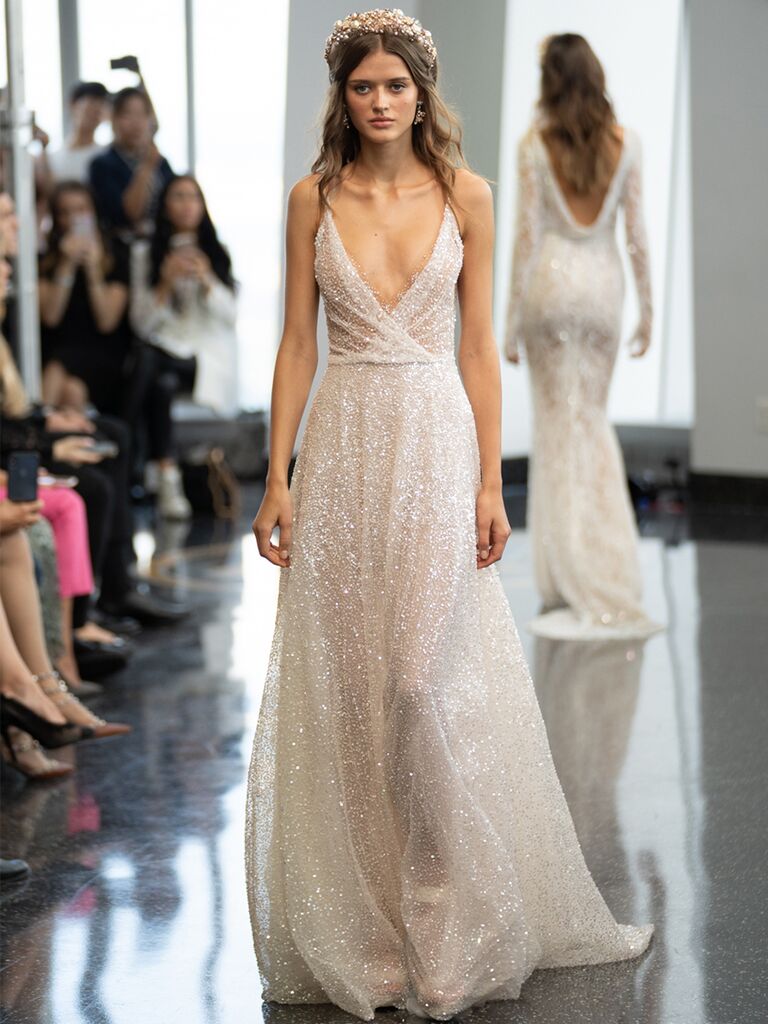 22. Style 20-111
Deep plunging neckline with sparkle skirt and layers of tulle over fabric. Hints of crystals shine throughout the skirt.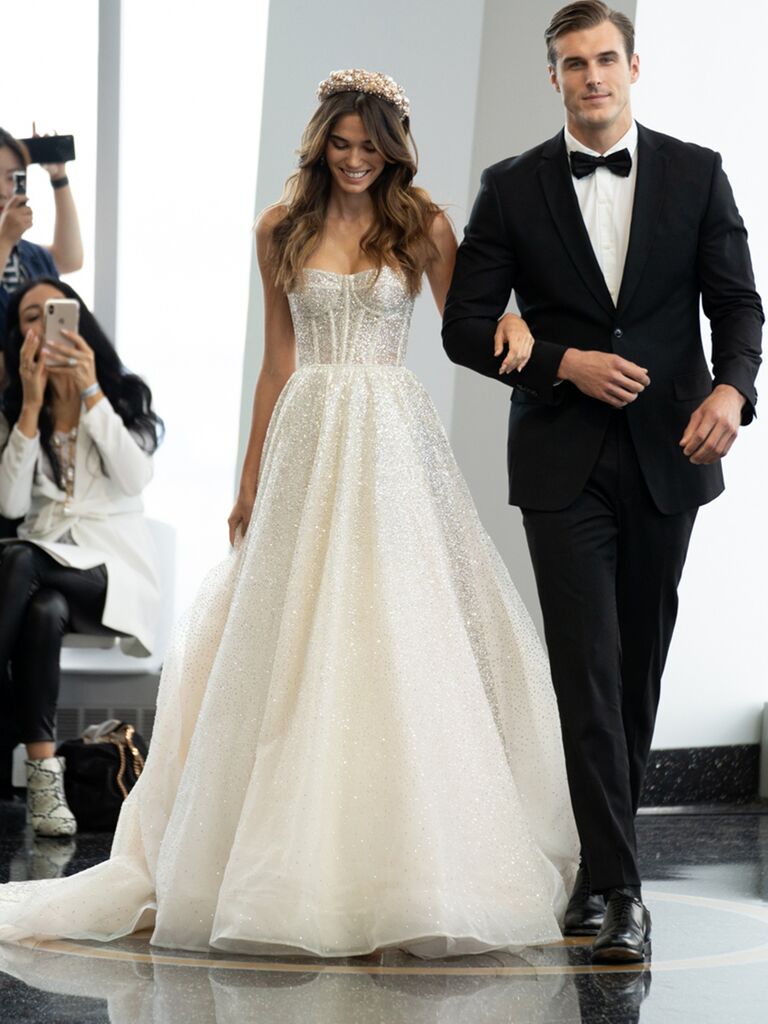 23. Style 20-107
Corset-style top with Swarovski crystal straps and sparkly fabric all throughout princess-style ball gown skirt. You're certain to feel like royalty in this Berta bridal design.
Berta's Signature Style
Designer and owner, Berta Balilti, has an avant-garde aesthetic. Her design style is famous for a bold, sexy and modern fit that incorporates vintage materials and retro details. Time and time again, the Berta fashion house produces gowns that feature luxurious embellishments and curve-skimming silhouettes.
Soft, feminine designs allow brides to flaunt their svelte figures. Plunging necklines, daring slits and sheer fabric make Berta bridal dresses anything but boring. These striking details are just the beginning, though. Berta wedding dresses always contain a few nods to the traditional. Florals, lace and carefully hand-stitched embroidery give the designs a timeless feel. It's not hard to see why these eye-catching dresses have captured the attention of so many celebrity brides.
A Brief History of Wedding Dress Designer Berta
Berta Balilti, the brand's sole designer, studied fashion at the Shenkar College of Engineering and Design in Tel Aviv, and founded her namesake fashion house in 2004 in Ashdod, Israel. Aside from designing all of the collections at the fashion house, Berta oversees the entire production process in her studio over 150 retailers all around the world, including North America, South America, Europe, Asia and Australia.
Berta Collection History
Berta's wedding dresses in 2018 stayed true to the fashion house's unique, stylish aesthetic. The collection featured open backs, hand-crafted embellishments, gorgeous lace, floral appliqués, plunging necklines, and a variety of silhouettes and sleeve lengths.
Berta's 2019 collection put a focus on standout details like glamorous lace as well as detachable pieces, such as overskirts, capes and detachable sleeves, that transform simple silhouettes into customized bridal looks.
Inspired by the fashion and design capital of the world, Milan, the Berta Bridal Couture Spring 2020 collection features never-before-seen silhouettes and fabrics, daring cuts, and a stunning mix of handmade embellishments and embroidery.
Other Berta Labels
MUSE by Berta Bridal is a boho-vintage chic collection with a more simplified vibe. The collection features warm colors like nude and blush, soft materials and a mixture of both fitted and flowy designs.
Berta PRIVÉE is where Berta goes back to her original inspiration and aesthetics. The PRIVÉE line represents the classic and time-honored silhouettes that have created the legendary Berta phenomenon.
Famous Berta Brides
Among the celebrities to wear a Berta bridal gown on the big day are pop singer Meghan Trainor, country singers Kacey Musgraves and Kelsea Ballerini, USWNT soccer player Alex Morgan, model Ludovica Caramis, actresses Nicolette Van Dam and Merve Bolugur, singer Alex Murrel and former Miss UK Nieve Jennings. Adrienne Banfield-Jones—the mother of Jada Pinkett Smith and the mother-in-law of Will Smith—wore a Berta dress to her wedding in 2016.
Israeli actress, Moran Atias, had several custom designed evening dresses by Berta Bridal for a few red carpet events she attended in the USA. Several American actresses have also worn Berta looks on the red carpet, including Madeline Brewer and Jackie Cruz.
Fun Facts about Berta
Recently, Ariana Grande wore a silver mini crystal Berta dress with a fitted bodice and envelope skirt detailing in her new music video for her song, "Don't Call Me Angel," featuring Miley Cyrus and Lana Del Rey for the film Charlie's Angels.
Berta Bridal also participated in the TLC reality show Brides Gone Styled, which combines two of TLC's favorite subjects — wedding dresses and makeovers.
Where to Find Berta Wedding Dresses
Berta dresses are in high demand the world over. While some of the designs can be found at Nordstrom and Saks 5th Avenue, bridal boutiques may have a greater variety of Berta wedding dresses in stock. Berta showrooms will have the most selection, with storefronts recently opening in New York and Israel. Some online retailers carry Berta dresses, too, giving brides plenty of shopping options when it comes time to finding the perfect wedding day frock.
Berta Previous Wedding Dress Collections
Berta Spring 2020 Collection
See every dress from Berta's Spring 2020 line below.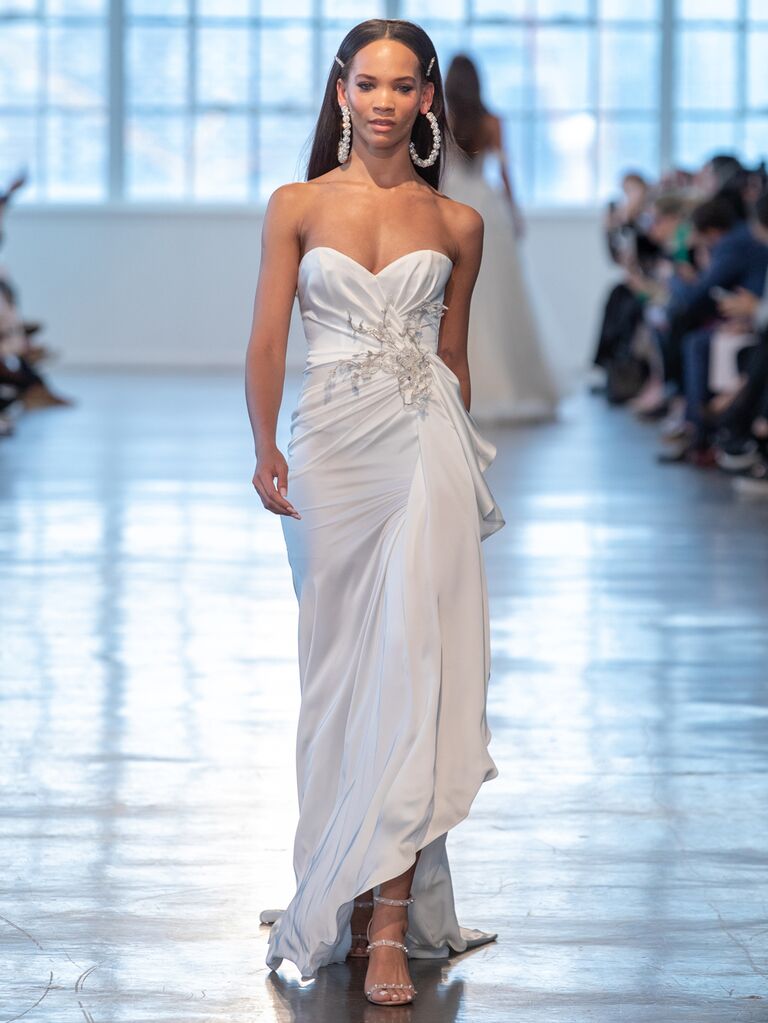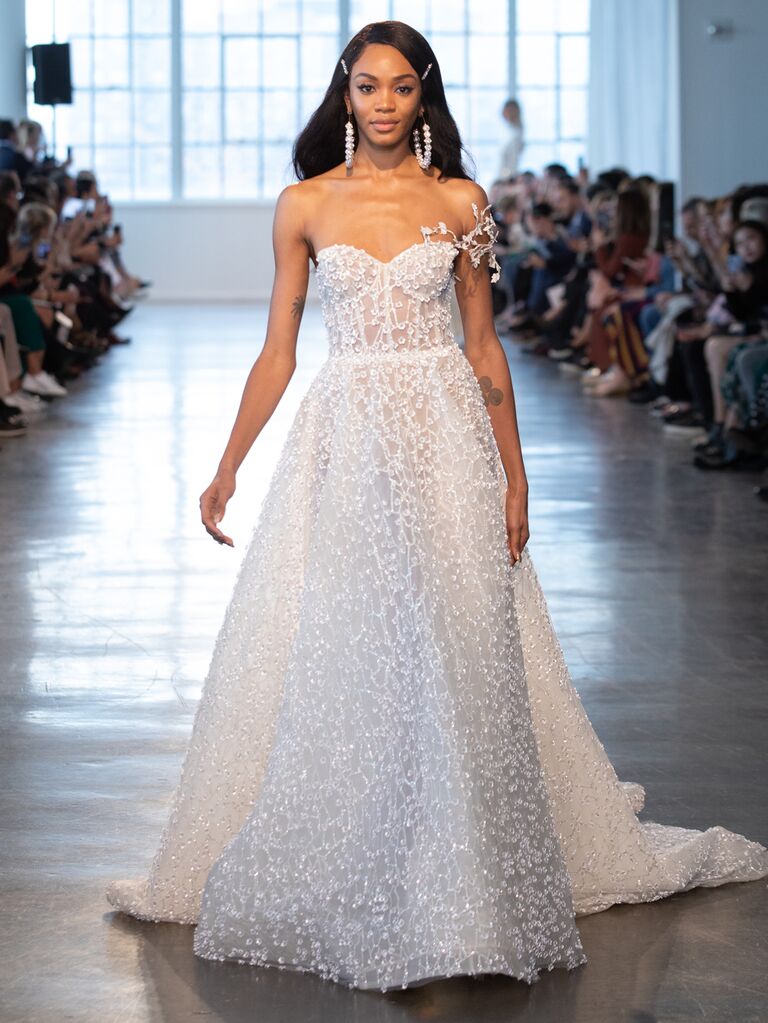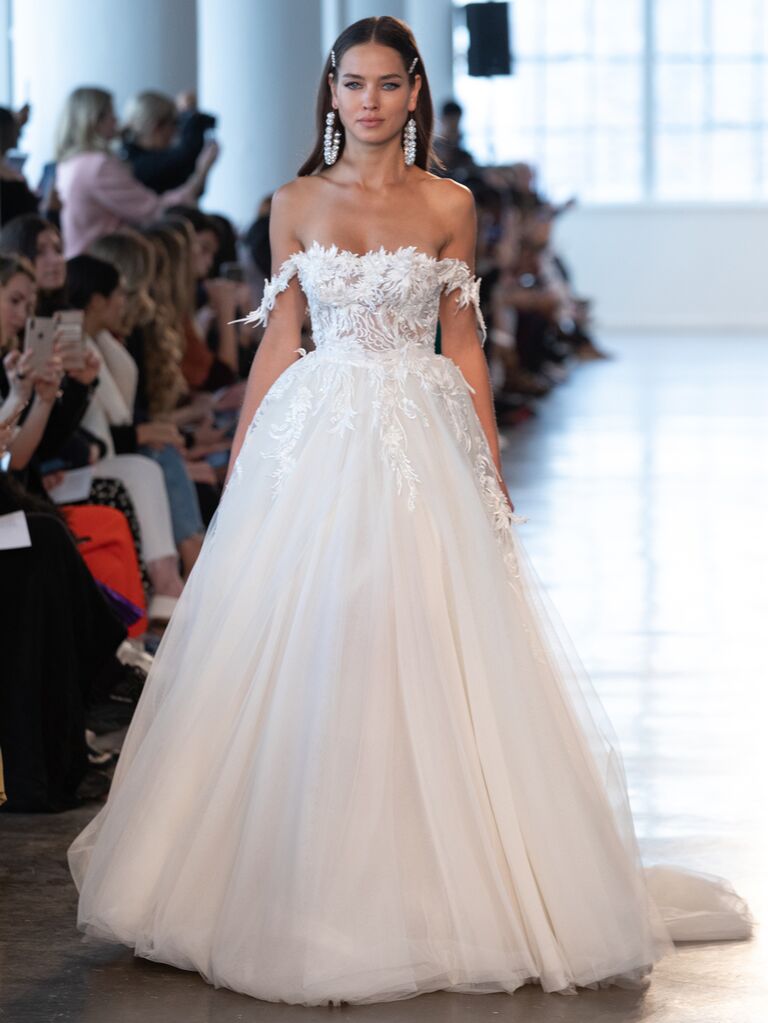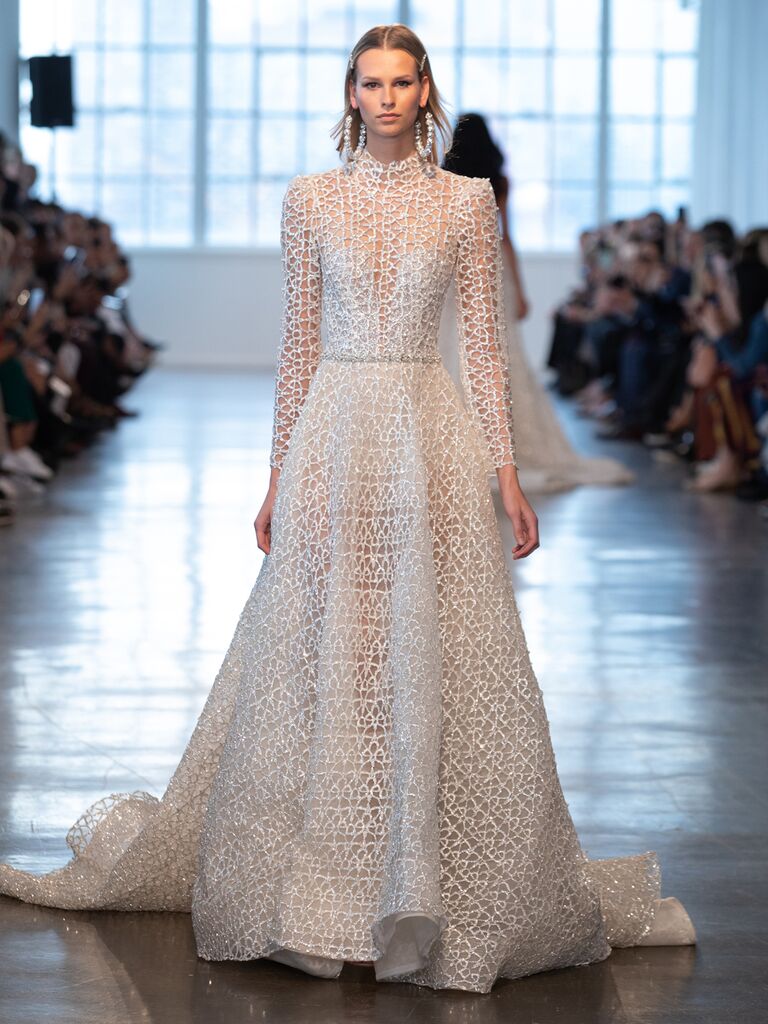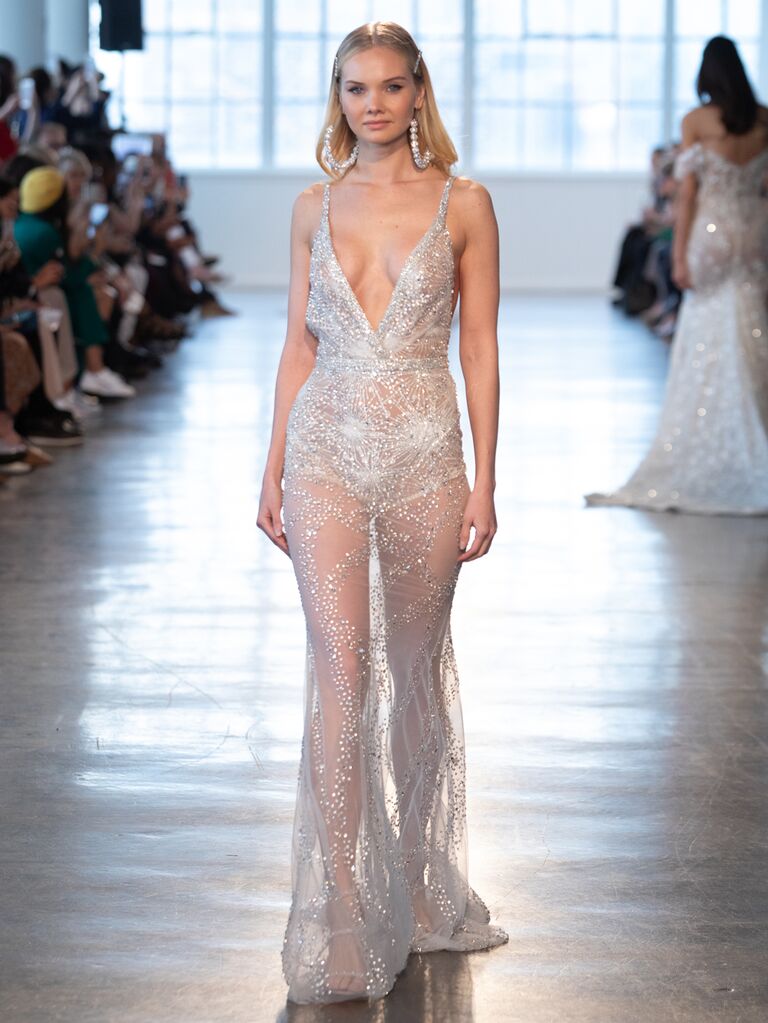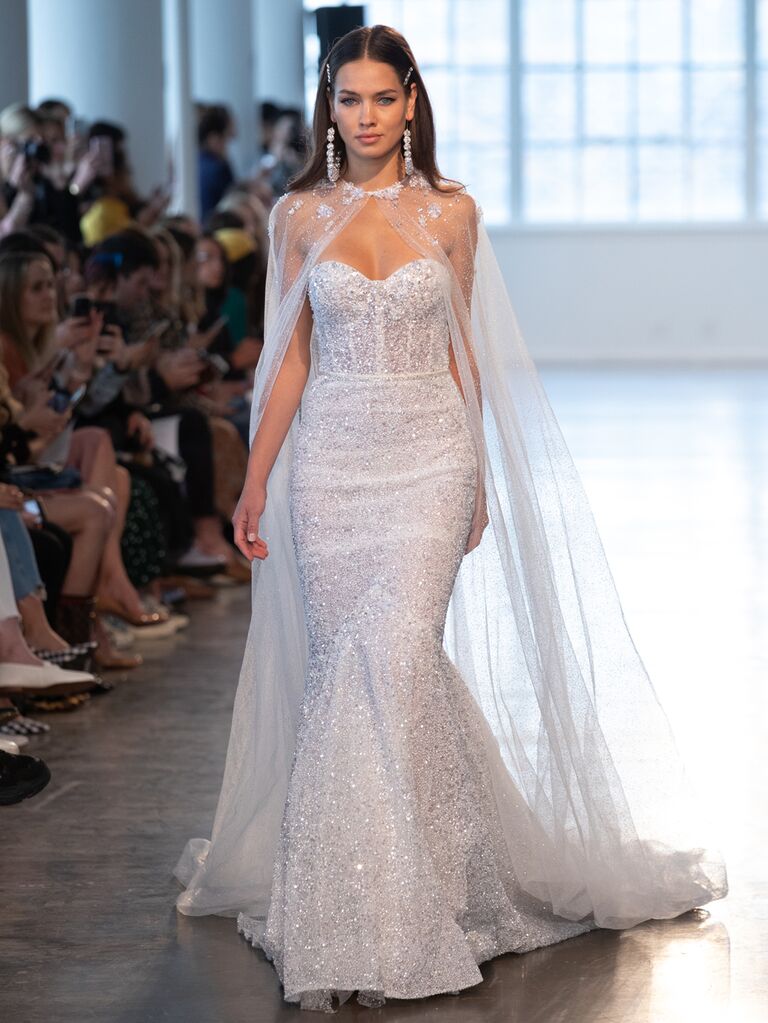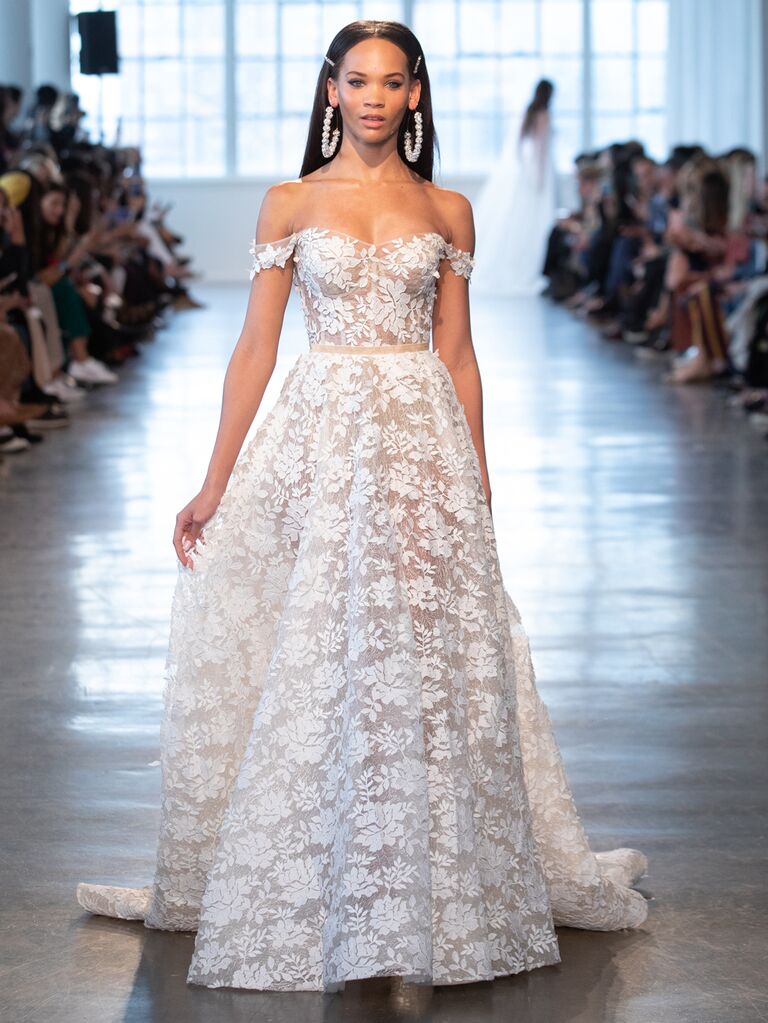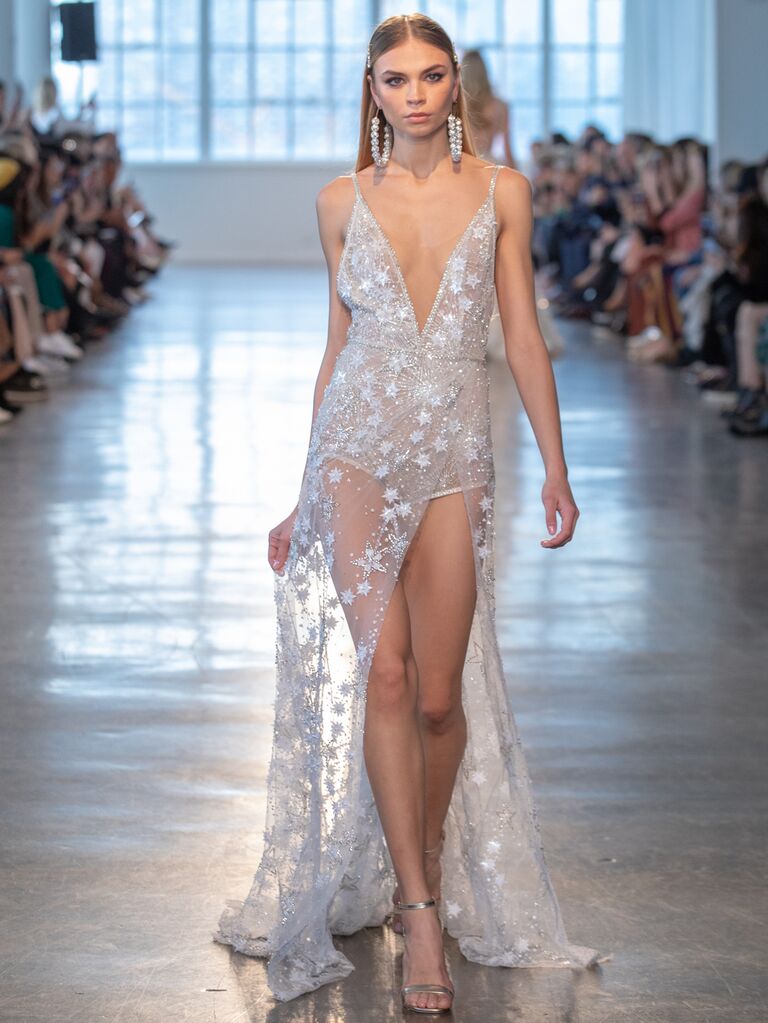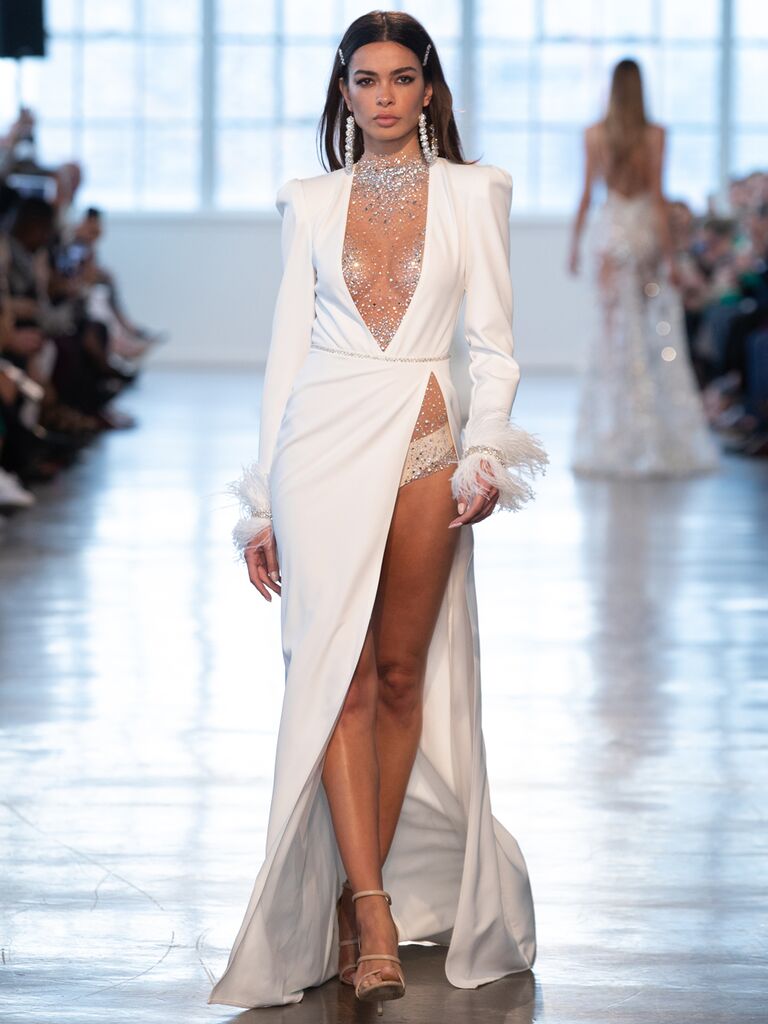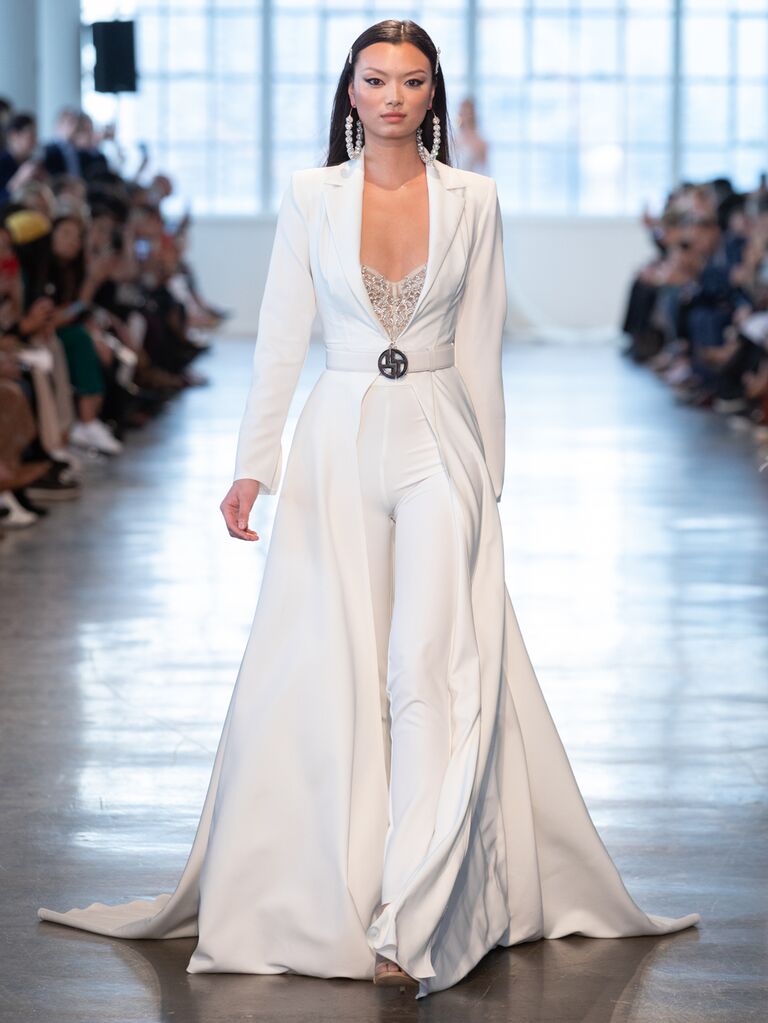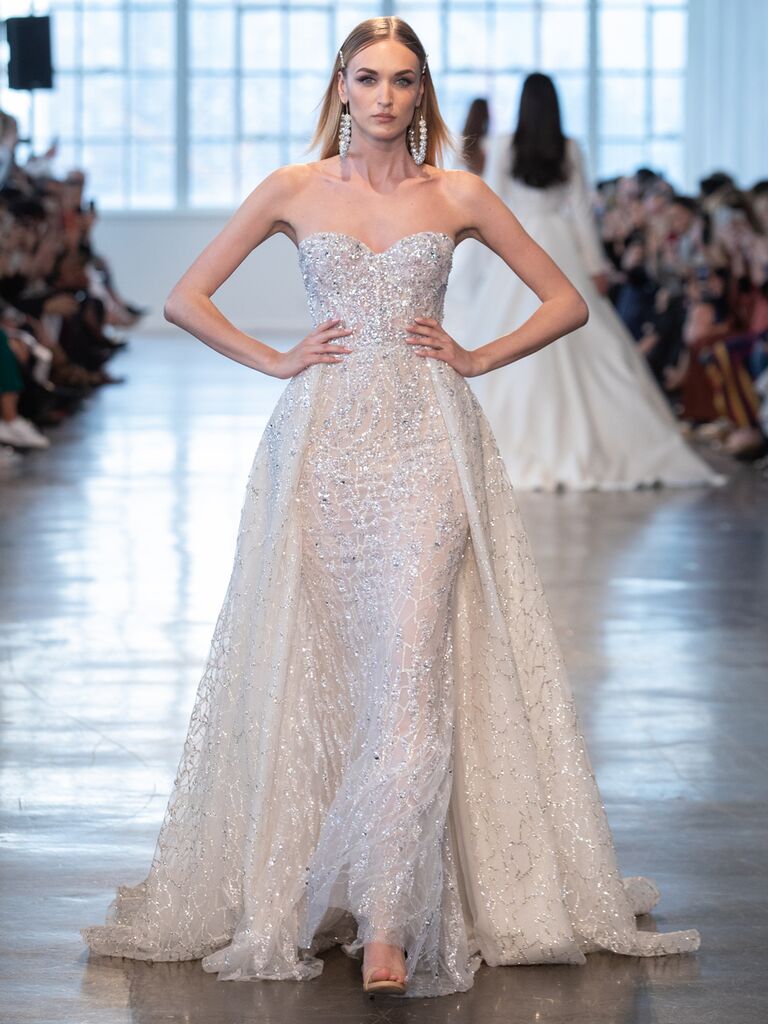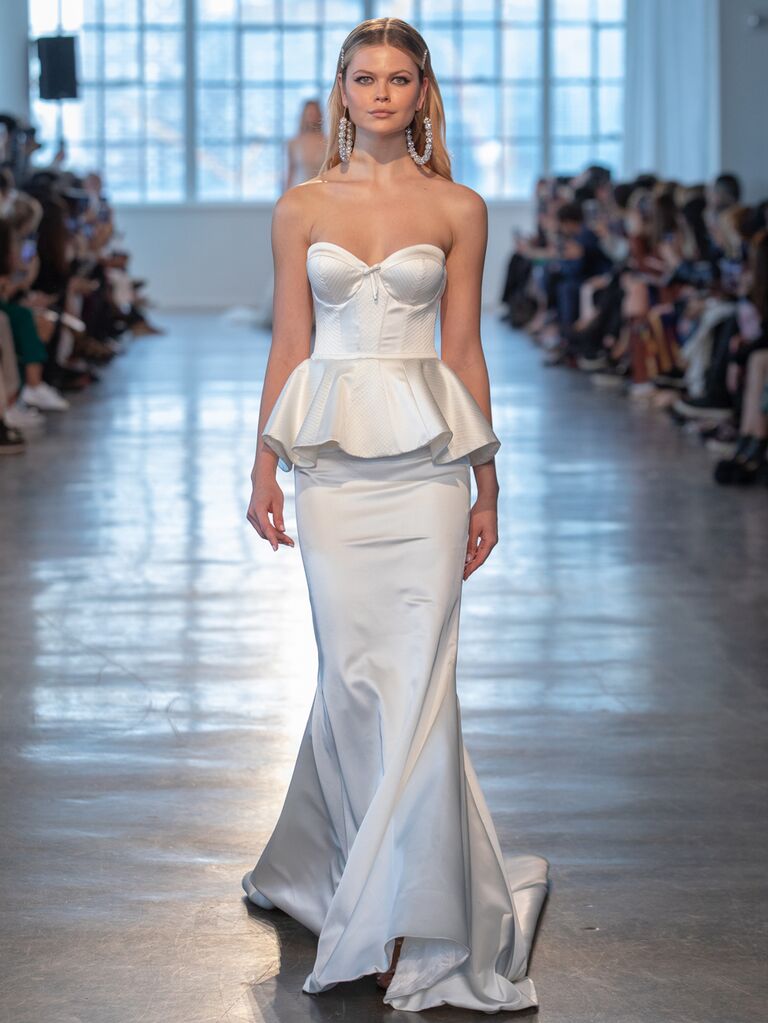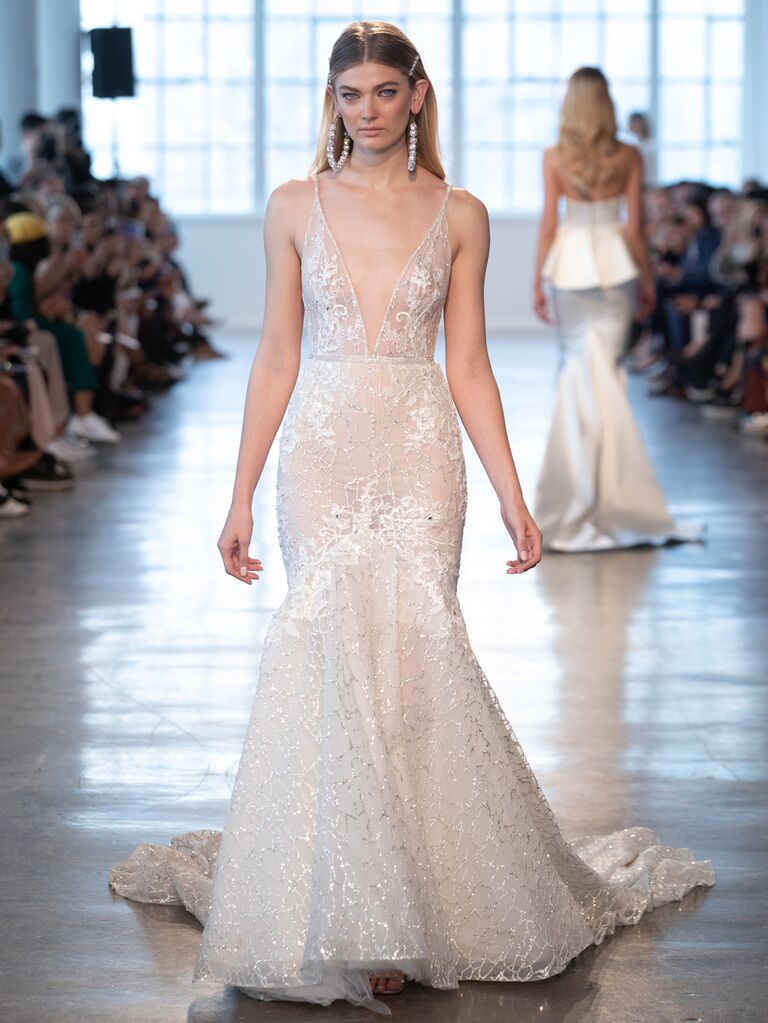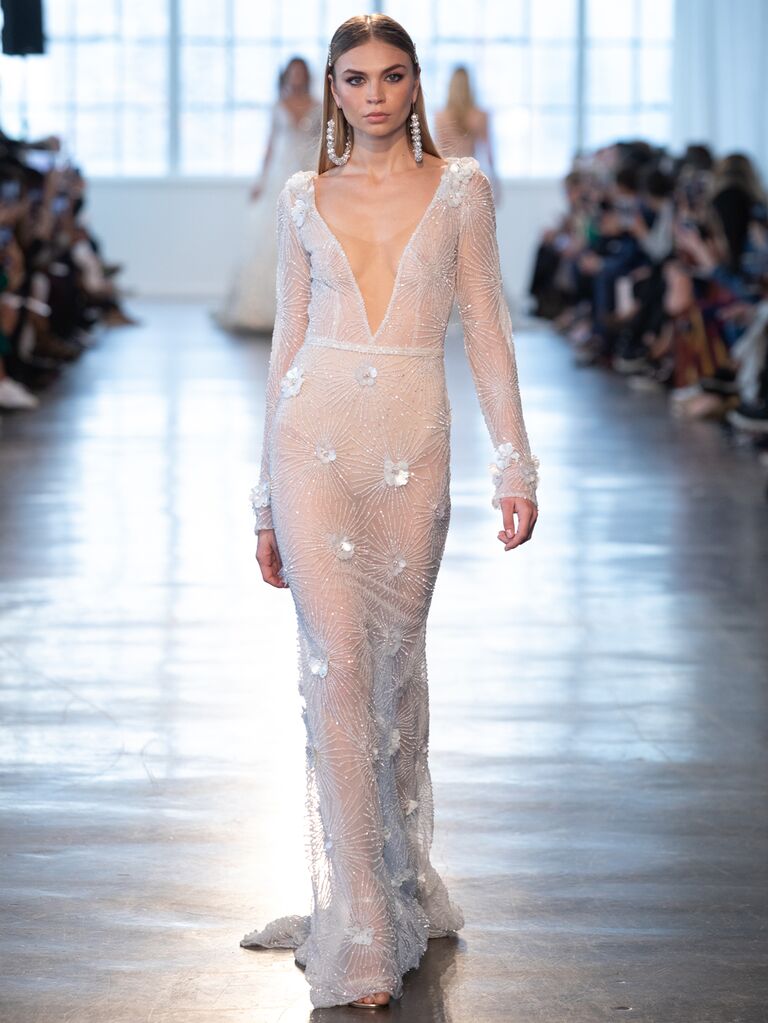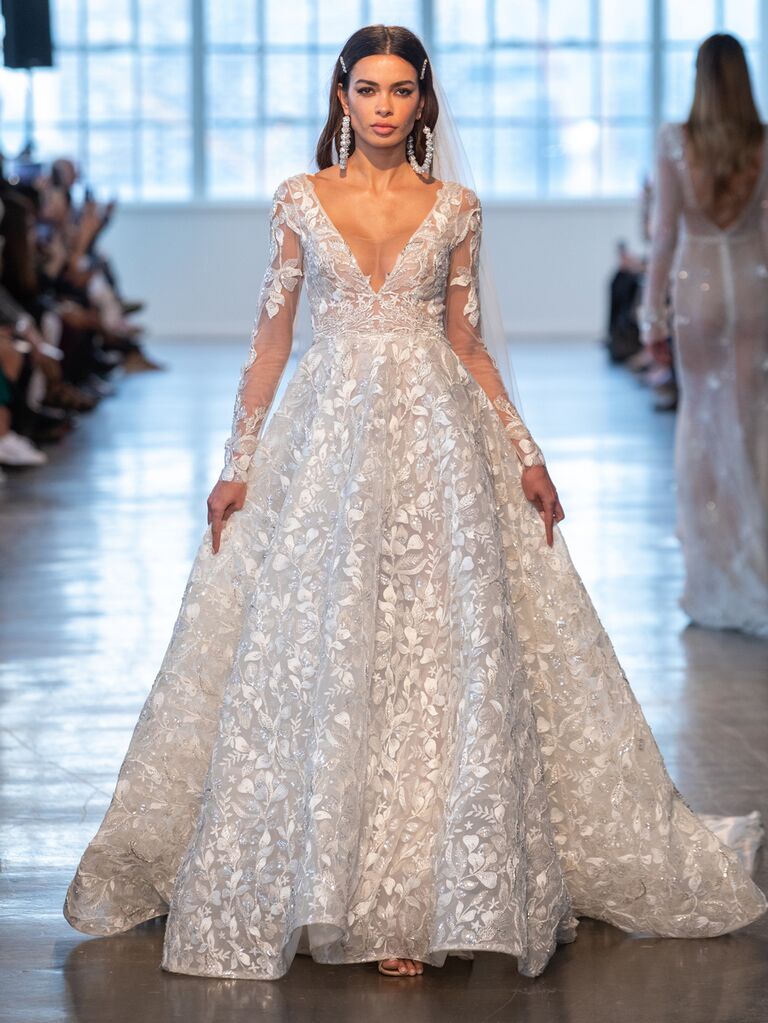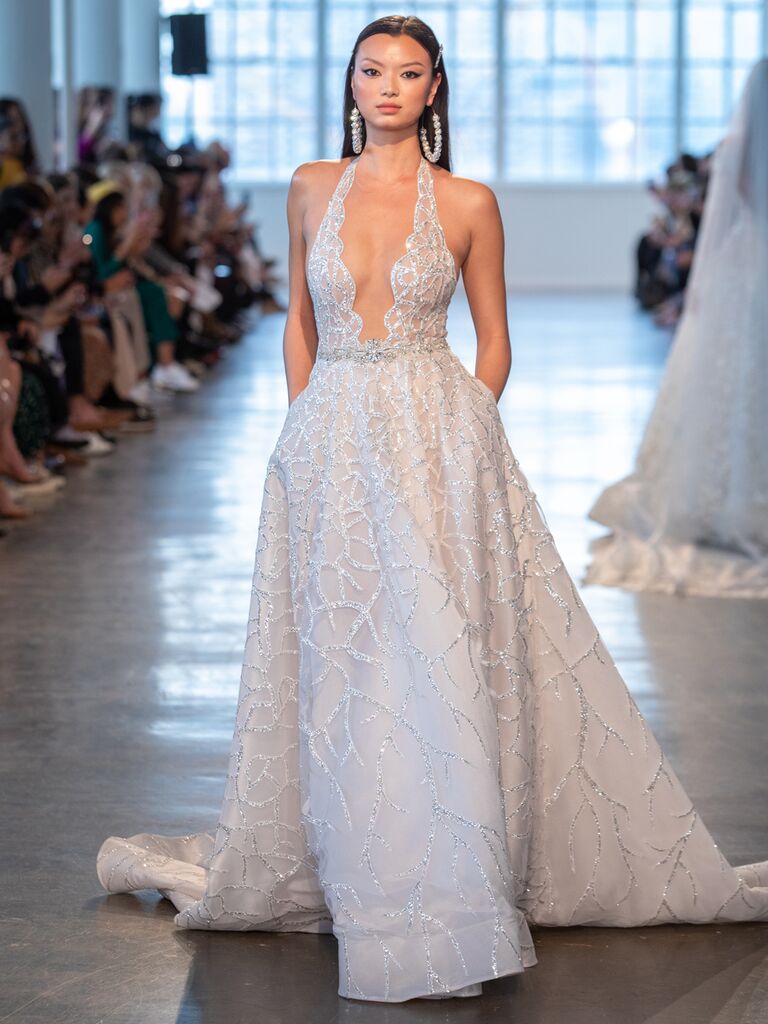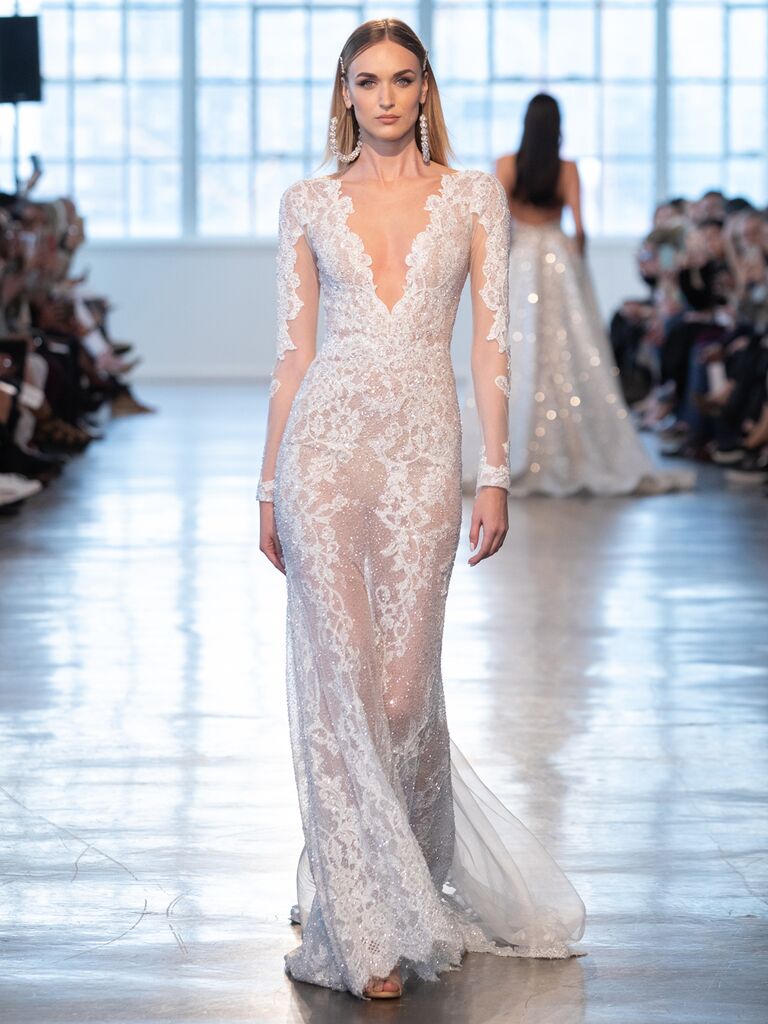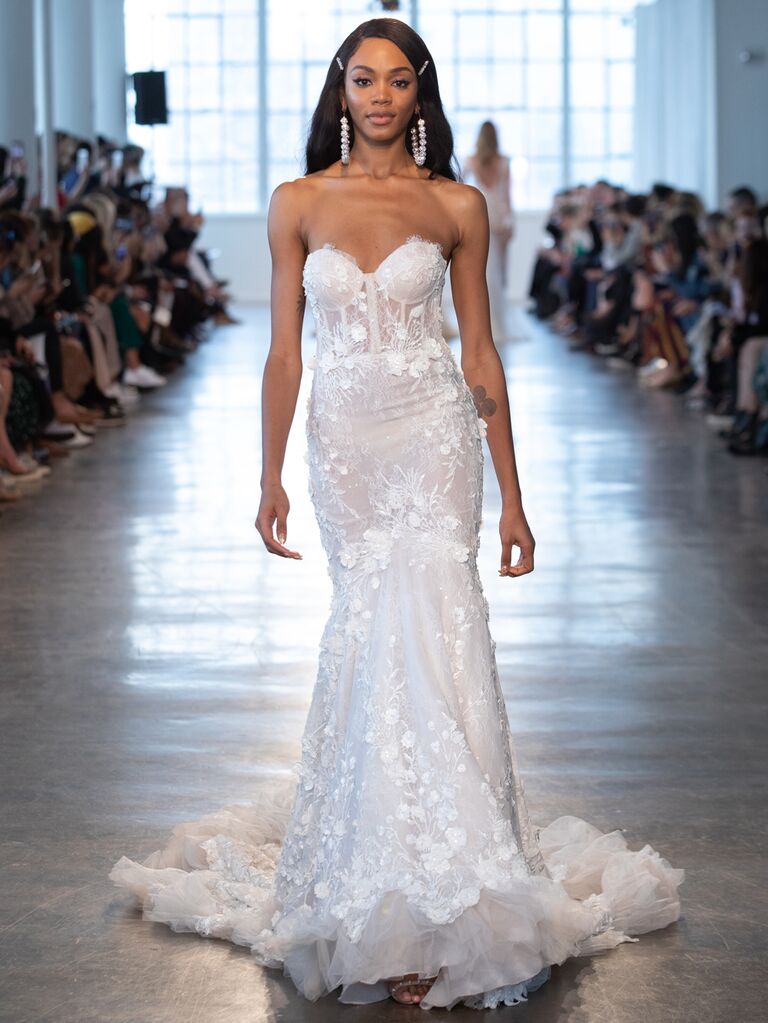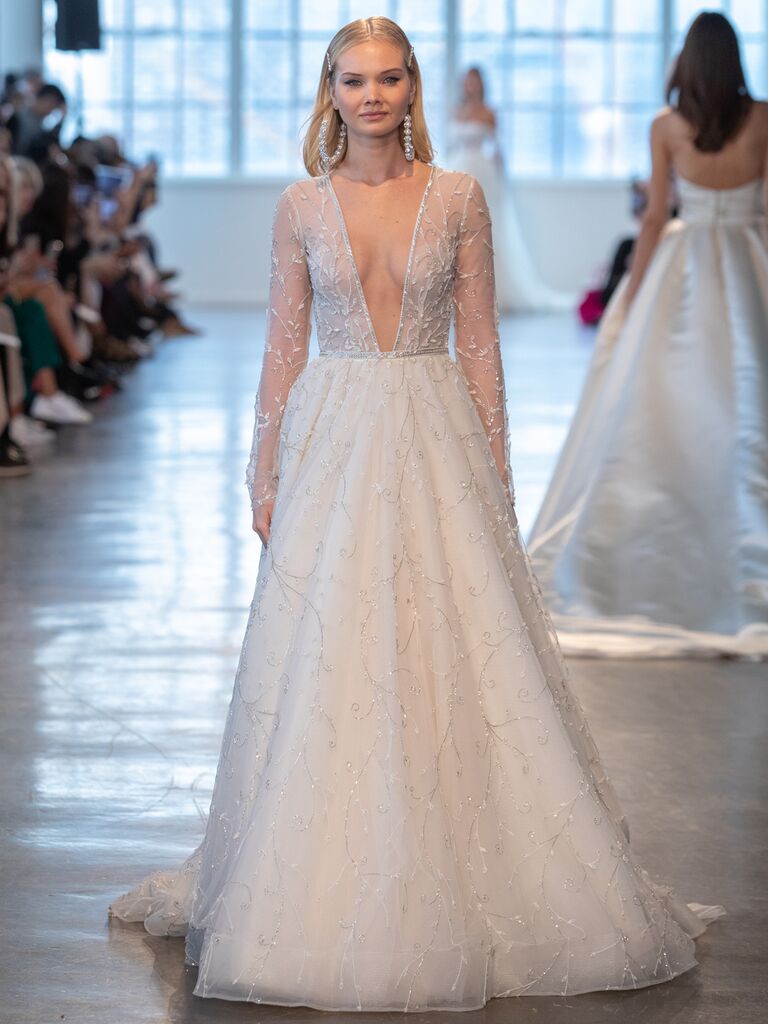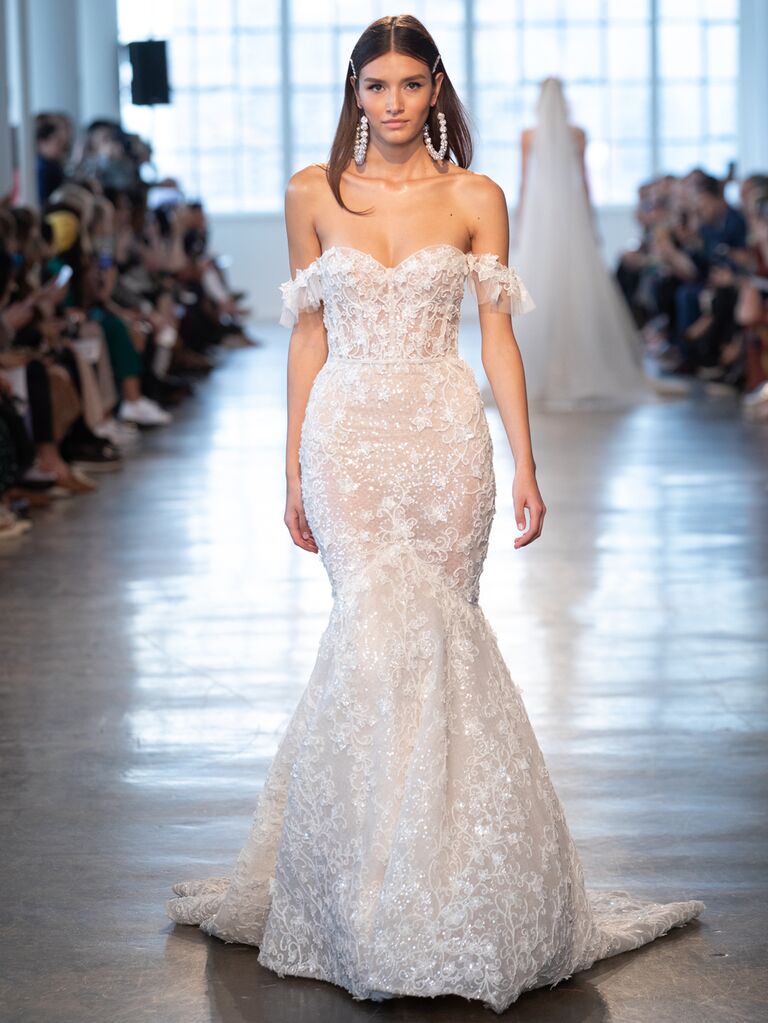 To check out all the Bridal Fashion Week galleries, plus wedding dress advice and more, go to TheKnot.com/bridal-fashion-week.