What Movies and TV Shows Get Wrong About Weddings, According to Experts
No, your wedding planner isn't going to take over your day.
by Maddy Sims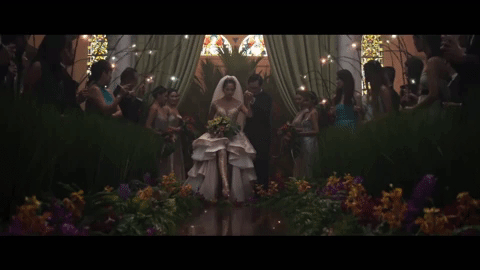 There are many sources of inspiration when it comes to weddings and the planning. To-be-weds can look to Pinterest, Instagram and friends and family to gather ideas for their nuptials, but many find inspiration from movies and TV shows. While it's fun to see your favorite characters wed, on-screen celebrations often depict wedding myths that simply aren't true for dramatic effect. 
That's why it's important to keep things in perspective. To help, we consulted wedding pros to debunk 16 different wedding myths from your favorite on-screen celebrations. Read on to see what movies get wrong about weddings, according to experts.
You Don't Have to Wear White

Vendors Usually Don't Cancel Last Minute

Planners Won't Overhaul Your Wedding

Planners Will Generally Create Backup Plans

You Don't Need a Huge Wedding Party

It Doesn't Have to be an Exclusive Spectacle

Planning a Wedding Takes More Than a Few Days

Most Prewedding Events Happen on Separate Weekends

You Don't Have to Honeymoon Immediately

Planners Will Often Help Diffuse Tension

Your Ceremony Doesn't Have to Include an Aisle with Two Sides

DJs Don't Only Play Cheesy Love Songs

Florists and Other Vendors Come Hours Ahead of Time

Getting a More Expensive Dress Doesn't Mean the Wedding Needs to be More Expensive

Your Photographer Will Give You Directions

Not All Wedding Planners Use a Headset and Clipboard