Exclusive: The Cast of 'Book Club: The Next Chapter' Shares Their Must-Know Wedding Advice
Jane Fonda really wants you to read this.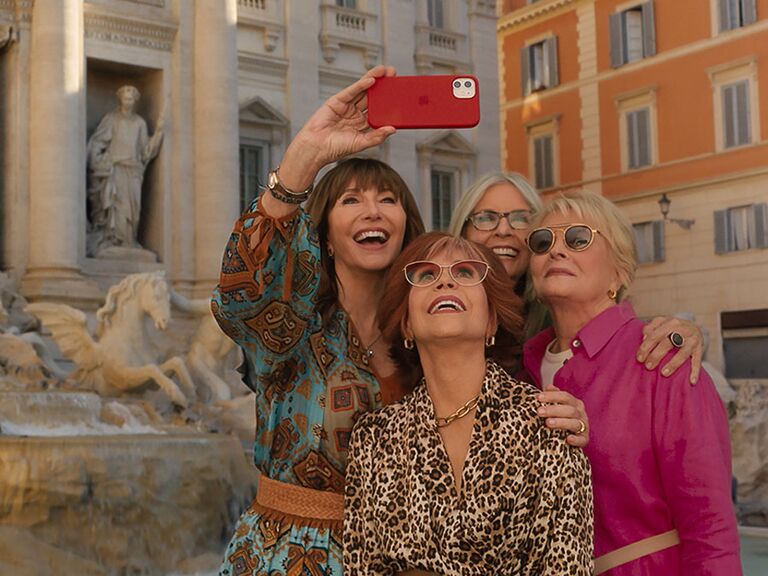 Photo: © 2023 Fifth Season, LLC
Grab your passport, because a trip to Italy is in your future. Hollywood icons Jane Fonda, Diane Keaton, Mary Steenburgen and Candice Bergen have reunited to star in Book Club: The Next Chapter, which premieres in theaters on Friday, May 12. In the highly-anticipated film, which serves as the second installment to their 2018 flick Book Club, the beloved group embarks on an international Italian bachelorette trip to celebrate the newly-engaged Vivian (Fonda).
Ahead of the film's release, The Knot sat down with the cast of Book Club: The Next Chapter to get the scoop on what it was like filming a wedding-themed sequel—and, as it turns out, it was just as fun as you'd imagine. "We wanted to do a sequel, we wanted it to be in Italy and then it happened, so we were just thrilled," Fonda tells us. "We had a really, really good time." Adds Steenburgen: "It was a dream come true. One of the greatest times of our lives."
In this article:
Book Club: The Next Chapter Filming Secrets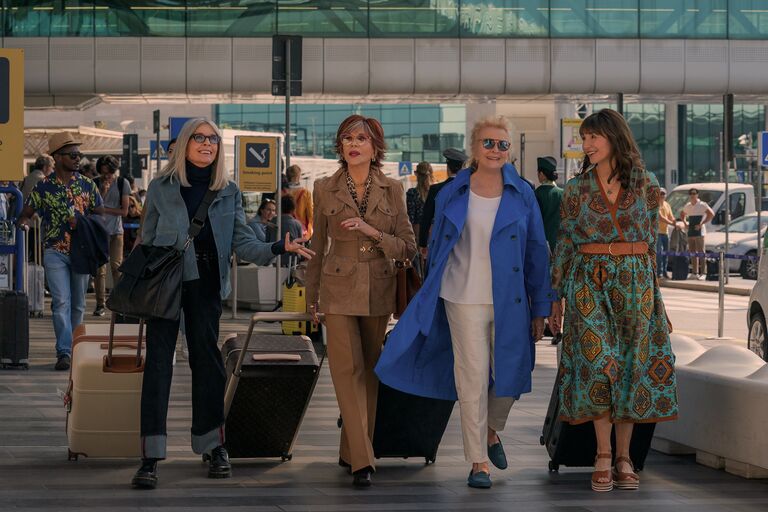 The opportunity to portray a bride and her wedding party proved to be a welcome change of pace for the cast of Book Club: The Next Chapter. After all, you probably recognize them from their roles in some of the most iconic wedding movies of all time. (Candice Bergen was the wedding planner in Bride Wars, while Mary Steenburgen, Diane Keaton and Jane Fonda played mothers-of-brides and mothers-in-law in The Proposal, Father of the Bride, and Monster-in-Law, respectively.)
"I got a kick out of it because I'm 85," Fonda says with a laugh. "The idea of stepping into the bride role at this age seemed cool to me. I liked it, it was fun."
The film follows the cast as they galavant around Italy, indulging in fine wine, pasta and gelato—all while Fonda wears a mini veil and bride-to-be sash, of course. As old flings appear and run-ins with the law threaten to put a damper on the prewedding fun, the film's trailer asks, "How does a woman in her 70s end up getting married?"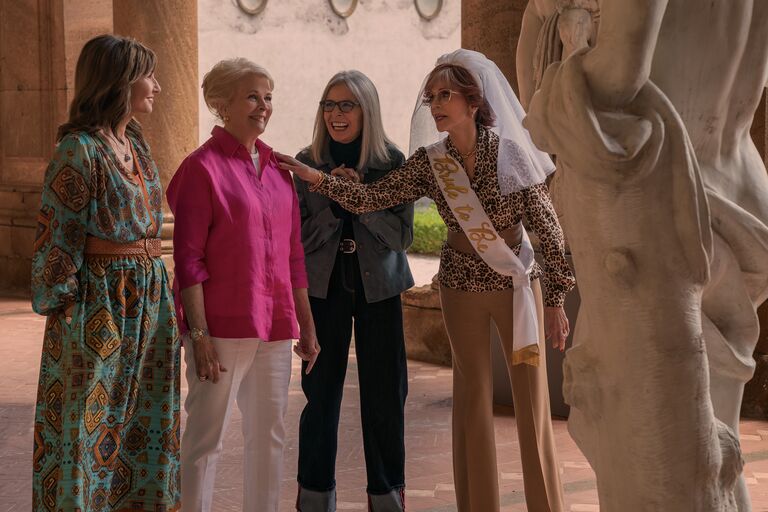 Steenburgen wants viewers to leave with a clear answer. "This movie is about not closing doors in life, and not assuming you can't do things because you've reached a certain age," she tells us. "We all, as characters and as women, say 'yes' to life pretty regularly."
Saying "yes" is an obvious theme throughout Book Club: The Next Chapter. Vivian says "yes" to getting engaged, the club says "yes" to embarking on an international fête, and all four say "yes" to wearing incredible wedding dresses for Vivian's impending nuptials. In fact, the cast agrees that the dress shopping scene was one of their favorite memories from filming.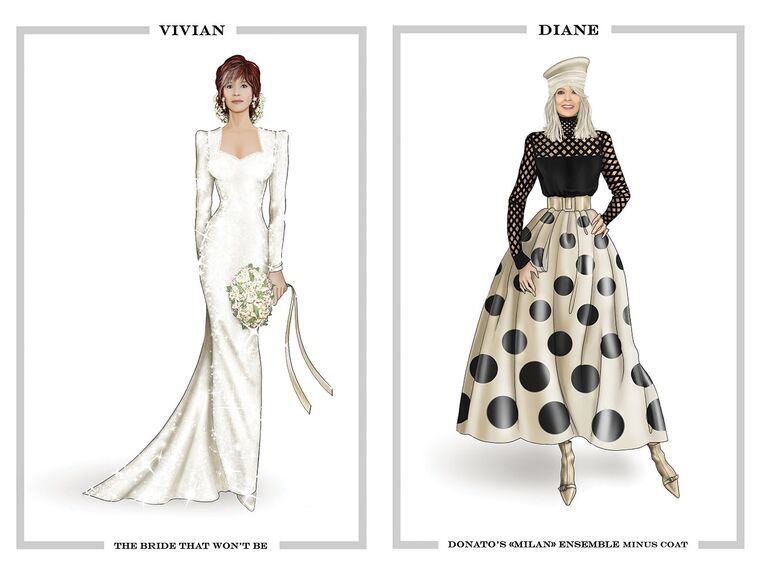 "That whole set was beautiful," Steenburgen says of the dreamy wedding dress montage scene. "There were all these beautiful clippings of fabric and paper dresses, and the ancient building had such high ceilings. I loved that day." And, of course, beverages were aplenty: "There was a little prosecco flowing," Fonda teases.
Book Club: The Next Chapter Cast's Must-Know Wedding Advice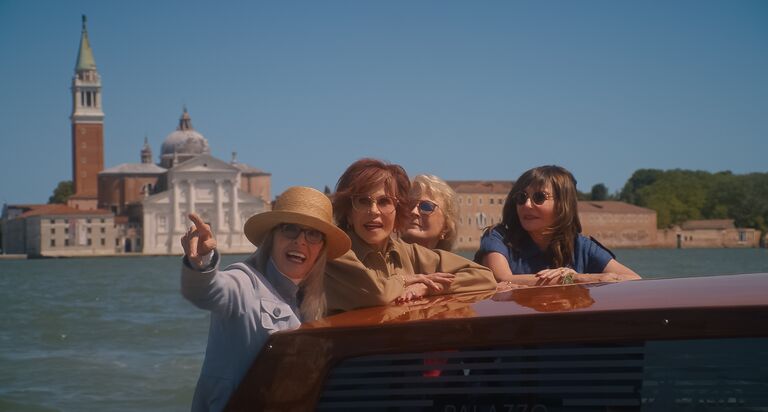 Book Club: The Next Chapter isn't only about a wild bachelorette bash. The movie also follows Vivan's wedding planning journey that culminates with a plot twist you won't see coming—which is why we couldn't end our conversation without asking the cast for their must-know wedding advice. After all, they've had their fair share of wedding experiences on-screen and IRL too.
"Keep it simple. Don't spend a lot of money, and don't put a lot of pressure on yourself," Fonda tells to-be-weds around the world. "Just look into each other's eyes and have your own private moment."
Having a private moment is something Steenburgen recommends as well. Referencing her son Charlie McDowell's wedding to actress Lily Collins in 2021, she reveals the couple had a private moment that wasn't captured by cameras. "At my son's wedding, he whispered something to [Collins] during the vows that none of us heard," she shares. "I loved that so much because they claimed that little moment. Much of it was shared with us, but that little moment was just between the two of them and I thought that was really beautiful."
As for Bergen? She has one resounding recommendation for couples: "Stay away from rules," she says confidently.
Watch Book Club: The Next Chapter in theaters beginning May 12, 2023.