6 Celebrity Brides Who Wore Legendary Chanel Wedding Dresses
Gen Z's resident it-girl Sofia Richie is far from the only one.
When you think of Chanel wedding dresses, you probably envision Sofia Richie's gown that essentially took over the internet when she got married in April 2023. (Considering many dubbed it the "royal wedding" of the year, the viral sensation was nearly impossible to miss.) Although Sofia Richie is the most recent celebrity Chanel bride, she's far from the only A-lister to wear the luxury French brand on her big day. Although the Chanel label is often associated with quilted handbags, tweed suit sets, pearls and that iconic camellia flower emblem, the brand's wedding dresses are equally distinguishable. Here, we look back on six celebrities who wore an iconic Chanel wedding dress, from models to actresses and, yes, even Gen Z icon Sofia Richie.
Who are the Designers of Chanel?
Before we dive into the best Chanel wedding dresses worn by celebrities, let's revisit the label's history. There have been quite a few Chanel designers over the years, many of whom have become household names. The fashion house originated as a millinery shop in 1909 when it was launched by Gabrielle "Coco" Chanel. She would go on to design for her brand until her death in 1971, when the leadership was transferred to Yvonne Dudel, Jean Cazaubon and Philippe Guibourgé. A few years later, creative direction was taken over by Jacques Wertheimer, followed by his son, Alain—but due to a lack of interest, the success of the brand plummeted.
In an effort to revive the fashion house, Wertheimer convinced Karl Lagerfeld to take over as chief designer, who's largely credited with transforming Chanel into the label we know today. Following his death in 2019, Virginie Viard was named the new Creative Director of Chanel and continues to serve in that role to this day.
Sofia Richie's Wedding Dress by Virginie Viard for Chanel
If you were active on TikTok or Instagram throughout the spring of 2023, we'll bet you saw content from Sofia Richie's wedding to Elliot Grainge. The model and social media personality wed the music executive in a lavish (and highly publicized) wedding at the luxurious Hotel du Cap-Eden-Roc in Antibes, France. As Richie took her followers along for the weekend through "get ready with me" videos posted online, fans anxiously took note of her chic wedding wardrobe, eagerly awaiting the reveal of her gown—and it certainly didn't disappoint.
Sofia Richie's wedding dress, designed by Virginie Viard and the Chanel team, was a fitted lace gown covered in iridescent sequins with a scalloped neckline and a high collar inspired by a design from the brand's fall 2023 collection. "I always had this vision of the big princess dress, and going big, but as I got older, I realized that I wanted something a bit more simple," Richie told Vogue. "Maybe simple isn't the right word because my dress definitely is not simple!"
On the subject of her wedding dress fitting, the bride opened up about the collaborative experience she had with Viard and Madame Olivia Douchez, première of haute couture atelier. "I was extremely intimidated coming into these fittings just because Chanel is such a big house," she said. "But they were so open to hearing my thoughts and suggestions, and they were so lovely to work with, and I adore everyone that I got to know along the process. It's something I'll never forget."
Chanel also designed Sofia Richie's rehearsal dinner and after-party dresses. The first was a long sleeve white column gown, also with a high neck, which was covered in fringe beading embellishments on the bodice and circling the waistline. For the party, the newly-minted Mrs. Grainge opted for a structured white mini dress with Chanel's signature camellia flower on the bodice.
Poppy Delevingne's Wedding Dress by Karl Lagerfeld for Chanel
On May 16, 2014, model Poppy Delevingne (yes, Cara's sister!) married James Cook at St. Paul's church in London, England. Considering the bride was often seen sitting front row at Chanel fashion shows, it wasn't a surprise that her wedding dress was designed by Karl Lagerfeld. Delevingne's look was inspired by a Chanel Spring/Summer 2009 couture piece, though it was slightly altered for a true bespoke look. The bride stunned in her sheer gown, which had a tunic overlay (a signature silhouette of the label) that featured floral lace, delicate embellishments, and cap sleeves. She accessorized her bridal look with a simple tulle veil and a bouquet of white flowers.
Keira Knightley's Wedding Dress by Karl Lagerfeld for Chanel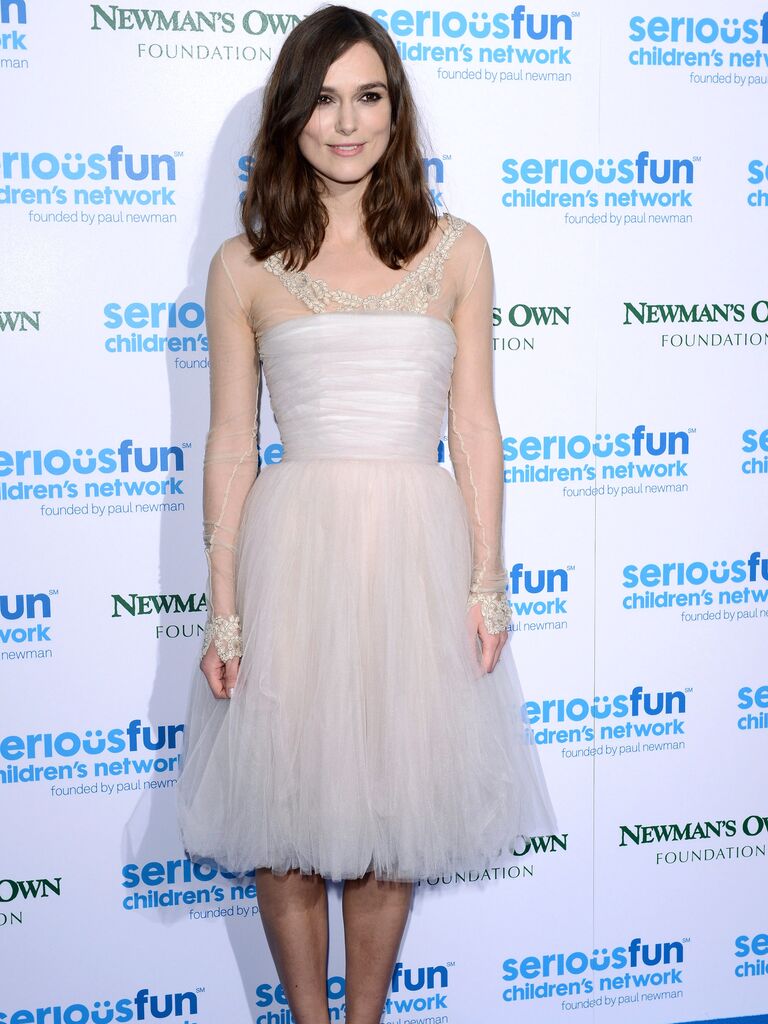 Keira Knightley loved her Chanel wedding dress so much that she wore it before and after her wedding day. (We're here for it!) The actress married musician James Righton in France on May 4, 2013, wearing an off-white strapless tulle dress with a short skirt and a long sleeve sheer overlay with beading along the neckline. She styled the Karl Lagerfeld design with a Chanel boucle jacket, cap-toe flats and a flourishing flower crown.
Keira Knightley's wedding dress made its red carpet debut back in 2008 when she wore it to a pre-BAFTA party. Following her nuptials, she wore it again to an event in December 2013. Speaking to The Telegraph, she opened up about the choice to get married in a gown that had already been photographed in public. "I'd worn the dress lots. It was my something old," she explained. "And I liked not making a big deal about it. I just wanted to be in something I had had a great time in, something I would have a great time in again."
We likely won't see the gown in public anymore, though, because it suffered an unfortunate fate when a friend spilled red wine down the front. "It's quite impressively splattered," she added. "But, hey, a good night is a good night and when a dress has had its time, maybe it's had its time. I'm pretty sure I can get it out but, if I can't, I'm happy with the memory of a good night and the story of how the dress got destroyed."
Lily Allen's Wedding Dress by Karl Lagerfeld for Chanel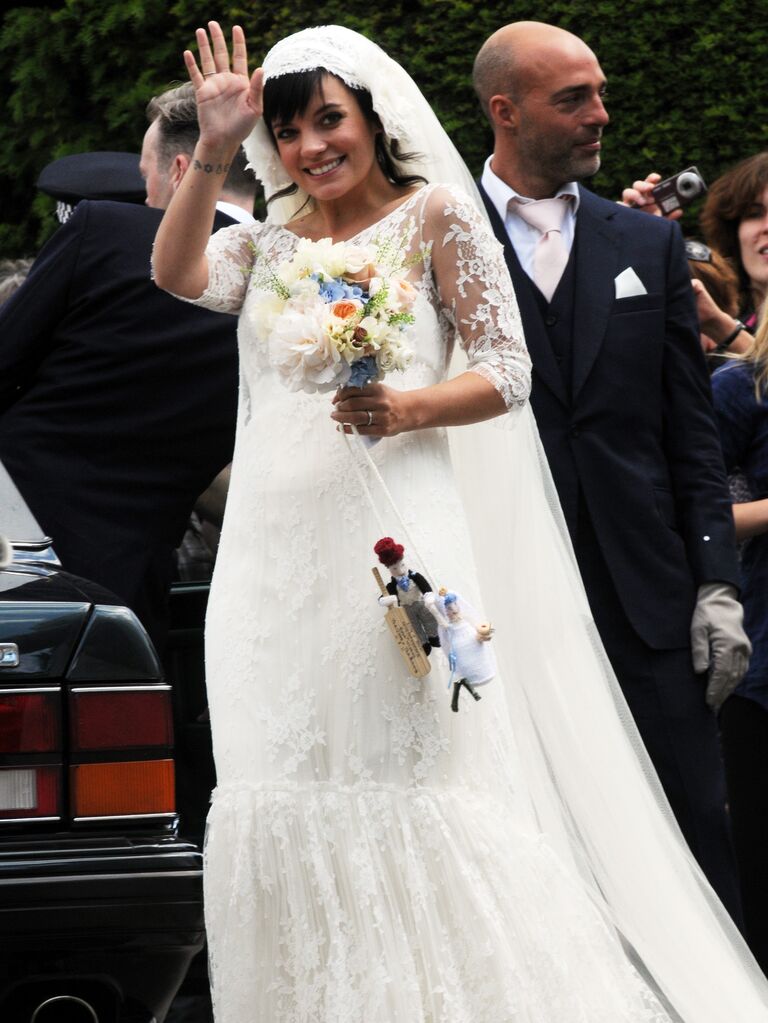 Although we loved the mini dress Lily Allen wore to marry David Harbor in Las Vegas in 2019, we can't forget the Chanel bridal look she donned for her first wedding in 2011. The singer's first marriage to builder Sam Cooper took place on June 11 at St. James Church in Gloucestershire, England. For the occasion, Allen—who previously appeared in Chanel's 2009 Cocoon bag campaign—donned a bespoke Karl Lagerfeld lace gown that was nothing short of ethereal. The long-sleeve gown featured an empire waistline, bell sleeves and intricate lace embroidery.
Following the big day, though, Allen revealed she temporarily misplaced the dress when she was asked about the most expensive piece in her wardrobe. "There's two bits to this answer," the singer told British television channel 4Music. "One is that it's not in my wardrobe, it's gone missing. And two, it's my Chanel Couture wedding dress that's worth about £200,000. It's gone. I don't know where it is." Amid public outcry for misplacing such an important piece of clothing, Allen took to Twitter to give a positive update after the interview: "OK, EVERYONE RELAX, I FOUND IT !!!!!!!!! A couple of weeks ago now."
Jill Kargman's Wedding Dress by Karl Lagerfeld for Chanel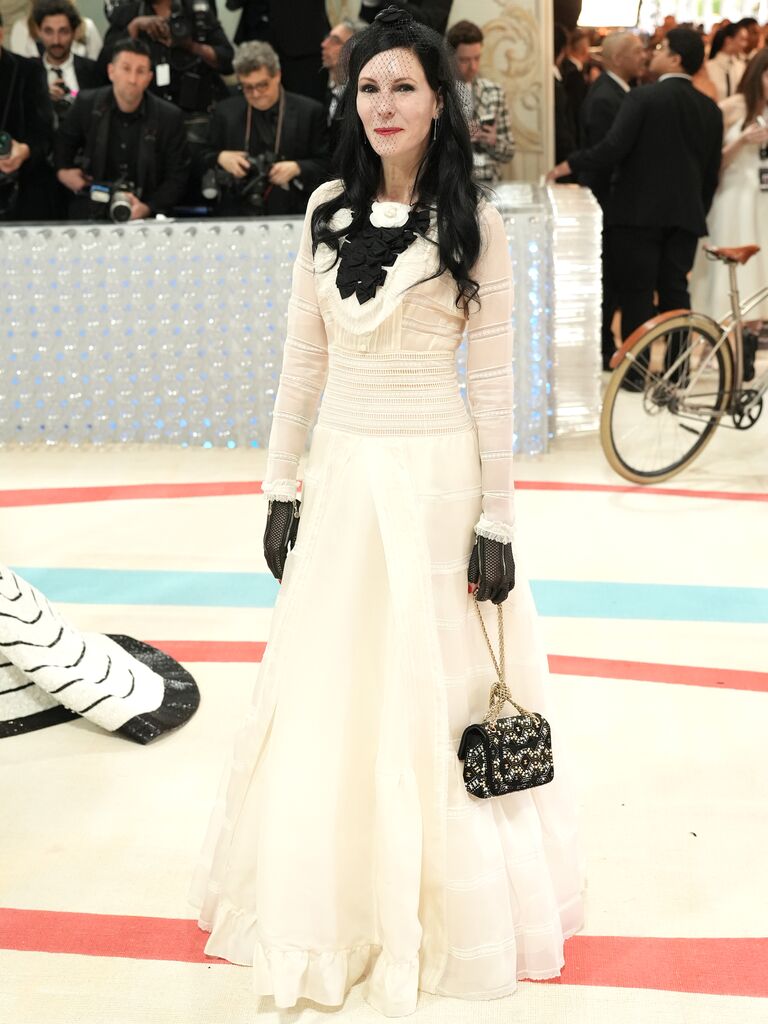 Although it's rare, we can't help but freak out every time we see wedding dresses on red carpets. Such was the case when author Jill Kargman arrived at the 2023 Met Gala in New York City. The event's theme was inspired by Karl Lagerfeld's impact on the fashion industry, so Kargman took the opportunity to re-wear her Chanel wedding dress: a long-sleeve white gown with black lace on the neckline accented with a camellia flower. "This is my wedding dress from 21 years ago that Karl gave me," Kargman told Entertainment Tonight. "No one gets to wear a wedding dress twice, so I feel very lucky that I got to crack her out."
The novelist went on to say that the dress was a gift from Lagerfeld, who she had known since she was nine years old. She also added that the gown's legacy lives on in her home, as she has a sketch of the design framed in her living room. The occasion was equally special for her husband, Harry Kargman, who told the outlet he was having major flashbacks: "I almost didn't want to see her until she showed up here. It's like the wedding all over again."
Kristen McMenamy's Wedding Dress by Karl Lagerfeld for Chanel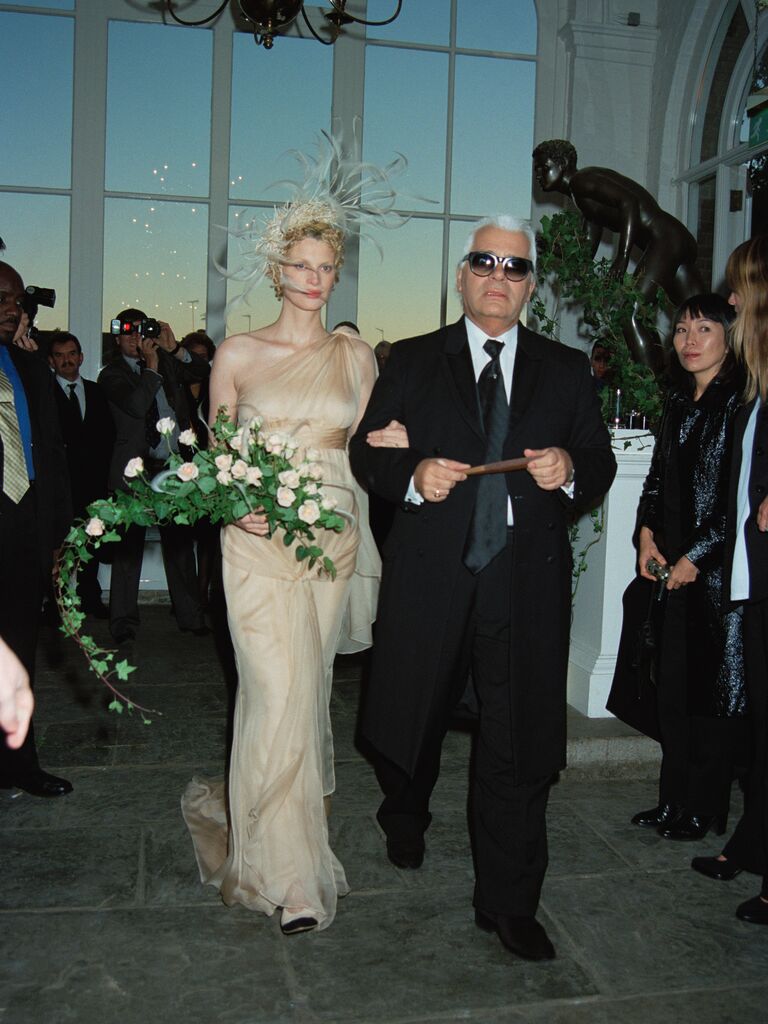 Fashion model Kristen McMenamy married photographer Miles Aldridge in 1997 wearing a custom one-shoulder chiffon Chanel wedding dress that was dyed to match her skin tone. Not only did Karl Lagerfeld design the avant-garde look, which was accented with a feathered Philip Treacy headpiece, he took it a step further by walking McMenamy down the aisle.