12 Ways to Celebrate Your Original Wedding Date If You've Postponed
Because the day will always be special, no matter what.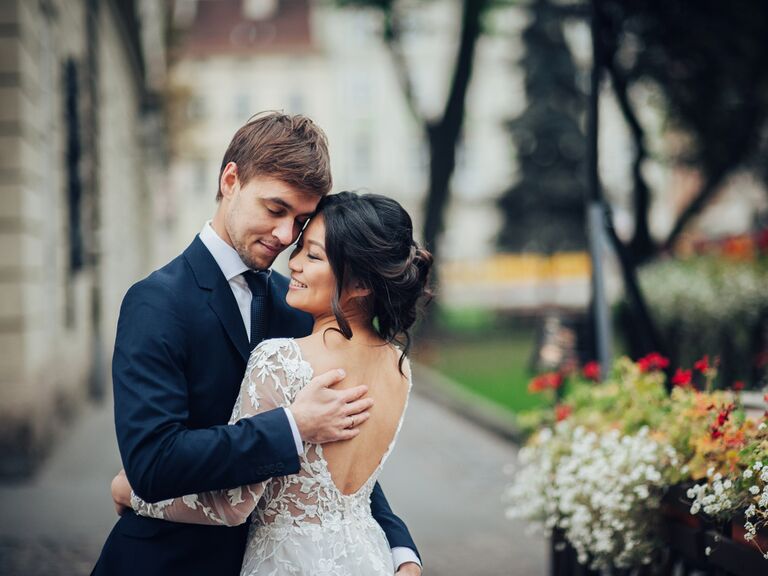 Ladanivskyy Oleksandr / Shutterstock.com
If you've had to postpone your wedding due to COVID-19 (or another reason out of your control), you're not alone—but that doesn't make it any easier to cope with. When your original wedding date rolls around, you might find yourself feeling sad, confused and overwhelmed. But among all the emotions you'll experience, you can (and should!) honor the day.
While the ramifications of the coronavirus outbreak have affected weddings around the world, couples are instead choosing to "take back the date" to celebrate the day they planned to get married. From hosting a virtual cocktail hour to having your first dance in your living room, there are plenty of ways to mark your wedding date from your home (while following CDC and government guidelines). Though it might not be what you originally envisioned, you'll be happy that you chose to honor the day despite the circumstances. Below, find our favorite ways to take back your own wedding date if you've postponed.
Have a Commitment Ceremony
Even if you're postponing your wedding, you can honor your partnership by hosting a commitment ceremony. It's important to note that this is not a legal union—instead, a commitment ceremony simply marks your devotion to each other. (You can have a legal ceremony at a later date). Your commitment ceremony can take any form you want. You and your partner can get dressed up and recite your vows, or you can host a virtual gathering as you pledge your commitment to one another in front of your loved ones. Regardless of how you execute it, this will serve as a way for you to signify your wedding date without the formal ceremony.
Host a Minimony
A "minimony" is a buzzy new term that's exactly what it sounds like: a mini ceremony. A minimony differs from a commitment ceremony because it's not just reserved for you and your spouse—instead, this alternative celebration often includes up to 10 guests. (Keep in mind, minimonies should still adhere to social distancing guidelines.) Couples are making their minimonies special by including an officiant (either in-person or virutal), a first dance from a porch or balcony, personalized vows, and elements inspired by their original wedding day. Minimonies are generally a way for couples to honor their commitment to one another with their loved ones while still keeping a safe distance. Planning a minimony on your original wedding date is a great way to keep the sentiment while still putting health and safety first.
Invite Your Loved Ones to Drive By
If social distancing guidelines have kept you apart from your friends and family, invite them to drive through your neighborhood while you and your S.O. wave to them from your porch or front lawn. They'll be thrilled to enjoy the day with you—from a safe distance, of course.
Open a Wedding Present (or Two)
If wedding presents are taking up space in your house, use your original date to open a few and put them to use. Whether you break out your brand new pasta maker or enjoy dinner on china plates, opening your wedding gifts will bring joy to the bittersweet day. (Who doesn't love opening a beautifully wrapped gift, after all?) Wedding gifts are intended to help you begin married life together—and although your wedding might not have gone according to plan, your marriage is far more important than a party. So, grab a few boxes and open them together. Plus, it never hurts to get ahead on your thank-you cards.
Enjoy a Fancy Meal
Support local businesses by ordering your favorite takeout and planning a date night on your original wedding date. Make it extra special by popping a bottle of your favorite champagne, or try your hand at mixology by creating a brand new cocktail. (Take note of the ingredients and serve the drink at your future wedding reception.) While you might not have envisioned celebrating your wedding with local pizza or your favorite lo-mein dish, it'll create a special memory you'll never forget.
Plan a Virtual Cocktail Hour
In the mood to hear some wedding party speeches? Organize a virtual cocktail hour with your friends and family. Gather everyone on a Zoom call or Google Hangout and encourage them to bring their own cocktails. Either make your own or pick up to-go cocktails from your favorite local spots. While you might not be able to come together physically, having your loved ones call in to your digital reception is a great way to take back your wedding date. Make sure everyone comes prepared with a toast (or two) to keep things fun.
Order Wedding Cake or Cupcakes
What's a wedding celebration without cake? Call a local bakery and place an order for a small wedding cake or a batch of cupcakes to enjoy together. While you might not be able to do a classic cake smash in front of your guests, indulging in a sweet treat will be the icing on top of your makeshift celebration.
Say Your Vows
Even if you won't be having a formal ceremony, you can still say your vows to each other to mark your commitment. Since your original wedding date marks the day you planned to formally seal your marriage, honor the intention by reciting your vows together. Consider writing them down in special cards, like this "happy original wedding date" option from Etsy, and exchanging them. While you'll still have to legalize your union in the future, this is a sentimental way to take back your wedding date.
Petals and Pastures original wedding day card, $5, Etsy.com
Get Dressed Up
Getting dressed up will make your wedding day feel much more meaningful. Wedding dresses and tuxedos aren't required—but if you want to wear your original outfit, you should! If not, dress up your outfit by wearing your veil, a wedding accessory or any shade of white if you want to. This could also be a great opportunity to wear "something blue" or to break out the white jumpsuit you've been saving for a wedding event.
Have a Photo Shoot
Though it's not what you intended, you'll want to remember how you took back the date for years to come. Savor the memories by snapping pictures of everything: your outfits, the food, your vows scrawled on paper, and even your loved ones if they're able to drive by your house. Don't sweat it if you don't have access to a professional camera—your phone or a polaroid camera will suffice. But if you do want professional help, some photographers now offer photography sessions via FaceTime. Others are available for shoots that adhere to social distancing rules and group gathering guidelines. No matter what option is best for you, don't forget to document your creative wedding party.
Host a Virtual Game Night
There are plenty of virtual games you can play with your friends and family over FaceTime, Hangouts or Zoom. Gather a group and organize an evening of Jackbox TV, Houseparty or karaoke. Or, fuel your nostalgia by playing classic favorites like trivia, Bingo or Cards Against Humanity. No matter what you choose, spending time with your loved ones is a great way to celebrate the day (even if it is virtual).
Have Your First Dance in Your Living Room
Move your furniture aside and practice your first dance in your living room. Light a candle for ambiance, and savor the privacy of this classic wedding tradition. Whether you practice your choreography or have a full-out jam session, dancing to anything will help relieve stress and take your mind off of everything else. And since your first dance song is already meaningful, enjoying it on your intended wedding date will make it much more special.
We have included third party products to help you navigate and enjoy life's biggest moments. Purchases made through links on this page may earn us a commission.