Here's Why You Should Consider a Weekday Wedding
Mondays are here for you.
In 2020, expect weekday weddings to trend. When the coronavirus pandemic put a pause on group gatherings this spring, the resulting fallout surrounding 2020 weddings was truly unprecedented. Despite navigating all types of scenarios (including emergencies and natural disasters) throughout their careers, the majority of wedding planners have noted COVID-19 is unlike anything they've experienced before… and they're often prepared for everything.
"We're all sailing in unknown waters right now," says event planner Edward Perotti. "So we need to plan accordingly. But what we can do is partner together."
Agrees photographer Lucy Cuneo: it's possible to keep your original wedding team intact. "While you haven't experienced this situation before, neither have your vendors," she notes. "Meaning, we're addressing this on a case-by-case basis and we're all working on how to best support each other during this time."
What began with March wedding postponements shifted over to April, May and early June events. Most weddings during these months have now been postponed through 2021. Social distancing guidelines will continue to be reinforced until the end is in sight for this pandemic. Until then, couples will need to work virtually with their venues and vendors primarily to navigate the ongoing fallout of COVID-19.
The Date Dilemma
With the loss of several months, most dates for weekend weddings in the fall and into spring 2021 have been scooped by other couples equally navigating this tricky scenario. If, however, you want to marry sooner than later, your vendors hear you.
"Gather information from all your major vendors and see what other dates they have available… [especially] common open dates," says Cuneo, also the founder of the Wedding Lab. "Have you considered a weekday wedding? Weekday weddings are really wonderful as it gives your guests a few days following the celebration to truly enjoy the location and the gathering of friends."
Why Weekday Weddings Work
If you have a specific preferred vendor list and your venue isn't available for a Saturday wedding, your mind might automatically default to a Friday or Sunday backup option. If you're able to secure either, then great. However, there may be a scenario where your chosen venue only allows for weekend buyouts or it's booked through 2020 on all weekend dates.
Couples, then, should be open to other days of the week—specifically, Mondays. Since it immediately follows a weekend, guests from out of town are able to travel in and get settled before the wedding ceremony. Plus, you'll also be able to greet them properly and perhaps throw a warm welcome party where loved ones can imbibe and truly take in the locale.
A Monday wedding also increases the likelihood your original team of star vendors will be available. "Your event planner, venue, caterer, photographer and floral designers are your team. They want to make your wedding your dream day," says Perotti. "The dream might be slightly re-imagined, but it's your dream, nonetheless."
Finally: With everything that's occurred in 2020, many will crave socializing and reconnecting at your wedding… regardless of the day of the week. "When this is all hopefully over, people will be so excited to celebrate with friends and family," New York-based event planner Laura Remmert. "Most won't care if your wedding is on a weekday."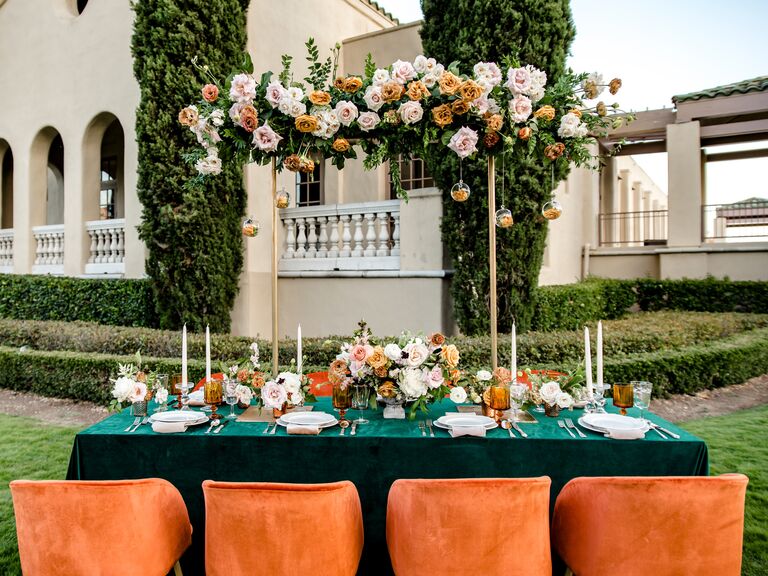 One in Five Are Changing the Day of the Wedding
Statistically speaking, more and more couples are shifting their weddings to alternative days of the week. According to our internal data, about 21 percent of couples with weddings in 2020 already plan to move their receptions to a different day of the week. Furthermore, between the months of May to December 2020, over 63,000 couples have now set ceremony dates for Mondays.
"Work with your significant other, gather your thoughts, and establish your priorities," suggests Perotti. "Is a meaningful date important to you, or is it the specific venue? Is having the wedding the same size a priority, or can you scale down to provide more options? Is there a vendor that you want to work with no matter what?"
According to The Knot 2019 Real Weddings Study, weddings outside of Saturdays already accounted for one in three nuptials in 2020. This means couples were already opting for a Sunday through Friday date for their ceremony this year. We predict this stat will continue to rise.
Change the Format of the Events
Welcome party, wedding, brunch. With a weekday wedding, there's flexibility with scheduling events. Delight your guests with unexpected moments.
"Think about changing the order," says Remmert. "One of my spring wedding couples rescheduled to a weekday in December. Rather than hosting their welcome pizza party the day before the wedding, they're going to host a postwedding pizza party the afternoon after the wedding. This will give guests a chance to regroup and reconnect after a night of fun and keep the celebration going."
It's OK to Be Sad and Move Forward
We know it's a tremendously stressful time for you, which is why it's OK to be sad about the loss of your original date. Once you've collected your emotions, move forward by securing a new date and communicating postponements over to your loved ones via a change-the-date.
Eventually, you might face another wave of emotions as you receive RSVPs from your guest list. Keep in mind: many could be grappling with circumstances they didn't anticipate a month ago.
"Many people will take much longer to emotionally recover from this stressful time and might be fearful of any big social gathering for a while," Perotti adds. "Don't be upset if people decline–it's more of a reflection of how they're feeling than of how they feel about you both."
Prioritize your safety and continue to follow the CDC's guidelines for social distancing and group gatherings. Remember: Your love remains the same… regardless of whether your wedding is held on a Sunday or a Monday.