The Best Czech Wedding Traditions to Incorporate Into Your Nuptials
Learn about the wedding traditions that make Czech weddings charmingly unique.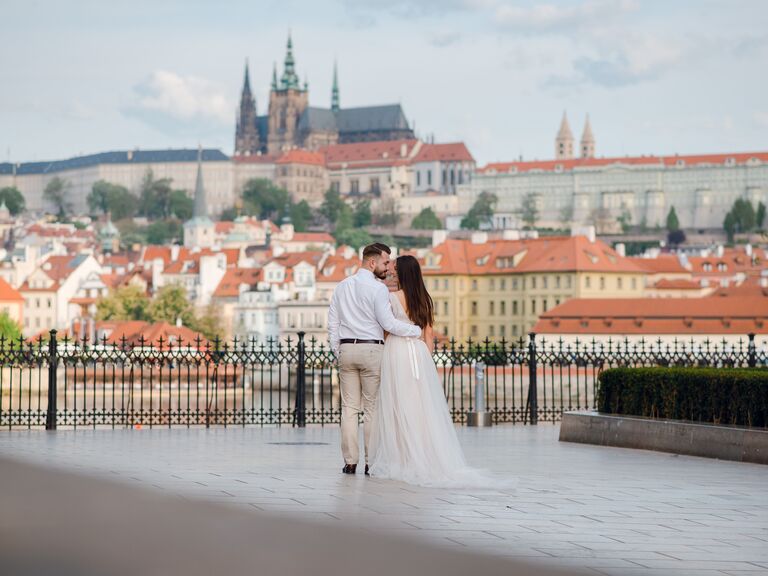 WellStock / Shutterstock

Whether you're having a destination wedding in Prague or want to pay homage to your heritage, there are plenty of Czech wedding traditions to incorporate into your modern-day nuptials. But, where to begin? Unless you live in the Czech Republic—and have a calendar packed with back-to-back weddings—you may have zero clue how the Eastern European country embraces matrimonial bliss. (And, since the Czech Republic has been an independent country since 1993, it's likely that a lot has changed over the past 30 years.) The good news is that you don't need to travel around the world to learn about Czech heritage. We tapped two local expert wedding planners to share the biggest Czech wedding traditions of the past, present, and future. From delicious food to cheeky games, the wedding ideas below will be shoo-ins for your inspiration board.
A Brief History of Czech Wedding Traditions
Once upon a time—when the Czech Republic was an Imperial Estate of the Holy Roman Empire and later a key part of Czechoslovakia—many of the Eastern European country's wedding traditions placed a heavy emphasis on Christianity. Not only were these religious rituals known to promote health, happiness and a large family, but they were also supposed to ward off illness, hunger and evil spirits. But, according to Nikola Bojková of Julie May Weddings, the tides are changing. Now, many Czech soonlyweds are trading in the traditional church wedding ceremonies for secular alternatives. "Outdoor wedding receptions are really having a moment right now," Bojková adds. "We're seeing a lot more weddings happening in the spring and summer these days."
Czech Prewedding Traditions
Before the bride-to-be and almost-groom become a married couple, they both have to undergo a series of cheeky challenges. Though some of these old-time rituals might feel a bit outdated, consider giving these pre-wedding ideas a fun, modern upgrade.
Ax or bottle? It's up to the groom.
Back in the day, the groom would visit the bride's home, where he was presented with an ax and a bottle. If he chose the bottle, he'd be deemed a lazy partner. But, should the groom select an ax? He'd be a hardworking, strong husband.
The bride takes the broom test.
Alternatively, brides would be asked to clean a room with a broom. If she was able to do so quickly and put the broom back in the right position, she'd be considered a suitable wife. (Don't worry, today's vacuums make this Czech wedding tradition a thing of the past.)
Plant a prosperous tree.
Wedding guests could still get in on the prewedding fun. Historically, the couple's family and friends would plant a tree and decorate it in painted eggshells. According to tradition, this ritual is supposed to give the couple good luck throughout their wedding.
Find your kind of venue
From barns to ballrooms, discover reception venues that feel like you.
Czech Wedding Attire
Similar to weddings in the United States, grooms typically wear suits while brides-to-be will generally rock a white gown. The only change, however, is that some brides might sport rosemary wreaths, which are historically made by her bridesmaids before the big day. (According to Czech tradition, rosemary represents loyalty, longevity, love and fidelity. If a bride doesn't want to wear the rosemary wreath in her hair, she might carry it as a bouquet. Wondering what Czech wedding guests should wear? The couple typically sets the dress code and any preferred colors, so it's all about following their guidance.
Czech Wedding Ceremony Traditions
Whether you have a civil ceremony or hope to get to the church on time, Bojková says that Czech wedding ceremonies typically take place in the morning and are followed by a lunchtime reception. Though many couples are forgoing tradition for their own personal spin, here are a few traditional ideas worth considering.
Pay it forward.
Getting married in a traditional Czech ceremony? Friends of the groom will place a rope covered in flower petals and empty bottles at the front of the church. The only way the newlyweds can leave the church after the ceremony is if the groom pays for the "sins of his youth." That way, the married couple and begin their new life together on a fresh foot.
Throwing rice.
Once the couple has completed their wedding ceremony—and the groom has paid for the sins of his youth, if needed—their inner circle might begin to throw rice. According to Kristyna Kleslová of Sweet & Chic Svatba, throwing rice is a practice to ensure fertility.
Czech Wedding Reception Traditions
Ready for the party? Some of the very best Czech wedding traditions occur during the reception.
Break the plate.
Before the wedding reception begins, the newlyweds sometimes participate in a time-old tradition called "breaking the plate." In this tradition, "the plate is usually thrown and broken in front of them by the owner of the venue, and the couple is required to clean it up together," Kleslová explains. "The message of this tradition is to show how the couple will be cooperating as partners in their marriage." After cleaning the space, Kleslová says the husband should carry his wife in his arms over the threshold.
Pin the bride's veil on the guest.
Think of this Czech wedding tradition as an alternative to tossing the bridal. bouquet. Here, the blindfolded bride is asked to pin her veil on one of the party's single women. Legend has it that whoever receives the bride's veil is the next to get engaged.
Share the soup.
Though Czech weddings have no shortage of food, the newlyweds eat a bowl of soup with the same spoon to signify that they "will share everything together, including food."
Czech Traditional Wedding Food, Drinks & Desserts
Speaking of food, Czech wedding receptions provide a bonafide feast for the entire party. "We welcome the guests with Czech wedding cookies and [a spirit called Slivovitz], followed by a three-course course menu and an evening buffet," says Bojková. "Usually we grill something or have a piglet, and then we have goulash at midnight and beef tartare." Though traditional Czech food is notoriously heavy, it's important to leave room for dessert. "Almost every Czech wedding can not be without typical small wedding cakes filled with curd cheese and poppy seeds," Kleslová says.
Czech Postwedding Traditions
Towards the end of the wedding day, friends of the newlyweds might initiate a tradition called "the kidnapping of the bride." (Don't worry, it's not as scary as it sounds.) The inner circle will "kidnap" the bride and hide her in a third-party location, which is usually a pub. If the groom doesn't find his bride in a timely manner, he'll have to pay a ransom. Historically, this sneaky activity represents the bride leaving her family and starting a new life with her husband.
Though this stealth surprise can transition nicely to a reception afterparty, Bojková says couples getting married in bustling metropolises like Prague typically don't opt-in to this trend. (Unless you're swapping vows in a smaller town, that's a lot of locations to search.