12 Engagement Cupcakes That Will Help You Celebrate the Sweet News
Bonus: they can be shipped right to your door.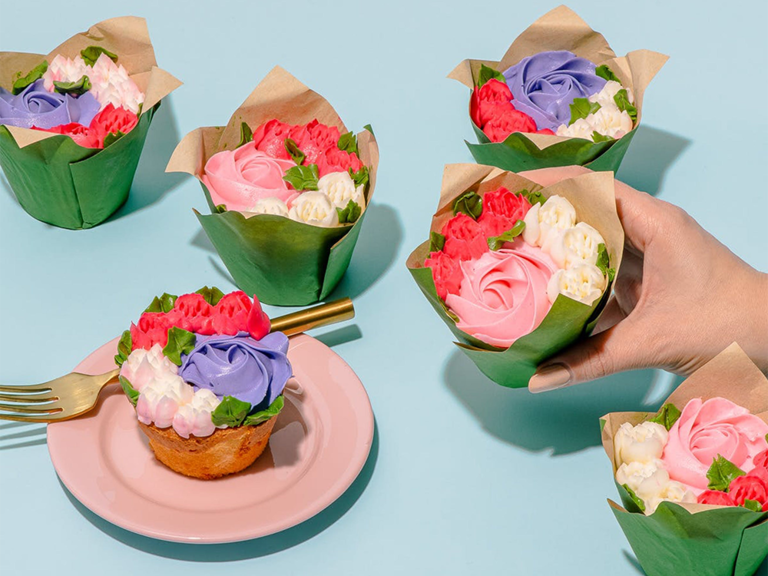 We have included third party products to help you navigate and enjoy life's biggest moments. Purchases made through links on this page may earn us a commission.
Sure, wedding cake is great, but let's talk engagement cupcakes. These mini treats are a delicious way to celebrate the exciting news right away. While you could head to your local bakery to pick some up, there are a host of companies you can order from online making some of the most beautiful and delicious cupcakes you've ever seen (and tasted). That means you can easily send engagement cupcakes to a happy couple to say "Congratulations!" or even have them delivered for an engagement party or shower.
Here, we've rounded up some of the best engagement cupcakes in the country that can be yours (or theirs) with a couple of clicks.
Baked by Melissa Congrats Gift Box Wedding Cupcakes 25-Pack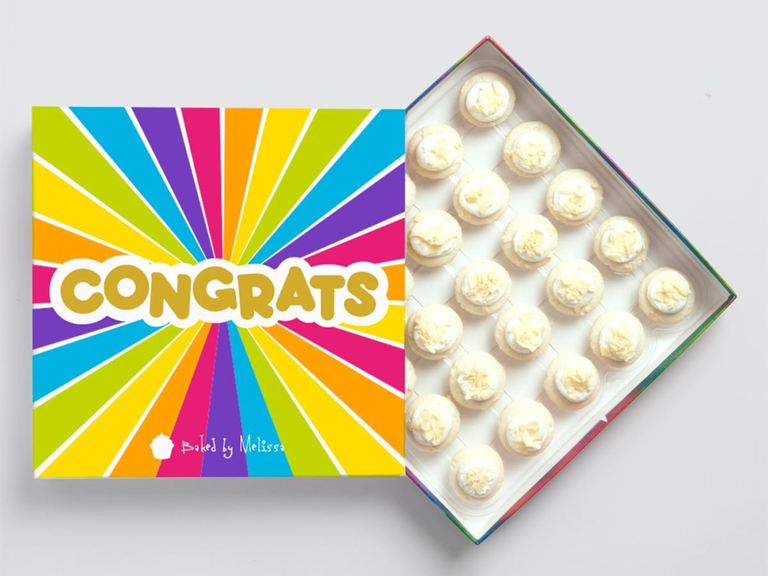 These charming mini cupcakes by Baked by Melissa are the perfect way to congratulate a couple on their big announcement. The vanilla cupcakes are filled with Bavarian creme and topped with vanilla frosting and white chocolate shavings. They're packed up in a cute, bright box that reads "Congrats!"
Magnolia Bakery Classic Cupcake Assortment 12 Count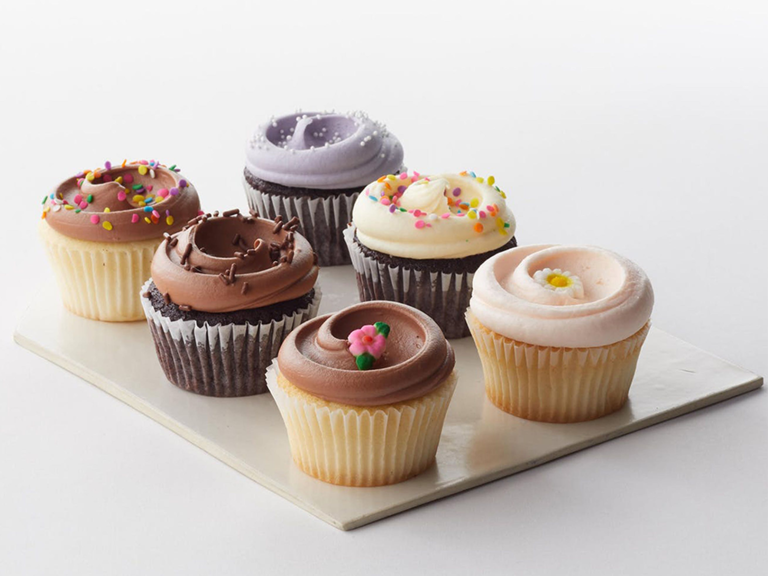 Looking for engagement party cupcakes? You can't go wrong with this assortment from the famous Magnolia Bakery. They're responsible for kicking off the mini cake craze in America—and with good reason. The vanilla and chocolate cupcakes are a cult classic topped with buttercream icing plus festive decorations and sprinkles.
Wicked Good Cupcakes Custom 6-Pack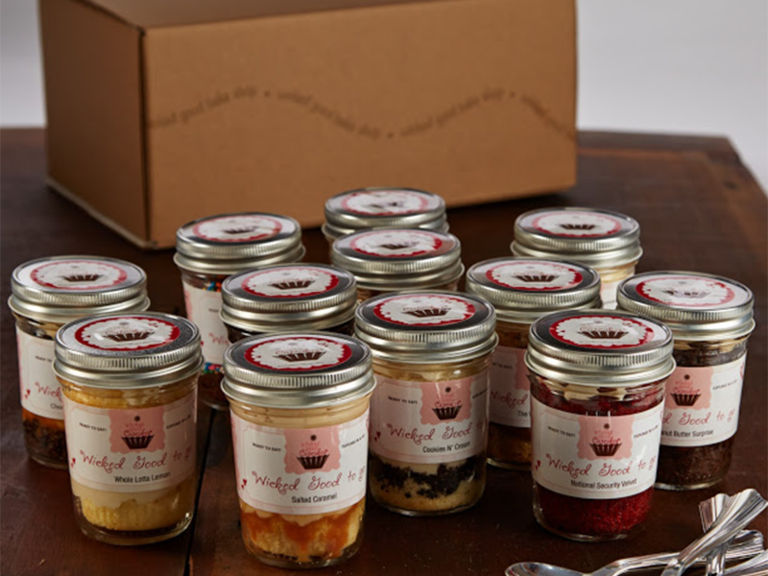 Cupcakes in jars add extra layers of deliciousness... quite literally. You can choose from a variety of decadent flavors to make the perfect six-pack, and they come in reusable mason jars for a sweet keepsake.
Bake Me a Wish! Mini Chocolate Lovers Cupcakes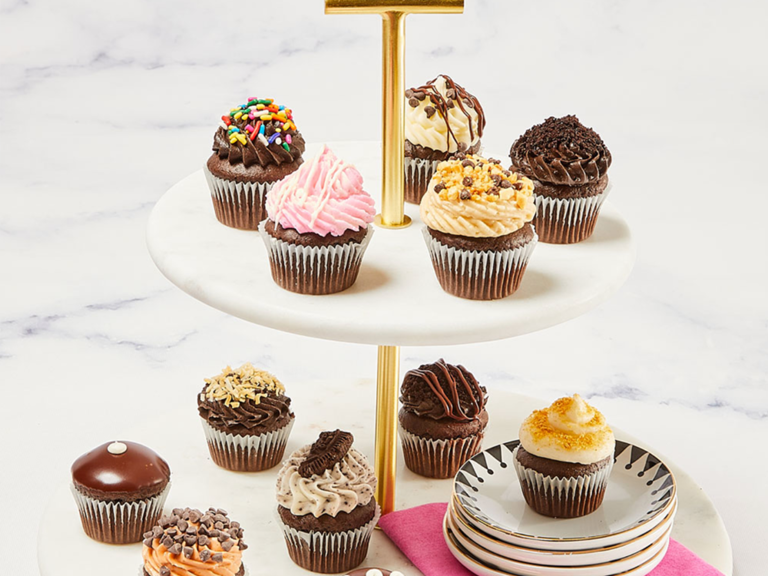 Chocolate lovers will go crazy for these mini chocolate cupcakes. They're not just any chocolate cupcakes, though. They come in all sorts of blended flavors including chocolate peppermint, peanut butter, s'mores, cookies and cream and toasted coconut and caramel. You can also have them packaged with a message of congrats if you so desire.
We Take the Cake Bouquet Cupcakes 8-Pack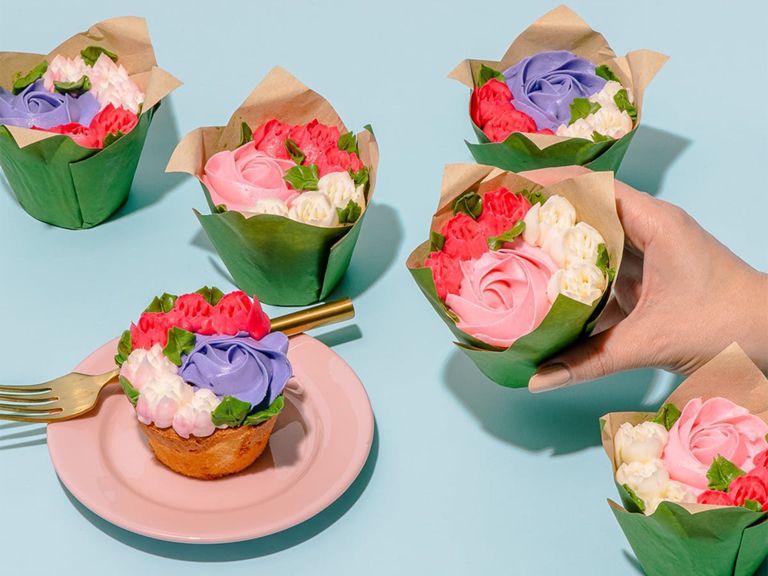 These cupcakes are almost too pretty to eat. With a beautiful layer of buttercream blossoms, they would make a great addition to a spring or summer engagement party spread. It's a sweet nod to the role flowers often play at weddings and would work for a bridal shower as well.
Baked by Melissa Pick Your Flavors 100-Pack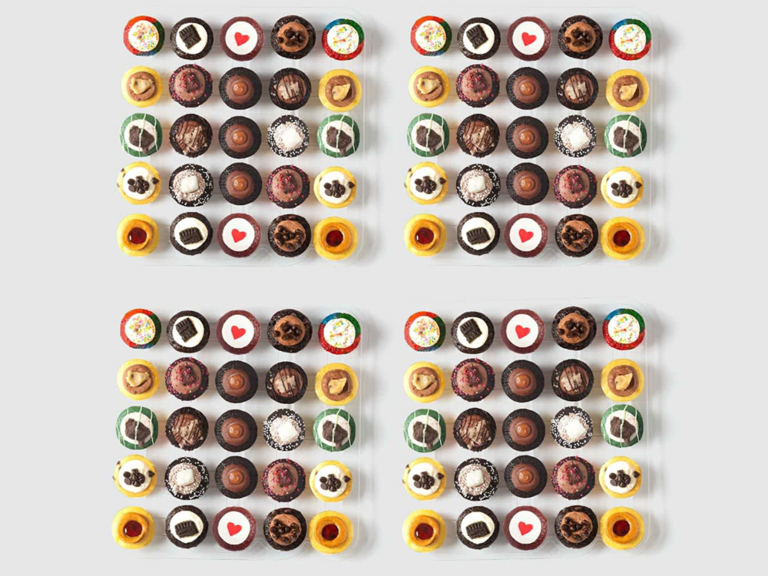 Hosting a crowd to celebrate the happy news? These mini treats make excellent engagement party cupcakes as you can choose from a wide variety of flavors to stock the dessert table and suit all sorts of tastes.
Georgetown Cupcake Classic Cupcake Dozen
A 12-pack from Georgetown Cupcake keeps things classic. It comes with four crowd-pleasing choices, including vanilla, chocolate and vanilla, red velvet and chocolate cupcakes.
Harry & David Unicorn Sparkle Treats Cupcakes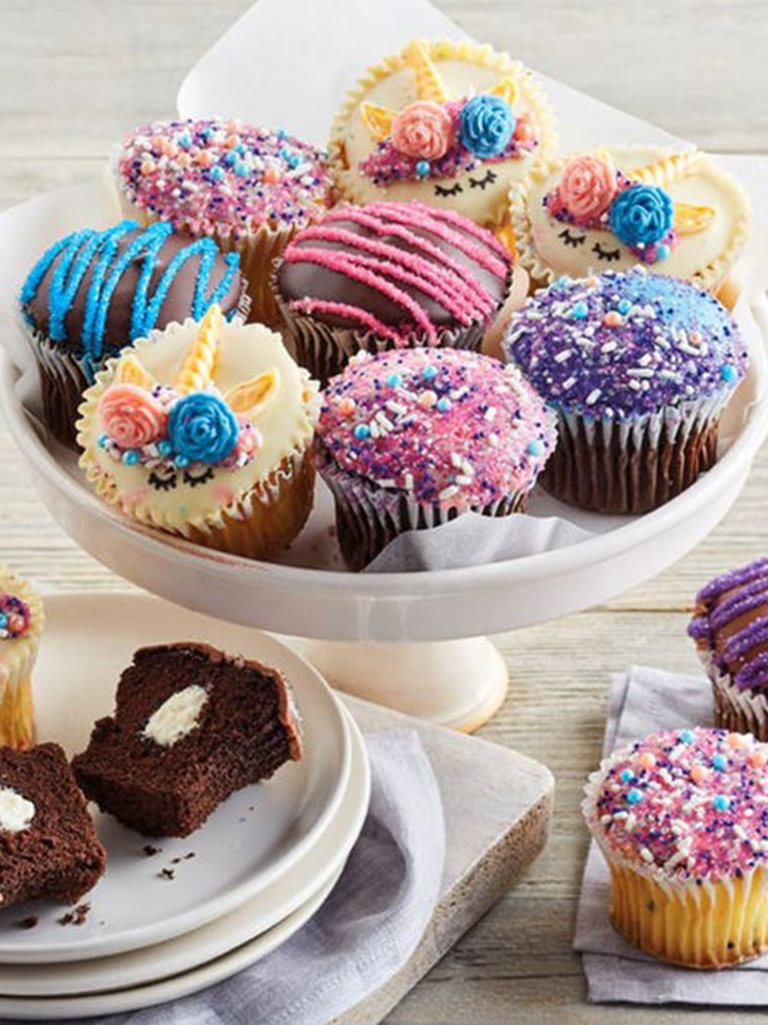 Festive and fun, these sparkling unicorn cupcakes have a sweet surprise inside—buttercream frosting. Toppings include chocolate, glitter, sprinkles and more frosting, making for a deliciously whimsical way to celebrate the wedding day to come.
Sprinkles Personalized Cupcakes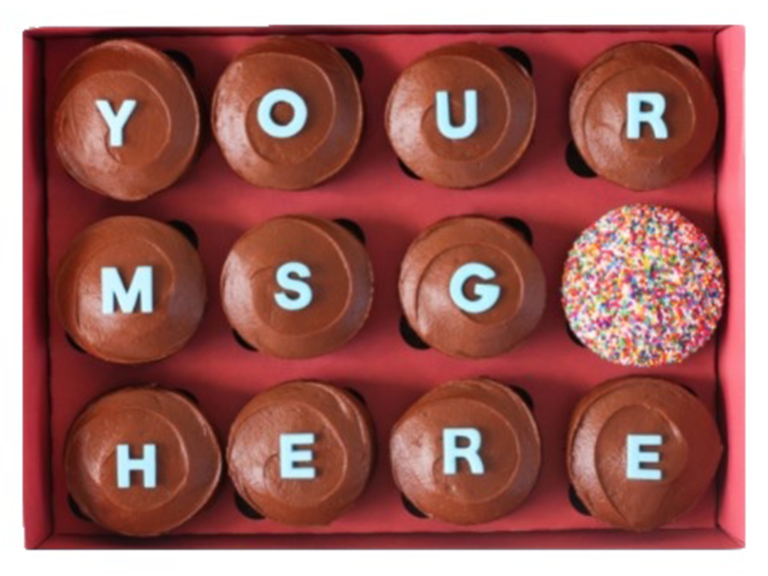 Sprinkles lets you get personal with your engagement cupcakes. They have a wide array of cake decorating options to choose from online, or you can add your own cake design details. You can even top the treats with a picture of the happy couple if you'd like.
Carousel Cakes Candy Cupcakes 12-Pack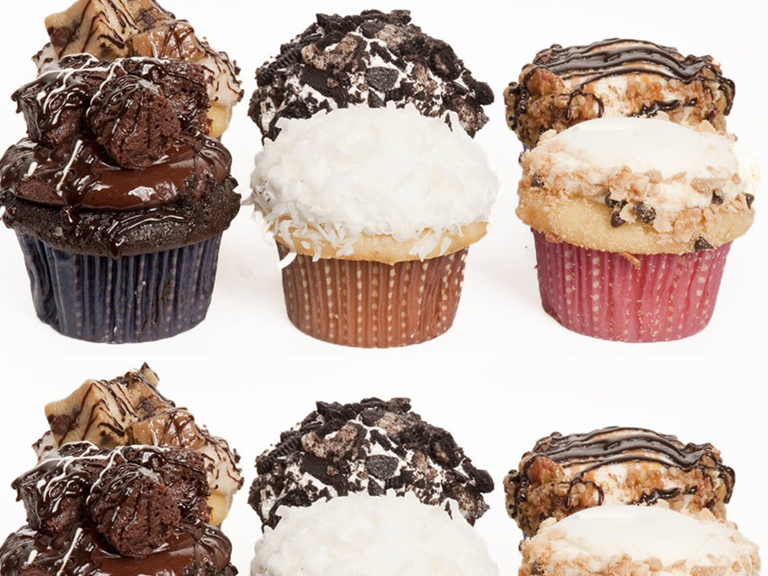 Candy plus cupcakes equals a sweet way to celebrate an engagement. This tempting dozen is made up of decadent flavors, including Oreo, coconut snowball, brownie and cannoli.
Red Velvet Cupcakes with Cream Cheese Icing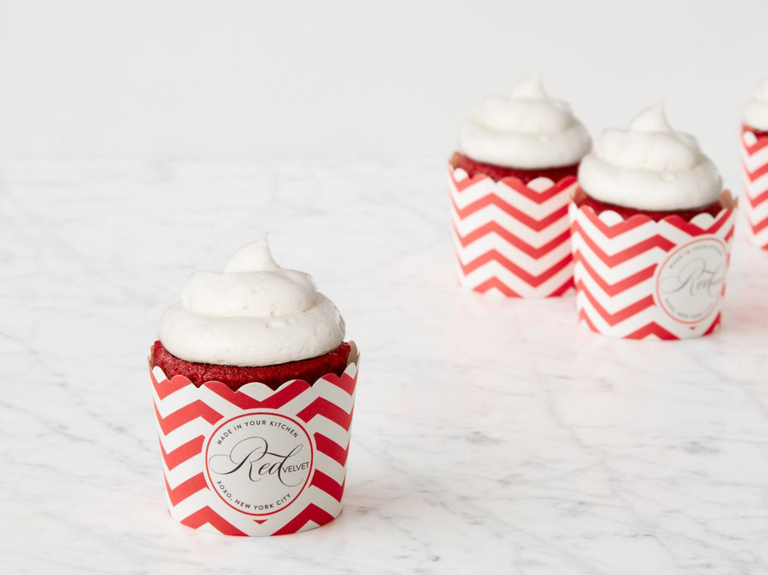 Want to DIY some engagement cupcakes? This kit, from Red Velvet, makes it easy to whip up a batch of delicious red velvet cupcakes topped with cream cheese frosting. It includes almost everything you need, including cute cupcake cups that make them perfect for an engagement party or other wedding festivities. You could also top them with these engagement ring cupcake toppers for an extra special touch.
Sweetly Spirited Artisan Desserts Pink Champagne Cupcakes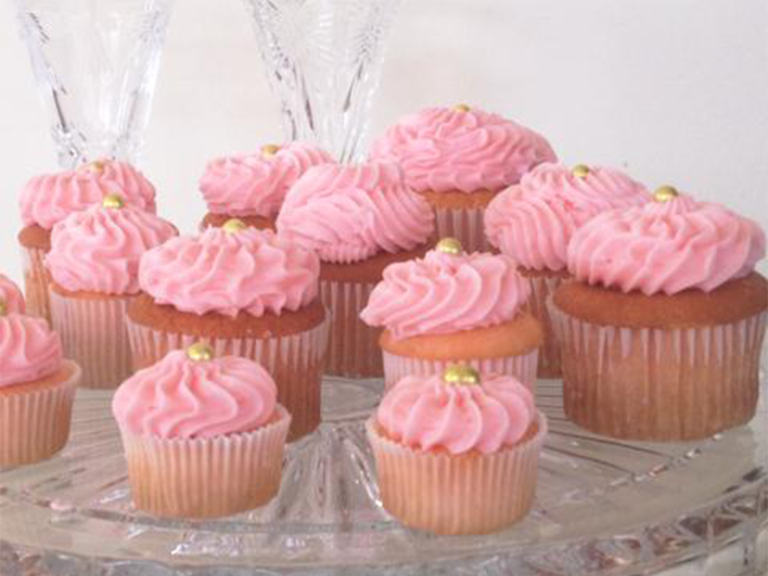 We're bubbling over with excitement about the thought of these champagne cupcakes that couldn't be more perfect for an engagement party. The vanilla cupcakes are infused with champagne and topped with buttercream icing, making for a boozy, decadent way to celebrate that new diamond ring. You can order them in regular size or as mini cupcakes.