Bonbons and Beyond: Our Top Valentine's Day Chocolate Gift Picks
Whether shopping for your love, bestie or family, these lip-smacking chocolates will sweeten any spirit.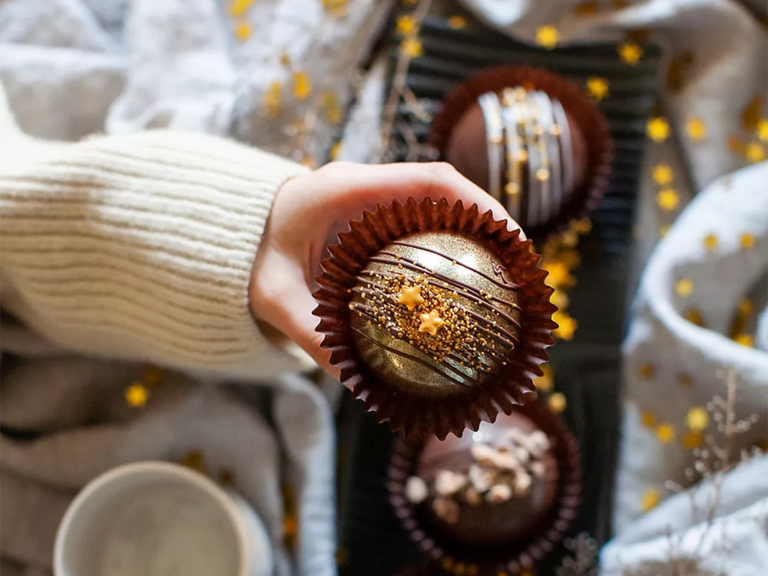 We have included third party products to help you navigate and enjoy life's biggest moments. Purchases made through links on this page may earn us a commission.
Since the first chocolate heart box appeared on the scene in 1861, the sweet confection has become synonymous with Valentine's Day. In fact, the National Retail Federation says that candy is the gift 54% of people planned to give on Valentine's Day 2021 (yup, even more than greeting cards!). With so many options—and our handy list of unexpectedly unique chocolate gifts here—it's nearly impossible to not melt their hearts with a perfect deluxe box of chocolates. Whether they prefer dark chocolate, milk chocolate, white chocolate, chocolate truffles or chocolate bars, there's a perfectly delicious treat to celebrate each of your favorite people.
To help you on your sweet search, we've gathered the best Valentine's Day chocolates, from Etsy bestsellers to indulgent Michelin-rated confections. When buying chocolate, you should narrow in on your recipient's personality. Think of what makes them happy—is it being fancy and feeling glamorous? Is it feeling cozy by the fire under a warm blanket? Do they prefer homemade confections to factory-produced perfections? Considering their preferences and showing you put thought into selecting a gift just for them is the only way to go. Here are a few of our most delicious picks to help get you started.
Red Velvet NYC DIY Chocolate Truffles Baking Kit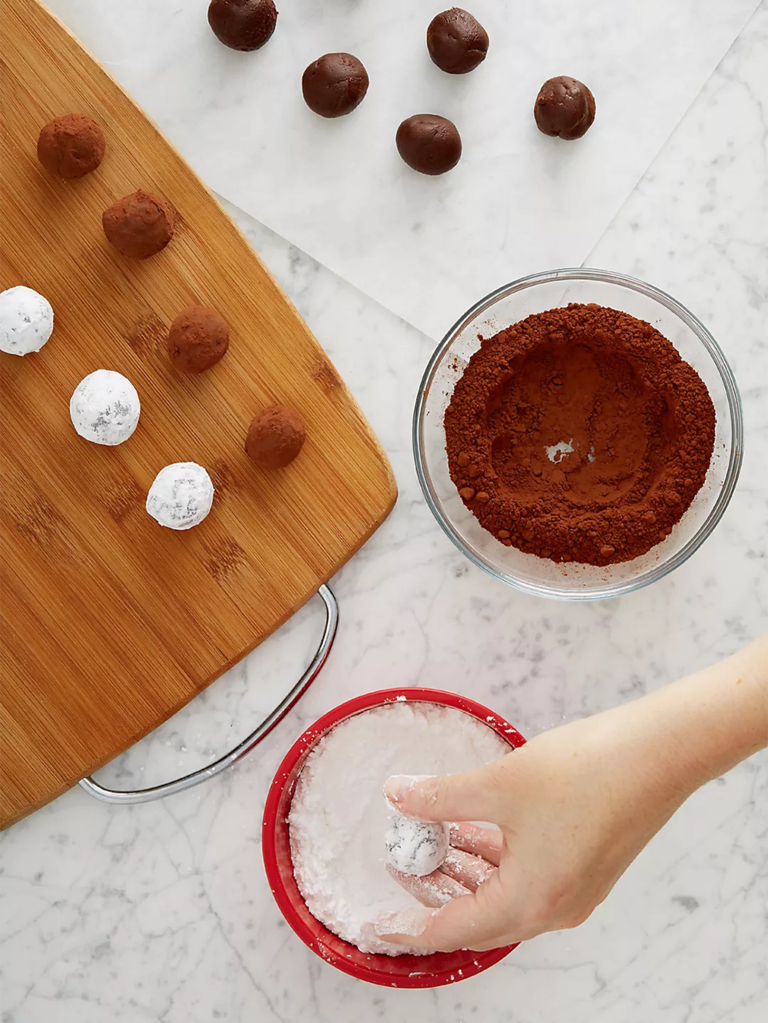 They had us at red velvet but then stole our hearts with chocolate truffles. This kit is perfect for a low stakes and high rewards date night in. It comes with pre-measured ingredients, a few tools and instructions to whip up 60 signature truffles that you can then share with your loved ones.
Fantastic Fortune Cookies Giant Cookie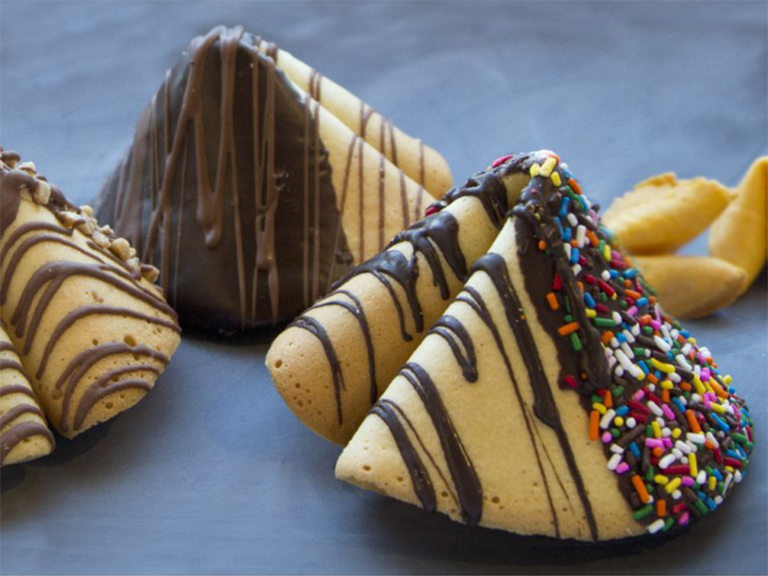 Don't let the familiar shape fool you, this fortune cookie is not your average takeout treat. Weighing in at almost 1/2 pound (and measuring about 5 inches in all directions), it might take more than a couple of bites to get through this confection. Choose from three flavors—white chocolate, milk chocolate or dark chocolate—five designs, and create your own custom fortune text to be as cute or raunchy as you'd like.
Your Surprise Love-Themed Toblerone Candy Bar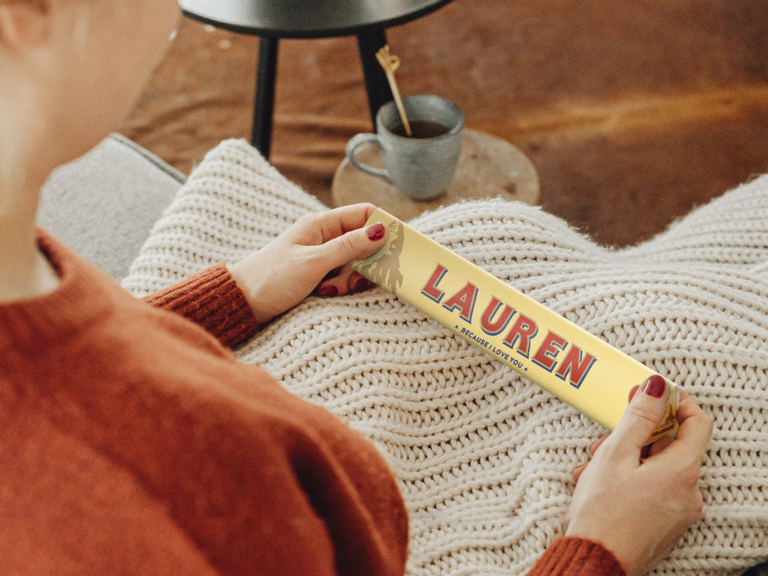 Customize the iconic Swiss chocolate Toblerone candy bar with the name of your Valentine instead of the chocolatier's namesake. When they lift the flap on the pyramid-shaped box, they'll find a color photo of your choice, along with a special message. Plus, that magical combination of almond, nougat, milk chocolate and honey will melt in their mouth—and melt their heart.
Dylan's Candy Bar Chocolate Lovers Tackle Box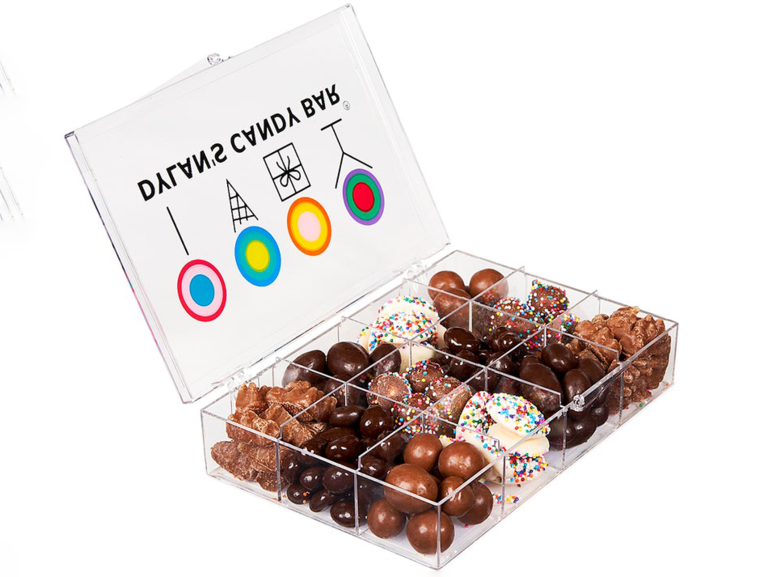 The famously colorful candy shop that began in Manhattan is now accessible to all chocolate lovers with this 1.5-pound tackle box from Dylan's Candy Bar. Sometimes just a taste is enough—this gift box comes with bite-sized bits of 12 different types of chocolate confections, like chocolate-covered gummy bears, milk chocolate-covered cookie dough, chocolate pretzel balls, white chocolate nonpareils and more. We dare you to see how long they last.
Godiva Assorted Chocolate Gift Box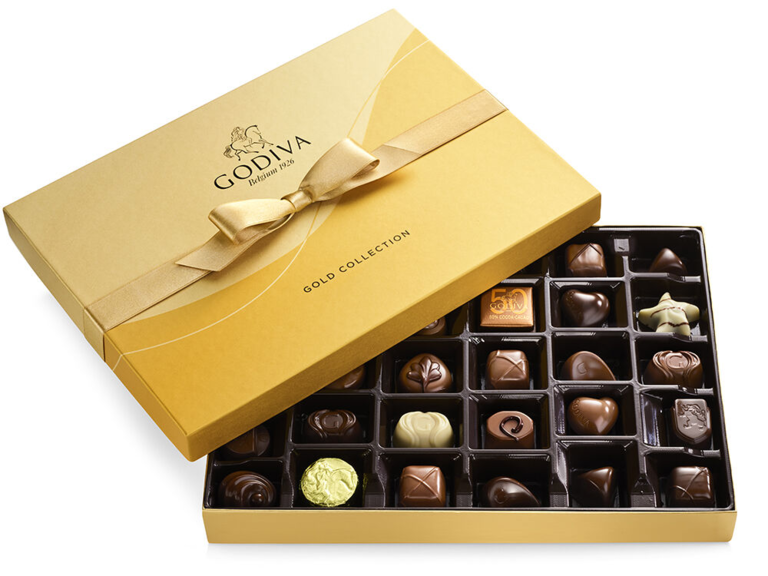 For the most classic Valentine, a box of high quality traditional Belgian chocolates in an iconic gold box from Godiva is the perfect gift. Choose from 8 to 140 pieces depending on your budget and their appetite. A smooth, creamy finish and decadent fillings make these samplers a delicious gift of chocolate's greatest hits.
Bauer's Candies Sea Salt and Dark Chocolate Modjeskas Gift Box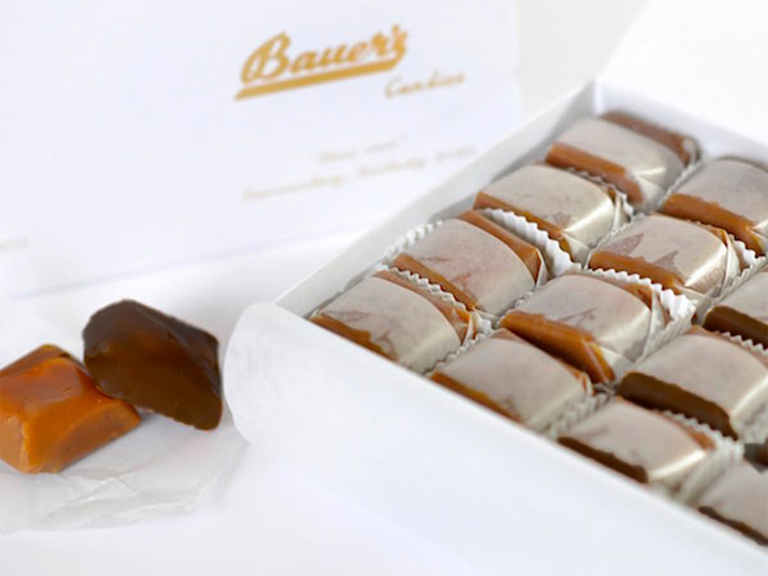 Bauer's Candies has been cranking out their delicious signature Modjeskas in Lawrenceburg, KY since the late 1800s. But what is a Modjeska? We're glad you asked. These sweet treats are smooth marshmallows dipped in homemade caramel, topped with sea salt or dark chocolate. This gift box's contents are guaranteed to melt in their mouth with a combination of both types.
Jacques Torres 10 Piece Taittinger Champagne Truffles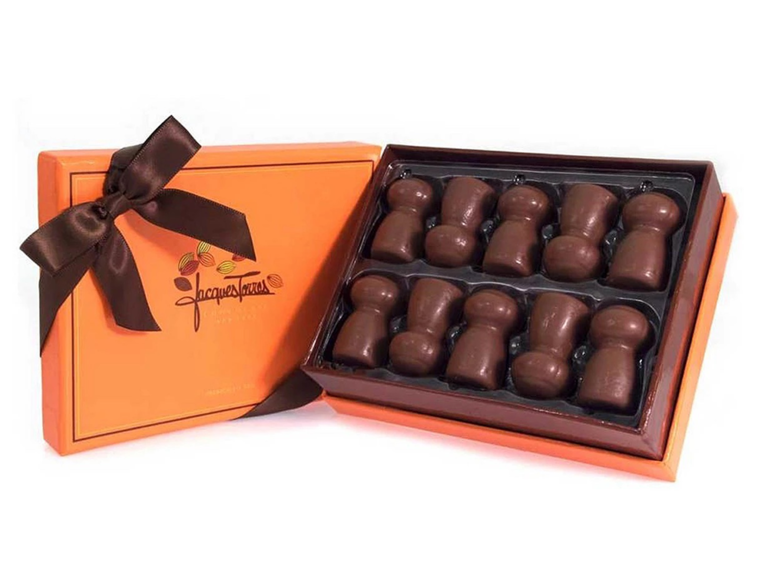 French chocolatier Jacques Torres is famous for his blissfully refined cocoa creations. Prepare to party by cracking through these champagne cork-shaped chocolates that are actually filled with authentic Taittinger Brut La Françoise Champagne.
Stick With Me Sweets Bonbon Box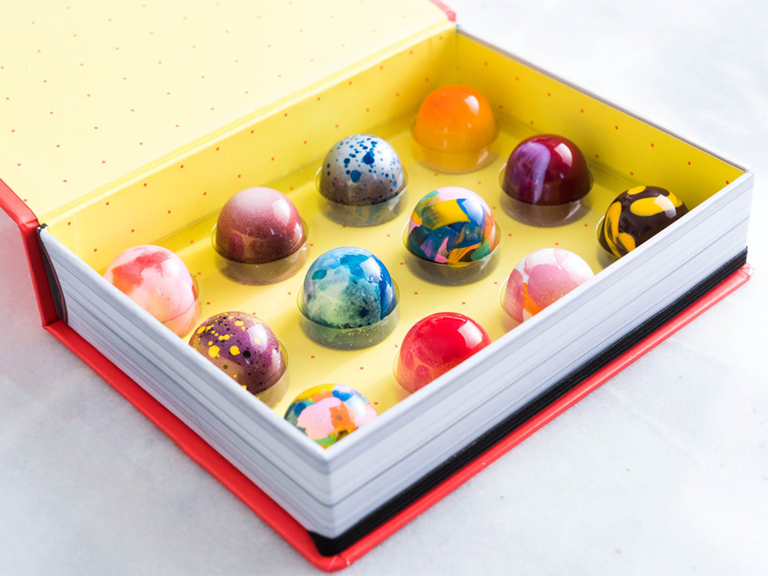 Whether given as a romantic gesture or a playful present, this is the real book of love if you ask us. Former pastry chef of Per Se—the proud Michelin three-star restaurant in New York City—presides over this experimental, artful and entrancing Stick With Me Sweets chocolate atelier. Nut-free and gluten-free books can be purchased while they're available—get your order in early because they will sell out.
Neil Edley Chocolate Heart Pizza and Mallet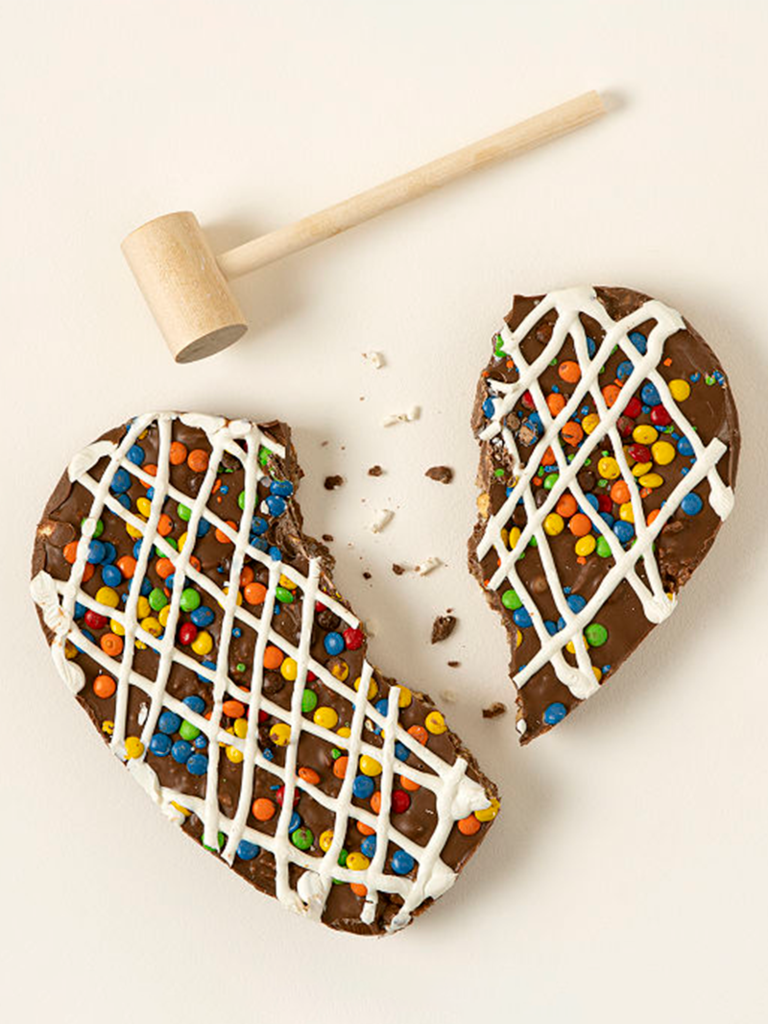 Valentines of all ages will appreciate the satisfying slam of the hammer on this 9-inch wide chocolate pizza. It's loaded with all the spirit-lifting junk imaginable, from potato chips to cookies, all with a pretty white chocolate drizzle on top.
Stud Buckets Bleecker Street Brittle
We love a good laugh, especially on Valentine's Day. This Stud Bucket is home to one full pound of Bleecker Street Brittle—a buttery, crunchy, nutty, hard toffee brittle. Okay, there isn't any chocolate in this and it still made the list. It's that good—and it's gluten free!
Vosges Enchanted Collection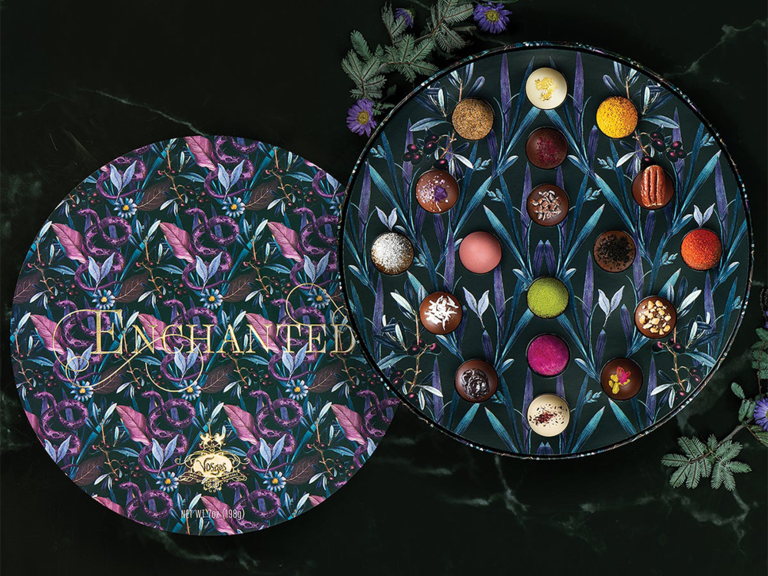 To say we are obsessed with Vosges' stunning limited edition chocolate collections would be an understatement. If you want your chocolate gift to make a romantic and enchanting impression, look no further than this collection of truffles inspired by travels around the world. The set includes unique flavor notes like scotch, wasabi, curry, chili and rose water and comes with a guide to tasting and learning about these one-of-a-kind treats.
Fran's Chocolates Gray-Salt Caramels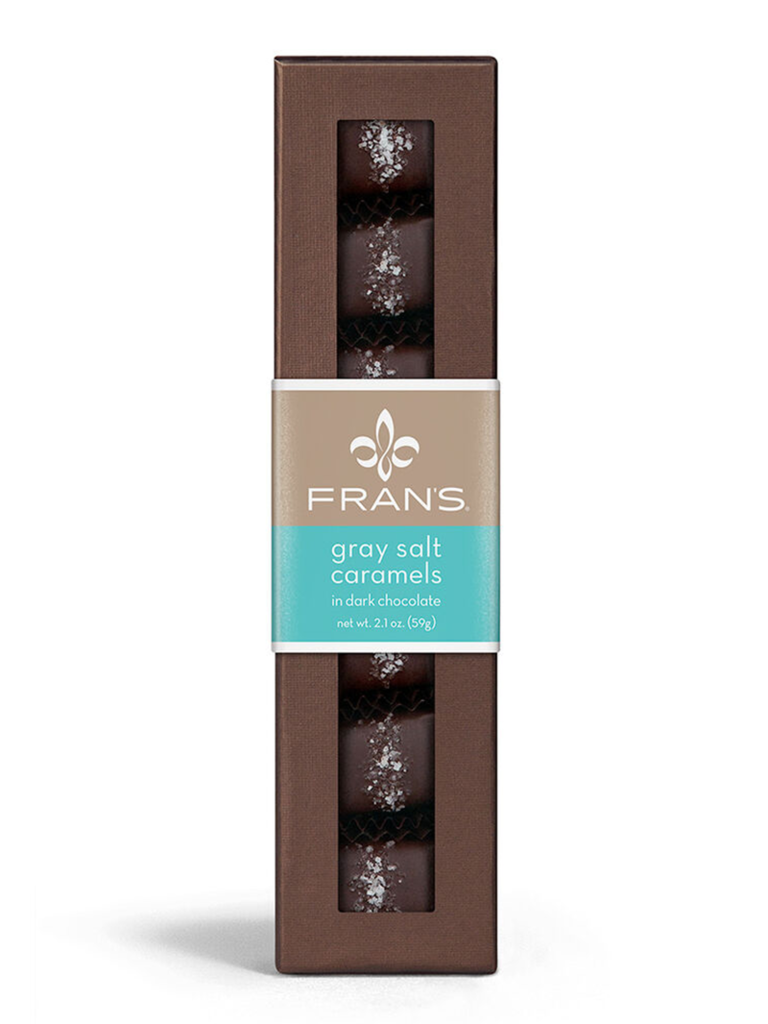 They'll be saying "ooh la la" over and over again each time they sink their teeth into one of these seven gorgeous dark chocolate, gray salt caramels. Gray salt is exclusively harvested on the Brittany coast of France and has a depth of flavor that is coveted by gourmands around the world. It may be hard to travel these days, but these sea salt caramels bring France to you.
Choc About It Star Power Hot Cocoa Bombs
Hot cocoa bombs literally exploded onto the scene via Instagram and TikTok videos and have captivated our chocolate loving imaginations ever since. Hot milk melts the outer shell and the cocoa mix drops into the cup ready to be stirred and sipped. This set of four bombs is a science experiment, a dessert and a brilliant gift all in one.
Compartés Chocolate Bar Gift Set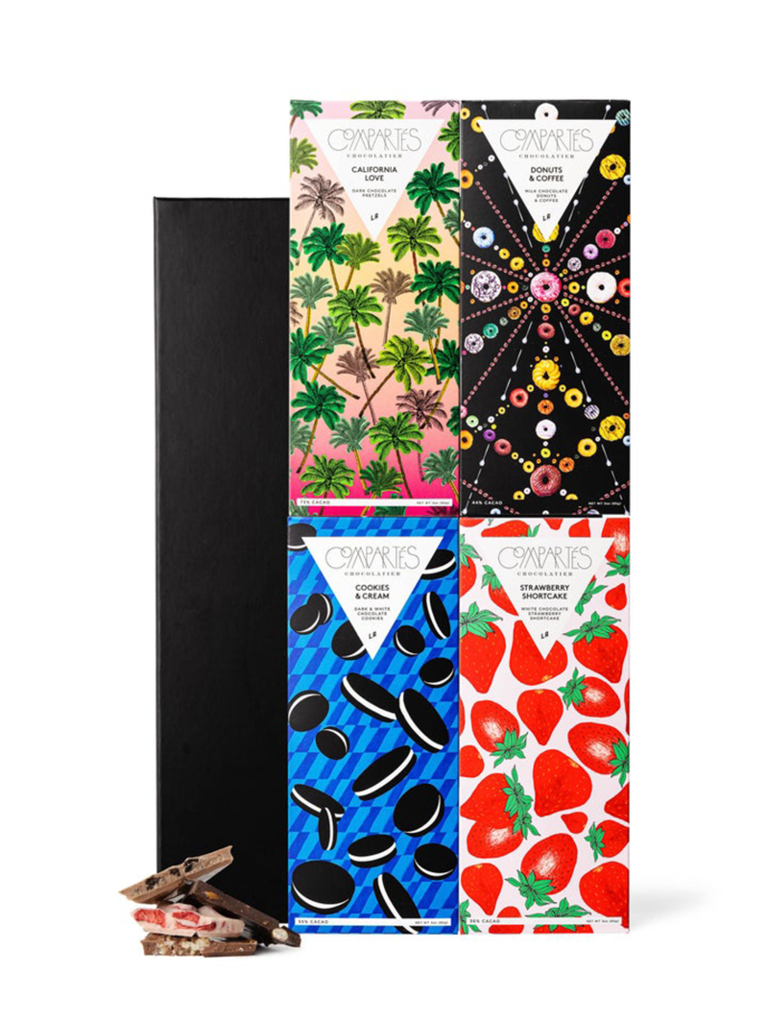 Beloved cult favorite Los Angeles chocolatier Compartés bundled up four of their most popular chocolate bars for an artsy, glamorous and delicious tasting experience. With flavors like donuts and coffee, strawberry shortcake, Oreo cookies and cream and the mysterious California Love, it's no wonder that the brand has so many super fans. Loved ones will love bragging about this gift for months to come.
Personalization Mall Dessert's On Me! Personalized Chocolate Body Paint
Chocolate just became a contact sport. This 8-ounce jar of edible body paint is personalized with two names and makes an exciting interactive dessert course after a romantic meal at home. It comes with a paintbrush to help your creativity soar.
M&M's Personalizable M&M's Love Gift Box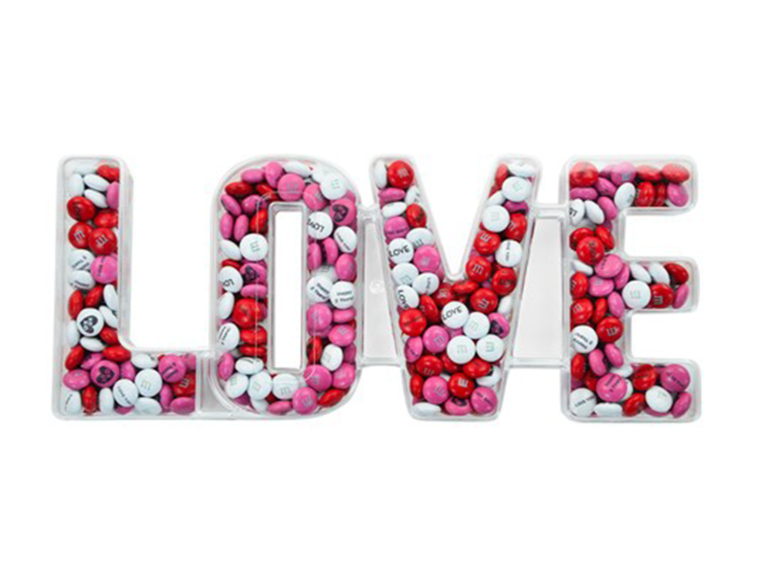 It doesn't get much cuter than saying "I love you" with this acrylic LOVE box full of 16 servings of personalized M&M's. Choose up to three of their favorite colors for the M&M's, then upload an image, art or text—up to two lines of nine characters, each—that you want to appear on them.
Treats By Taryn Valentine's Day Chocolate Covered Caramel Pretzels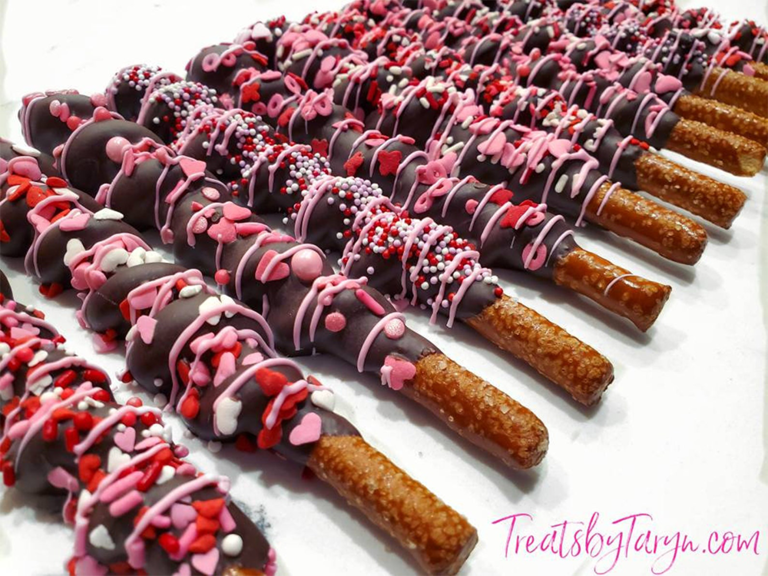 Something magical happens when rich chocolate and salty, crunchy pretzels meet. If your Valentine's mouth waters at the thought of that salty/sweet combination, then these popular pretzel rods will satisfy their sweet tooth. A set of 12 individually wrapped rods come in a carefully packed box. Be sure to let the seller know if these are going to be sent as a gift in the notes at checkout.
Cupcake Novelties Valentines Day Mini Brownies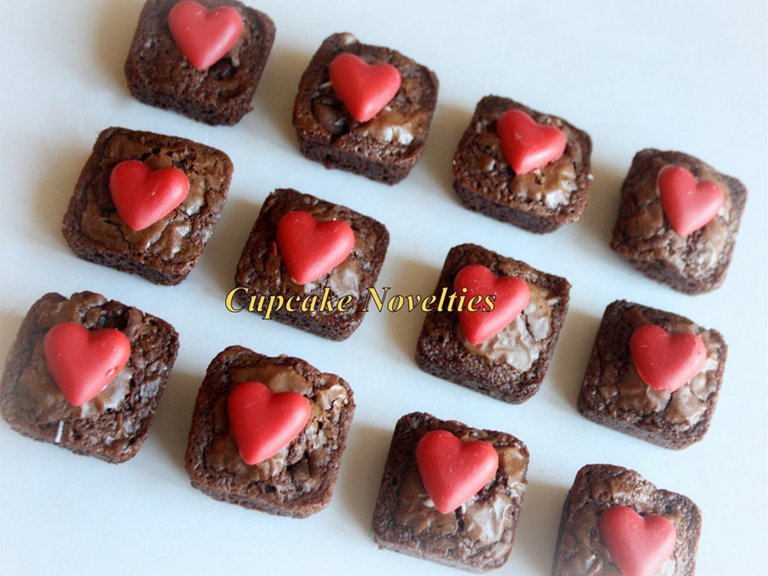 For the chocolate lover who likes their chocolate a little spongier, these 12 chewy and dense little brownie bites hit all the right notes. Choosing the perfect flavor from a list of 15 that includes mint chip, butterscotch and marshmallow—there's also a gluten-free option.
Godiva Chocolate Celebration Gift Basket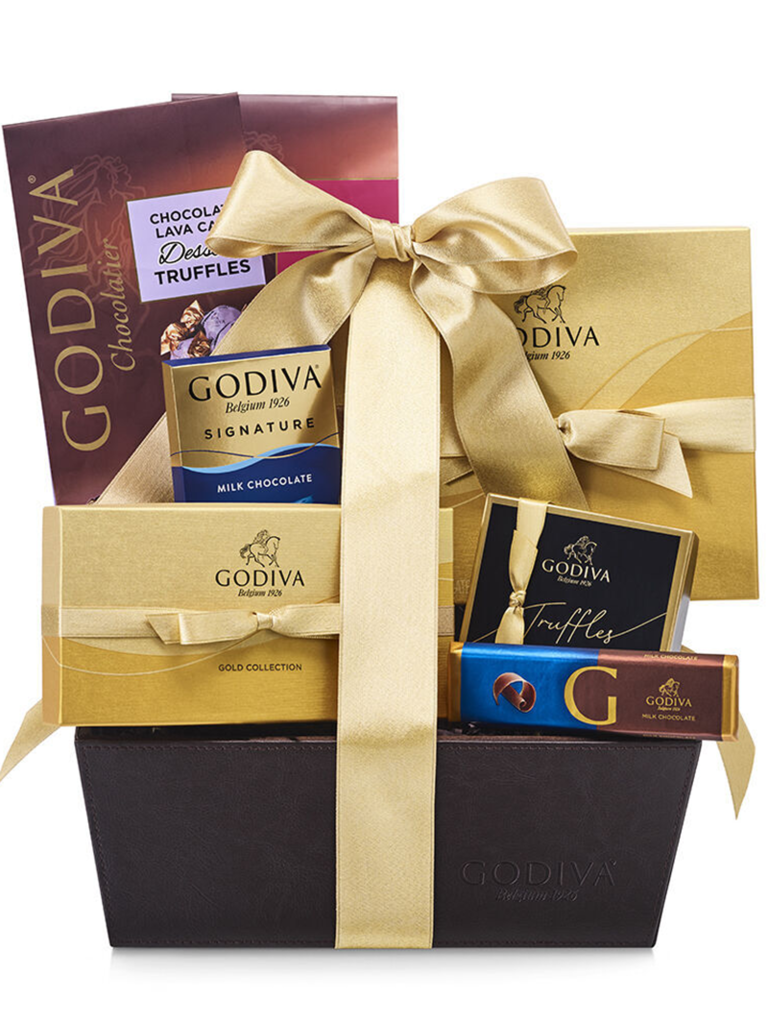 Make a tasteful impression by giving a chocolate gift basket brimming with seven boxes of Godiva's most coveted confections. This fan-favorite collection contains everything from milk chocolate, dark chocolate and white chocolate to a selection of their famous Belgian chocolate truffles.