15 Wedding Dessert Tables That Are Calling Your Name
Let's talk about dessert, shall we?
Yes, invitations and outfits and honeymoons are nice—but can we please talk about wedding dessert tables for a second? We'd call dessert tables a trend, but they're not exactly new, and are hardly going anywhere anytime soon—probably due to their universal appeal and photogenic nature. Having a dessert table at your wedding reception makes a), a gorgeous and efficient wedding cake display and b), more room (aka the perfect excuse) to add several more dessert options in addition to (or other than) cake. The beauty of it all? Whether you line your dessert table with five single-tier wedding cakes, locally made pies, a DIY candy bar or piles of cookies and doughnuts is completely up to you. Do we really have to twist your arm? Whether your wedding venue is a laid-back ranch or a luxe ballroom, there's always room for a designated sweets table.
Here are 15 wedding dessert table ideas for your Big Day.
1. Vintage-Glam Dessert Table With Cupcakes, Cake and Cookies
Cupcakes and cookies are timeless, and so is this design. Gold, brass and jeweled accents feel just at home in classic Hollywood as they do today.
2. Rustic, Floral Dessert Bar With Cakes and Mini Pies
Give your wedding the vibe of a woodland cottage with this rustic dessert bar. Lots of wood, light colored floral accents and the homey nature of mini pies lend your dessert bar a cozy, timeless charm.
3. Colorful Sequined Dessert Table With a Personalized Mirror Backdrop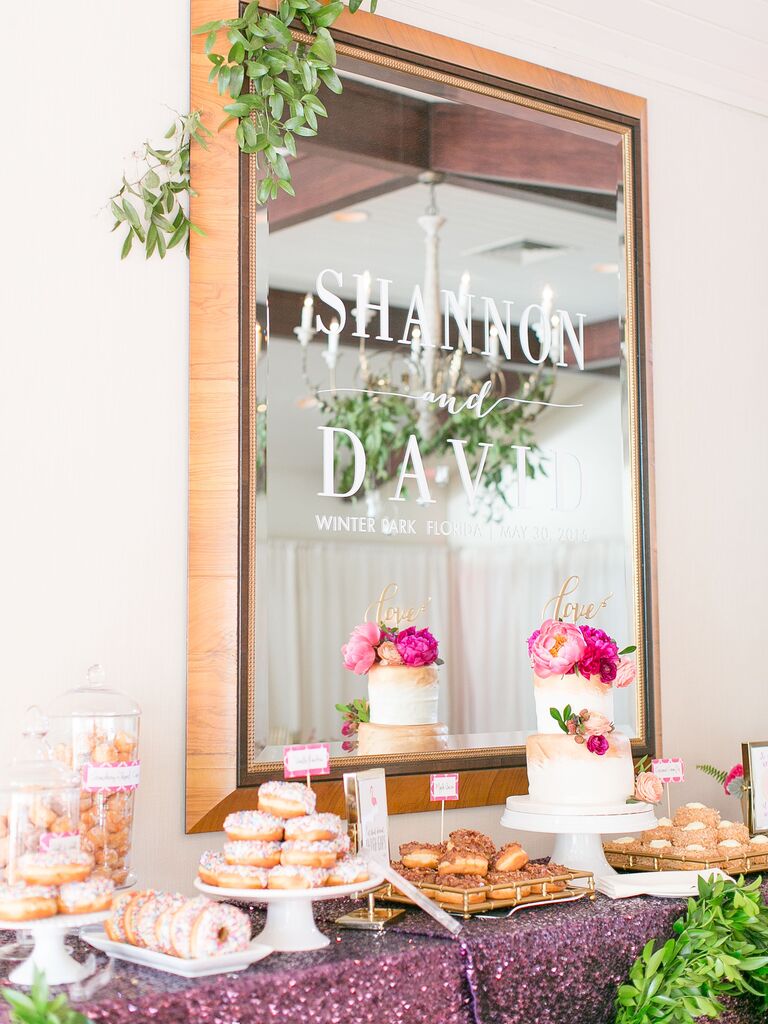 Photo booths are fun because your guests want to remember how they look on your special day. A personalized mirror on your dessert bar – paired with the glitz of sequins – will make them feel like stars.
4. Modern Geometric Cake Table With Oversize Floral Arrangements
This geometric design is beautiful in its simplicity. It puts a central focus on the cake and symmetrical floral arrangements.
5. Gold Retro-Glam Candy Bar Display
One of our favorite wedding sweet table ideas. This display blends 70s excess with everyone's favorite treats and feels like a retro movie theater.
6. Light and Airy Garden Wedding Dessert Table
Perfect for a spring or summer wedding, the pastel tones of this setup are the perfect complement to an outdoor reception.
7. Whimsical Tasseled Table With Cakes and French-Inspired Desserts
Très bien! Equal parts sophisticated and whimsical, this display feels like something straight out of Versailles. The rose tones are lush and beautiful. The plump, round macarons lend themselves to the circular arrangement.
8. Elegant Assortment of Cookies, Cakes and Macarons
Minimalist and functional, this elegant design puts the focus on where it matters: the food. The simple design means colors can be easily altered to match your wedding color palette.
9. Stocked Pastry Tent With Pink Details and Local Desserts
This whimsical design features bright colors and desserts piled high. It's like a bakery you'd ogle at from the streets of Paris.
10. Vintage Rustic Wedding Cake and Sweets Table
This vintage table is brimming with personality, from the shabby-chic furniture to the photos of you and your special person.
11. Simple, Romantic Table With Cake and Macaron Towers
As simple as it gets, this setup is ideal for showcasing a beautiful, custom cake. The macarons will keep people coming back!
12. Decadent Dessert Table With Doughnuts and Cake
If there's ever a time to treat yourself, it's your wedding day. Have your cake and doughnuts, too, with this indulgent wedding dessert table.
13. Dessert Table With Piles of Chocolate Chip Cookies
If the phrase "piles of chocolate chip cookies" doesn't get you excited, we don't know what will. Cookies are also great take-home favors.
14. Rustic Wood Dessert Table With Assorted Pies
There are few foods cozier than a homemade pie. This table's warm tones and rustic wood complement them perfectly.
15. Wedding Cake and Cupcakes on a Summer Picnic-Inspired Dessert Table
Light and airy, this setup's colorful desserts and subtle floral accents catch the vibe of a summer day spent under a tall tree.