8 Traditional Responsibilities for the Father of the Bride (or Groom)
Here are all the ways your dad can be helpful in the planning process.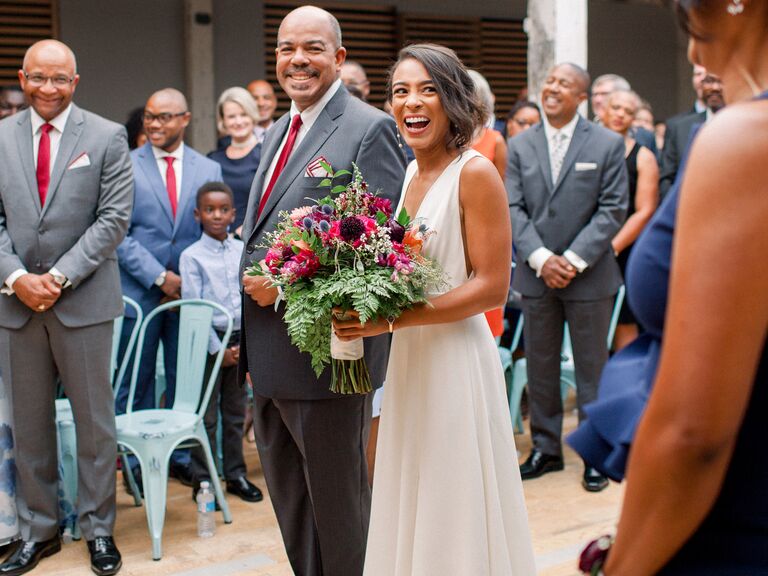 Studio Finch
There's a lot more the father of the bride or groom can do than nod passively and hand over their credit card. From touring venues to making toasts, here are all the ways fathers of the bride and groom traditionally get involved in wedding planning.
1. Be Financially Involved
First things first: Every family's different, so how involved parents are financially will depend on your relationship and circumstances. That said, while the stereotype of dads begrudgingly whipping out their credit cards to pay for everything is pretty outdated, our Real Weddings study reveals most couples get financial help from their parents. (See the full breakdown of who traditionally pays for what.)
But before anyone writes a check for anything, a money conversation has to happen. The to-be-weds might be planning to pay for their wedding themselves. In that case, even if you're not footing the bill, you could be a valuable resource to help them manage spending. Or consider hosting another wedding event like an engagement party, rehearsal dinner or part of their honeymoon, otherwise splurging on an extra-special wedding gift. But if they're requesting a little help covering costs, plan in advance how much you're willing to contribute.
2. Put Your Strengths to Use
Weddings can be a lot of work (we don't need to tell you that) and the couple likely needs all the extra hands they can get. Ask your son or daughter if there's anything you can help out with. If you have a green thumb, head to the florist with them. Are you an expert negotiator? Tag along for venue site tours. Overall, it's incredibly helpful to make yourself available as a point person for vendors. This will be a godsend, especially if the wedding is taking place in one of the couple's hometowns where only their parents live.
3. Look the Part
If the wedding's black tie, it's time to get out your tux—or rent or buy a new one. If you're renting a tuxedo from a brick-and-mortar store (rather than somewhere online) choose a spot near the wedding location. Order or go to your local tux shop (if it's not the one you'll be picking up at, formalwear chains will usually be willing to send your measurements and order to any of their locations) to get fitted about three months out. And don't forget the extras—think of anything you'll need, from suspenders to shoes. If the wedding's less formal, your attire might be totally different. Look to the couple for their style requests or recommendations for you.
4. Be There for Them
We can't say it enough: Between dealing with the wedding party, guests and beyond, wedding planning can lead to some sticky situations. When your son, daughter or spouse gets really stressed out, be available as a resource, distraction or confidante. When things get tough, they need to know Dad is on their side.
5. Walk Her Down the Aisle
If your daughter's getting married and including a traditional processional, you can probably expect to walk her down the aisle. If the ceremony's more personalized, you might be asked to officiate the marriage, walk your spouse or your own mother down the aisle, or even make a solo procession. And don't be surprised if the couple enlists you to have a special role in the ceremony, whether it's lighting a candle, sharing a reading or being an usher at the beginning and end.
6. Hit Dance Floor
Whether you're dancing with your newlywed daughter or wife, there's a decent chance you'll dance for at least one song at the reception. If dancing has never really been your thing, a few dance lessons never hurt (we can't recommend them highly enough!). If you're not feeling so bold, practice with your partner at home.
7. Say a Few Words
The couple's fathers usually each make at least one toast over the course of the wedding festivities. Whether it's the rehearsal dinner or the wedding (or sometimes both) it's customary for the dads to say a few words. Not sure what to say? Rather than rambling, it's always best to stick to the basics. Thank everyone for being there, tell everyone how happy and proud you're feeling at that moment, then raise your glass to the happy couple.
8. Enjoy It
On the wedding day, there will be a lot going on—especially if you're hosting. Walking down the aisle, accepting everyone's congratulations, playing host, dancing a parent dance and, of course, taking it all in. It's not just a huge day for the couple, it's a celebration for your entire family!