Honor Your Culture With These Fijian Wedding Traditions
Attending a traditional wedding in Fiji? Their customs are just as beautiful as the islands themselves.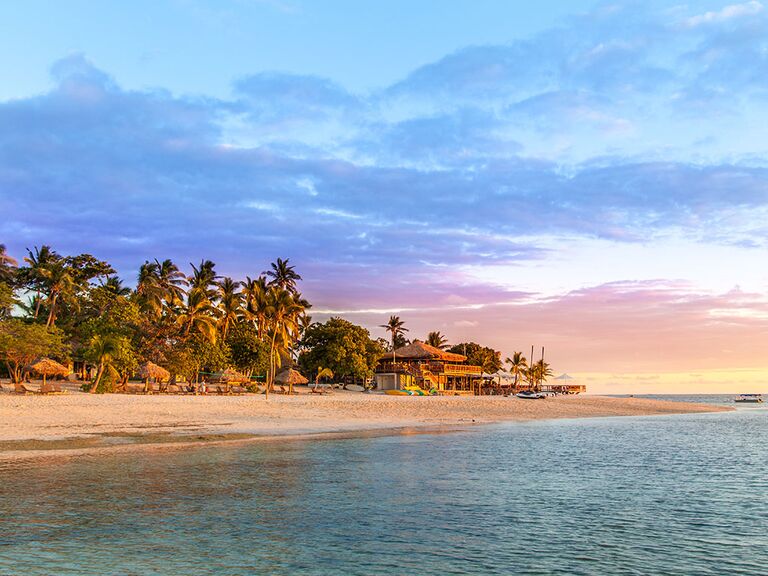 Shutterstock
Fiji is a dream getaway for many couples, whether it's for a destination wedding or an exotic honeymoon vacation; however, Fijian wedding traditions are just as interesting as the islands' beauty. Rooted in centuries-old rituals, Fiji is an archipelago of more than 300 vibrant islands rooted in unique culture and heritage. The picturesque beaches, warm sun, and clear blue water that welcome guests from near and far are just a plus. From the fire-walking ceremony to local cuisine and beverages, there are plenty of ways to incorporate Fijian culture into your wedding day. Whether you are planning a Fijian wedding or attending one, keep reading to learn more about wedding traditions that are often incorporated into the big day.
A Brief History of Fijian Wedding Traditions
Fiji has been inhabited for over 3,000 years by many different cultures, including those of the original Fijians and the Melanesians, who were originally from Papua New Guinea and other islands in the Solomon Islands, and their traditions reflect the variety. In traditional Fijian weddings, marriage was so much more than a wedding celebration; it really focused not just on the union of two individuals but the marriage of the two families that would become socially and economically related to one another, and this is reflected in the ceremonies and rituals that are still performed to this day.
Fijian Prewedding Traditions
Fijian wedding traditions begin with the couple's engagement. Here are three prewedding customs you should know about traditional Fijian weddings.
Fijian Engagements
In Fijian culture, when a man asks a woman's father for her hand in marriage, he must present his future father-in-law with a tabua, or whale's tooth. Today, couples who get engaged with a typical engagement ring are still sometimes given this the night before the wedding at the rehearsal dinner or welcome party.
Mehndi Party
Those coming from an Indo-Fijian background may opt to have a Mehndi party. This practice originated in India and the Middle East and remains an important part of the wedding process. These gatherings are held the night before the wedding ceremony, where bridal parties get together to have intricate henna designs drawn on the hands, arms and feet prior to the wedding so that the designs appear the most vibrant, as the richer color is said to lead to a happier marriage.
Tevutevu Ceremony
Often held a night or two prior to the wedding day, the Tevutevu ceremony, which translates to "spreading of the mats," is an ancient Fijian wedding tradition. Traditionally, each family member places a mat one on top of the other, which symbolizes where the couple will sleep. These days, customary gifts include a mix of modern bedding items, such as blankets and sheets, with traditional hand-woven cloths and mats are given instead.
Fijian Wedding Attire
Wondering what fashion to expect at a traditional wedding in Fiji? Here, we break down everything you should know.
Bride and Groom Attire
Fijian weddings are made up of many different cultures, so attire will depend on where the family is from. Traditional Fijian wedding attire is clothing made from Tapa, a bark that comes from an indigenous Fijian tree that is pounded into a fine cloth and hand-painted with traditional and colorful patterns. There's also the masi dress, which is worn by indigenous iTaukei people. Couples from an Indo-Fijian background may opt for South Indian attire such as lehengas or saris in lieu of wedding dresses for the bride and kurtas or sherwanis for the groom.
Wedding Guest Attire
Wedding guests will want to wear similar attire to the bride and groom, which will likely be specified on their wedding invitations or wedding website. If specific wedding attire is required, wedding guests can look for formal rental sites that offer traditional saris and other pieces for rental. Similar to Indian weddings, Fijian weddings are filled with lush tropical colors and patterns, and it is often encouraged.
Fijian Wedding Ceremony Traditions
Fijian wedding ceremonies are filled with beautiful traditions and rituals. From a festive processional to a fire-based ritual, here's what to expect.
BiliBili Ceremony Entrance
The tradition of warriors, known as the "BiliBili," is an exciting and festive way for brides to enter a Fiji wedding ceremony. Native Fijians wearing traditional garb carry the bride to the wedding ceremony on a beautifully decorated throne filled with flowers.
Fire Walking Ceremony
Originating on the Fijian island of Beqa, this fire-walking ceremony is considered an ancient ritual based on the legend that God gave the Sawau tribe the ability to walk on fire. Nowadays, the ceremony is performed during weddings and special occasions to entertain visitors. Fire walkers walk in a line across a pit of red-hot stones, emerging on the other side with their feet unharmed.
Fijian Wedding Reception Traditions
The traditions don't stop once the ceremony comes to a close. Traditional weddings in Fiji are celebrated with festive receptions that often include showstopping performances.
The "Meke" Performance
Entertain your wedding guests through music and dance with a Meke performance. Through music and dance, native performers pay tribute to their Fijian culture and tell stories to the audience through music and dance. Musicians will sing and play traditional instruments, while dancers wearing flower garlands and other attire will dance and interpret the music. For a wedding, request to have a Fijian love story added to the performance.
Fijian Traditional Wedding Food, Drinks & Dessert
Wondering what's on the menu at a traditional Fijian wedding? You're in for a treat, literally!
Yaqona Ceremony
Yaqona, commonly known as kava, is a ceremonial drink consumed at traditional Fijian weddings and on special occasions. It's made from the pounded dried roots of a pepper tree and is typically consumed from a communal coconut shell, with a clap required before or after drinking. This is a great way for newlyweds to welcome guests to their wedding or it can be served at the reception, but just be warned, it can be spicy.
Traditional Fijian Cuisine
When visiting the Fiji Islands, guests can try a wide range of flavors and diverse and flavorful cuisine. The traditional way of cooking in Fiji is known as "lovo" and is a lovely way to honor your South Pacific heritage at your wedding. Stones are placed on a fire where foods such as taro, pork, sweet potatoes, and other fresh vegetables are wrapped in banana leaves and cooked. After the food is cooked, guests can enjoy being served the food picnic-style while surrounded by family and friends.