8 Unexpected Wedding Planning Disasters—and How to Avoid Them
Take a few planning precautions so you don't end up with one of these random mishaps.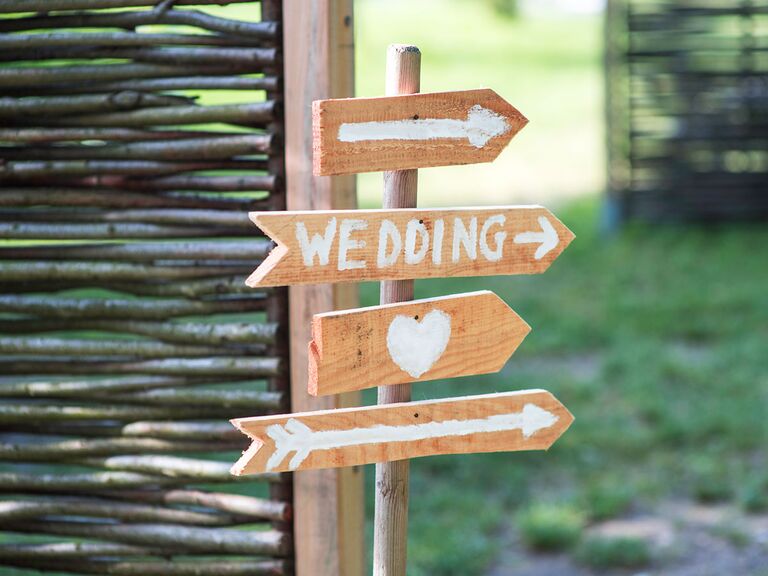 iStock
Nobody's perfect, and, unfortunately, that means vendors, guests and even yourselves too. Since a wedding is such a large event with so many moving parts, you're guaranteed to have at least a few small hiccups. We rounded up some pretty out-there wedding mishaps here—not to make you panic, but to remind you that, even when the most random, unthinkable accidents happen, there's always a solution.
1. Smoke Show
Potential Disaster: An open flame at your ceremony—whether it's purely decorative or part of the service, like the unity candle or agni (holy fire) for a Hindu ceremony—gets out of hand in an unsafe way.
How to Deal: If you have an open flame or some kind of fire-related ritual in your ceremony, check the venue's rules and fire safety measures before you incorporate it into your wedding (or book that venue). Avoid—or be incredibly cautious—wearing billowy clothing and extra garments. Always have fire precautions handy, like extinguishers and damp towels.
2. Traffic Jam
Potential Disaster: You accidentally booked your wedding on a high-traffic day, leaving yourselves and your guests with limited parking, crowded streets and backed-up routes.
How to Deal: Before you settle on a wedding date, research any big events at or near your destination, like spring break, prom, graduations, holiday parades or concerts. (Start researching with our handy list of wedding dates to avoid.)
3. Lost Vows
Potential Disaster: One of you leaves your vows at home—or worse, in the limo (and now they're hard to track down!).
How to Deal: The great thing about having a maid of honor and best man is you have two individuals looking out for you the whole day. Nervousness can make any to-be-wed forgetful, so take yourselves out of the equation. Pass off anything crucial—vows, rings or emergency kit—to your attendants.
4. Sick Day
Potential Disaster: One of your key pros, like your photographer, calls the day before your "I dos" to say they're sick and can't make it.
How to Deal: To say vendor no-shows put a damper on your day is a serious understatement. Your best precaution is an airtight contract. Before you sign anything, interview your pros and ask what their sick day plan is, and carefully read the language in the contract about emergencies that would prevent them from following through with services. Backup plans or strict penalties should be included.
5. Spot On
Potential Disaster: You're getting ready, slipping on your wedding dress and the unthinkable happens: You get lipstick, mimosa, pen or another stain on your gown before you've even left for the ceremony.
How to Deal: Have stain-removers (Shout Wipes, Tide To-Go or even club soda) at the ready. Drink beverages from a straw and make sure you do everything you need to do before putting on your gown, except applying lipstick—leave that to the last minute. If worst comes to worst and you really can't fix it, just breathe. Marrying your partner is the most important part of this day and a stain will never ruin that (and most people probably won't even notice).
6. Surround Sound
Potential Disaster: You overlook the potential for disruptive noises and activity near your ceremony site. Maybe you're getting married at a golf club and forgot about the passing golfers, lawn mowers, golf carts and other club members enjoying their meals (read: clanking and chatting) while you say your vows. Now no one can hear your soft-spoken officiant or your brilliantly witty vows.
How to Deal: Whether indoor or out, always test the acoustics and note the ambient noises of your ceremony site—before your day. If you can, check out the location while there's another wedding going on to get a true sense of what your event will sound like. Worried about the grounds crew, passing traffic, rough surf or rowdy passersby? Consider using microphones not only for your officiant but for you two (slip mics into the bouquet and boutonniere, for example). But realize there's only so much you can control, especially if you're having an outdoor ceremony in a public place. At the end of the day, the most important thing is that you can hear each other and the officiant.
7. Spell Check
Potential Disaster: You design, print and assemble your own programs, but realize after printing that you've made a glaring typo (like, you spelled your own maiden name wrong).
How to Deal: Whether you're handling your own paper goods or leaving it to the pros, spelling mistakes will always be a possibility. Check, double-check and triple-check all your paper products before sending them to the printer. Show the proofs to someone who hasn't been involved with the design—like a parent or wedding party member—so they can review them with fresh eyes. If it's already hit the printer, stop the presses. If there's time, ask if you can do an emergency reprint.
8. Safe Bet
Potential Disaster: You've been perfectly responsible keeping your wedding rings in a safe at the hotel. But the safe suddenly decides to malfunction minutes before you're set to walk down the aisle—with the rings inside!
How to Deal: If there's absolutely no way to open the safe, don't delay the ceremony (too much). Just get married with alternate rings. Ask your parents, best friends or any close loved ones if you can use their rings for the ceremony. Of course, it's a big ask to borrow someone's wedding bands, so you could also have a few wedding party members quickly duck out to find some replacements. Your guests won't even notice you're not exchanging those customized platinum bands.
The best way to avoid disaster? An awesome wedding planner—find yours here.