21 Hilarious Valentine's Day Cards You Can Buy Right Now
These witty cards are sure to make your S.O. smile.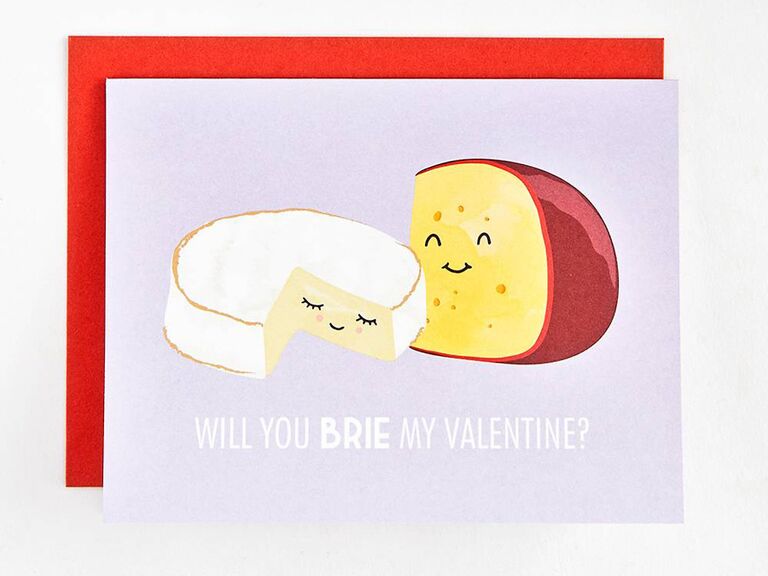 We have included third party products to help you navigate and enjoy life's biggest moments. Purchases made through links on this page may earn us a commission.
No matter your relationship stage, you're probably searching high and low for a funny Valentine's card to accompany your S.O.'s present. A corresponding card is important to give with any gift, especially on Valentine's Day. But with the many online retailers that offer stationery, it's often challenging to find the perfect design. To make your life easier, we've done the shopping for you by rounding up the best Valentine's Day cards here. (And, if you still need a last minute gift idea, we've got you covered.)
Anyone in a relationship can probably relate to these hilarious cards below. Whether you're a self-proclaimed comedian or you share plenty of inside jokes, a funny Valentine's card is the best way to express your love in honor of the special holiday. From food puns to cheesy pickup lines, your partner will be delighted to receive any of these sweet salutations. Browse our top picks below, and if you find one you absolutely love, buy it right on the spot.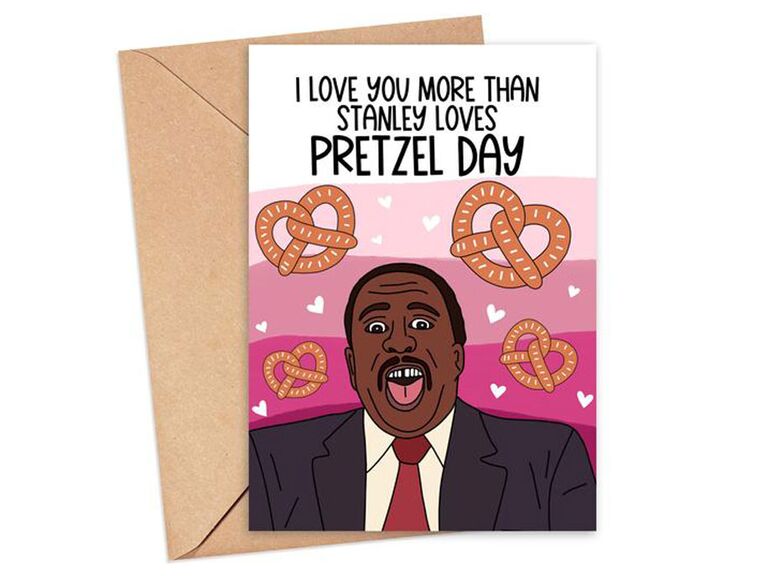 Let them know you love them more than Stanley loves Pretzel Day with this funny Valentine's Day card inspired by The Office.
Saucy Avocado Stanley Hudson pretzel day card, $6, Etsy.com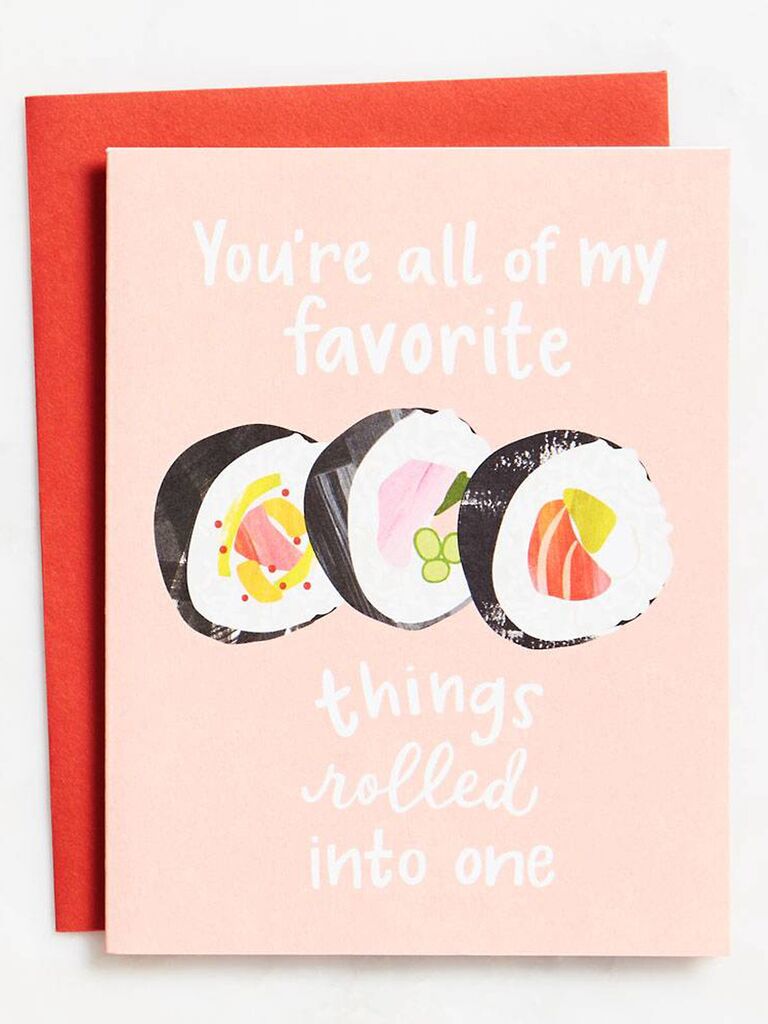 This option is ideal for the person who loves shrimp tempura almost as much as they love you. Gift this card along with their favorite rolls for a fool-proof V-Day present.
Paper Source Favorite Sushi Valentine's card, $5, PaperSource.com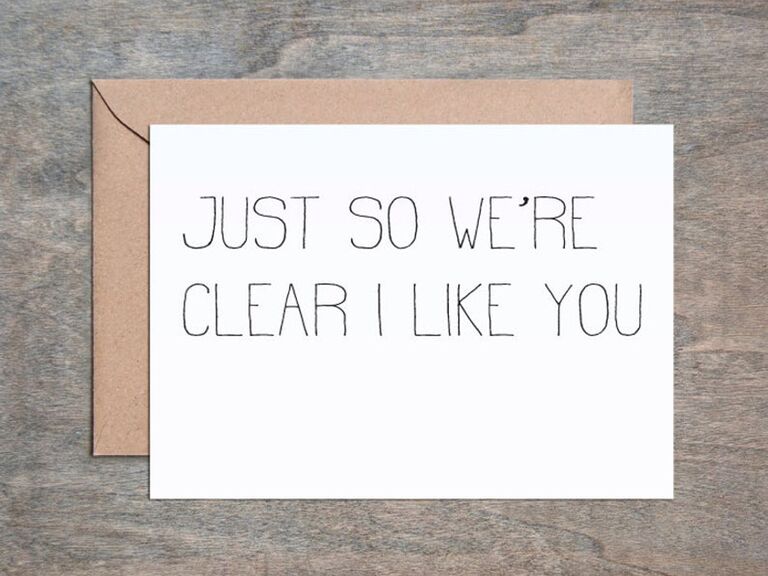 In case your affection wasn't obvious, remind them with this cheesy Valentine's card. We promise they'll love it.
Crimson and Clover Gift funny Valentine's Day card, $6, Etsy.com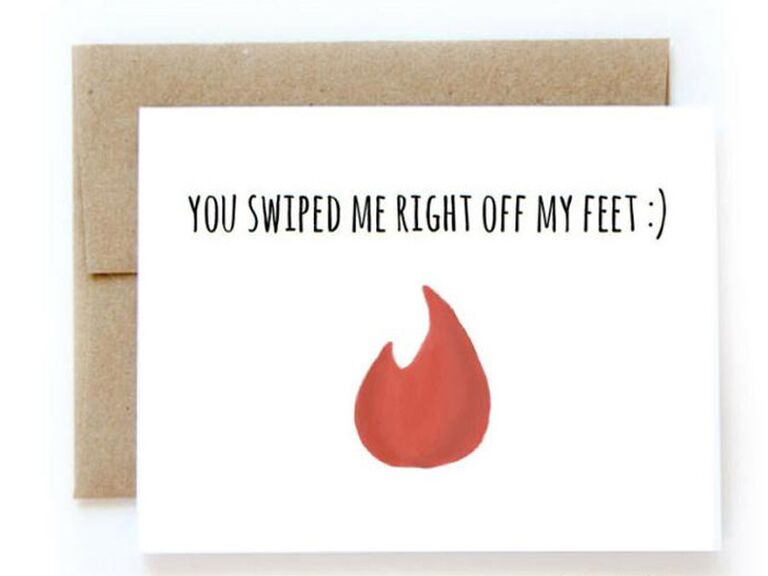 If you met on a dating app, this funny Valentine's card is a no-brainer. After all, they are the best thing you've ever swiped right on.
A Couple Puns Swiped Right card, $5, Etsy.com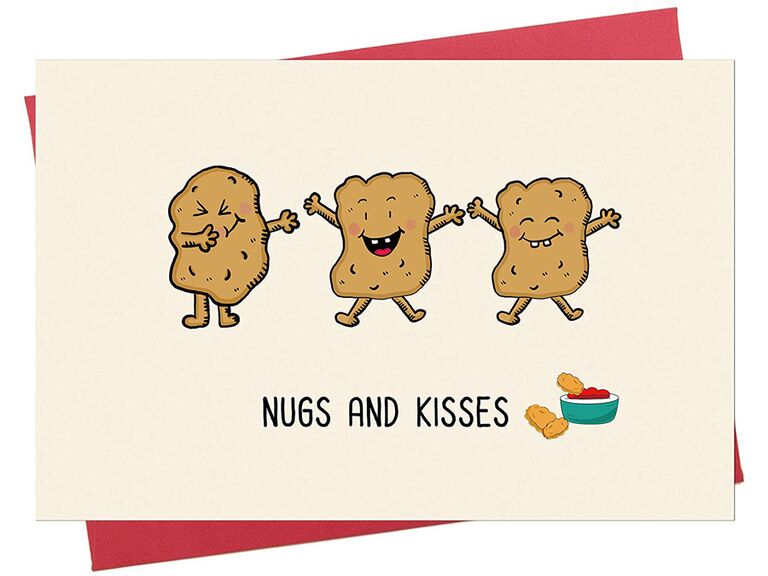 Gift them their go-to nugget order along with this card to make them (and their taste buds) happy.
Decolove Nugs and Kisses Valentine's Day card, $5, Amazon.com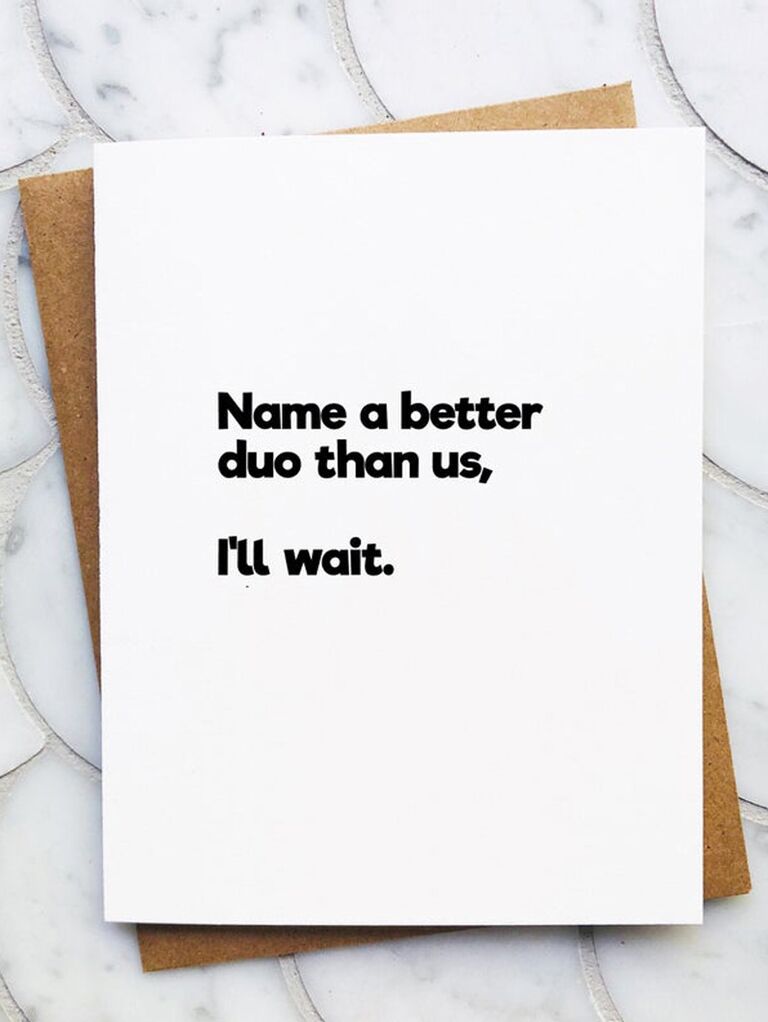 Spoiler alert: They can't name a better duo, because you two are the perfect pair.
Top Hat and Monocle funny Valentine card, $6, Etsy.com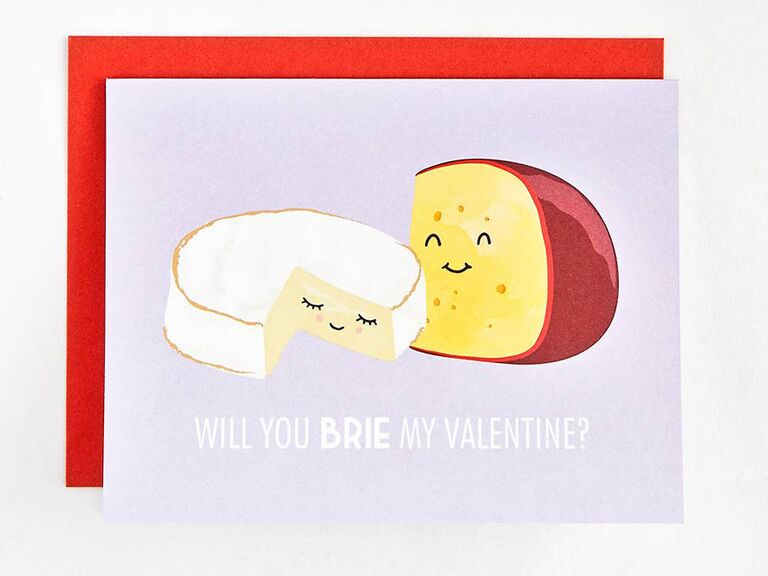 A cheesy Valentine's card is a must-buy for the charcuterie board expert in your life.
Paper Source Brie My Valentine card, $5, PaperSource.com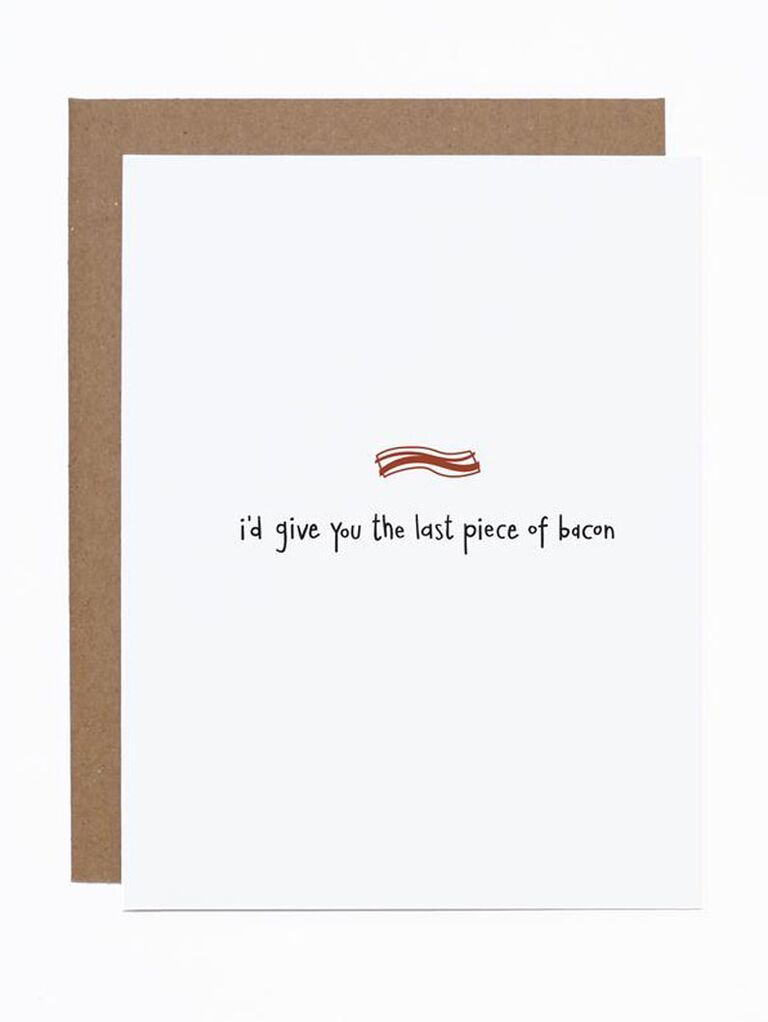 You know you've found your soulmate when you're willing to give them the last piece of bacon. Show your love with this funny Valetine's card that'll surely elicit a laugh.
Carolyn Draws funny Valentine's Day card, $6, Etsy.com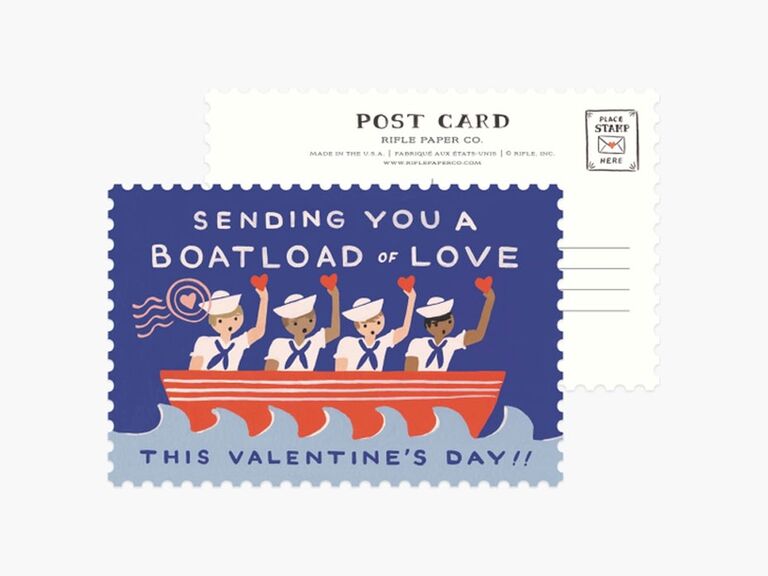 If you're spending the holiday apart, don't stress—this funny Valentine's postcard is the perfect salutation to put a smile on their face.
Rifle Paper Co. Boatload of Love postcard set, $10 for 10 postcards, RiflePaperCo.com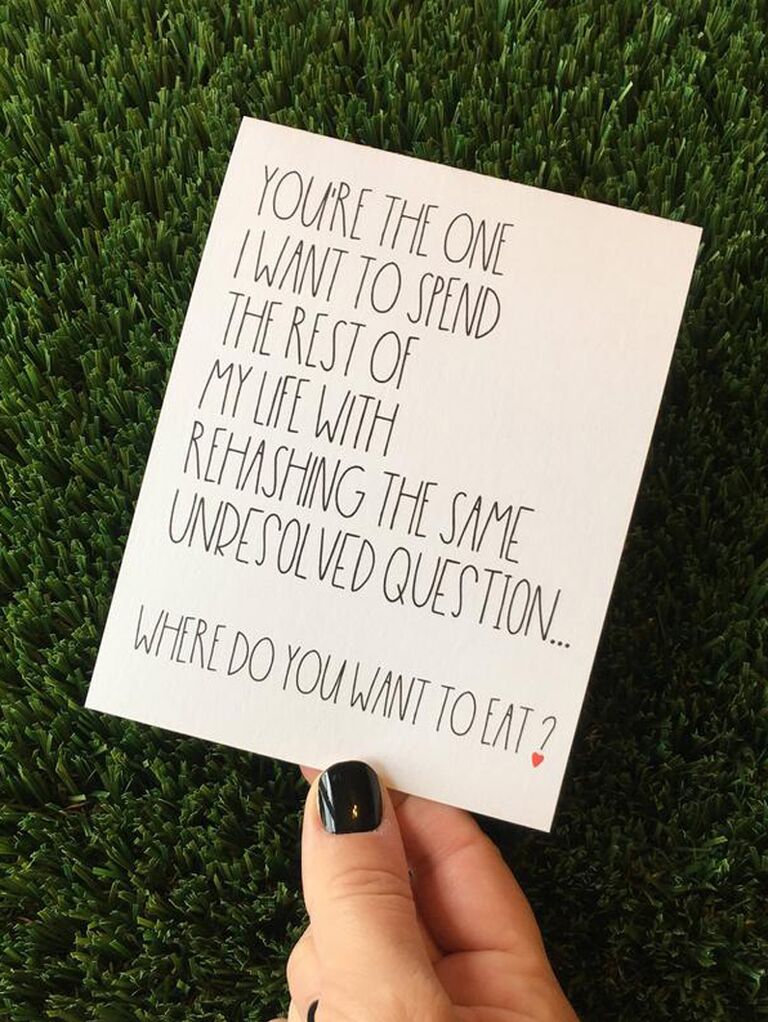 Always struggling to find a place to eat? You're not alone—but TBH, you might never know the answer. Give them this Valentine's Day card along with a few gift cards to their favorite local eateries to help decide next time you're not sure where to go.
Personal Paper Hugs funny Valentine card, $6, Etsy.com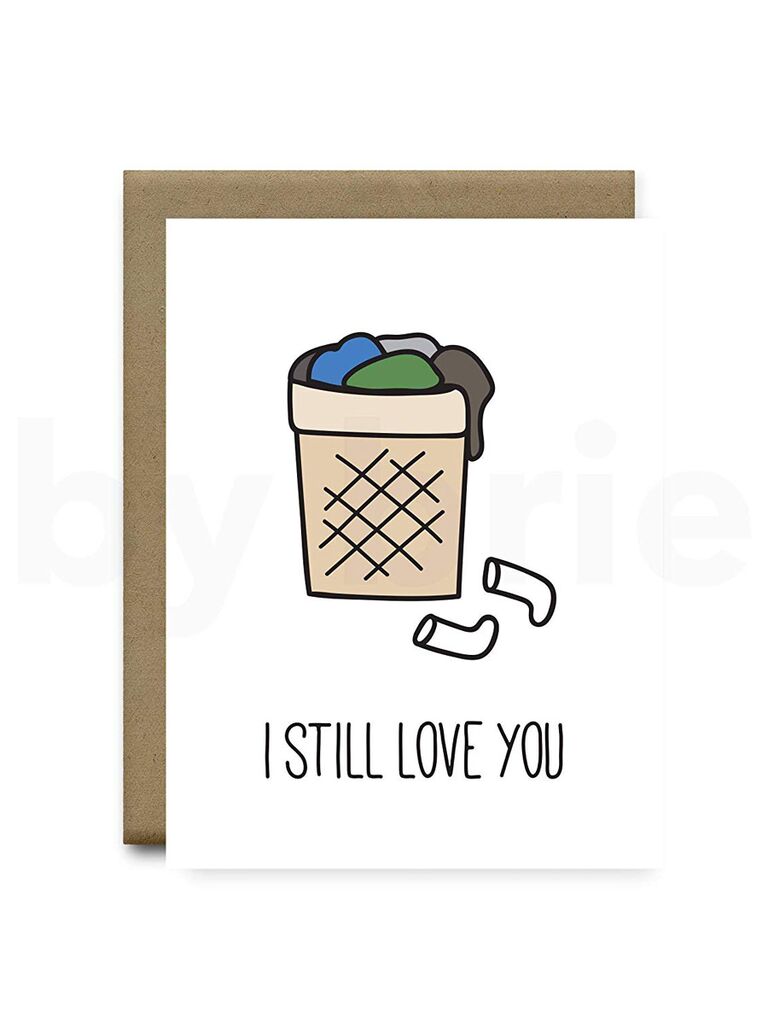 This card is a reminder that you'll always love them… even when their dirty socks miss the laundry basket.
By Brie I Still Love You greeting card, $7, Amazon.com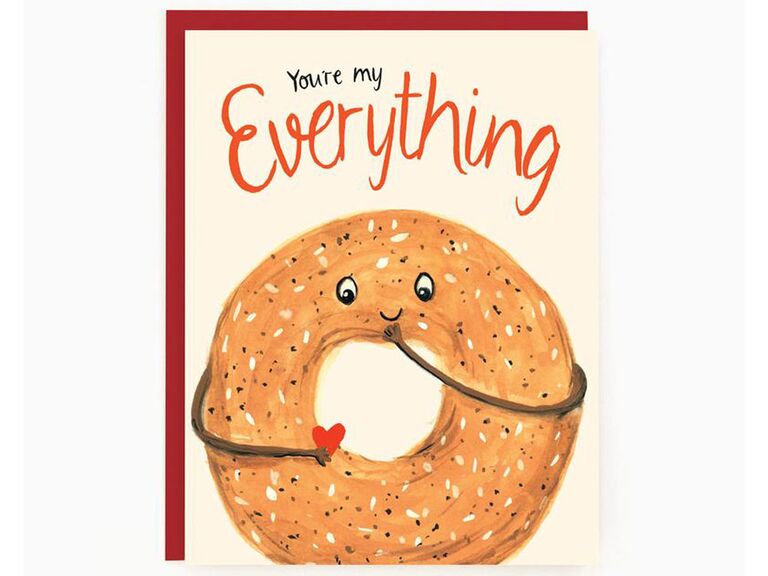 We have a feeling this Valetine's card design will make your S.O. feel the love, especially if their Sunday morning ritual includes coffee and everything bagels.
Made in BV Valentine card, $7, Etsy.com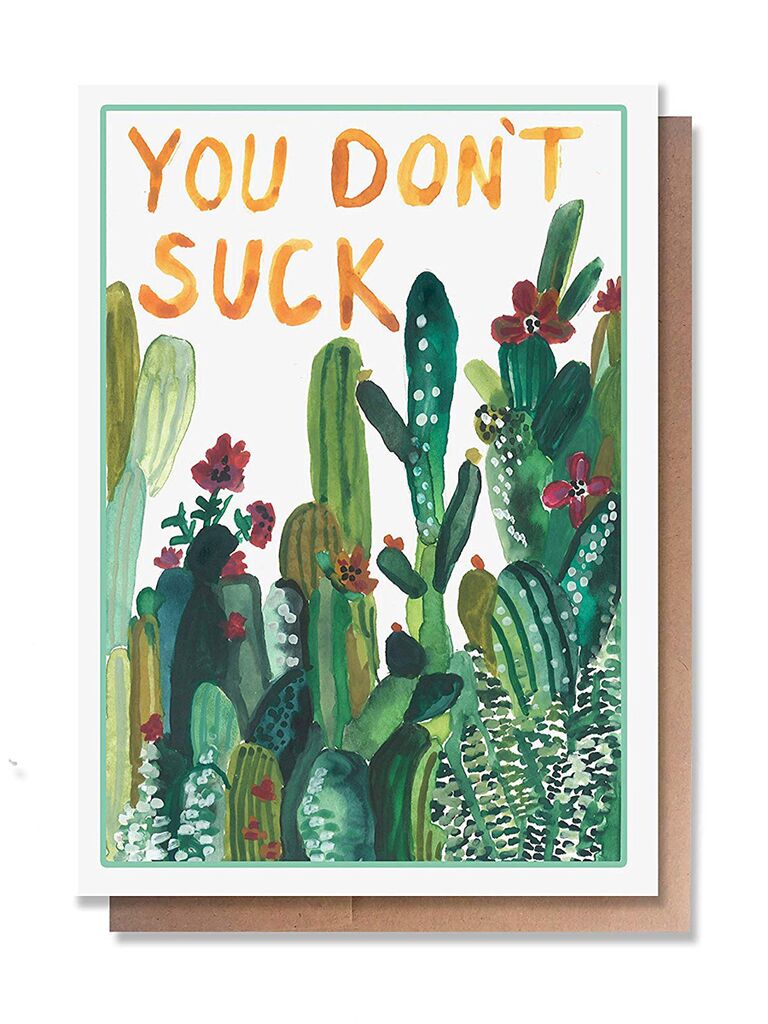 It's true, they don't!
Wunderkid Art funny Valentine's Day card, $10, Amazon.com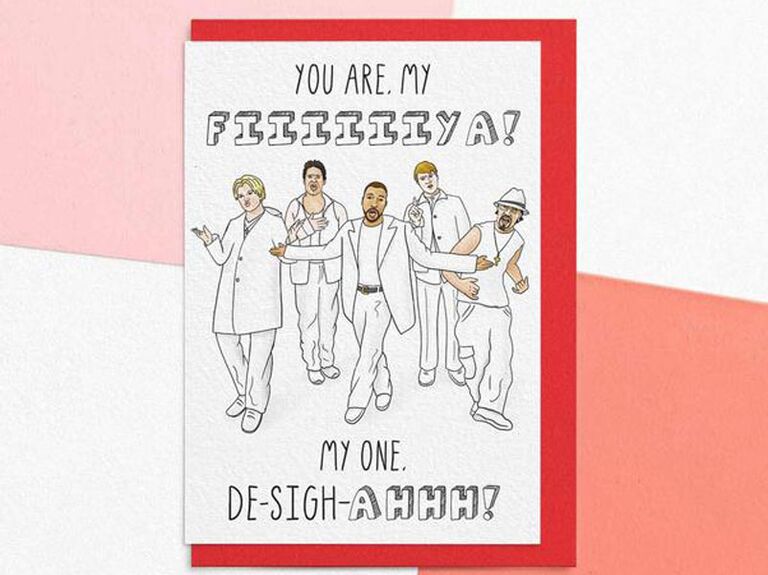 This design is a must for the '90s kid. Customize it further with a special love note.
Sketchy Print Co. 90's-themed Valentine card, from $4, Etsy.com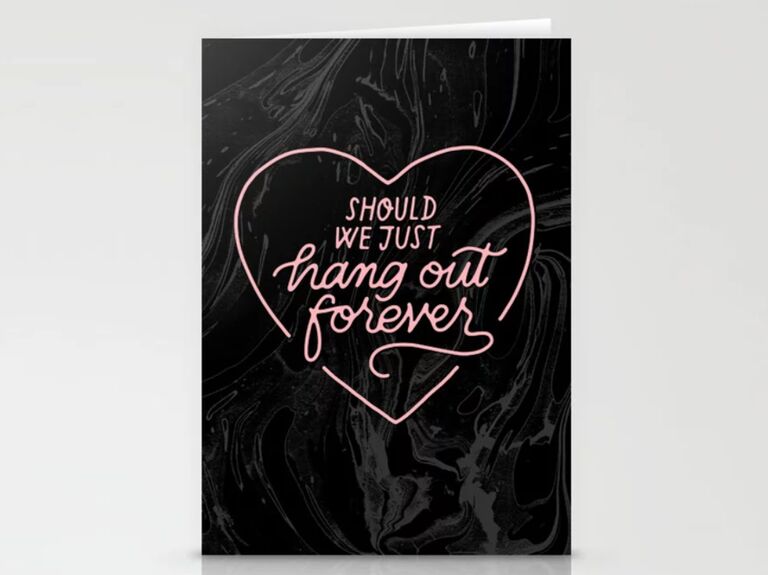 Isn't this the definition of marriage anyway? Remind your S.O. that you'll always want to hang out together, no matter what. And since it comes in a pack of three, share it with fellow friends or family members who'll appreciate a funny Valentine's card.
Weareyawn Hang Out Forever stationery cards, $16 for 3, Society6.com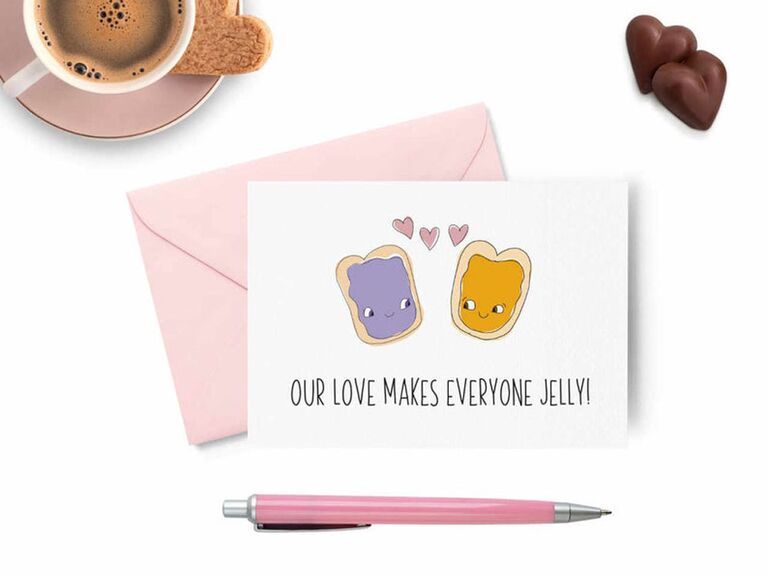 When you're the definition of #RelationshipGoals, this funny Valentine's card is a must. Give them a framed photo of the two of you to prove it.
Laila Me Designs funny Valentine card, $3, Etsy.com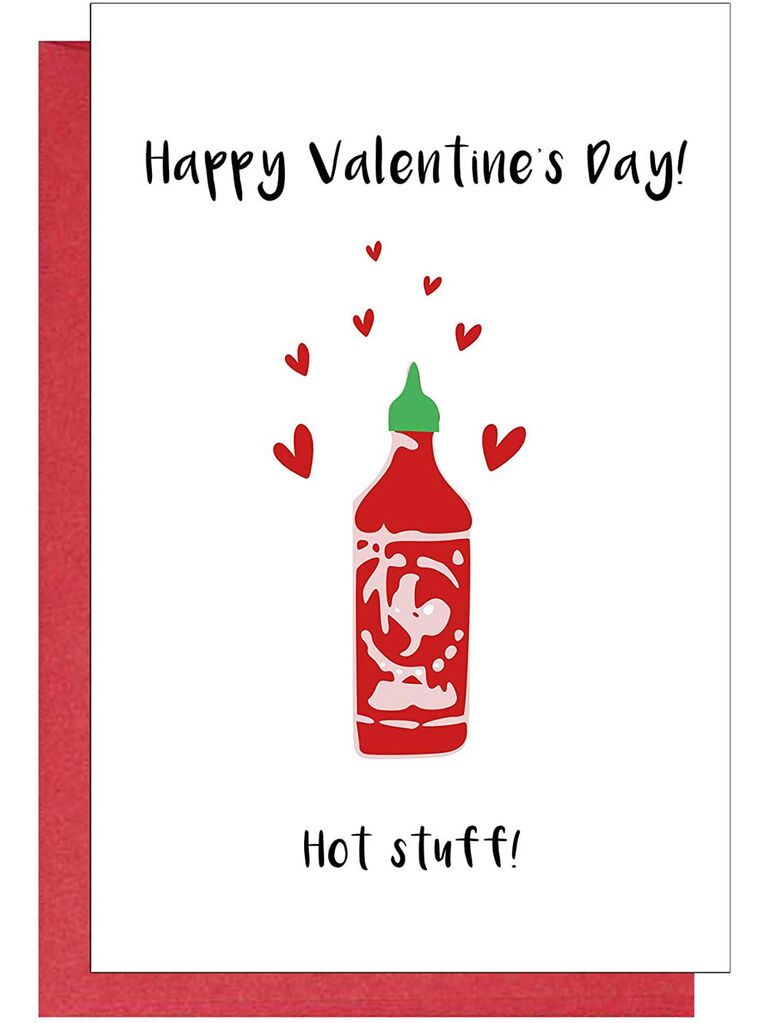 Shopping for a hot sauce-lover? This funny Valentine's Day card is great for the person who can't have a meal without a side of sriracha.
Maplelon Hot Stuff Valentine's Day card, $6, Amazon.com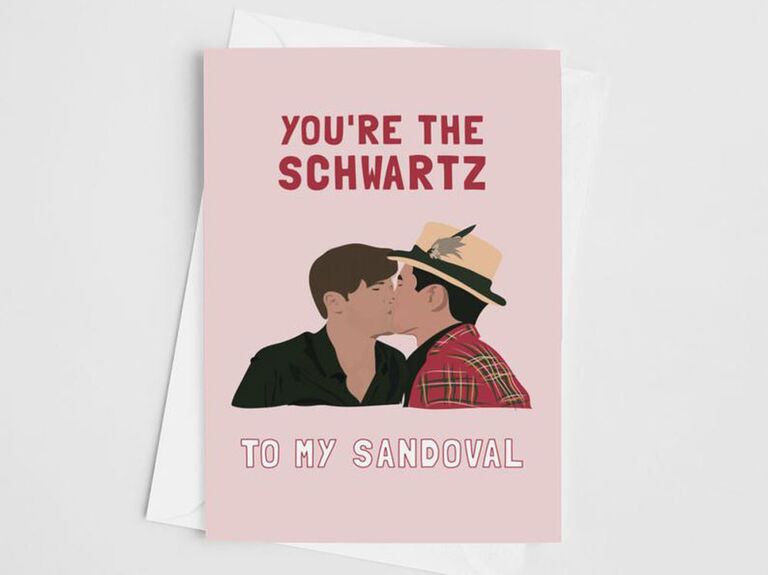 If your S.O. has a slight Bravo obsession, this Vanderpump Rules-inspired Valentine's day card is just what they need. Fancy TomTom cocktails not included (but you can make your own by planning a themed date night.)
Digital Girls Club Vanderpump Rules Valentine card, $8, Etsy.com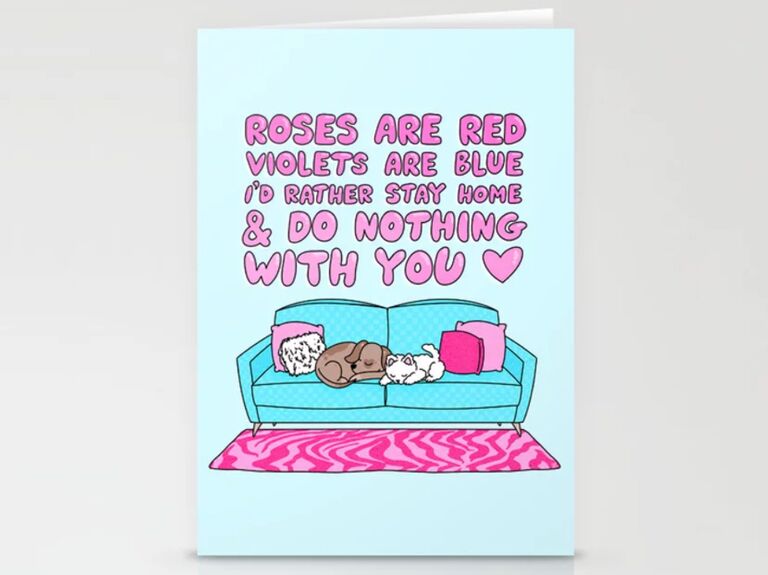 Add this to your cart ASAP if you and your S.O. cherish cozy nights spent at home. They are the best, after all.
Sara M. Lyons I'd Rather Stay Home and Do Nothing With You stationery cards, $16 for 3, Society6.com
If this funny Valentine's Day card doesn't make your significant other laugh, we don't know what will.
Personal Paper Hugs funny long distance relationship card, $6, Etsy.com