15 Gifts for Cat Parents That'll Make Feline Fans Smile
These unique options are totally the cat's meow.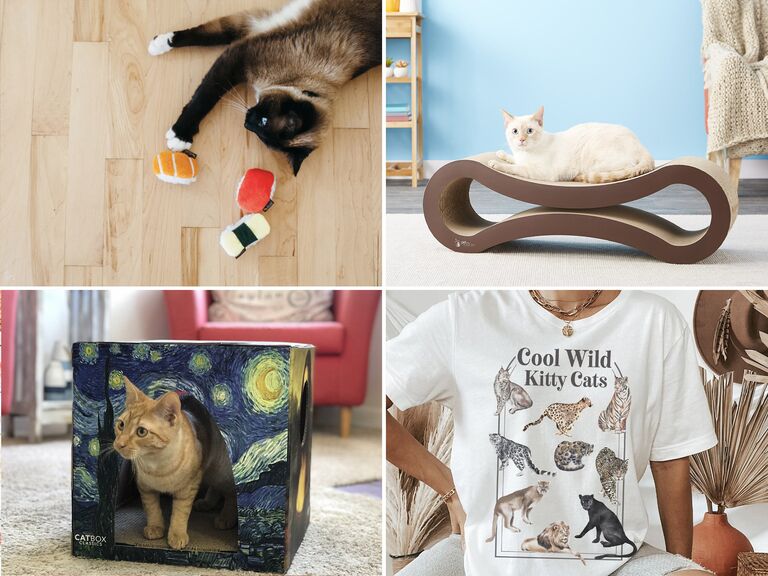 We have included third party products to help you navigate and enjoy life's biggest moments. Purchases made through links on this page may earn us a commission.
Like their feline friends, cat parents are notoriously hard to impress. They're discerning folks who know what they want, so they're intimidating to shop for. Plus, there are so many kitty-themed options out there to sift through—it can be overwhelming! Don't worry though, we've got you covered. Whether you're thanking a pet-loving member of your wedding party, giving a cat-obsessed couple an engagement gift, or looking for a feline-focused gift for your kitten co-parent, we've curated a selection of great gifts sure to make them purr. Ahead, paw-sitively wonderful cat toys, cute cat accessories, personalized wall art and more to spoil the cats and cat lovers in your life. Whatever the cause for celebration, it's time to immerse yourself in all things cat-egorically amazing for any cat lovers in your sphere.
1. Paint Your Life Personalized Hand-Painted Portrait
For a cat parent, there's nothing more beautiful than their feline's face. Indulge them with an artist-made custom pet portrait. Simply submit a photo of their cat (or a few, if you can't narrow it down) and choose your preferred artwork medium—options range from oil and watercolor to charcoal and colored pencil. This is the sweetest gift for an engaged cat parent, or a thoughtful birthday or anniversary present for your kitty co-parent.
2. Cat in the Box Gingerloaf House With Scratcher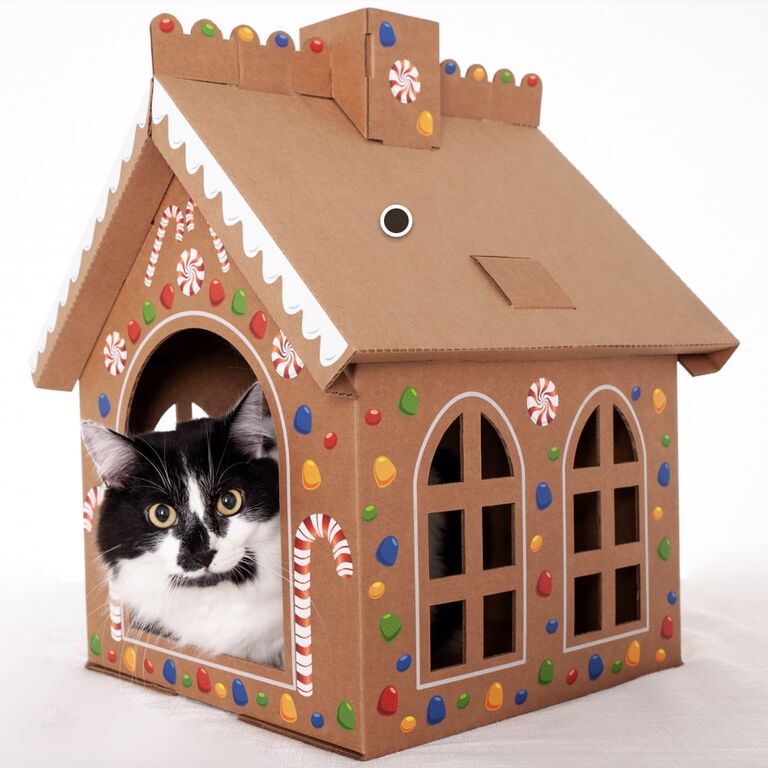 Just purr-fect. In the market for a last-minute holiday gift suitable for cat owners? We love this Hansel and Gretel-style gingerbread house for cats—available through Amazon Prime—that includes a scratcher within its festive walls. Made in the USA with recycled cardboard and cat-safe, water-based inks, this product comes with "candy" stickers for decorating purposes. It's so cute they'll probably want to keep it up year-round.
3. Cat Box Classics Furry Masterpieces Cardboard Cat House With Scratcher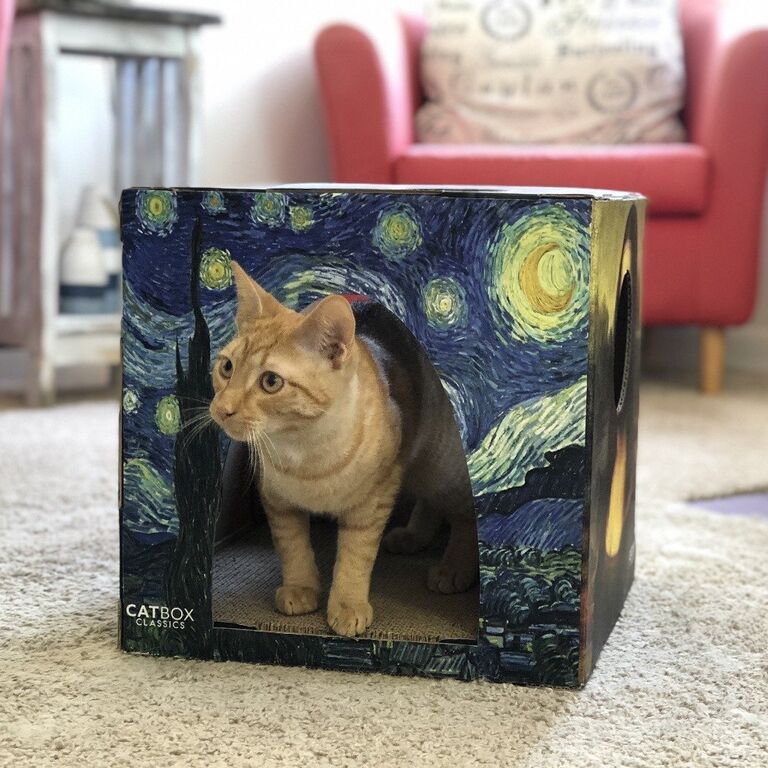 For something less seasonal, check out the artsy designs from Cat Box Classics. This fine art-adorned cat house is the perfect spot for sleeping and comes equipped with a scratcher, too. Each side reveals a different famous masterpiece, from Leonardo da Vinci's "Mona Lisa" to Vincent van Gogh's "Starry Night." FYI: The graphics are printed with cat-safe soy ink and the replaceable scratcher is secured with non-toxic glue.
4. Uncommon Goods Classic Literature Cat Tote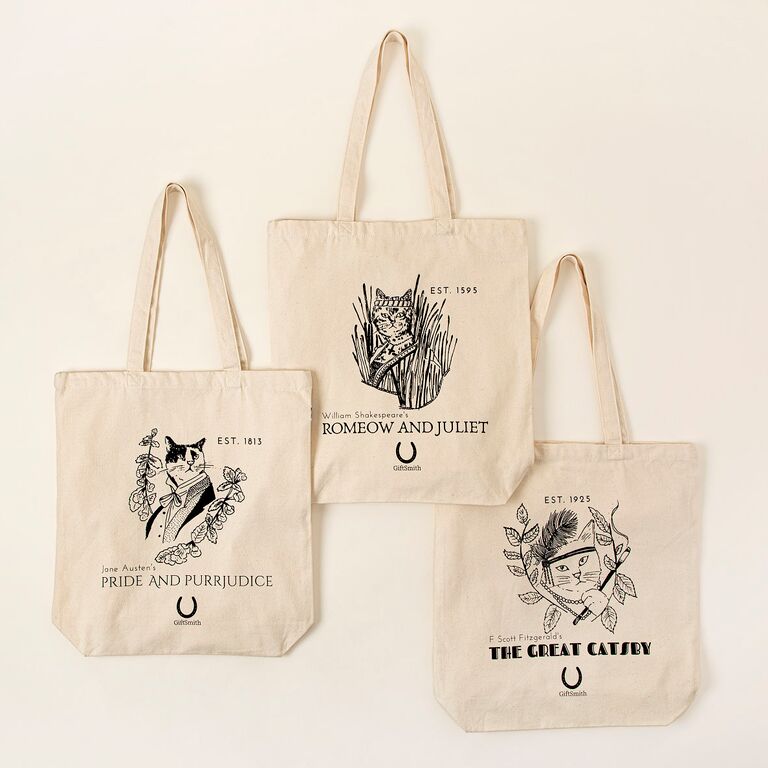 If you know someone who loves curling up with a book and their kitten by their side, this bring-everywhere bag is a purr-fect fit. Each design features a line-drawn, feline-centric homage to a classic work of literature (complete with cat puns like "The Great Cat-spy"). It's ideal for toting books to class or the coffee shop, or for long days at the farmer's market.
5. Basepaws Breed + Health Cat DNA Test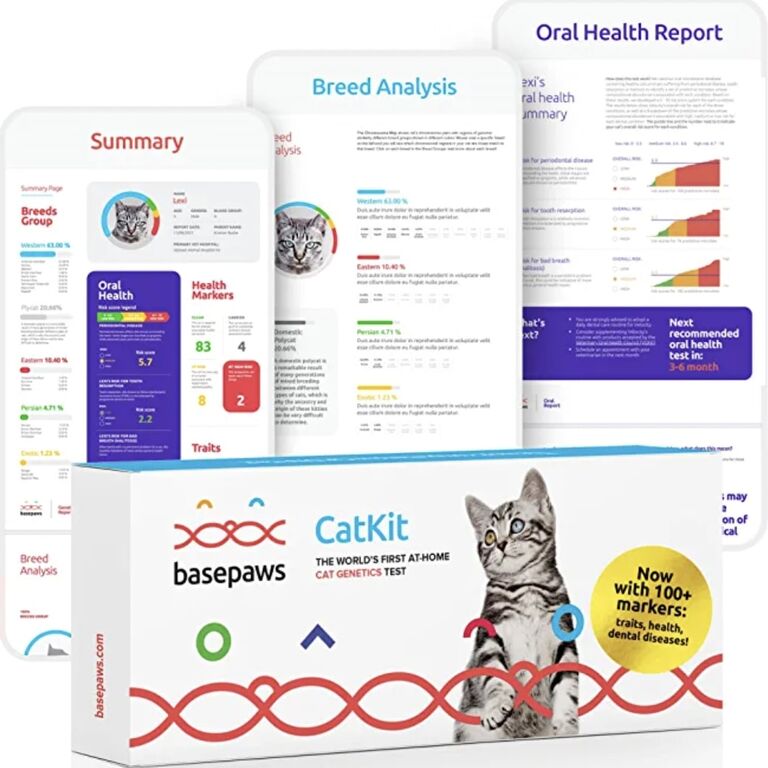 Know any cat parents interested in discovering the lineage of their sweet new addition? Basepaws' advanced DNA test makes a solid gift idea for fluff families. The kit gives insight on the cat's breed, traits and health, which helps proud pet parents take the best care of their beloved feline.
6. Kinoko Carnival Kitty Biscuits Sweatshirt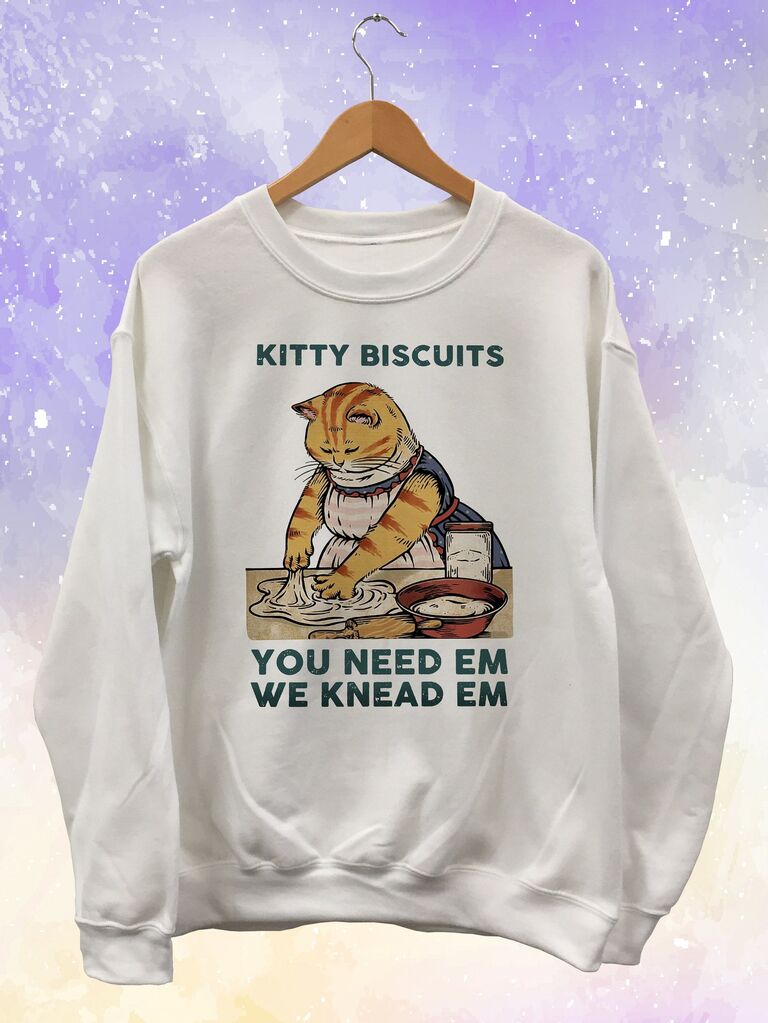 The cat lover in your life will squeal once they unwrap this adorable sweatshirt. When kitties knead an object with their front paws, cat owners call it "making biscuits," so this cozy top is a funny play on that terminology. The design features a kitty in an apron kneading dough on a counter and a silly slogan: "Kitty biscuits: You need 'em, we knead 'em." Once the recipient's feline-loving friends see them wearing it, they'll surely order matching sweatshirts.
7. Uncommon Goods Amber Cat Stacking Glass Set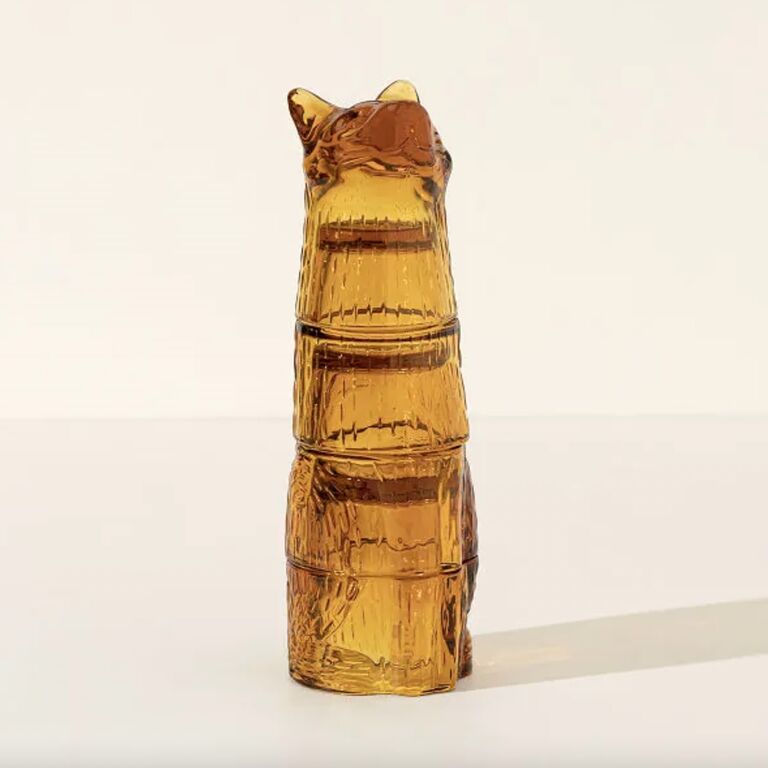 City dwellers who are short on space (and honestly everyone else) will love these stunning stackable glasses. The set of four come together to form a cat standing on its hind legs; it's too cute to keep in a cabinet! Plus, the amber hue is vintage-inspired perfection.
8. Auré Spaces Custom Pet Pillow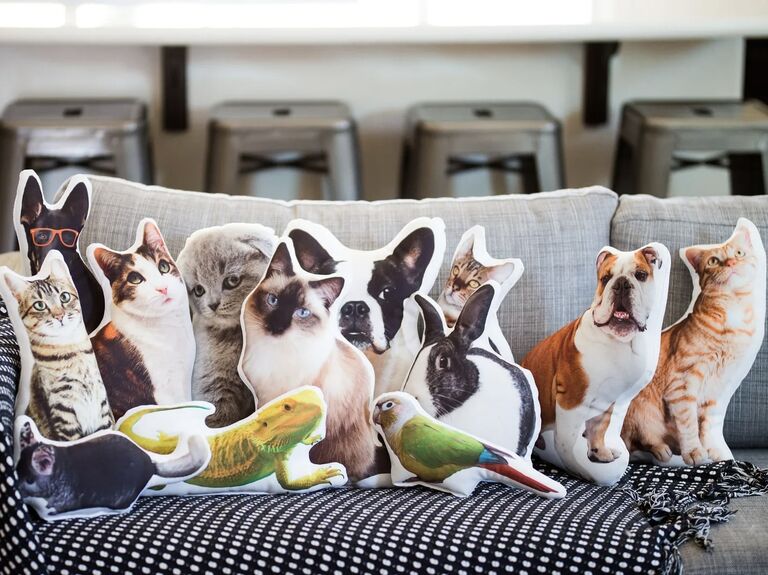 Nothing beats giving a real kitty a cuddle, but this custom pet pillow is the next best thing. Send along a cute cat photo, choose a size and select a material. Then, let the Etsy shop work its magic. We don't know anyone who wouldn't adore this pillow, but it's especially thoughtful for college students and other folks who might be living long distance from their fur baby.
9. Frisco Santa's Gifts Dog & Cat Cozy Plush Fleece PJs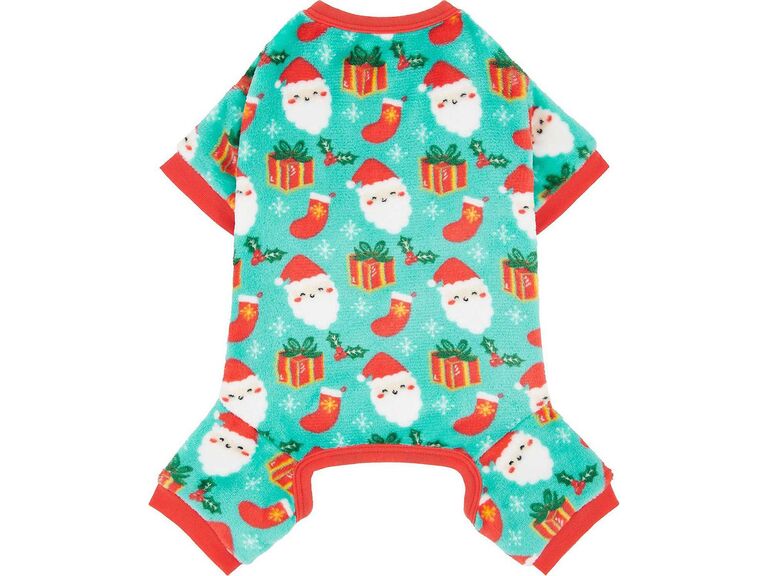 Cute Christmas morning pajamas don't have to be limited to just human members of the family. These festive pajamas (suitable for both dogs and cats) from Chewy are just the thing to up their holiday dress game (and their cozy levels). With a design featuring Santa, gifts, stockings and holly, these PJs would be the perfect pet outfit for a whimsical Christmas card photo.
10. Vitakraft Lick 'n' Lap Creamy Cat Treat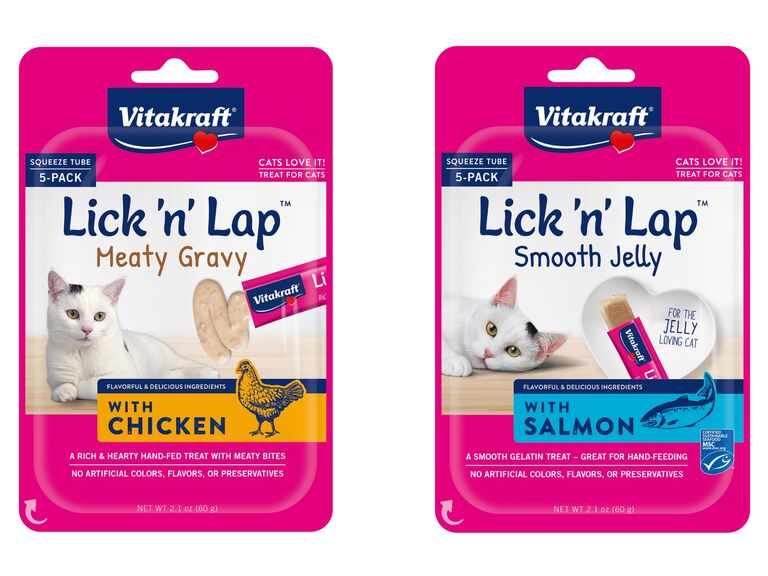 Looking for a last-minute kitty stocking stuffer this holiday season? Choose Vitakraft Lick 'n' Lap Snacks, which are available in single-serve squeezable sachets perfect for tucking into a purse when taking a kitty on the road. They're made for hand-feeding and available in salmon or chicken flavors, so they're sure to promote some sweet bonding between your favorite cat parent and their feline.
11. P.L.A.Y. Feline Frenzy Cat Toy Food Collection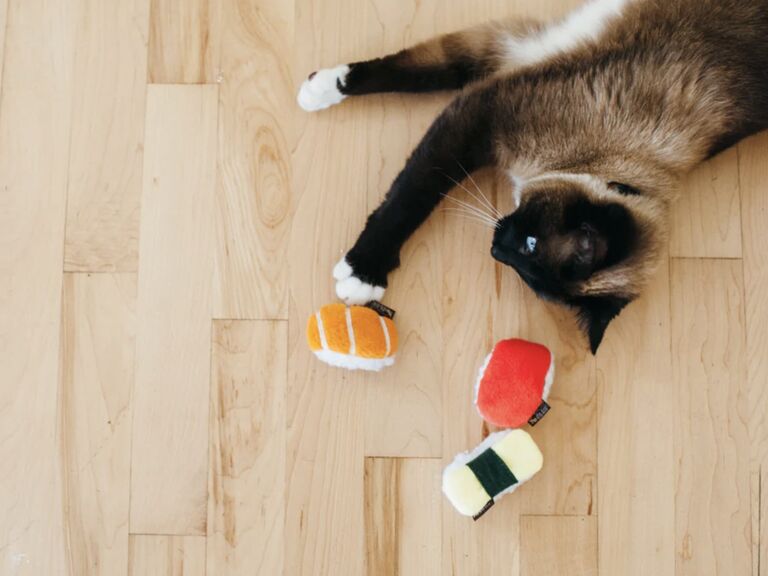 Calling all foodie cat parents: These awesome cat toys are oh-so-delightful. Choose from sushi, fruit, doughnuts and other sweet and savory shapes filled with certified organic catnip. Your or your bestie's or sibling's cat will love having a meow-ment with these colorful toys.
12. Frisco Plush, Teaser, Ball and Tri-Tunnel Cat Toy Variety Pack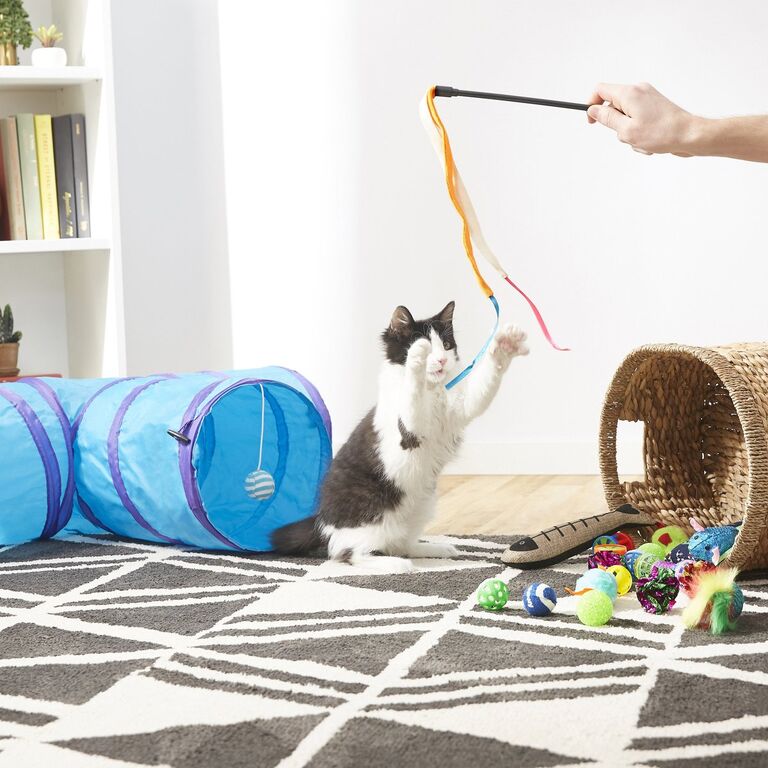 This cat toy bundle checks all the major boxes: It'll entertain cats for hours, it works for multiple players at once and it's affordable to boot. Available on Chewy, this set contains 20 classic toys, including rolling balls, catnip-filled kickers and a colorful nylon tunnel. So basically, it's sure to brighten any cat's day (and make playtime easier on cat owners).
13. PetFusion Ultimate Cat Scratcher Lounge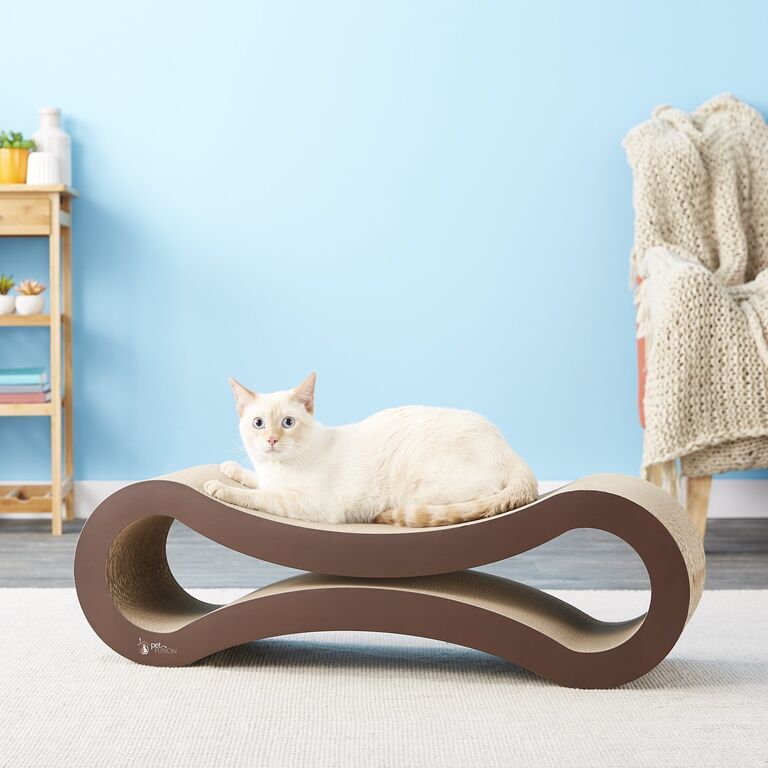 This combo cat scratcher and lounger is an interesting piece of architecture in addition to being a fun and functional cat accessory. It has a broad corrugated cardboard surface that offers tons of space for a cat to file its nails and ample room to sprawl out in a sun spot. The shape also evokes an infinity symbol, which is fitting, since a cat parent's love is forever.
14. Positive Prints Pet Photo Wall Art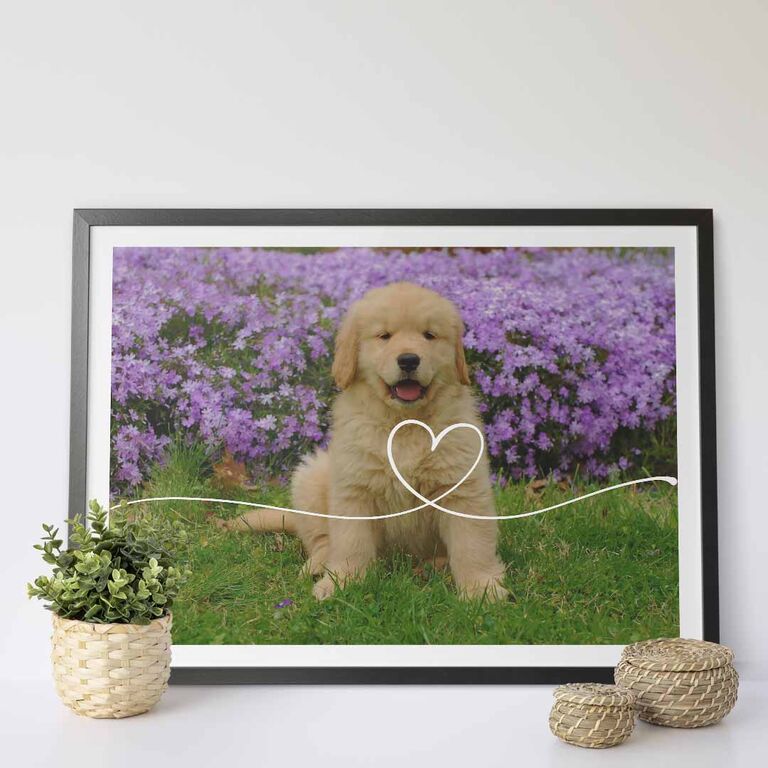 Put those 5,000 cat photos your friend sends to the group chat to good use the next time you're buying them a gift. These darling photo portraits are easy to design and make a big impact on the wall—all you have to do is simply upload a photo, pick a filter and a theme, and type in your desired text. And if you're drumming your brain for gift ideas for the dog lovers in your life, this makes a lovely present for proud canine parents too.
15. The Pepe Nugget Shop Wild Cats Shirt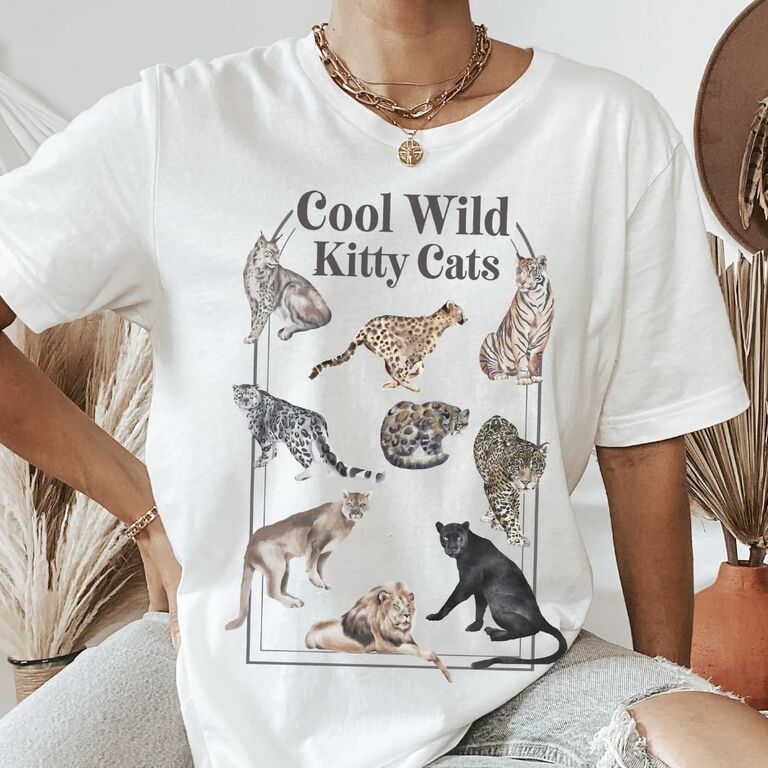 This T-shirt for cat parents is equal parts stylish and comfy. Adorned with images of several types of cats from the animal kingdom, the cat person in your life won't want to take this shirt off. Etsy, how we love thee (and we might just buy this T-shirt for ourselves, too).