28 Unique and Memorable Gifts for the Mother of the Bride
We've searched far and wide so you don't have to.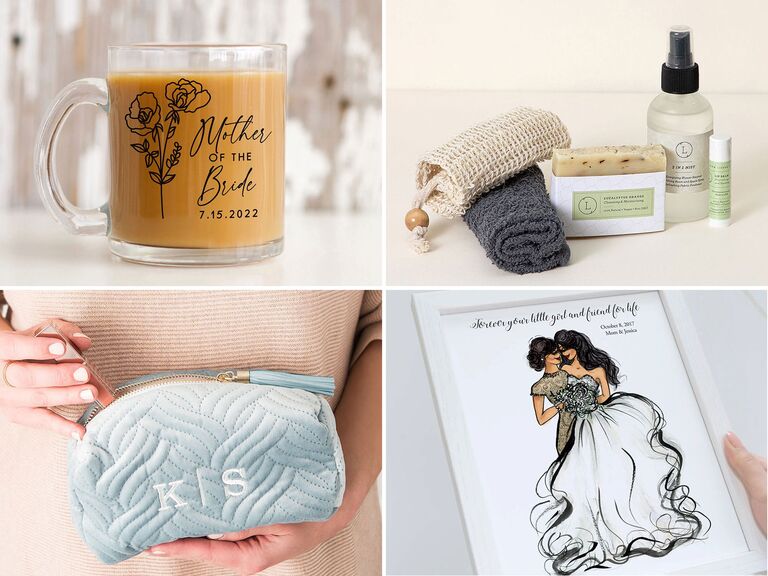 We have included third party products to help you navigate and enjoy life's biggest moments. Purchases made through links on this page may earn us a commission.
For as long as you've been dreaming of your wedding day, there's a good chance your mom has been dreaming of it too. After all, it's not every day she gets to see her child walk down the aisle. Show your gratitude for her guidance, support and love with a heartfelt thank-you gift that rises to the occasion. Lucky for you, we've rounded up the best mother-of-the-bride gift ideas, ranging from sweet and sentimental presents to unique, but practical, picks. But first, we're sharing everything you need to know about MOB gifts, including whether you should give a gift and when the gifting usually occurs. Then, we're diving into our favorite MOB presents that show your unconditional love and support—because Mom deserves it.
In this article:
Mother-of-the-Bride Gift Etiquette
We get it; MOB gifting can be confusing. You might have questions, and you're certainly not alone. That's why we're breaking down the most-asked questions about mother-of-the-bride gifts. Read on for our advice.
Should you give the mother of the bride a gift?
Yes, it's customary for the couple to give gifts to the wedding party, including the MOB. Many brides give their mom a personal, sentimental gift before or after the ceremony as a token of their appreciation. All in all, it's a nice way to thank Mom for everything she's done for your special day—financially, emotionally or otherwise.
When's the best time to give your mom a gift?
In most cases, when to give your mother-of-the-bride gift depends on the present itself. If it's something she'll need for the wedding day—such as a pair of earrings or a personalized hankie—the rehearsal dinner or wedding morning are perfect moments. Otherwise, you can give your gift sometime shortly after the wedding. This makes sense for commemorative gifts, like a framed photo from the big day.
What's a great gift for the mother of the bride?
A great gift for the mother of the bride can be something she wears on the wedding day, like a gorgeous piece of jewelry or a luxe-smelling perfume. Alternatively, you can't go wrong with a personalized mother-of-the-bride gift (think: an etched wine glass with a cute MOB-related saying). As always, practical gifts are worthwhile options too. Look for something she'll really use, like a wellness gift for some much-needed R&R. Remember, you know your mom best, and she'll appreciate the thought behind this gift more than anything else.
Our Favorite Mother-of-the-Bride Gifts
To celebrate Mom—your rock throughout planning and your number one-supporter—we've gathered a range of thoughtful and practical mother-of-the-bride gifts that'll put a smile on her face.
1. Custom Wedding Illustration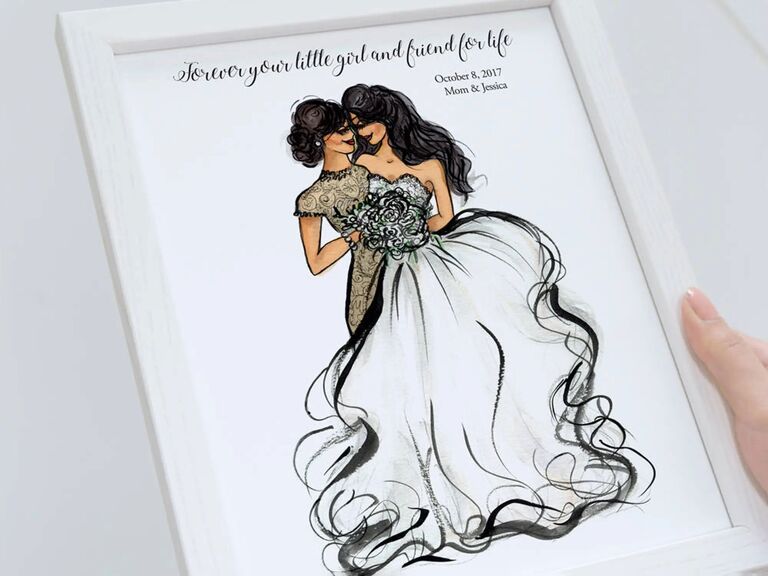 Personalized mother-of-the-bride gifts are the way to go for brides seeking something that says a heartfelt "thank you." Memorialize your special mom-daughter bond with a custom illustration from your special day. She'll appreciate the thought and effort behind this loving present.
2. Cozy Cotton Robe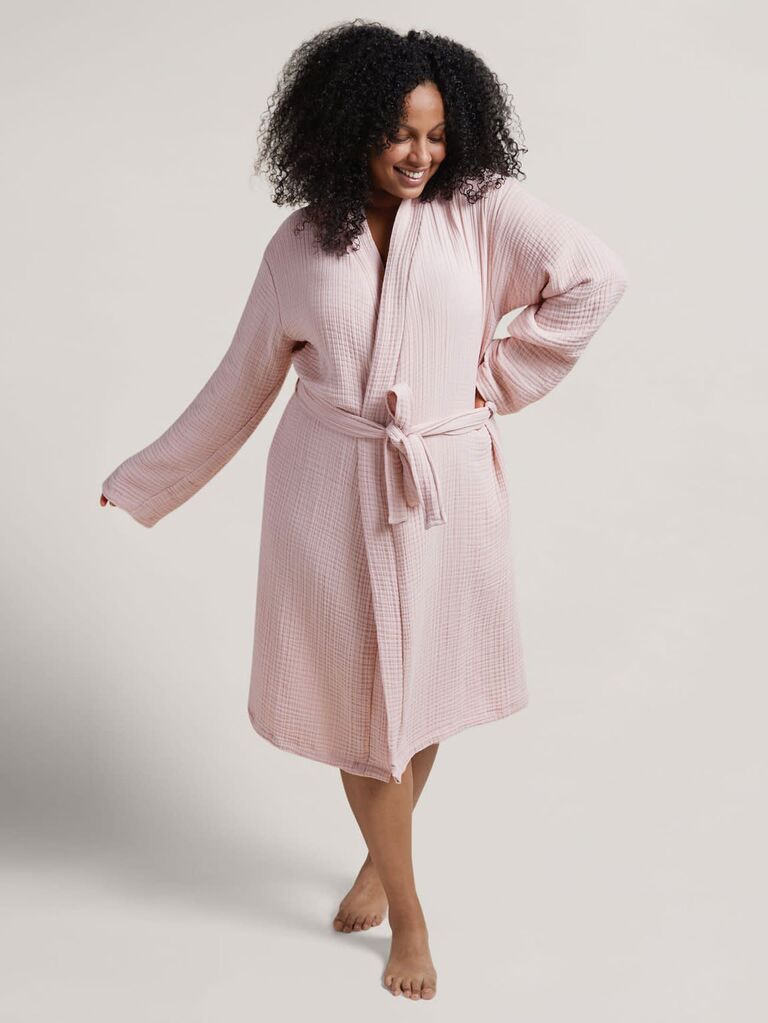 Is there a more perfect way to say, "Thanks for all you do—now go relax!"? We think not. Paired with a warm bubble bath, this cozy mother-of-the-bride gift will ensure Mom gets to unwind after (or before) the wedding. Made with 100% Turkish cotton for a relaxed, comfortable fit, it's a MOB gift she'll never want to take off.
3. Mother-of-the-Bride Necklace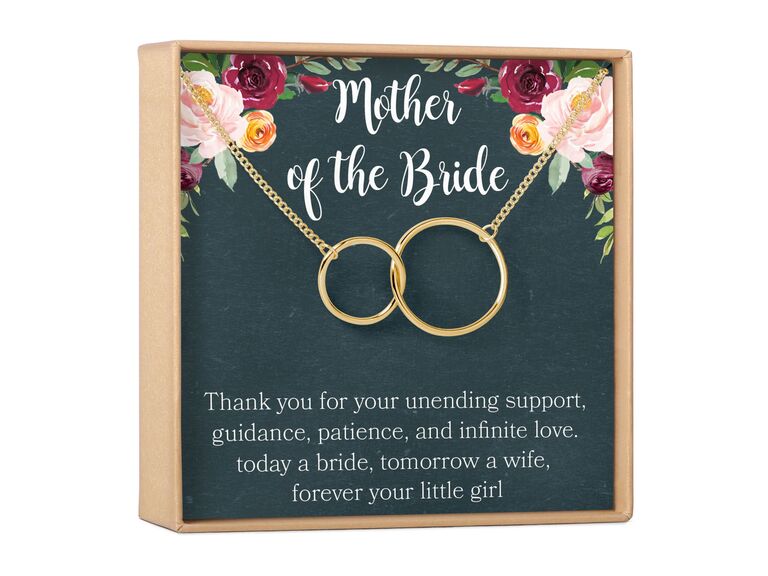 The interlocking circles on this necklace represent the unbreakable bond between a mother and her daughter, making this an exceptionally meaningful wedding gift for your mom. Available in gold, silver or rose gold, the heartfelt gift comes with a foil-stamped jewelry box, a blank card to write a special note and a velvet jewelry pouch.
4. Monthly Wine Subscription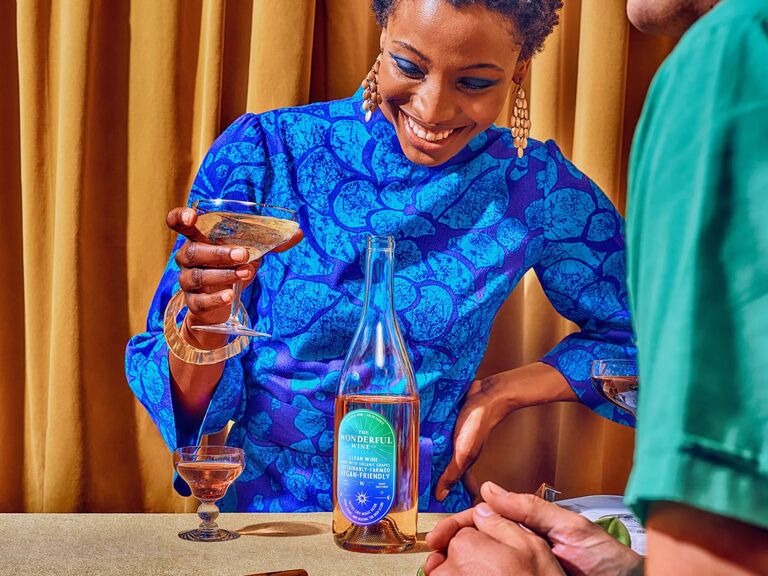 If your mom's a wine connoisseur, she'll look forward to receiving a delicious selection of wines—like merlot, chardonnay and rosé—straight to her doorstep. This $150 gift card from Winc provides three months of personalized wine deliveries (how convenient is that?). Plus, you can attach a personalized gift note for Mom that she'll receive digitally.
5. Fuzzy Faux-Fur Blanket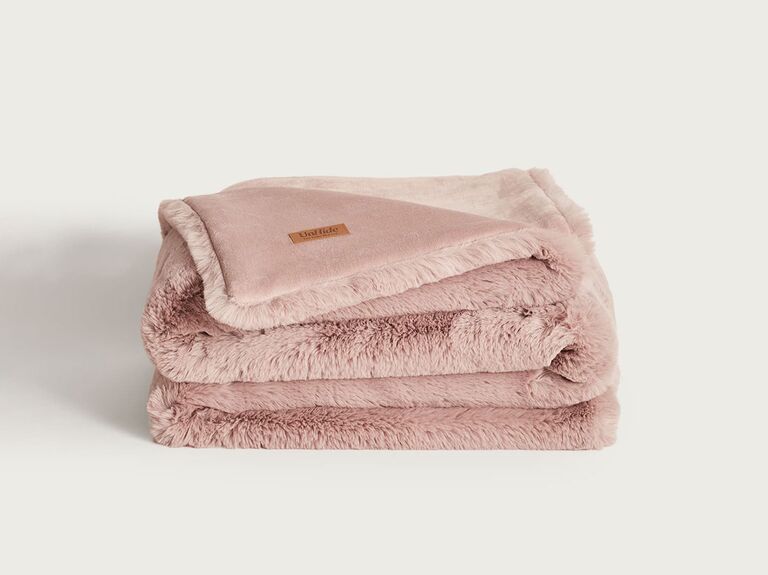 We've tested UnHide's vegan fur blankets and yes—they're incredibly soft. Mom will look forward to snuggling in the brand's popular Marshmallow blanket at all hours. It comes in six colors, including Beige Bear and Rosy Baby, and is lined with a velvety interior that's so worth the price tag.
6. Funny Wine Glass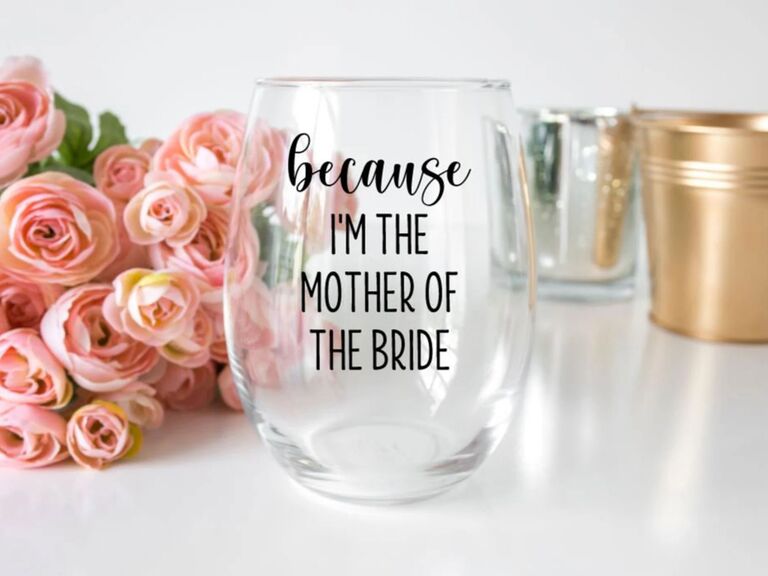 If Mom has a sense of humor, she'll appreciate the wit behind this "Because I'm the mother of the bride" wine glass. It's a perfect present to give at the rehearsal dinner (we know she'll want to show it off to the rest of the wedding party!). After all, she deserves special treatment after everything she's done for you.
7. Self-Care Subscription Box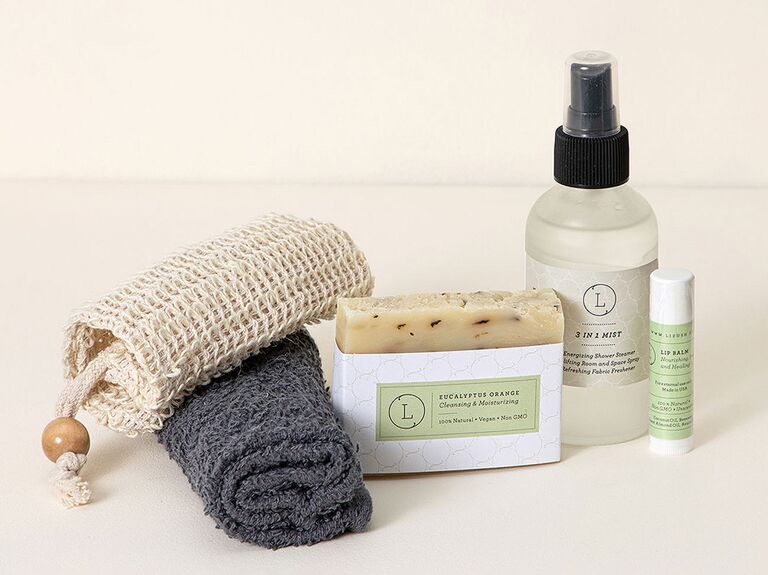 Relieve your mom of her mother-of-the-bride duties by giving her a three-month wellness subscription box—each one inspired by a different flower or plant with pampering properties. Every month, she'll receive an assortment of self-care essentials, from moisturizing bath bombs to soothing body oils. Enter: zen mom.
8. Mother-of-the-Bride Candle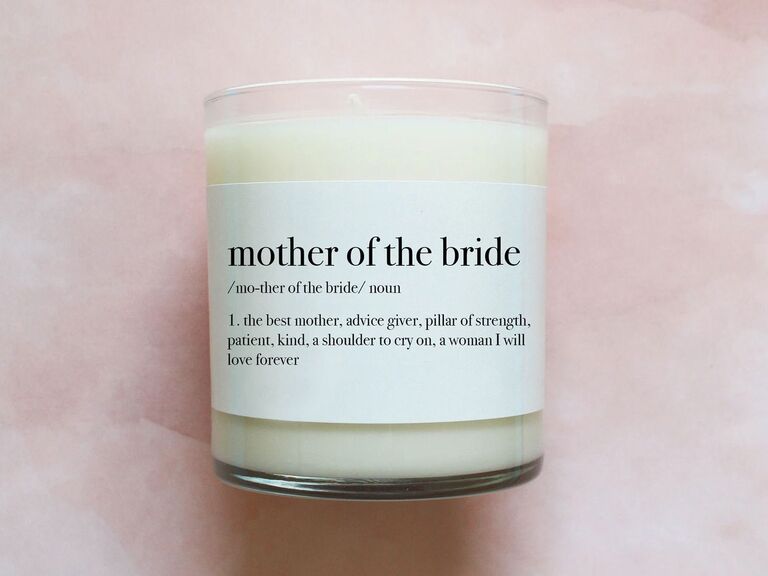 This unique mother-of-the-bride gift will give her flashbacks of your wedding day whenever she gets a whiff. Choose from an array of nostalgic wedding scents—options include Magnolia & Peony, Ocean Breeze and Wedding Cake. The best part? The candle displays a heartwarming message that'll always remind her of your love and appreciation.
9. Floral Perfume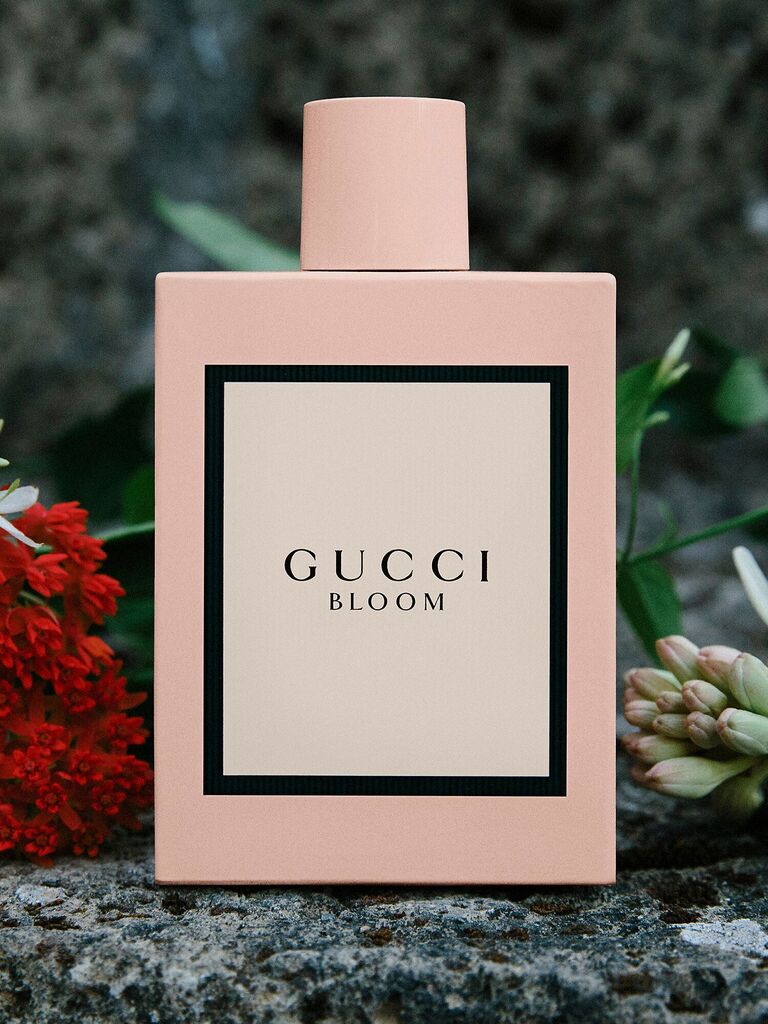 Here's a luxurious mother-of-the-bride gift to give while getting ready. This lovely fragrance from Gucci has notes of tuberose and jasmine, creating a rich white floral scent perfect for the wedding day. Mom will be thrilled to spritz this fancy fragrance.
10. Canvas Tote Bag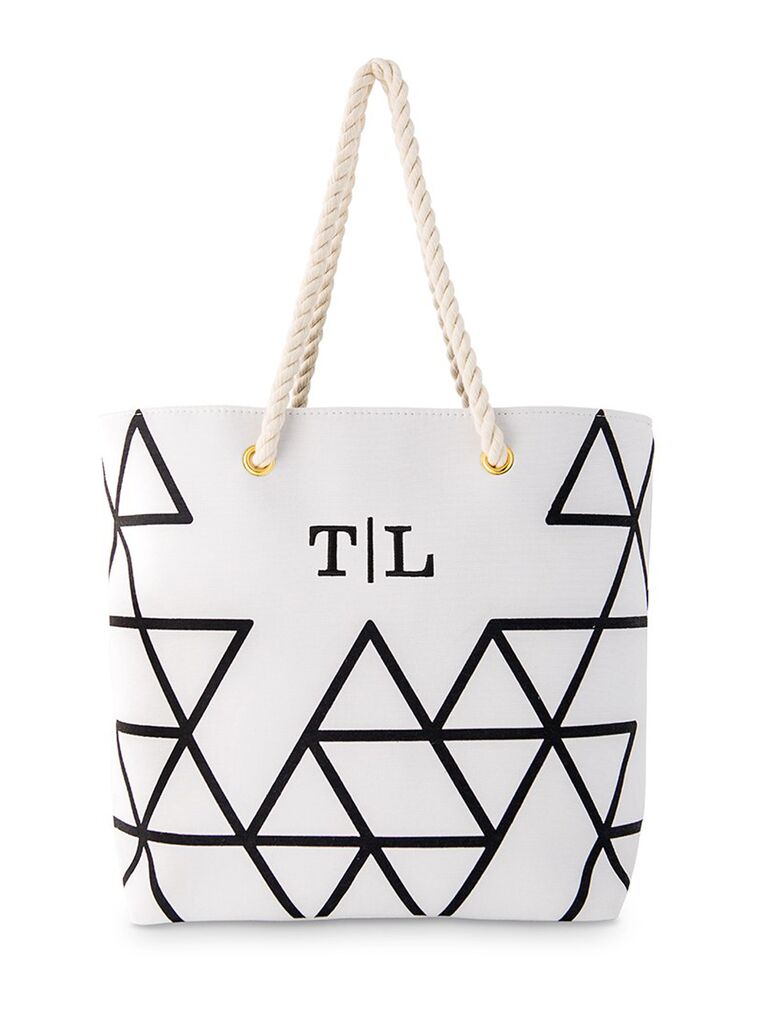 For a practical MOB gift for Mom, consider this chic canvas bag. She'll appreciate having a roomy tote to carry while she's running her daily errands. The fun geometric black and white design can be personalized with her initials in the thread color of your choice. She'll be a fashionable mom, that's for sure.
11. Champagne Chocolate Truffles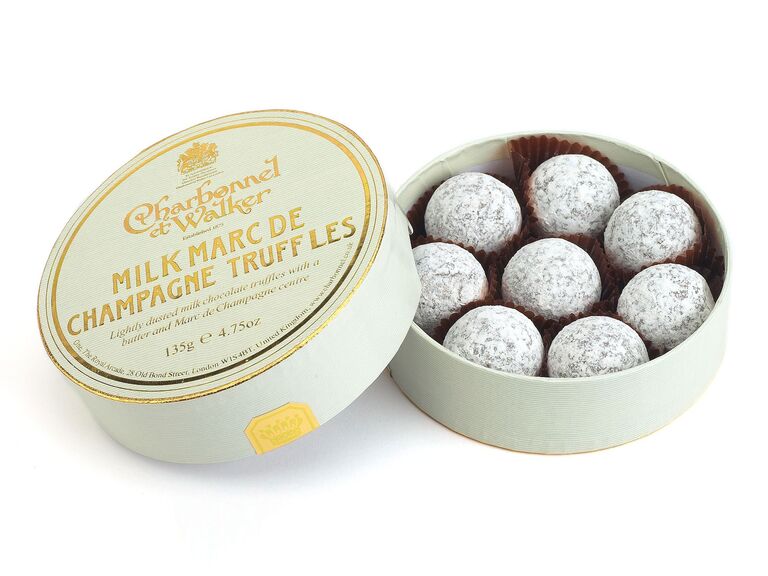 Gourmet chocolates are a great mother-of-the-bride gift for the mom with a sweet tooth. But instead of opting for the usual assortment, here's a celebratory batch in honor of your wedding. The fancy green box is filled with lightly dusted milk chocolate truffles filled with Marc de Champagne in the center—yum!
12. Personalized MOB Mug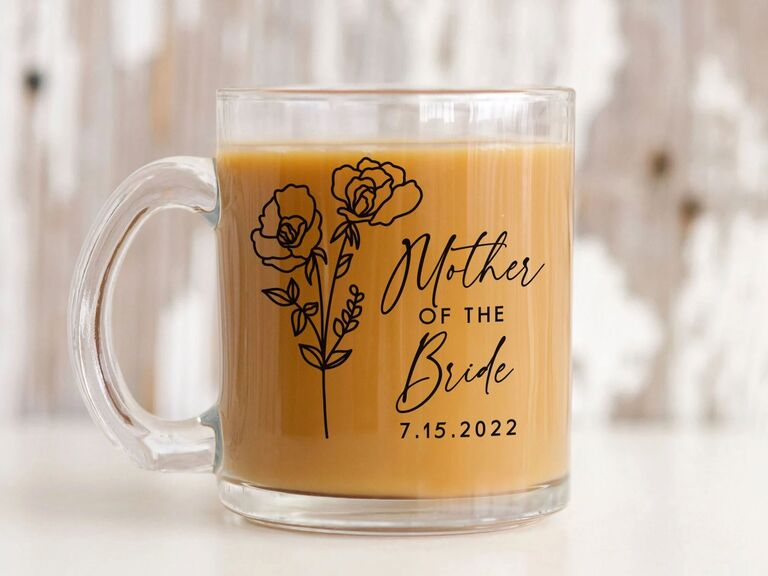 Treat her to this essential MOB gift—a personalized mug printed with your wedding date alongside a floral motif—during the morning of your wedding. It comes in an array of styles, from all glass to white ceramic. (Just make sure it's filled to the brim with must-have coffee or tea!)
13. Wedding Day Picture Frame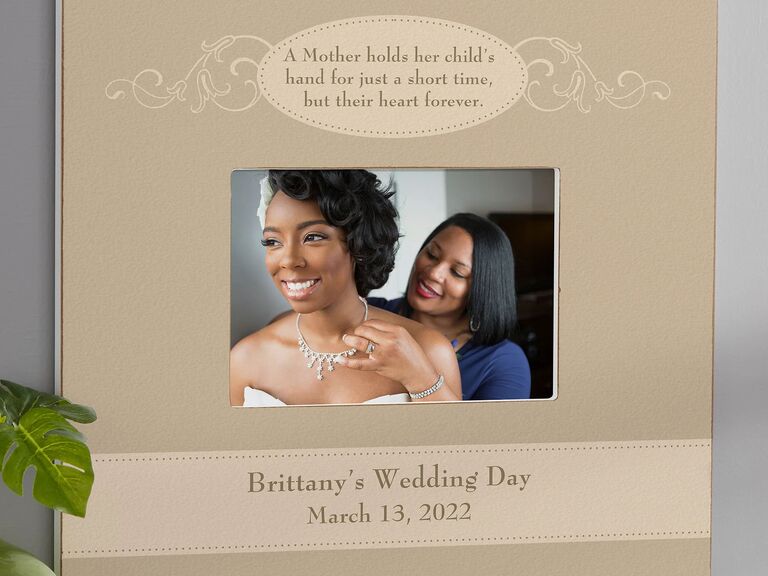 For a truly sentimental gift for the mother of the bride, this customized frame with a photo of you and your mom from your wedding day is a real tear-jerker. Choose your preferred size, then select your color—Blue, Sage or Tan. Finally, add two lines of customization dedicated to her. It's a thoughtful photo gift she'll gladly display in her home.
14. Mother-of-Pearl Earrings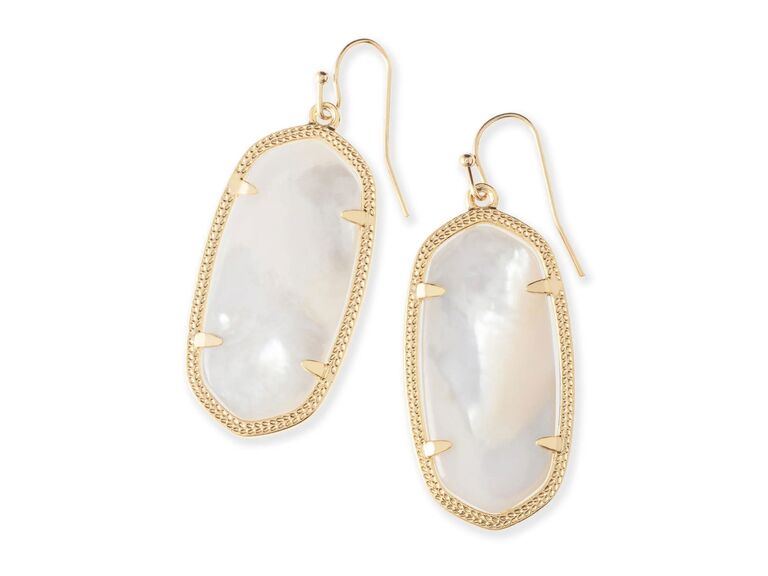 Earrings are another thoughtful gift for Mom on the wedding day. These iridescent ivory earrings, made from scratch-resistant mother-of-pearl, will beautifully accent her MOB dress. Plus, she'll save the earrings as a treasured keepsake long after your wedding day.
15. Wooden Keepsake Box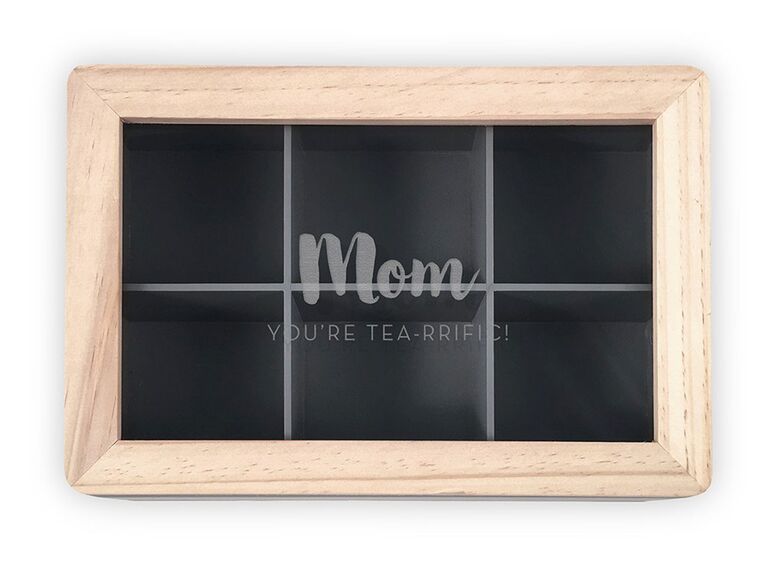 Want something sentimental and practical? This wooden keepsake box is the best of both worlds. With six internal compartments, it's great for storing anything from packaged tea to small jewelry. First, choose from a range of pretty designs, then add up to two lines of customization. It's a lovely gift for Mom on the wedding day from the bride.
16. Orchid Houseplant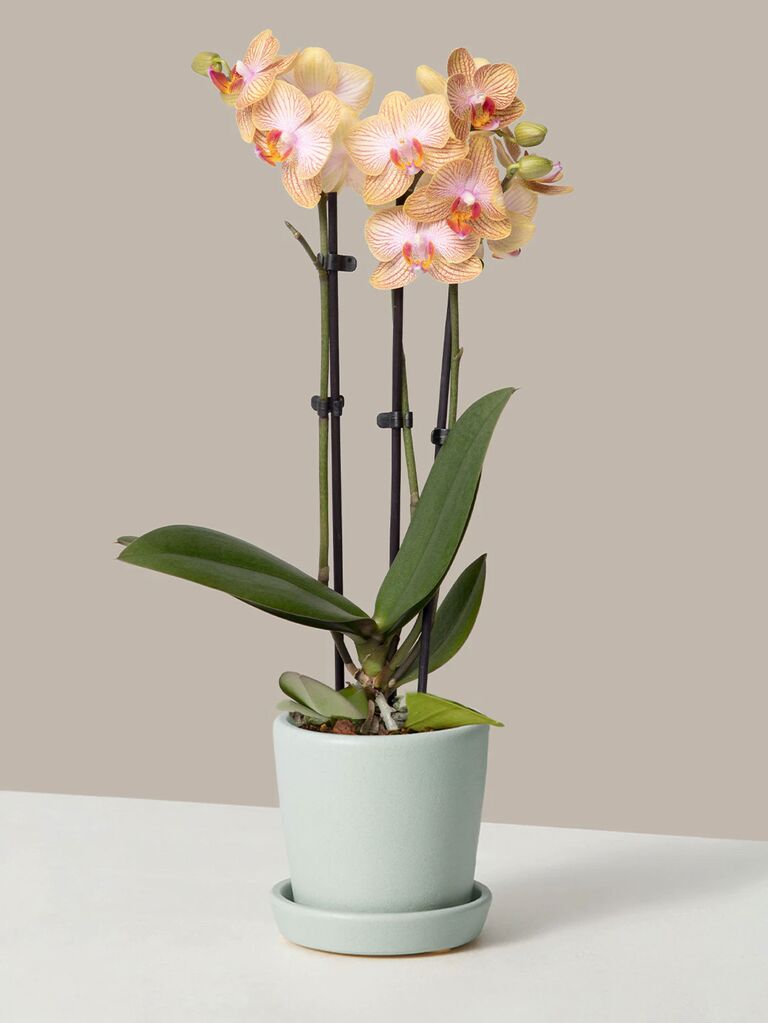 If your mom has a green thumb, she'll certainly welcome a new addition to her houseplant collection. This petite Phalaenopsis orchid—which blooms about once a year for up to three months—has the most beautiful sunset-hued flowers. Choose from three different planters—Blush, Cream or Mint—for an extra pop of color.
17. Luxurious Pajama Set
Silk pajamas are the epitome of luxe loungewear. This lavish set—made from a washable silk fabric—will send a clear "thanks for everything you do" to the mother of the bride. She'll look forward to lounging in this cozy present during your wedding weekend and long after. (And as a gift from us to you: New Lunya customers can earn $20 off their first order of $100 or more with the code FOR-TK20.)
18. Colorful Bouquet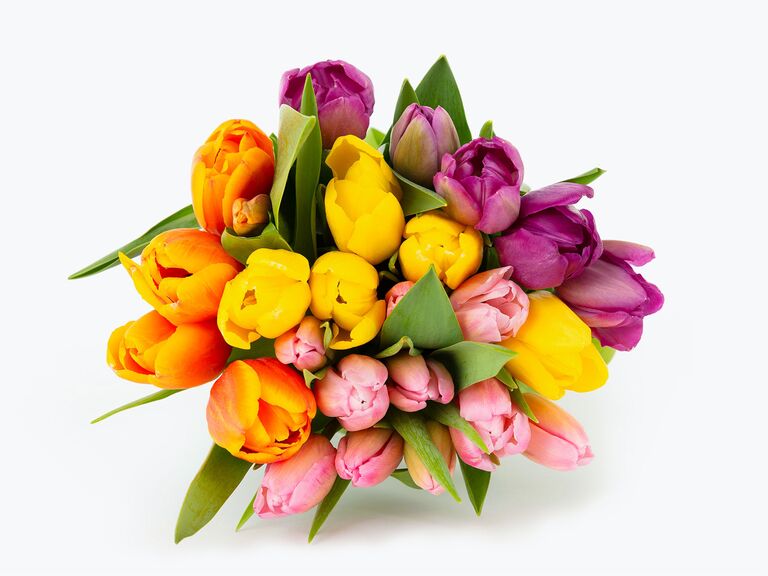 Nothing says "thank you" like a beautiful arrangement of florals, making it one of the best gifts for the mother of the bride. This bountiful bouquet of multicolored tulips is ideal for any spring-loving mom. Want to give her flowers on a consistent basis? Sign her up for a monthly or weekly subscription to keep the love going!
19. Heart-Shaped Ring Dish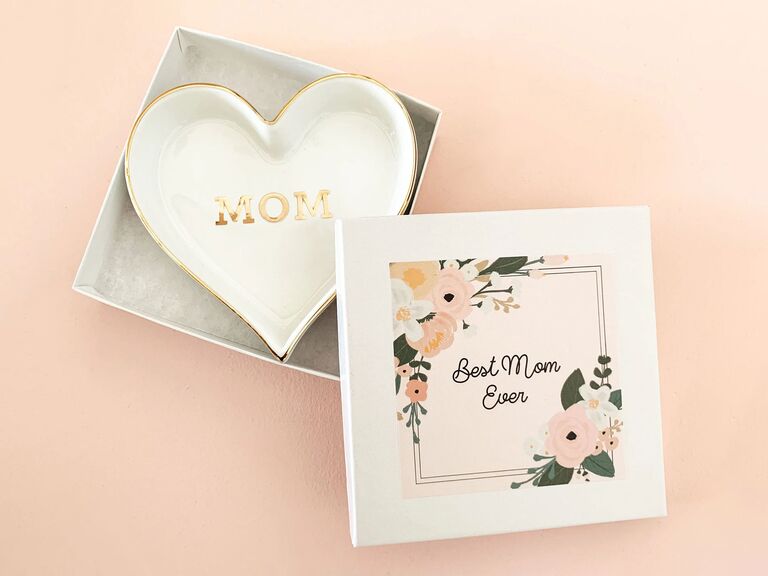 Keep her rings safe and sound with this sentimental MOB ring dish paired with a "Best Mom Ever" gift box. The heart-shaped porcelain piece has a gold rim with "Mom" printed in the center in a pretty metallic type. It'll make a beautiful addition to her home decor, and she'll think of you every time she uses it.
20. Herbal Warming Slippers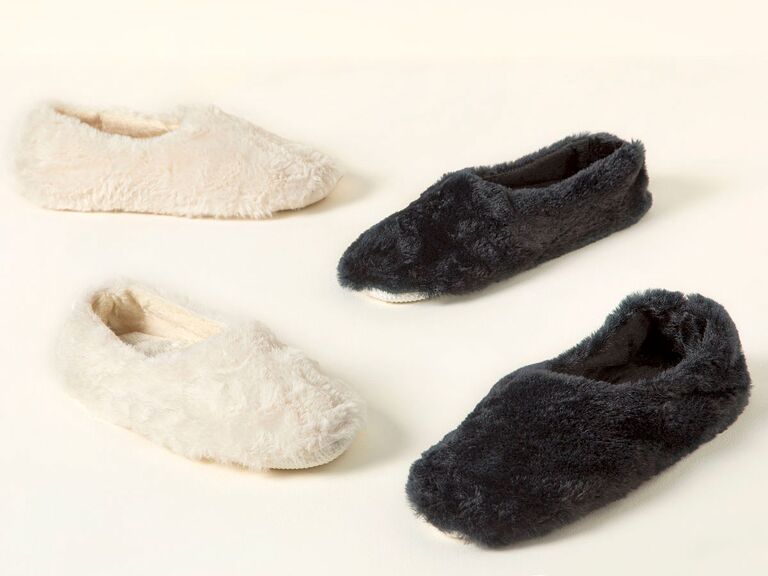 These fuzzy ballerina slippers have a hidden surprise inside. The removable insoles are scented with lavender and filled with thermally conductive flax seeds. She can pop them in the microwave for toasty toes or throw them in the fridge to cool down her feet. How heavenly.
21. Embroidered Handkerchief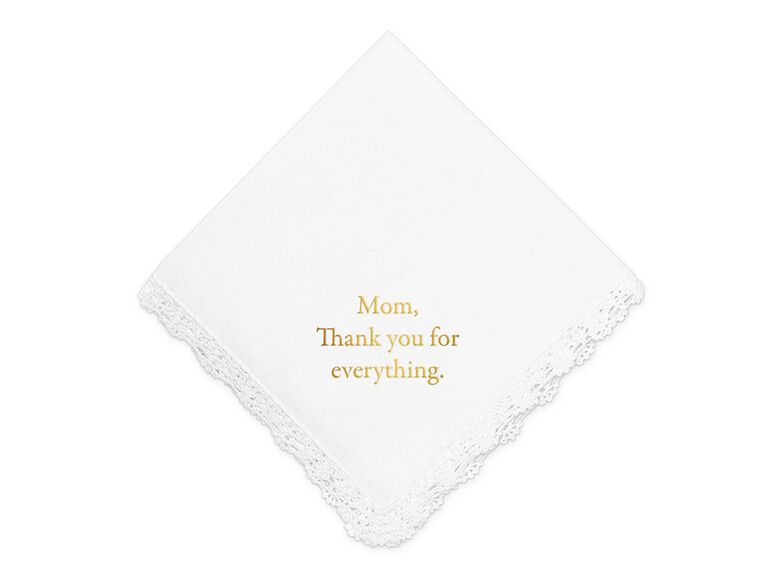 On your wedding day, waterworks are practically guaranteed—especially from your mother. Give her a pretty crocheted wedding hankie—and, for maximum sentimentality, have the gift customized with her name or monogram and your wedding date in the thread color of your choice.
22. Custom Photo Calendar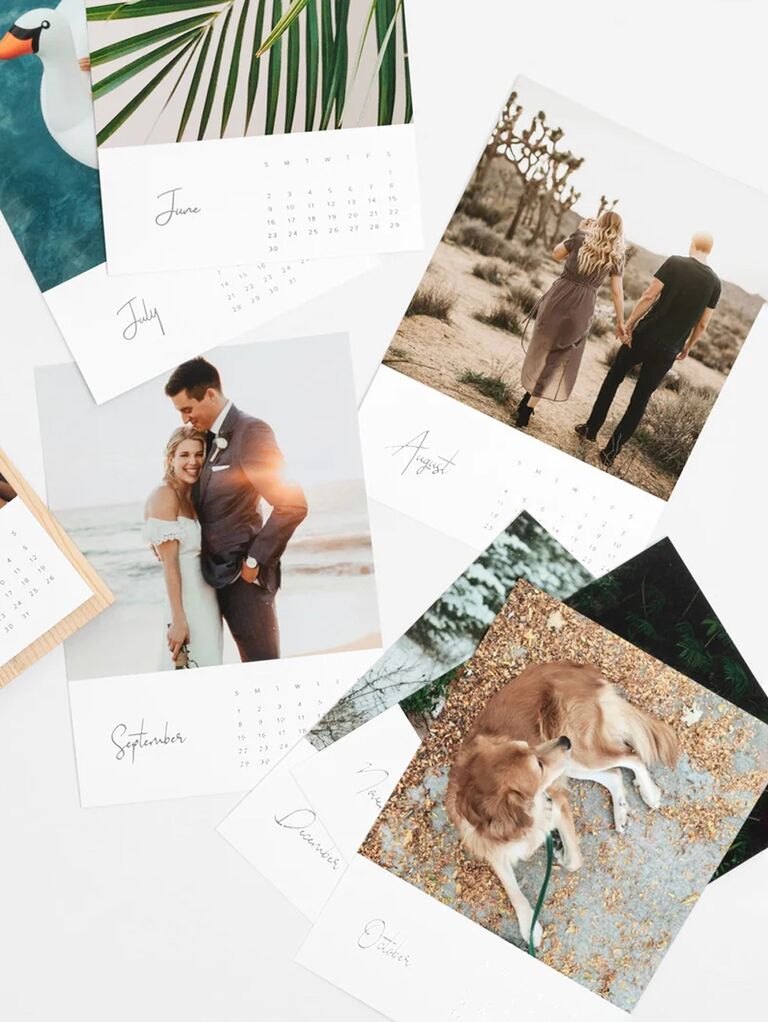 Elevate her home office with a curated selection of 12 of your favorite mother-daughter photos taken over the years. Choose your script design (which includes optional foil printing) and your starting month. The result is a beautifully crafted clipboard calendar complete with a silver-coated clip and peg stand.
23. Velvet Makeup Bag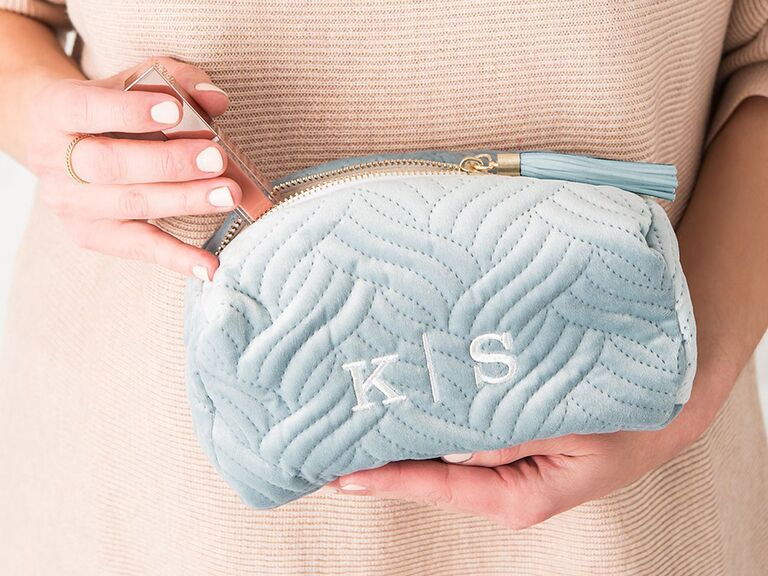 No doubt your mom will be busy the day of. Help her stay organized—and on-trend—with a stylish makeup bag that can be customized with her initials. Choose from six velvety shades, including Spa Blue and Blush Pink. Most importantly, she'll get a lot of use out of the makeup bag after your big day.
24. Mother and Daughter Letter Book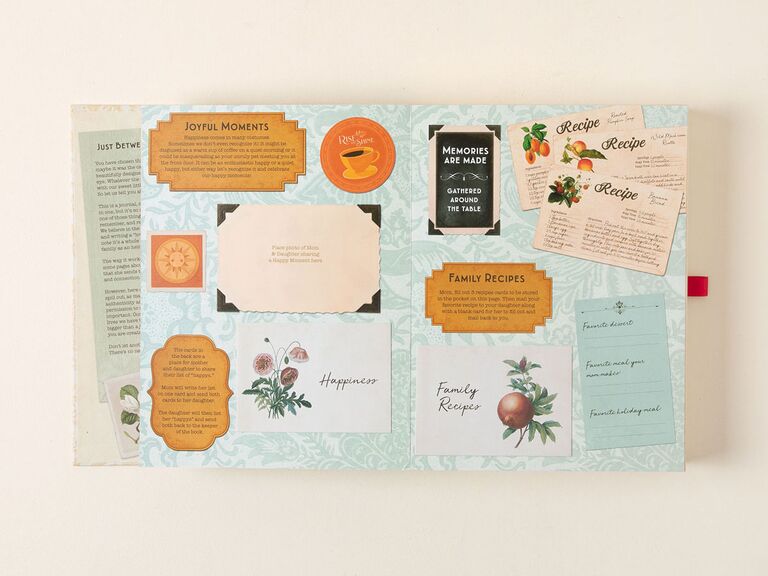 For a truly one-of-a-kind wedding gift for Mom, this interactive book is a journal, letter exchange and scrapbook all in one. The book helps mothers and daughters bond through prompts, photos and inspirational quotes. It's bound to transform into a meaningful keepsake your family will treasure forever.
25. Stylish Passport Holder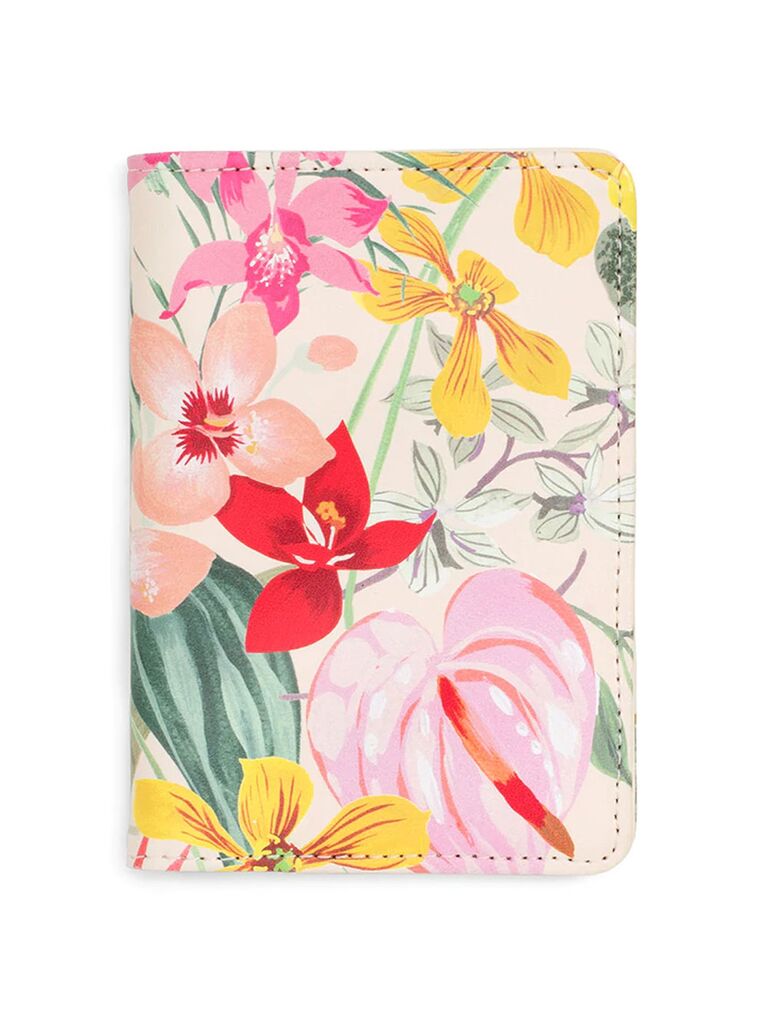 If your mom is the jet-setting type, a cute leather passport holder is just the ticket. (And it's an especially thoughtful mother-of-the-bride gift if she had to travel to your destination wedding!) This one has three card slots and a colorful floral print she'll want to show off at the airport.
26. Custom Compact Mirror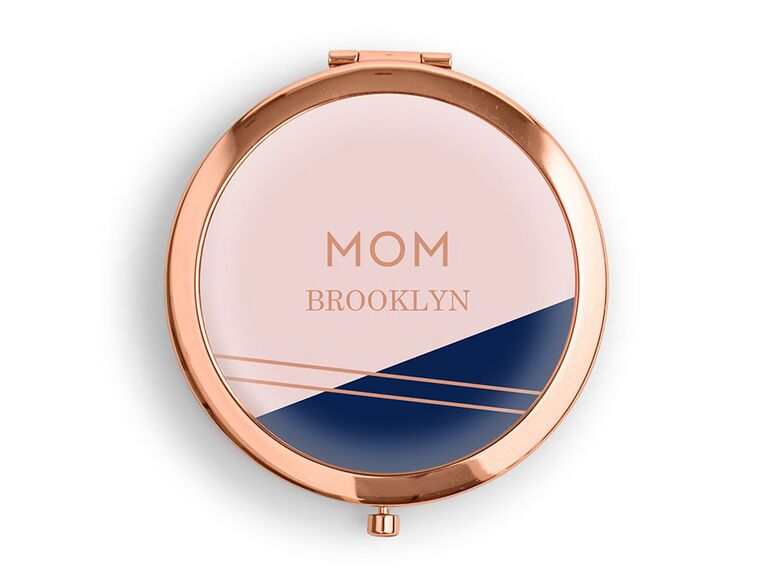 Pair this sweet little purse accessory with her favorite lipstick or nail polish for a thoughtful beauty gift she'll use for years to come. (Hey, your mom wants to look good for the wedding too!) Add two lines of personalization to the vinyl sticker to make it MOB-ready. For an additional cost, you can even engrave the back with two more lines of special text.
27. Sweeter Chocolate Card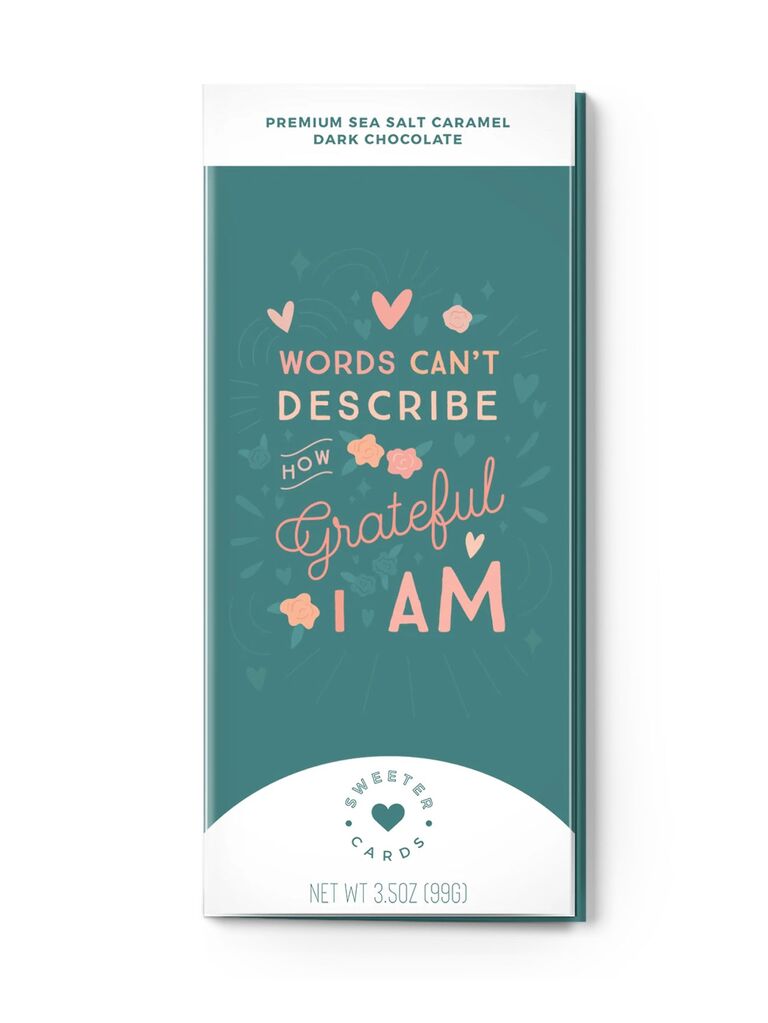 At first glance, you can't tell that this tasty candy doubles as a sentimental thank-you card. The front features the saying, "Words Can't Describe How Grateful I Am"—perfect for the MOB who has stuck by your side through it all. Inside the card, you'll find caramel dark chocolate topped with Mediterranean sea salt, along with your handwritten message.
28. Wildflower Etched Cutting Board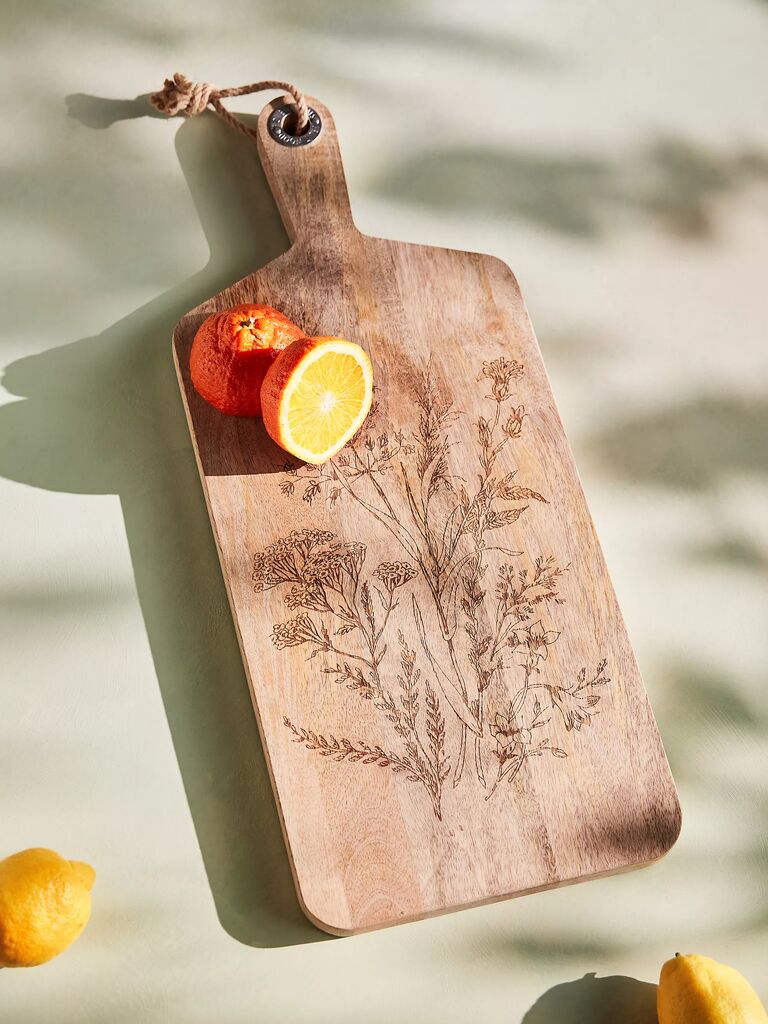 If your mom's a gastronome, this wooden serving board is both practical and unique, thanks to the beautifully carved wildflower design. Take it a step further and make it part of a larger food lover's gift with a gourmet assortment of artisan cheese and crackers.