39 Unique and Memorable Gifts for the Mother of the Bride
Looking for a special mother of the bride gift that's as unique as she is? We searched far and wide so you don't have to.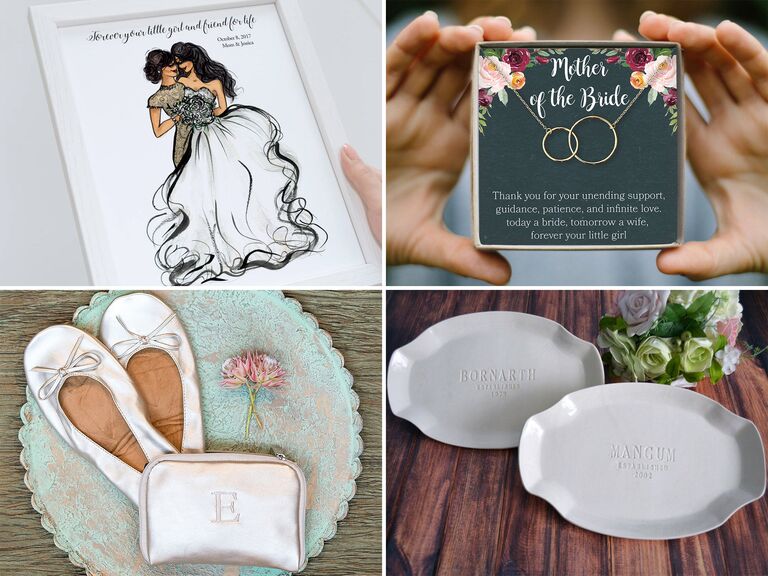 We have included third party products to help you navigate and enjoy life's biggest moments. Purchases made through links on this page may earn us a commission.
For as long as you've been dreaming of your wedding day, there's a good chance your mom has been dreaming of it too. After all, it's not every day she gets to see her daughter walk down the aisle. Thank her for her guidance, support and love with a gift that rises to the occasion. We've rounded up over three dozen mother of the bride gift ideas that range from the sweet and sentimental to the unique but practical. And if you're her future child-in-law or even just the friend of someone whose daughter is getting married, these thoughtful presents are a great way to show your love and support in those scenarios too.
Weekender Bag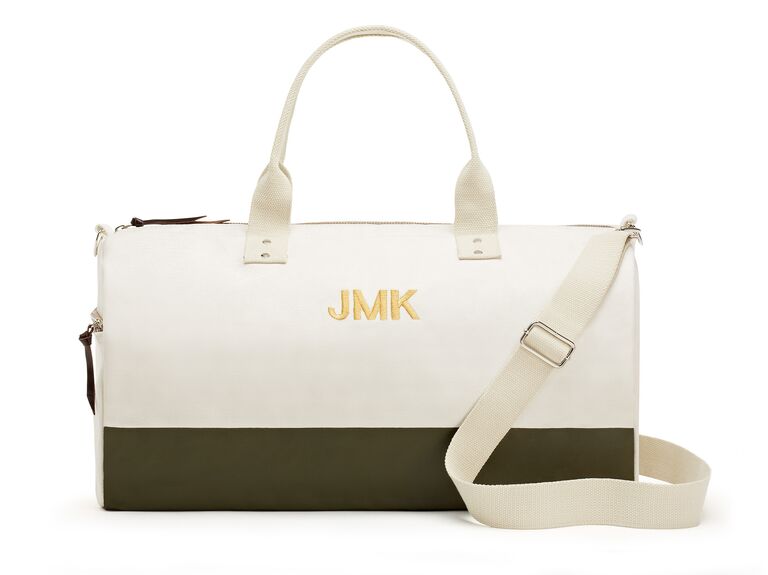 If your mom played an integral part in helping you plan your wedding, encourage her to take a much-needed postnuptial vacation with a roomy canvas bag, perfect for a quick weekend getaway.
The Knot Shop large personalized weekender cotton canvas fabric tote bag, from $30, TheKnotShop.com

Cozy Robe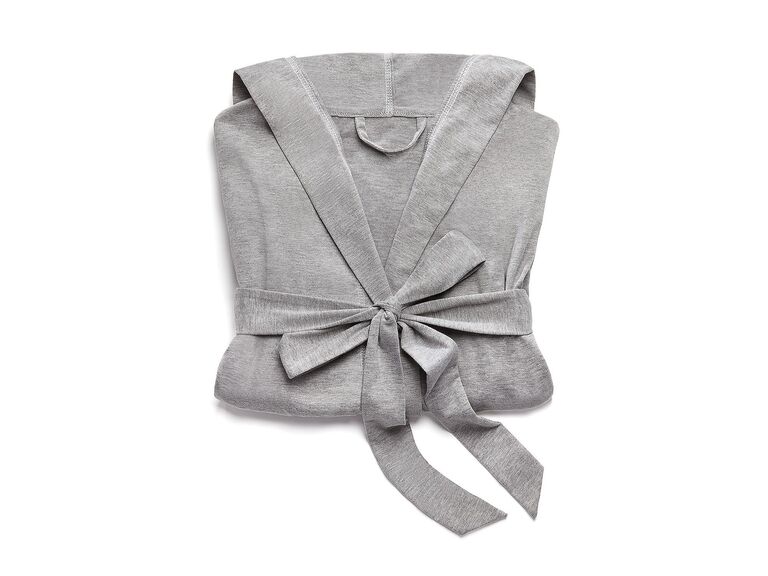 Is there a more perfect way to say, "Thanks for all you do—now go relax!"? We think not.
The Knot Shop women's grey hooded spa & bath robe, $30, TheKnotShop.com
Custom Illustration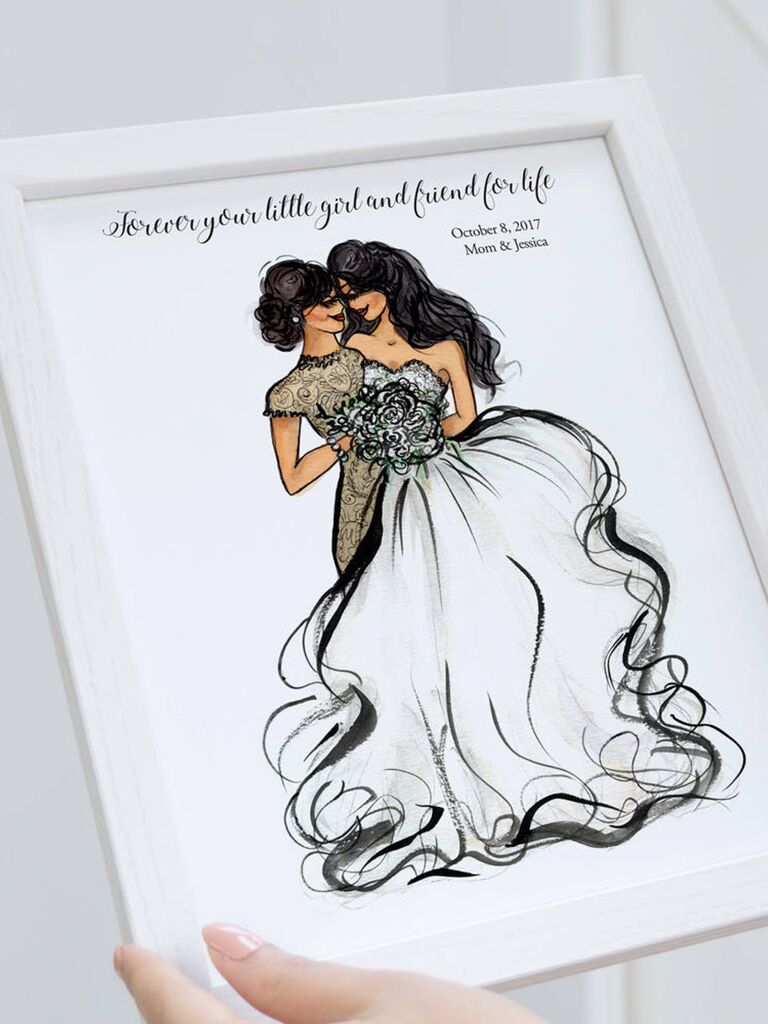 Custom gifts are the way to go for brides seeking something that says a heartfelt "thank you." Memorialize your special mom-daughter bond with a personalized illustration of your likenesses.
Ssasa Designs mother of the bride gift from daughter personalized art print, from $50, Etsy.com
Beauty Compact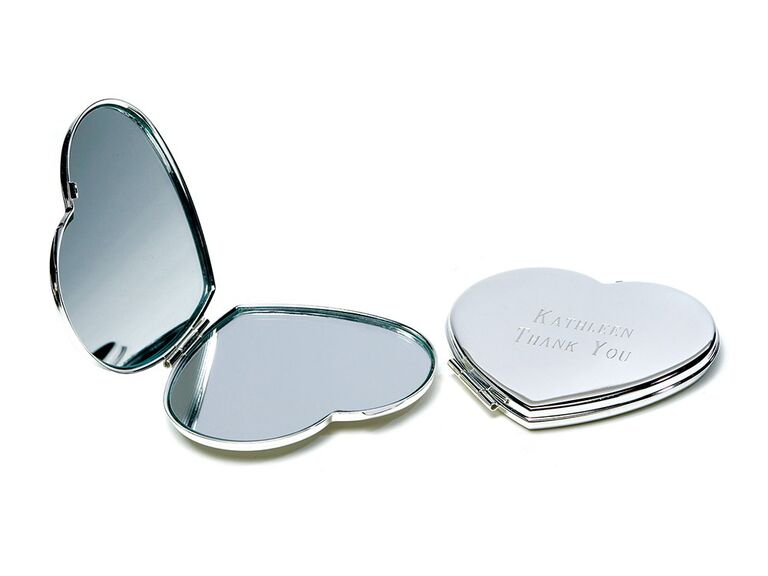 Pair this sweet little purse accessory with her favorite lipstick or nail polish for a thoughtful beauty gift she'll use for years to come. (Hey, your mom wants to look good for the wedding too!)
The Knot Shop personalized engraved bridal party compact mirror in Heart, $18 with personalization, TheKnotShop.com
Personalized Handkerchief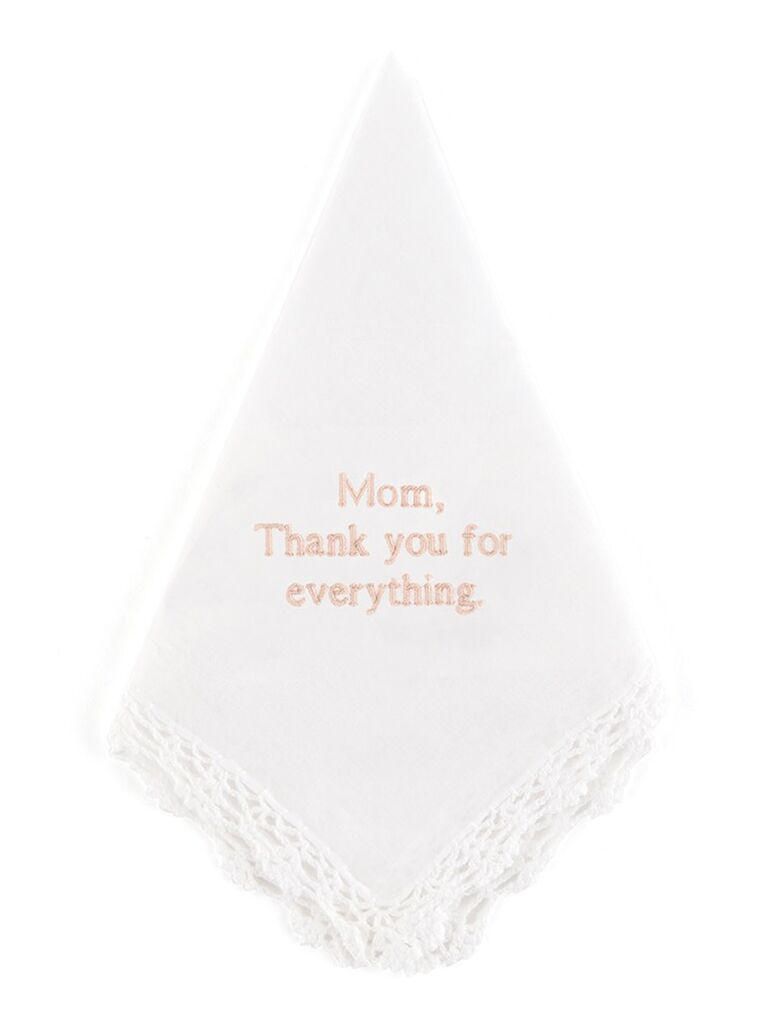 On your wedding day, waterworks are practically guaranteed—especially from your mother. Give her a pretty crocheted hankie and, for maximum sentimentality, have the gift customized with embroidered names, dates or a monogram.
The Knot Shop personalized embroidered white pocket handkerchief in Crochet, from $16, TheKnotShop.com

Wine Caddy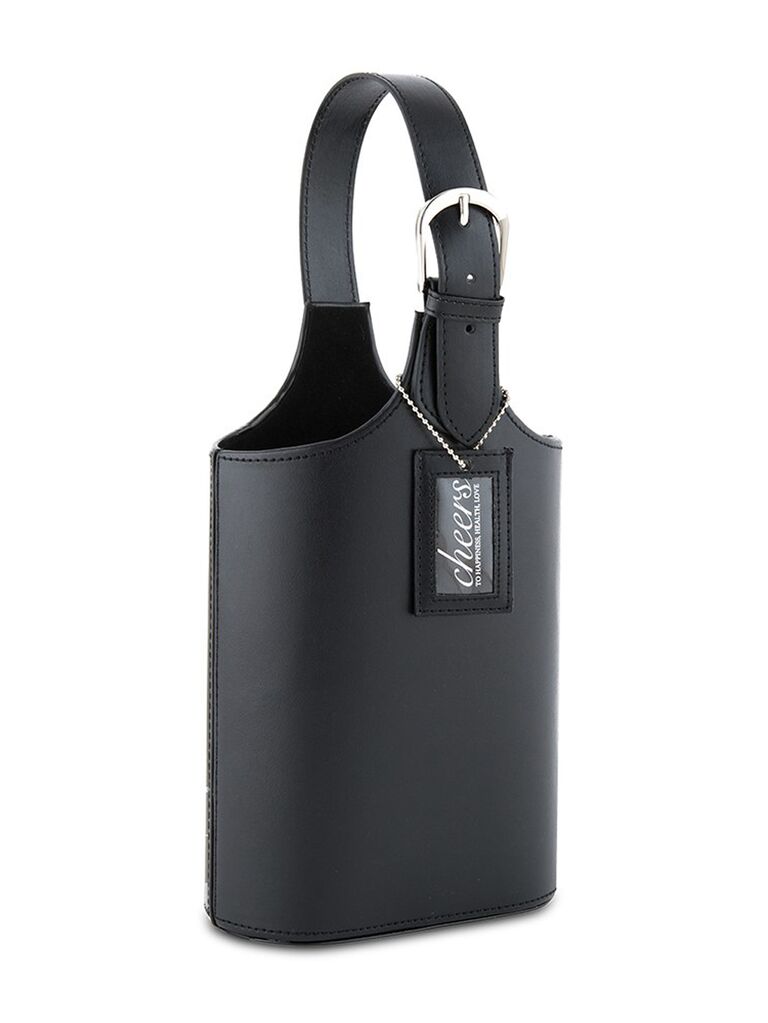 If your mom is a fan of the phrase "it's five o'clock somewhere," give her this chic two-bottle caddy and fill it with her favorite vintages. Nothing says "thank you" like wine, and nothing says "I love you" like two bottles of wine.
The Knot Shop 2 section wine carry bag, $20, TheKnotShop.com

Spa Experience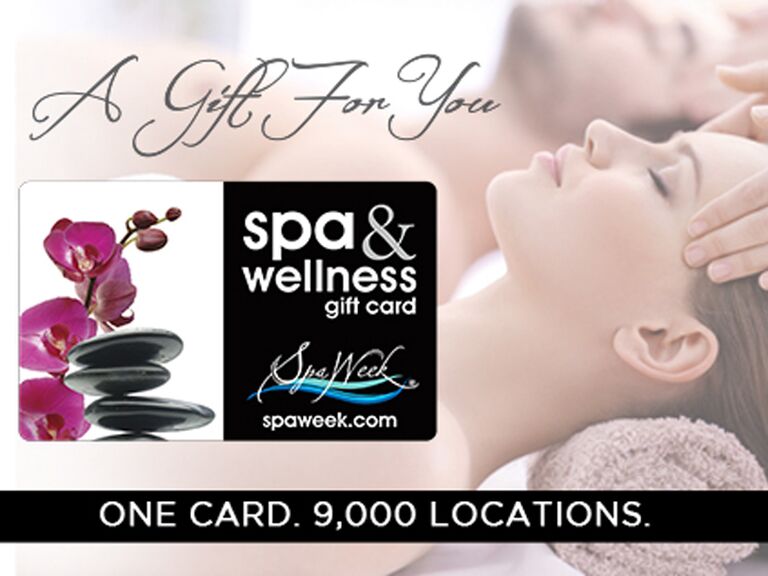 Relieve your mom from her mother of the bride duties by giving her the gift of relaxation. With more than 9,000 Spa Week locations nationwide, there's almost certainly a place she can redeem this gift card near her.
Spa Week gift card, from $25, SpaWeek.com

Special Locket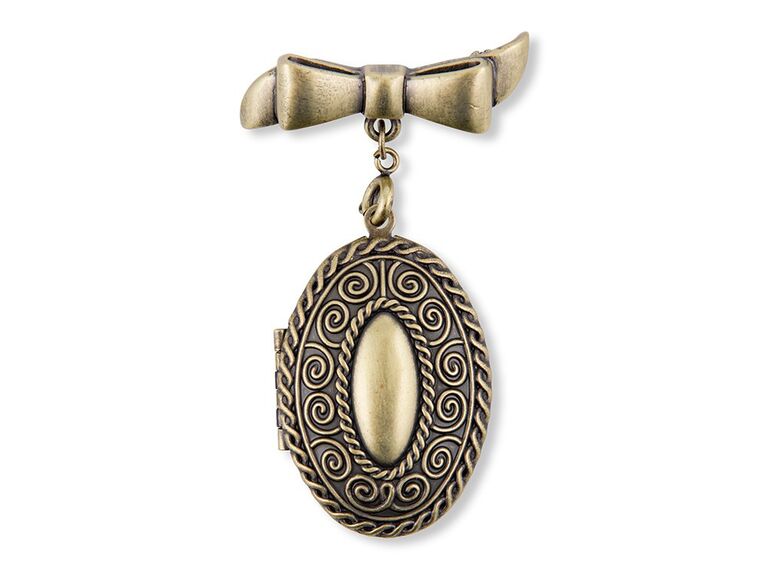 Tuck in a little note or vintage photos of loved ones for a sentimental gift she'll treasure forever.
The Knot Shop personalized vintage gold locket necklace, from $20, TheKnotShop.com

Heart Necklace
Send the mother of the bride a clear message of love with a statement heart necklace. This dazzling gold-plated gift will have the groom in her good books in no time.
BaubleBar Cintia heart pendant necklace, $58, BaubleBar.com

Passport Case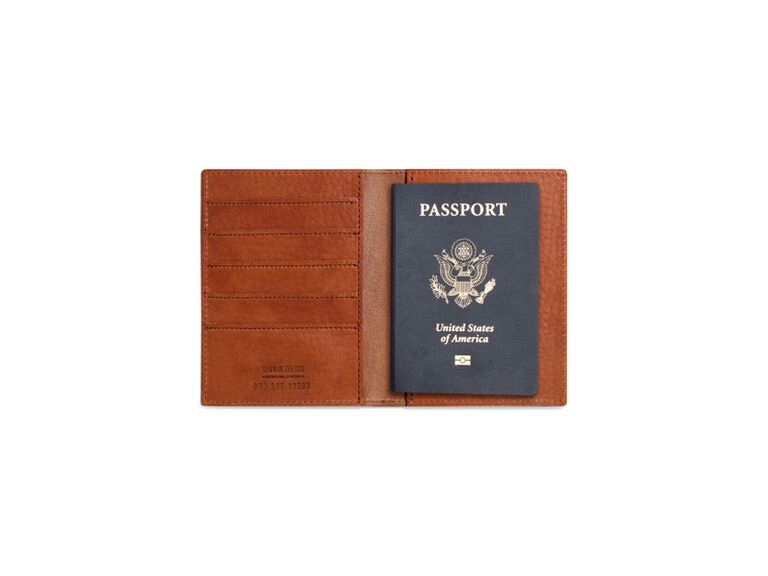 If your mom (or your partner's mom) is the jet-setting type, a luxurious leather passport holder is just the ticket. And it's an especially thoughtful mother of the bride gift if she had to travel for the wedding!
Shinola leather passport wallet, $150, SaksFifthAvenue.com

Meaningful Figurine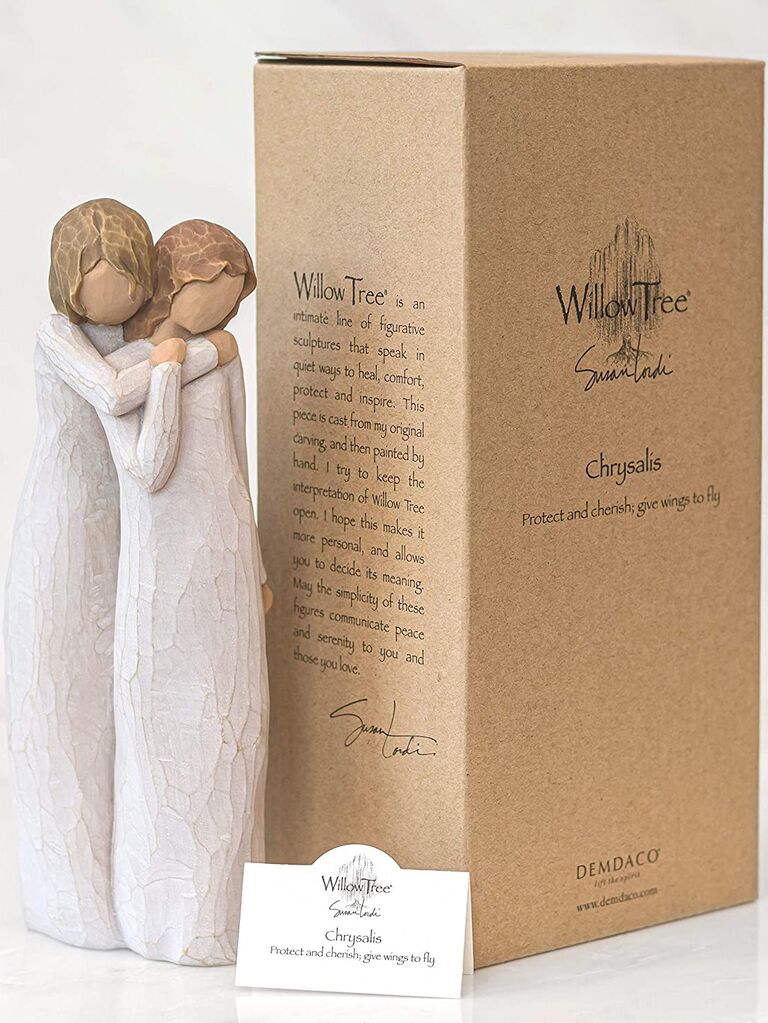 This hand-carved, hand-painted figurine is the epitome of sweet sentiment. It represents the unique friendship between a mother and her daughter.
Willow Tree Chrysalis sculpted hand-painted figure, $42, Amazon.com

Scent Diffuser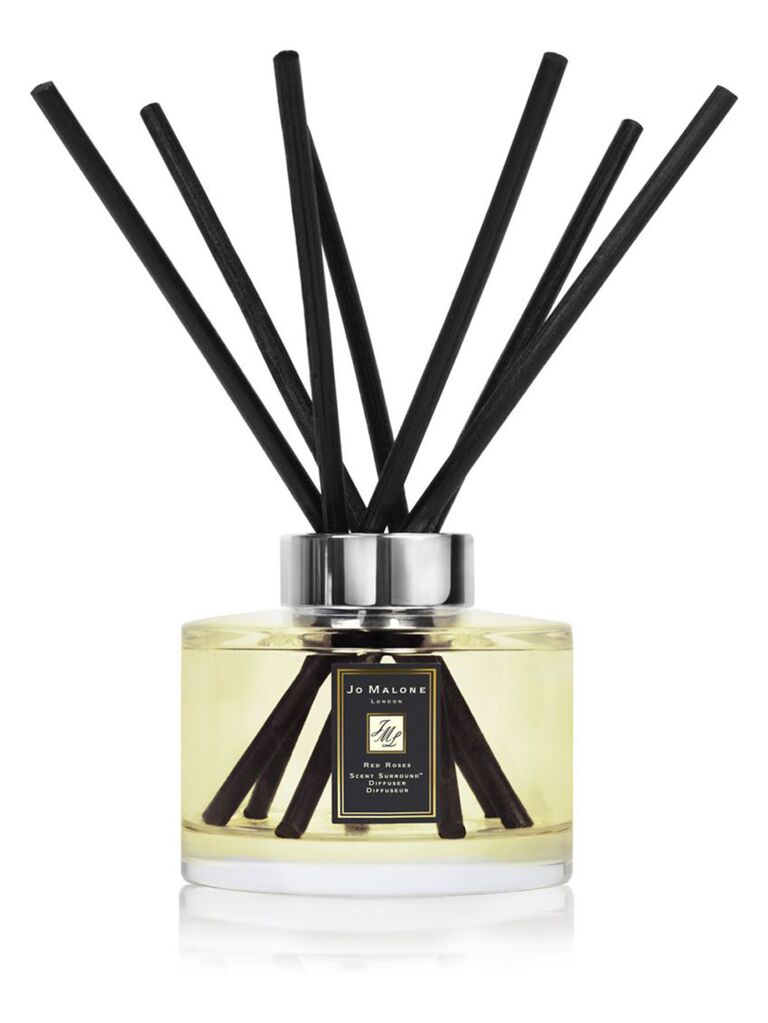 This unique mother of the bride gift will give her flashbacks of your wedding flowers whenever she gets a whiff of the pampering floral scent.
Jo Malone London Red Roses Scent Surround diffuser, $98, SaksFifthAvenue.com

Metal Art Print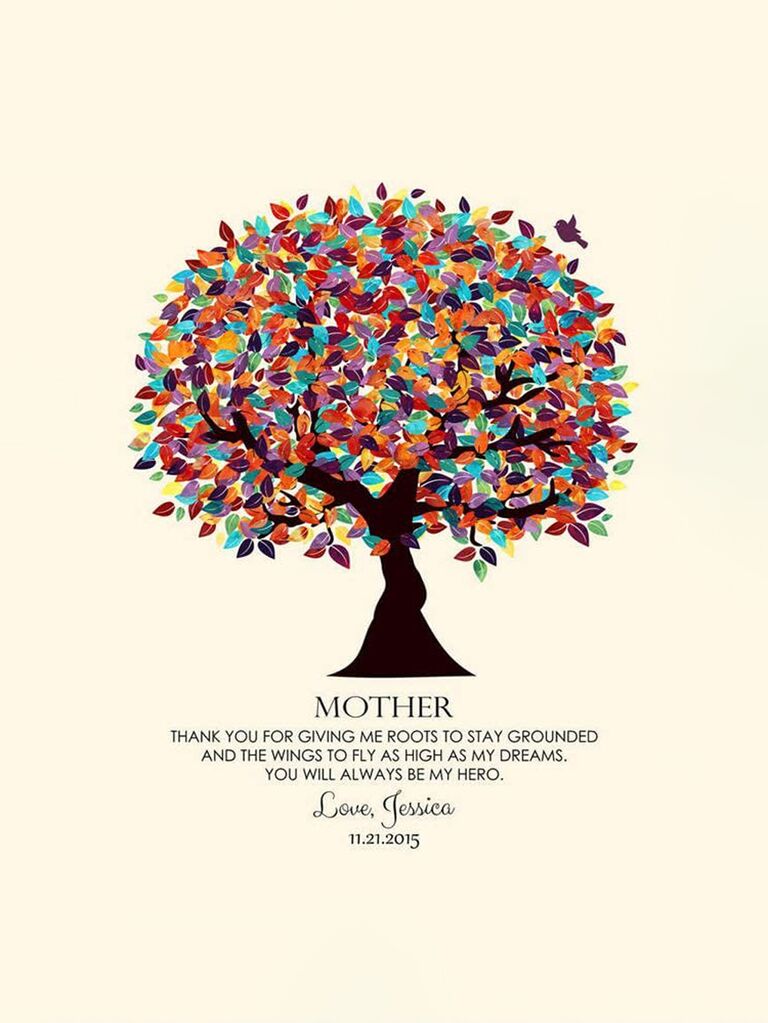 With a delightful illustration and a touching message, there's not a mom on the planet who wouldn't love to receive this customizable print from her daughter.
Paper Metal Canvas & Co. metal print gift for mother, $89, Amazon.com

Plush Blanket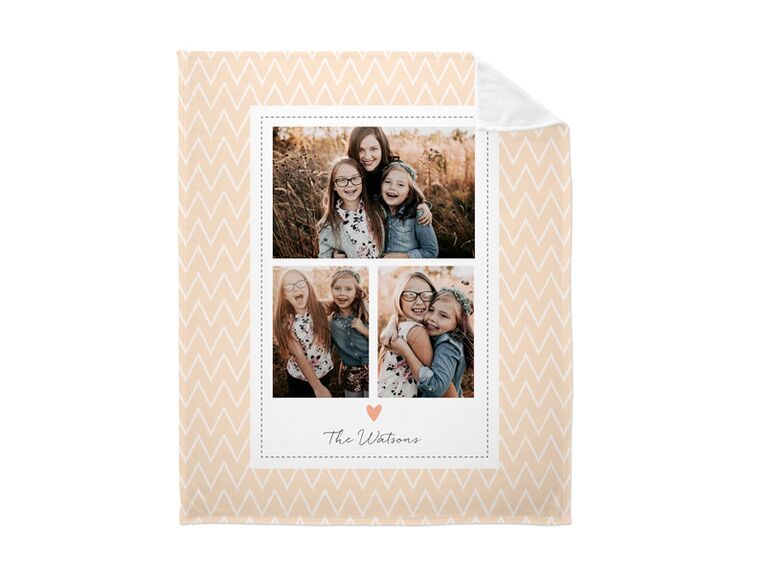 With a subtle chevron pattern, this cozy fleece blanket is stylish on its own, but it can also be customized with a favorite quote or photo if you want to make it personal.
Shutterfly chevron ikat collage fleece photo blanket, from $60, Shutterfly.com

Fancy French Press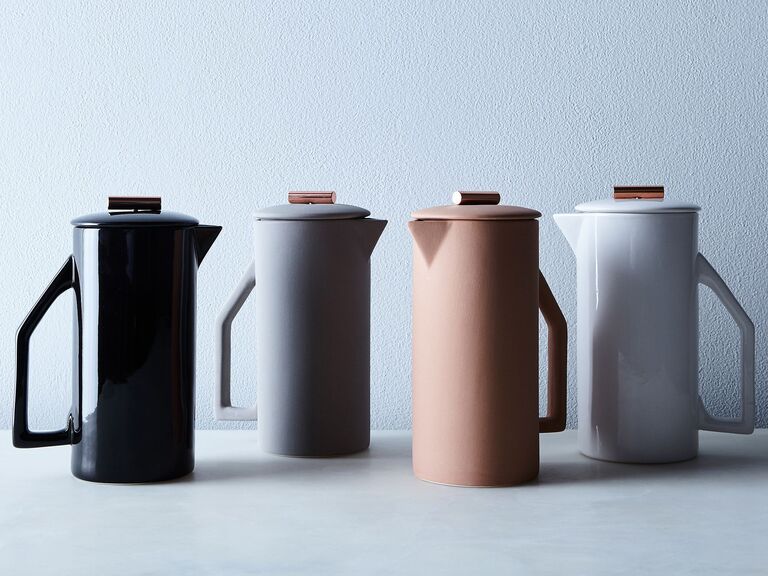 Got a coffee lover on your hands? Present Mom with this beautiful French press and make all her Parisian café dreams come true. Now that's a luxury mother of the bride gift!
YIELD ceramic French press, $120, Food52.com

Mother-Daughter Necklace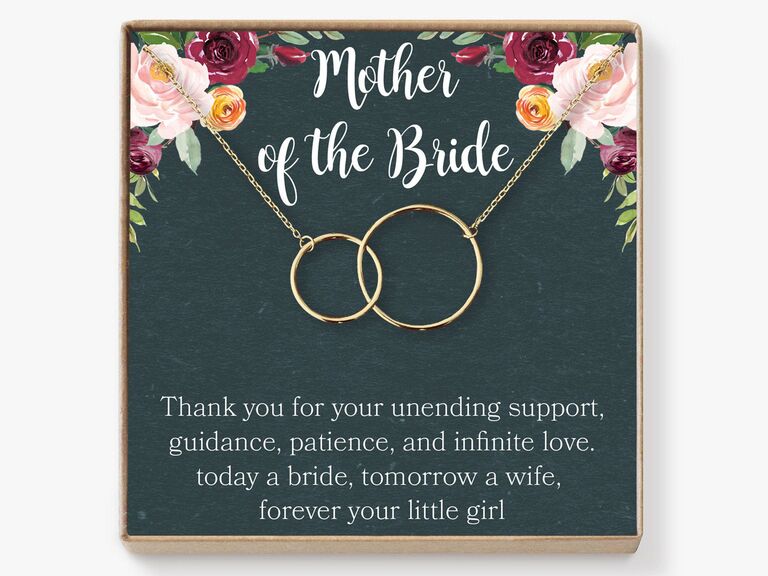 The interlocking circles represent the unbreakable bond between a mother and her daughter, making this an especially meaningful mother of the bride jewelry gift.
Dear Ava Gifts mother of the bride gift necklace, $38, Etsy.com

Commemorative Platter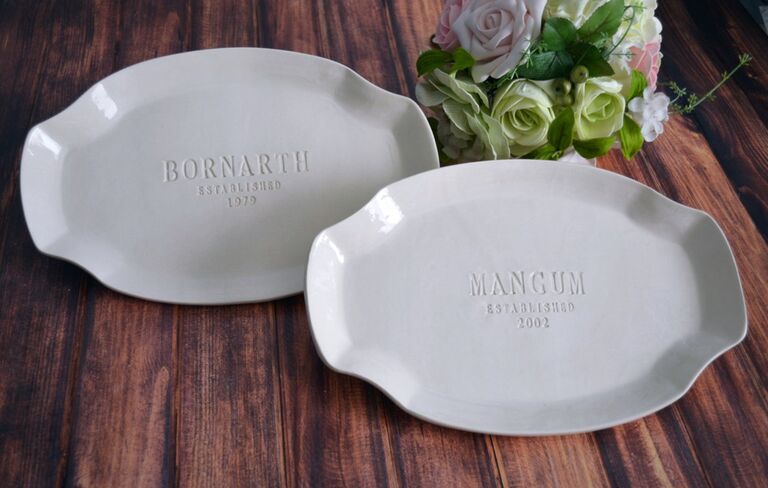 Yes, it's your wedding, but you wouldn't be here without your parents' union. Mark it as such with a handmade earthenware serving platter, complete with their own wedding date.
Susabella personalized platters thank you gift for parents, $170 for set of 2, Etsy.com

Wine of the Month Club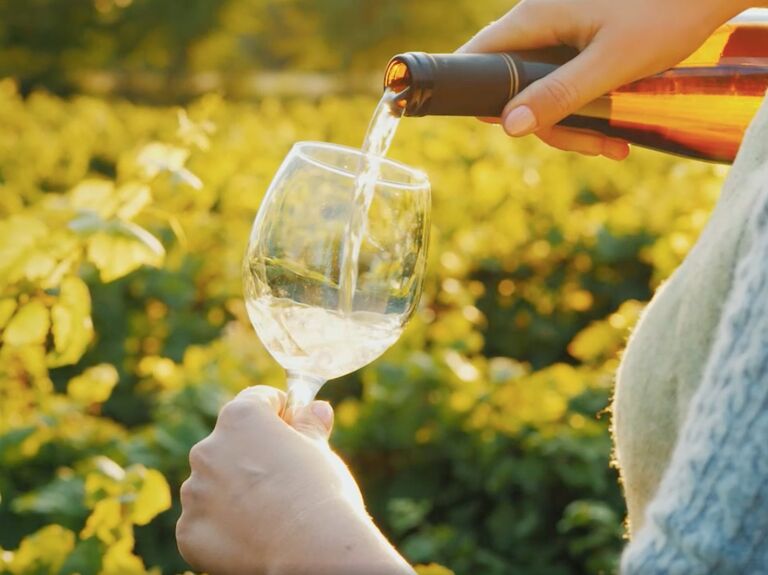 Oenophiles will love a monthly selection of the finest wines California has to offer, delivered right to their doorstep. Monthly packages include two bottles of award-winning wines complete with the informative publication The Wine Press.
Gold Medal Wine Club Gold wine club, from $120 for 3 shipments, GoldMedalWineClub.com

Sophisticated Cookware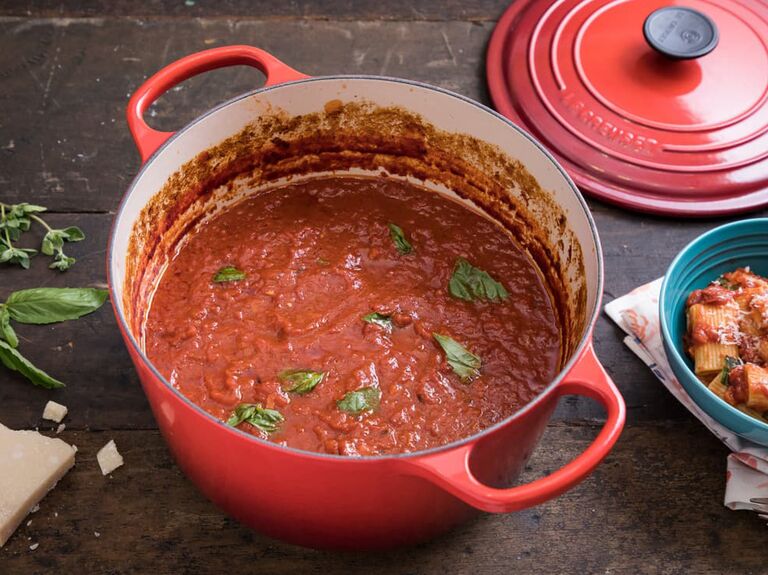 For many people—newlyweds and the happily married alike—Le Creuset is the holy grail of cookware. It can be pricey, but it lasts a lifetime. No home cook worth her salt should command a kitchen that lacks at least one item from the popular-for-a-good-reason line of cast-iron pots and pans.
Le Creuset 5 1/4-quart round deep enamel cast iron Dutch oven, $325, Nordstrom.com

Glass Vase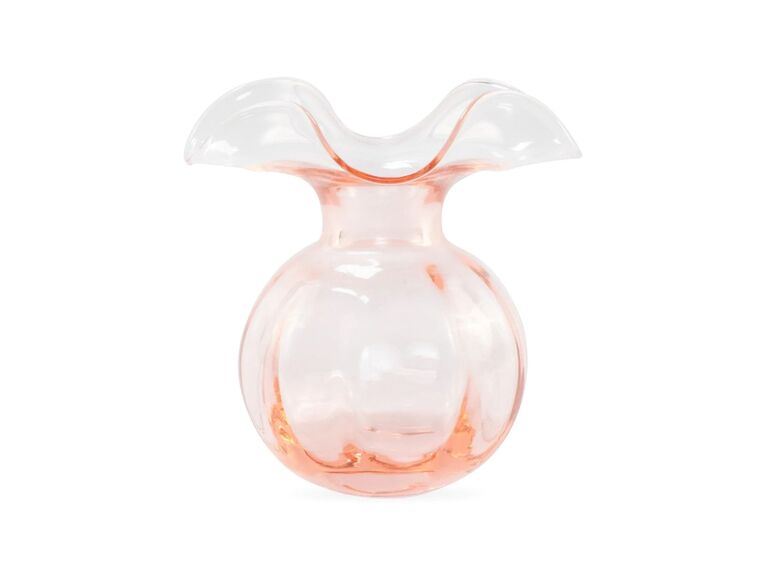 Flowers are a traditional gift. Up the ante by arranging them yourself in this striking pink-hued glass vase, featuring an elegant botanical design. Friends and family alike can help the mother of the bride spruce up her home with this simple gift.
VIETRI Hibiscus glass vase, $54, SaksFifthAvenue.com

House Plant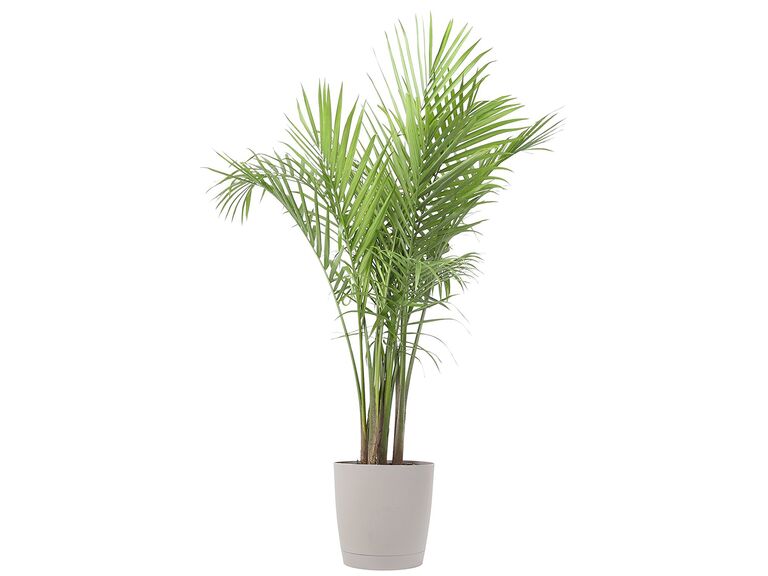 If your mom has a green thumb, she'll certainly welcome a new addition to her house plant lineup. This is also a great mother of the bride gift from her daughter's partner—it proves you've paid attention to her interests!
Costa Farms 3-foot Majesty Palm Tree in Decor Planter, $49, Amazon.com

Decorative Tile
Sentimental and long-lasting, this decorative tile can be designed with retro photos of you and your mom when you were still her baby (cue the waterworks!).
Shutterfly textured Forever Family ceramic tile, from $35, Shutterfly.com

Foldable Flats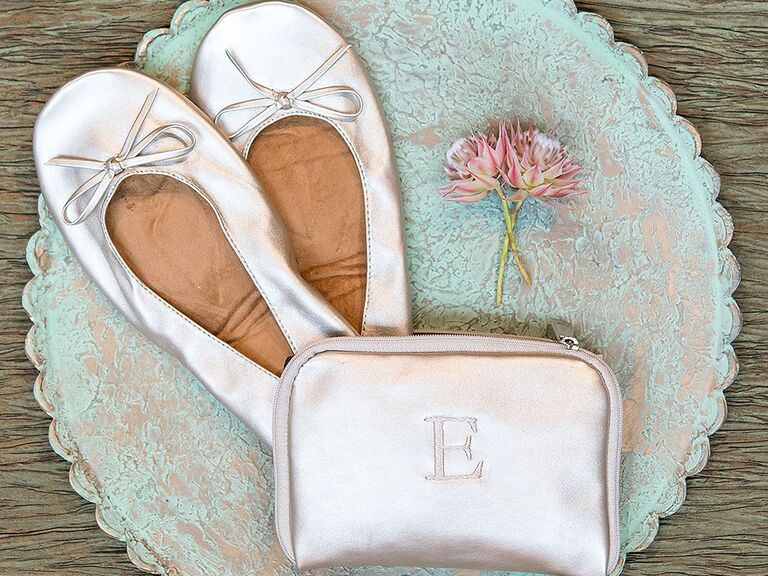 After a long day of running around, posing for pictures and cutting loose on the dance floor, everyone deserves to give their barking dogs a rest—mother of the bride included.
The Knot Shop personalized foldable ballet flats with pouch, from $17, TheKnotShop.com

Leather-Bound Journal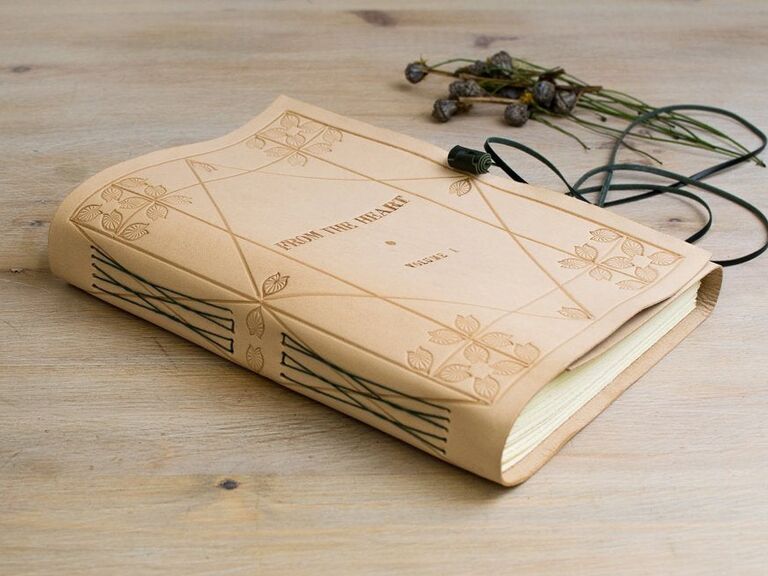 This handmade leather-bound journal is the perfect canvas for your mom to get her creative juices flowing. Make it from the heart by adding a special note on the cover or first page.
Codice personalized leather bound journal, $91, Etsy.com

Custom House Portrait Art
Memorialize your childhood home: Simply upload a photo of the house you grew up in (or another meaningful structure), and the resident artists at Minted will create a customized line drawing. It's a mother of the bride present that's sentimental and stylish to boot.
Minted custom house portrait art, from $32, Minted.com

Perfume Gift Set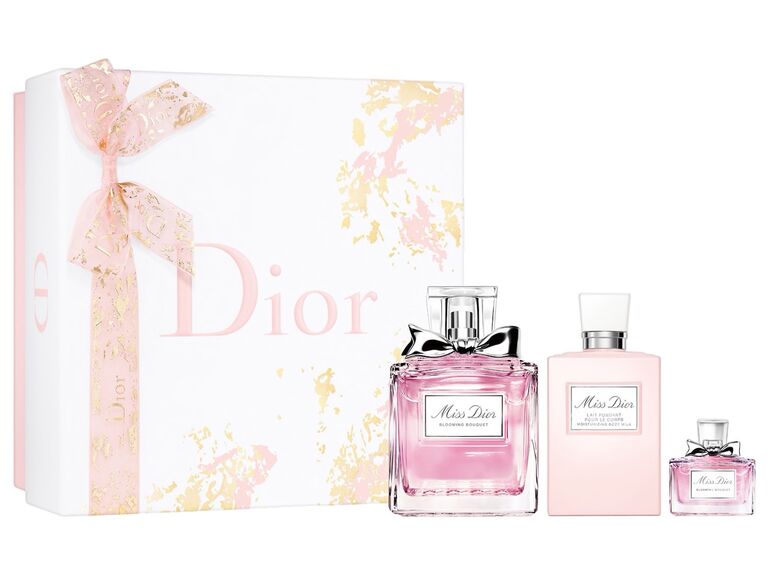 If Mom is a perfume lover, replace her favorite bottle. This gift box from Dior contains three fresh-and-fruity scents to restock (or add to) her collection.
Dior Miss Dior Blooming Bouquet gift set, $129, Sephora.com

Serving Board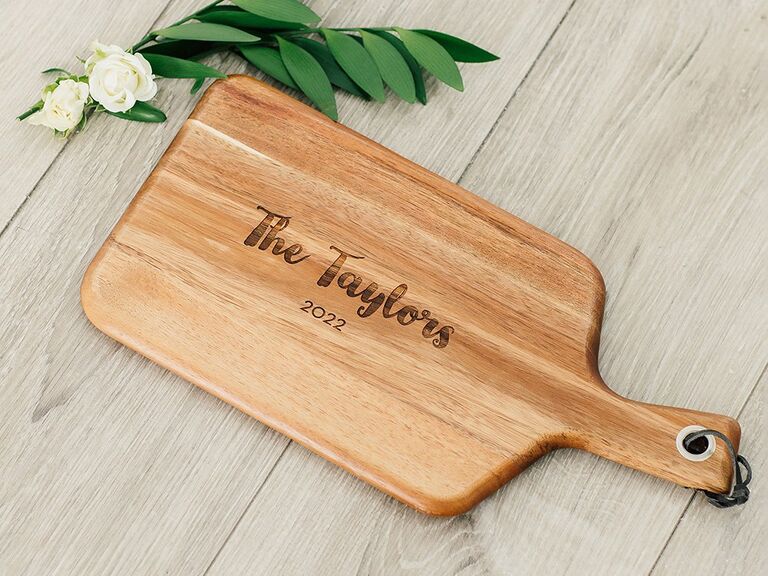 If your mom's (or your partner's mom's) a gastronome, a wooden serving board is both practical and personal, thanks to the included customization. Make it part of a larger foodie-lover's gift with a selection of fine cheeses and crackers.
The Knot Shop personalized wooden paddle cutting & serving board with handle, $20, TheKnotShop.com

Tote Bag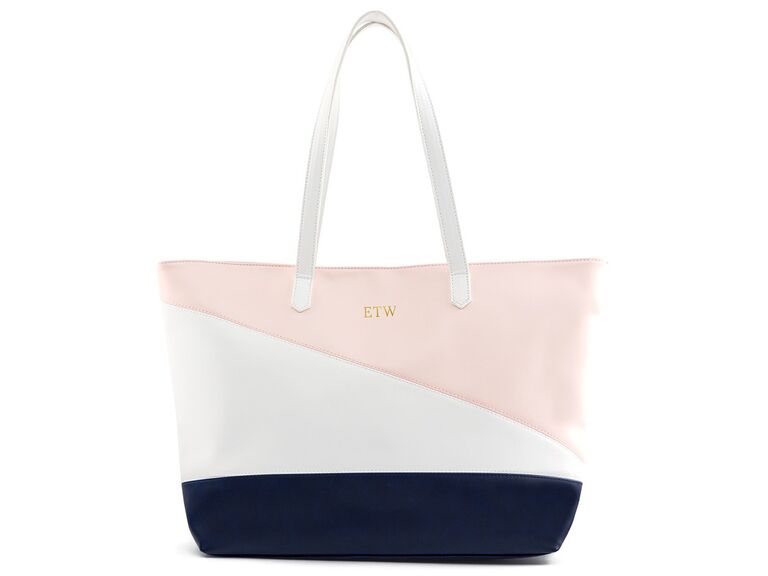 No doubt your mom will be busy the day-of. Help her stay organized—and on-trend—with a stylish vegan leather tote that can be customized with her initials.
The Knot Shop large personalized color block faux leather tote bag, $20, TheKnotShop.com

Premium Chocolate Tasting Set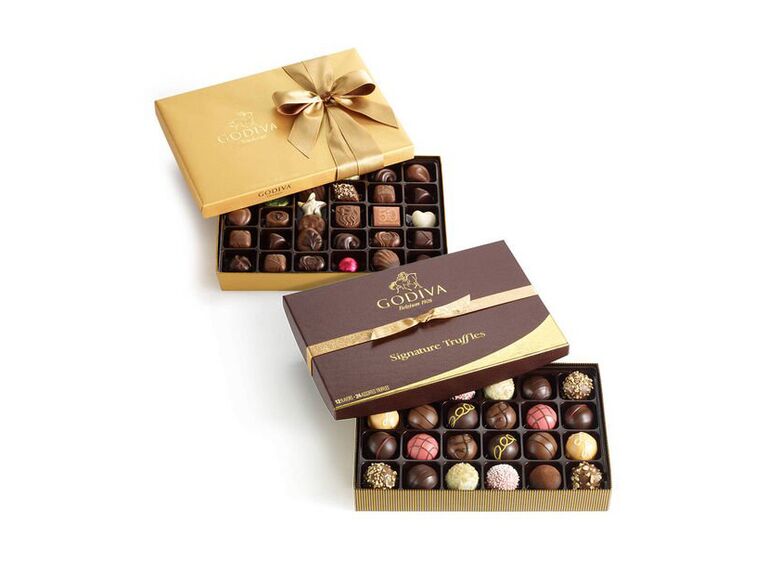 A selection of gourmet chocolates is something that most people wouldn't splurge on for themselves, which is why this makes such a great mother of the bride gift for your chocoholic mom.
Godiva signature chocolate tasting gift set, $99, Godiva.com

Keepsake Box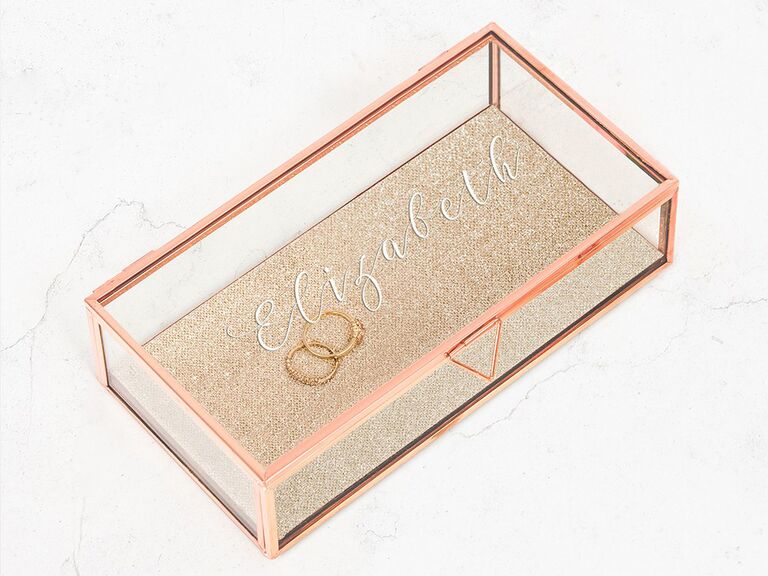 This glass and rose-gold-framed box is the height of elegance. Have your mom's name etched in an elegant script, and slip a sentimental note or special trinket inside before presenting it to her.
The Knot Shop large personalized rectangle glass jewelry box, $26, TheKnotShop.com

Serving Bowl
The ultimate symbol of love? A heart. Make it a stunning handcrafted brass heart, and you have yourself a worthy sentimental gift.
Michael Aram heart large dish, $125, SaksFifthAvenue.com

Photo Collage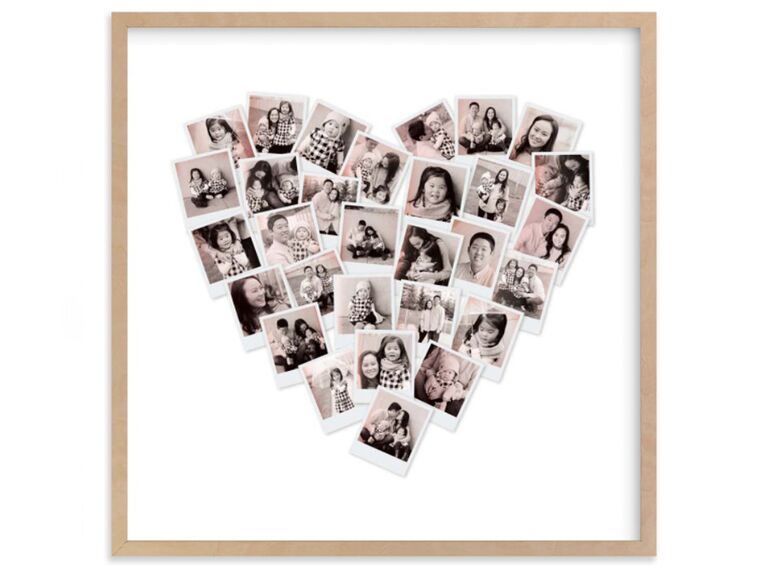 Curating a slideshow of your childhood for your rehearsal dinner or wedding reception? Keep your eye out for images featuring you and your mom, and then send them to Minted to design a heart-shaped collage.
Minted Filter Heart Snapshot Mix custom photo art, from $29, Minted.com

Wooden Photo Calendar
Elevate the office staple with a carefully curated selection of your favorite mother-daughter photos taken over the years, packaged as a handsome handcrafted clipboard calendar.
Artifact Uprising wood calendar, from $25, ArtifactUprising.com

Makeup Brush Set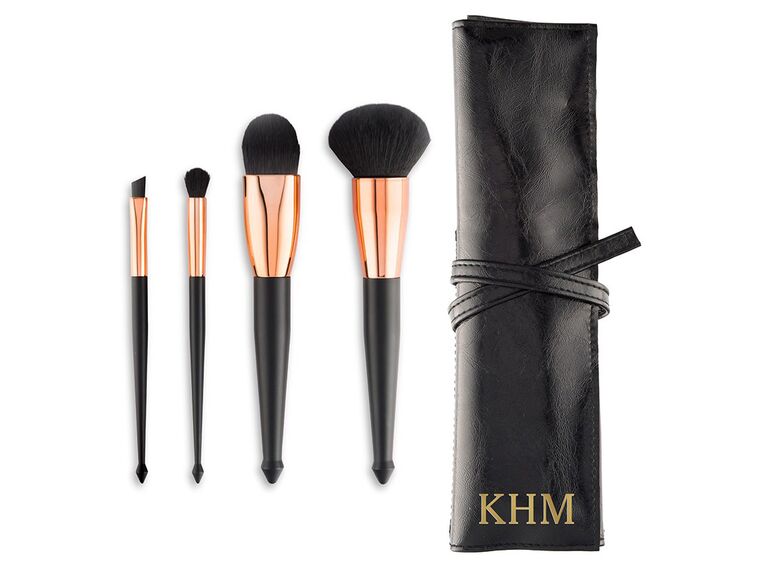 For a gift that will serve the mother of the bride on the big day and beyond, try compact (read: travel-ready) beauty supplies. Pair this on-trend black and rose gold travel set with a grab-bag of some of her favorite makeup and beauty products.
The Knot Shop personalized makeup brush set & travel pouch in Black & Rose Gold, $20, TheKnotShop.com

Beauty Gift Set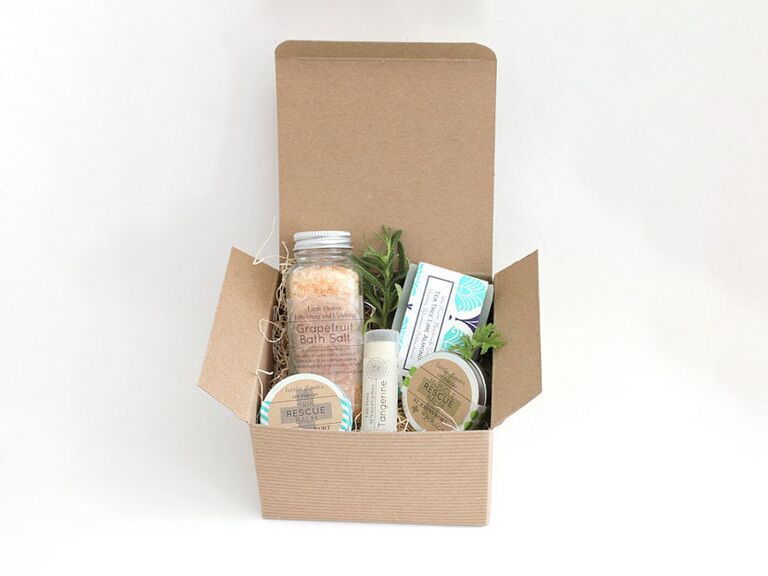 Encourage your new mom-in-law to put her feet up with this luxurious set in her favorite scent. This spa kit delivers the ultimate in the three Rs: rest, relax, repeat.
Little Flower Soap Co. spa gift set, $35, Etsy.com

Novelty Mug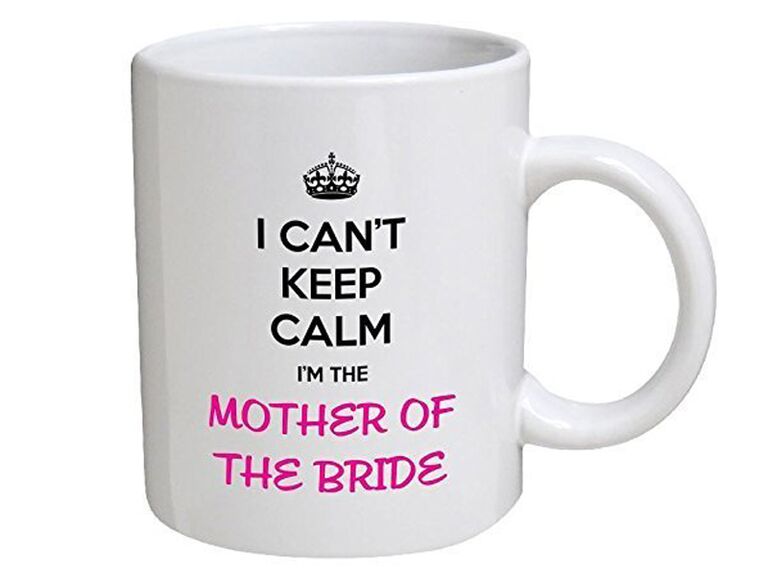 Bonus points for humor. Treat her to this little token the morning of your wedding (filled to the brim with must-have coffee or tea, of course).
Willcallyou I Can't Keep Calm, I'm the Mother of the Bride 11 ounces funny coffee mug, $12, Amazon.com

Monogrammed Clutch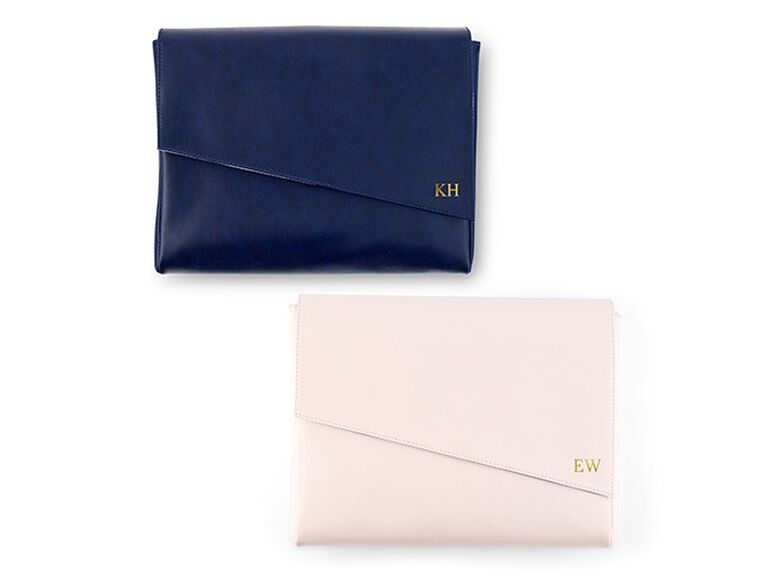 Accessories often pave the way to a mom's heart, and the mother of the bride is no exception. Versatile, chic and timeless, this envelope clutch can be dressed up or down depending on the occasion.
The Knot Shop faux leather clutch, from $20, TheKnotShop.com

Satin Pajamas
Satin pajamas are the epitome of luxe loungewear. This cozy set will send a clear "thanks for everything you do" to the mother of the bride. Present this luxury gift on its own or pair it with her favorite wine for an indulgent night in.
Natori Purple Dove Feathers two-piece satin pajama set, $150, SaksFifthAvenue.com

Bubble Bath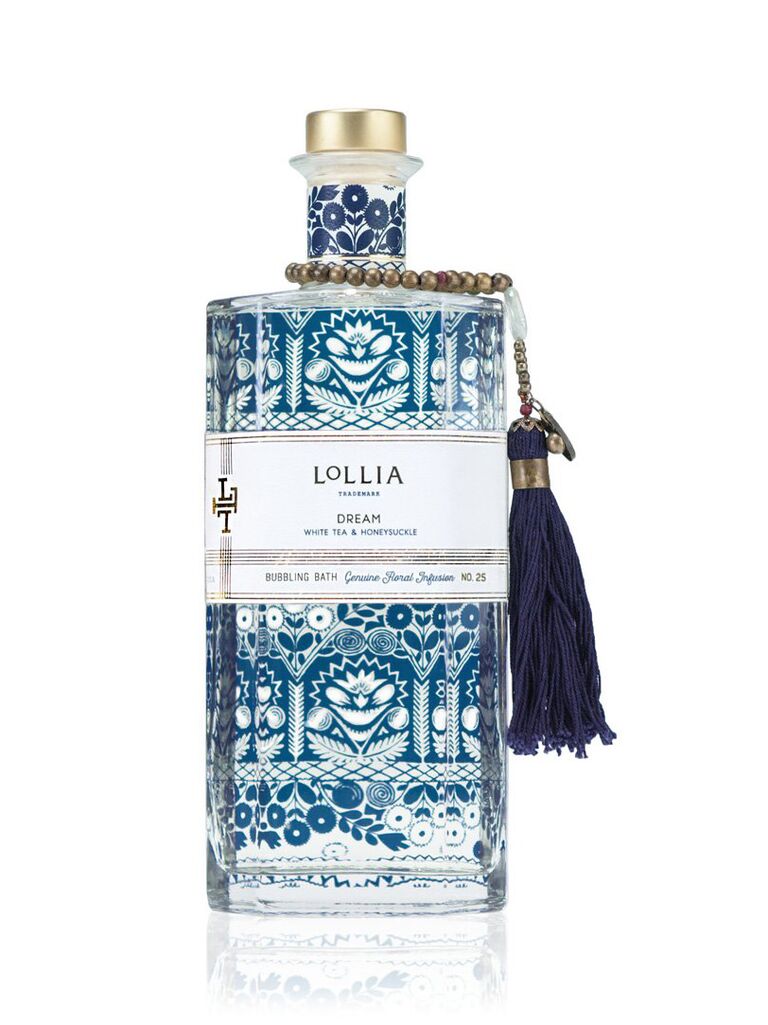 If there's one thing that never changes, Mom needs some R&R. Help her achieve bliss with a spa-like bubble bath featuring calming scents of honeysuckle, white tea and bergamot.
LOLLIA Dream white tea & honeysuckle bubble bath, $52 for 24 oz., Amazon.com