30 Cute Animal Wedding Cake Toppers That'll Make Your Cake Unique
Here's another way to personalize your wedding.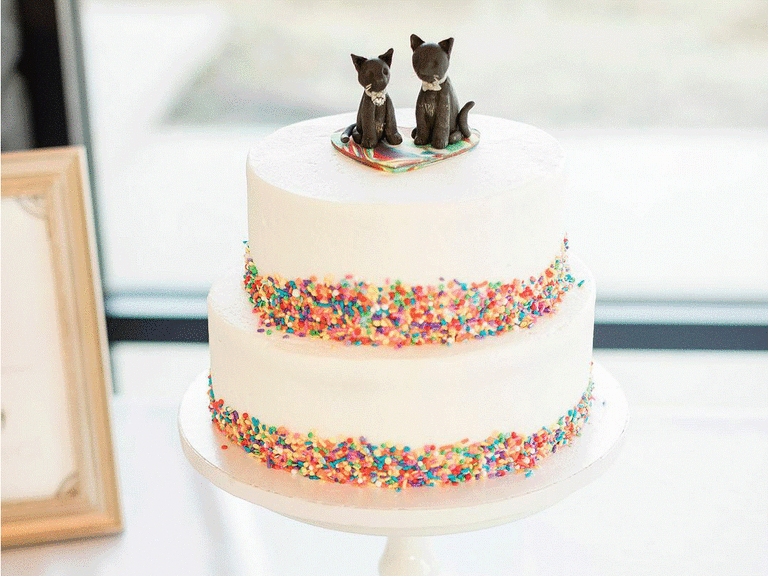 Photo: Kelly Czupkiewicz,The Tasty Pastry
Calling all animal lovers! There's a wedding cake trend that's replacing the usual suspects, like the traditional couple figurine or monogram cake topper, you see on the top of wedding cakes. Animal wedding cake toppers give unconventional couples more freedom to express themselves using their favorite wild (or domesticated) creatures. It's a fresh look that practically shouts, "Let's have some fun!" So if you need inspiration for your animal cake topper, you've come to the right place. Check out these 30 animal-themed cake toppers from real weddings that you can use on your big day.
Llama Cake Topper
It's your special day, so if the two of you want llamas on the cake—go for the llamas! Choose your favorite animal for your perfect wedding cake topper or let the animal represent an inside joke between you and your partner.
Porcelain Fawn Cake Topper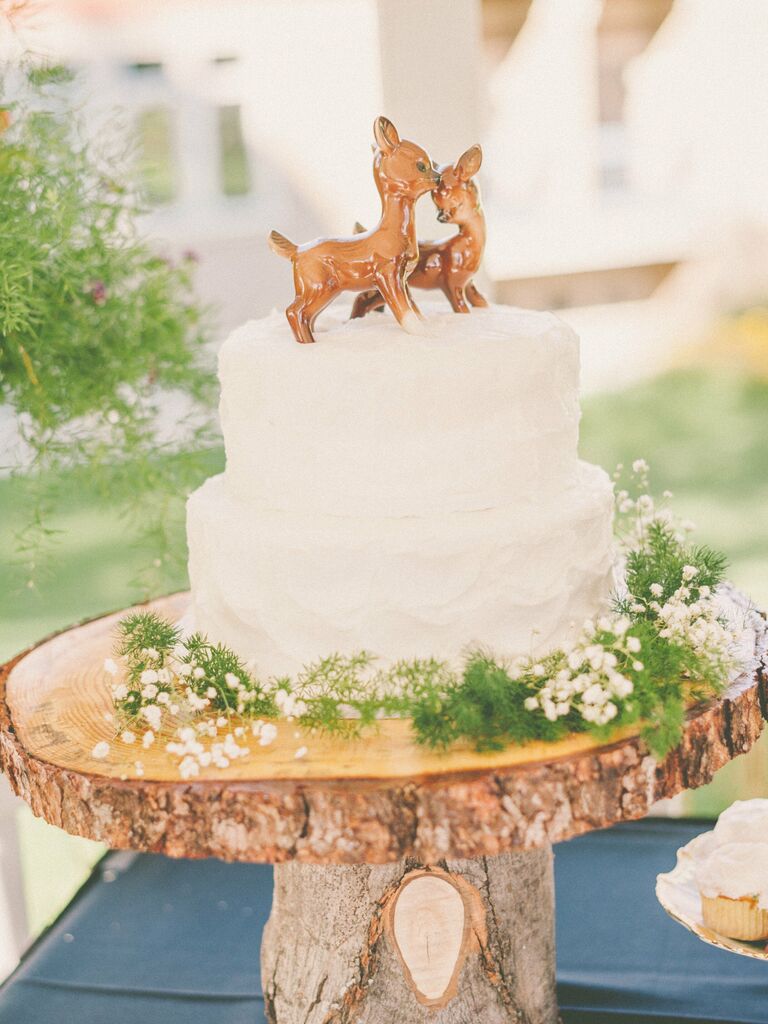 Use your cake animal toppers as a way to match your wedding theme. At this couple's rustic mountain wedding, they topped their cake with cute porcelain fawns which were displayed on log cake stands and surrounded by baby's breath and pine sprigs.
Family Pets Cake Wedding Topper
This pet cake topper is just one of the many ways you can include your pet in your wedding. For this outdoor wedding, the to-be-weds had their cake toppers fashioned into their two cats and dog. One option is to have your cake baker make your pets out of fondant or modeling chocolate. But if you want a cake topper you can cherish as a wedding keepsake, consider having your pets crafted as wood or clay figures.
Golden Jackalope and Rabbit Cake Topper
At this whimsical wedding, the happy couple used jackalope and rabbit toppers to match their personalities. The jackalope is a fabled animal from North American folklore, so feel free to use animal wedding toppers that represent your favorite mythical creatures, like mermaids or dragons. Or if you have a favorite fictional animal from an animated Disney movie, you could even have that character sit atop your cake––the options are limitless.
Cartoon Fox Wedding Cake Topper
Perfect for a woodland theme or outdoor wedding, a pair of brightly-colored foxes liven up a traditional white cake. The couple found these hand-carved foxes while on a trip to Vietnam. Bonus: opting for carved wood or clay figurines make for a sweet keepsake for years to come (and how cute are those interlocked arms?).
Rustic Cloth Love Birds Cake Topper
If you love to craft, consider making your own cute animal wedding cake toppers. This bride-and-groom cloth bird cake topper will definitely make for a fun DIY project.
Boston Terrier Wedding Cake Topper
If you're not allowed to have your pet at your wedding, get creative and honor your fur baby in a different way. A dog cake topper gives you the chance to show off your precious pooch and have a cute mini replica of them after the wedding.
Whimsical Bird Nest Wedding Cake Topper
These sweet bride-and-groom bird figurines were custom-made for the couple. The design of the animal wedding cake topper is inspired by the couple's wedding day outfits––which is a genius way to personalize your wedding.
Find your kind of venue
From barns to ballrooms, discover reception venues that feel like you.
Peek-a-boo Dog Cake Cake Topper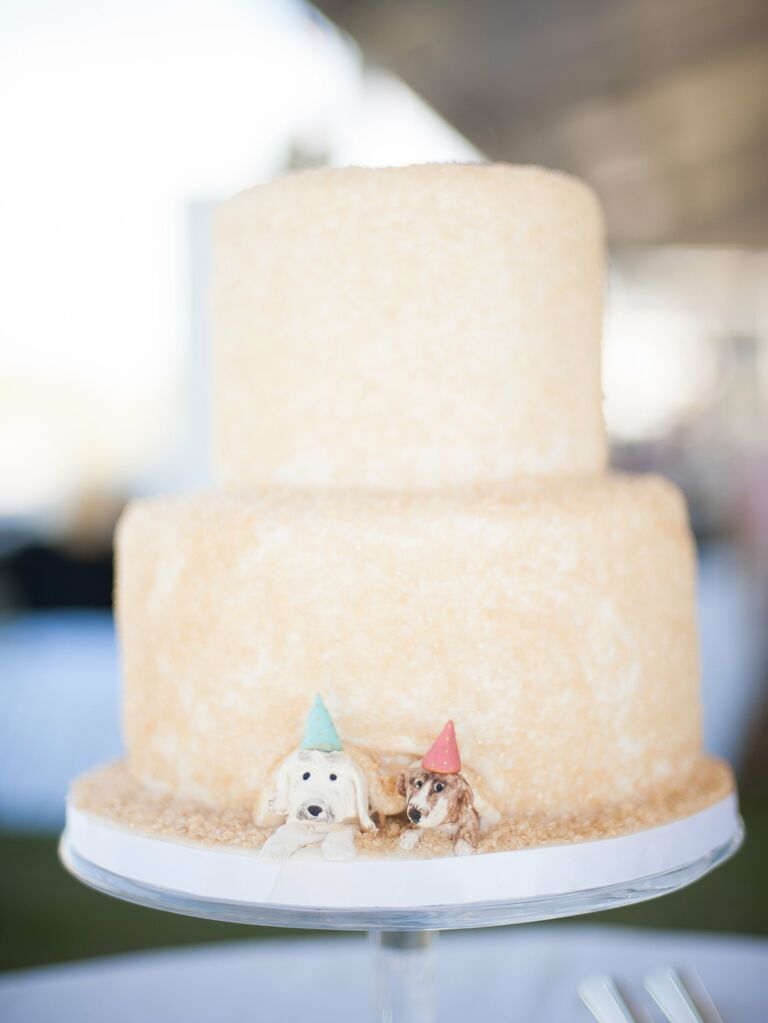 Have a pair of pups at home that you want to include in the reception? Put them on the cake! Or, in this case, peeking out from underneath the bottom tier.
Unicorn and Fox Cake Topper
For to-be-weds aiming for a storybook wedding, copy this couple's fun cake animal toppers. The couple had multiple cakes on their dessert table, but for their couple's cake, they featured a unicorn and fox cake topper with fresh flowers.
Black Cat Wedding Cake Topper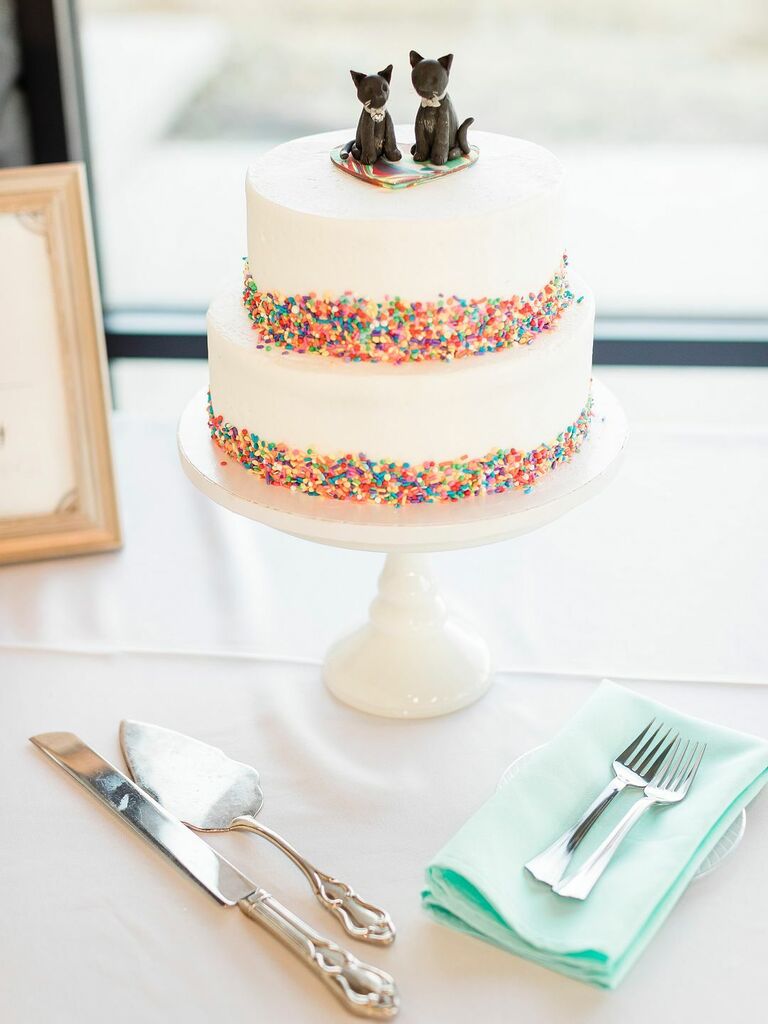 Black felines get a bad rap but don't let that stop you from adding these cute critters to your wedding cake. We like how the black cats are such a stark contrast to the white and rainbow-sprinkled cake.
Glitter Deer Cake Topper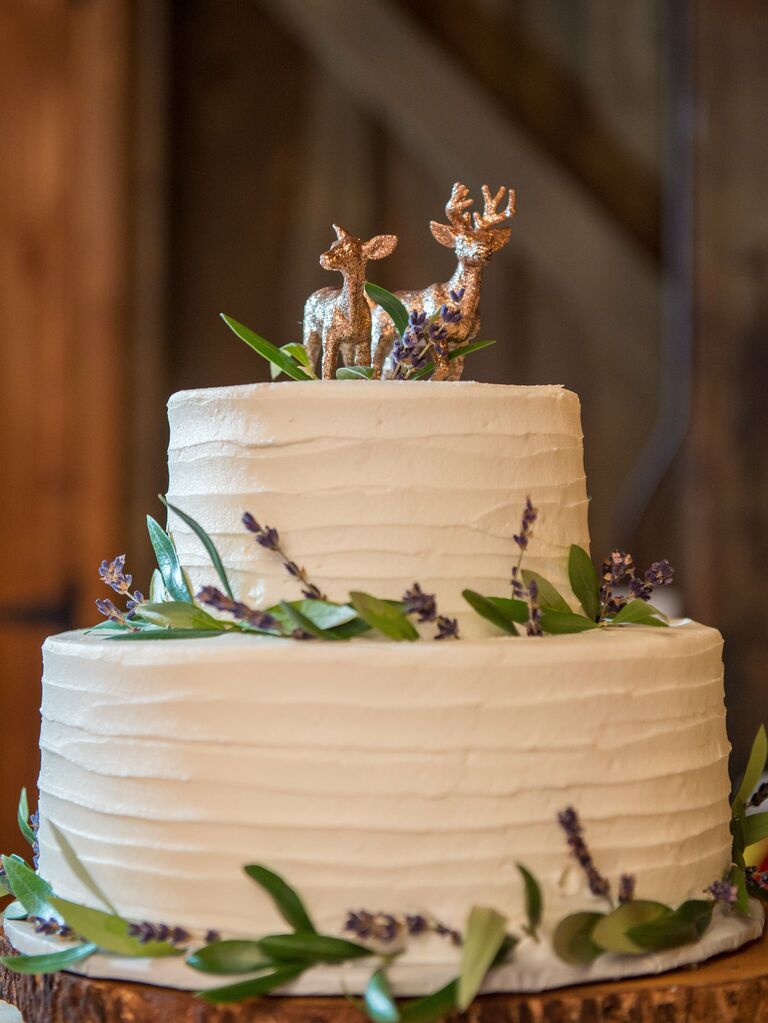 For this couple's rustic wedding cake, they had olive branches and lavender flower as cake decorations. The glitter deer cake topper honors the groom's love for hunting, and the buck and doe represent the couple.
Dinosaur Bride and Groom Wedding Cake Topper
For this bohemian and tropical-style wedding, the happy couple wanted a wedding that would speak to who they are and what they love. So take a page out of this couple's book by letting your animal theme cake toppers be as silly as you and your partner want.
Hippo Wedding Cake Topper
Show off your wild side with some hippo wedding cake toppers. We think these playful silver hippo cake toppers will look great in a newlywed nest and will be a sweet reminder of your special day.
Alpaca and Llama Wedding Cake Topper
To show love for their wedding venue, an alpaca and llama farm, the bride and groom made alpaca and llama cutouts. So, if you're having your wedding at a unique venue, consider giving a nod to it with your cake toppers.
Bride and Groom Dog Cake Topper
As a surprise to her groom, the bride got a custom wedding cake topper with their dogs, Daisy and Tyson. If you're waiting to start your pet parent journey with your partner until after the wedding, display pet cake toppers of animals you and your soon-to-be-spouse aspire to get one day.
Hand-Painted Penguin Wedding Cake Topper
The good news is, if you opt for penguins, they come dressed in their own formalwear. If you're having a more formal wedding, you could always top a groom's cake with these funny flightless birds.
Texas Longhorn Cake Topper
Couples who met in college have the special opportunity to top their cake with their mascot. Share your school pride and "how we met" story in one adorable element.
Canoeing Dog Cake Topper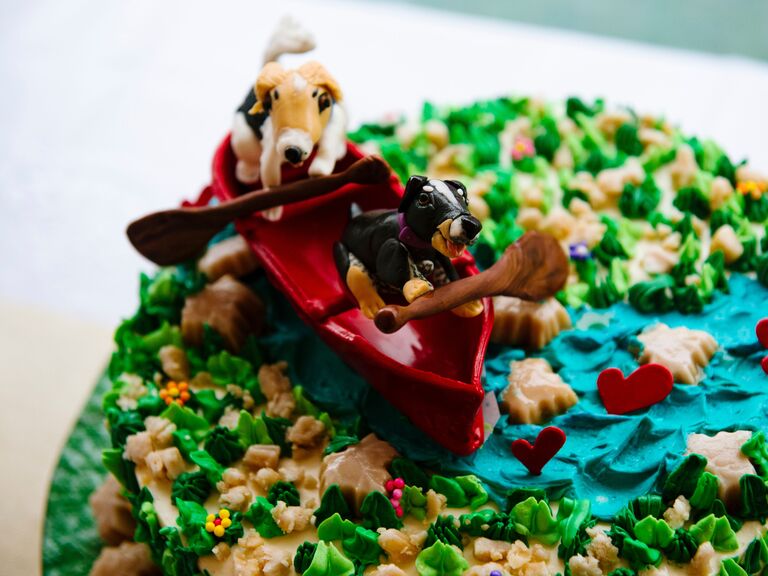 Immerse your animal wedding toppers in your wedding location. Inspired by the couple's Vermont wedding, the cake baker created a groom's cake that displayed the couple's dogs paddling down a Vermont river.
Panda and Giraffe Wedding Cake Topper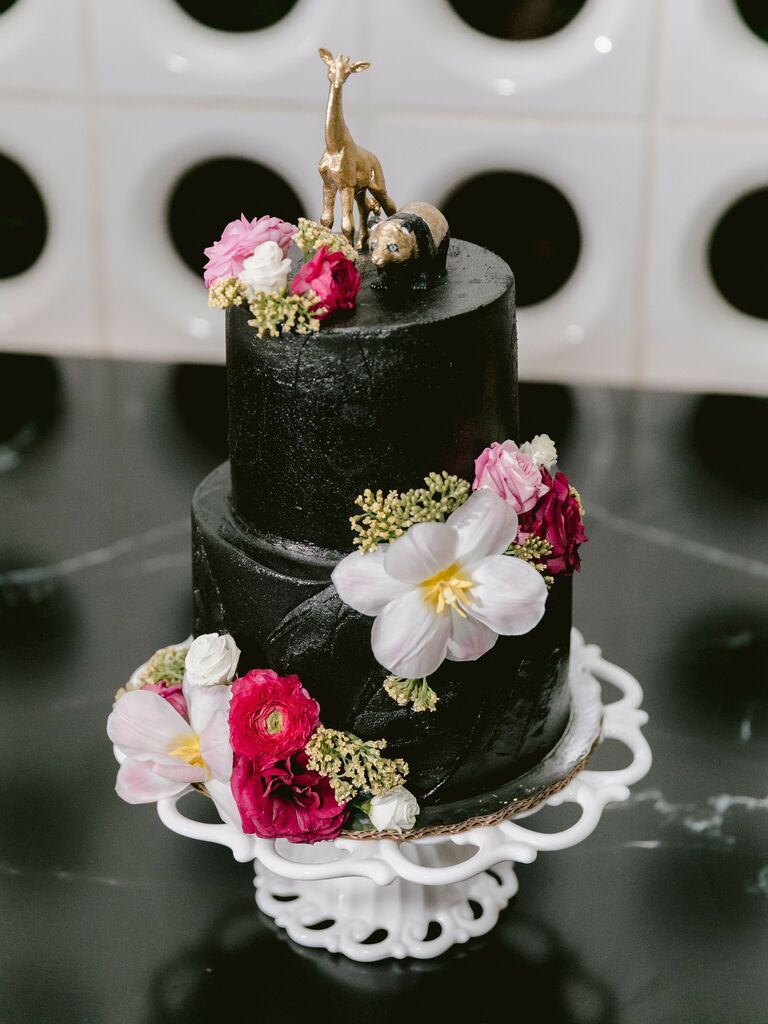 For this beach wedding, the to-be-weds wanted to combine two vibes "a modern gay disco oasis nestled in the heart of the jungle" and "lush opulent florals." We think they perfectly accomplished both ideas with the gold panda and giraffe figurines, black-iced cake and vibrant blooms.
Wood Deer Cake Topper
Yes, we've already shown other deer cake toppers, but this laser-cut one is different. For this couple's Harry Potter-themed wedding, they included numerous magical elements, like this Patronus-inspired cake topper.
Wooden Swan Cake Topper
These wooden swan wedding cake toppers were featured at a fern-filled wedding. If you look closely, you'll see that each swan is wearing garb that honors the couple's cultural background. So when you're incorporating your and your partner's cultures into your wedding, don't forget to add something special to your wedding cake toppers.
Elephant Cake Topper
Put your and your partner's spirit animals on your wedding cake. A spirit animal has deep roots in many Indigenous and Native American cultures whose purpose is to guide and protect a person. Spirit animals sometimes share characteristics with the person they're guiding. Some people say that elephants embody loyalty, honor and pride. So research which spirit animal you feel embodies your personality.
Flamingo Bride and Groom Wedding Topper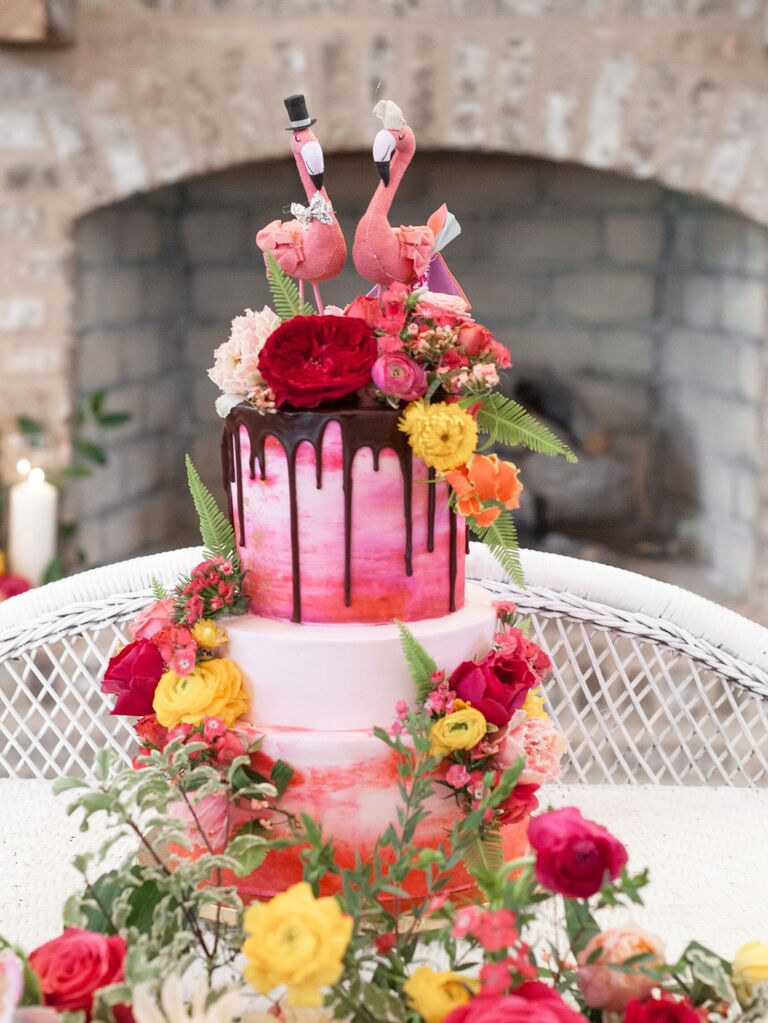 Are you planning a pink wedding and love animals? Then flamingos are the perfect animal wedding cake toppers for you. At this eclectic wedding, the couple had cloth flamingo bride-and-groom cake toppers to match their chic-natural pink wedding theme.
Golden T-Rex Wedding Cake Topper
Having funny animal wedding cake toppers at your dessert table is a guaranteed way to give your guests a little chuckle while grabbing sweets. The happy couple found these golden T-Rex figurines online to decorate their red velvet cupcake station.
Floral Squirrel Wedding Cake Topper
Just because they're cake toppers doesn't mean they have to be small. Go big with your animal cake topper––as long your baker confirms it won't cause the cake to topple over.
English Bull Terrier Cake Topper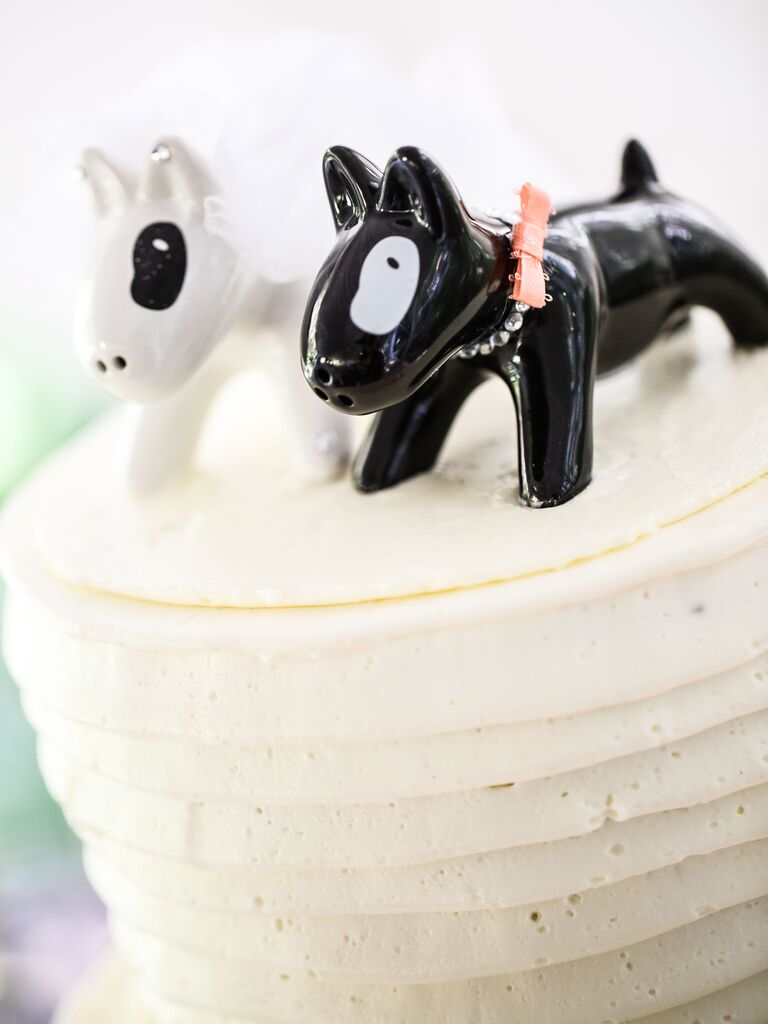 A stylish dog cake topper is always the right way to go. Our favorite part about this cake topper is the tiny accessories, like the pink bow collar and white lace veil.
Kissing Fish Cake Topper
To honor the couple's love for fly fishing, their cake had two kissing rainbow trout as the cake toppers. Think of what hobbies you and your partner share and use that to inspire your unique wedding cake topper.
Bird and Bunny Wedding Cake Topper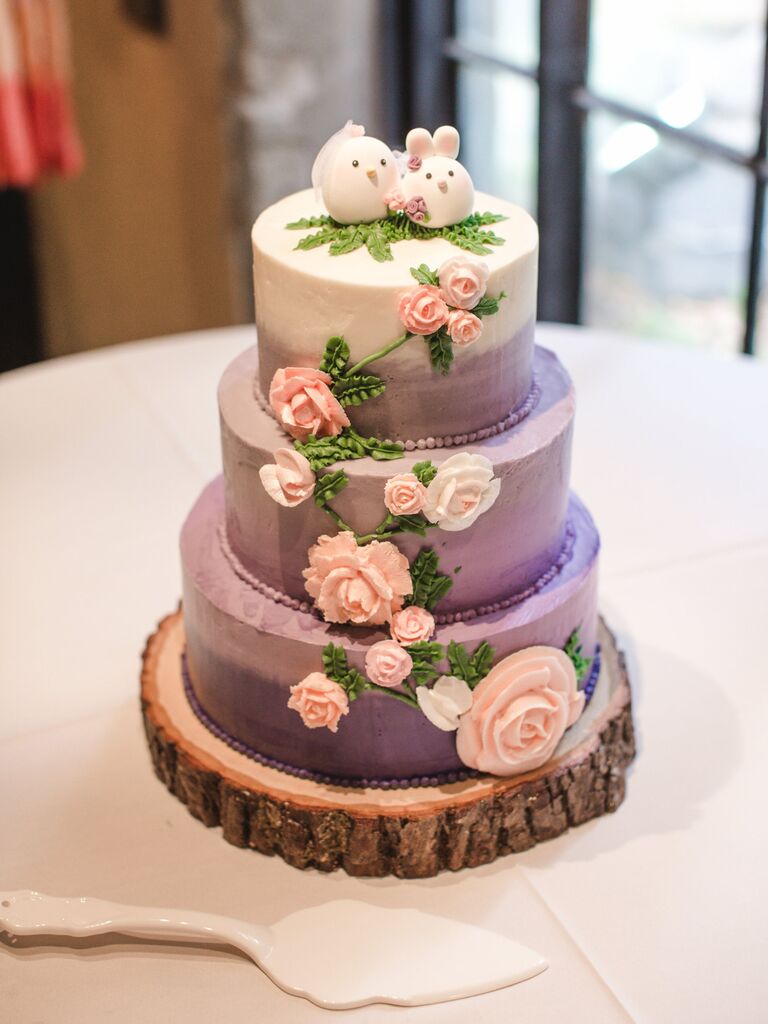 Picking out a couple of friendly forest animals that describe your and your partner's personalities, like this bunny and bird couple, gives off a chic fairytale-meets-woodland feeling.
Walrus Cake Topper
Arguably the most adorable animal wedding cake topper on our list are these bride-and-groom walrus cake toppers. This goes to show you that any and all animals can get a spot on the top of your wedding cake.