How to Pick Engagement Rings and Wedding Rings You'll Love
Celebrate your future together by choosing the right bling for you.
Your rings represent the milestones of your relationship together—so of course you want them to be special. That's why we've put together a comprehensive guide to navigating the world of wedding jewelry. Check out our picks, tips and tricks below. 
Brush up on diamond grading before you buy by knowing your 4 Cs. 
Cut: A diamond's cut determines its brilliance and refers to the facets within a stone. Don't confuse this with a diamond's shape.
Clarity: The clarity of a diamond is graded on how free it is of inclusions (or imperfections) when viewed with the naked eye and with a loupe (a 10x magnifying glass). The fewer inclusions a stone has, the more valuable it is.
Carat: This is a unit of weight. One carat is exactly 0.2 grams, or about the same weight as a paper clip. 
Color: This refers to the colorless to near-colorless variety of diamonds. The Gemological Institute of America (GIA) grades color based on a range from D (colorless) to Z (light yellow and brown). A colorless diamond will generally cost more than a colorful one. 
Familiarize yourself with the most popular ring metals.
Platinum: One of the purest metals, platinum is naturally white and hypoallergenic.
Yellow gold: Naturally yellow-tinted, this metal is malleable but strong.
White gold: This white metal is yellow gold plated with rhodium. It's less pricey than platinum, but its white coating can wear off.
Rose gold: A mix of yellow gold and copper alloys gives this metal its pretty pink tint.
Palladium: Similar to platinum but less costly, this lustrous gray metal can also be an alloy in white gold.
Titanium: Tpically used for men's bands, it's a gray, hypoallergenic metal.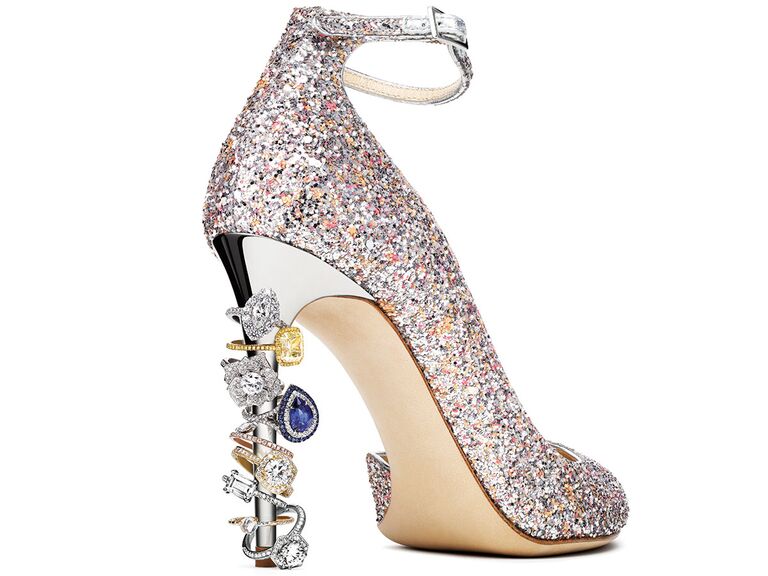 Know the hottest trends. 
(From top to bottom, as pictured above.)
Fancy Shapes: Retro marquise- and pear- shaped diamonds are making a comeback. Sylvie Collection ring, $1750, SylvieCollection.com
Yellow Diamonds: A canary diamond is equal parts timeless and fashion forward. Kwiat ring, Price upon request, Kwiat.com
Floral Details: Diamond-encrusted petals give a round center stone just enough whimsy. Parade Design ring, $5,700 (not including center stone), PradeDesign.com
Gemstones: If diamonds aren't your thing, a dazzling colorful gemstone like this sapphire will set you apart from the crowd. Omi Prive ring, $36,000, OmiPrive.com
Delicate Settings: You don't need a giant rock to make a statement. Lots of dainty diamonds feel just as special. Selin Kent ring, $2,250, SelinKent.com
Yellow Gold: Put your own spin on an old standard and opt for this glamorous, warm metal. Tacori ring, $7,990 (not including center stone), Tacori.com
East-West Settings: Mix it up with a center stone that rests horizontally across your finger. A. Jaffe ring, $2,480 (not including center stone), ajaffe.com
Rose-Cut Diamonds: This time-honored cut dates back to the 1500s and gives off instant vintage vibes. Rosey West ring, $3,925, RoseyWest.com
Hexagonal Halos: Add a boost to your center stone with a modern twist on a trendy setting. Karl Lagerfeld ring, $6,700 (not including center stone), SayYesWithKarl.com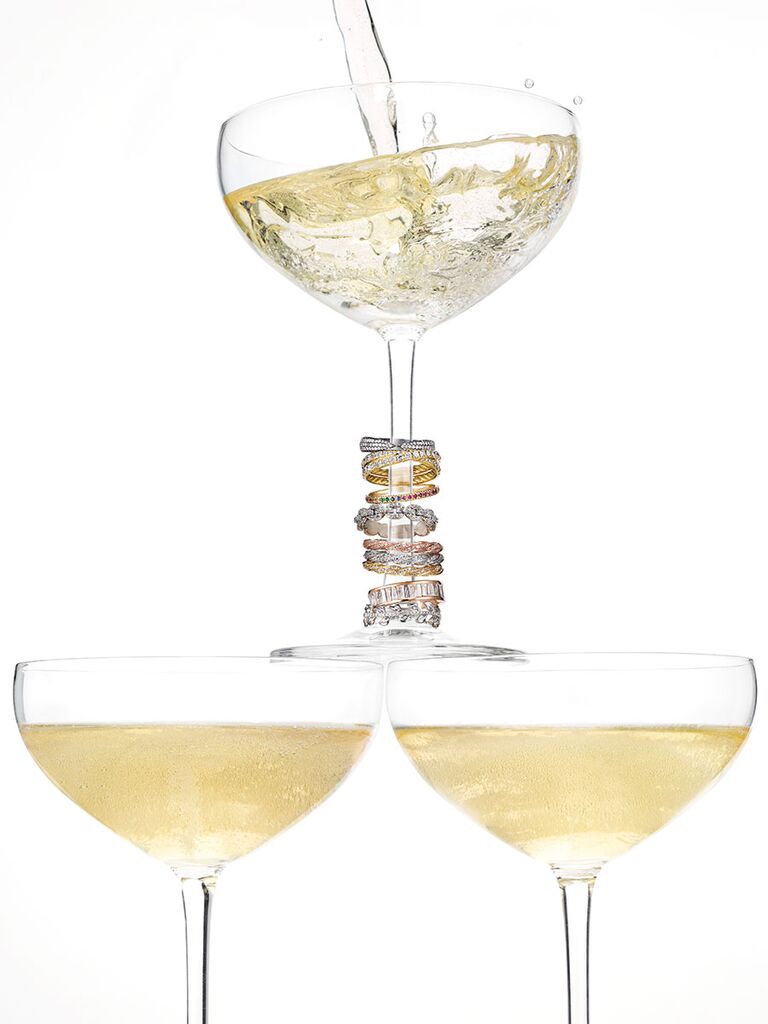 Find your favorite band to stack with your ring.
(From top to bottom, as pictured above.)
Negative Space: Two "kissing claws" meet in the middle to give this ring its one-of-a-kind shape. Eva Fehren ring, $6,950, EvaFehren.com
Twisted Bands: Overlapping diamond bands are glam enough to stand alone. David Yurman ring, $5,000, DavidYurman.com
Rainbow Stones: Whether you're a color fanatic or want to give a nod to Pride, a rainbow eternity band is pure fun. Sydney Evan ring, $905, SydneyEvan.com
Chain Link: Intersecting links symbolizing an eternal connection are both modern and sentimental. Scott Kay ring, $3,500, ScottKay.com
Stackables: What's better than one ring? Three gorgeous ones in different metals. Art Carved rings, $1,565 each, ArtCarved.com
Tapered Baguettes: Larger diamonds all the way around make for one luxe band. Lizzie Mandler ring, Price upon request, LizzieMandler.com
Natural Flair: Leaf motifs are the perfect complements to a floral engagement ring. Kirk Kara ring, $1,720, KirkKara.com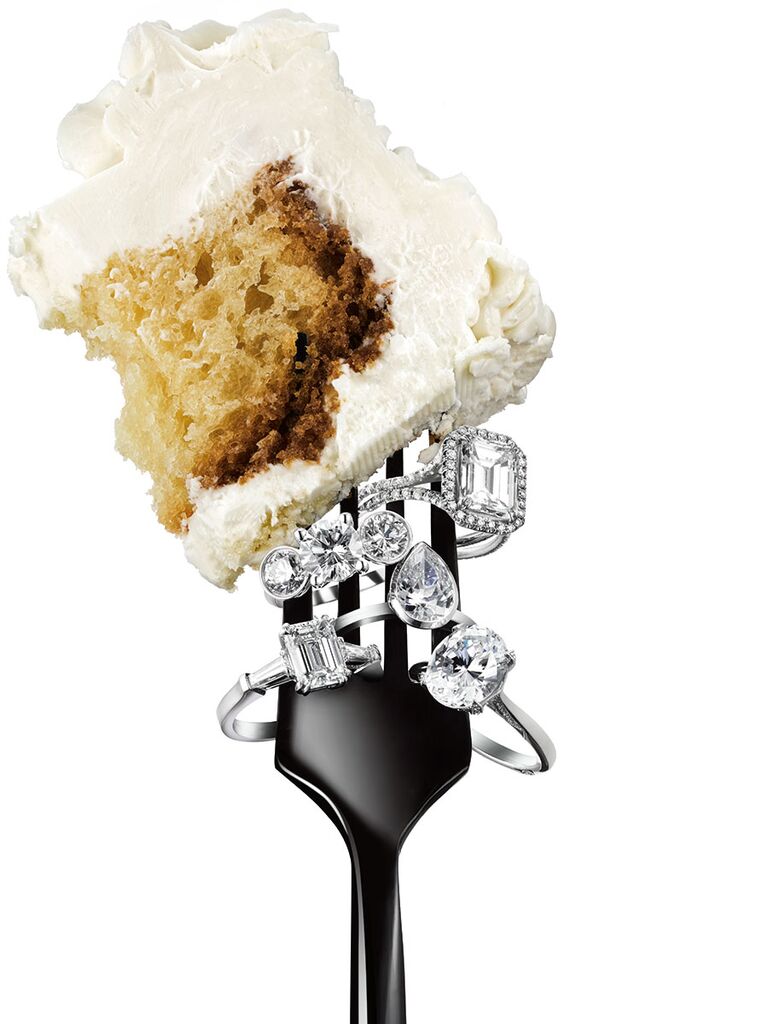 Select a setting that reflects your personal taste.
(From top to bottom, as pictured above.)
Pavé: From the old French word for "to pave," this is a setting lined with tiny diamonds, resulting in subtle sparkle. Uneek Jewelry ring, Price upon request, UneekJewelry.com
Three Stone: Also known as a trinity or trilogy, a three-stone setting often represents the past, present and future. Forevermark ring, Price upon request, Forevermark.com
Bezel: This modern setting is made of a sleek metal rim surrounding the perimeter of the center stone, holding it in place. It's ideal for protecting softer stones, and its smooth surface won't snag on clothing. Danhov ring, $2,120, Danhov.com
Baguette: A term for two smaller rectangular stones that sit alongside the center diamond. The can be set horizontally or vertically. Mark Broumand ring, Price upon request, MarkBroumand.com
Prong: Including anywhere from three to six claws or tines, this is the most popular ring setting. Tacori ring, $4,990 (not including center stone), Tacori.com
Styling by Alex Brannian