Sunday Weddings: Everything You Need to Know
Want a Sunday kind of love? Here's why it's a great idea.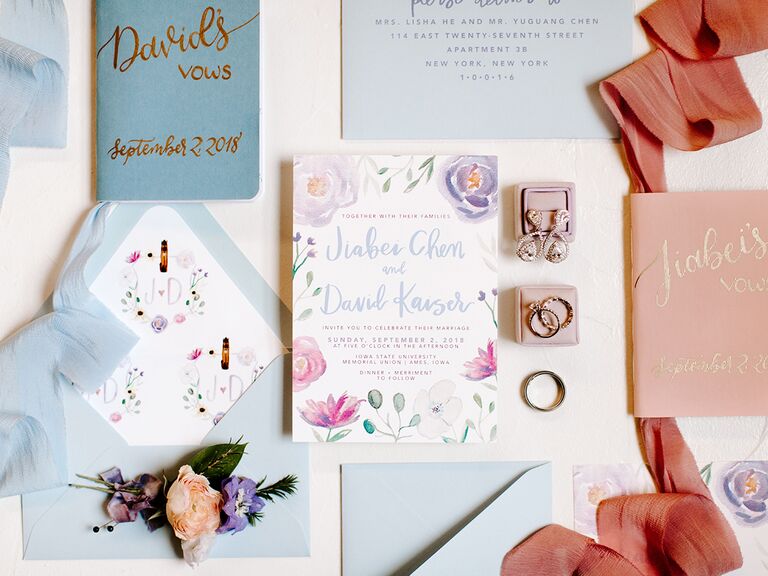 Laura Wills Photography
Engaged couples organizing their big day know that the rules of wedding planning pre-COVID no longer apply and that nuptial trends look a bit different these days. One of these changes is the rise in popularity of Sunday weddings. Although this wasn't consider a prime day of the week for nuptials in the past, Saturday weddings are no longer the only ones dominating calendars.
"Hosting your wedding on a Sunday is becoming a popular option for couples whose original wedding date may have been impacted by COVID-19," explains Jen Avey, VP of Marketing for Destination Wedding Travel Group. "Pre-pandemic, Sunday weddings weren't as popular primarily because couples didn't want to inconvenience guests by being out partying so late the night before a traditional work day. Now, it's simply becoming more accepted because Saturdays are hard to come by, and guests are understanding of that hardship."
Plus, there are many other things Sunday weddings have going for them that make this an appealing option for modern couples, whether or not COVID impacted their plans.
Perks of a Sunday Wedding
Janice Carnevale of Bellwether Events in Falls Church, Virginia says she expects to see real Sunday wedding boom after postponements from the 2020 and 2021 wedding seasons continues encouraging couples to explore non-Saturday and afternoon wedding options. And as they do, brides and grooms will see that there are definitely benefits that Saturday and Friday weddings can be lacking:
They can be budget-friendly.
Especially if you opt for a brunch wedding. Wedding vendors often offer discounted rate compared to prices for a Friday night or Saturday wedding because you're hosting your event on an "off-day," explains Avey. And if they don't already have lower pricing, event professionals are much more likely to negotiate, according to Nora Sheils of Rock Paper Coin and Bridal Bliss. That's because "this is likely 'gravy' in addition to their wedding they already have booked on Saturday and even potentially Friday," she said.
Plus, Sunday weddings tend to be more casual or daytime affairs and the food as well as beverages tending to cost less. A fabulous brunch filled endless mimosas is more cost effective than surf and turf dinners with a long open bar during an evening wedding.
Better vendor availability.
You're more likely to be able to get your preferred season, date, and vendors if you go for a Sunday wedding. Whether your wedding planner or florist tends to book years in advance, you have a better chance of snatching them on a Sunday afternoon or evening.
There's more flexibility.
With a Sunday evening or daytime event, you can rethink what your wedding can be. "It doesn't need to be a 6+ hour affair," says Gretchen Culve of Rocket Science Events. Keep it short, sweet and simple if that's more the vibe that matches your personalities and turn your Sunday brunch wedding or early evening event into something more personal.
It works out well for destination weddings.
Luckily for destination wedding couples, Sunday ceremonies aren't something to worry about, according to Avey. "As long as you've given your guests ample time to prepare to travel, it's likely they've already taken the time off work to accommodate your multiple-day-long celebration," she says. So whether you exchange vows on Friday evening, Sunday night or even Monday or Tuesday, it doesn't effect them.
"This is especially true if you're having a destination wedding in a tropical locale such as Mexico or the Caribbean, since days of the week are obsolete when you're on vacation, right?" she added.
They can feel more unique.
From Bloody Mary bars to potentially getting a restaurant to yourself for your private event, Sunday wedding receptions have a different feel than their Saturday night counterparts. "In addition — how often do you attend daytime weddings? Not often at all which means your wedding will be memorable and unique," adds Sheils.
There's brunch, need we say more?
Depending upon the vibe you are looking for, a Sunday brunch could be an ideal option. "It's relaxed and laid back with lots of time for mingling with your guests," said Shannon Tarrant of MIssion Inn Resort & Club in Howey in the Hills, Florida. "Breakfast food and action stations like omelets, waffles, and carving stations make for a foodie's delight. And who doesn't love mimosas?"
Sunday Wedding Considerations
In general, Sunday weddings have a more relaxed tone than the party vibe which is easy to create on a Friday or Saturday night, explains Tarrant. If that is the feel you're looking for, then that can be a downside of a Sunday afternoon or evening wedding. Other potential cons to take into consideration include:
People have work the next day.
This means that your local guests will likely head home earlier and not party as hard during the festivities in order to get to work in the morning. "You can plan for this, however, and have a slightly earlier wedding day schedule for a Sunday wedding, and then you won't see guests leaving your wedding early," says Carnevale.
And Culver points out that now, "with more people working from home on a flex schedule or permanently, having to work the next day is less of a factor," she added.
Church wedding ceremonies can be tricky.
This only applies if you're hosting your wedding ceremony at a church. Since weekly church services take place on Sundays, it makes it difficult to also host an early afternoon ceremony.
There's a different order of events.
With a "true wedding weekend," you would typically have an event following the reception and not end with your last event being the weekend. "For most couples this is a con, but could also be considered a pro as this way you don't have to get up early for a day after brunch," added Jamie Chang of Mango Muse Events.
Sunday Wedding Timeline
Sunday weddings tend to work well as daytime ceremonies and receptions so you can start earlier, but other tweaks to the typical wedding timeline can be expected.
"If most of your guests are traveling from afar, it might be nice to give them the extra time to arrive and also get to spend the entire day on Saturday with your out-of-town guests," says Tarrant. "You could plan a rehearsal lunch and afternoon activities for everyone to get to know each other."
When it comes to rehearsals with a Sunday wedding, you may not be able to schedule it the night before at your venue as Saturdays are such a popular day for events. "If this is the case, you can either look at a Friday rehearsal at your venue, or you can have your rehearsal at an alternate location," says Carnevale. "Very few venues are so complicated that hosting the rehearsal on-site is an absolute must."
Carnevale also notes that Saturday is going to be the most expensive day of the week to host a rehearsal dinner, so you may look to move that to either Friday evening or consider a Saturday lunch. "Being flexible with your pre-wedding-day events will also depend on the travel schedule of your family and wedding party," she says. "If it is important to you that they attend these rehearsal-related events, be sure to consult with them before settling on any plans."
For the wedding day itself, Sundays and brunch go together like peanut butter and jelly, "so it's easy to see why so many couples opt for a mid-morning celebration if having a Sunday wedding," says Avey. However, this isn't the ideal wedding ceremony start time for everyone but wedding venues might have restrictive Sunday hours. If you'd like a later start time, your wedding venue might not give you that option on a Sunday. "Some venues may have restrictions on start/end times, so it's important to ask these questions of your coordinator upfront," Avey added.
And if the thought of a Sunday wedding ending early bums you out, Sheils urges you to think of the bigger picture. "Throw your rager on Saturday in the form of a welcome party or consider an open house-style meet-and-greet at your favorite bar on a Friday night," she says. "You will spend more time with your guests ... and the entire wedding experience will be memorable and fun — Sunday or not."