YouTube Star Hannah Hart Marries Ella Mielniczenko
We Hart everything about this.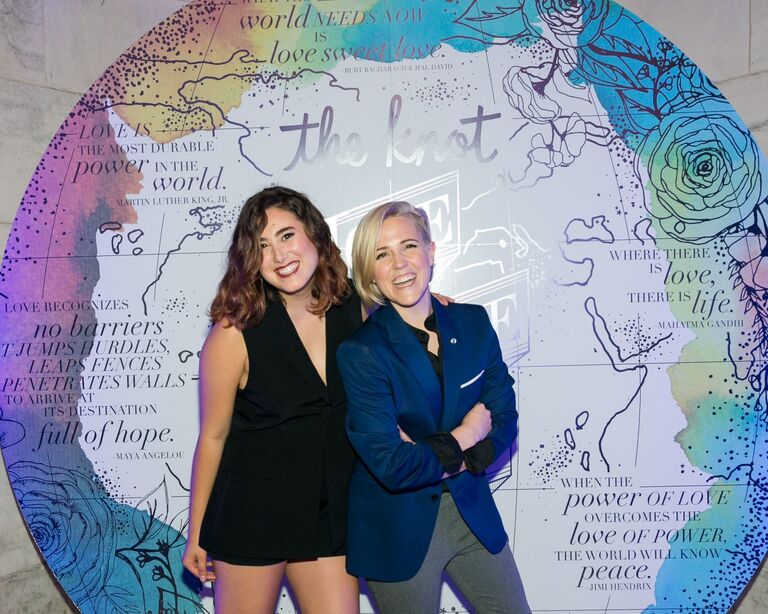 Roey Yohai Photography / The Knot
My Drunk Kitchen's Hannah Hart and Ella Mielniczenko are officially married. After their 2018 engagement, followed by an emotional wedding planning process, the couple married in a whimsical, outdoor wedding in June 2021.
Hart shared the first photo from the occasion, and unlike other couples, by leading with a photo from their afterparty. "Ya know, the after-party was pretty great too," the cookbook author noted. Mielniczenko also posted a photo of the two grinning and running through a field together in their attire. (Hart opted for a bridal jumpsuit with a cape by Pronovias, while Mielniczenko wore a tiered gown with a beaded bodice by Hayley Paige.)
"We just got MARRIED!!!!!" she added. "I can't thank all of our amazing vendors, friends, family enough! This was honestly the best weekend of my life! More photos to come! I can't wait to share." The couple created a cute hashtag off their couple name: #hellagoodwedding. (After all, Hannah and Ella equal "Hella.")
Hart also noted the turnaround time for their full wedding album, something their visuals team from Love and Wolves Co. probably appreciated. "It's gonna be a couple months til we get all the official pics + vids but like I TRULY can't wait to write my essay-length captions for every element," Hart wrote, "bc we LOVE #DETAILS BABY but anyway we got a sneak peak and I just gotta start saying how grateful I am to everyone involved."
Their planner and designer, Heartthrob Weddings & Events, shared an image of the smiling pair, joyously greeting loved ones after the ceremony commenced. "When that just married joy hits," the vendor added on social media. The day certainly proved to be an all-around collaborative moment between vendors.
In 2018, the vlogger and Mielniczenko attended The Knot Gala shortly after getting engaged. "I was like, 'OK, but I have to be the one to do it, because you said 'I love you' first, you kissed me first, you wanted to be official and monogamous first," Hart told us at the time of the proposal. "And for me, I was like, 'You have to give me one thing that's the first, so I wanted to ask her.' … We're both controlling, so it was a conversation that needed to be had."
The pair got engaged in Hawaii following a trip to Japan (during which Hart assured Mielniczenko that she was not going to propose), and are now in the beginning phases of planning their wedding. "I would say that the biggest issue we've honestly had is the guest list," she explained. "So we're on step one, the guest list." Added Mielniczenko at the time, "We have lots of vision for what we want."
The guest list process proved to be particularly tough for the couple. In February 2020, just before the pandemic hit, Hart emotionally revealed how her father wouldn't be attending her nuptials. "This is the most vulnerable I've ever felt online," the My Drunk Kitchen creator expressed in a video. She added a full note about her experience with family while planning what would be one of the most memorable days in her life.
"I can't describe what it feels like to be a child rejected by their parent. It strips you of your humanity. It makes you a shell. Nothing more than an object someone can opt-in to cherish and love when convenient for them and their beliefs. It reduces you to a choice. I am not a choice. I am a person deserving of love and respect," she shared at the time. "Back in August, my Dad and [stepmom] pulled me aside to tell me that they would not be coming to my wedding. I had included them on a list of 'family' e-mails my wedding planner asked for, but had assumed we would all silently agree not to discuss it. That surely I had suffered enough. That I had struggled enough. That I had lost enough family already. But they needed to remind me that my love was unnatural, immoral, and a crime within their organization."
As she broke down in the clip, Hart revealed: "My dad isn't coming to my wedding because he's a Jehovah's Witness… They are more like the kind of organization that consumes your entire life and controls all your relationships. Some people may refer to this as a cult and that's what it is. That's that. I've tried to make this video a couple times before. And it's been really hard to make because I keep getting to a point of what I have to address… When your parent continually rejects you and doesn't choose you."
Nevertheless, the couple had so much to look forward to with their chosen family. Hart told us they wanted good food, good music, an open bar and nature. "It's honestly like this: everyone we know works really hard and everyone we know is self-made," she reflected. "And we want the wedding to be a chance for the people who have lifted us up to this point in our lives and the people who have been around us who work as hard as we do to just have a great weekend. We're getting married, we love ya lots. Let's have a nice time."