How Cute Are Miami University's Traditions For Married Alumni?
by Ivy Jacobson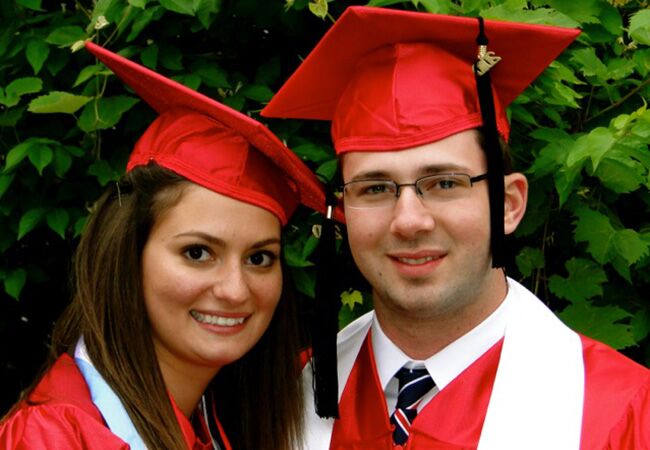 photo by
Sarah Lavoie and Sam Kaplunov 
It's not uncommon to meet your spouse in college — but Miami University in Oxford, OH has a very special place in their hearts for married alumni, and gave them the nickname "Miami Mergers." 14% of the school's alums are married to other alums, so it's been a tradition since 1973 to send each Merger couple a unique Valentine's Day card every year (14,000 went out this year!). Miami's bookstore also sells Miami Merger t-shirts, candles, stickers and wine, which is kind of the cutest thing ever.
Sarah Lavoie, a Miami nursing student, is engaged to alum Sam Kaplunov, and is a proud soon-to-be Miami Merger (since their wedding is June 20, 2015). She also has lots of friends who are Mergers and children of Mergers.
"Everyone knows what a Miami Merger is before they even commit to going to Miami — they talk about it at orientation!" Sarah says. "Sam and I were recently back on campus and when the tour guide found out we were soon-to-be Mergers, he made a point of announcing it to everyone. Part of the tour includes Upham Arch which is a large part of the Merger tradition. It's an archway on campus with a lantern and it is said that if you kiss under the arch at midnight, you'll marry that person."
Sarah and Sam feel very lucky that they met in college and are able to share their Miami memories with their future children in an especially sweet way.
"Being a Merger is very special to us. We are going to have 'Love and Honor' inscribed into our wedding bands, which is part of the Miami fight song and has become sort of a catch-phrase for the university," Sarah added.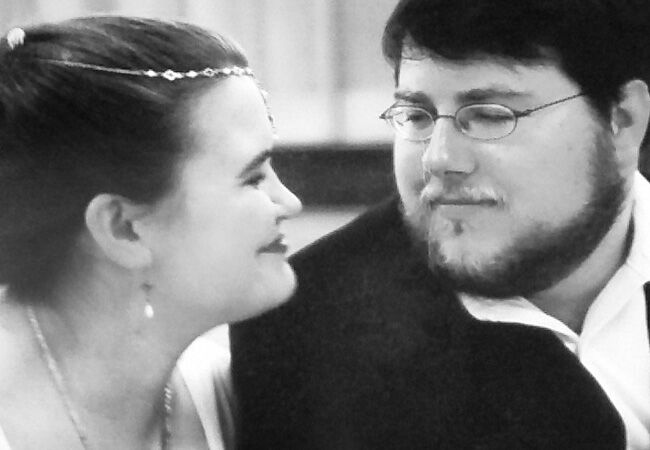 Genevieve and Patrick O'Malley started off as high school sweethearts and became Mergers on April 30, 2005. However, they did get special priority ahead of others getting married in the university's chapel because of their Merger status!
"Miami Mergers get to reserve the Kumler Chapel on campus earlier than other weddings," Genevieve says. "Kumler is booked twelve months in advance, but if it's for a Merger wedding, it can be booked thirteen months ahead of time. And it's in demand enough that for an April 30, 2005, wedding, we were on the phone leaving our reservation message at 12:01am, March 1, 2004! The dorm I lived in all four years is just across the street from Kumler Chapel, and Kumler is where my divisional commencement ceremony was, so getting married in Kumler is probably the part about being a Miami Merger that is the most special to us."
And even though other universities may not have cute Valentine's Day cards, they do make it possible for alumni to date each other by having matchmaker events, like at the University of Iowa. Leslie Prideaux, formerly the Assistant Director of Alumni Programs at UI and currently Director of Alumni Relations at the University of Northern Iowa, helped set up Mascot Matchmaker events with other universities in the area.
"We wanted to offer a unique opportunity to our alumni and found that this was a great way for our alumni to connect with fellow graduates," Leslie says. "It created a more relaxed atmosphere versus a typical speed dating because you already had something to discuss."
Dave and Jen Hartwig are two Iowa alums that met at a Mascot Matchmaker event in 2010 held for alums in Chicago, and got married on July 20, 2013.
"Honestly, I didn't think I would meet my spouse at this event; I ended up signing up for it to try something new within the dating scene of Chicago," Dave says. "It happened that Jen and I were matched with one another, and my friend who came with me and Jen's friend who attended with her ended up being matched to each other as well."
Want more? Right here!
> 9 reasons why Jennifer Lawrence would be the coolest bridesmaid ever (in GIFs)
> An opulent summer wedding in Chagrin Falls, OH