Here's How to Get Rid of Your Acne, Quickly and Effectively
A little bit of skincare goes a long way.
JLco - Julia Amaral / Getty Images
We have included third party products to help you navigate and enjoy life's biggest moments. Purchases made through links on this page may earn us a commission.
Acne is a common skin condition, affecting up to 50 million people in the US each year according to the American Academy of Dermatology Association. But while getting pimples is perfectly normal, that doesn't mean it's not annoying. Wondering how to get rid of acne fast? Good news: Mild to moderate acne can be addressed at home with the right care. We're sharing our top tips and product suggestions that'll help you learn how to get rid of pimples almost as soon as they appear.
For those with more severe acne, it's a good idea to make an appointment with your doctor or a dermatologist. Sometimes medication is the best approach, and a medical professional can help you find what works for you. For those wondering how to clear acne that's on the milder side, keep scrolling for expert advice from a board-certified dermatologist paired with our top skincare picks. And whatever your experience, remember that your skin is meant to have texture and pores (as much as social media filters can deceive us nowadays).
In this article:
What Causes Acne?
It can be hard to pin down the exact cause of your acne as there are typically a few different factors at play. "It is caused by a complex interaction of genetics and hormones and can be aggravated by the environment," says Dr. Sandy Skotnicki, author of the skincare guide Beyond Soap and exclusive dermatologist partner of Three Ships. "Hormonal fluctuations, pollution, oily skin, hair care products, and stress which can increase cortisol, can all drive acne," Skotnicki continues.
The Different Types of Acne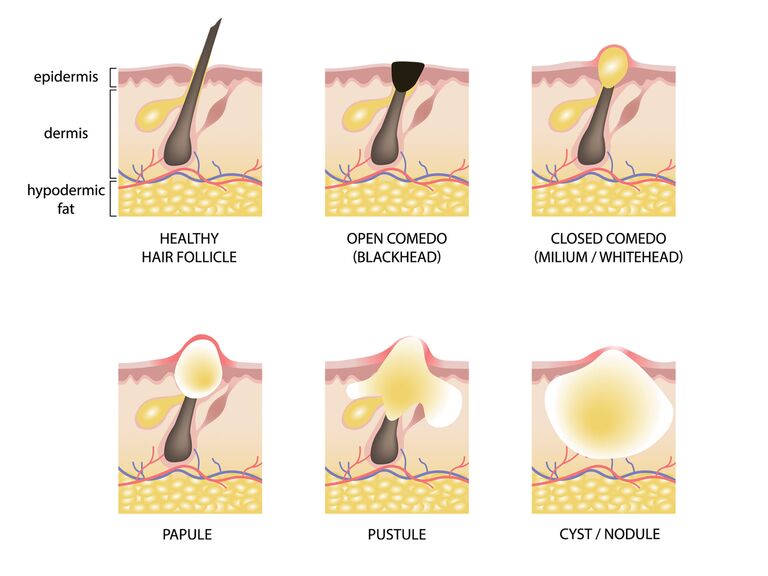 Knowing what type of acne is affecting you will make it easier to find the right treatment. Dr. Skotnicki explains that the three main variations are open and closed comedones, papular and pustular acne, and cystic acne. "Mild cases have few lesions and can be treated at home with OTC products that contain BHA, AHA, benzoyl peroxide, and in the US, adapalene," says Skotnicki.
Open comedones: While the term "open comedones" probably doesn't sound familiar, you might recognize this type of acne by its other name: blackheads. Because blackheads are open, the melanin pigment in the sebum meets the air and oxidizes, turning a dark color.
Closed comedones: Again, you're probably more familiar with this type of acne than you think. While open comedones are blackheads, closed comedones are—you guessed it—whiteheads. Dr. Skotnicki suggests products including BHA (beta hydroxy acid), AHA (alpha hydroxy acid), retinol, retinoic acid, tretinoin or adapalene for treating comedonal acne.
Papular acne: Mild acne can be comedonal, papular or a combination of both, says Skotnicki. Unlike comedones, papular, pustular and cystic acne are inflammatory. Papules are small red bumps without a yellow or white center, but they eventually accumulate pus and become pustules.
Pustular acne: As mentioned, a pustule is a papule that has accumulated pus. To treat this type of acne, Dr. Skotnicki recommends products containing benzoyl peroxide, niacinamide, azelaic acid or prescription medications like a topical or oral antibiotic, oral contraception, Aldactone or isotretinoin.
Cystic acne: This is a less common but more severe type of acne that you won't be able to get rid of overnight. Cystic acne forms deep underneath the skin and can cause permanent scarring, which is why seeing a specialist is important. Dr. Skotnicki recommends prescription medications like an oral antibiotic or isotretinoin for getting rid of these under-the-skin pimples.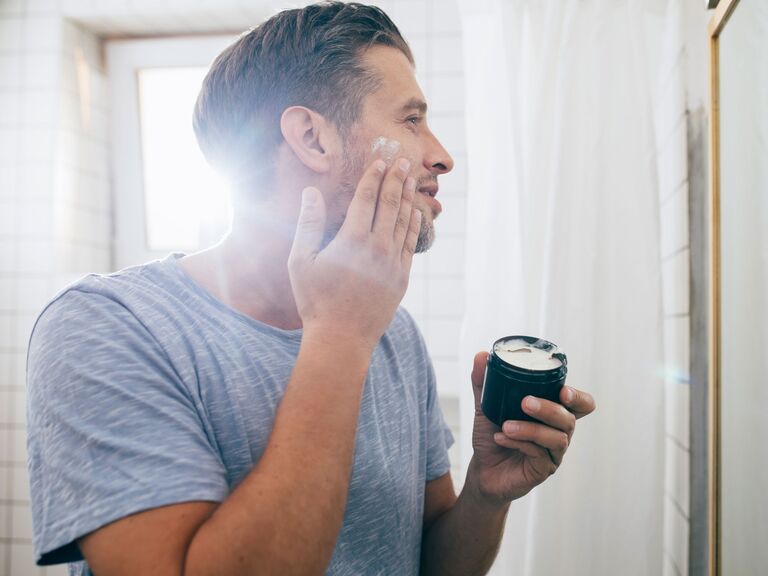 What Gets Rid of Acne and Pimples Fast?
Once you've determined what kind of pimples are affecting your complexion, you can start to take action. These 10 tips should help you figure out what helps to get rid of your acne quickly (and hopefully prevent future breakouts). We're also sharing some of the best skincare products to get rid of acne, from cleansers and clay masks to retinol and fast-acting acne patches.
1. Simplify your skincare routine.
PSA: Your skincare products could actually be making your acne worse. It's best to stick to the basics while you're figuring things out. Dr. Skotnicki specifically warns against over-washing. "There is still a perception that your skin is dirty or clogged in those who have acne," she says. But while clogging can certainly be the issue for comedonal zits, Skotnicki explains that excessive washing won't clear your pores. Instead, stick to washing your face once or twice a day. Not sure where to start? These cleaners are great for acne-prone skin. (But, if you're using an acne product that can be drying, Dr. Skotnicki says to avoid cleansers with active acne-fighting ingredients.)
When it comes to getting rid of pimples fast, keeping your skin clean (without over-washing, of course) is a big help. A cleanser with an active ingredient can prevent breakouts. Plus, it's much gentler on the skin than exfoliating creams. CeraVe's salicylic acid cleanser removes excess oil while also supporting the skin's natural protective barrier.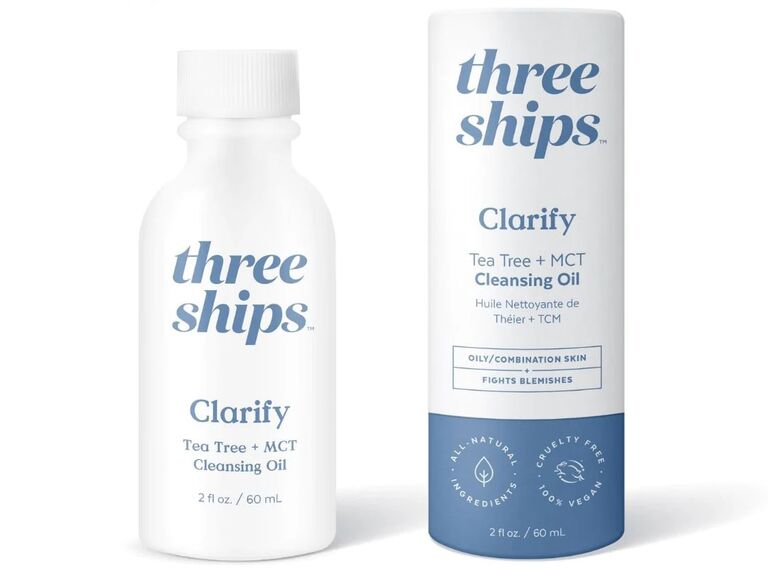 This cleansing oil boasts natural ingredients: acne-fighting tea tree oil, antibacterial cedarwood essential oil and nourishing fractionated coconut oil. It's an excellent cleanser for anyone hoping to eliminate breakouts with natural ingredients and it's an effective makeup remover.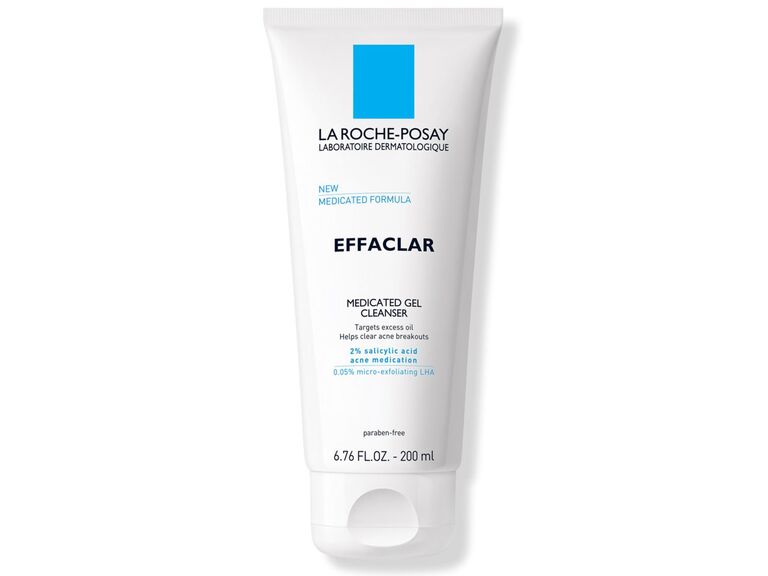 When posed with the question, "How do you get rid of acne?" La Roche Posay's answer was simple: The Effeclar range. Pretty much everything in the skincare brand's Effeclar line is beloved by acne fighters, including this medicated gel cleanser. It contains 2% salicylic acid to help clear blackheads and whiteheads, and lipo-hydroxy acid for unclogging pores.
2. Use the right active ingredients.
Using the right skincare products for the type of acne you're experiencing is key to learning how to get rid of pimples overnight. According to Dr. Skotnicki, products including AHA, BHA, retinol or retinoic acid are great for dealing with whiteheads and blackheads. For papular and pustular acne, look for products with benzoyl peroxide, niacinamide or azelaic acid. These acne-fighting skincare products should help reduce the appearance of acne fast.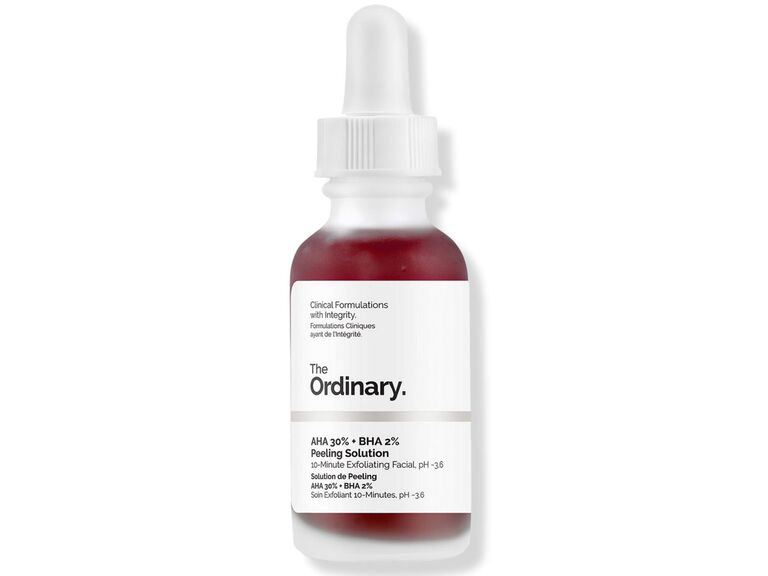 A peeling solution used once or twice a week can help keep acne at bay. This exfoliating option from The Ordinary uses BHA and AHA to treat textural irregularities, clogged pores and dullness.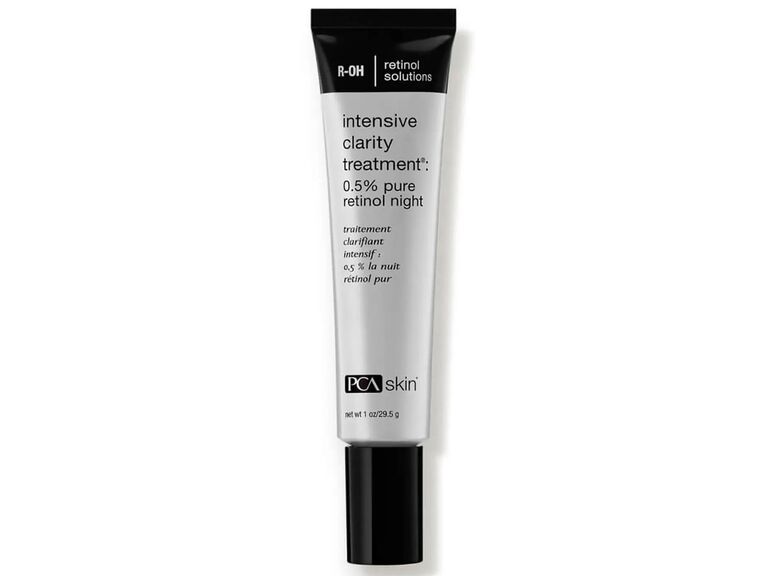 Here's an alternative treatment to add to your p.m. skincare routine. It's designed specifically for skin with acne and hyperpigmentation. Witch hazel naturally clears and tightens pores, and retinol reduces discoloration and inflammation.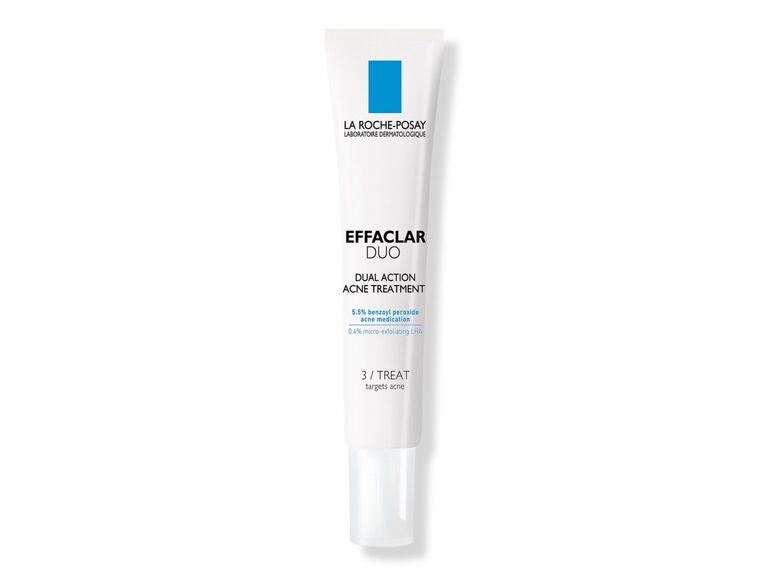 Another gem from the Effeclar range, La Roche Posay's acne treatment cream treats blemishes without drying out your skin. The cream contains benzoyl peroxide, making it a suitable pimple remedy for papular and pustular acne (and it'll work for comedones too!).
3. Don't overdo the acne treatment.
Dr. Skotnicki warns against using multiple irritating products on the skin every day. "You can alternative different actives i.e. use BHA three times a week and benzoyl peroxide three times a week," she says. Doing too much at once can aggravate your skin even more. That won't do any favors for your acne and it could dry out your skin.
4. Use a clay face mask.
Face masks can feel like a little slice of luxury, and you don't have to give them up while working to clear your skin. It's all about choosing the right one. "Drying acne out with sulfur creams and clay masks can be very helpful in reducing redness and swelling of active papules and pustules and mildly for cysts," says Skotnicki. Here are three of our favorite clay masks for acne-prone skin: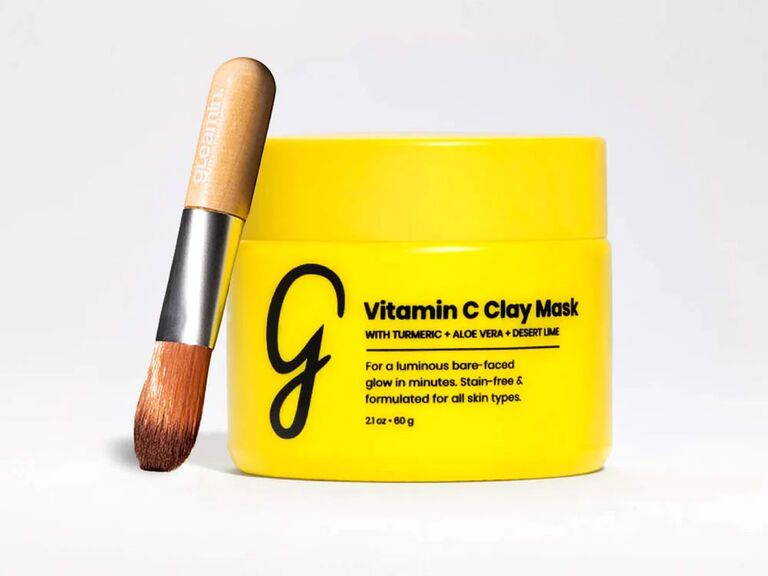 This 100% natural clay mask is infused with lots of goodies that'll revitalize your acne-prone skin. It'll gently exfoliate your face to shrink pimples while also fading dark spots and acne scarring. Plus, it promotes a healthy balance of your skin's natural oils, preventing future breakouts.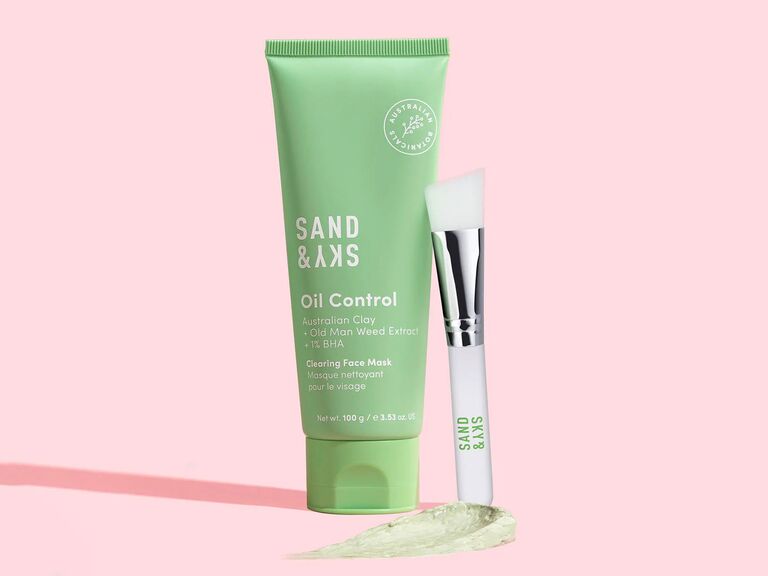 Sand & Sky's Oil Control clay mask also promises to rebalance your microbiome, reducing excess sebum for beautiful, unclogged pores. Both niacinamide and salicylic acid (which is a type of BHA, BTW) are present in this clarifying formula, making it a great treatment for combination acne (comedonal and papular/pustular).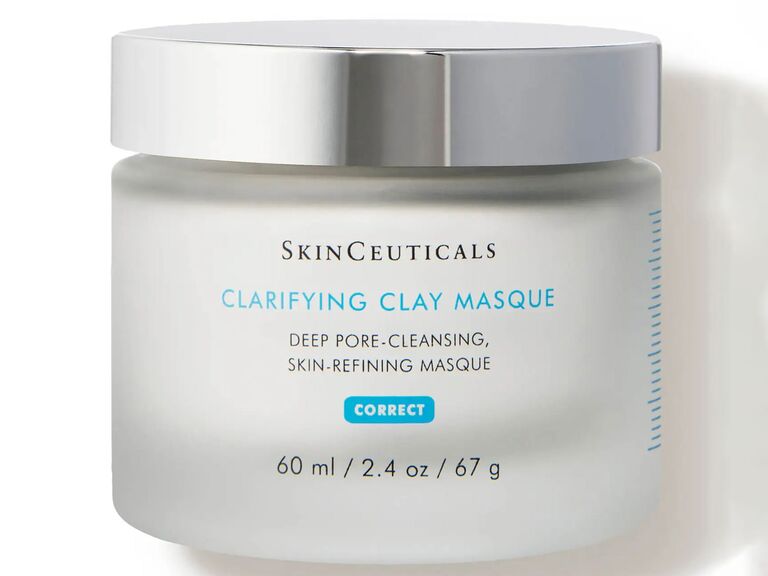 This deep-cleansing clay mask works for all skin types. In addition to clarifying natural earth clays, it contains exfoliating mixed fruit extracts as well as soothing aloe and chamomile. It gently exfoliates, decongests and calms skin with acne.
5. Practice good facial hygiene.
Figuring out what to put on your pimples is just one part of the puzzle. Skincare products aren't the only way to prevent breakouts. Anything that touches your face regularly should be cleaned regularly. This includes towels, pillowcases and even your phone. It's also a good idea to keep your hands off your face as much as possible to prevent spreading bacteria. Try incorporating some of these skin-friendly items into your daily routine.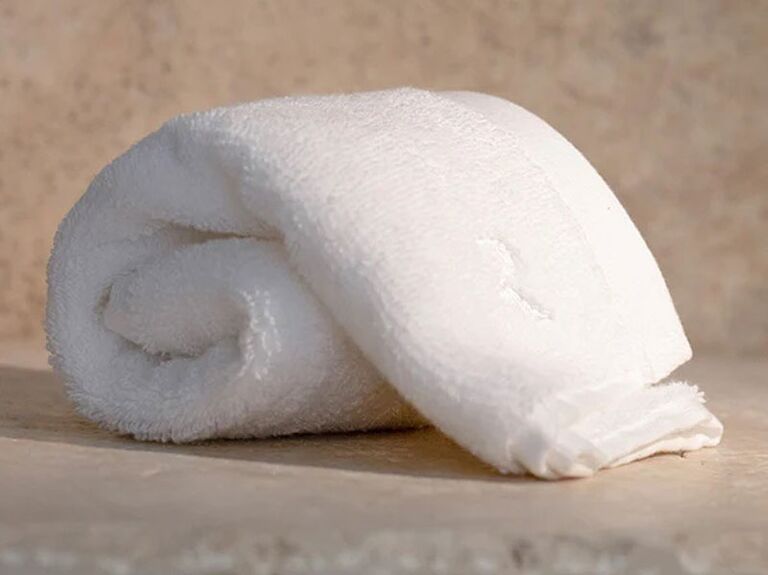 Keep your skincare routine extra hygienic with an antibacterial face towel. This fluffy and absorbent towel is made from a blend of antibacterial, eco-friendly fibers. It helps protect your skin's health and make pimples go away by killing acne-causing bacteria.
After your hands, your phone is probably the second most common thing to touch your face. Unfortunately, our phones can harbor a lot of germs which can then be transferred onto your skin when you're making appointments or answering your mom's third phone call of the day. Luckily, PhoneSoap's genius sanitizing device sanitizes your gadgets in minutes with bacteria-killing UV-C light.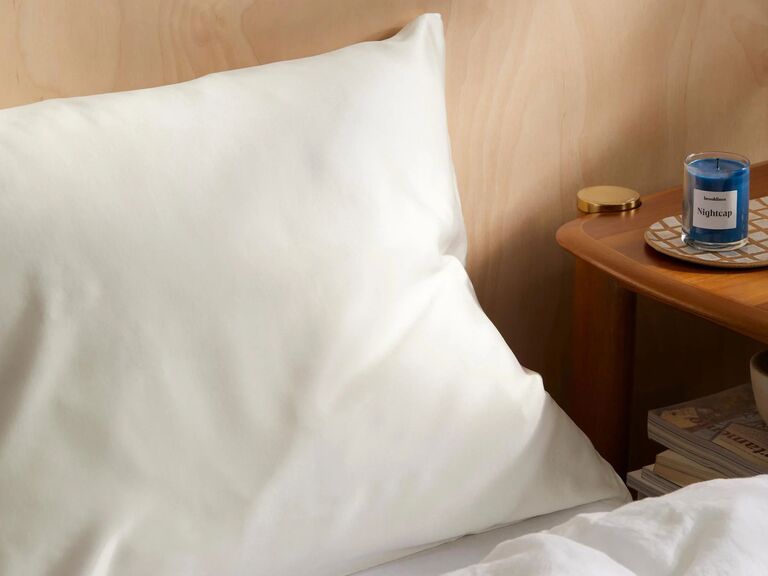 Regularly swapping your pillowcase can also promote good facial hygiene. While you're at it, you may as well spring for a silk pillowcase that protects your skin (and hair!) from friction damage. It's also delightfully cool to the touch—what's not to love?
6. Remember to remove makeup.
One super-fast way to encourage clogged pores? Sleeping in your makeup. If you wear makeup, then you need to add a makeup remover to your nighttime skincare routine. Cleansers generally won't stand up to the task of removing all your makeup, especially if it's long-wearing, smudge-resistant or waterproof. Instead, try one of these gentle makeup removers that are suitable for acne-prone skin.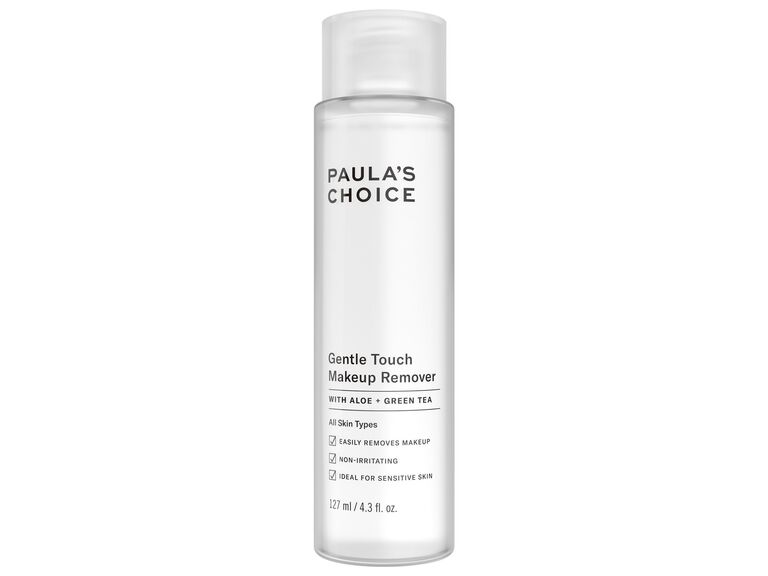 You want a makeup remover that won't leave your skin feeling oily or dry, and this one strikes a perfect balance. It's designed for sensitive skin and will remove makeup without causing irritation.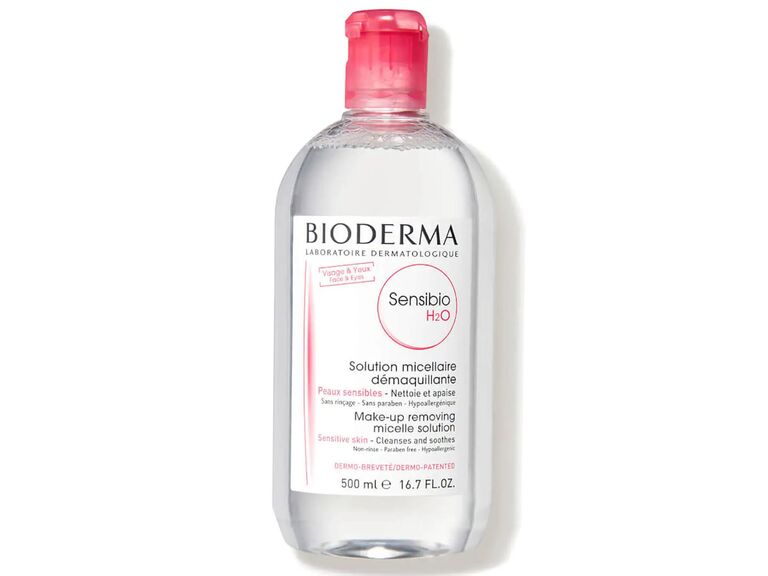 Figuring out how to reduce or get rid of your acne overnight can be tricky, but causing acne to spring up overnight is easy when you don't have an effective makeup remover. Micellar water is a popular choice for all skin types. It's gentle enough for removing eye makeup too.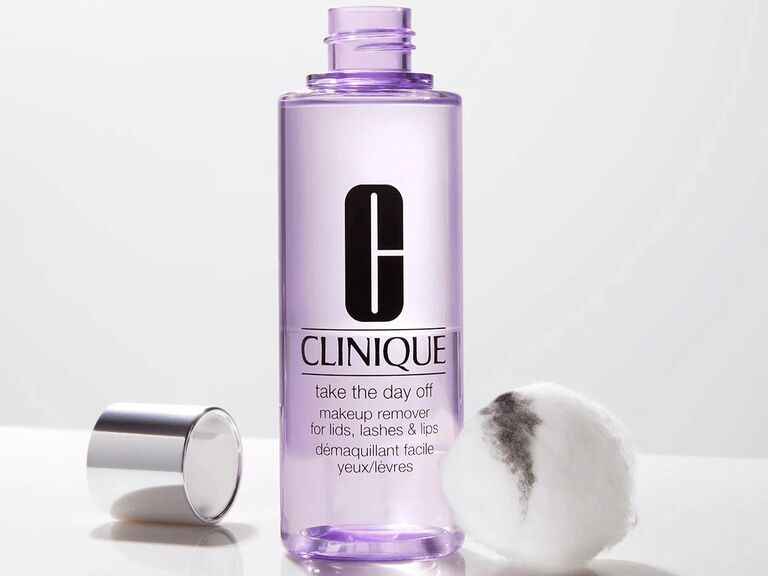 The last thing you want to do when you have acne is scrub at your skin to remove makeup. Clinique's non-irritating Take The Day Off remover is super effective, revealing makeup-free skin with a few gentle swipes.
7. Stay hydrated.
We're not just talking about moisturizer here. It's important to drink enough water throughout the day to keep your skin healthy and hydrated. That said, you should definitely be investing in a good moisturizer too. Don't be fooled by your skin type—oily skin needs hydrating too. Luckily, there are moisturizers out there to suit everyone, including those looking to get rid of light acne.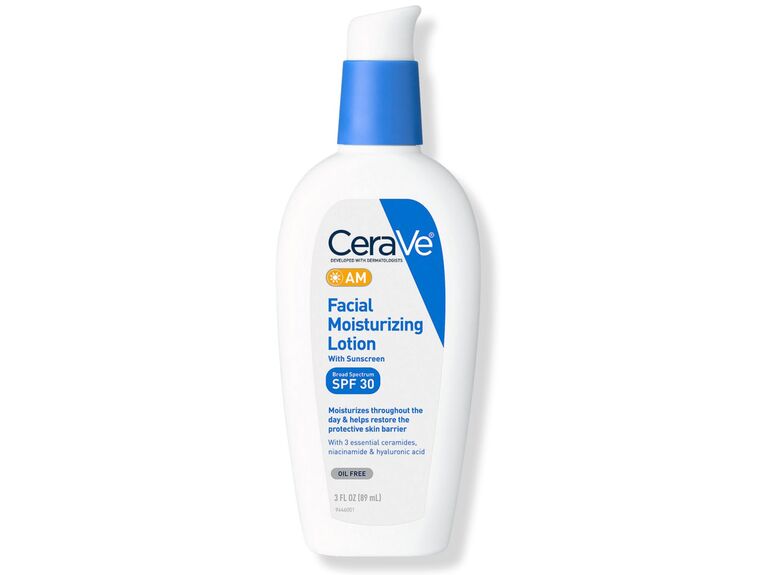 You should never skip SPF in your morning skincare routine (yes, even in winter). An easy way to get your daily dose is by using an SPF moisturizer, like this one. It's oil free and contains niacinamide, which helps soothe blemished skin.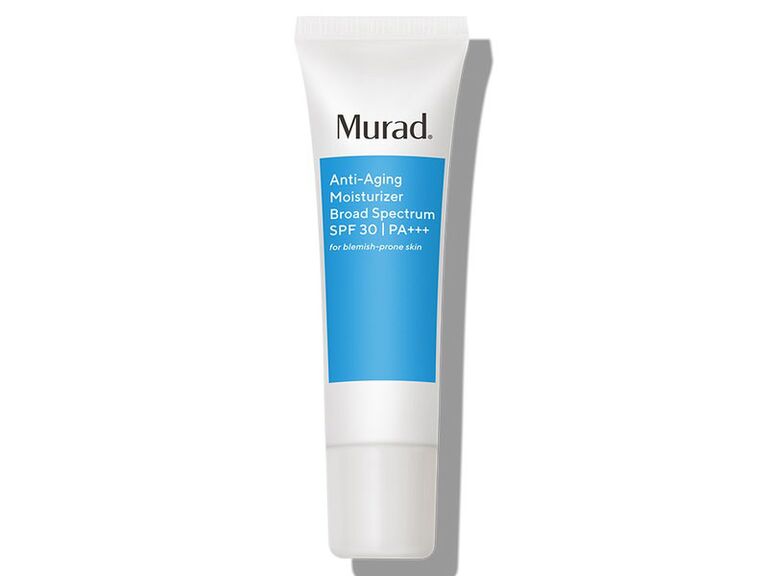 Here's another SPF moisturizer that's also anti-aging and fights acne. (Is there anything it can't do?!) This grease-free moisturizer hydrates the skin, treats and prevents breakouts and reduces fine lines. It's a great choice for mature, acne-prone skin.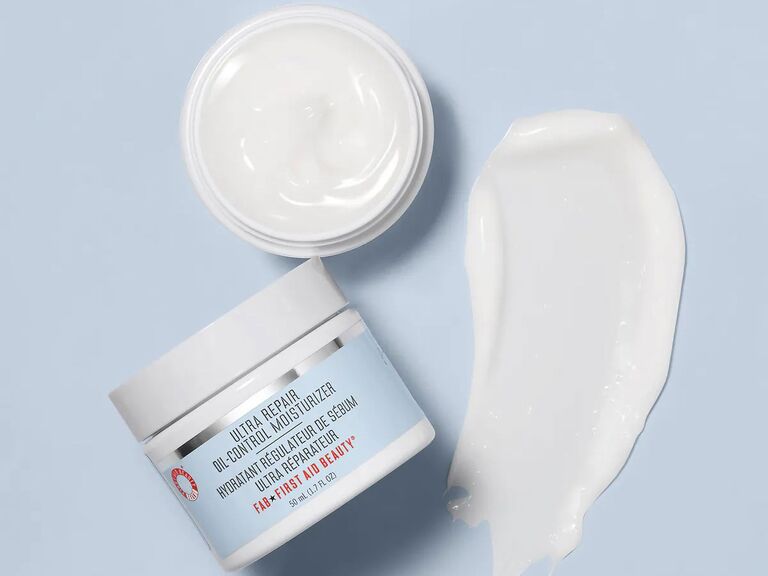 First Aid Beauty has a few cult-favorite products. We happen to love the brand's Ultra Repair oil-control moisturizer for acne-prone skin. It delivers hydration without clogging your pores and it absorbs excess oil.
8. Prioritize everyday wellness.
Since acne can have a lot of different causes, it can be tricky to pin down one particular reason for your flare-ups. That said, by practicing wellness in your everyday life, there's a good chance you'll be able to knock out a few potential causes at the same time. Getting enough sleep, relieving stress and eating well will put you in a good position to address your skin condition with over-the-counter products or medication, depending on your doctor's advice. (Psst, if you need some help getting started on your wellness journey, check out The Knot's exclusive wellness hub.)
9. Resist the temptation to squeeze.
We've all heard the warning: Squeezing your pimples will only make things worse. Unfortunately, it's true. When you squeeze a zit, you're likely just pushing the problem (read: pus and bacteria) deeper into your skin. You risk causing more inflammation as well as scabs and permanent scarring. Instead of popping that pimple, try using ice to temporarily reduce swelling or an acne patch designed to draw out pus and protect the skin from damage. These skincare products are a quick acne remedy that'll help relieve symptoms and eventually get rid of pimples completely.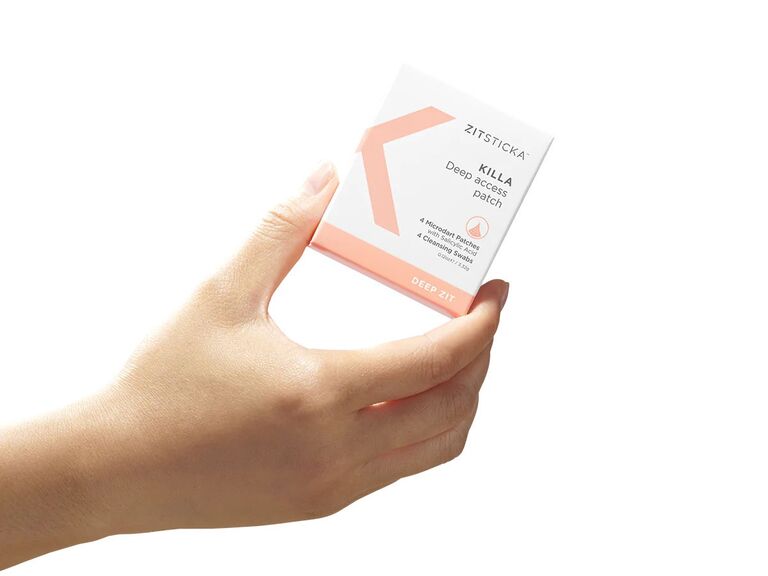 Catch your pimples before they become a problem with these early-stage acne patches. Tiny microdarts self-dissolve for deep, effective action that works quickly. Dermatologist-approved ingredients clear the skin. You can see results in as little as two hours, but it works best when left overnight.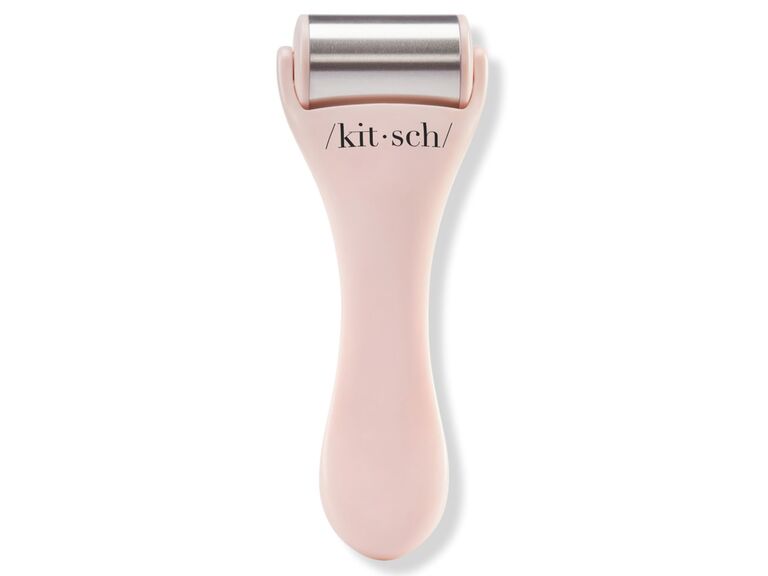 An ice roller won't get rid of your pimples in five minutes, but it will reduce your symptoms pretty darn fast. Use this soothing skincare tool to reduce inflammation, increase blood flow and calm your skin.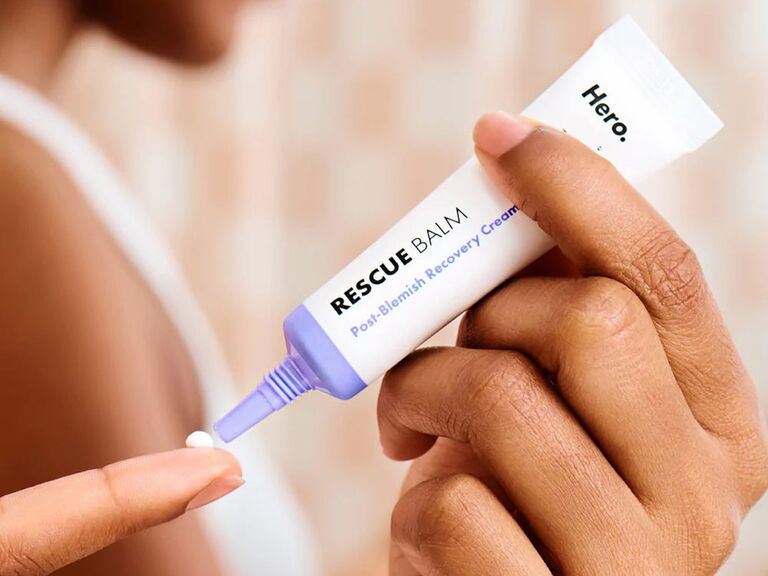 Okay, so the damage has already been done (we've all been there) and now you're left with an angry popped pimple. Rescue Balm is made for that exact situation. It delivers a quick burst of hydration and soothes the skin to speed up the recovery process.
10. See your doctor or dermatologist.
If you've tried everything and you're still left wondering how to get rid of stubborn acne, you should reach out to your doctor or dermatology specialist. "A visit to a dermatologist for an injection of cortisone into a cyst can result in a fast reduction," advises Skotnicki. They'll also be able to prescribe an acne-reducing medication if necessary for your particular skin condition.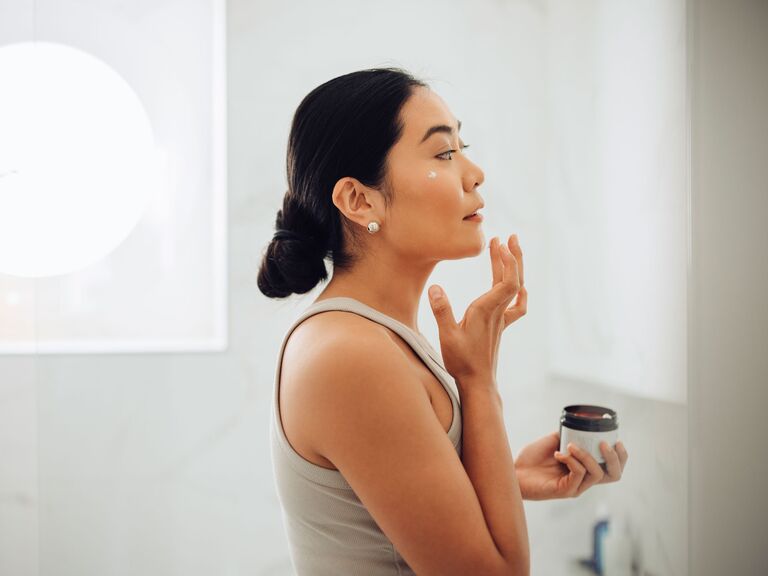 How to Get Rid of Acne Scars
Figuring out the best way to get rid of your acne is part one. Part two involves dealing with any scars that are left behind. This can be a bigger issue for those with more severe acne, such as cystic acne. Thankfully, there are many different acne scar treatment options available, ranging from chemical peels and skin fillers to dermabrasion and laser resurfacing. According to the American Academy of Dermatology, these are all safe and effective acne scar treatment methods.
Over-the-Counter Skincare Products
There are also products out there that can help fade acne scars over time. "The gold standard for topical treatment of acne scars is retinoic acid, tretinoin or adapalene," says Dr. Skotnicki.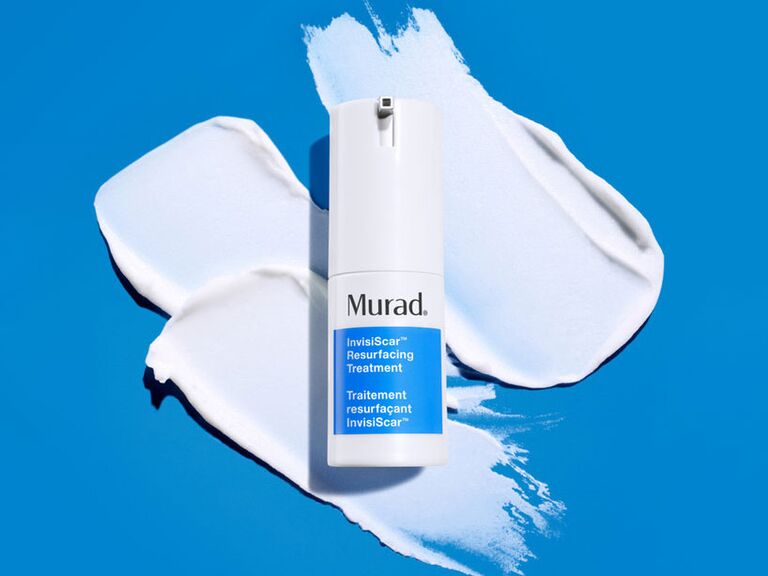 This resurfacing treatment delivers results after eight weeks. Salicylic acid exfoliates to reduce scar texture, vitamin C reduces the appearance of dark spots and tiger grass supports healthier looking skin. Light diffusers and blurring powder reduce the appearance of scars and leave a silky smooth finish.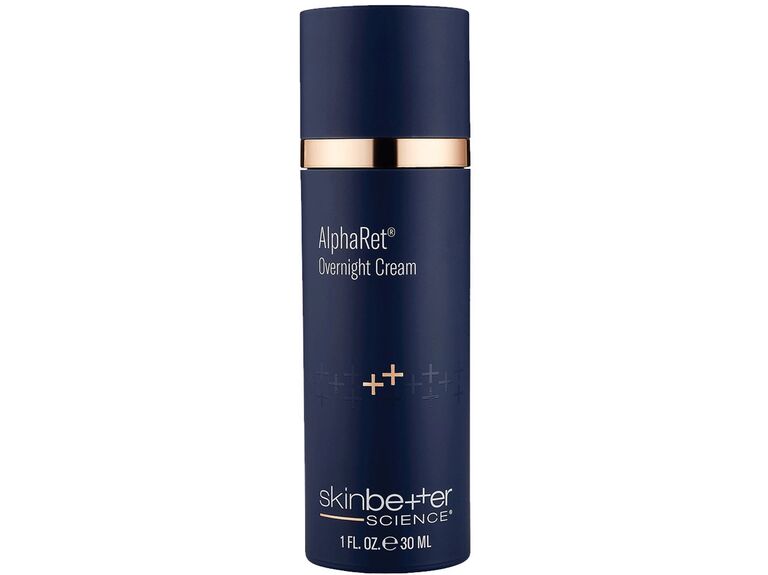 This cream combines AHA and retinoids to reduce the appearance of scarring and wrinkles. It's designed to be a little gentler on the skin than some other retinol and retinoid products. Plus, you'll get a healthy dose of moisture too.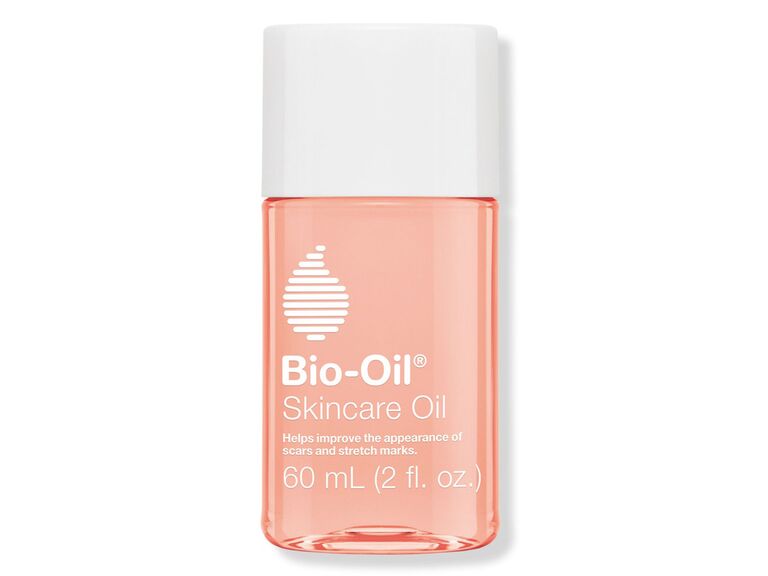 Bio-Oil is beloved by many when it comes to addressing acne scars, stretch marks, signs of aging and more. This versatile addition to your bathroom shelf uses vitamin A, vitamin E and plant-based oils to increase elasticity, prevent aging and reduce inflammation.
Cortisone Cream or Injection
Cortisone cream fights inflammation and is one of the acne remedies that can help prevent scarring from worsening. Available over the counter, cortisone cream can be applied directly to inflamed acne lesions to reduce swelling and redness. A doctor can also inject cortisone into a deeper acne cyst or lesion to shrink it and help prevent scarring.
Dermabrasion
Dermabrasion is used for acne scar removal and to treat skin imperfections like wrinkles. Dermabrasion can only be performed by a qualified medical professional, as it involves removing the top several layers of skin. New skin grows over a period of weeks to replace the damaged layers.
Chemical Peels
There are a number of mild chemical peels available over the counter, but acne scar removal requires a stronger peel typically administered by a doctor or dermatologist. Trichloroacetic acid (TCA) peels are slightly stronger than alpha hydroxy acid (AHA) peels and may be used for acne scar treatment. The strongest type, phenol peels, may cause significant swelling and require up to two weeks of recovery time at home. Neither are recommended for people with active severe acne.
Skin Fillers
Temporary skin fillers have been used for years for acne scar treatment, but a permanent dermal filler has since been approved for use by the FDA. Designed to remove moderate to severe acne scarring, Bellafill is made up of 80% collagen to replace lost volume and 20% polymethylmethacrylate, which helps your body heal by boosting protein production.
Skin Lighteners
Post-inflammatory hyperpigmentation is not an acne scar, but a red, pink, brown or tan skin discoloration where acne has previously flared up. It'll usually disappear on its own in a year or so. Many skin-lightening products claim to help reduce the visibility of these acne "scars." Their active ingredient, hydroquinone, works to slow melanin production and can reduce dark brown marks, but melanin isn't the cause of red and pink acne discolorations. Some skin discoloration is perfectly normal, but if you feel self-conscious, you can use foundation or concealer to cover them until they fade.
Ablative Lasers
Ablative lasers deliver an intense wavelength of light to the skin, removing thin outer layers of the skin (epidermis). In addition, collagen production is stimulated in the underlying layer (the dermis). Patients are typically numbed with local anesthetic and the ablation is done as an outpatient procedure. CO2 and erbium are the ablative lasers most often used for acne scar treatment.
Fractional Laser Treatment
Fractional laser treatment is less invasive than ablative laser treatment, as it targets only a fraction of the skin at a time. Fractional lasers penetrate the top skin layers, where their light energy stimulates collagen production and resurfaces the top layer of the epidermis. Treatments typically last around 30 minutes and you'll likely need four to five separate treatments. Results are increasingly visible over a period of three to four months.
Photodynamic Therapy
The two laser treatment options above are great for acne scar removal, but aren't generally recommended as acne treatment. If you're still experiencing active acne breakouts and wondering how to get rid of acne with laser treatments, check out photodynamic therapy. It combats active moderate-to-severe acne while also diminishing older acne scars by using light energy to activate a powerful acne-fighting solution. Patients may require two or three treatments over several weeks and should expect some redness, peeling and sun sensitivity.
Please note: The Knot and the materials and information it contains are not intended to, and do not constitute, medical advice and should not be used as such. You should always consult with a medical professional about your specific circumstances.