How to Have a Barn Wedding and Plan For Everything
There's so much more to planning a barn wedding besides choosing the perfect floral accents and farm-to-table fare. Hay allergies and extra generators, anyone?
by Ivy Jacobson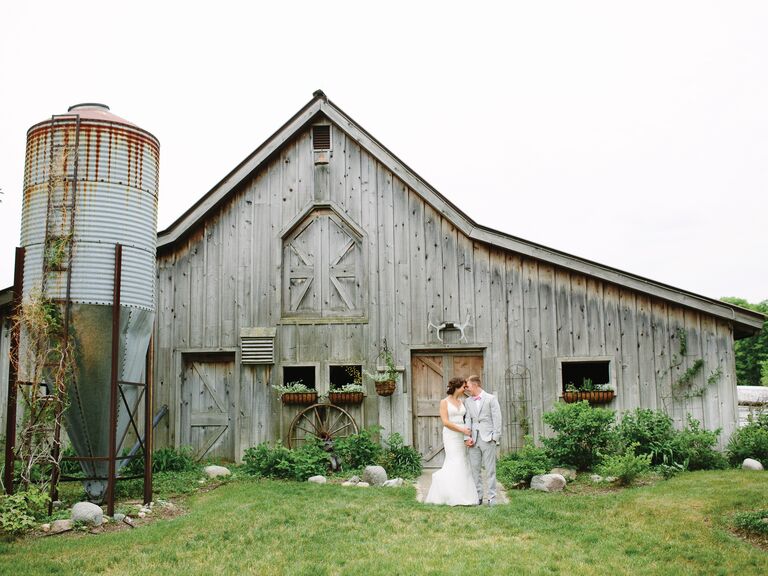 A barn wedding is the pinnacle of rustic chic. It's all about the casual-meets-elegant elements the couple adds to make their barn wedding their own. Exposed wood, curated nature-inspired details, locally sourced cocktails in mason jars and lots of candlelight can all communicate the laid back vibe you're going for.

Barn weddings hold infinite possibilities for breathtaking photos and homespun details—and although they're an incredible wedding venue choice, even the biggest planners in the business find barn weddings tricky to plan, logistically speaking. There's usually more to planning a rustic wedding than meets the eye—especially when mud, portable restrooms and uninvited bugs can be major factors. So that's why we consulted planning experts Lynn Easton, owner of Easton Events and Pippin Hill Farm & Vineyards in North Garden, Virginia, and Vickie Brown, owner of Victoria Belle Mansion and Vintage White Barn in Hogansville, Georgia, about how to have a barn wedding. They shared eight barn wedding snags you may hit, and the solutions that will leave you and your guests happy.
1. Set Aside a Budget for Barn Extras

2. Check the Local Sound Ordinance Rules

Michelle Walker Photography

5. Weatherproof Your Guests

6. Allergy-Proof the Barn Area

8. Pretty Up the Powder Room

9. Plan Ahead and Know What People Ask About Barn Weddings