How to Have a Barn Wedding and Plan For Everything
There's so much more to planning a barn wedding besides choosing the perfect floral accents and farm-to-table fare. Hay allergies and extra generators, anyone?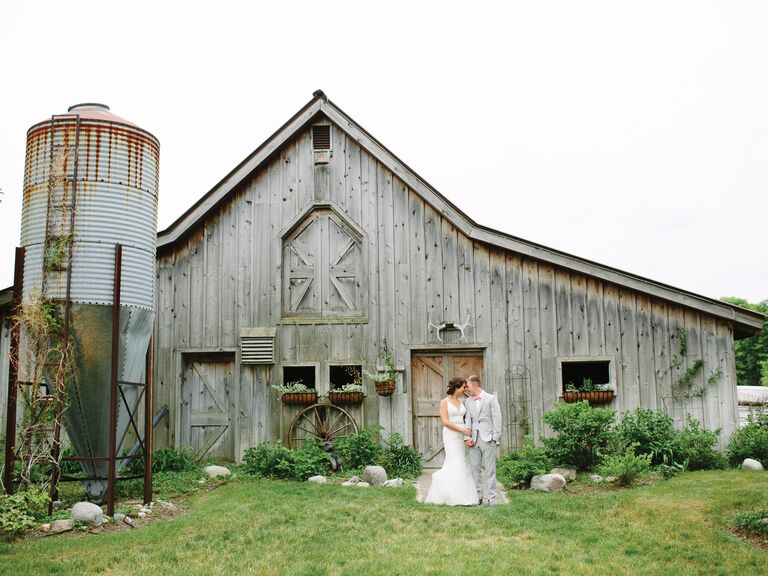 Dan Stewart Photography
A barn wedding is the pinnacle of rustic chic. It's all about the casual-meets-elegant elements the couple adds to make their barn wedding their own. Exposed wood, curated nature-inspired details, locally sourced cocktails in mason jars and lots of candlelight can all communicate the laid back vibe you're going for.
Barn weddings hold infinite possibilities for breathtaking photos and homespun details—and although they're an incredible wedding venue choice, even the biggest planners in the business find barn weddings tricky to plan, logistically speaking. There's usually more to planning a rustic wedding than meets the eye—especially when mud, portable restrooms and uninvited bugs can be major factors. So that's why we consulted planning experts Lynn Easton, owner of Easton Events and Pippin Hill Farm & Vineyards in North Garden, Virginia, and Vickie Brown, owner of Victoria Belle Mansion and Vintage White Barn in Hogansville, Georgia, about how to have a barn wedding. They shared eight barn wedding snags you may hit, and the solutions that will leave you and your guests happy.
1. Set Aside a Budget for Barn Extras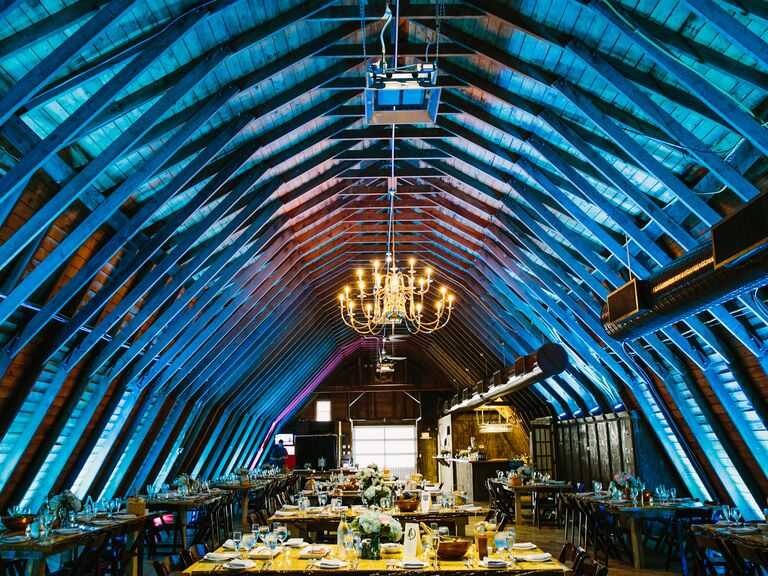 This goes for any venue that isn't full service—but especially barn wedding venues. You'll most likely be responsible for the tables, chairs, dishes and other extras. "Consider the additional cost of lighting, generators, catering tents, a backup tent for the ceremony, vendor tents, a commercial cleaning of the barn and access to water and perimeter lighting," Easton says. And not to make you nervous but, besides that, you'll have to make sure the barn is licensed and insured to be open to the public. Plus, your caterer and entertainment will need to have access to all the electrical outlets they require in the barn.
If you've booked a barn that typically hosts weddings, the managers there may have a list of what you'll need. If not, your best bet is to work with a wedding planner who specializes in barn weddings.
2. Check the Local Sound Ordinance Rules
Don't assume that just because you have the barn for the night you'll be allowed to dance into the early hours of the morning. Even if your barn wedding reception is in a relatively remote location, you'll still want to double-check any sound ordinance rules in the area and confirm what time your band or DJ should be wrapping up.
"Sound is often measured by its level at the property line," Easton says. "So if you have houses nearby, you'll need to be mindful of this when planning your event timeline." If the noise ordinance requires you to end the party early, you may want to consider having a casual after-party at a local restaurant or bar.
3. Mind the Grounds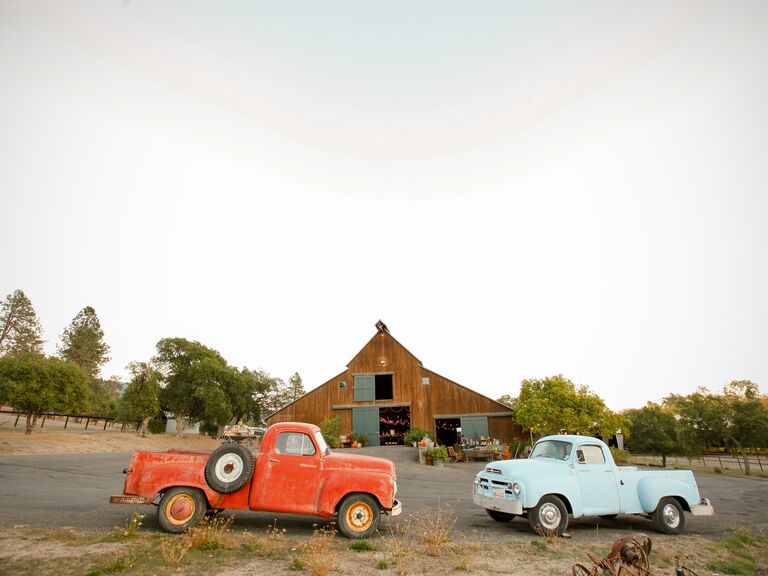 Fields and pastures are picturesque, but making sure they're car and wheel friendly is a must for elderly guests and others being transported to your barn wedding venue by large vehicles. Otherwise, you may have a muddy or rocky problem on your hands. "Aunt Sally may have a hard time attending your wedding because her wheelchair can't be pushed through the scenic fields surrounding the barn," Brown says. "And do those fields turn to mud if it rains? If so, does the venue have a paved parking lot?"
Asking yourselves these questions and coming up with solutions to each is critical. We know it sounds gritty (pun intended), but it's necessary for pulling off a barn wedding.
4. Make a Plan for Bugs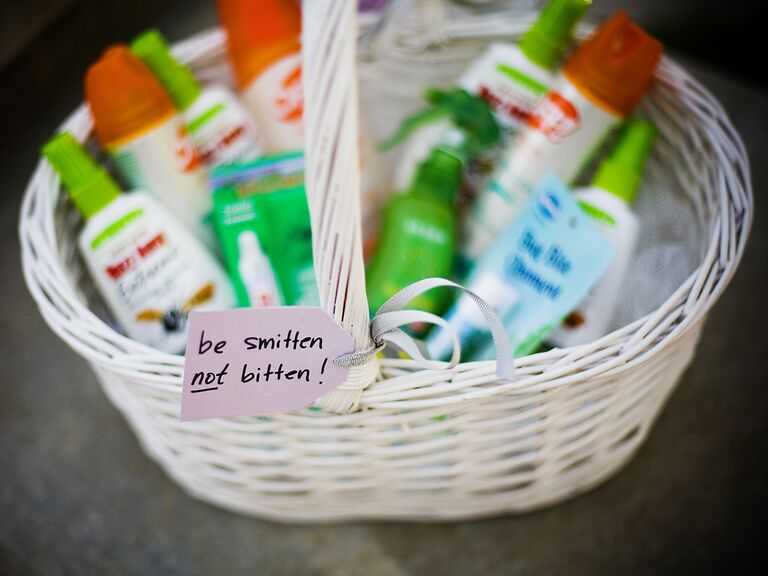 While fireflies and chirping crickets can be romantic, bug bites definitely aren't. Stock up on citronella candles and have them set up around the perimeter of the barn wedding venue. Put together small baskets filled with bug spray in the bathrooms or near the entrance to the barn for guests to take advantage of. If you're not local to the barn wedding venue's area, it's a good idea to chat with someone who knows the nature of the area—and its bugs—during the time of year you're getting married.
"Entertaining in the 'almost' great outdoors can bring you closer to nature than you would like," Easton says. "If cocktails are outside at dusk and you are in the South, be aware of 'No See Ums'—they bite and can definitely distress a party." Another tip from Easton: No matter where your barn is located, she recommends spraying for bugs the day before your wedding.
5. Weatherproof Your Guests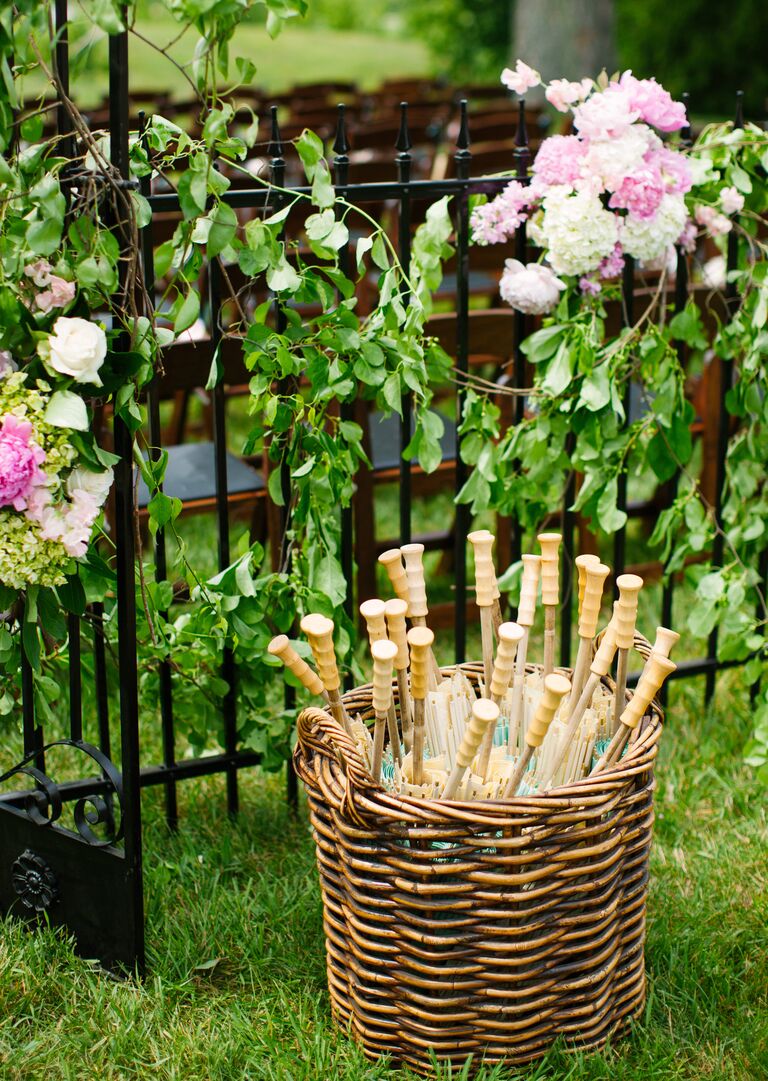 Parasols and paper fans aren't just pretty touches when it comes to a barn wedding—they're a total necessity during hot months. "Barns are not particularly designed for cross ventilation, so during the warm months, they can really hold the summer heat," Easton says. "Have plenty of big fans and don't be afraid of the industrial ones to really circulate the air."
Barns work the same way in winter too, since they also lack proper insulation for outdoor temperatures.
No matter what time of year you're getting married, if your barn wedding venue isn't climate controlled, you'll want to add a few dress code suggestions to your wedding website, so guests will be comfortable in the barn no matter what the weather is like.
6. Allergy-Proof the Barn Area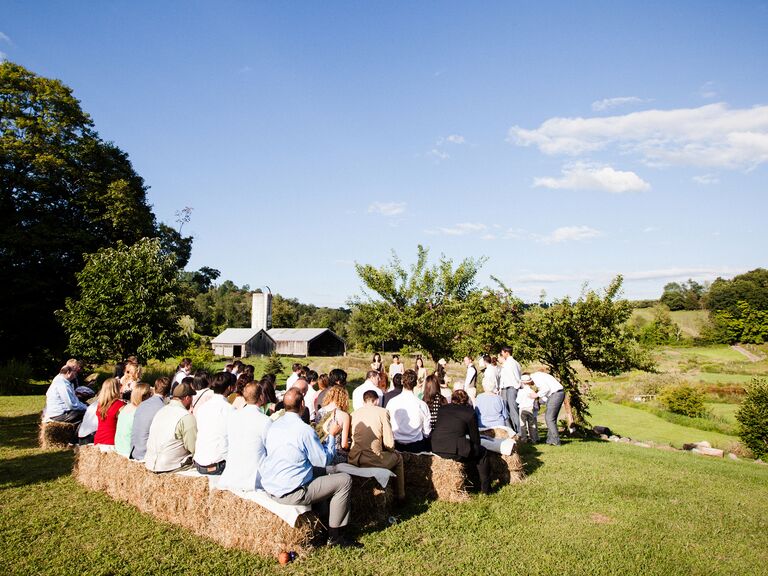 There's probably nothing more wedding-Instagram-worthy than a country wedding venue with a few animals and rustic details like hay bales. But nobody wants a photo op to turn into a full-blown allergy attack. "If animals are present, so are items such as hay and feed—along with animal smells—which can wreak havoc on anyone with allergies, especially if it's the bride and groom," Brown says.
If there are animals near or around the barn, do what you can to keep them in their own area so guests can go near them if they want (or not). Offering Benadryl in the bathroom baskets doesn't hurt either! And if you're going with cute hay bale seats for barn wedding, throw a few blankets over them. It'll make seating more comfortable and help your guests' allergies.
One more very important side note: Hay bales can easily become fire hazards, depending on how they're stored. Check into the situation because, believe it or not, you might need a permit just to have hay bales at your barn wedding.
7. Skip the Stilettos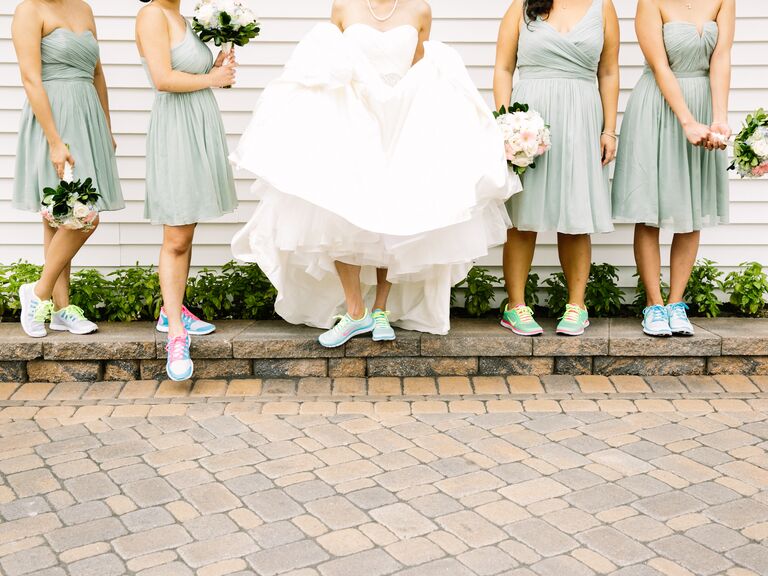 A rustic barn wedding venue more than likely means that the floors will be rustic too. Some barns have wood, pebble or even dirt floors. You might want to provide flip-flops for your female guests to save them from ruining their heels—and definitely add a note to your wedding website.
As for you: If you're planning to change into flats for the barn wedding reception, tell your bridal salon or alterations seamstress so she makes the proper hem adjustments to ensure your wedding dress doesn't drag on the ground for half the evening. "If heels are a must, we highly recommend Starlettos—they adjust to the width of your heel," Easton says.
8. Pretty Up the Powder Room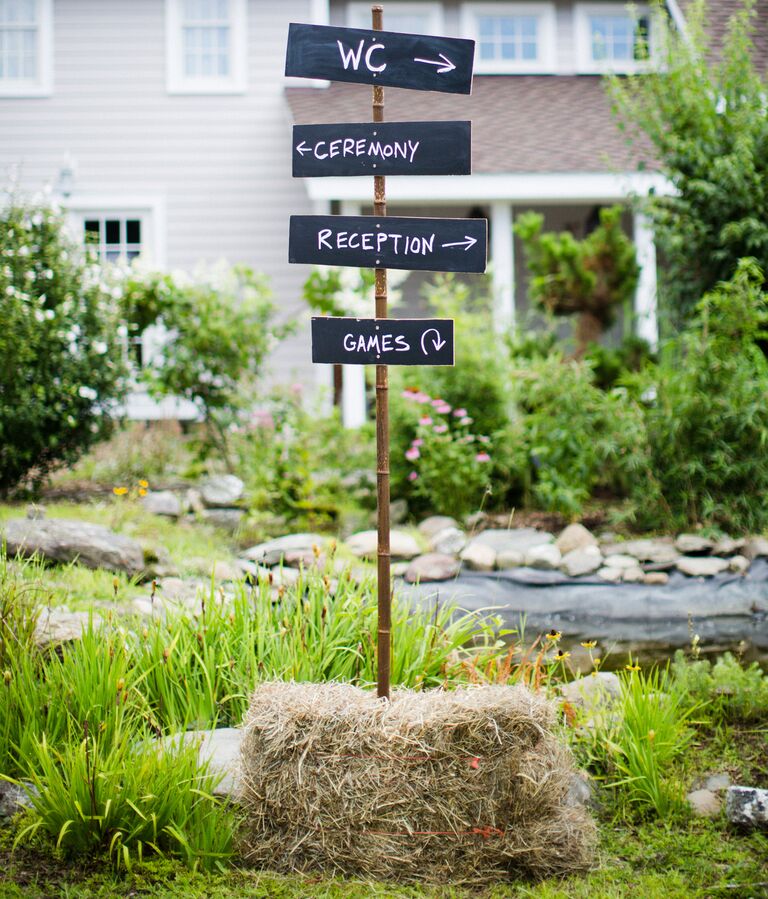 If your barn isn't a full-service wedding venue (we're talking about bathrooms), you'll want to make accommodations that are comfortable and up to sanitary standards. "Are the restrooms 'outhouses' or the type of restroom you would want your 80-year-old guests to use?" Brown notes. If they're the former, contact a portable toilet vendor and ask for their recommendations. They usually have several, and some even have sink and lighting options.
An outdoor tent rental company can also cover the restroom area completely to have it blend in with the barn wedding space. Additionally, fresh flowers, potpourri, air fresheners and amenities baskets with mints, antibacterial hand lotion, hair spray, Band-Aids, safety pins and aspirin will make your guests happy. You can even hire a reception attendant to replenish paper goods and make sure the area stays clean throughout the night.
9. Plan Ahead and Know What People Ask About Barn Weddings
What to wear to a barn wedding
Wondering what to wear to a barn wedding? Ditch anything stuffy and opt for nature-inspired to fit the vibe of the venue. The wedding couple can try antiqued lace and light-colored linen suiting. Lightweight trousers with suspenders and muted boho styles help the wedding party fit right in. For guests, think floaty fabrics and floral accents to match the scenery. Skip the heels though—wedges, flats, boots, and oxfords are all a better bet for a barn wedding reception.
How to start looking for a barn wedding venue
Finding the right barn wedding venue is all about knowing what you want. Start by searching barn wedding venues and seeing what makes you ooh and ah. Take note of what you like and what you don't before you start narrowing anything down. If you're worried about aging venues and the drawbacks those can bring, don't worry—many of the barns available now are newly built just for this occasion.
How much does the average barn wedding cost?
When it comes to a barn wedding, it's helpful to remember that your costs will depend on what comes with the venue. Depending on the size of barn and what is available with that particular venue, the cost of a barn venue can run anywhere from around $6,000 to twice that. To calculate your full costs, find out what's included with your barn wedding reception venue and consider how many guests you'll have. Things like seating, service ware, linens, lighting and even restrooms will need to be considered when calculating your overall costs, though some venues may include them in the price. Just ask!